Spending 2 days in Berlin is not the first thing that comes to mind when dreaming about a European trip, isn't it? Although capital of one of the biggest countries on the continent, Berlin is not as famous as other cities on the Old Continent. Honestly, I didn't expect much from it either.
And I was wrong.
Berlin is one of the most carefree places I've been to and definitely deserves a visit. No matter your interests, I can guarantee that by following this 2-day Berlin itinerary, you will find what you're looking for! The city just has it all!
Are you ready to bring down the wall and start exploring?
Let's go!
Two Days in Berlin – Day 1 – Emblematic Landmarks
On the first of our 2 days in Berlin, we're about to explore the most famous landmarks in the city. At first glance, the attractions may seem way too many for just a single day, but since they are close to eachother and don't require much time to explore, you won't have a problem checking them all out, keeping a moderate tempo.
Reichstag building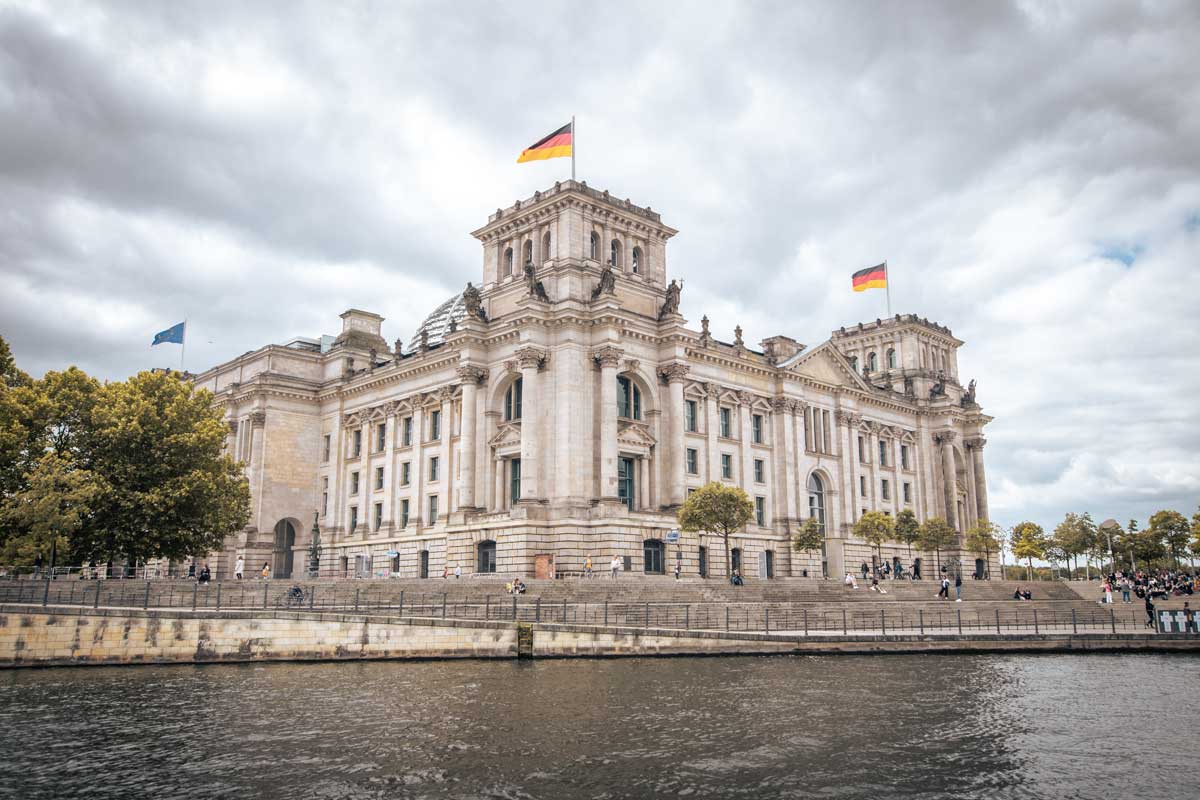 The home of the German Parliament is one of the most recognizable government buildings in the world. This magnific building has a harsh history, though. Completed in 1894, the Reichstag was used until 1933, when a fire badly damaged it. In 1945 it was heavily targeted by the Soviet Army due to its propaganda value, while a controversial restoration in 1963 saw the building's interior and exterior stripped of most of its statuary.
In 1990 though, its luck changed when the Reichstag was home to the official Germany reunification ceremony. A year later, it was decided to become home to the German Parliament once again.
You can go inside the Reichstag and enjoy its panoramic roof for free, however, you need to reserve a timeslot. You can do it in person (the reservation office is right next to the building) or online.
Working Hours:
Daily from 8:00 AM to 9:45 PM

Prices:
Regular – Free
Tour – Check here
Brandenburg Gate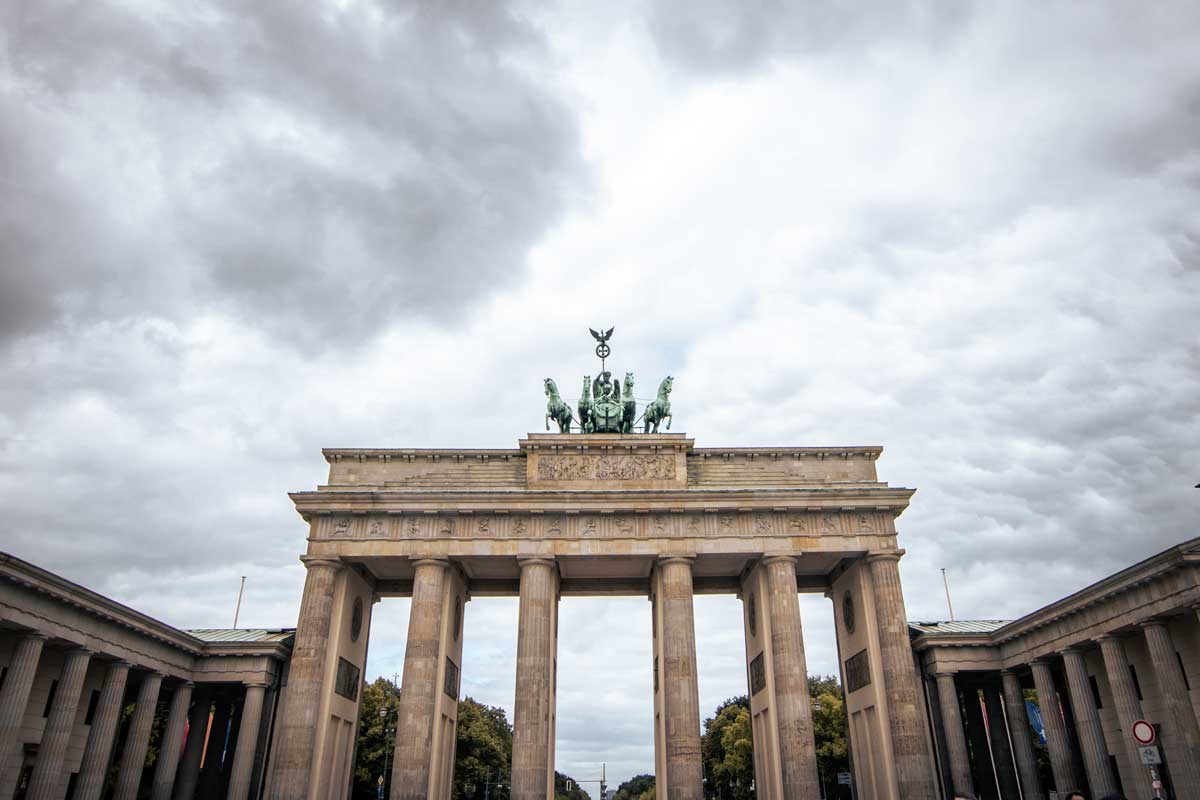 The Brandenburg Gate is the most prominent international symbol of Germany. The Prussian King Frederick William II built the 18th-century neoclassical monument to commemorate the suppressing the Dutch popular unrest. Atop the gate, you can find the quadriga sculpture – a chariot driven by Victoria, the Roman goddess of victory.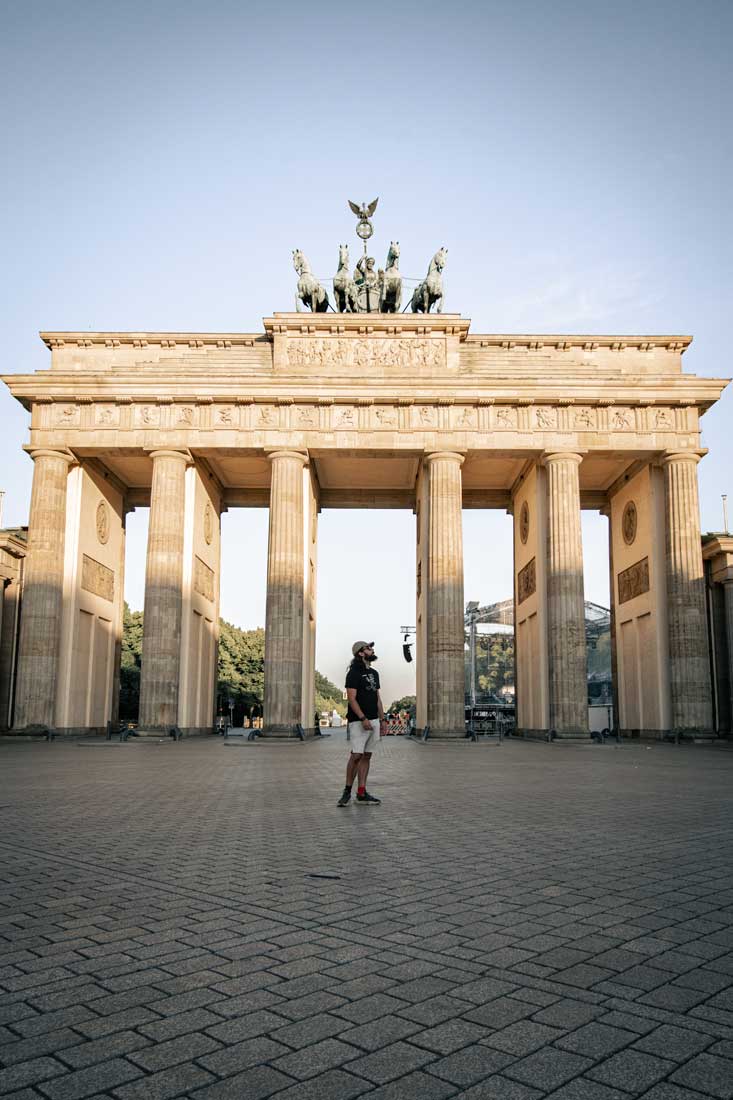 The Brandenburg Gate is swarming with people; therefore, if you want a nice photo, you need to get there really early (before 7:00 AM).
Tiergarten park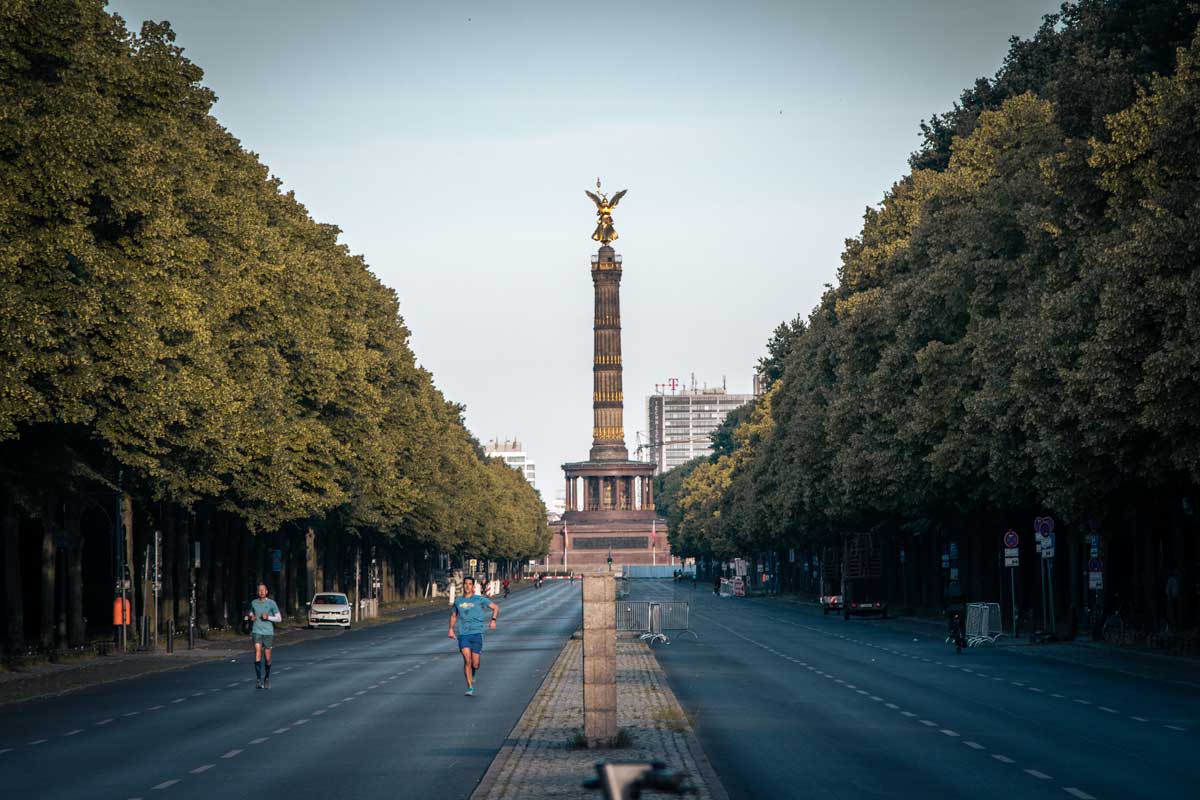 We continue our 2 days in Berlin with the most popular intercity park. Tiergarten is 210 hectares (520 acres) in size and a great place to forget you are in a city as busy as Berlin.
If you don't need unwinding yet (something the park is perfect for), you can enjoy the monuments (such as the Soviet War memorial or the Global Stones project) or the local wildlife. The park is full of all kinds of birds, squirrels, and even rabbits.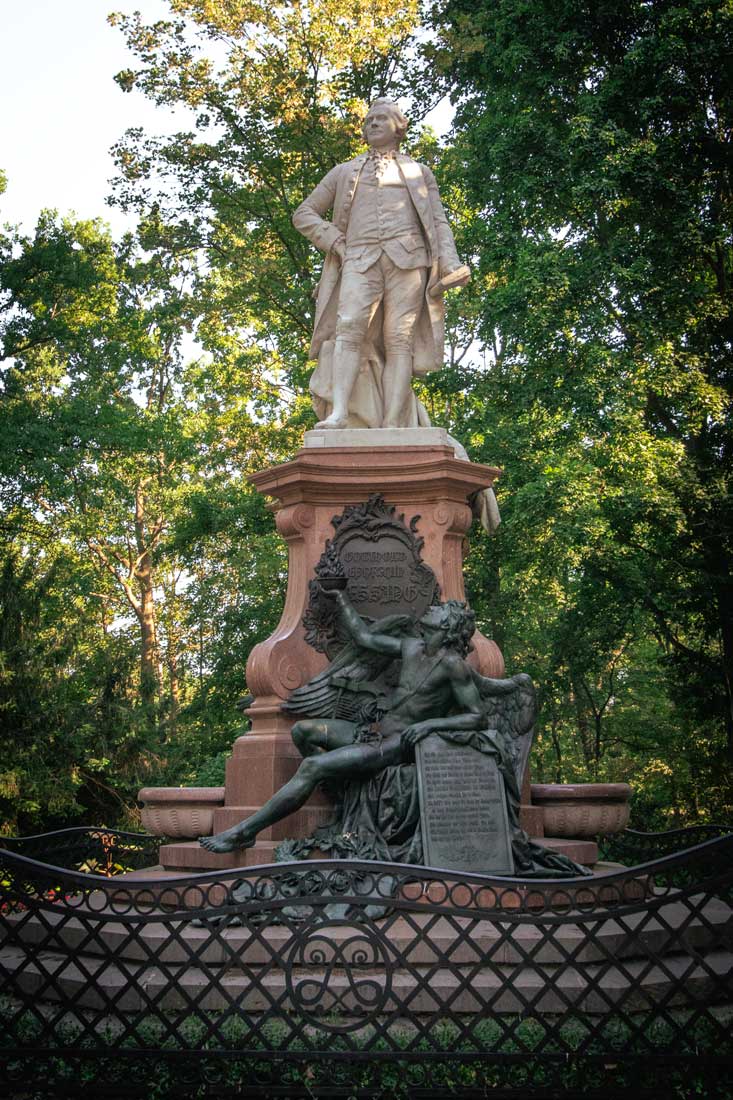 In the center of the park, you can find the giant bronze Victory Column. Also known as Siegessäule, the 8.3 meters-high column (27 ft) commemorates Prussians' late 19th-century war victories.
See Also: Best way to spend 3 days in Rome
Memorial to the Murdered Jews
Next on our 2-day Berlin itinerary, we have a sad memorial. As you know, the Jew community suffered tremendously during WWII, and today Germany is quite aware and ashamed of this fact.
A place for contemplation and remembrance, the memorial is composed of 2711 concrete slabs of different heights. This number does not symbolize anything; it's just the amount of slabs that could fit the dedicated area.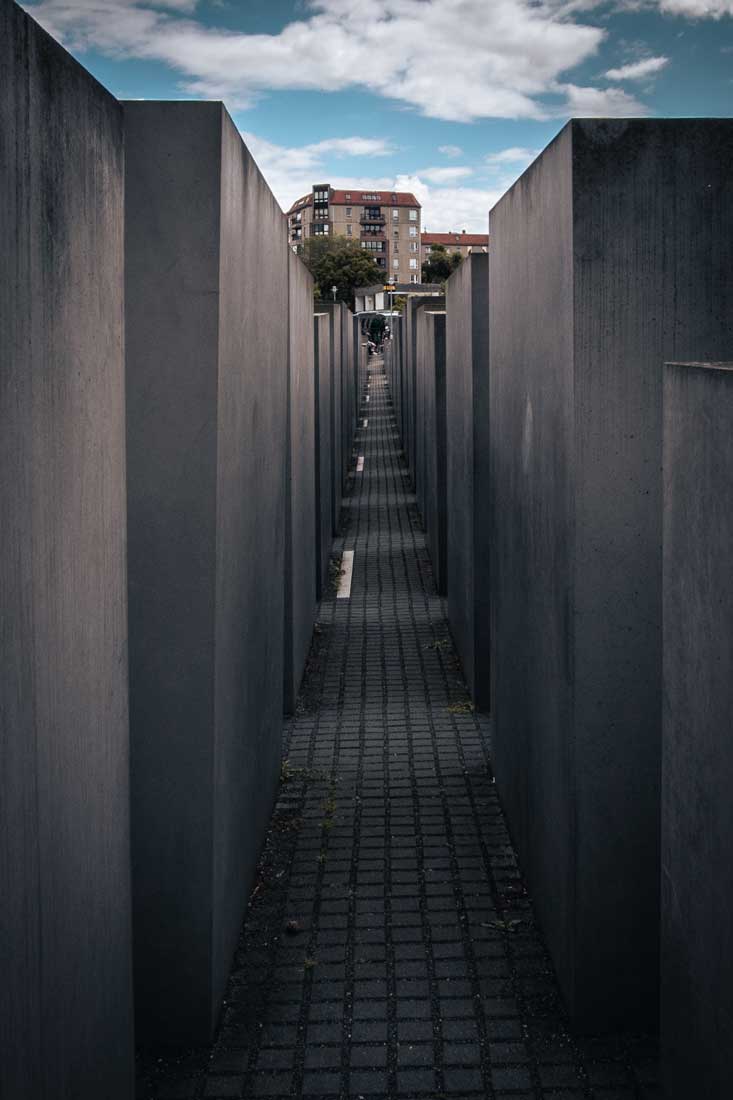 The memorial is complemented by an attached underground "Place of Information" that holds the names of 3 million holocaust victims.
Museum Working Hours:
Mondays closed
1 May – 30 September – Tuesday to Sunday from 10:00 AM to 8:00 PM
1 October – 30 April – Tuesday to Sunday from 10:00 AM to 6:00 PM

Prices:
Free
Castaway Tip
Right next to the memorial, you can find Hitler's bunker…well, at least the place where it used to be. There's no bunker today, just a parking lot that is probably the most photographed parking lot in the world.

Topography of Terror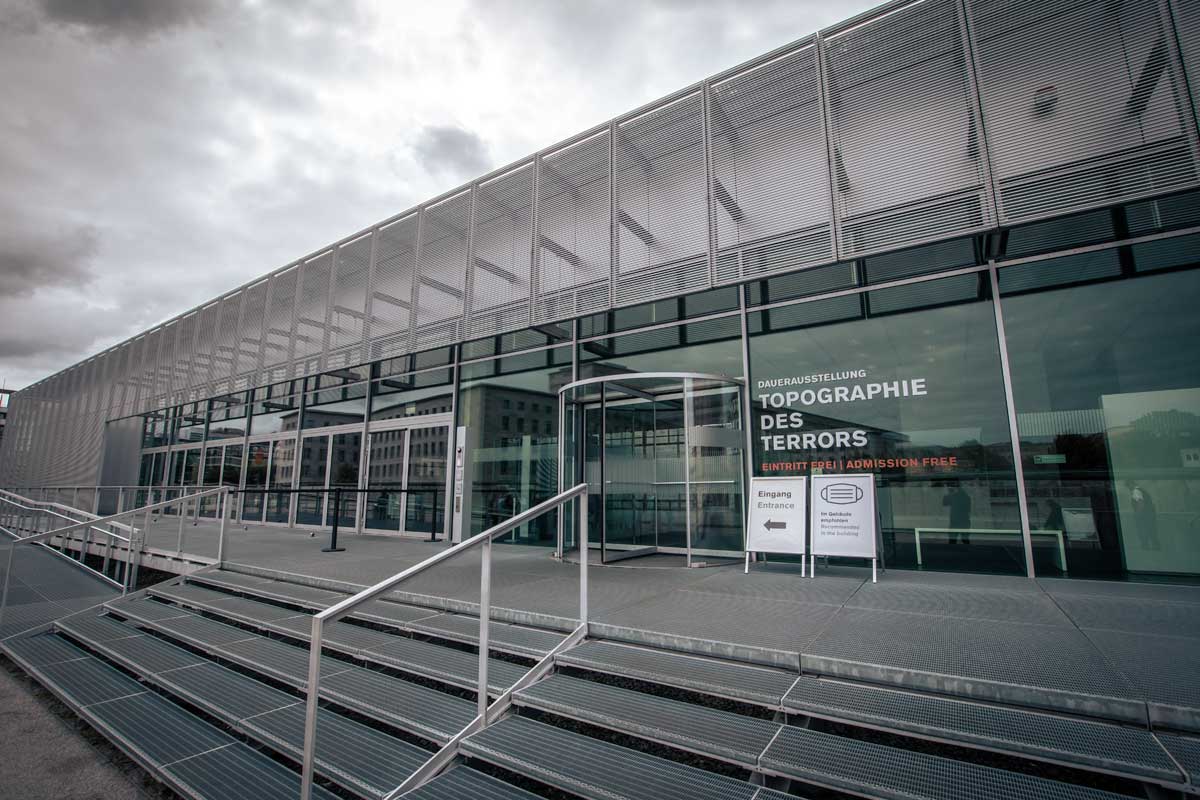 Located in the former headquarters of the Gestapo (Nazi secret police), the Topography of Terror is a document center showcasing photographs and documents from WWII and, most specifically, the rise of the power of the Nazi Party and its infamous deeds around Germany and occupied countries.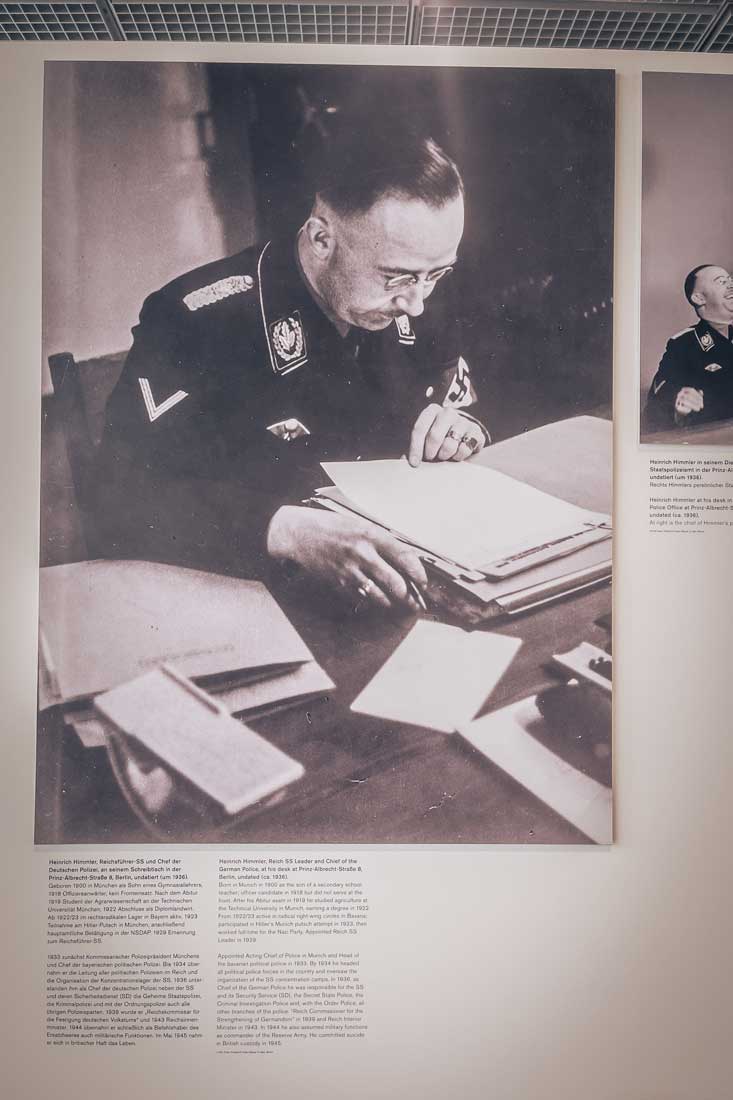 Offering insides of one of the most turbulent times of human history, the Topography of Terror is among the most visited museums in the country.
Working Hours:
Daily from 10:00 AM to 8:00 PM

Prices:
Free
Checkpoint Charlie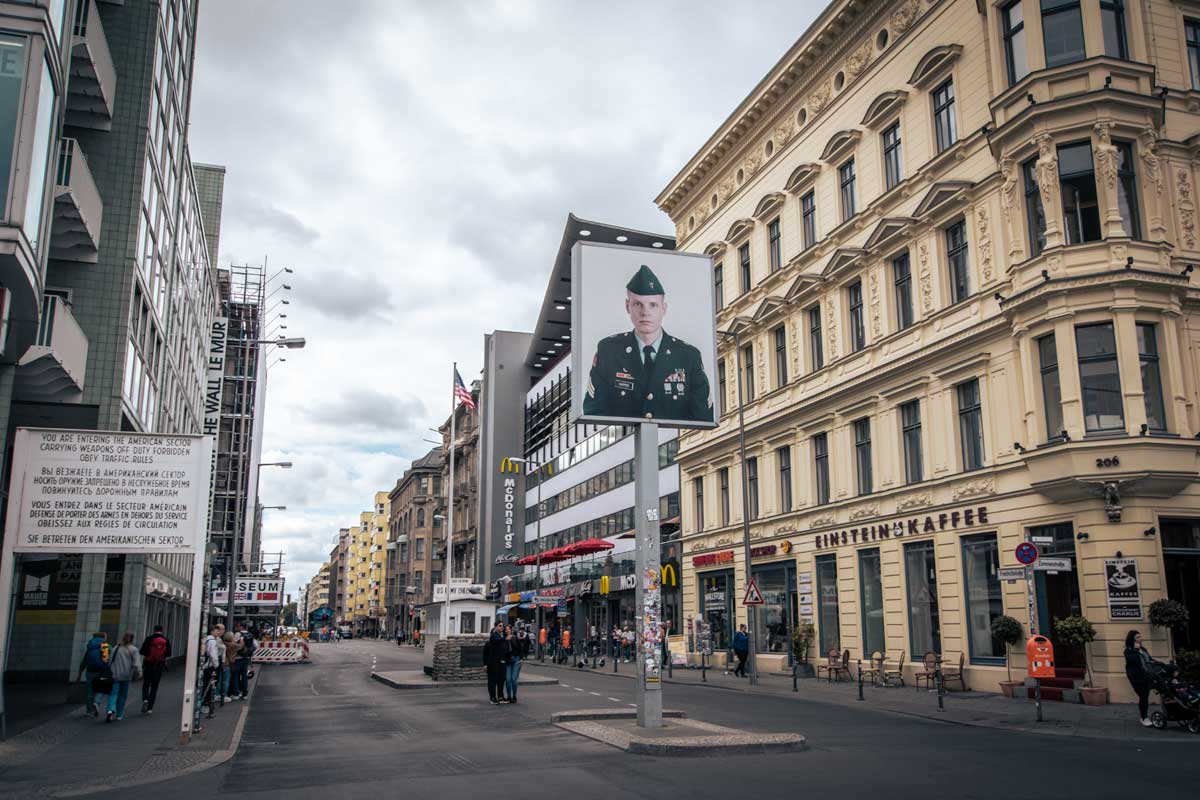 It won't be an adequate 2-day Berlin itinerary if we don't have a Cold War checking point, right? And Checkpoint Charlie is the most famous of them all. This is where in 1961, US and Soviet tanks faced eachother during the Berlin Crisis.
Setting for many spy novels, including James Bond's Octopussy, Checkpoint Charlie is a famous city attraction surrounded by plenty of souvenir shops, restaurants, and the Berlin Wall museum (not worth it).
Fun Fact
There's a Mcdonalds and KFC on the sides of Checkpoint Charlie. A clear indicator of who won the Cold War.

Gendarmenmarkt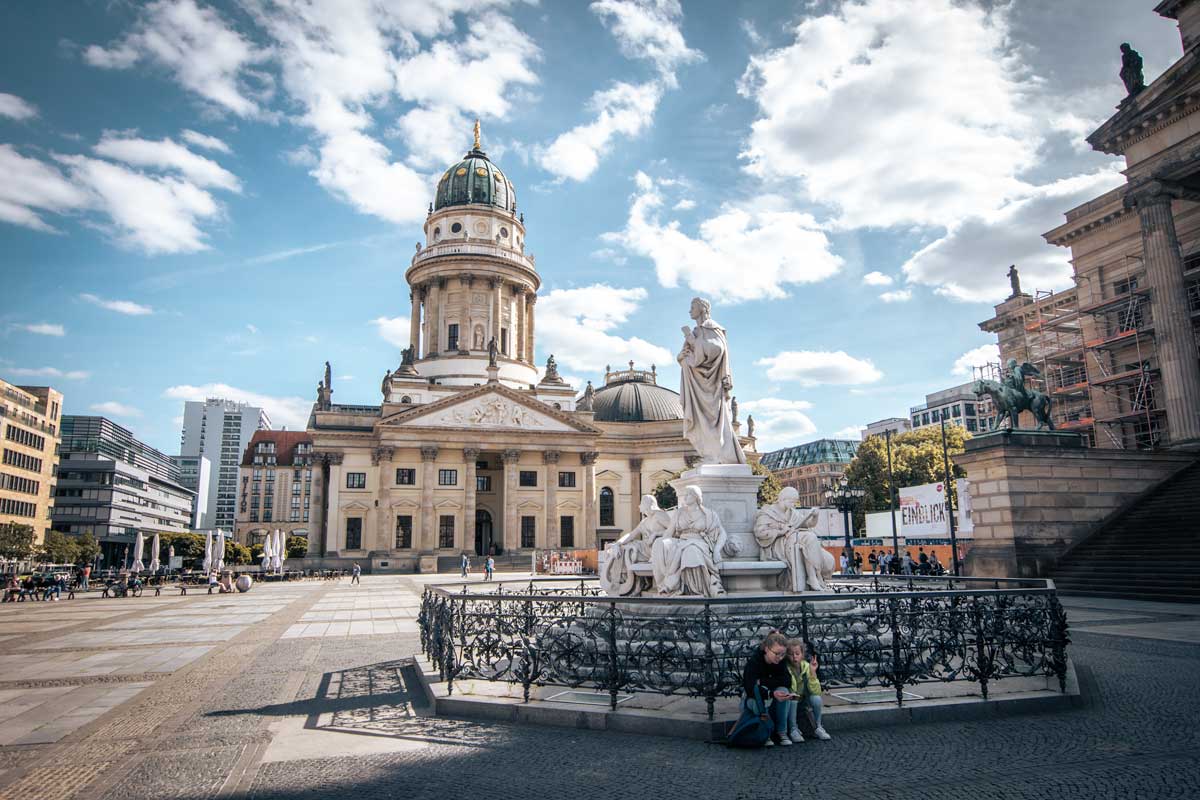 We finish the first of our two days in Berlin at Gendarmenmarkt. The most beautiful square in the city is home to three significant buildings – the German Cathedral, the French Cathedral, and the Konzerthaus.
If you're visiting around Christmas, you'll stumble upon a lovely Christmas market. If not, the square is home to plenty of chic cafes and nice restaurants to end your day in style.
See Also: How to spend 2 days in London
Two Days in Berlin – Day 2 – Back in Time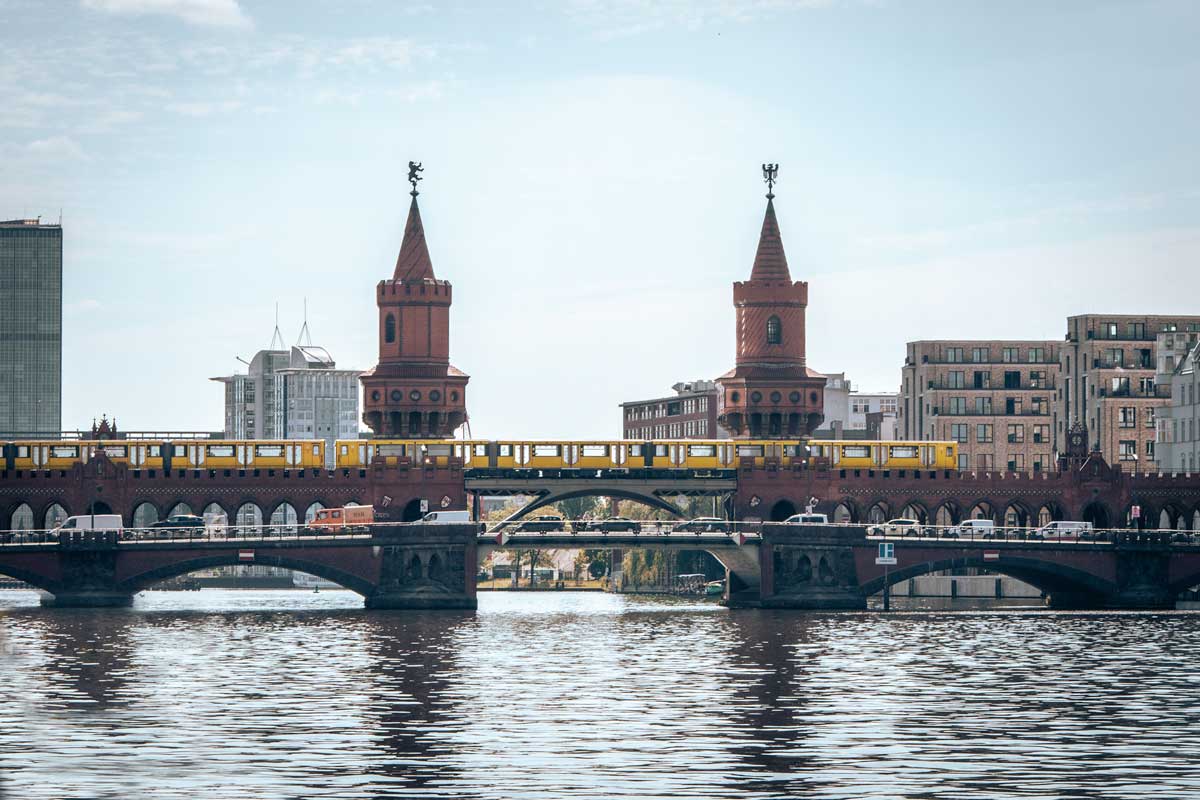 On our second day, we'll embark on a trip through history. And I don't mean German history only, a journey through the history of humanity (there's also an airport and a famous kiss).
Museum Island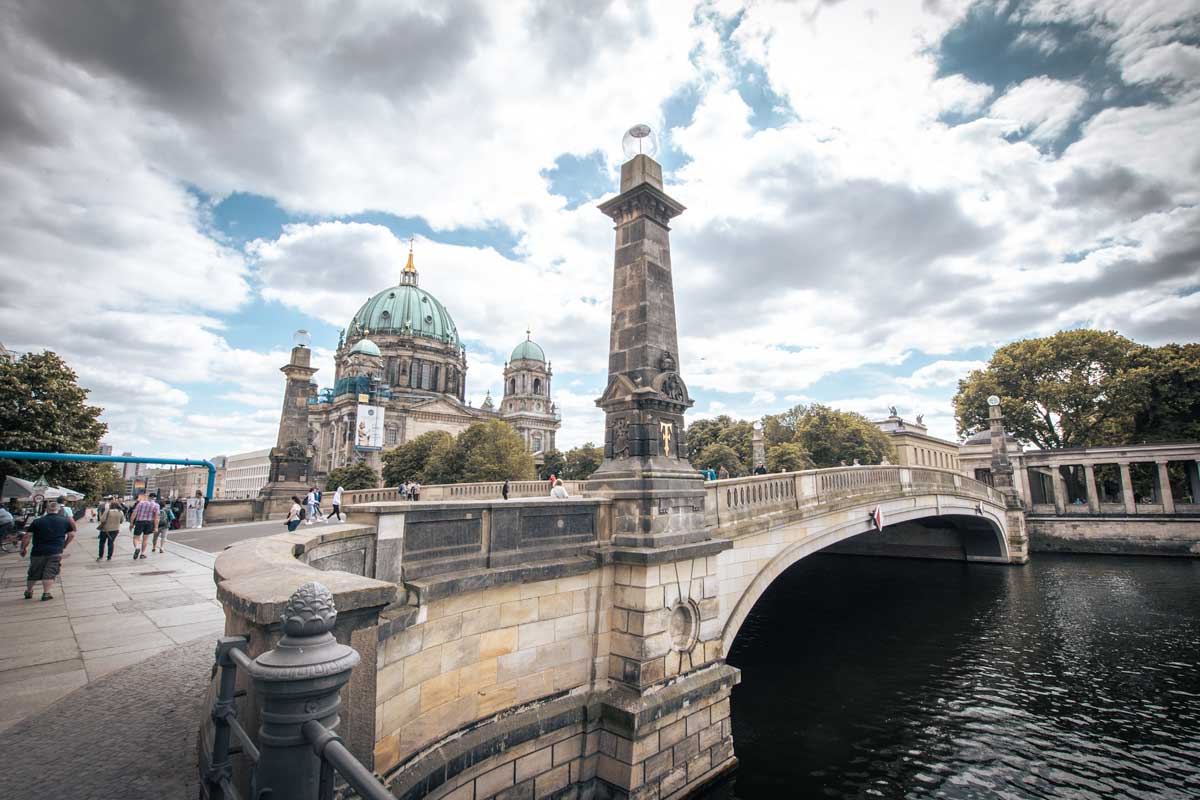 We start the day with a UNESCO-recognized museum. Actually, it's not a single museum but a whole island full of museums! They are not that big, though, so you can easily check two of them without getting a museum burnout.
Pergamonmuseum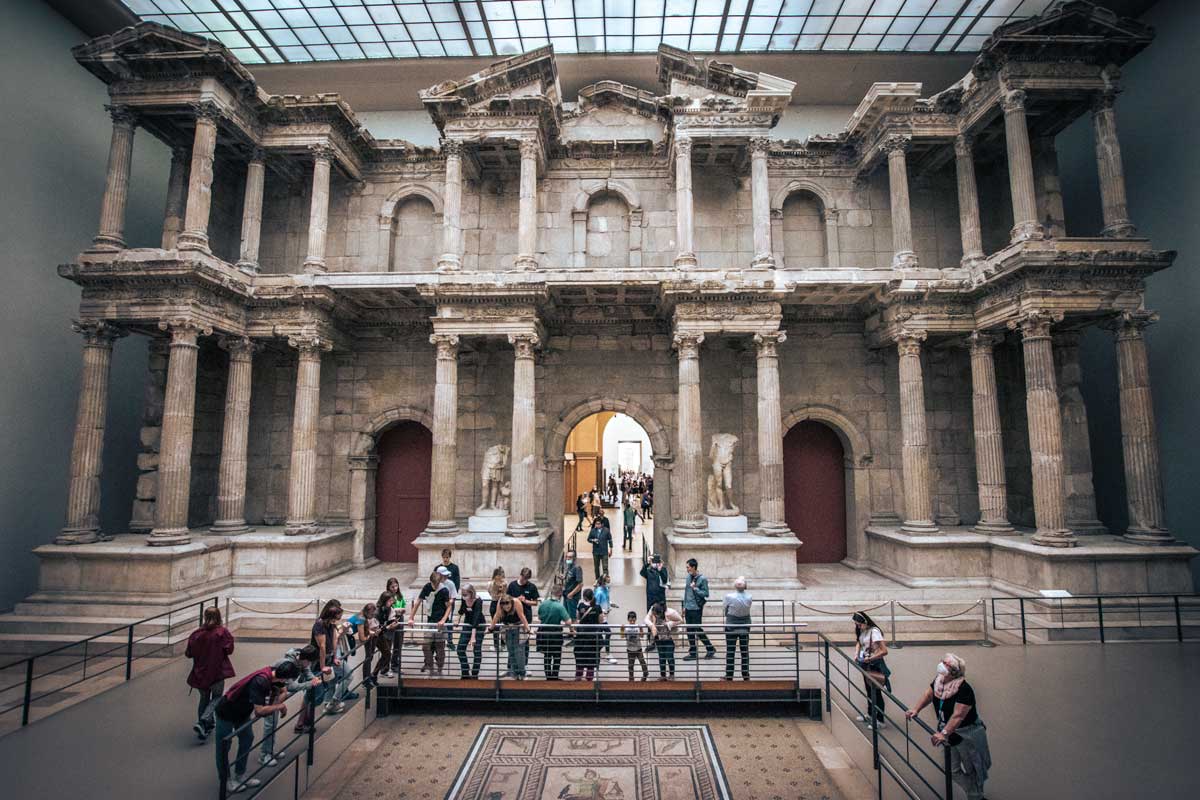 By far the most famous museum on the island, the Pergamon Museum is home to the Pergamon Altar, the vibrant turquoise Ishtar Gate, and the glorious Market Gate of Miletus. There's also an entire floor dedicated to Islamic art. I strongly recommend Pergamon to be one of the museums you pick for today.
Neues Museum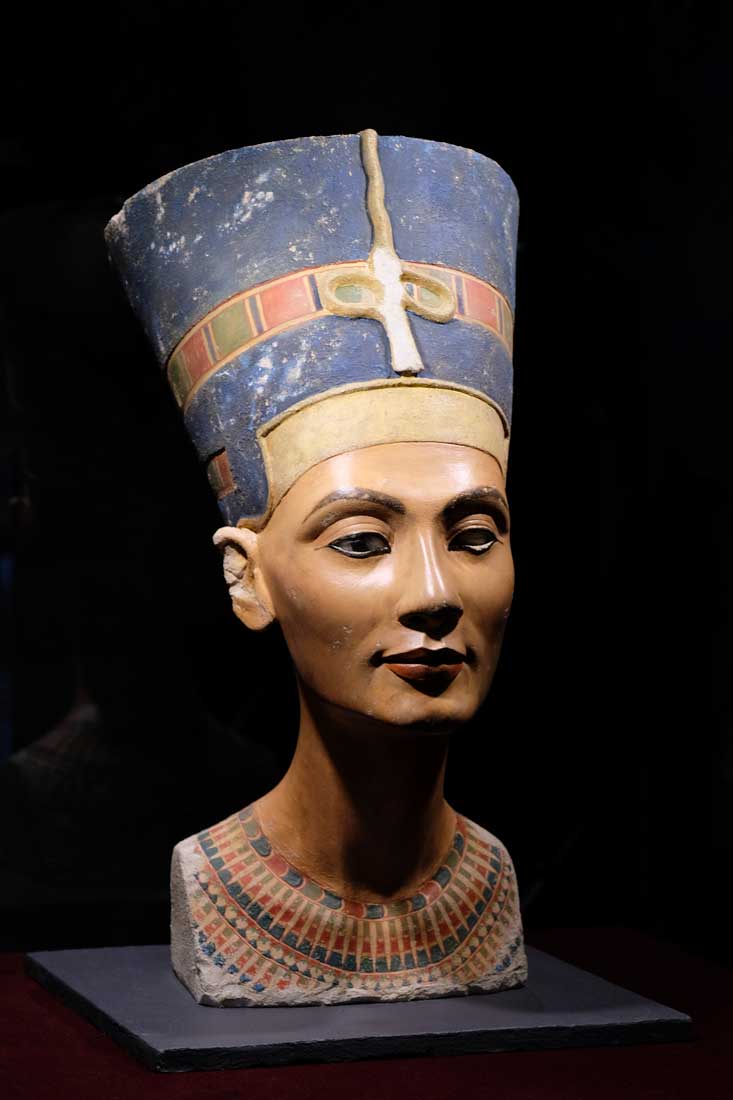 Showcasing 9,000 objects from around the world, the New Museum is dedicated to the cultural history of our ancestors. The museum proud itself with an admirable Egyptian collection, including the world-renounced Nefertiti Bust. Other famous artifacts are the Bronze Age "Berlin Gold Hat" and a 700,000-year-old axe head from the earliest Stone Age.
Alte Nationalgalerie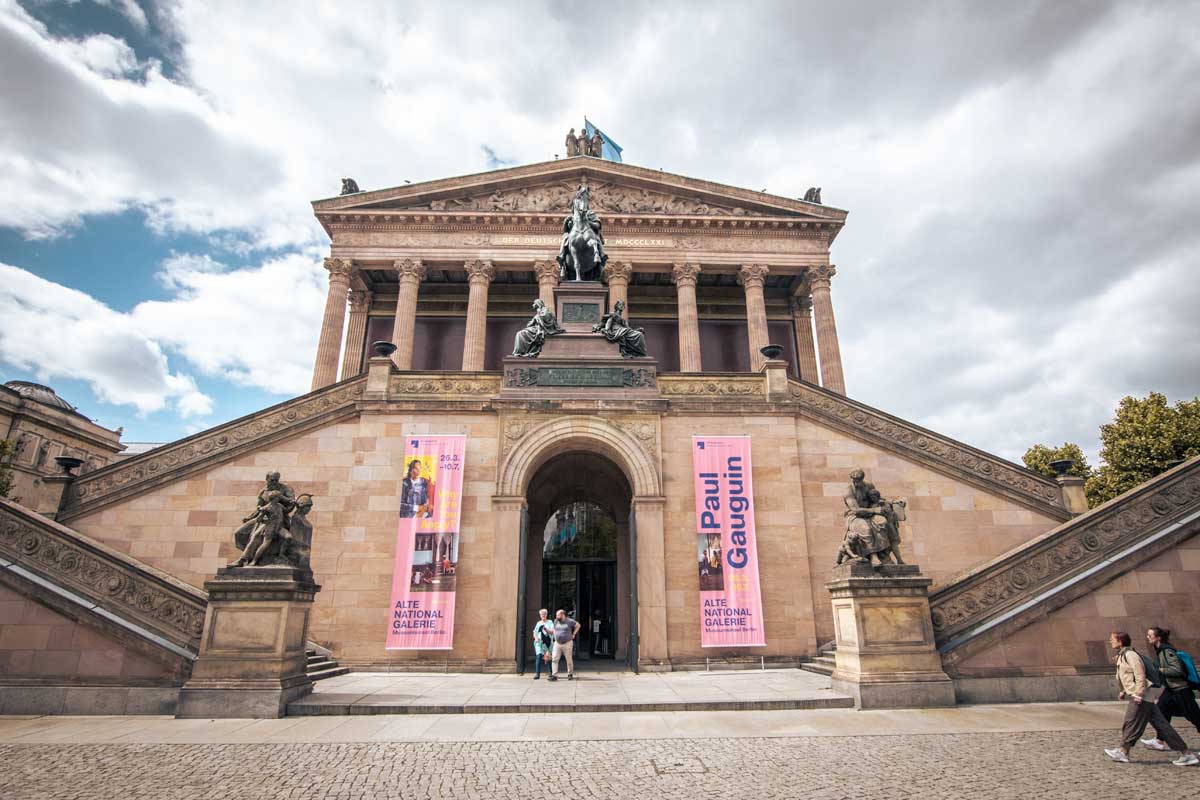 Berlin's national art gallery is the prime art museum in town. On display, there are the most important German collections of 19th-century paintings, complemented by masterpieces of Manet, Monet, Renoir, Menzel, and Rodin.
The Bode Museum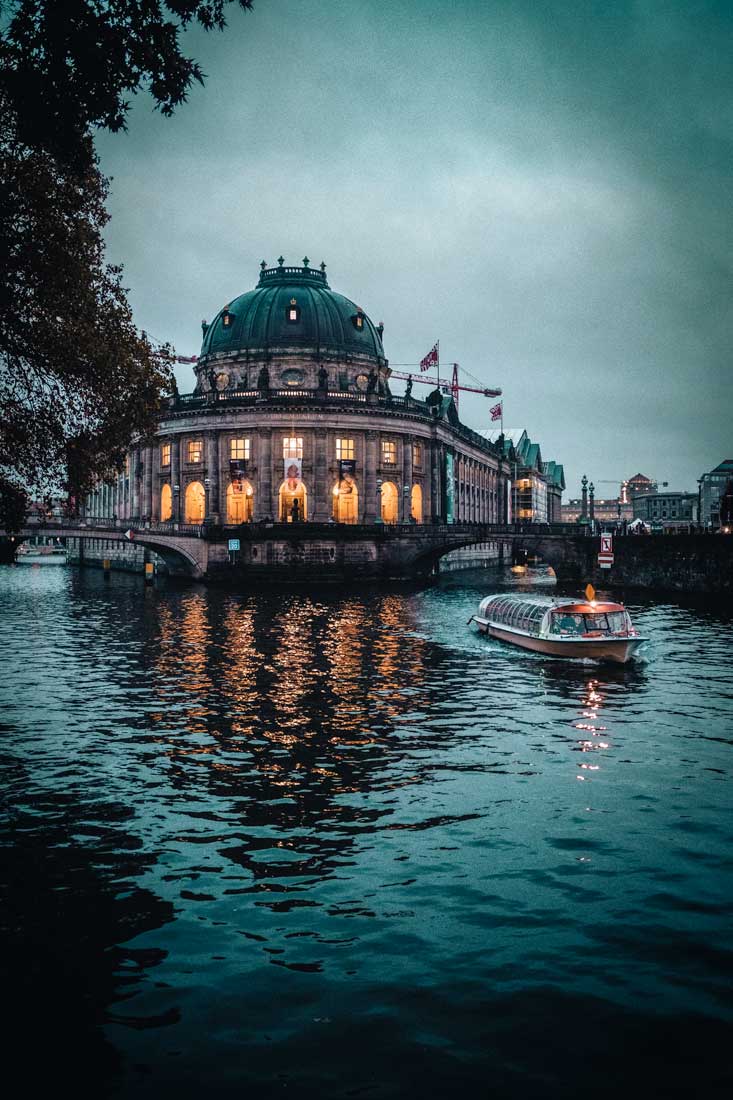 Formerly called the Kaiser-Friedrich-Museum, this place offers a world-class sculpture collection and a collection of Byzantine Art. Wandering around the museum, you'll also find some Old Masters paintings and a cool half-million medal and coin collection.
Altes Museum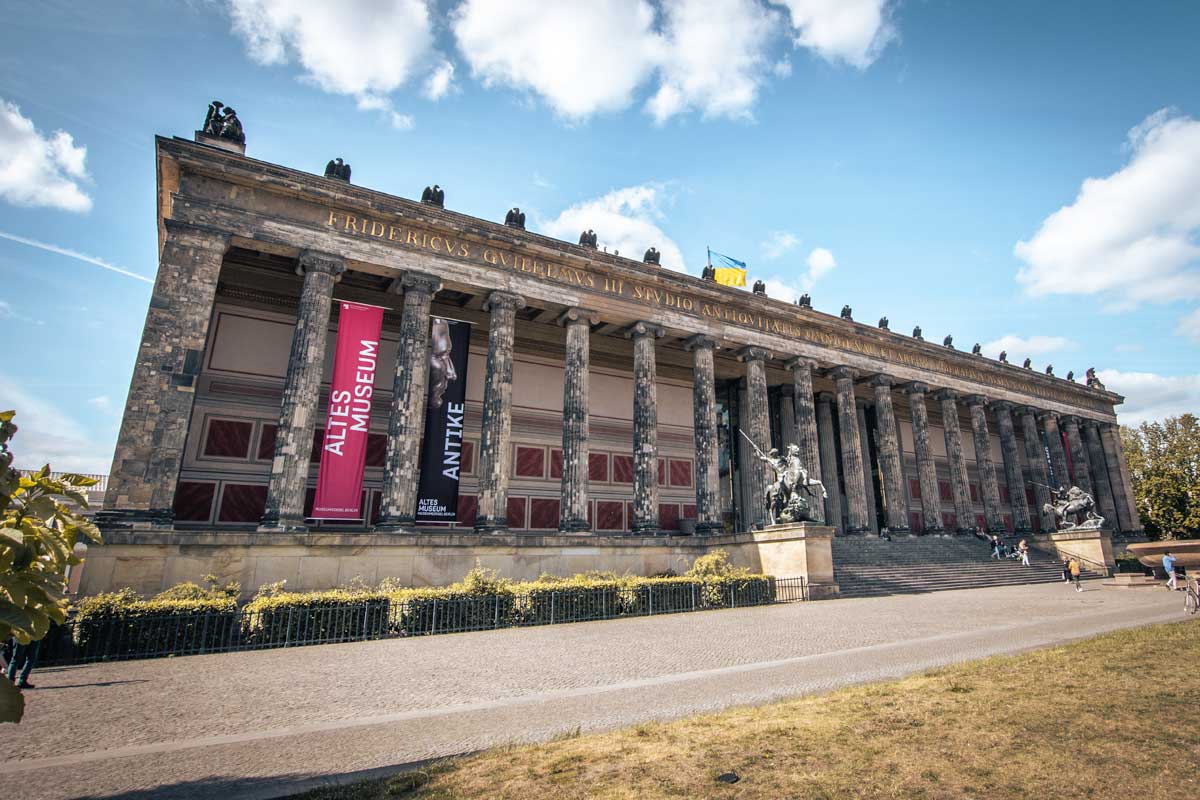 The last museum on Museum Island is the Altes Museum (yes, I did say museum thrice in a single sentence). This striking building is home to a vast collection of Roman, Greek, and Etruscan artifacts, including the largest assembly of Etruscan art (outside of Italy). The most interesting thing inside the museum (for me) was the Portrait busts of Caesar and Cleopatra.
DDR Museum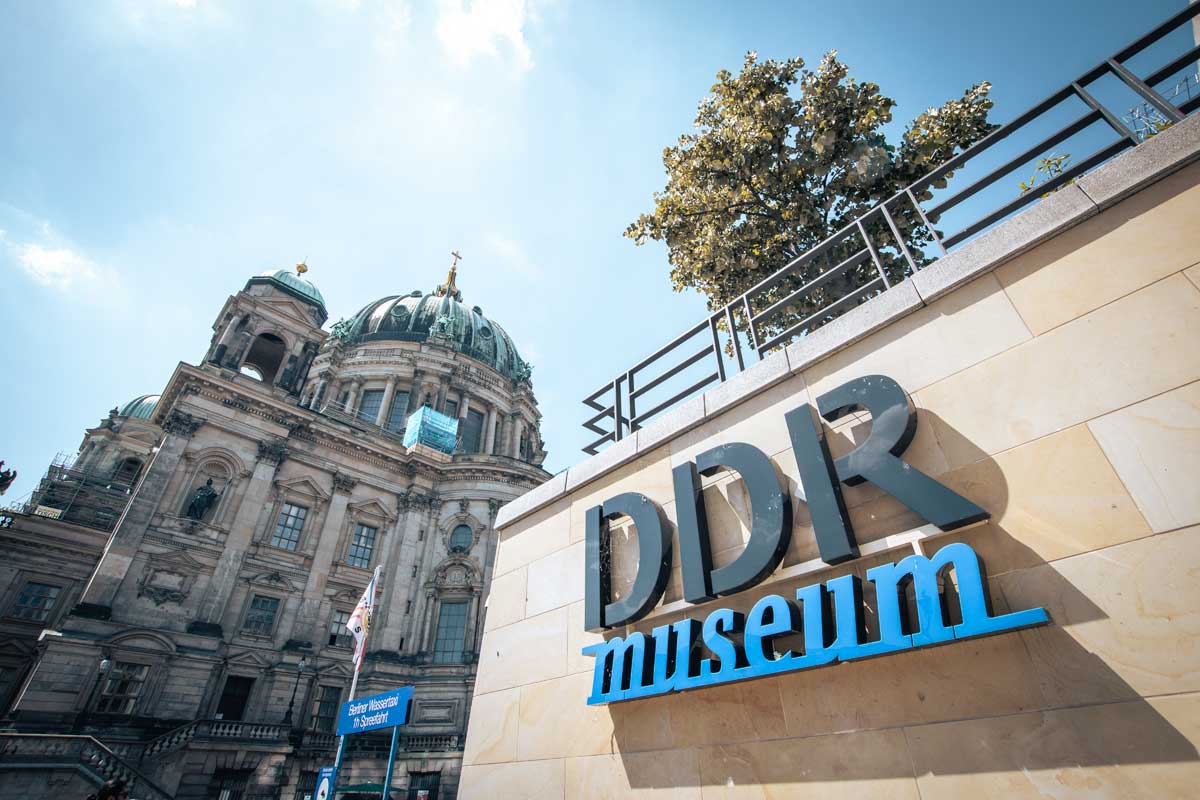 This museum is not strictly on Museum Island but is right next to one of its bridges, so it counts. The DDR Museum is not dedicated to ancient history or art but to the daily life in Eastern Germany during GDR times (the German Democratic Republic aka East Germany). This interactive museum will take you through 16 main areas of life in the GDR, showcasing vintage items such as Erika Typewrite, Stern radio, and plenty of photographs and clothing.
Berlin Cathedral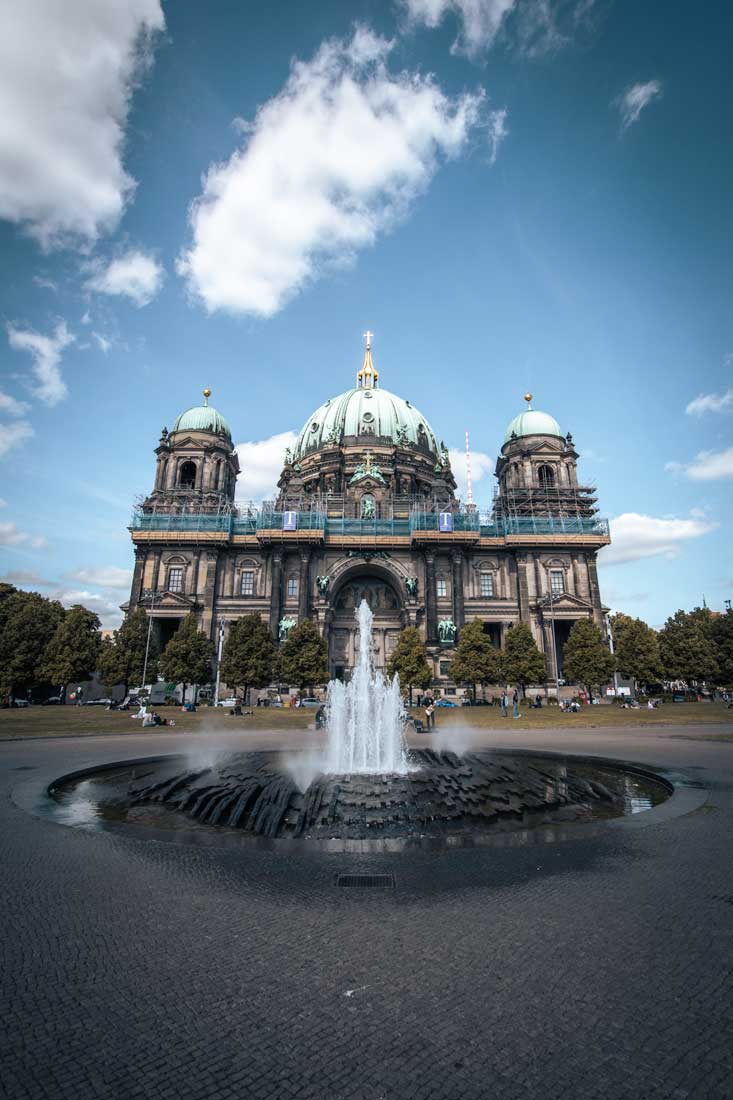 The last Museum Island landmark is not really a museum. We can't spend 2 days in Berlin (or any other European city) and not see a cool church, right?
Well, the Berlin Cathedral is undoubtedly the coolest church in town. Dating back to the 15th century, Berliner Dom got transformed in the early nineteenth century into the grand neo-classical building we see today. The interior is quite lavish, but for me, it's not really worth the entrance fee, so I suggest admiring it only from the outside.
Working Hours:
Monday to Saturday from 10:00 AM to 5:00 PM
Sunday from 12:00 AM to 5:00 PM

Prices:
Regular – 9 EUR
See Also: How to spend 4 days in Paris
Alexanderplatz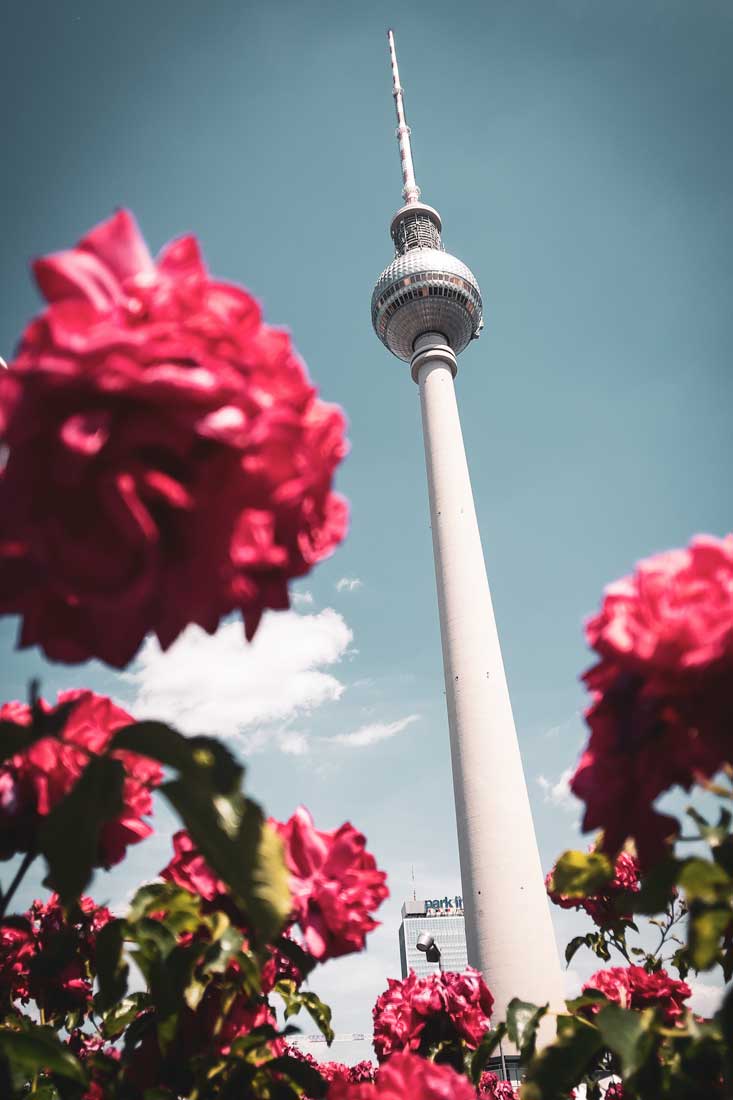 During your 2 days in Berlin, you're bound to see a giant tv tower. I mean, it's kinda visible from everywhere (quite useful for navigation). Well, that's where we're going next – to Alexanderplatz (locally called just Alex), the home of the most emblematic TV tower in Europe.
Named after the Russian Tsar Alexander I, who visited Prussia in 1805, the most famous square in Germany is one of the liveliest places in town with plenty of shops, restaurants, a cinema, and a vintage GDR World Clock (named The Weltzeituhr).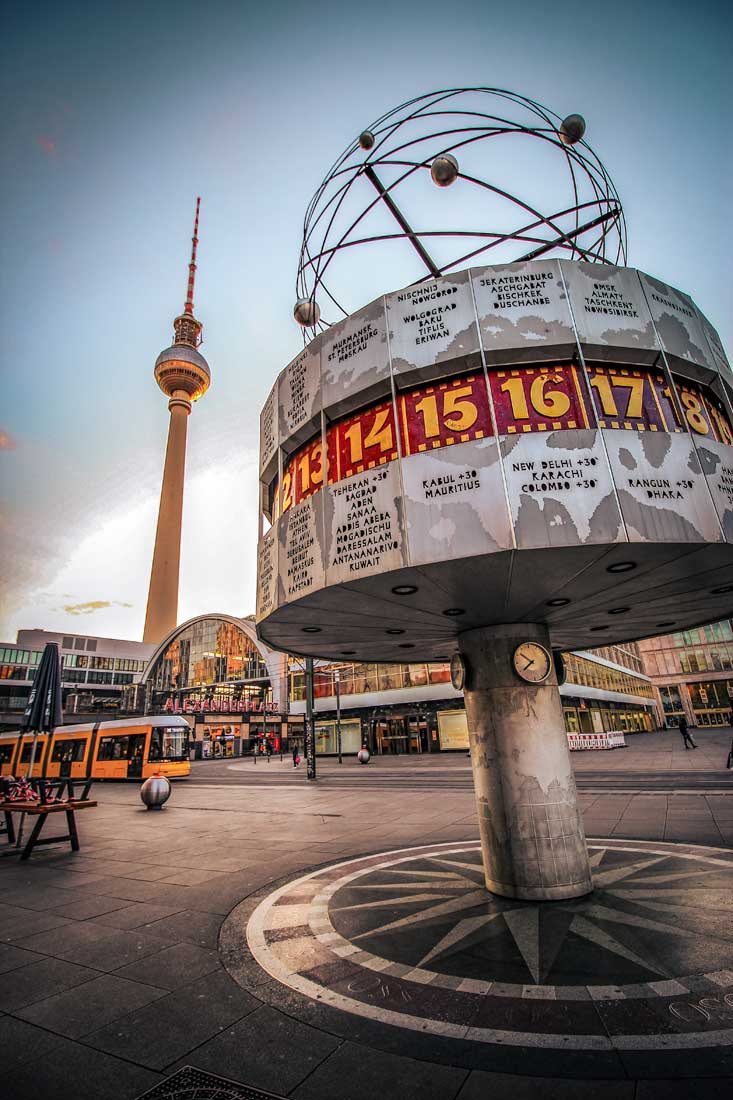 And before you ask – yes, you climb the TV Tower for an excellent panoramic view and even enjoy a meal in the restaurant on the top.
East Side Gallery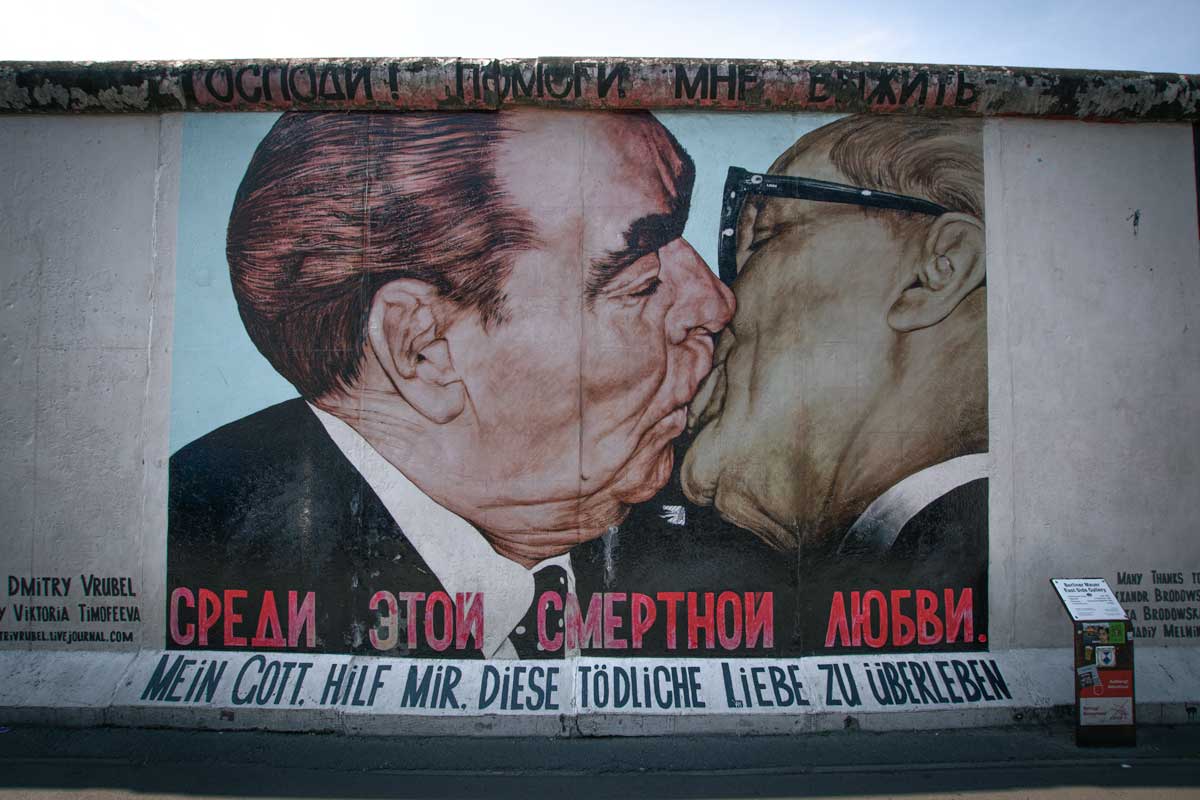 Stretching to 1360 meters (4461 ft), the East Side Gallery is the largest existing continuous section of the Berlin Wall. After its demise, 118 artists from 21 countries began their work and created some masterpieces that became pop-culture symbols.
One such symbol is the passionate kiss between Honecker and Brezhnev which I'm sure all of you have seen already.
Castaway Tip
At the wall's eastern end, you can find a multimedia museum dedicated to the Berlin Wall and the prettiest bridge in town -Oberbaumbrücke.

Markthalle Neun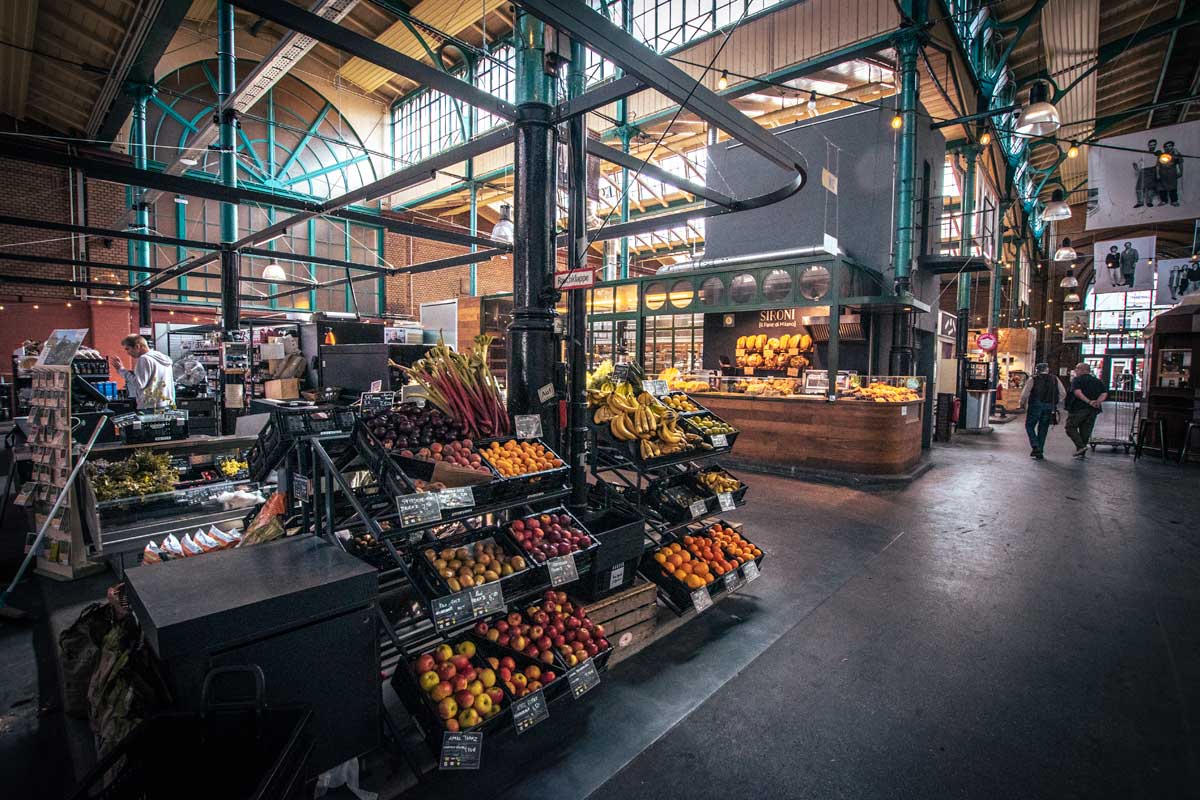 The end of our two days in Berlin is near, and it's time to grab a bite. Markthalle Neun is a 19th-century marketplace that was neglected for years until it got renovated in 2011.
It's a great place to try some street food or, even better, get fresh German food and go for a picnic at the airport. Yes, you've read that right – the airport. See what I mean below.
Tempelhofer Feld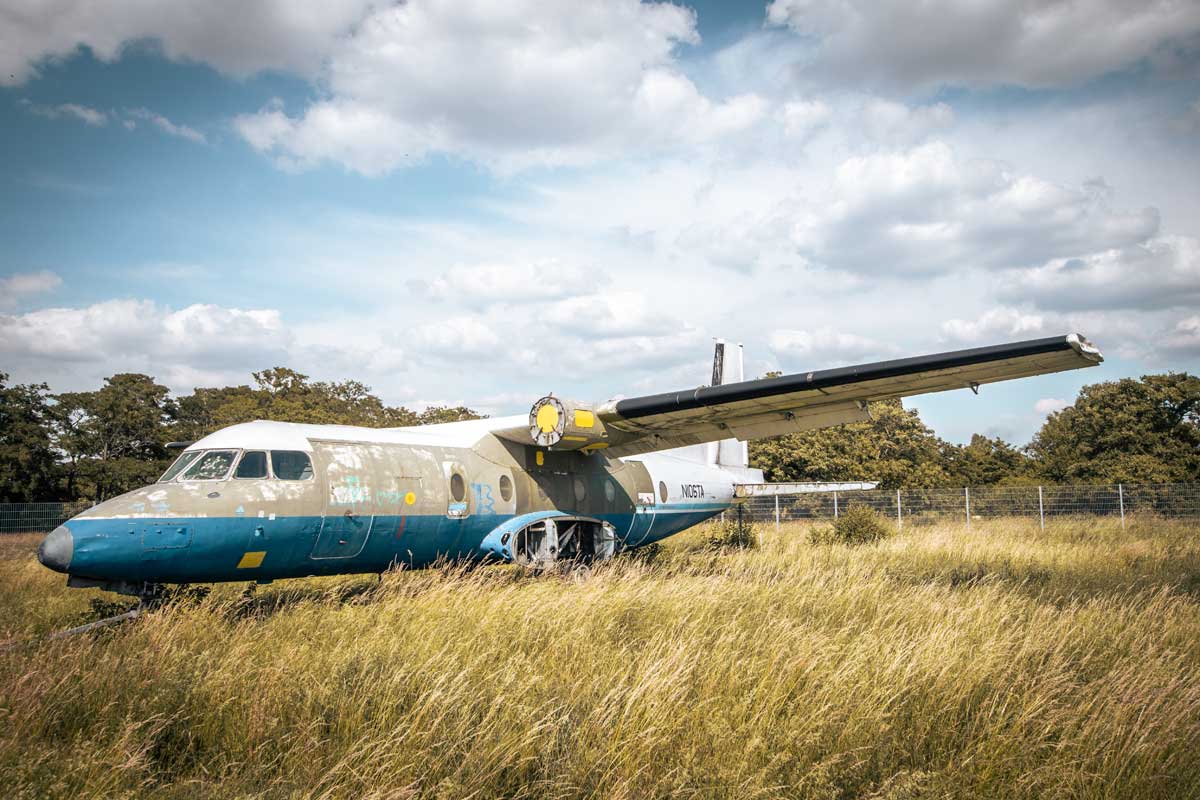 A working airport till 2008, Tempelhofer is now repurposed as a recreational area. And boy, oh boy, is it a huge one! Tempelhofer Feld is a fantastic place to fly a kite, ride a bike, skateboard, rollerskates, and, of course, have a picnic. That's right! The fresh products from Markthalle Neun will come in handy, and you'll end your 2 days in Berlin the best way possible.
Working Hours:
Daily from 6-7:00 AM till dusk
See Also: Best way to spend 2 days in Madrid
More Than 2 Days in Berlin
You have more than 2 days in Berlin, or you want to add something to the itinerary? No worries, there are plenty of other things to see and do there.
Charlottenburg Palace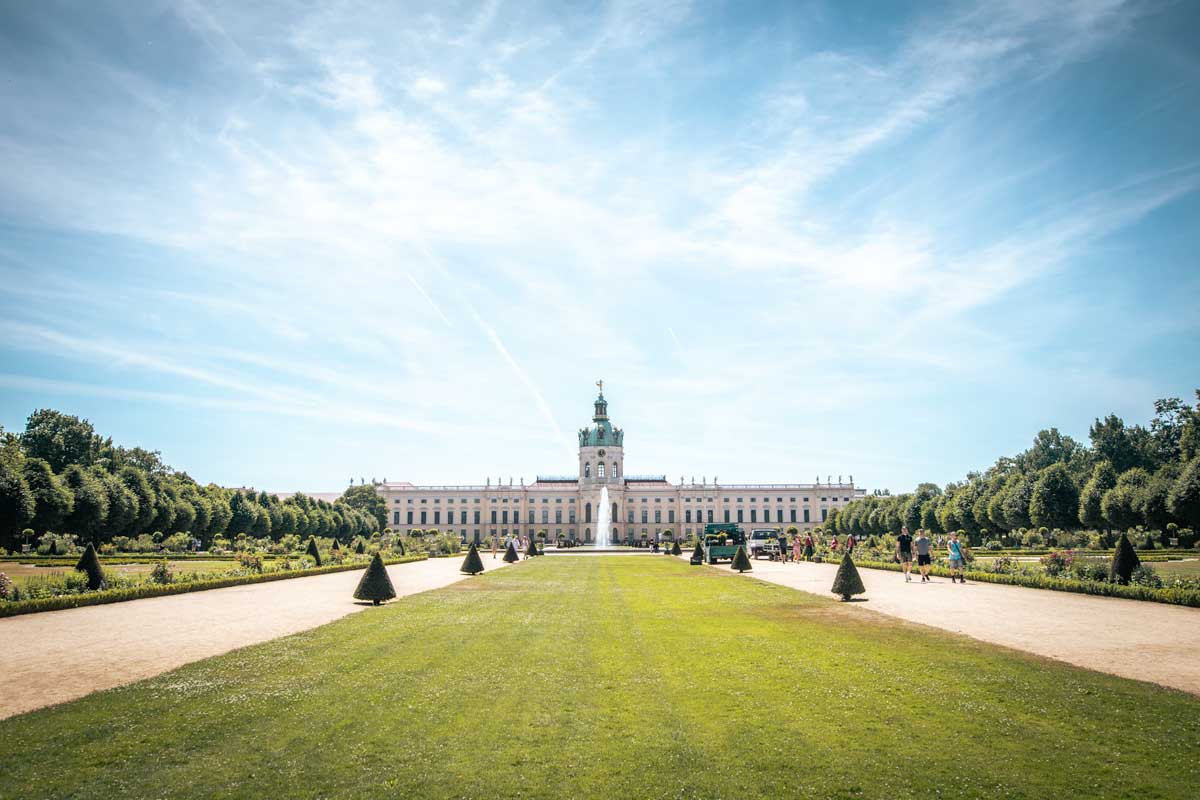 Named after Sophia Charlotte of Hanover, Queen consort of Prussia, the Charlottenburg Palace is the most opulent attraction in Berlin. Built at the end of the 17th century, the palace was greatly expanded during the 18th century. This Baroque/Rocco architectural masterpiece offers a glimpse inside the life of 18th-century European Royals.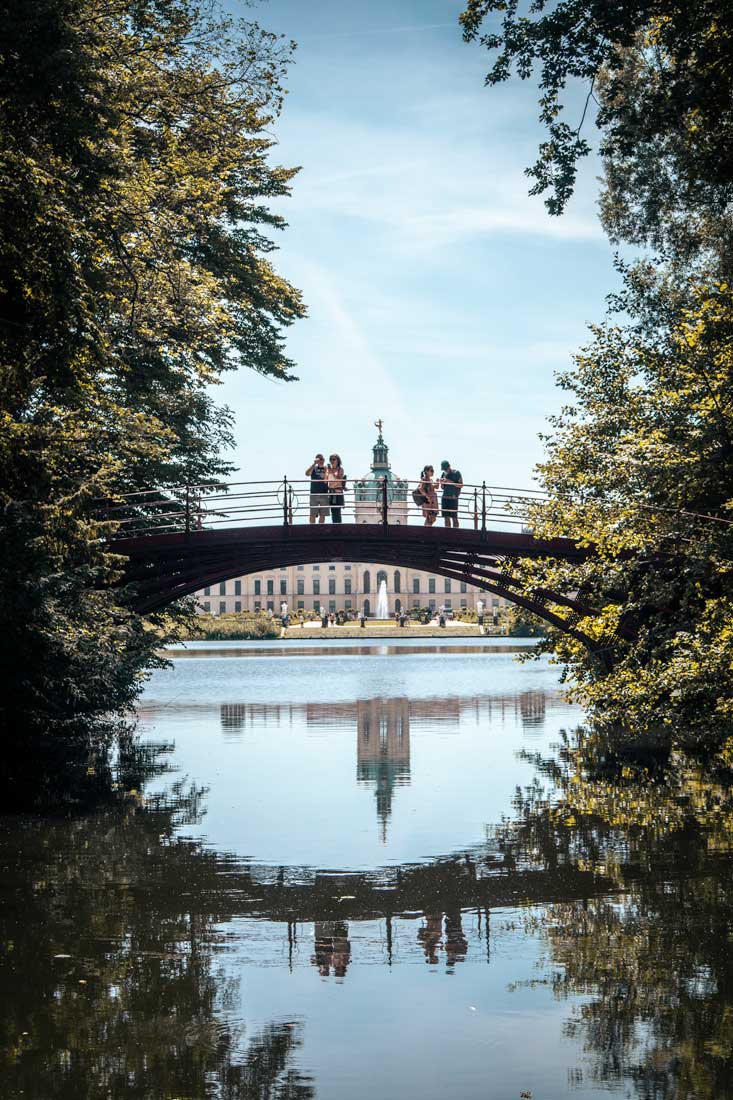 Almost destroyed during WWII, the palace is restored perfectly and divided into Old and New parts. It also includes vast gardens perfect for escaping the hustle and bustle of Berlin.
Working Hours:
April – October from Tuesday to Sunday: 10:00 AM to 5:30 PM
November – March from Tuesday to Sunday: 10:00 AM to 4:30 PM
Mondays: closed

Prices:
Old Palace – 12 EUR
New Palace – 12 EUR
Combo (both parts) – 17 EUR
Orchestra concert in the palace – Check here

Why it's not on the main itinerary: The palace, although cool is too far from other attractions, and exploring it requires half a day. If you have more than 2 days in Berlin, check it out.
Berlin Wall Memorial
Today, the infamous border strip on Bernauer Straße featured in countless photos is a memorial to the Berlin Wall. The open-air exhibition features a stretch of 70 meters of the wall itself, a documentation center, and the Chapel of Reconciliation.
Working Hours:
Tuesday to Sunday from 10:00 AM to 6:00 PM
Monday – closed

Prices:
Free

Why it's not on the main itinerary: It's far north with nothing else of interest around it. The Berlin wall is a colossal city symbol, but you can find pieces of it in plenty of places (two of them included in the main 2-day Berlin itinerary).
Kaiser Wilhelm Memorial Church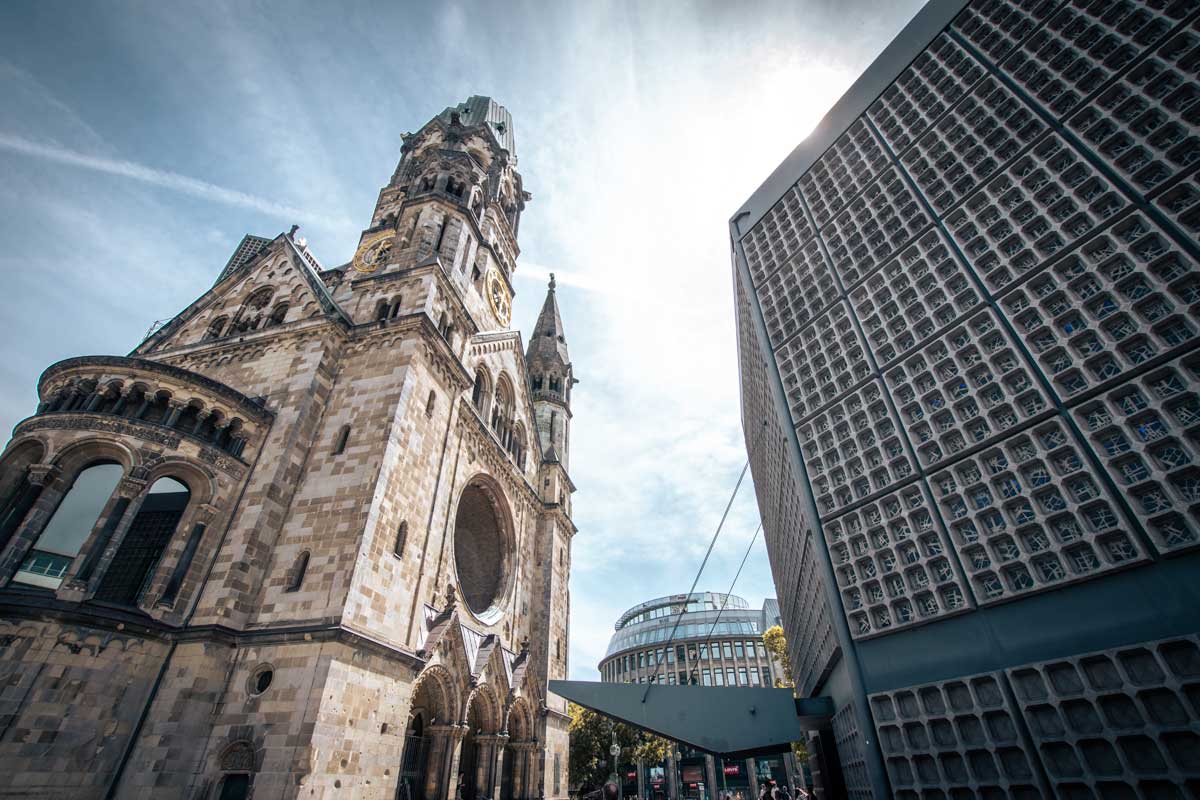 Also known as Gedächtniskirche, the church was built in the 1890s but badly damaged in WWII. The new, very modern-art-looking church surrounds the old one and features 21,292 stained glass inlays.
The church is a famous city attraction nicknamed by the locals "der hohle Zahn", meaning "the hollow tooth".
Working Hours:
Daily from 9:00 AM to 7:00 PM

Prices:
Free

Why it's not on the main itinerary: It requires a detour and is not really unmissable.
Preußenpark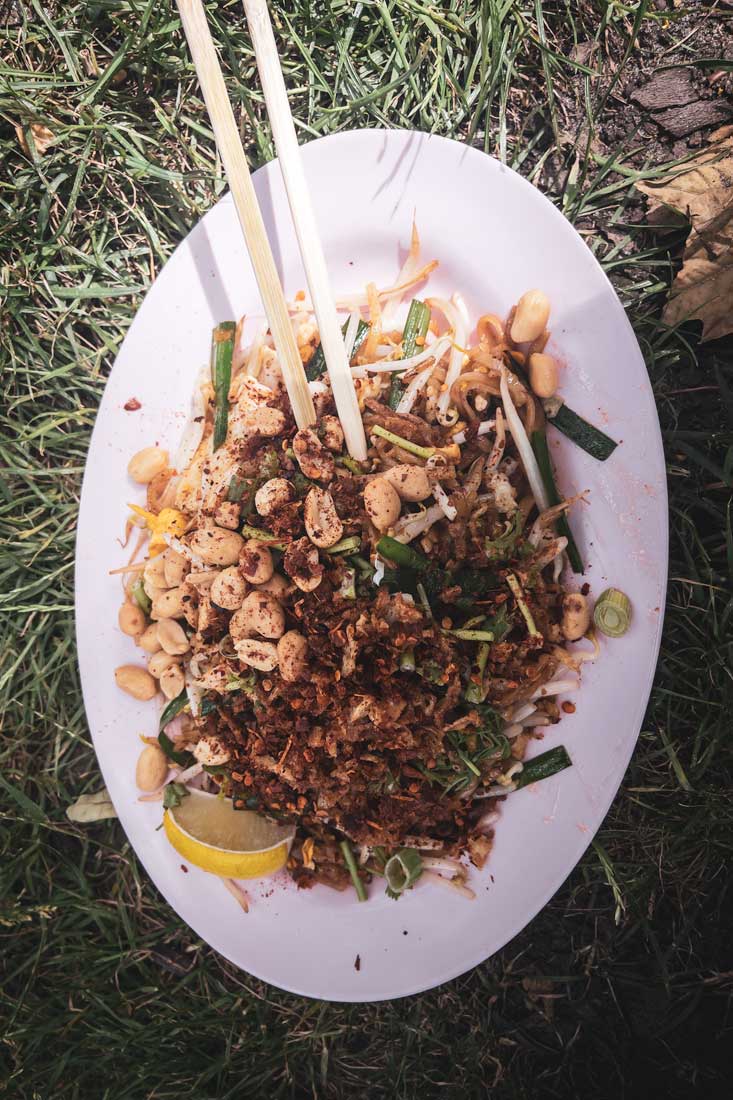 Laid out in 1904, Preußenpark is one of the smaller parks in Berlin. It's also one of my favorite places in the city. Why? Because it transforms into a Thai street market! That's right; if you want a freshly made Pad Thai made by a Thai granny, this is the best place in Europe to find one!
Working Hours:
April to October
Monday to Thursday – closed
Friday to Sunday from 10:00 AM to 8:00 PM

Prices:
Varies

Why it's not on the main itinerary:
It's really far away from everything, but if you're a Thai food enthusiast, you should definitely find the time to visit it.
Berghain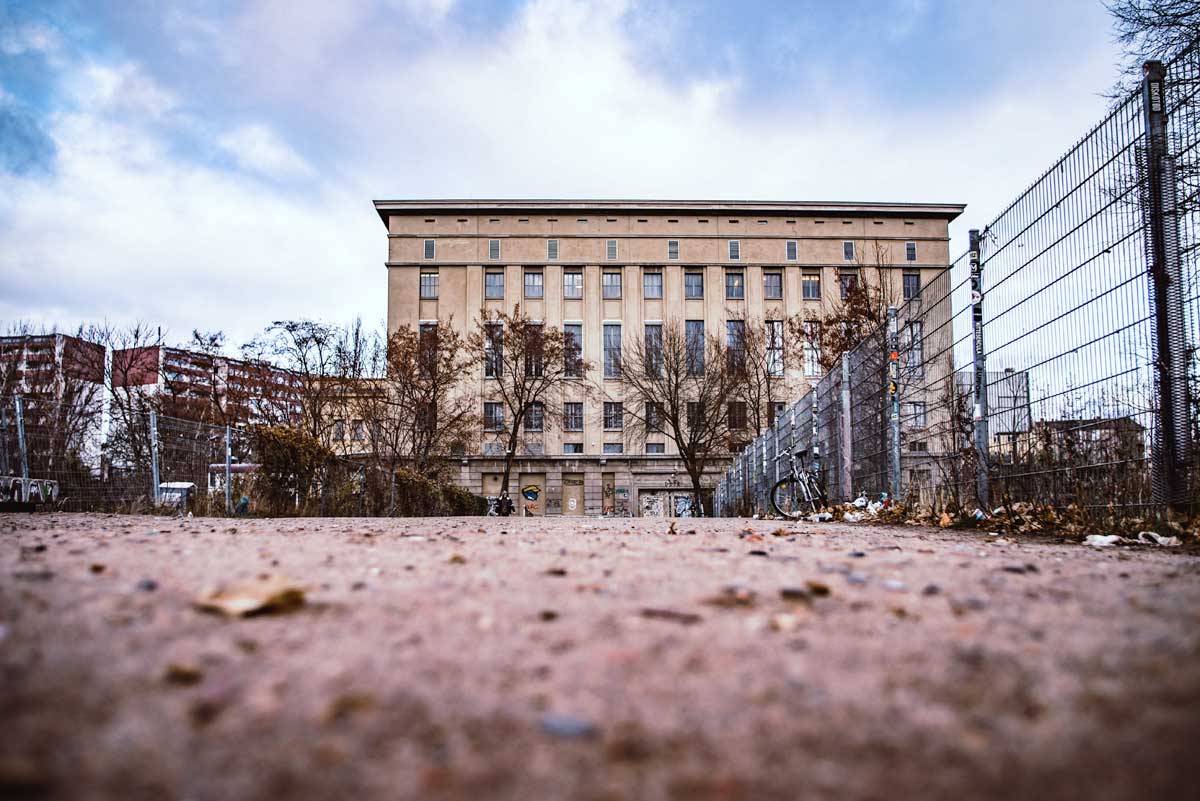 The world-famous nightclub was opened in 2004 and is today known as the "world capital of techno". It's notorious for its strict door and no-photo policies and its exotic parties.
Working Hours:
Saturday evening through Monday morning

Prices:
Various but around 15 EUR

Why it's not on the main itinerary:
Exotic nightclubs are not everybody's cup of tea.
German Historical Museum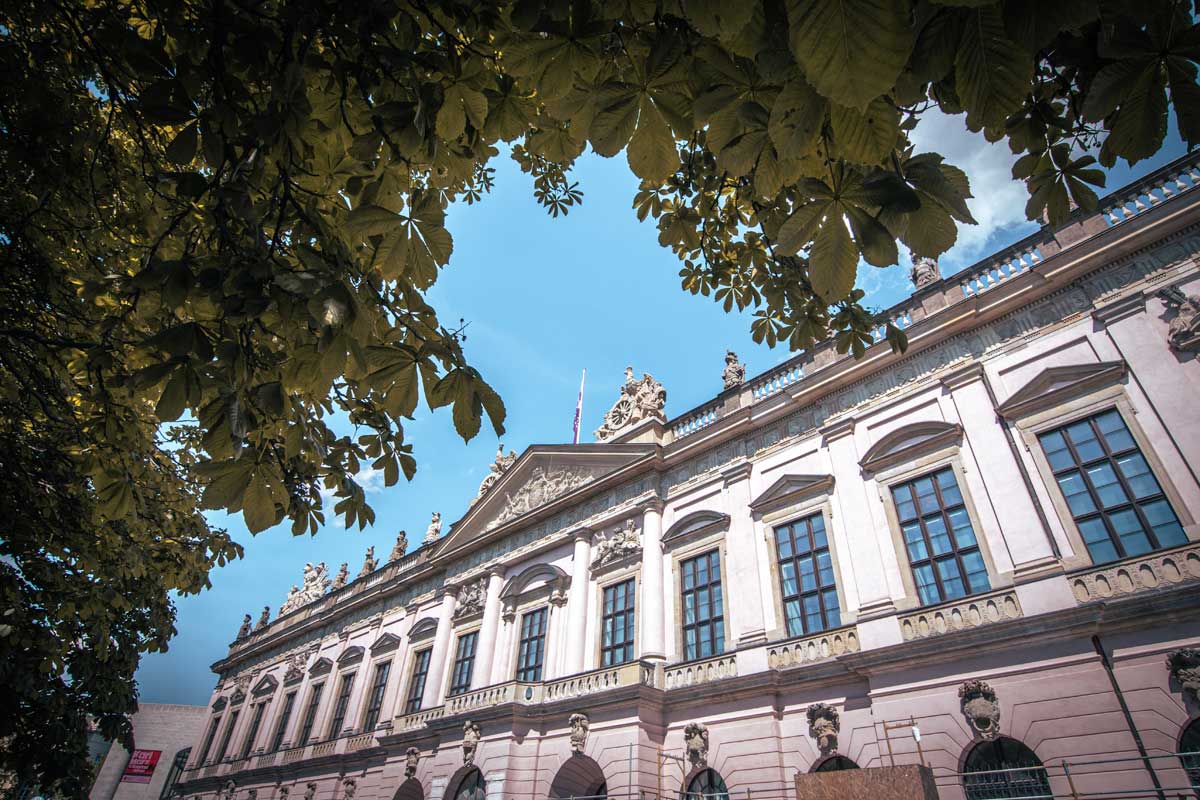 Also known as DHM, the historical museum represents itself as a place of "enlightenment and understanding of the shared history of Germans and Europeans". It's one of the most prominent museums in Berlin, displaying more than 1,000,000 objects.
Working Hours:
Friday to Wednesday, 10:00 AM to 6:00 PM,
Thursday 10:00 AM to 8:00 PM

Prices:
Regular – 8 EUR

Why it's not on the main itinerary: We already have 2 museums to visit, and having more than that on a 2-day itinerary would lead to museum burnout.
Spy Museum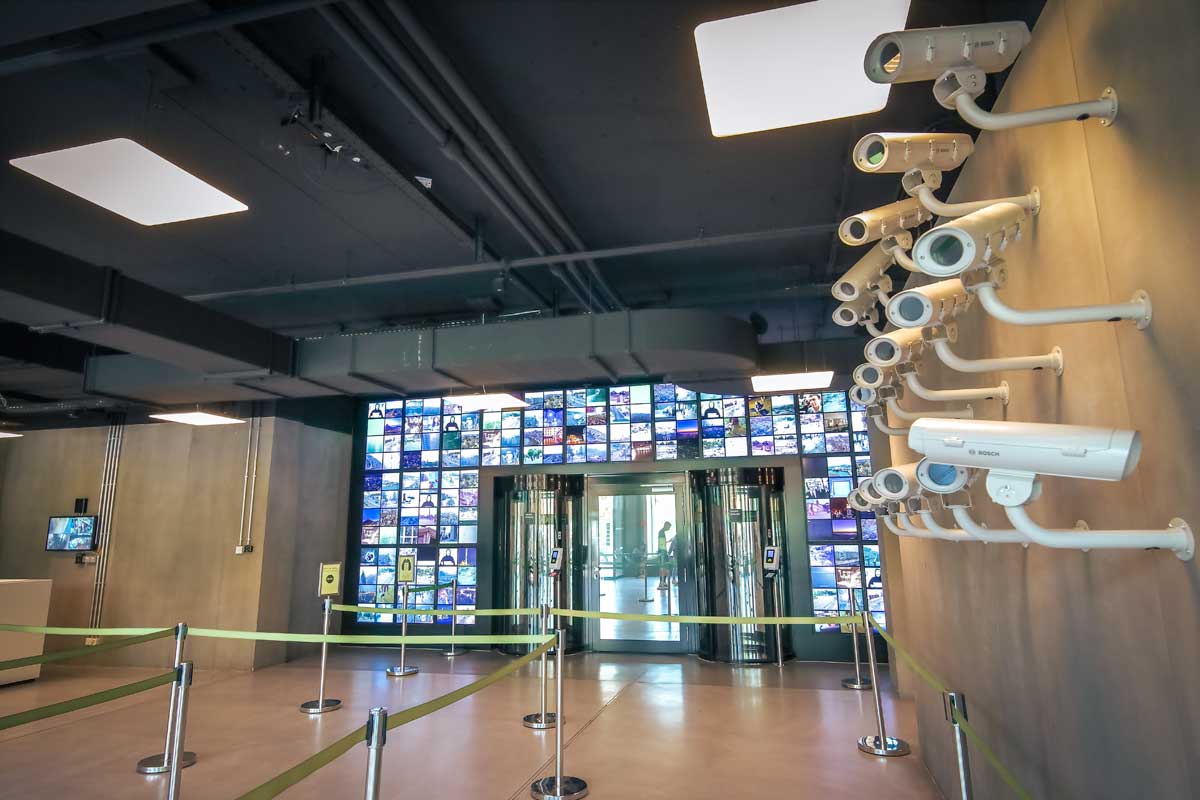 Located right where the Wall divided Berlin, the spy museum offers an exciting look at the espionage world during the Cold War era. Being an interactive museum, you'd get the chance to hack a website, test your password strength, navigate a laser labyrinth and decipher some codes.
Working Hours:
Daily from 10:00 AM to 8:00 PM

Prices:
Regular – Check here

Why it's not on the main itinerary: We already have two museums on the 2-day Berlin itinerary. This one is great if you're visiting the city with your kids, though.
Disgusting Food Museum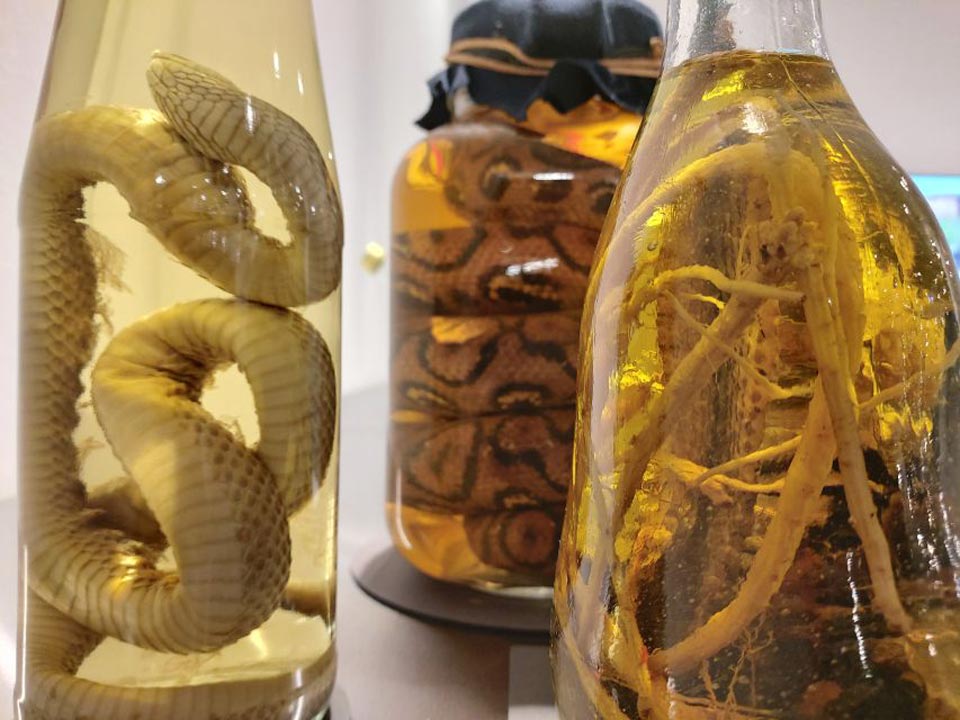 Displaying over 90 extraordinary food exhibits from around the world, the disgusting food museum is a fun place to spend an hour and take some photos. From Cambodian fried tarantulas to soap-flavored gum, there are plenty of things to gross you out here.
Working Hours:
Friday to Tuesday 12:00 AM – 6:00 PM

Prices:
Regular – 16 EUR (online ticket)

Why it's not on the main itinerary:
It's too expensive for what it offers.
Gärten der Welt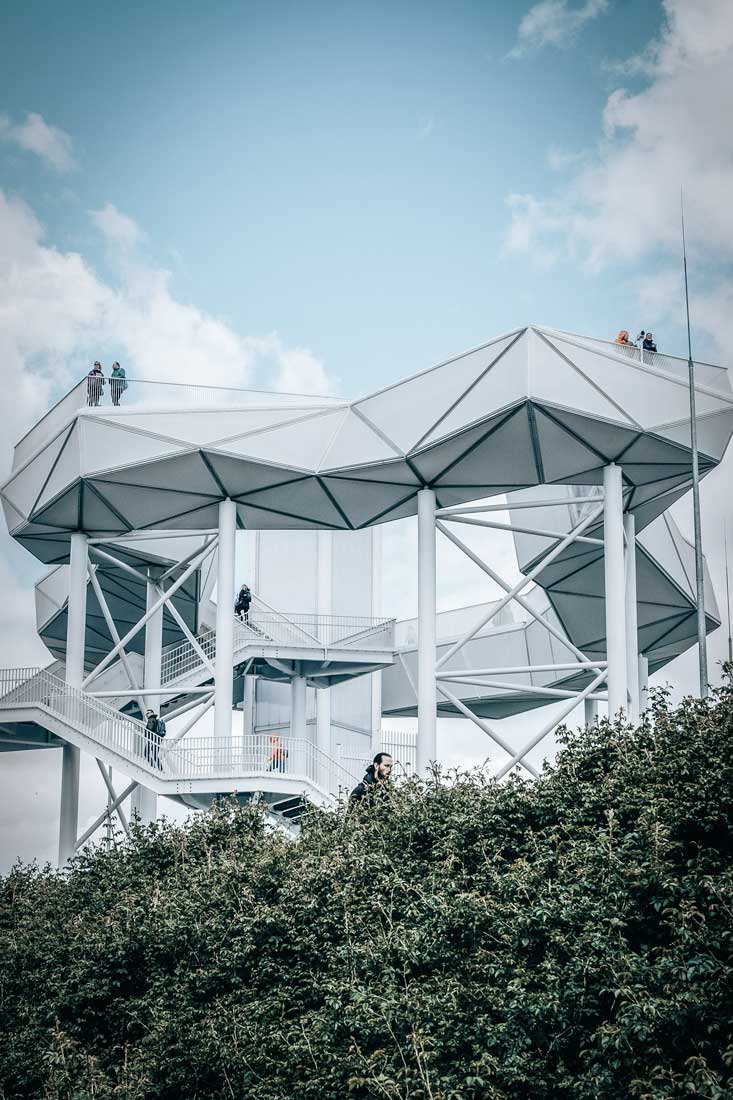 Translating to Gardens of the World, this park offers 22 different garden installations designed by landscape architects from all around the globe.
A regular concert venue with plenty of playgrounds and even a cable car, the Gardens of the World are a perfect place to spend the day with your family.
Working Hours:
Gardens – daily from 9:00 AM till dark (no later than 8:00 PM)
Cable car – daily from 10:00 AM to 6:00 PM

Prices:
Summer prices (beginning of March to the end of October):
Regular – 7 EUR
With the cable car – 9.90 EUR
After-work ticket after 5:00 PM – 4.50 EUR
Winter prices (beginning of November to the end of February):
Regular – 4 EUR
With the cable car: 6.90 EUR
Get online tickets here

Why it's not on the main itinerary:
It's in a galaxy far, far away.
Hackescher Markt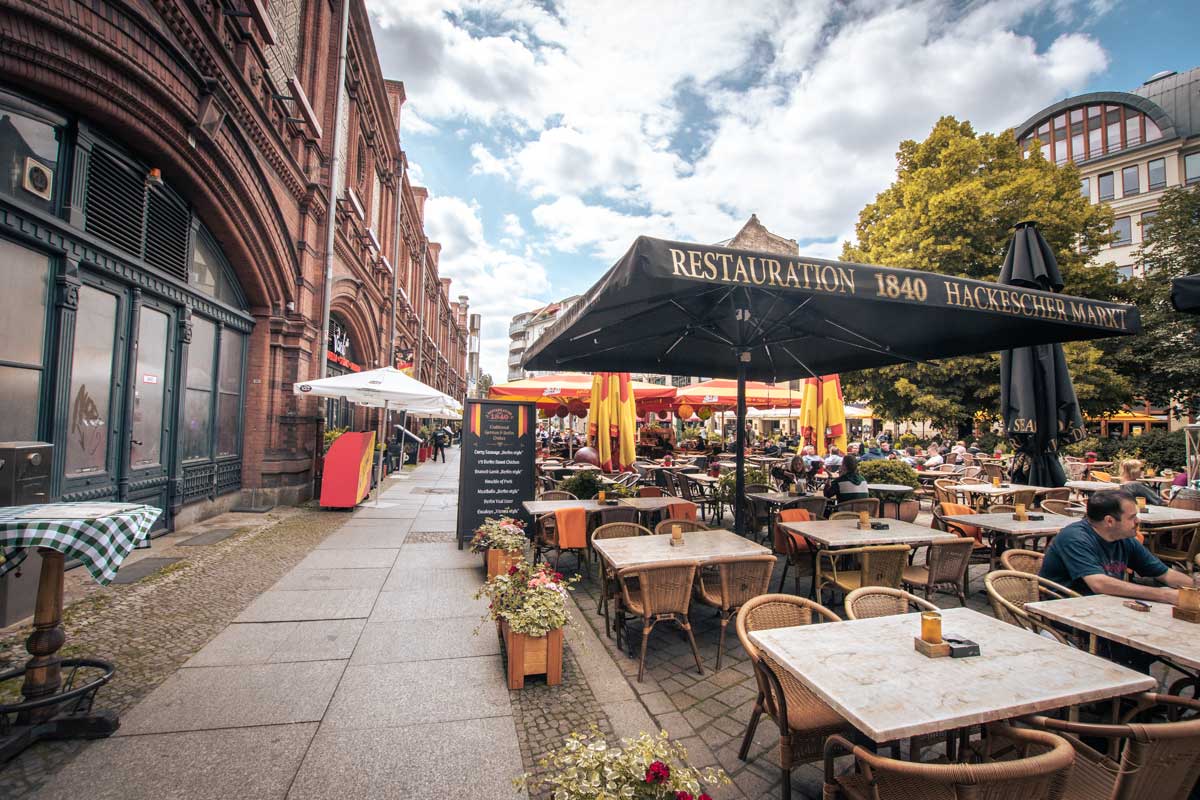 Located in the Mitte district, Hackescher Markt is one of the trendiest shopping areas of Berlin. Comprised of a labyrinth of eight courtyards, the market featured many specialized shops, cute cafes, restaurants, and bars. In addition, the area around it is a hotspot for unusual clothes, accessories, and shoes, mostly from small local brands.
Why it's not on the main itinerary: it requires a detour from the city center while not being cool enough to warrant it. If you're into shopping, though, ch
Berlin Tours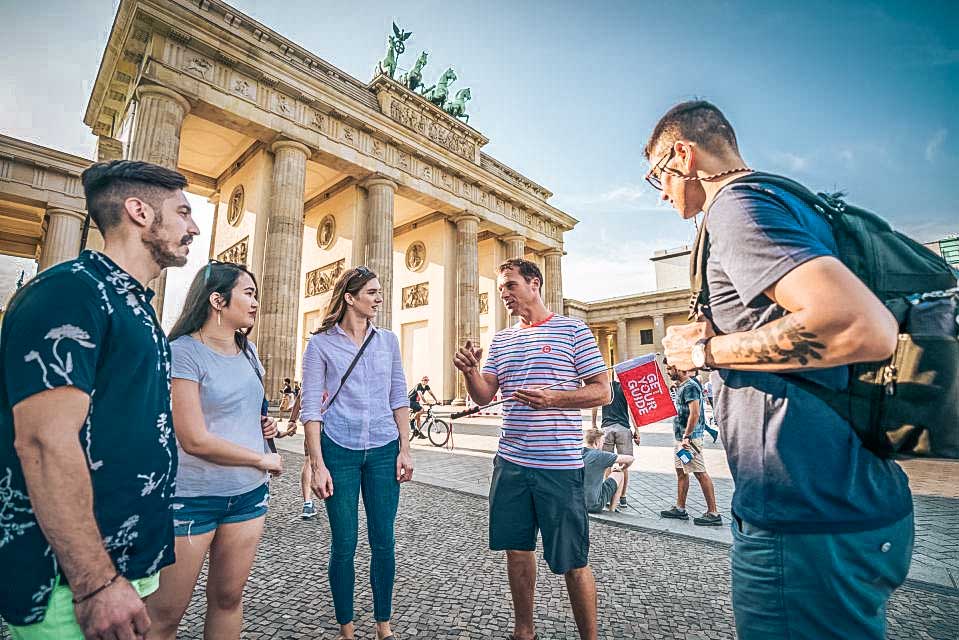 This one will partner you with a local tour guide who will tell you the stories behind the city's most famous monuments. From WWII to the Cold War, there are plenty of exciting tales and stuff to learn!
Check the latest price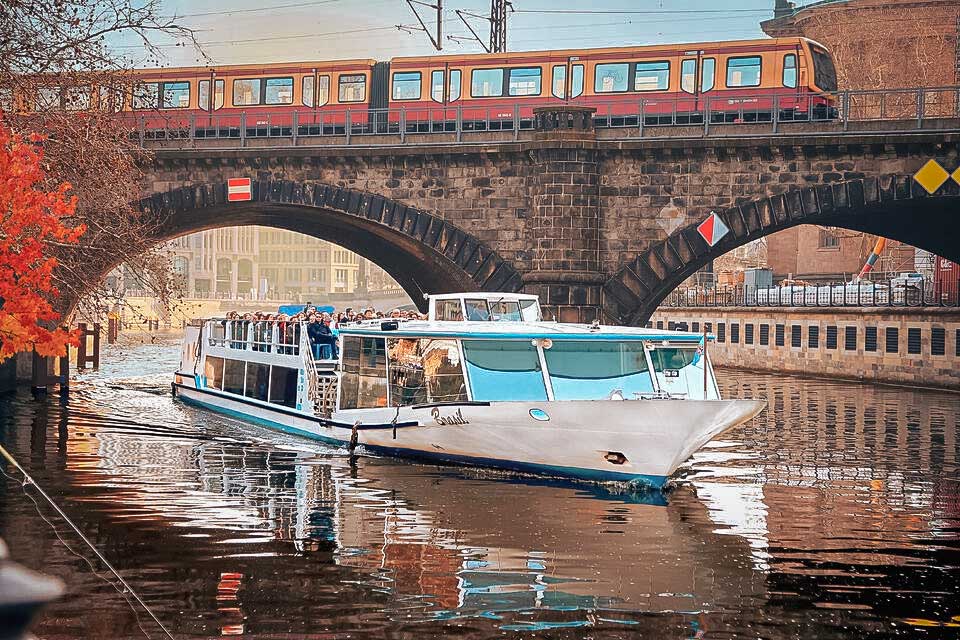 I recommend one of these in most European capitals. All of them seem to have rivers, and the river view of their prominent landmarks is – well – it's pretty different from the regular ground one. This tour guarantees a seat (not all of them do) and has a heated option for the colder months.
Check the latest price
This tour will take you around the alternative side of Berlin. An experienced guide will navigate you through hidden courtyards and secret alleys that showcase the typical urban Berlin atmosphere.
Check the latest price
This tour will take you around the city's highlights in a… mini hot rod! That's right; you get your own tiny uber-cool car to explore in style!
Check the latest price
Berlin Day Trips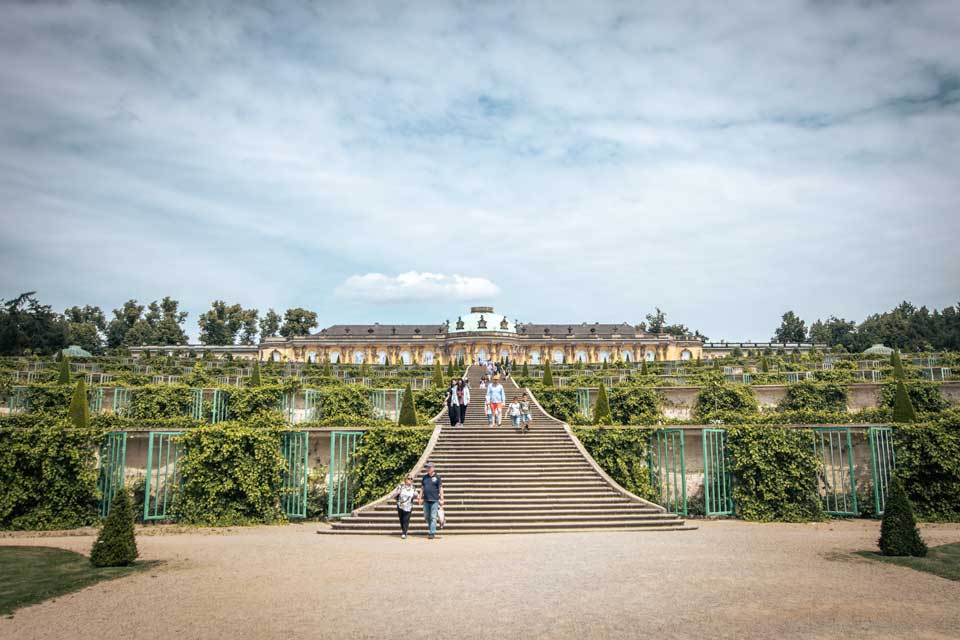 This day trip will take you around 40km away from Berlin to the picturesque town of Postdam. You will explore the Duch quarter, the legendary "Bridge of Spies", and the incredible Sanssouci Palace.
Check the latest price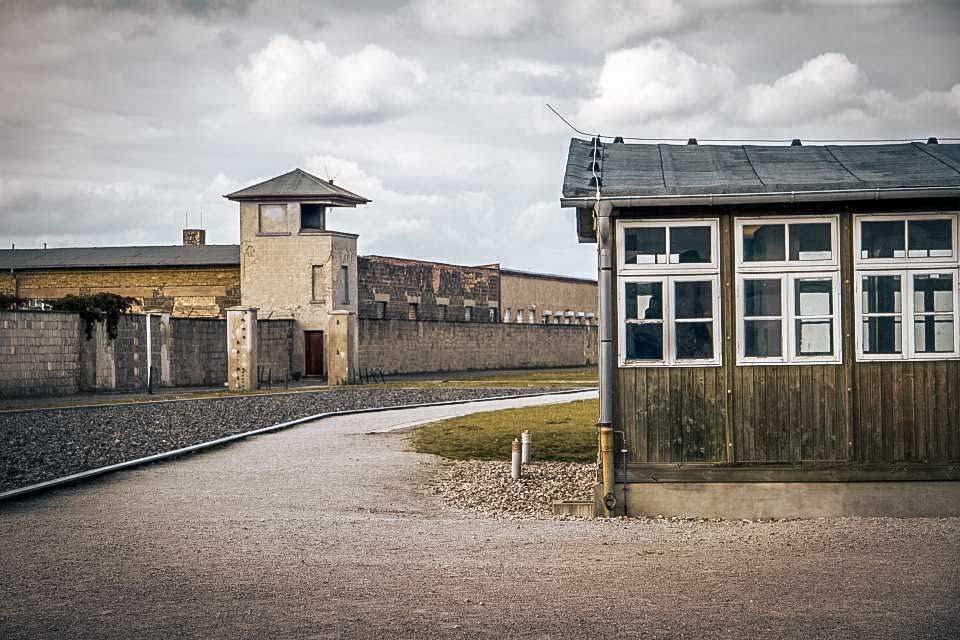 Join an expert guide on one of the saddest day trips in the world. The Sachsenhausen concentration camp was active for 9 years and mostly held political prisoners. The camp's death count was estimated at approximately 30,000 inmates.
You can explore the guard towers, prisoner facilities, Jewish barracks, and the gallows and pay your respect to the victims at the Sachsenhausen Memorial.
Check the latest prices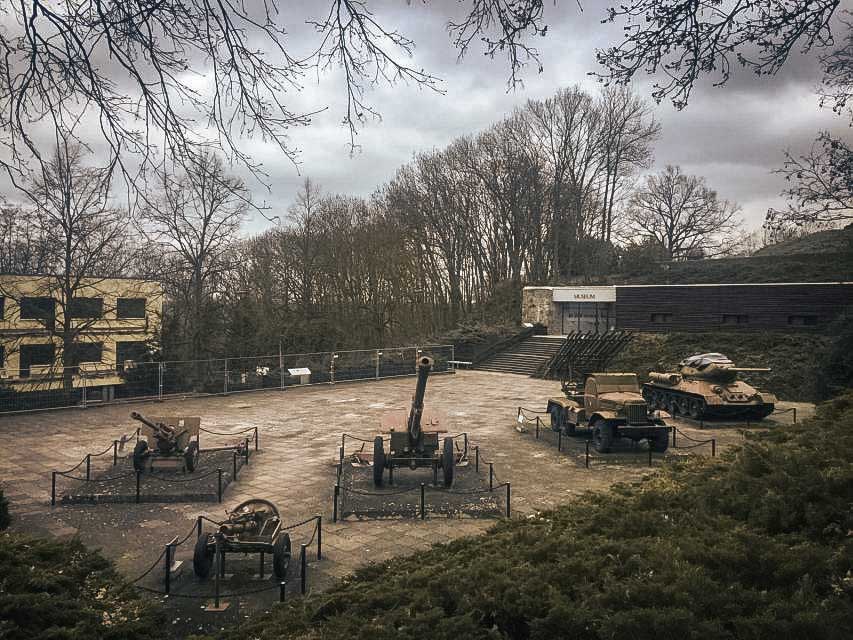 For all of you WWII enthusiasts, this day tour will be a treat. Travel to the lesser-known battlefield of Seelow Heights to learn more about the brutal battle between German and Soviet forces and some insides of Marshal Zhukov's war tactics.
Check the latest prices
Where to Stay in Berlin
High-end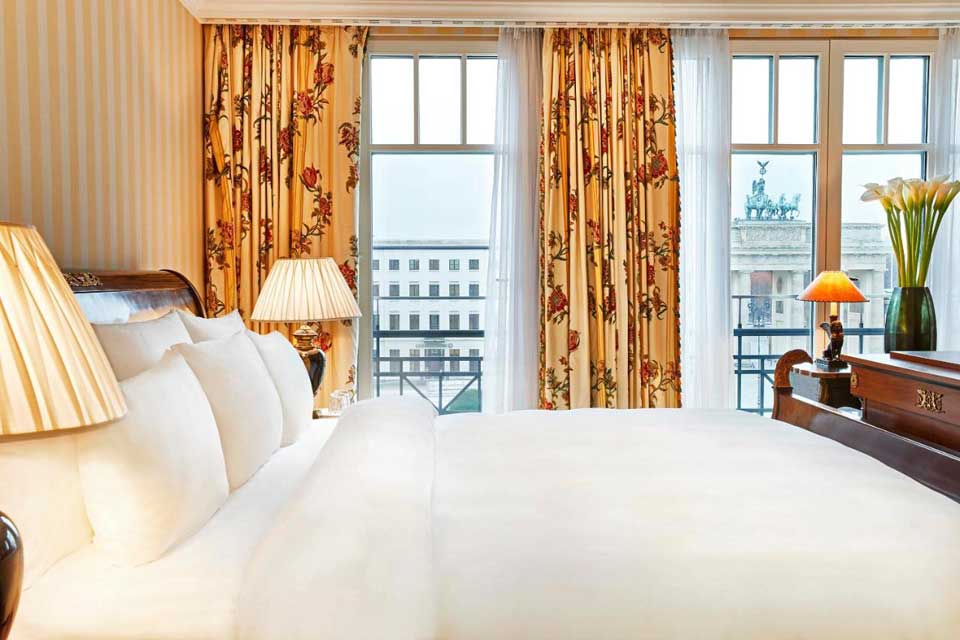 Hotel Adlon Kempinski Berlin
The 5-star Kempinski Hotel is hands-down the best hotel in the city.
Spacious, luxurious rooms, an indoor pool, 2-star Michelin restaurant, perfectly trained staff, and of course, the best of all, a room view of the Brandenburg Gate!
Check the latest prices
Moderate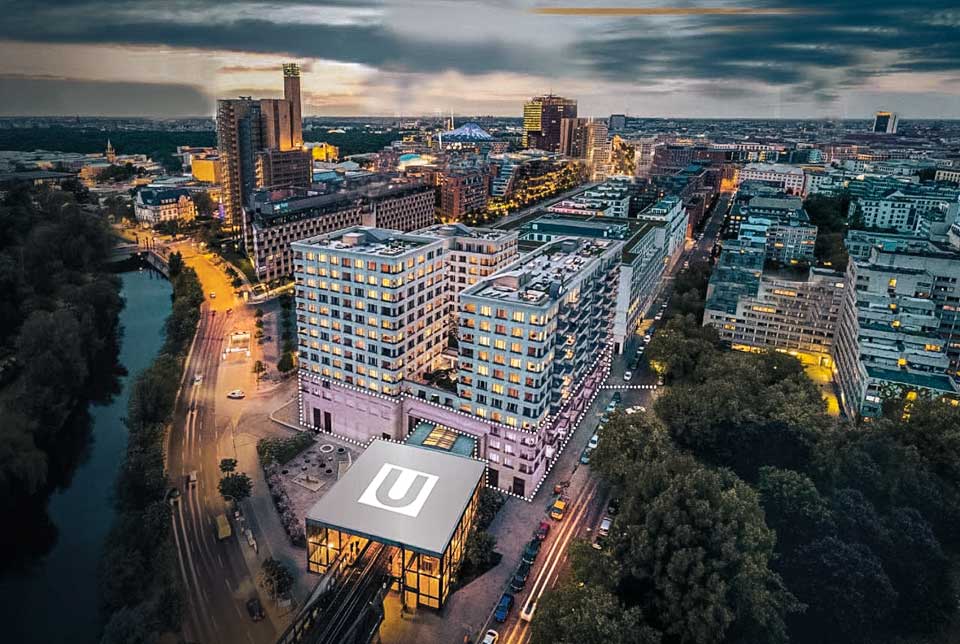 HighPark by Palmira
Located on Postdamer Platz, these apartments have a metro (and train) station right next to them. You probably won't use it a lot, though, since most of the main attractions are just 20-minutes away on foot.
The apartments are situated in a modern building and offer orthopedic mattresses, fully equipped kitchenettes, and balconies. There's also a separate beds option! While not the cheapest out there, this hotel has plenty of value.
Check the latest prices
Budget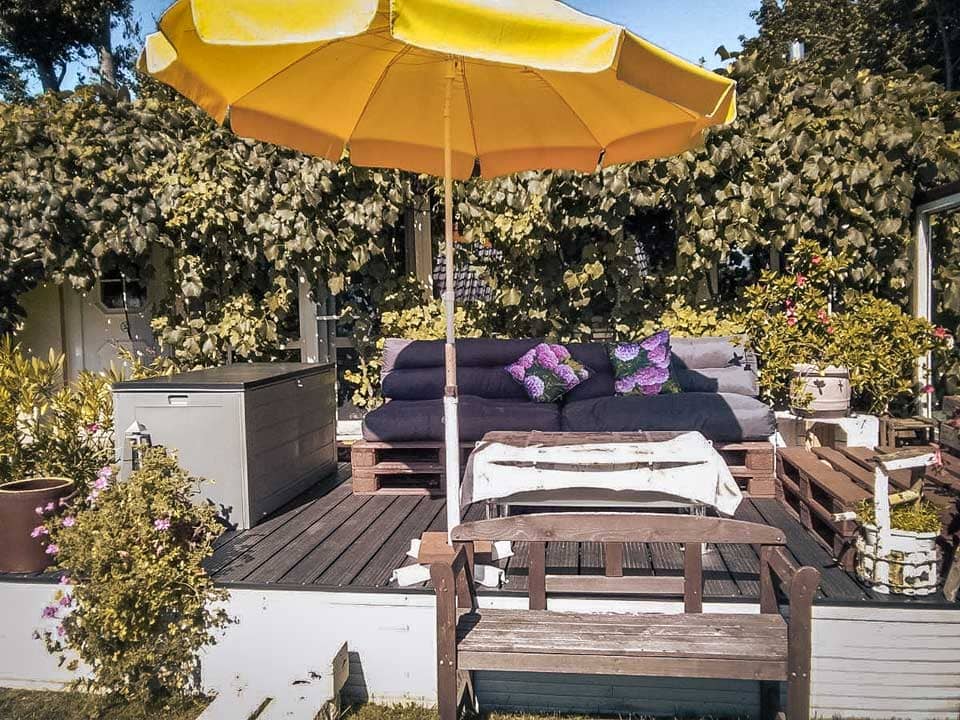 Gartenhaus
This one is a bit far from the center, but if you're coming to Berlin in a car or don't mind using public transport (or walking), this would be the best place for you. The good thing about being away from the center is that the place is eerily quiet. In addition, the apartment features a garden – ideal for barbecue, free parking, and an excellent area for hiking and cycling.
Check the latest prices
Hostel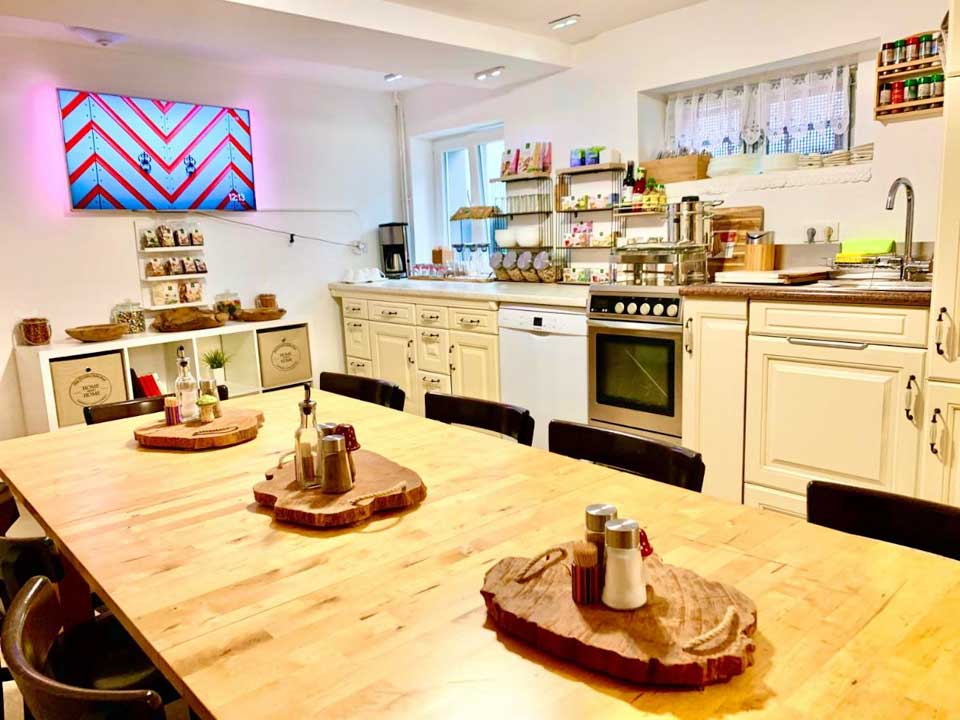 New Hostel Berlin Mitte
This is the highest-rated hostel in Berlin, and there's a good reason for that. It's located near the city center, right next to a few metro stations. It offers different shared rooms, the smallest being a 2-bed dormitory. There are also free bikes, a garden, and a top-notch breakfast. No doubt this is the best budget place in Berlin.
Check the latest prices
Two Days in Berlin FAQ
When to travel to Berlin?
Berlin is a place you can visit any time of the year and still have a great time. During the spring and autumn months ( April, May, and September, October), the temperatures vary between 13°C/56°F and 19°C/60°F. The average number of rain days is around 11. Since it's not peak tourist season, you can find some good hotel deals.

Summers in Berlin are not too hot, with temperatures between 21°C/70°F and 24°C/74°F. Rainy days are between 12 and 15 (yes, more than the shoulder months), and it's a peak tourist season meaning the most expensive accommodation possible.

The Winters months are not the best time to explore the city with temperatures ranging between -2°C/28°F and 7°C/47°F, but they offer a city free of tourist crowds and the cheapest accommodation there is. There are also some pretty cool Christmas markets, the most famous ones located on Gendarmenmarkt and next to Kaiser Wilhelm Memorial Church.
Check the weather for your trip
Is Berlin expensive?
Berlin is one of the inexpensive Western European capitals, but it's still a Western European megapolis, so it's not a cheap place. Having said that, it's pretty easy to find affordable street food (pretzels for 1.5 EUR and donner kebabs for 6-7 EUR) or inexpensive hostels.
You can check some average Berlin prices here.
Can I use USD in Berlin?
No, Germany is part of the European Union, and only Euro is accepted. Card payments are also accepted in most places.
How to get around Berlin?
Berlin is a walk and bike-friendly city. Most of the attractions are around the city center and are easy to check on foot. For the farther ones – rent a bike.

If a bike is not your thing, you can take a metro, bus, or tram. Berlin's public transport system is quite developed but a bit expensive. A ticket costs 3.5 EUR, and you can buy it from a ticket machine at most stops. A hop-on-hop-off bus is also an option.

Last but not least, most people's favorite transportation method – via car. I mean cars are one of Germany's most famous export. You can't skip trying them out, can you? The most convenient tool for finding the finest rent-a-car in Berlin is definitely Discover Cars. They compare all offers among 500 rent-a-car providers to help you find the best one.
How to get from the airport to the city center?
There's only one working airport in the city – Brandenburg airport. It's well connected with the public transportation offeringAirport Express (FEX) and regional trains (RE7, RB14) that run several times an hour between Berlin Central Station and Terminal 1-2. In addition, the S9 and S45 commuter trains run every 20 minutes to Berlin city center.
More info

You can also get a rent-a-car waiting for you at the airport. You can compare all rent-a-car offers in Berlin with Discover Cars. What's a better way to explore Germany than a new BMW, right?

Or get a private shuttle or a taxi (around 50-60 EUR). The coolest way to do the transfer is by a stretch Trabant limousine! Yes, it's a thing! A bit expensive but includes a city tour, and it's definitely a top story to tell back home.
Is Berlin safe?
Berlin is one of the safest cities on the continent. Of course, just like in any other big city, there are bad areas (they're away from the attractions, so you won't stumble upon them) and the risk of pickpockets around the major attractions, but if you keep your travel smarts with you, you won't have any problems.
This doesn't mean you should go unprepared, though. The best way to ease your mind is travel insurance. I use World Nomads for my travels because they have proven themselves to me more than once over the years. If you have another favorite provider, that's ok. Just make sure you have one.
Is Berlin Worth it?
Absolutely! Berlin is a pretty cool city, and it's totally worth a visit.
2 Days in Berlin Itinerary Map
That's all from me, I hope you have incredible 2 days in Berlin.
————————————
If you haven't planned your trip there yet, find out how I plan my trips!
————————————
I have 24 bucket list ideas for Germany. See my impossible bucket list of 1700+ adventures!

Is Berlin on your bucket list?
---
Some of the above are affiliate links and I will earn a percentage of the sale if you purchase through them at no extra cost to you. This helps keep my site running – so thanks in advance for your support!