Cappadocia balloon ride is one of the most popular bucket list activities there are. Seriously, anyone who has seen a photo or a video from the magical Turkish area wants to go there. And while there are a lot of places in this world that look much better on pictures than in real life, Cappadocia is quite the opposite.
Imagine rising slowly in the sky, with dozens of other multi-colored balloons already flying nearby, all you hear is the world waking up around you (and a flamethrower from time to time), and all you have to worry about is the shade of the sunrise (pinky or gold). To complement the colorful mayhem around you, the desert landscape of Cappadocia keeps onrevealing valleys and formation taken straight out of Luice Carrol's wonderland.
This is what a Cappadocia balloon ride feels like. And it's absolutely awesome!
What is Cappadocia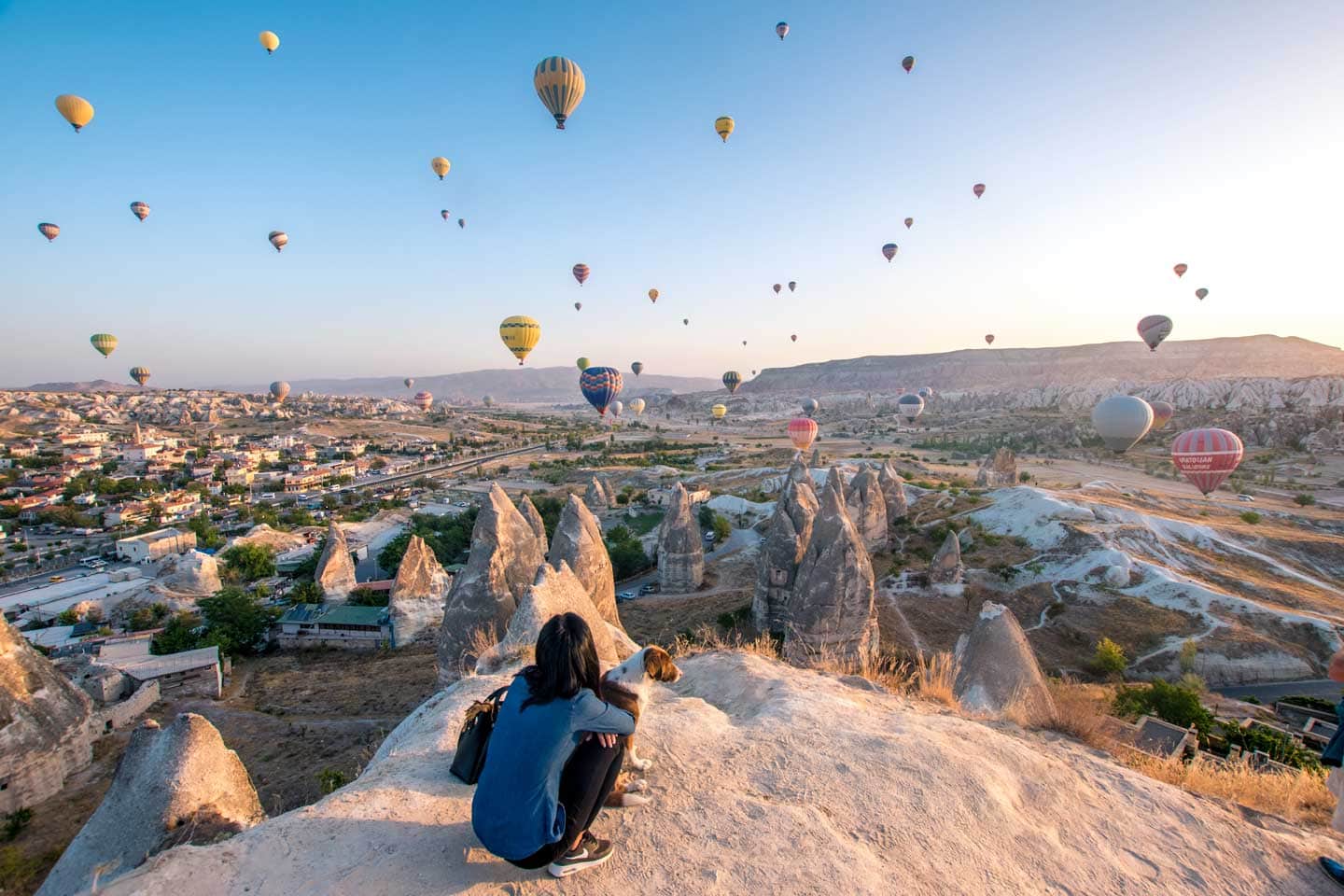 A lot of people think Cappadocia is just a single town while it really is a vast region in central Turkey, which covers five inner states.
The heart of the area centers around the triangle – Goreme, Urgup and Avanos (the towns with the balloon rides), and this is where most of the visitors flock to. In between them are four smaller villages – Uchisar, Ibrahimpasa, Ortahisar, and Cavusin.
There is a curious story about the name of Cappadocia. According to the locals, it means the land of beautiful horses, however, this is a misconception that started in the '80s.
When the Turkish government was trying to market Cappadocia as a tourist spot, they wanted to change the Greek-sounding name, but a photographer managed to convince him that the name had a deeper meaning. This is how the myth was born.
The real meaning of the name is believed to be way less poetic, coming from Ketpatukh which means the country of the people of Khepat.
See Also: Top 10 Fun Facts About Instanbul
Which area should you stay in, to see the hot air balloons in Cappadocia?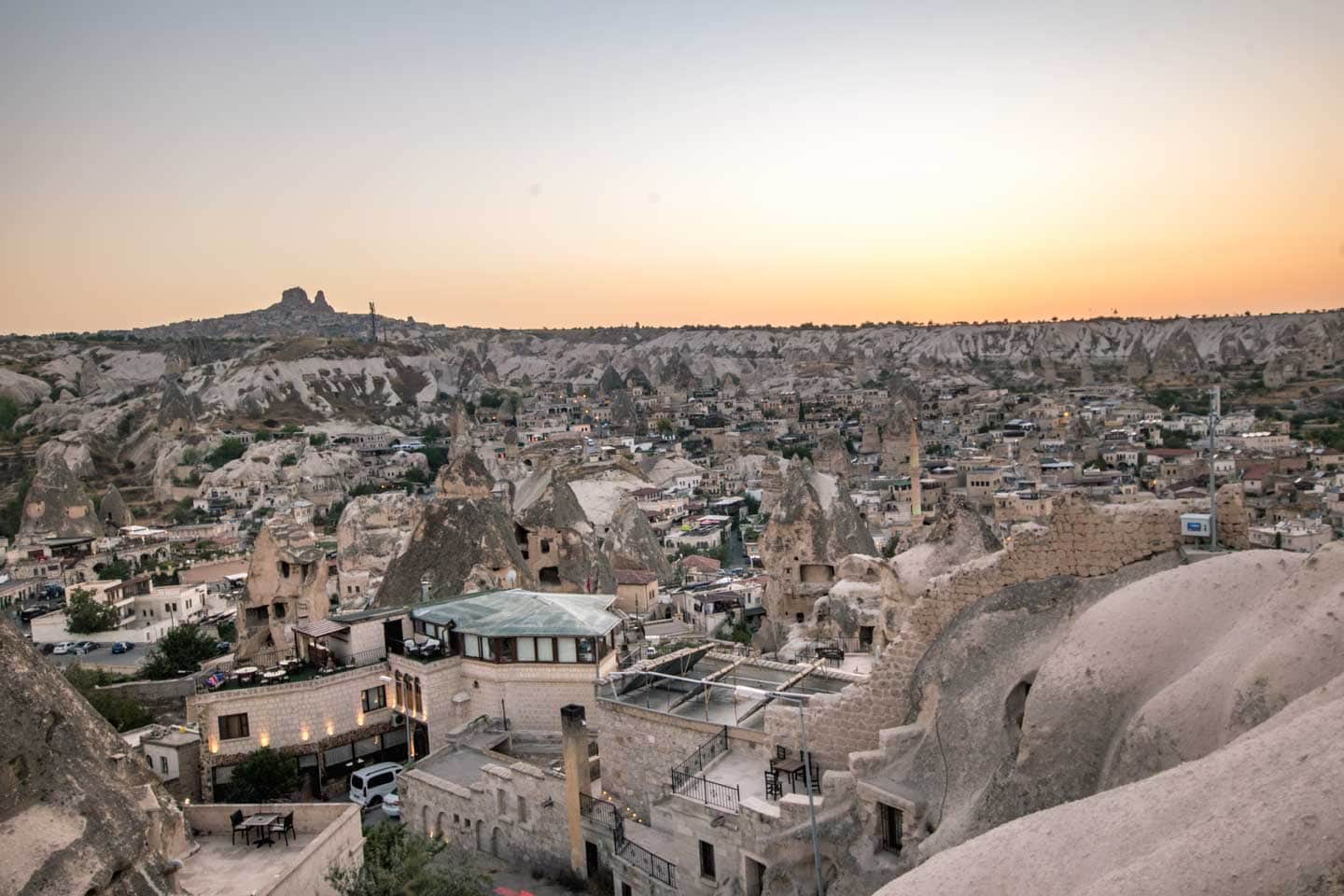 While Uchisar, with its incredible rock castle, and Cavsuin, with its stunning Red and Rose Valleys, are alluring places, if you want the best Cappadocia balloon ride experience, you should go to Goreme.
A blend of Fred Flintstone's home town – Bedrock and the Shire from Lord of the Rings, this small town is covered with more than 200 cave hotels. It's also the area most of the balloons take off from. Staying in Goreme also gives you more sleep before your Cappadocia balloon ride. If you don't fancy a flight, a joyful morning spectacle from your hotel balcony is another amazing treat of the area.
And don't be afraid you'd miss the highlights of the other towns. Goreme is the main tourist hub in the area, so there are various tours to the nearby towns.
What's the best time to visit Cappadocia?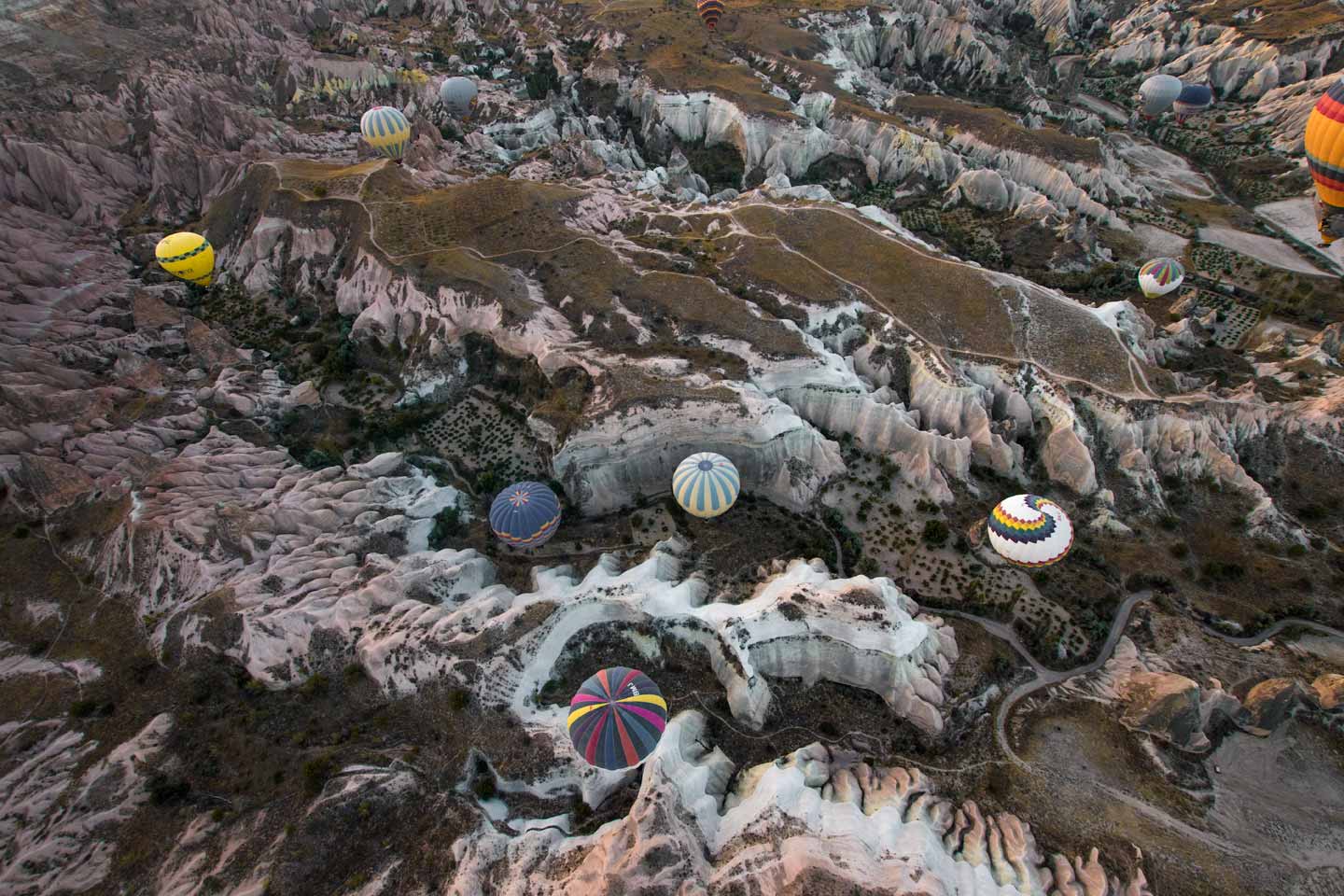 Even though it may look like a desert that has never seen snow or even rainclouds, Cappadocia actually has four distinct seasons.
Spring; May – June
Probably the best time to visit Cappadocia for a balloon ride. Warm days with cool nights give you the perfect conditions to see all the highlights of the region.
Summer; July – August
This is when Cappadocia becomes a real desert. With temperatures often higher than 40'C you would find yourself spending the middle of the day in your hotel. The cave hotels are perfect for the job though and the summer days are longer so you'll have enough time to check everything.
Autumn; September – October
The most popular time to visit Cappadocia. Warm days and cool nights again. Weather conditions could be very unpredictable though, so if you want to experience the Cappadocia hot-air balloon flight, make sure you plan more than a day or two, just in case the weather goes wrong, and the balloon rides are canceled.
Winter; November – April
Even though the snow usually comes in December, the coal stoves are needed as early as the start in November. There're also periods of dense fog, during these months, making the Cappadocia balloon rides not really worth it.
Since it's offseason, a lot of shops and hotels may be closed. There're some positives in the winter visit though – fewer tourists, cheaper hotels, tours, and activities, and if you are lucky enough to fly on a clear day, a view of breath-taking snowy Cappadocia.
Check the weather forecast in Cappadocia
What's, the Cappadocia balloon ride, really like?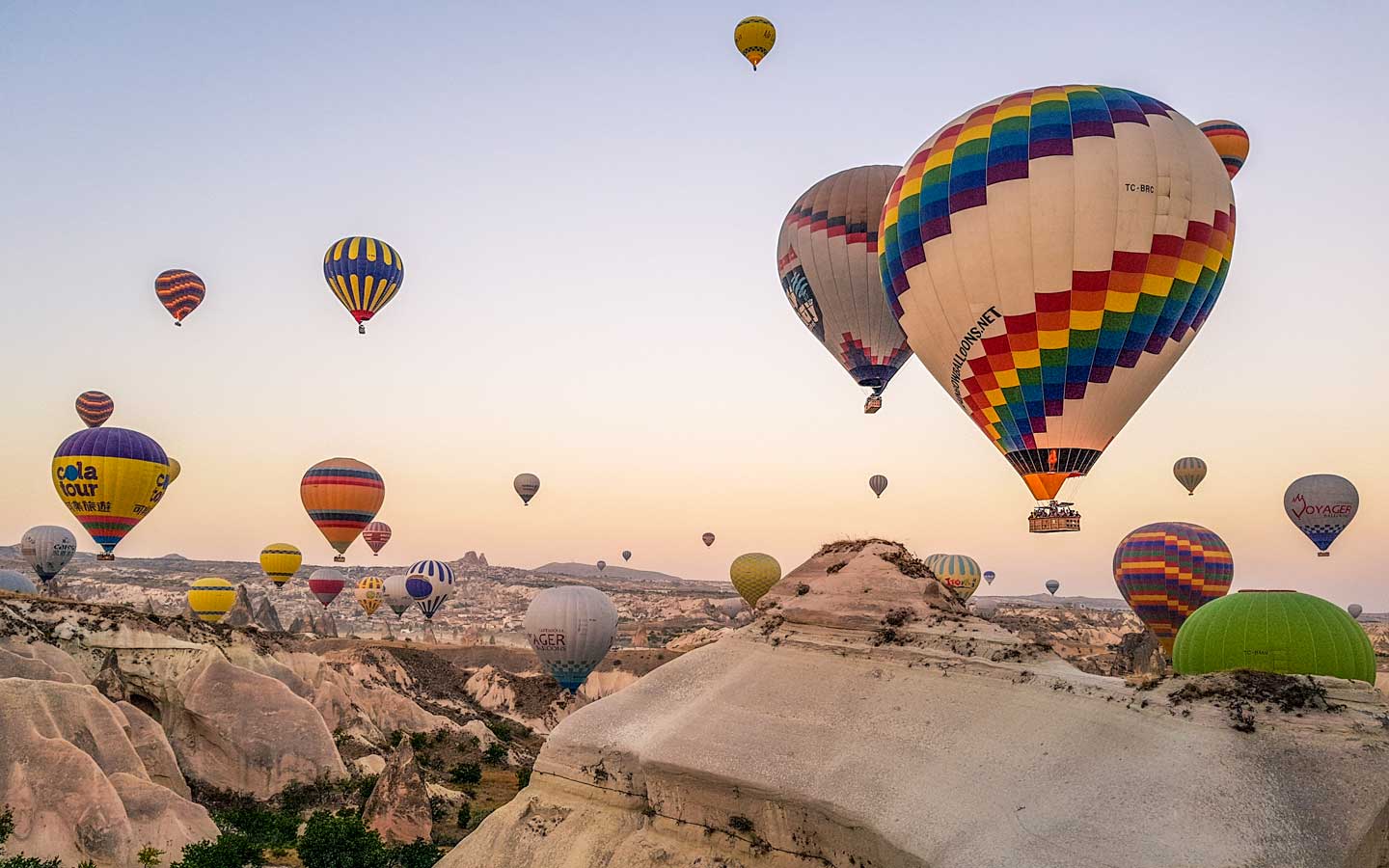 Since the goal is to be in the air for the sunrise, you'll have to get up really early and take a shuttle that takes you straight to the embarking point.
Depending on the company you've chosen (and the price you've paid), you're going to get either a full buffet breakfast or just cookies and coffee while you watch the balloons get inflated. Spectating these giants coming to life is an experience by itself, but it's nothing compared to what's coming next.
After a quick security brief, you get inside the large basket (it's divided into four sections, with 3-5 people per section) and you slowly rise in the air. This part is my favorite! The sun hasn't come out yet, but you still have excellent visibility to appreciate the colorful spectacle of the balloons around you.
The next half an hour is spent going up and down the unique valleys of Cappadocia. When the time comes, your pilot will rise the balloon to give you the best sunrise photo opportunity.
Around the 50 min mark, you'll start to look for a landing place. If you are lucky enough, you won't find a suitable one fast enough, and your flight will be extended from 60 to 75 or even 90 minutes!
Once on the ground, you'll be greeted with champagne and taken back to your hotel.
To get the best balloon flight deal, I suggest you ask your hotel for offers when you book them. It's not a rare case for the hotel to share an owner with one of the balloon companies and to offer a discount. Compare it with the tours you see here and pick the best one for you.
Do the hot air balloons in Cappadocia fly every day?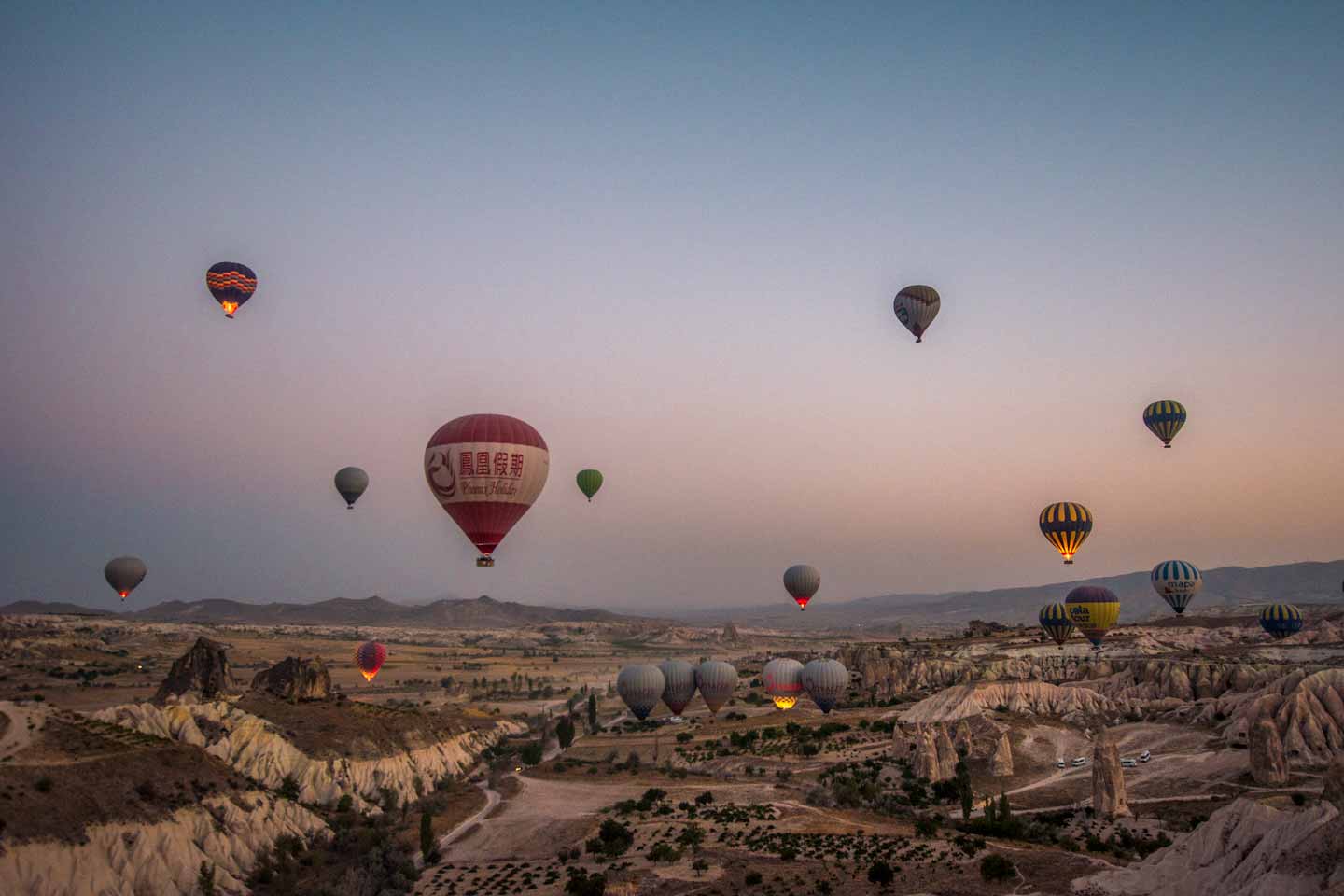 The balloons fly every day the weather permits. On average between 250-280 days per year.
How to get to Cappadocia?
By Plane
The two airports in Cappadocia are Kayseri and Nevsehir. Chances are there won't be a direct flight there so you'll have to catch one from Istanbul or Ankara. From the airport, you need a shuttle transfer to your city of choice. Most hotels offer those, but if yours don't, you can book one here.
By bus
If time is not your concern and you want to save some money, you can get a bus from Istanbul (10-12hrs). If your bus is to some of the big cities – Kayseri and Nevsehir, make sure you've arranged the shuttle to your final destination.
Is the Cappadocia balloon ride safe?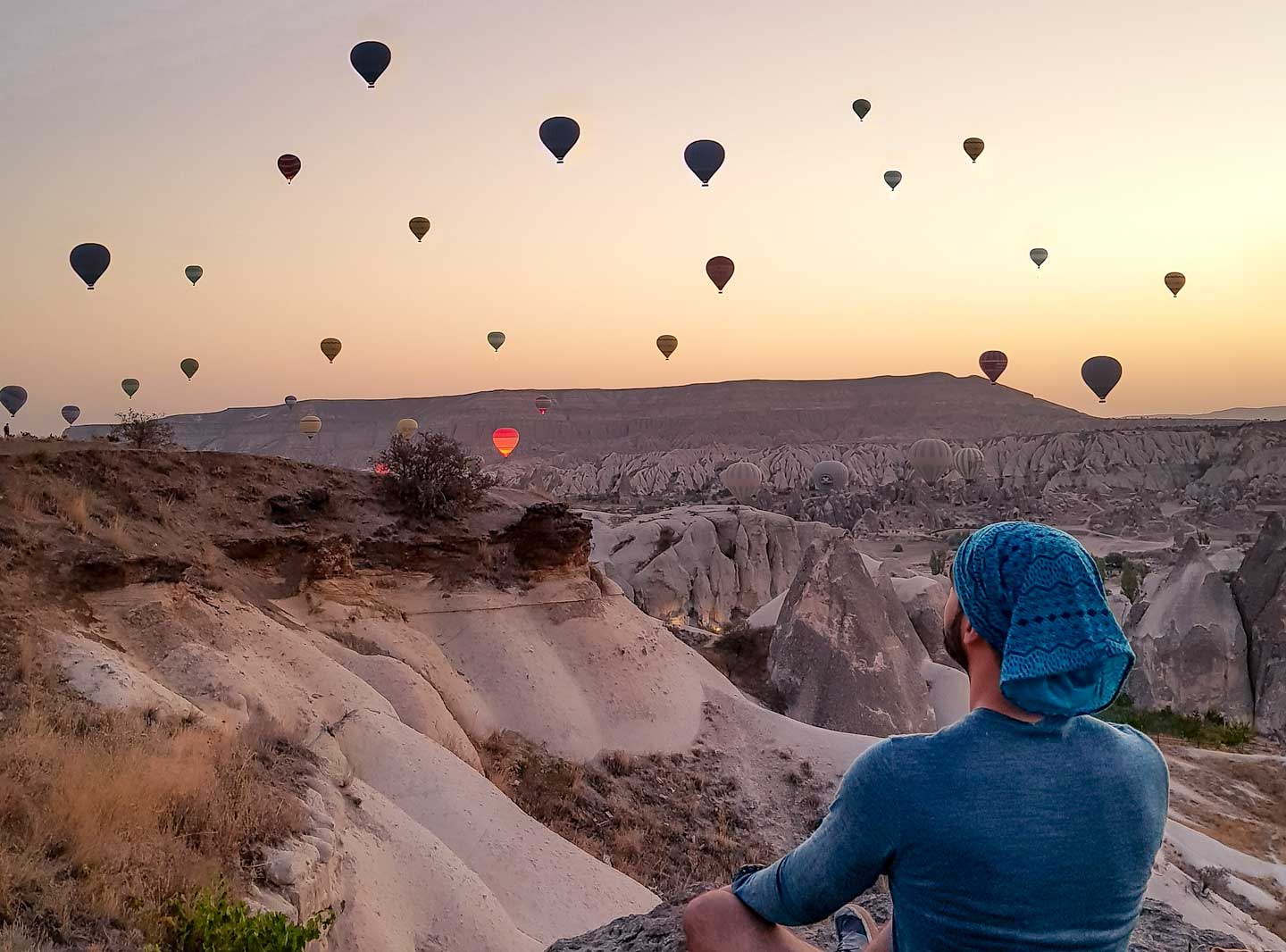 The mass balloon flying in Cappadocia began around 2009. From 2009 to 2015 there were three crashes ending up with fatalities.
Some math time now – over 10 years of operating with 260 average flying days per year, equals 2600 hot air balloon mornings. Let's say a hundred balloon take off per day, and we have 260,000 flights with only three fatal crashes. That's an insanely small percentage! And to calm your fears even more, since the last accident in 2014, strict regulations were implemented, lowering the already small percentage to 0.
So yes, riding a hot-air balloon is one of the safest activities out there but this doesn't mean you have to be foolish and skip your preparation.

I currently use HeyMondo for my travels because they have proven themselves to me more than once over the years. The link above will give you a 5% discount, but If you have another favorite provider, that's ok. Just make sure you have one because you never know what may happen.
While I sincerely wish you never have to use it, I can't stress enough how important getting the insurance is.
See Also: How to Spend 10 Days in Morocco
Where to stay in Cappadocia?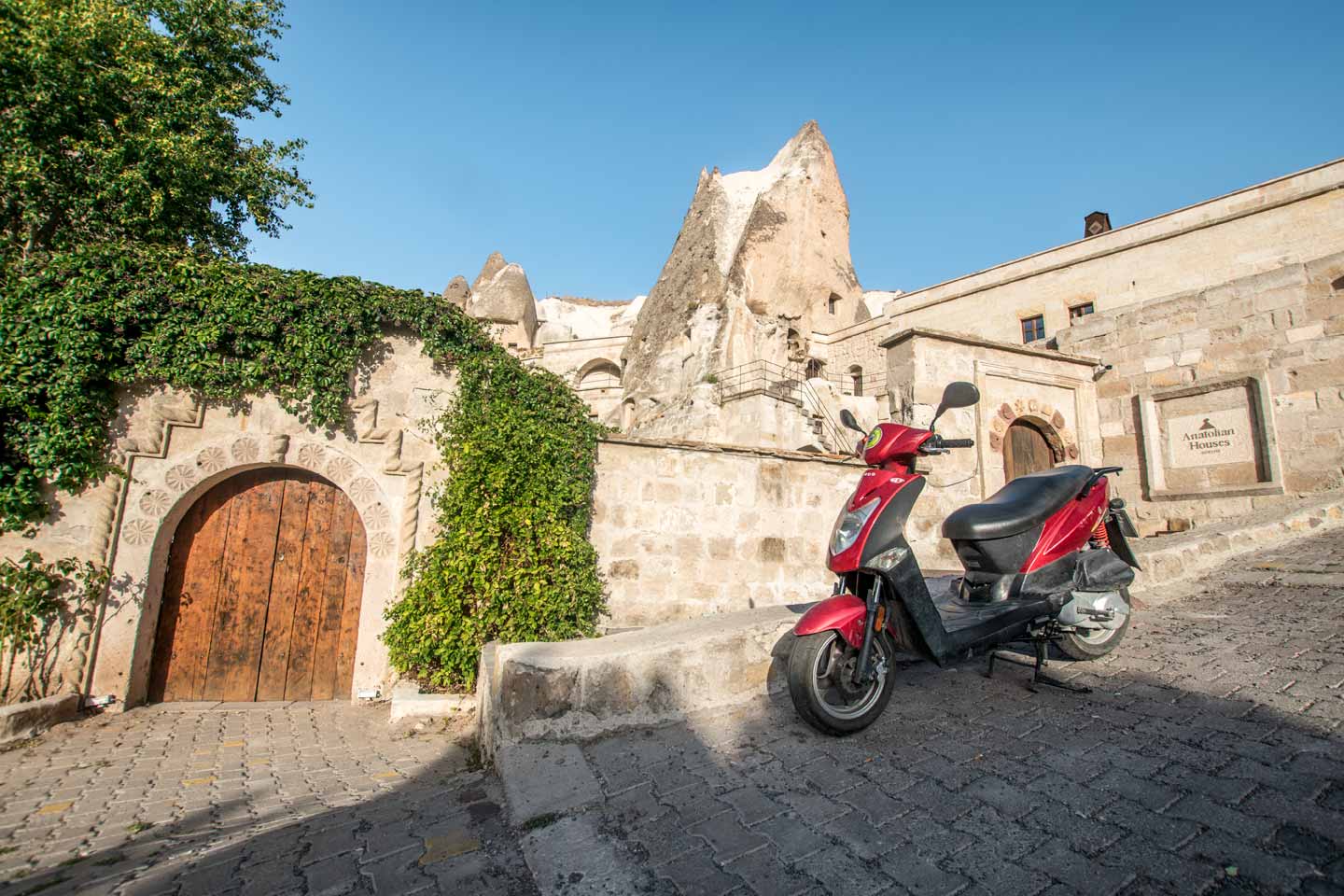 In most places in the world, your hotel is just the bed you sleep in the night. In Goreme however, your hotel is as unique as it becomes an experience rivaling the Cappadocia balloon ride itself. How to pick the best hotel?
Here are my suggestions:
Luxury
Traveller's Cave Hotel
Spacious rooms, airport transfers, panorama views, rooms designed in Turkish style, and even a courtyard with a jacuzzi, there is nothing this hotel lacks.
Mid-range
Turquaz Cave Hotel
No jacuzzi here but excellent breakfast area were you can marvel at the balloons and authentic Cappadocian cave rooms.
Budget
The Dorm Cave
I bet you've never stayed in a cave hostel! With its excellent location and authentic vibe, the Dorm Cave is the best budget option in the area.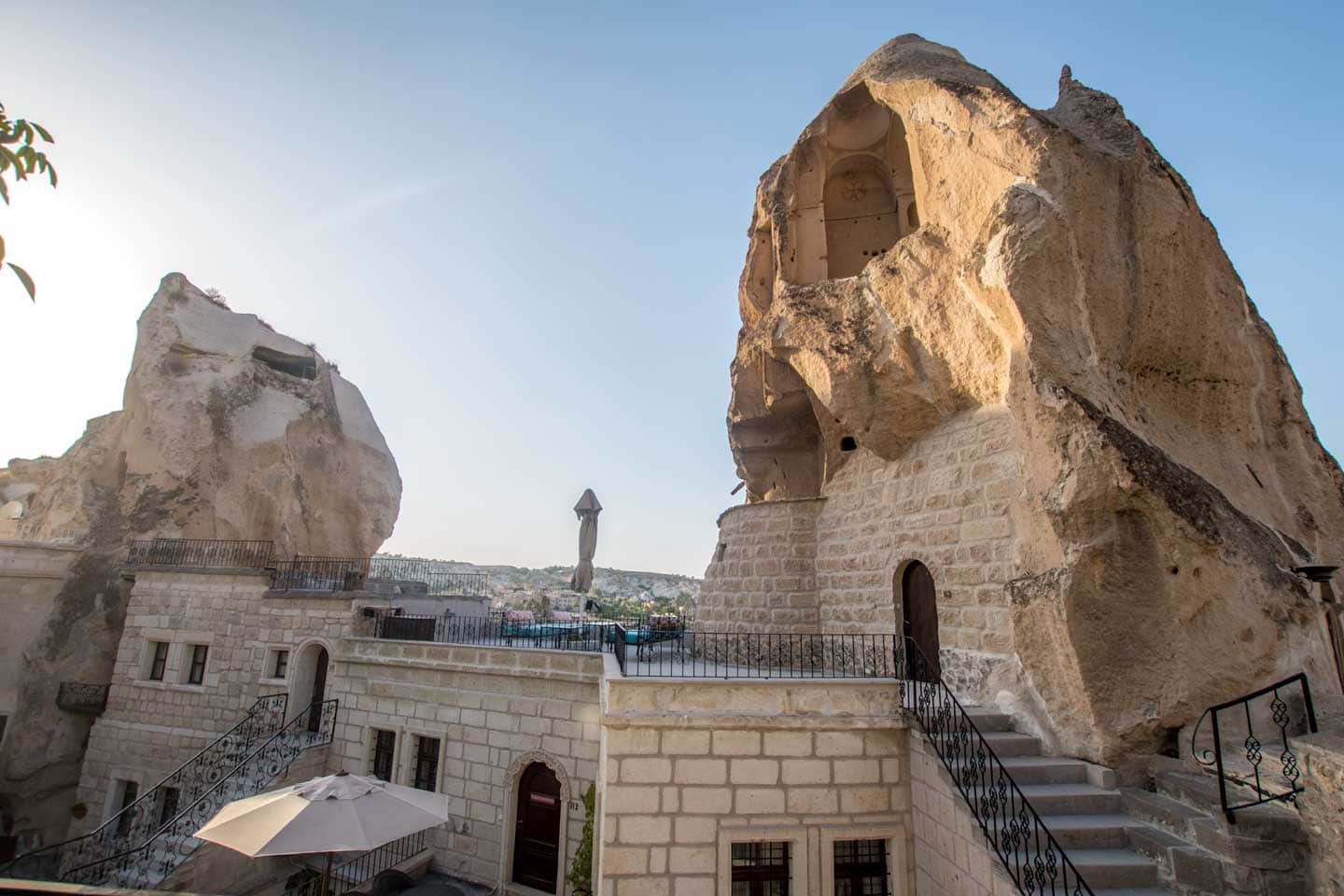 A regular hotel
If you have claustrophobia or the idea of sleeping in a cave is not attractive to you, The Peace Stone House offers spacious rooms with big windows and even balconies for an extremely reasonable price. The hotel is situated outside the village center (Goreme is very small so outside the center means 5 minutes of walking) which makes it a quiet and calm place just like the name suggests.
Photo hotel
If you are in Cappadocia chasing the perfect photo, The Sultan Cave Suites is your hotel. Made famous by @doyoutravel and @gypsealust; its breakfast area gives you a perfect photo composition. As a bonus, there are cute dogs to play with.
See Also: The best Dubai itinerary
What are the Cappadocia Green and Red tours?
There are plenty of things to do in Cappadocia but the most popular ones are the Green Tour and the Red Tour.
Cappadocia Green Tour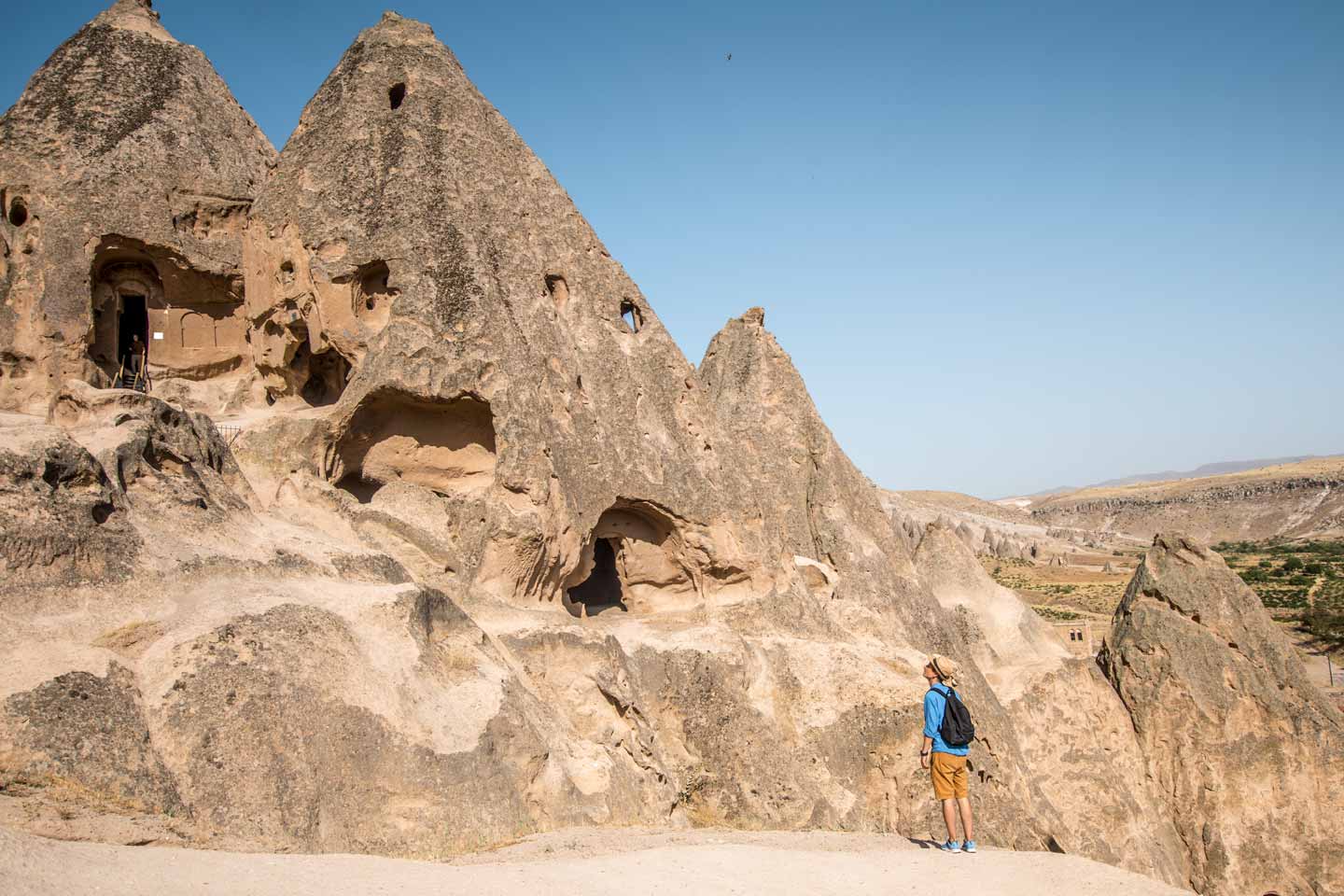 The Green Tour is the one I took and enjoyed quite a lot. It starts with a visit to the Underground city of Derinkuyu. A town built 60 meters deep that used to house 20,000 people!
The tour continues with a hike through the Ilhara Valley where you examine some rock churches and ends with the Selime monastery – the most bizarre monastery I've ever seen! The Green Tour also includes photo spots for a panorama picture of Goreme and the Pigeon Valley plus a visit to the local Onyx jewelry factory.
How long is the Green Tour?
Green tour starts at 9:30 AM and ends up around 6:00 PM.
Is the Green Tour worth it?
The green tour is absolutely worth it! The highlights of the Green Tour are quite far from each other so you can't make this on your own for the same price. And having a knowledgeable guide is essential for such places.

Book the Cappadocia Green Tour here
See Also: Istanbul in December
Cappadocia Red Tour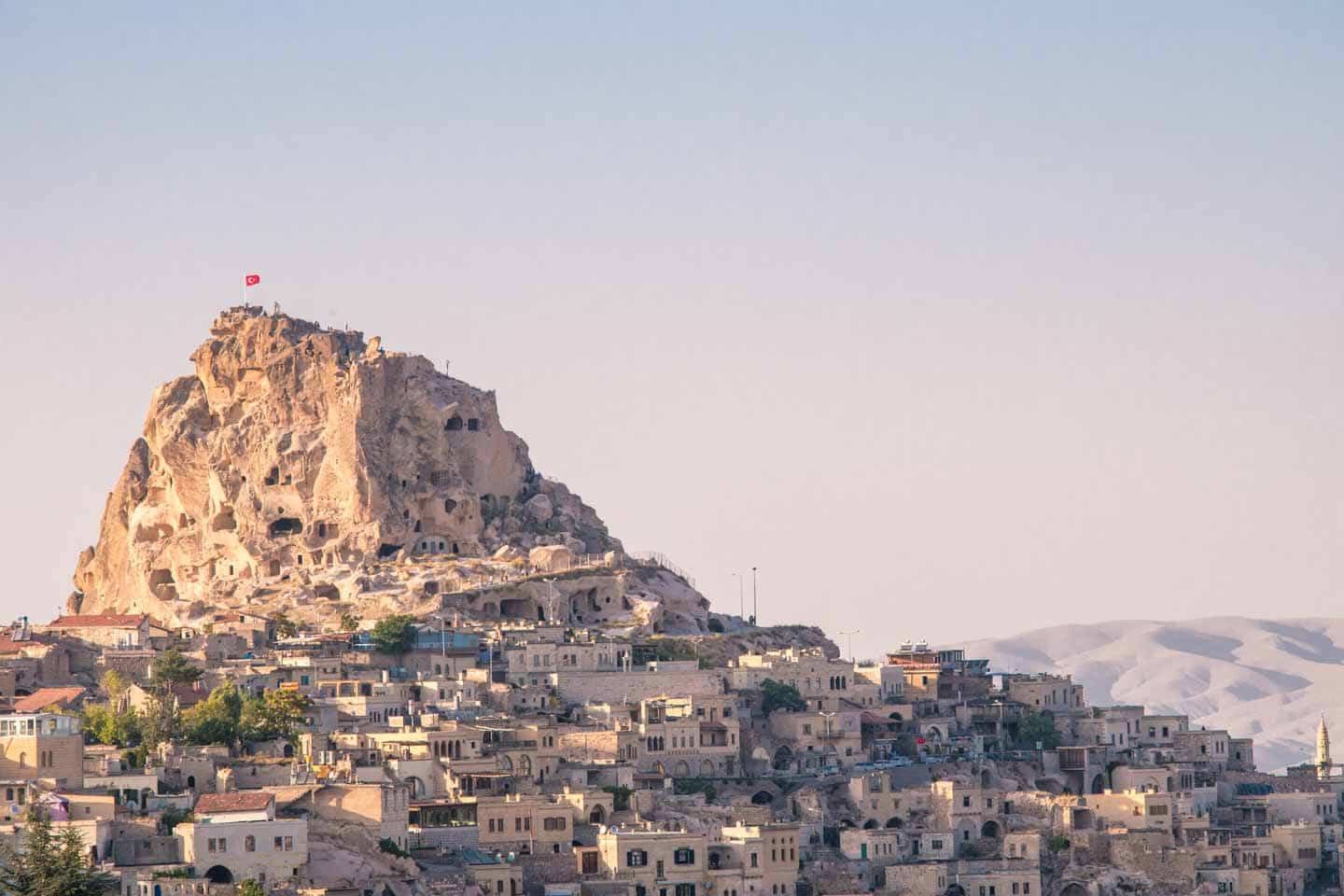 The red tour starts with a photo opp of the Uchisar Castle. Just like everything else in Cappadocia, this castle is one of its kind rock-castle.
It continues with the Goreme Open Air Museum, which is not really a museum but an area with dozens of early Christian and Byzantium churches.
Next on the list are the Cavusin cave village and a pottery shop/demonstration. After lunch, the red tour continues with some freaky looking rock formations in Pasabag and Devrent (Imagination) Valley and ends up with a panoramic view of the symbol of Cappadocia – The Three Beauties.
How long is the Red Tour?
it starts between 9:00 and 9:30 AM and ends up around 6:00 PM
Is the Red Tour worth it?
While the sites are amazing, they are pretty close to each other, and it's possible to visit them all on your own. If you don't want to bother yourself with this, book the Red Tour.
Book the Cappadocia Red Tour here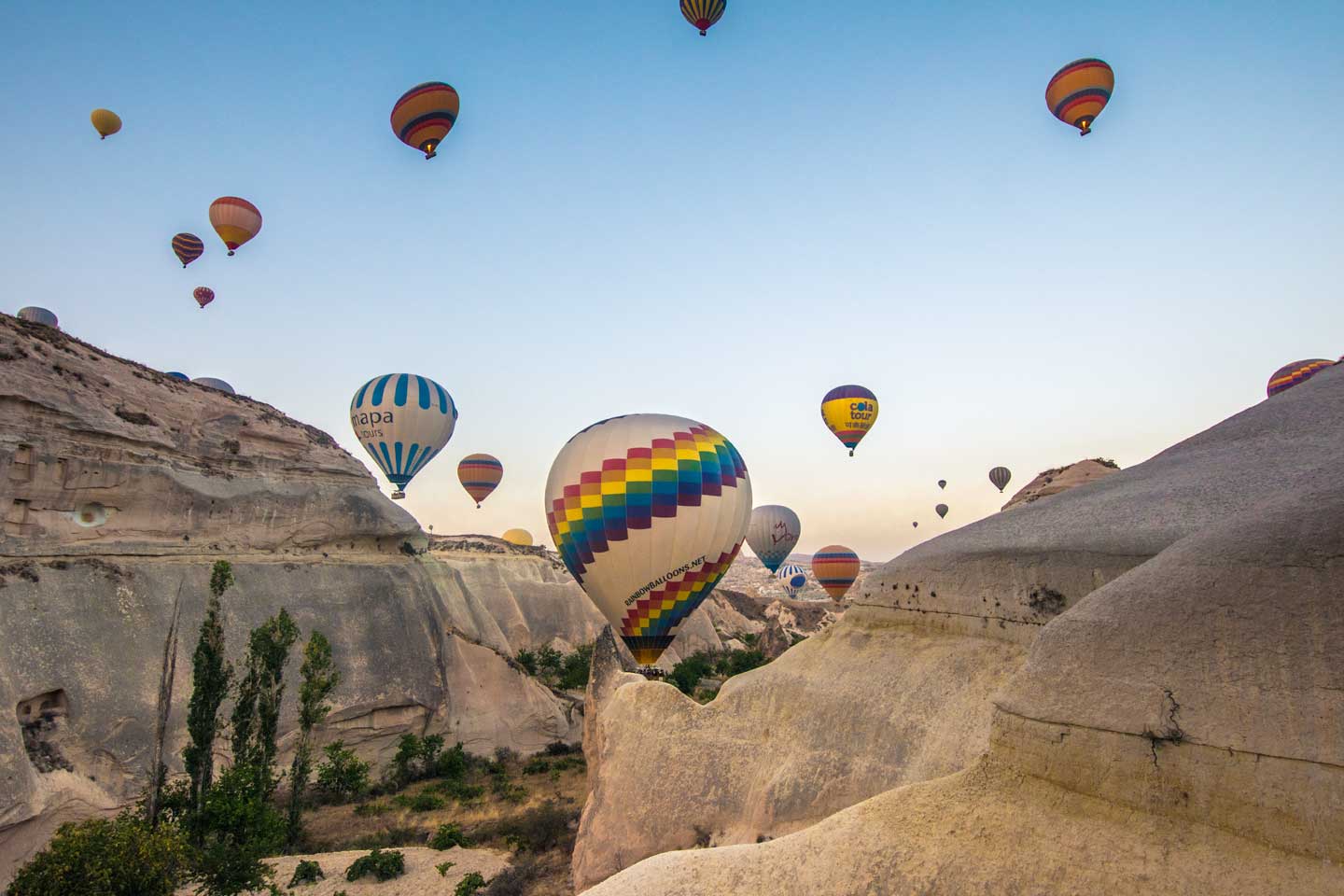 In conclusion, if you are wondering if the visit to Cappadocia is worth it, the answer is yes! I haven't met a person who had flown on a balloon there and had any regrets, and I'm sure you won't have any either. The Cappadocia hot air balloon experience is truly a top bucket list activity!
That's all from me, I hope you enjoy your Cappadocia balloon ride!
————————————
If you haven't planned your trip there yet, find out how I plan my trips!
————————————
I've got 17 bucket list ideas for Turkey. See my impossible bucket list of 1700+ adventures!
Is Cappadocia on your bucket list?

Some of the above are affiliate links and I will earn a percentage of the sale if you purchase through them at no extra cost to you. This helps keep my site running – so thanks in advance for your support!