The Pak Ou Caves in Luang Prabang are one of the most famous sites in Laos. You can't go past a tuk-tuk and not get an instant Pak Ou Caves (or Kuang Si Falls) offer. Try having a walk along the river shore, and you'll get at least a dozen cave proposals. No matter where you go in Luang Prabang, the trip to Pak Ou Caves, would find its way to the table (same as the Kuang Si Falls one, but that's another story).
While the caves don't get very glamourous reviews, I already had them on my Laos bucket list, so all I had to do was to find the most efficient way to get there. They may be known as Pak Ou Caves, Luang Prabang, but they are situated around 25km north from the city, and you can't simply walk to them.
What are the Pak Ou Caves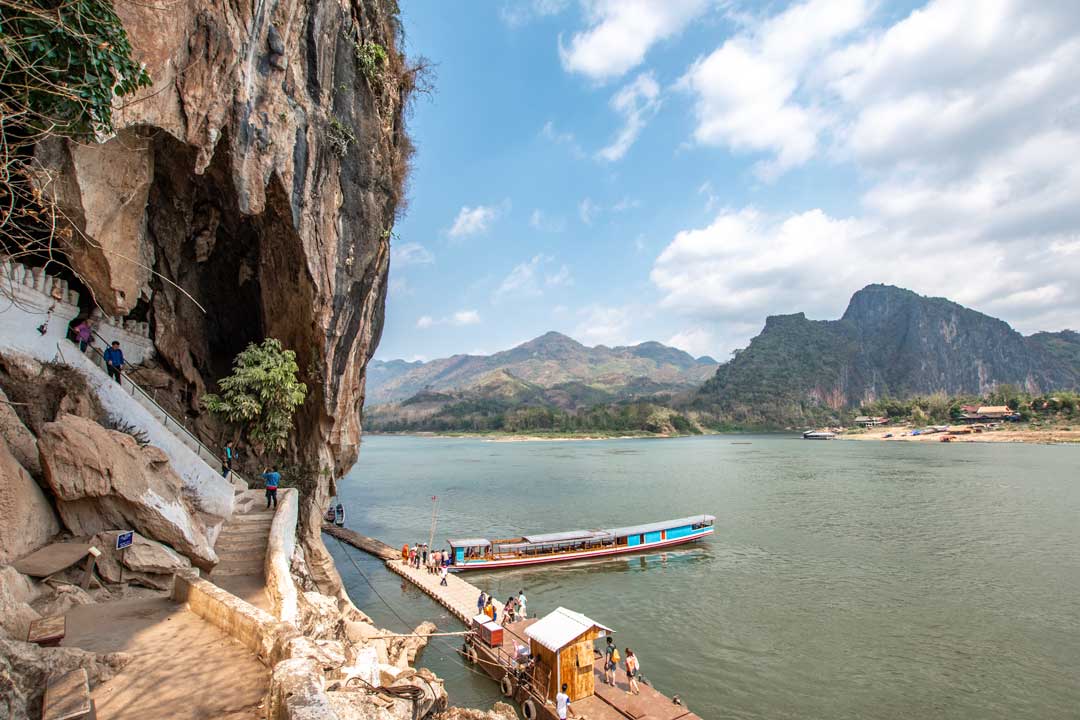 Located inside a scenic limestone cliff, the Pak Ou Caves are home to thousands (4000+) Buddha statues. It's believed that the Lao people first enter the caves in the middle of the 8th century (when they moved south from China). At that time, Buddhism wasn't prevalent for the country, so the Pak Ou Caves were used as a shrine to the river spirits.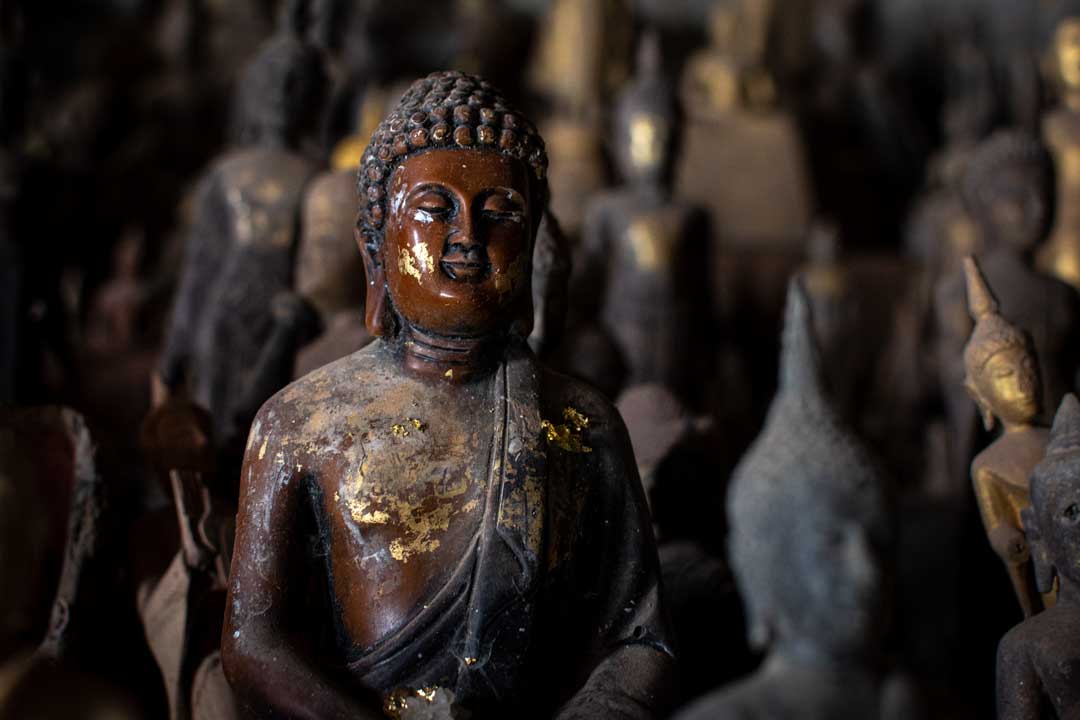 By the 16th century, the royal family has adopted Buddhism as a national religion, and every year (at New Year's Day), the King and the people of Luang Prabang would go on a pilgrimage to the Pak Ou Caves.
The thousands of Buddhist statues you see today are left by worshipers during hundreds of years of visits. You can find Buddhas from various centuries that, made from all kinds of materials and having plenty of different poses.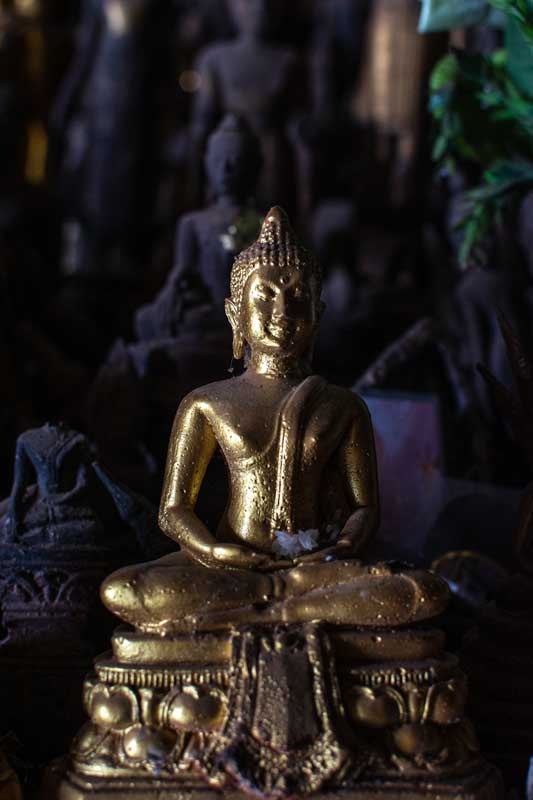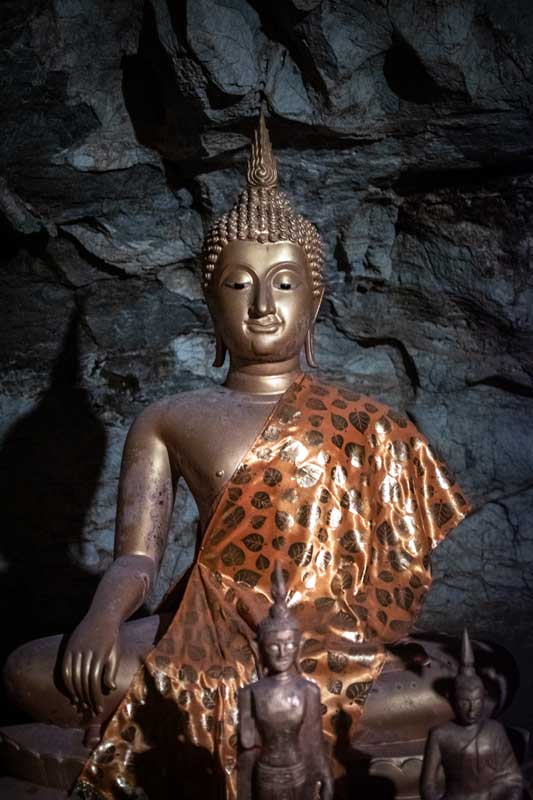 There are two caves full of statues, and they are both pretty small. The lower cave you can see from the river. It's called Tham Ting and houses 2500+ images, including an altar where offerings of flowers and incense are made.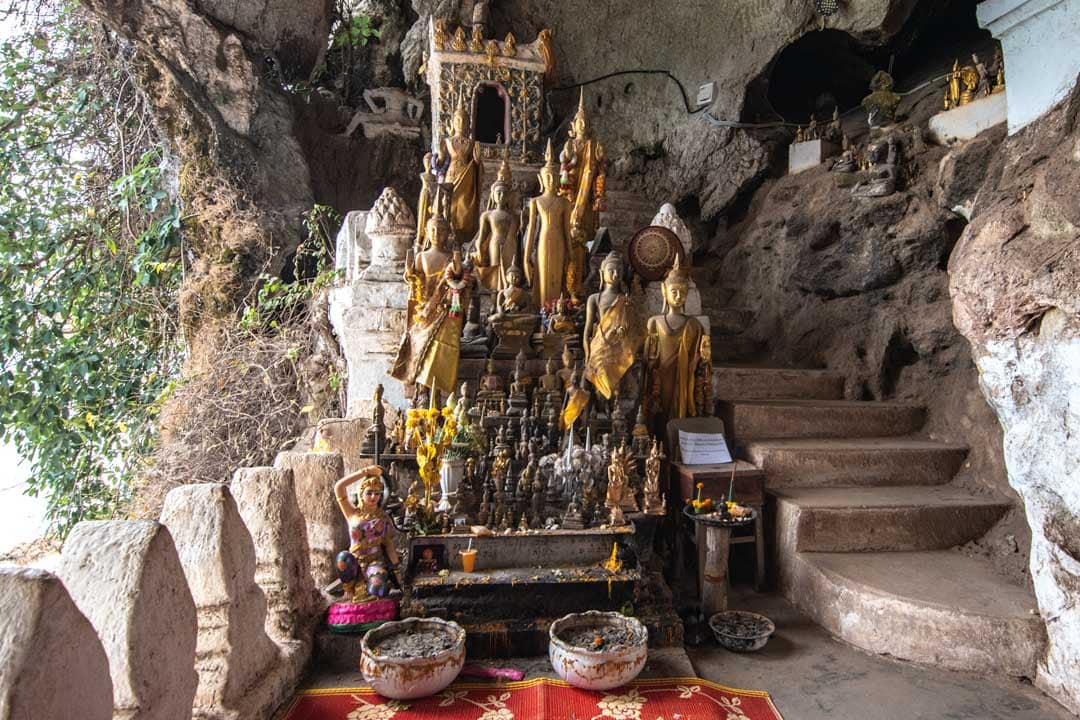 The upper cave – Tham Theung, is a bit larger and darker, and requires a small hike to be reached. Thousands of statues there too, some of them well hidden in the dark. To the left of the entry, there's a wooden water channel where the local people wash their household Buddha statues every April (at Lao New Year).
See Also: The Best Laos Souvenirs
How to get to Pak Ou Caves From Luang Prabang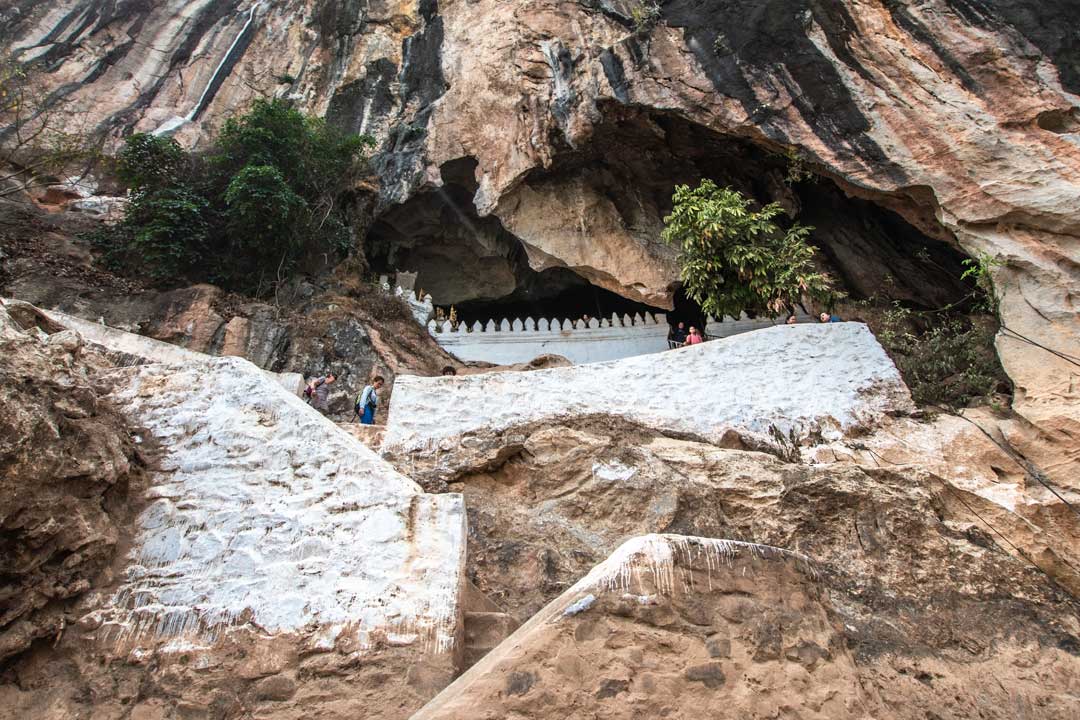 As already mentioned finding transportation to the caves is not hard. You'd get a new offer on every corner of Luang Prabang, all you have to do is pick the right way for you.
Shared boat
This is the budget way that is by no means any worse than the others. If you are a solo traveler or a couple, I consider this the absolute best way to reach Pak Ou Caves, Luang Prabang.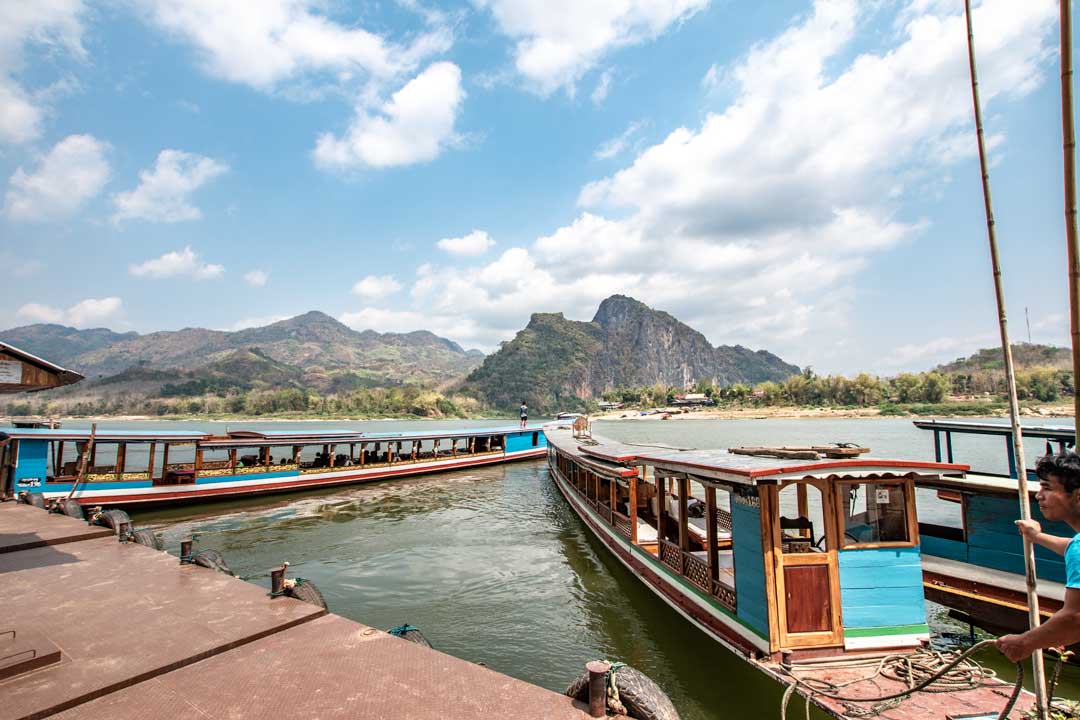 You can get a boat ticket from the pier (see in Google Maps) right in front of the Saffron Cafe. Pier opens around 8:00 AM while the boat leaves around 8:30 AM. There are no other shared boats, so you better be there on time. The ticket costs 65.000 KIP (3.75 USD).
Update from May 2023 – The price is now 150.000 KIP per person (8.50 USD)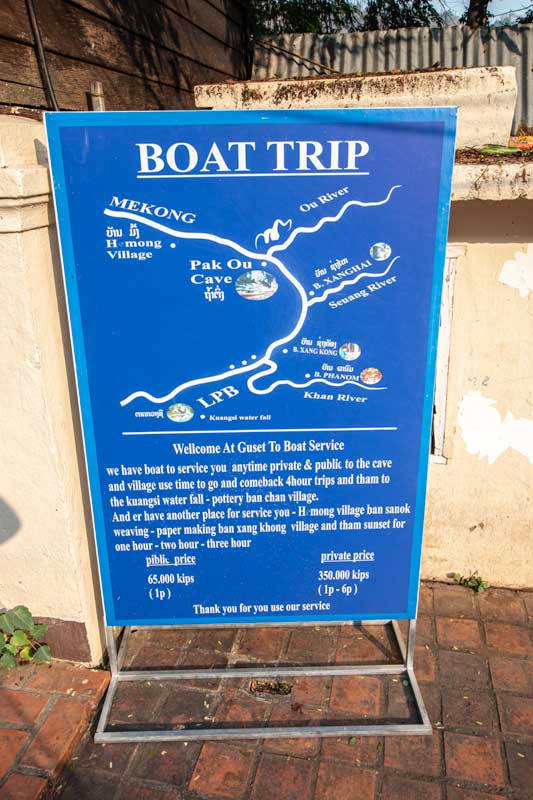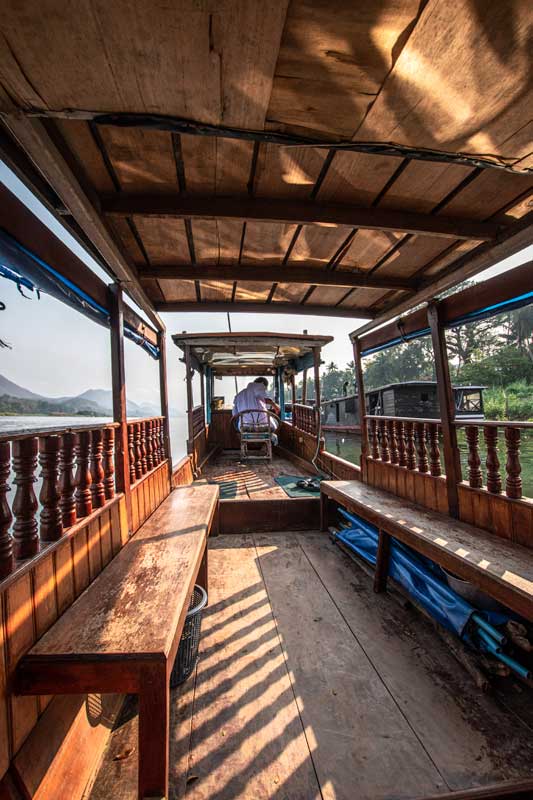 The trip to the Pak Ou caves lasts about 2 hours (with a 10 minute stop at the Lao Lao whiskey village). You got 30-40 minutes to explore before you go back. The journey back is faster due to being downstream. It may look like a long journey, but the relaxed gliding through the Mekong River, the scenic views and the comfortable seats make the time fly away. The caves are not that big, so you should be able to see everything in half an hour. Have in mind there's no food provided on the boat, so it's wise to pack a snack.
Private boat
If you want to go later in the day or you're a large enough group, a private boat is your best option. The boats are the same as the shared ones, and the journey is the same length. You'd get the luxury of picking your own embarking time, though, and you can spend more time at the caves this way. Since the shared boats go in the morning, you can get a private one and go in the afternoon to avoid the crowds (Pak Ou Caves caves are open from 8:00 AM to 5:00 PM).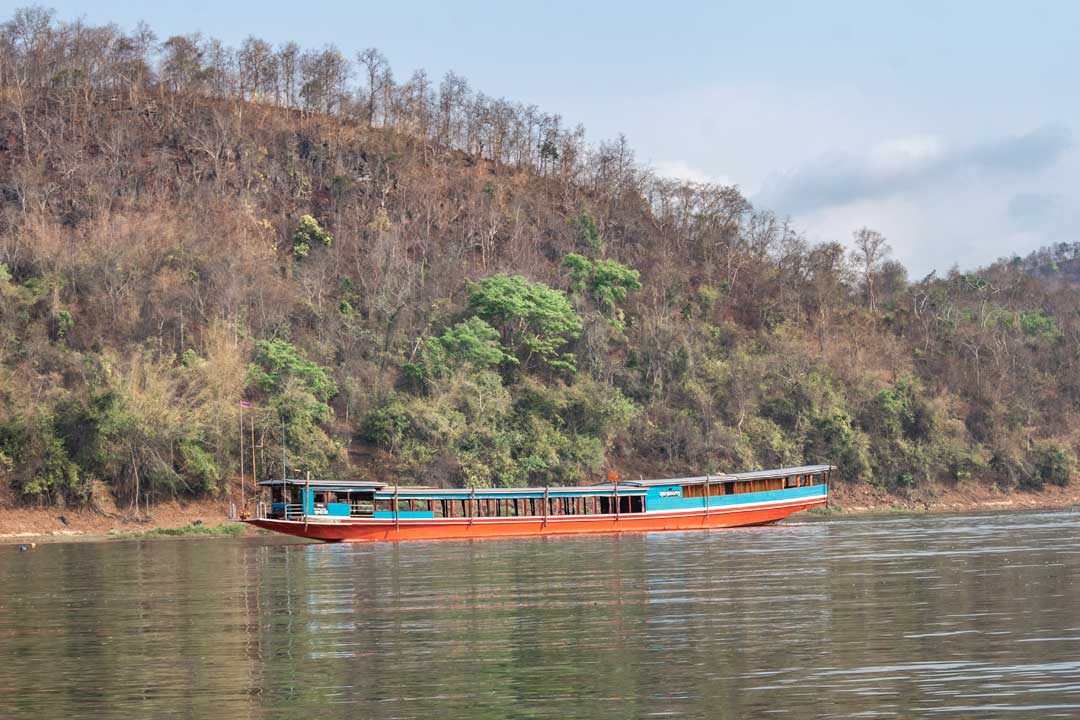 The price is way more upscale for this option – 300.000 – 350.000 kip (17-20 USD) per boat.
Private Tuk-Tuk
You can find one of those everywhere in Luang Prabang. They reach the caves faster than the boats (around an hour), and their price is lower (around 200.000 kip /11 USD but depends on your negotiation skills).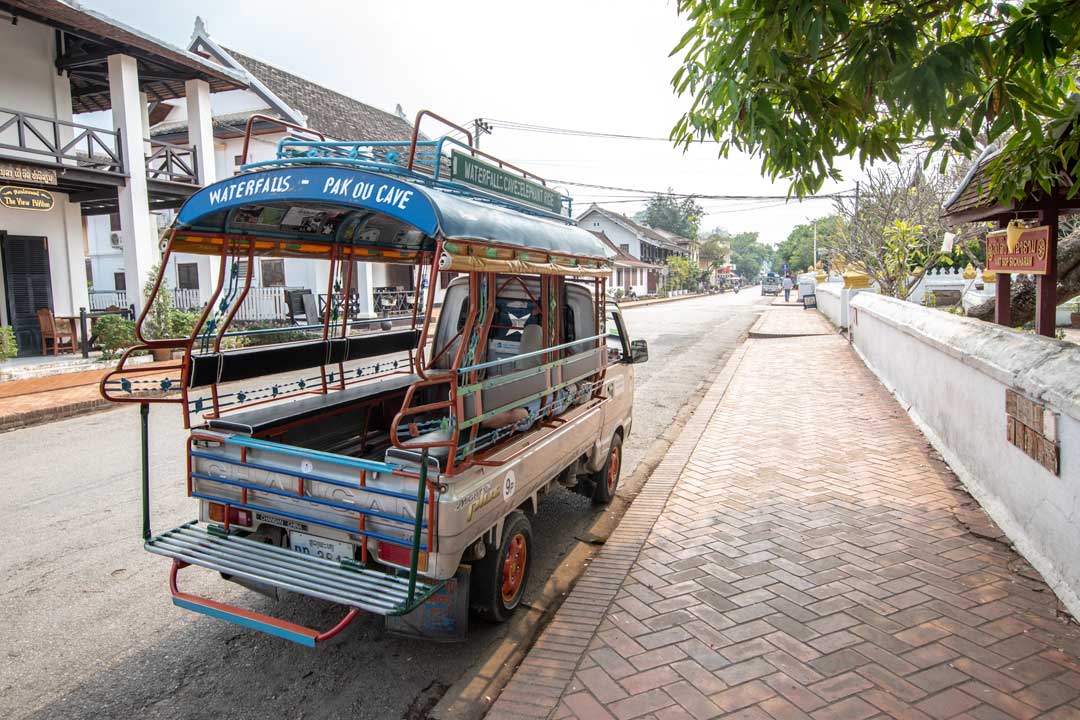 I didn't find a place offering shared tuk-tuk's, but if you can find other cave enthusiasts in your hotel (or if you travel with a group), this would surely be the cheapest option. The bad thing is you'll miss the awesome ride along the Mekong River.
Organized Tour
If you want your Pak Ou Caves, Luang Prabang adventure organized before you even set your foot in Laos, booking an organized tour is the way to go. You won't have to worry about preparations, timetables, and stuff, and you'll have a local guide explaining to you every detail about the places you visit.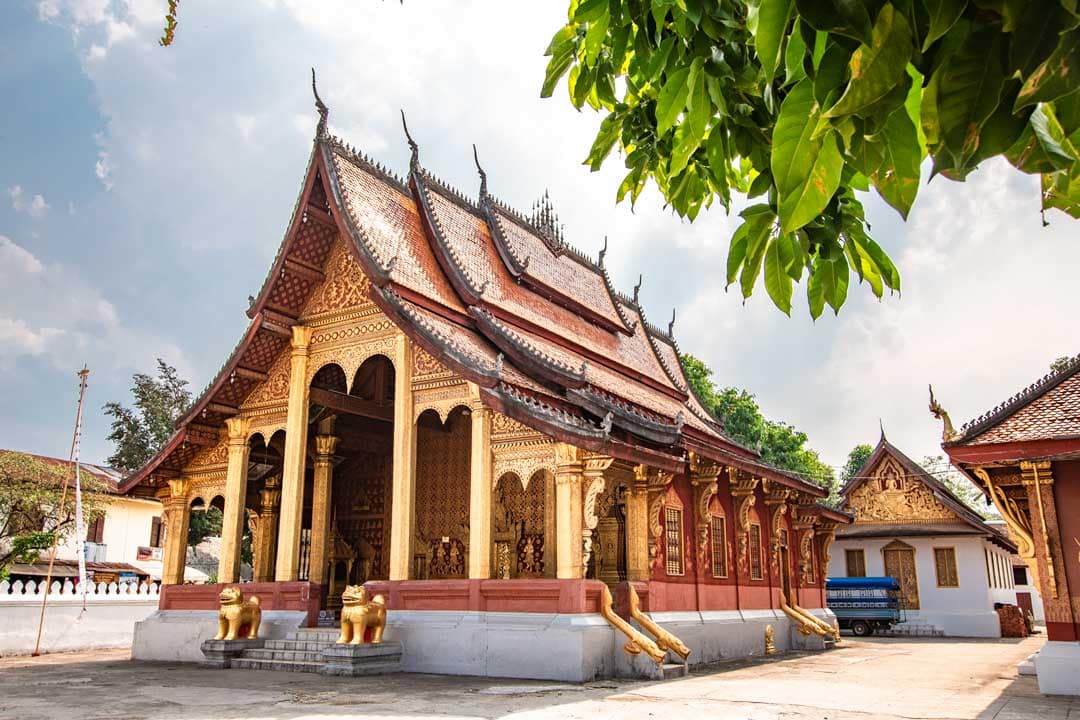 The Pak Ou Caves tours are usually combined with other attractions. This is an excellent one that would take you around the biggest highlights of Luang Prabang and includes a boat ride to the Pak Ou Caves. And here's another great option that will show you the Pak Ou Caves and take you for a refreshing dip in the turquoise waters of the Kuang Si Falls afterward.
Pak Ou Caves, Luang Prabang – My journey in details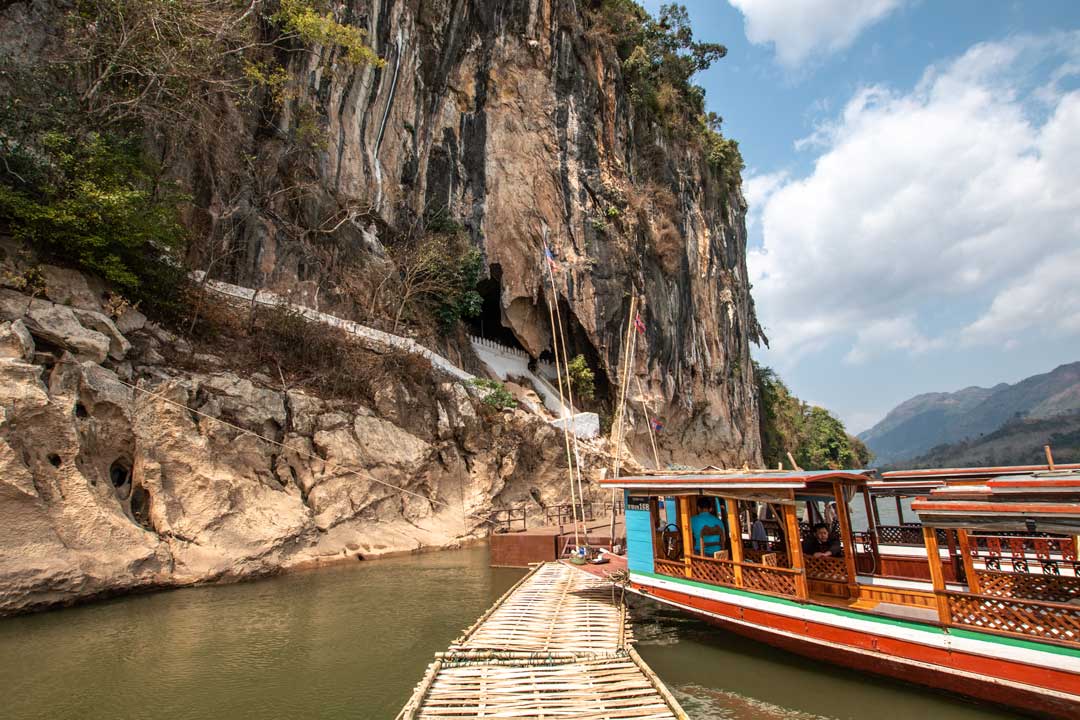 Since I was solo traveling, I decided to get to the caves via a shared boat. The pier across the Saffron Caffe opened at 7:50, and I was the first one to get a ticket. At 8:40 AM, we were led to the boats. Since there were around 15 people, we were separated into two different boats. The boats were surprisingly comfy with soft seats instead of plastic ones, and enough space for my legs. The journey through the Mekong River is an incredibly peaceful and relaxing experience. The river is slow and calm, so the boat doesn't shake much. The engine is not very loud, too, making it easy to sit back and enjoy spectating the life along the legendary river.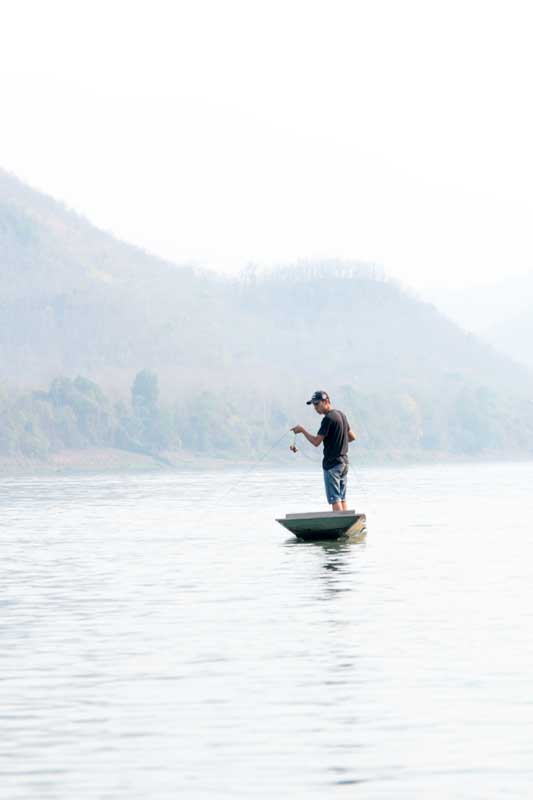 Around 10:00 AM, the boat made a quick stop (10 minutes) at the Lao Lao "Whiskey Village". The small settlement is centered around tourists, so all you are going to see there are the famous local whiskey bottles (with snakes and scorpions suspended inside) and other Lao souvenirs. If you're looking for something to bring back home, you may enjoy Lao Lao, but otherwise, you're going to get bored very quickly.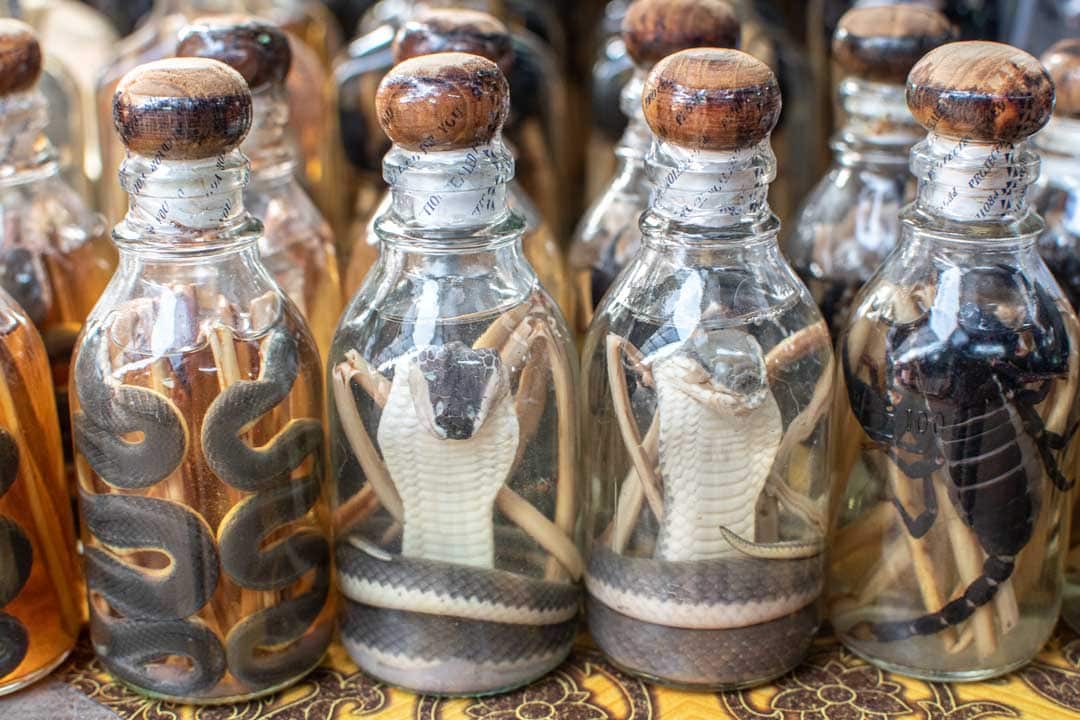 At 11:00 AM, we reached the Pak Ou Caes. The entry price is 20.000 kip (2 USD), and it was collected on the boat. The boatmen informed us we have 30 minutes to explore before we have to go back.
Now, this may sound a little bit rushed, but the Pak Ou Caves are pretty small, so you should be able to see everything in time. Even if you're a little bit late, the boat won't leave without you (some people from my group were 10 minutes late, and there were no problems). After exploring the lower cave, don't forget to go and see the upper one (apparently, a lot of people didn't even realize there is an upper cave). You need to climb around a hundred steps to reach it, but anyone with moderate fitness levels can do it for around 10 minutes. Have in mind that the upper cave is way darker. It's not dark enough to get lost or stumble upon something, but if you want to explore the details of the statues, you may need a torch.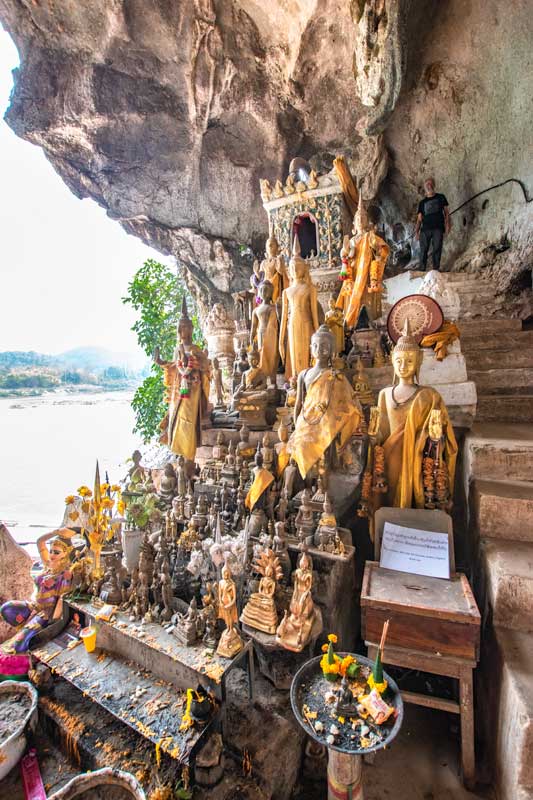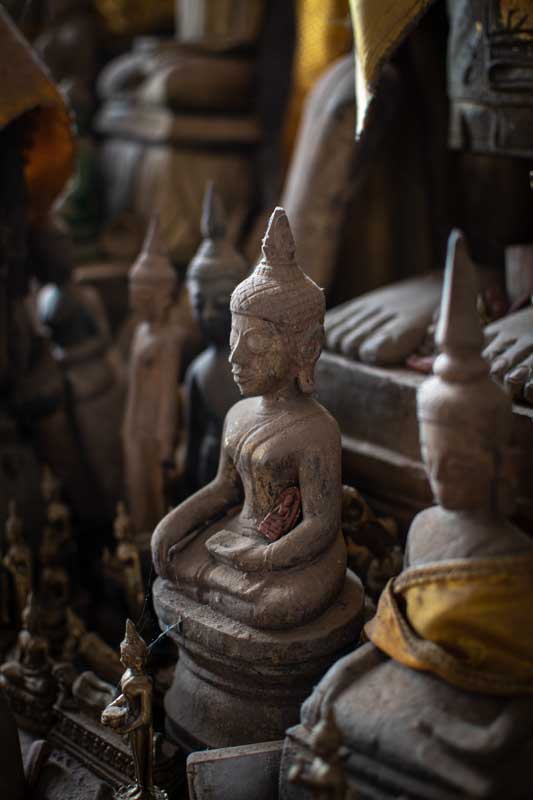 The journey back started around 11:40 AM, and at 1:20 PM, we were back in Luang Prabang.
What to wear when you visit Pak Ou Caves?
The caves are a place of worship, so just like in every temple, you should wear decent clothing. While I don't think anyone would tell you something, it's highly disrespectful to the locals to show up in a short skirt or a revealing top.
As for the shoes, get something with a good grip. There may not be any real hikes on this journey, but going in and out of the boat is a bit tricky, and while the Mekong is beautiful to look at, you don't want a fully-clothed swim in it.
Are the Pak Ou Caves worth it?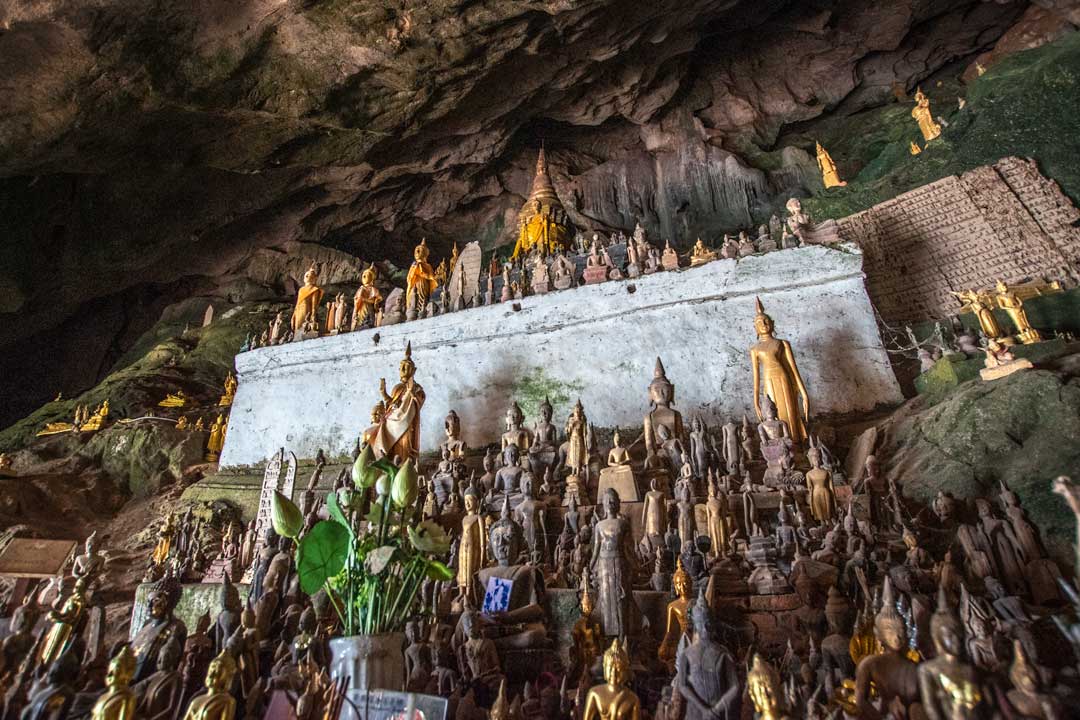 It's a bit debatable, but for me, the journey to the Pak Ou Caves in Luang Prabang is absolutely worth it. Notice that I said the journey and not just the caves. The caves are not really a breath-taking attraction on their own. Combined with the relaxing ride on the river and the magnificent scenery of the area, however, the Pak Ou Caves adventure is totally worth your time.
That's all from me, now you know everything you need to see Pak Ou Caves, Luang Prabang!
————————————
If you haven't planned your trip there yet, find out how I plan my trips!
————————————
I have 9 bucket list ideas for Laos. See my impossible bucket list of 1700+ adventures!

Is Laos on your bucket list?
---
Some of the above are affiliate links and I will earn a percentage of the sale if you purchase through them at no extra cost to you. This helps keep my site running – so thanks in advance for your support!