My compilation of the best Laos souvenirs will take you on a virtual shopping spree around the country's markets, night markets, and original shops. I won't list every little trinket you can find there, of course. No, I don't think Lao Beer T-shirts or the silver jewelry have a place on my list. I mean, a t-shirt is a t-shirt, and while the silver jewelry is very well crafted, I don't find it as exclusive as the other Laos souvenirs.
So here are the ten souvenirs I belive represent Laos the best. Pretty much all of them can be found on the local market/night market and also in specified shops that give you better quality products (and steeper prices).
The Bomb Souvenirs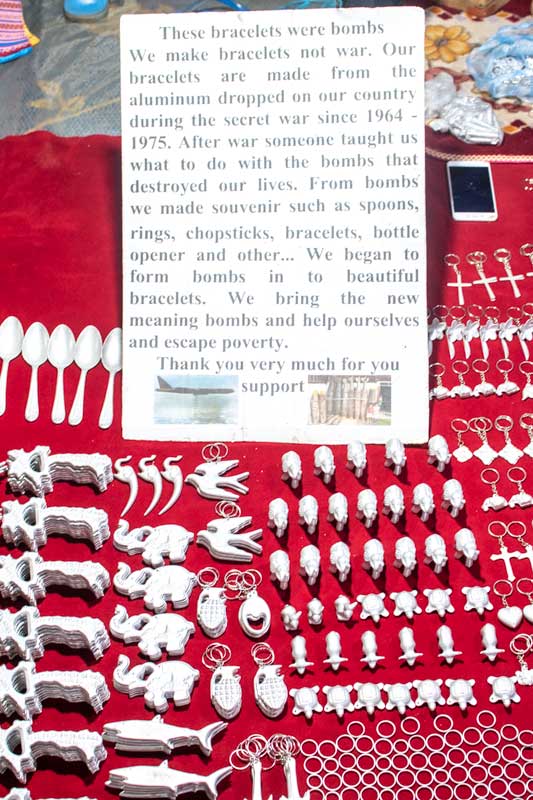 No, I'm not suggesting to buy a bomb (that would be pretty awesome, but getting it on the plane would be tricky). The Bomb souvenirs are keychains, spoons, bracelets, and all kinds of trinkets made from UXO (unexploded ordinance).
There's a good reason these Laos souvenirs are number one on my list. You probably don't know that, but during the Vietnam War, the US launched more than 270 million cluster bombs on Laos, making it the most bombed country in the world. No, that's not a typo. 270 million! 270,000,000 bombs! Millions didn't explode and, to this day, are scattered around the country, killing and injuring thousands of locals each year. Most of them kids…
Laos is doing what they can to clear the UXO's, but it was estimated it would take around 200 years to remove them all.
You can imagine such operation requires a lot of funding, so getting a bomb souvenir is something I urge all of you to do. It's cool, it's a conversation starter, and it actually helps.
Snake Whiskey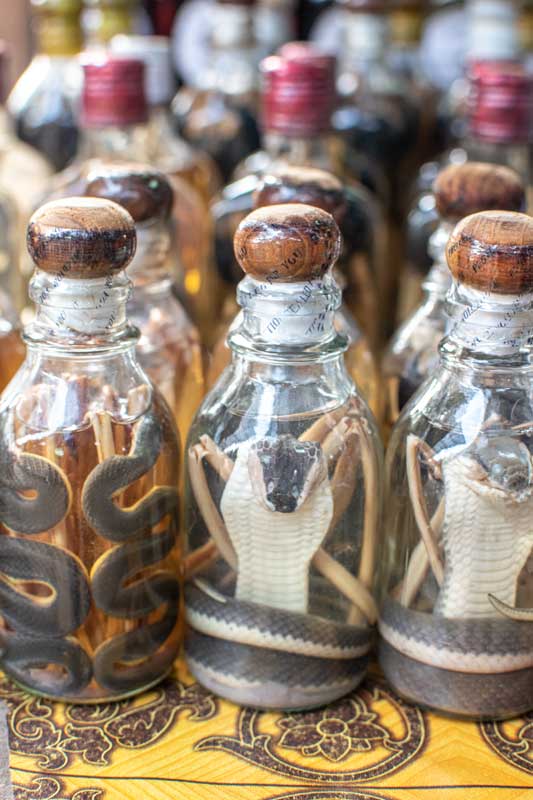 This souvenir is a bit controversial, and I admit I wasn't sure whether or not to put it on my list. If you read more of my posts (thank you for that), you probably know I'm firmly against any animal exploitation, and I do my best to educate people and shame businesses that use such practices. Snakes, scorpions, and lizards are not among my favorite animals, but they are still part of the local wildlife, and they get hunted and killed for a souvenir. That's not ok for sure. Why is it on the list, though?
Before it became a souvenir, the Snake Whiskey had a long history in Asia. Used for thousands of years as an aphrodisiac, this extreme liquor is part of the culture in Laos (also Thailand and Vietnam). The origins of the Snake Whiskey can be traced back to the Zhou Dynasty. The people back there believed the essence of the snake could help them with any pains or boost virility.
While I'm not a fan of hunting (any kind of hunting), the Snake Whiskey is part of the local culture, is absolutely unique, and deserves mention among the best Laos souvenirs.
Lao Sinh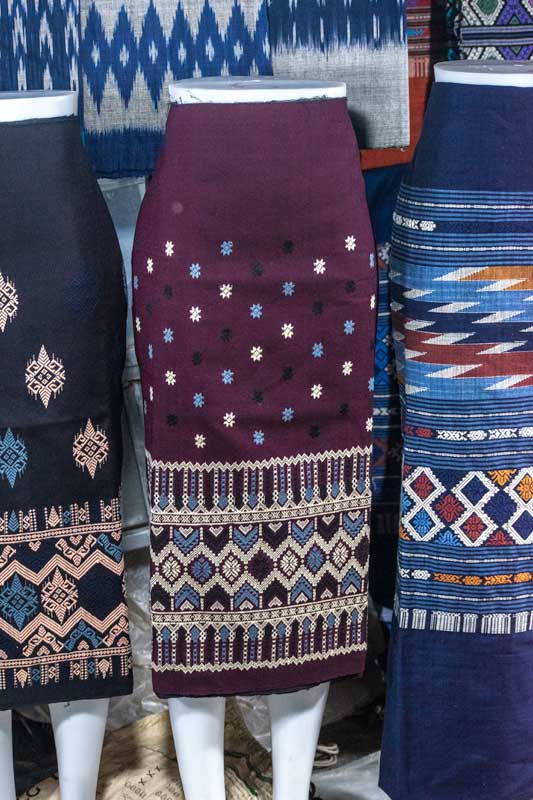 Made by cotton or silk, the Sinh is an ankle-length skirt used by the Lao women for the last 3000 years. I'm not a big expert on women's attire, but I can honestly say this skirt impressed me. Simple on the top with elaborate symbols on the bottom, the Sinh just looks classy. And even though it's thousands of years old, it's still been worn everywhere in Laos. Local girls wear it in school, young women wear it at their weddings, and even the government officials wear it on public ceremonies.
You can find Sinhs in every market, but I suggest getting one from a weaving shop. While the market ones on are (usually) very low quality, the ones in the shops are often handwoven, with unique designs, and made by far superior materials.
Khun Boron Dolls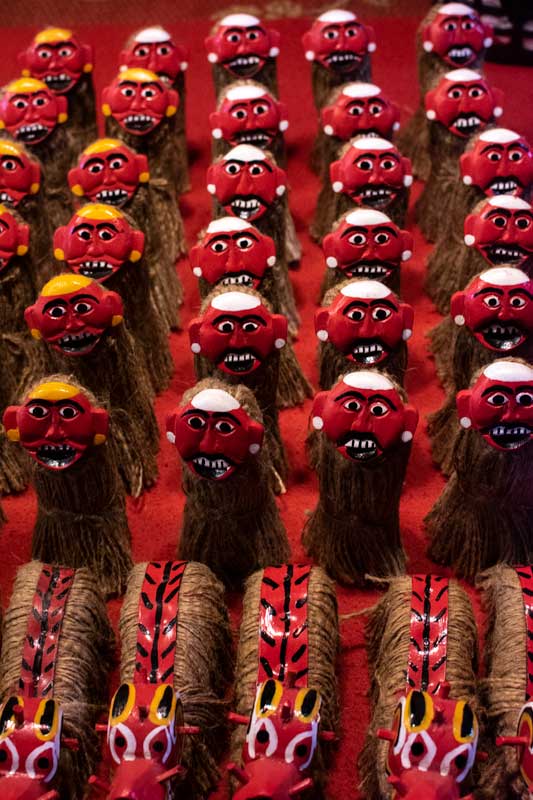 Those weird red dolls are something you can't find outside the country. If you're looking to buy unique Laos souvenirs, you can be sure those red guys are as unique as it gets. Even finding info about them is hard. With the help of some local vendors (and the magic of the internet), I managed to learn their story. The peculiar dolls are based on two characters from the legend of Khun Boron.
The legend is quite long, but basically, the inhabitants of Xieng Dong-Xieng Thong (nowadays Luang Prabang) were responsible for the death of a holy buffalo, causing a giant liana to grow from its nostrils and cover the sun. Two loyal servants (known only as grandpa and grandma) undertook the heroic deed of chopping down the liana, sacrificing themselves in the process.
Two of the dolls are the abovementioned grandpa and grandma. The third one is supposed to be a lion, but what part does it play in the story I have no idea.
Elephant Slippers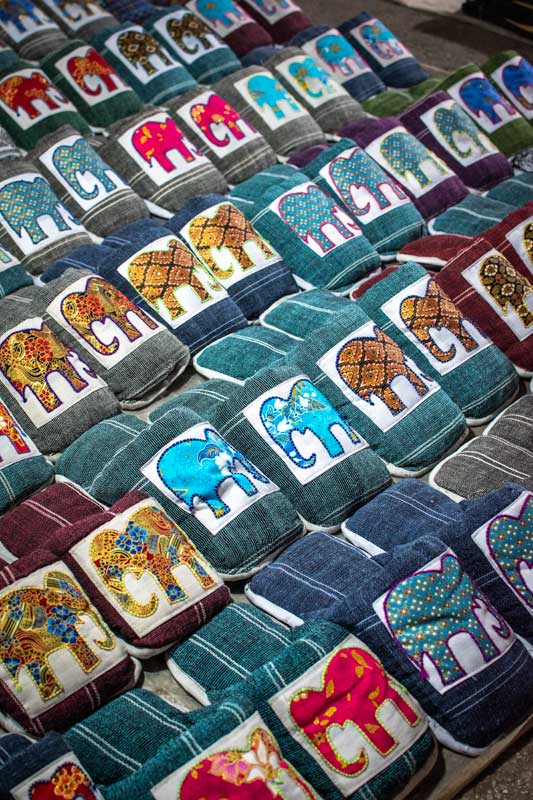 The elephant slippers may not be a traditional Laos souvenir, but they are funny, comfy, and easy to transport. While the elephant attire is very popular in southeast Asia (especially in Bangkok), I don't recall seeing slippers anywhere else but Laos. I don't think they are traditional local clothing, or there's any story behind them, but I definitely think they'll make an excellent gift for your family. They're just so damn comfortable.
Bamboo Straws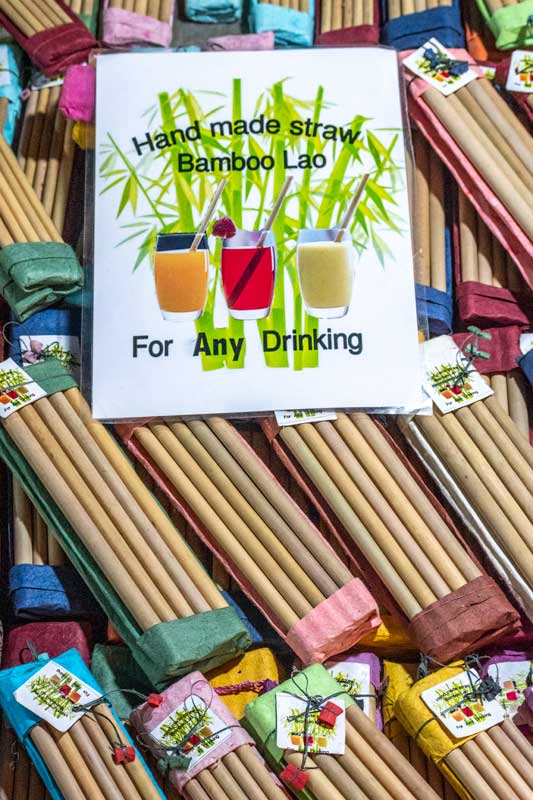 Bamboo straws are not your typical souvenir either, but they are sold everywhere, and they are incredibly useful, so there's no way I skip them. Eco straws (bamboo and metal ones) are something all of us should use. The plastic ones that are useful for just a few minutes and thrown away, eventually end up in the ocean and find their way into some poor turtle's nose trail. Single-use straws are something we're so used to that we can't fathom how harmful they can be to nature and wildlife.
You can find all kinds of bamboo straws in Laos, most of them handmade. And since fruit shakes are one of the most popular drinks around the country, getting a pack of inexpensive reusable straws can prevent dozens of plastic ones from ending in the ocean. Be a turtle friend; buy an eco straw!
See Also: The Pak Ou Caves – All you need to know
Thip Khao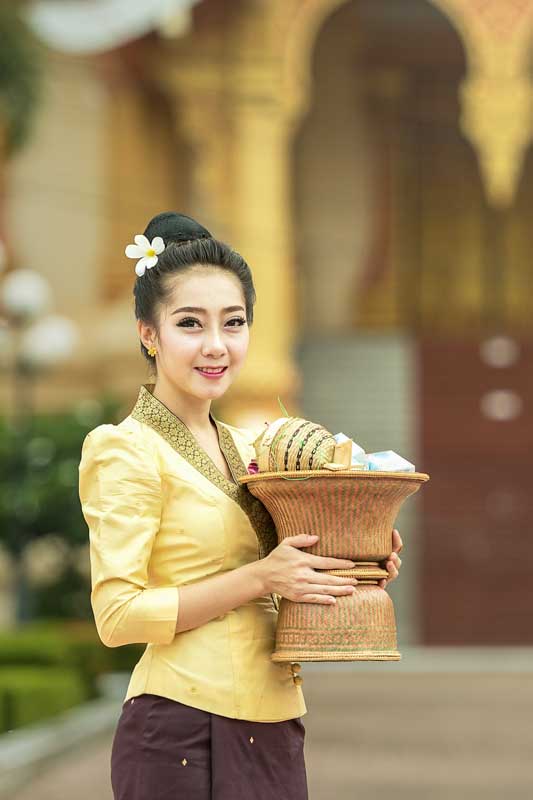 An essential food in Laos is the sticky rice. Seriously, the Laotian people eat sticky rice with everything. And since the rice is present with every meal, it has its own traditional basket to be served in. It's called Thip Khao; it's small, inexpensive, easy to transport, and a perfect Laos souvenir. While women make most of the souvenirs (especially the ones that require weaving), the Thip Khao is usually put together by elderly men.
In the bigger cities, you can even go to a workshop where you can weave the small basket yourself. Your basket won't be as elaborate as an original one, but creating it will be a memorable experience for sure.
Indigo Cloth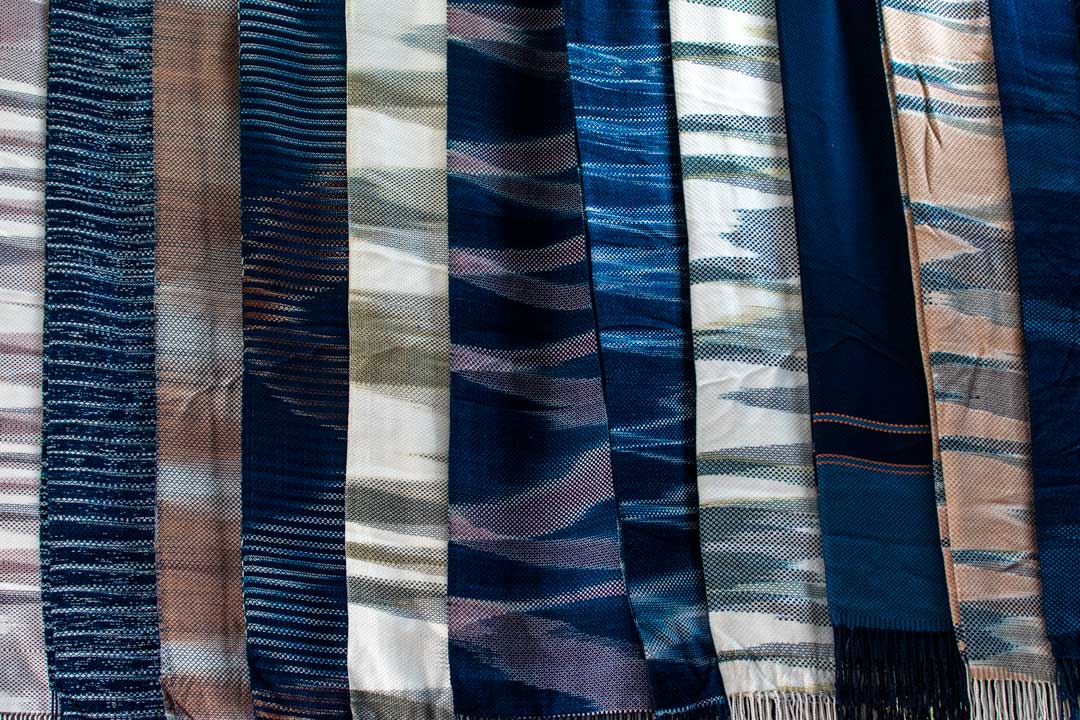 Do you know that Laos is one of the few countries in the world that offers naturally dyed indigo products? Probably not. I didn't either. Walking around the markets, though, I kept on seeing indigo bags, clothes, pillows, and everything you can imagine, so I got curious and started asking around.
While indigo color seems nothing special to most of us (i mean there isn't a person on earth who hasn't seen a denim product), once upon a time, it used to be a scarce and valuable commodity. Only a handful of countries in Asia can grow the particular plant needed for this dye color, so it was not easy to get. It's not easy (or cheap) to get one today either. The naturally dyed clothing I mean, you can find the artificial is in every jeans store. The natural indigo attires can cost thousands of dollars in the west. But not in Laos. In Laos, the same piece of clothing that would set you back a thousand dollars in the US can be bought for… 3 USD.
The indigo products are cheap, beautiful, and help the local families that grow the indigo plant. Certainly among the best Laos souvenirs!
Saa paper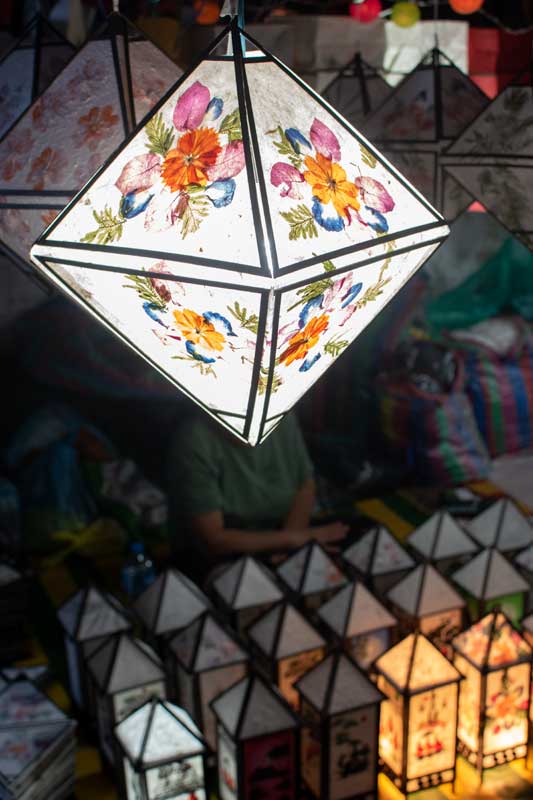 The Saa paper is another typical Laos product that is a great souvenir. It's created by mixing the bark of the Saa tree with wet pulp. The locals used to use it for wrapping, but since it became popular among tourists nowadays, they mix it with plants and flowers to create cool notebooks, lamps, and lanterns.
Lao coffee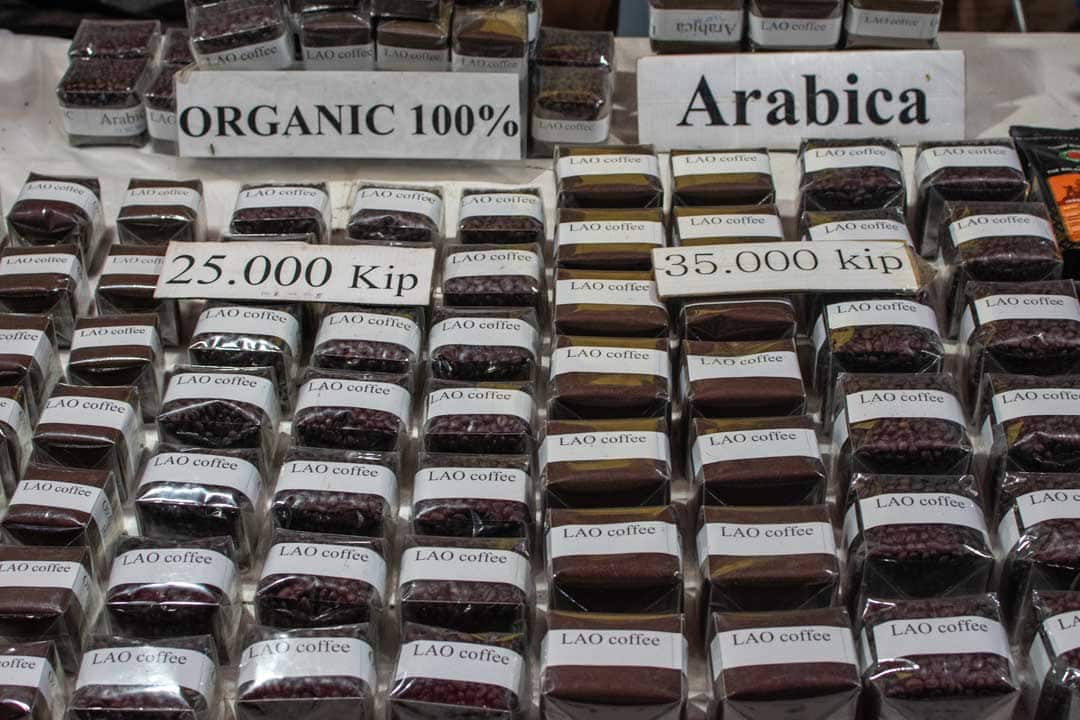 Planted by the French a hundred years ago, today, coffee is Laos' fifth largest export product. Out of the 20,000 tones of coffee per year, 95% is harvested in the Bolaven Plateau. Even though not all packs are certified organic, almost all of them are grown by one of the 20,000 coffee farming families in the region, using organic farming principles. Lao coffee is very strong and rich in flavor, especially the sweeter Arabica bean used for espresso.
A few Laos souvenirs to stay away from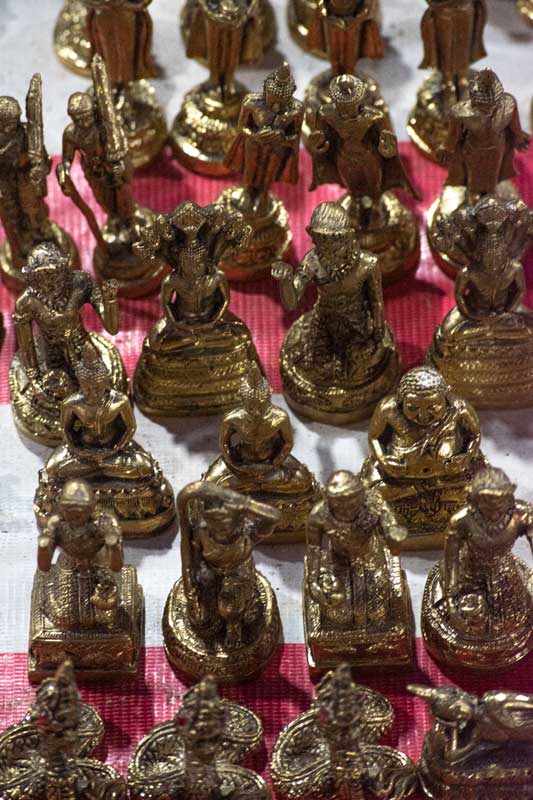 Laos is a beautiful country, but it's not a well regulated one. What I mean is that you can find plenty of forbidden or even illegal items on the night markets that are not even trying to hide. So what should you avoid buying to not get in trouble?
You should stay away from all kinds of animal products. Items made of ivory, pendants with tiger teeth, or anything like that is illegal and can get you in plenty of trouble. Not to mention you're supporting unlawful poaching of endangered animals. Another thing to stay away from is the Buddha statues. It's highly disrespectful to get one and illegal to take out of the country.
I would also stay away from the antiques; most of them are illegal to take away from Laos too.
That's all from me, now you have an idea what are the best Laos Souvenirs.
————————————
If you haven't planned your trip there yet, find out how I plan my trips!
————————————
I have 9 bucket list ideas for Laos. See my impossible bucket list of 1700+ adventures!

Which souvenir is your favourite?
---
Some of the above are affiliate links and I will earn a percentage of the sale if you purchase through them at no extra cost to you. This helps keep my site running – so thanks in advance for your support!