You are about to spend 2 days in Porto? Congratulations, you've made a great choice!
Even though Porto is the second-largest city in Portugal, for some reason, a lot of people leave it out of their European itineraries. Big miss for them and great news for all of us, who've decided to spend a few days in Porto – the most underrated city in Europe.
Now you may wonder, if this is the second-largest city in the country, are two days enough to explore it? Since most of the landmarks are close to each other and the tourist crowds aren't that big, two days would give you just enough time to taste the unique Porto spirit.
I need to warn you though, once your 2 days in Porto are over you'll be sorry you've spent so little time there, and you'll be already planning your return.
The itinerary in this guide presumes you have two full days in Porto. It is, however, structured for a slow and relaxed tempo. If your time is limited or you prefer a quicker pace, you can visit all of the mentioned spots in a single day. I do recommend going slow though, hastiness goes against the essence of the city (and the whole country of Portugal).
Two Days in Porto – Day 1 – You're a wizard, Harry
Do you know that the author of the most famous wizard in the world used to live in Porto? Between 1991 and 1993, Joane Rowling was teaching English in the Portuguese city and it's considered that she got a lot of her wizarding-world inspiration right there in Porto. So let's start our city exploration with one magical bookstore.
Livaria Lello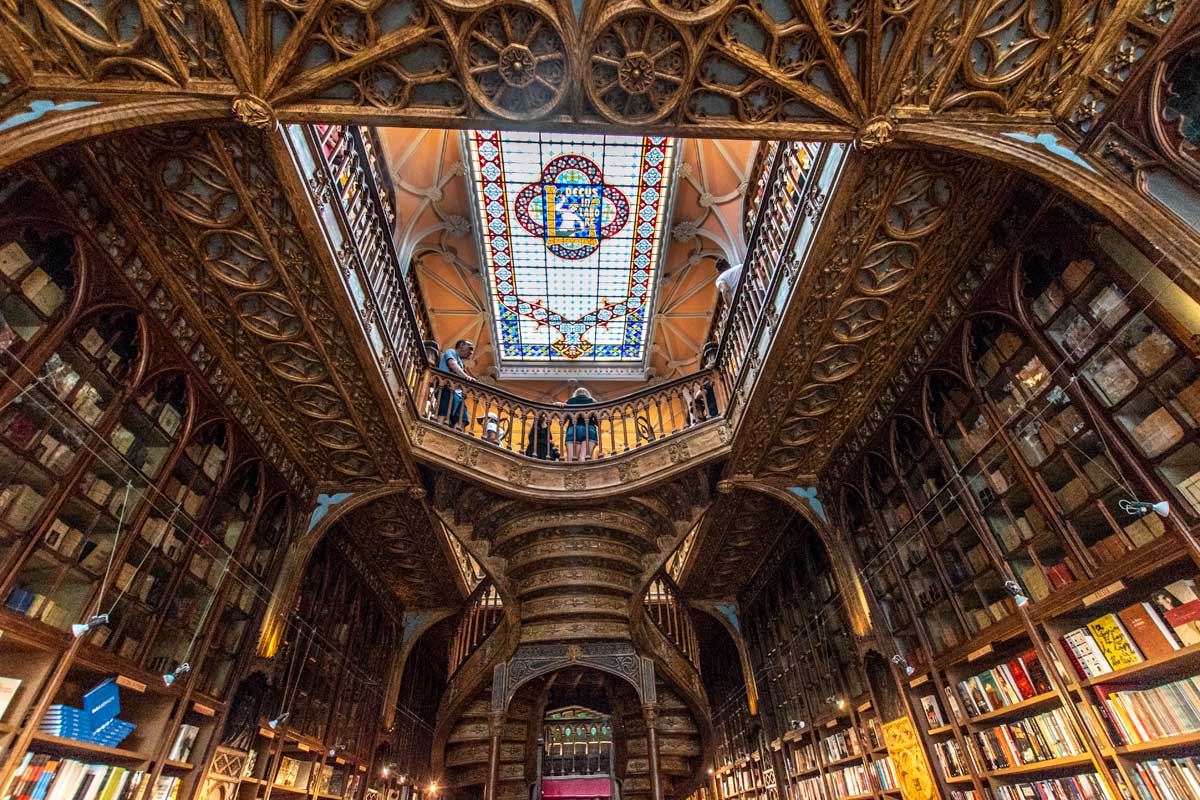 I'll be honest with you – this is the most controversial place on my list. Since 1906, Livraria Lello has been the house for men of arts and letters, an inspiration for acclaimed authors, a place for social gatherings, performances, and a quiet library for many readers.
Nevertheless, since one of those authors used to be J.K. Rowling, today the livaria is anything but a quiet place to enjoy a book. The store got so popular that they even put an entry fee (that gets deducted from the book price if you get one).
So why did I put this crowdy little bookshop first on my 2 days in Porto guide? Well, the architecture is truly one of a kind. Crowded or not, the antique bookstore has managed to preserve this early 19th-century spirit inside. With a giant wooden forked staircase connecting the first and the second floors, and an even bigger stained glass window on the ceiling, this will be the most beautiful shop you've ever set foot into.
Overcrowding is a big problem though, that's why I put it first on our itinerary. Get there half an hour before it opens to have the chance to enjoy this vintage masterpiece of a bookstore, but be prepared to share it with at least a dozen other people. If you go there later in the day though, you'd have to share it with hundreds of others. If you really don't want to get up early on your vacation, go to Livaria Lello an hour before closing, when the crowds are more manageable.
psst! Learn more about the Portuguese libraries and other fun facts.
See Also: How to Spend 10 Days in Portugal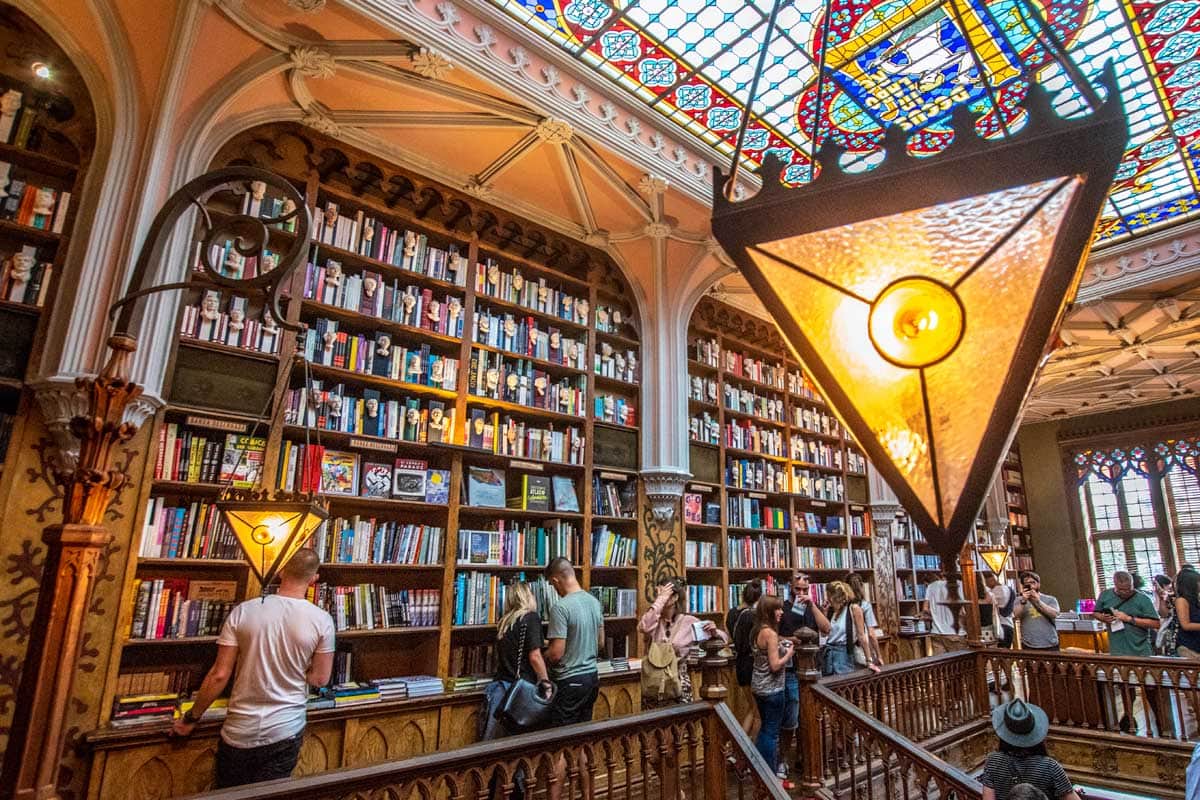 Who should go to Livaria Lello?
If you are a Harry Potter fan, it's a must-go for sure. This small Portuguese bookstore inspired Diagon Alley's premium bookstore – Flourish and Blotts, and honestly, it's one of the best places to go if you want to feel part of the wizarding world.
If you enjoy reading or have a friend who does, a book from one of the most famous bookstores in the world is a wonderful souvenir as well. If you don't care about Harry Potter, architecture, or books, you better leave it out of your itinerary.
Castaway Tip
The ticket for the bookstore is bought in an alley nearby. To avoid waiting in two lines, get your ticket online from the official site.

The Fonte dos Leões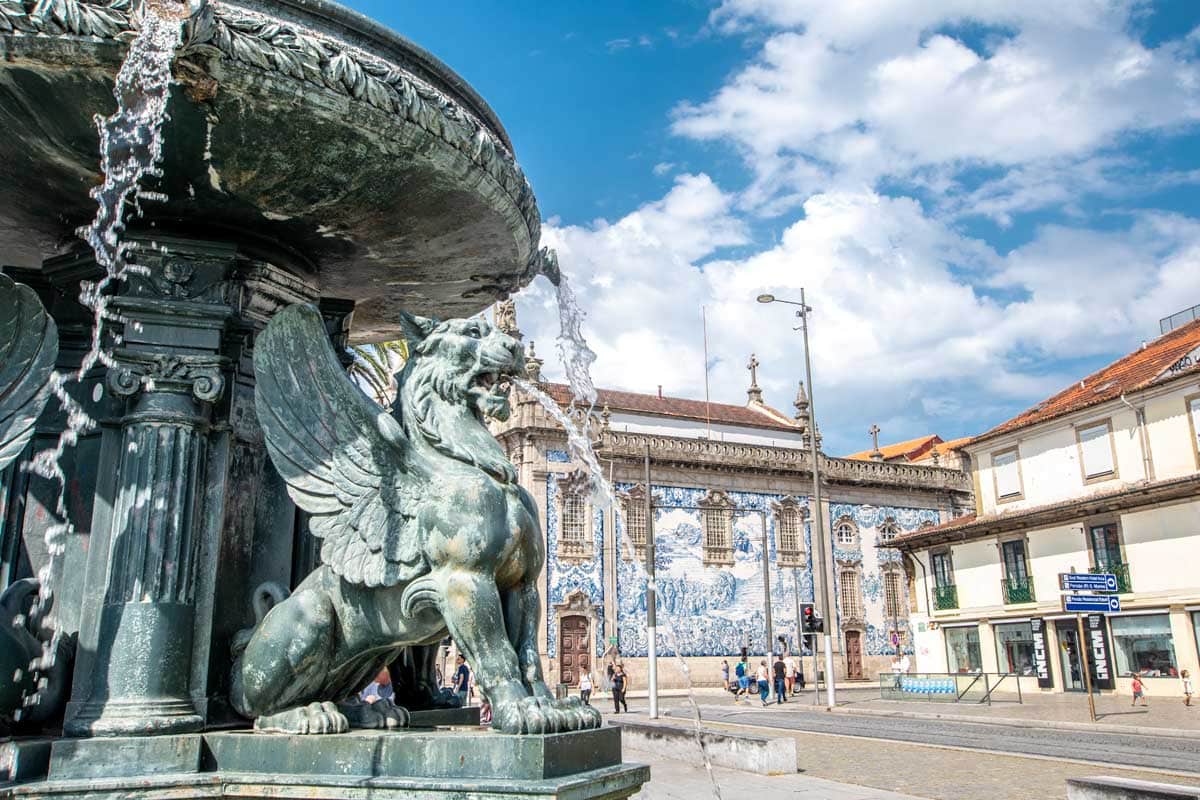 Right across Livaria Lello, you can find the fountain with the lions. The magnificent fountain decorated with four seated lions is responsible for the square's namesake. An odd thing about the lions is that they have wings making them more griffins than lions.
You see where I'm going to, Potterheads? Yes, the fountain is believed to have given inspiration for the Gryffindor house's mascot.
Since the fountain is located right behind the University of Porto, it is a favorite meeting place for the students. And the students in Porto are an attraction by themselves. Being one of the oldest educational institutions in the country, the university has a ton of traditions, one of them being the school uniforms.
Leather case, a tie, white shirt, blazer, and skirt for the women, with pants and an interior jacket for the men, finished with a black cloak. Sounds familiar? They are exactly like the school uniforms in Hogwarts!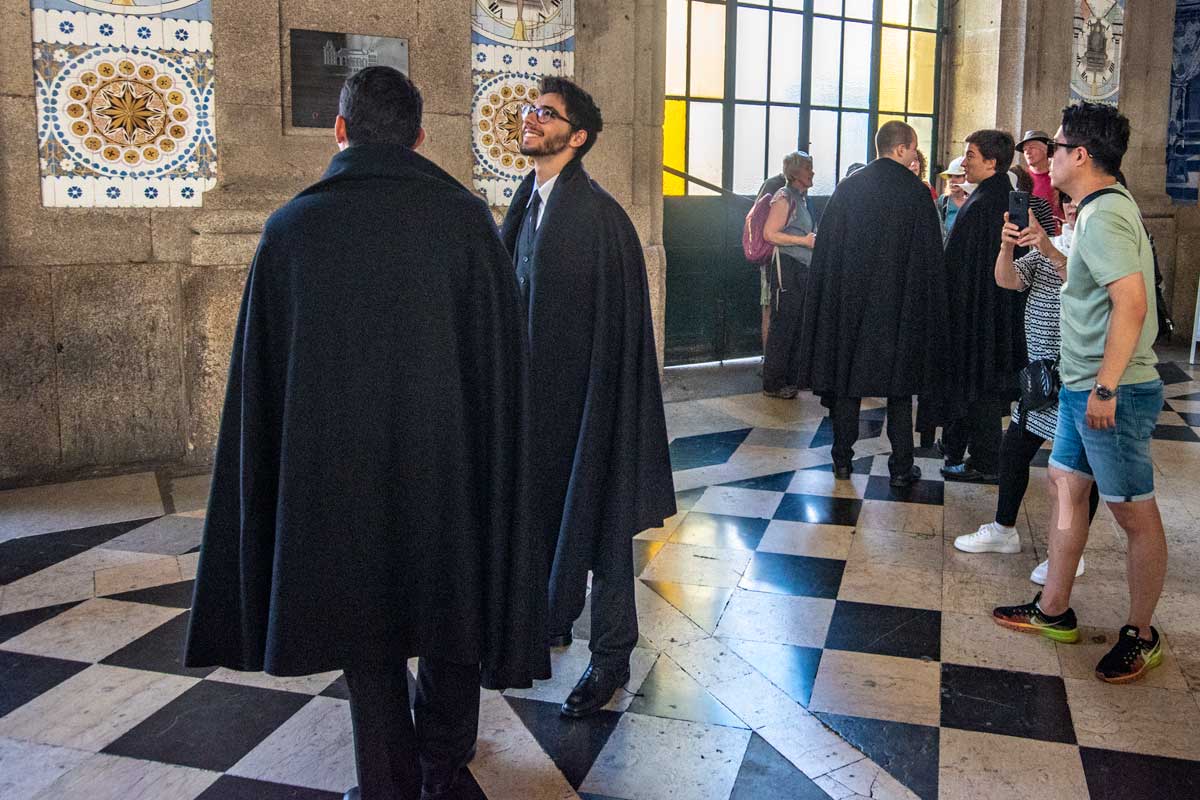 The fountain and square are a nice place for the non-Potter fans too. With an alley full of traditional Portuguese souvenirs (a lot of cork stuff) a tram stop and even a small truck selling port wine and tapas, you'd enjoy the four lions fountain and square even without knowing what Gryffindor is.
Castaway Tip
Don't call the students – Harry Potters. Most of them hate it and prefer their old nickname – the bats.

See Also: How to Spend 3 Days in Lisbon
Carmo and Carmelita churches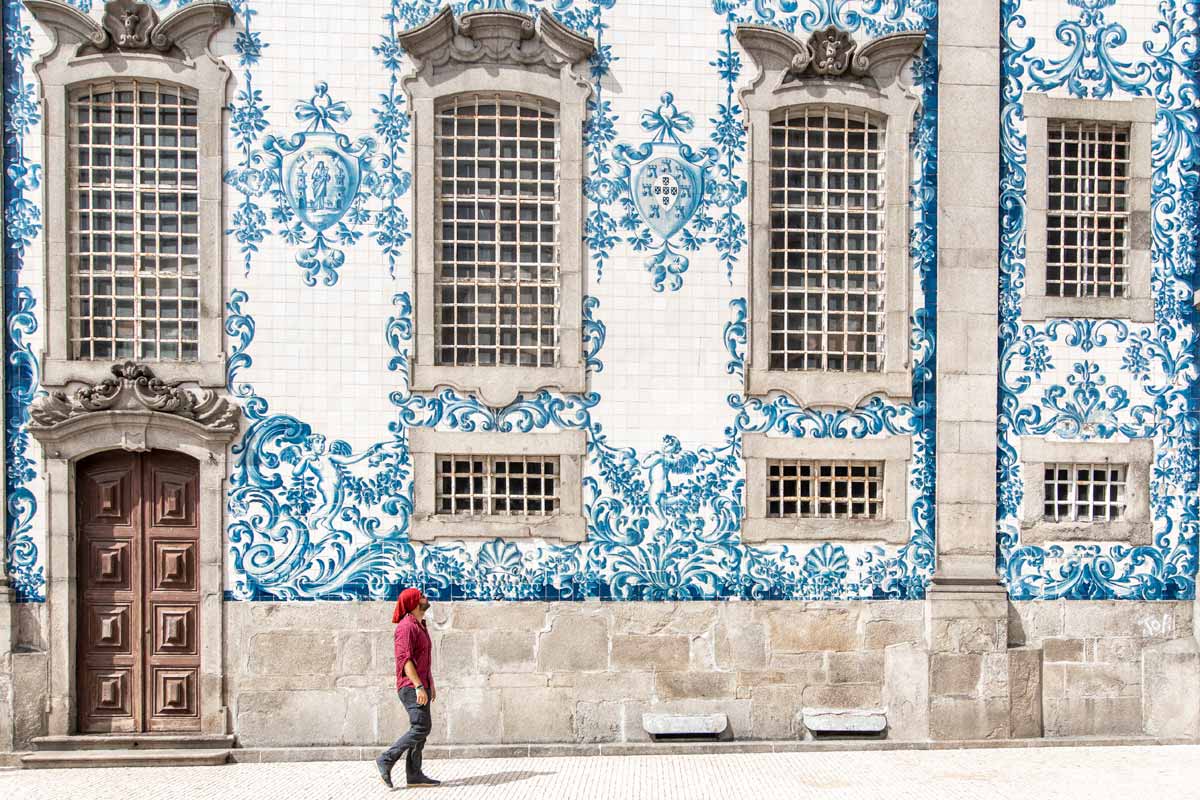 It's time to pause the Harry Potter tour and continue with the other distinguished landmarks of Porto – the churches.
The Carmo and Carmelita churches look like one large church from the outside, but after close examination, you'd find that they are two different ones, separated by one of the world's narrowest houses. Being a fantastic example of baroque architecture, the two churches are a great introduction to the stunning architecture you're going to enjoy on your two days in Porto.
The biggest highlight of the site is the outside wall of the Carmo church. Decorated with a massive panel of Portugal's signature blue and white azulejo tiles, the wall had become a popular spot to get that perfect Instagram photo.
Working Hours:
Mon – Fri: 7:15 AM to 7:00 PM
Weekend: 9:00 AM to 6:45 PM
Castaway Tip
A hawker may try to lure you to see the small house between the churches. Don't go for it. It's just a few floors of single rooms with old furniture.

The Clerigos Church and its tower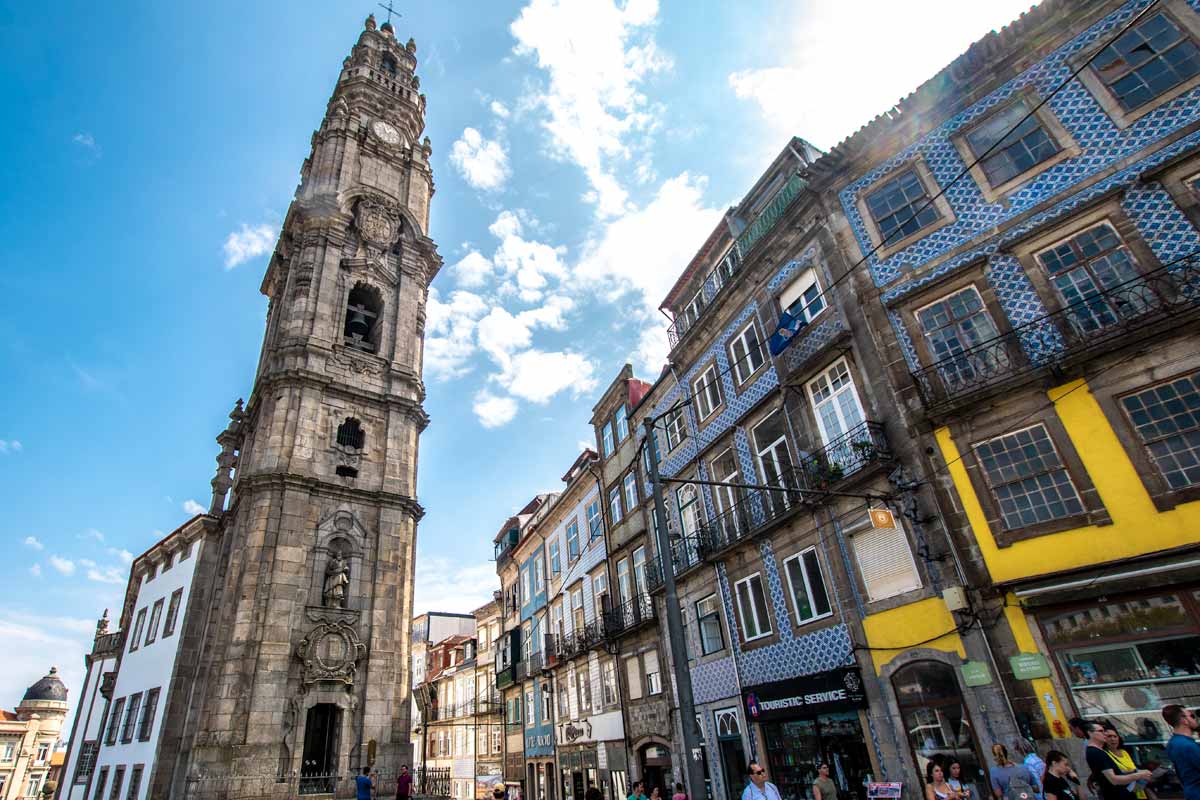 We continue our two days in Porto with another church. A short walk away from Carmo and Carmelita is a building that defines the skyline of Porto – the Clerigos Church.
Just like the previous churches the center of our attention won't be the house of God. This time it's the bell's tower. Depending on the day and time of your visit (weekends and midday are most crowded), you may have to wait in line for a while. And since the space on the tower is limited, your ticket would have a fixed hour.
That gives you time to explore the interior of the Clerigos Church, have lunch in the restaurants nearby or enjoy a glass of Port wine in the nearby park.
Once the time comes, prepare for 225 steps and the most beautiful panoramic view of Porto.
Castaway Tip
You can save yourself the line wait if you get an online ticket (same price)

Sao Bento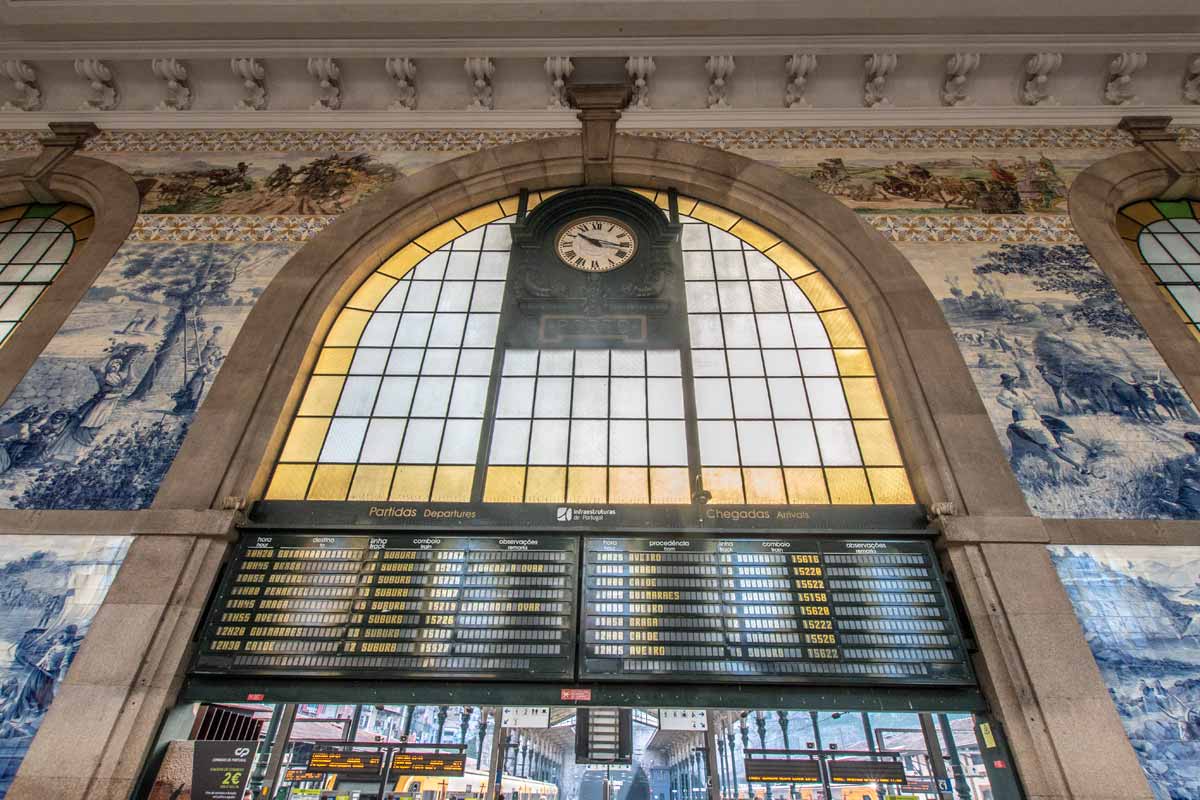 A quick walk from the Clerigos church will lead you…Actually no. Take your time and enjoy the colorful houses and antique shops in the heart of the city while slowly making your way to one of the most spectacular train stations in the world.
Built in the end of the 19th century, Sao Bento is one of the biggest landmarks in Portugal. decorated with more than 20,000 magnificent azulejo tin-glazed ceramic tiles the station depicts Portugal's illustrious history and it's an absolute must-see.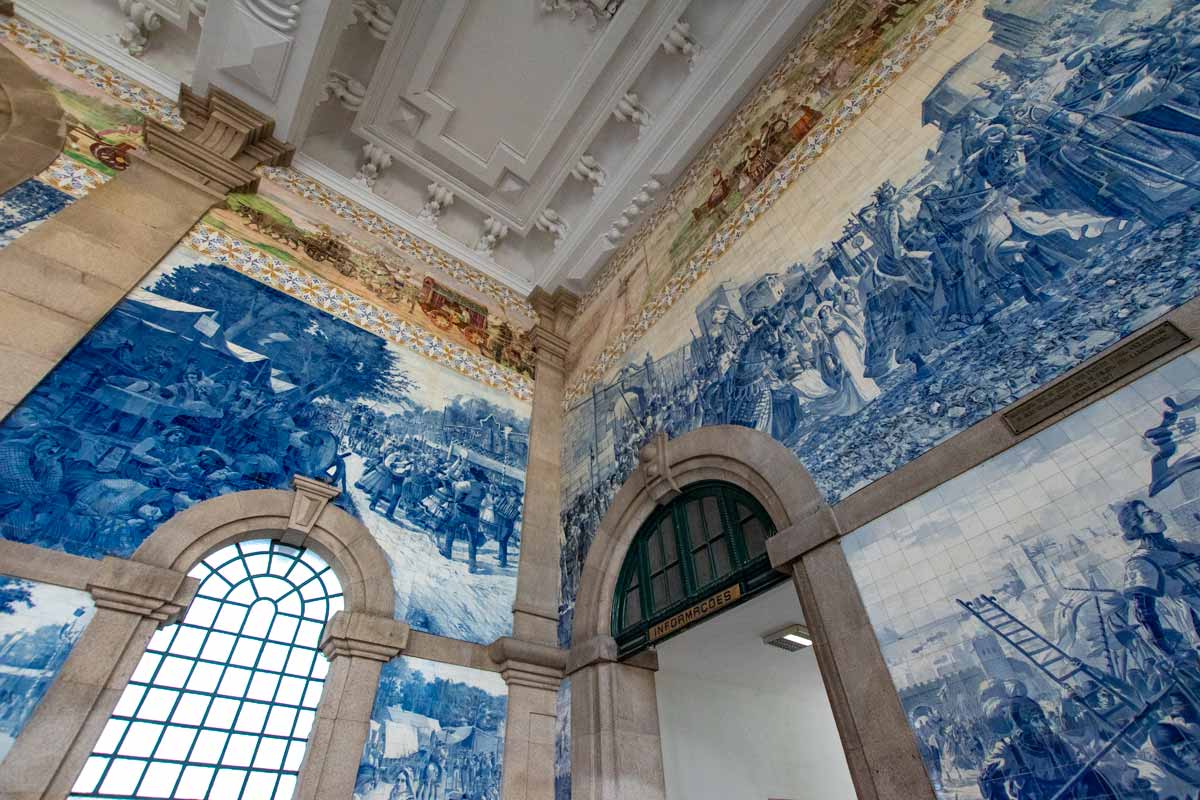 Igreja de Santo Ildefonso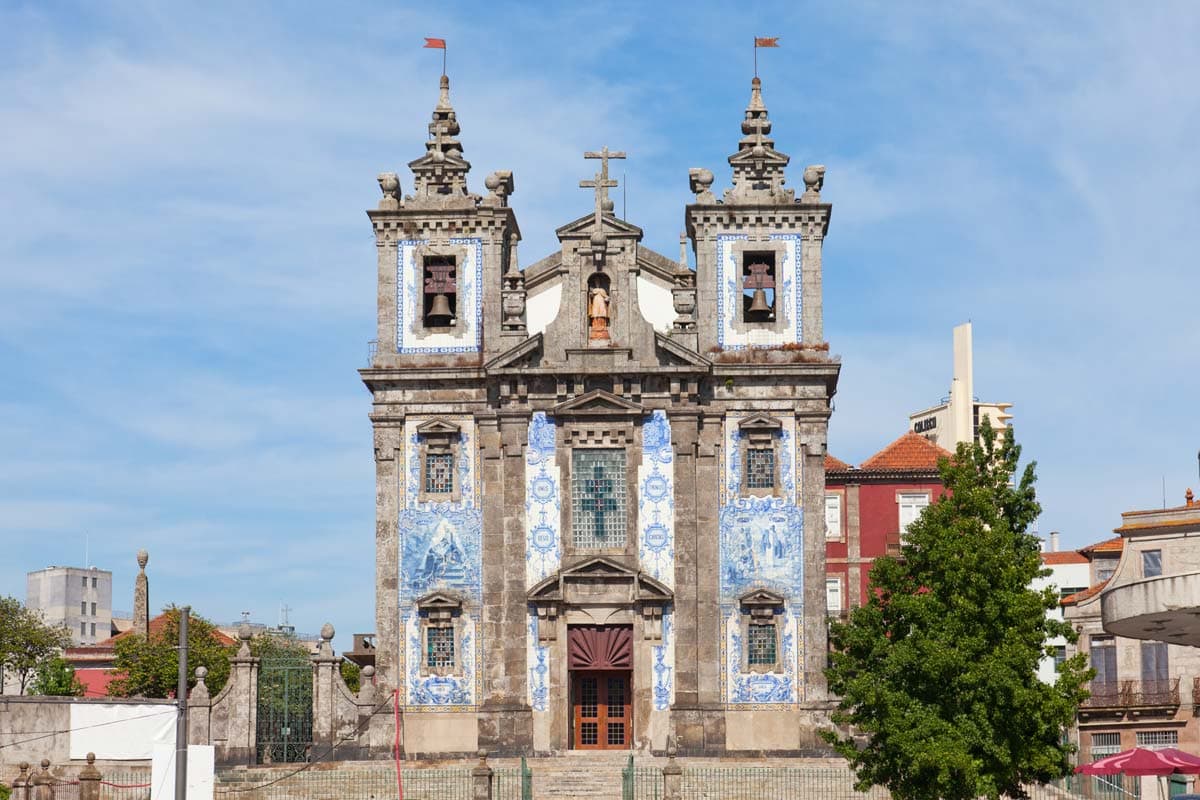 I hope you liked the tiles of Sao Bento, cause our next destination has a lot of them. From one of the most picturesque train stations in the world, we are going to one of the most picturesque churches in the world. Welcome to Igreja de Santo Ildefonso.
Isolated on a small hill, the tiny church is built in a proto-Baroque style and has a facade of nearly 2000 azulejo tiles. Illuminating the streets since the 18th century, Igreja de Santo Ildefonso is one of the most instagramable places in the city and a must-see spot on your two-day Porto itinerary.
Working Hours:
Monday: 3:00 PM. to 6:30 PM
Tuesday to Saturday: 9:00 AM. to 12:00 PM. and 3:00 PM. to 6:30 PM
Sunday: 9:00 AM to 1:00 PM and 6:00 PM to 8:00 PM
Majestic Cafe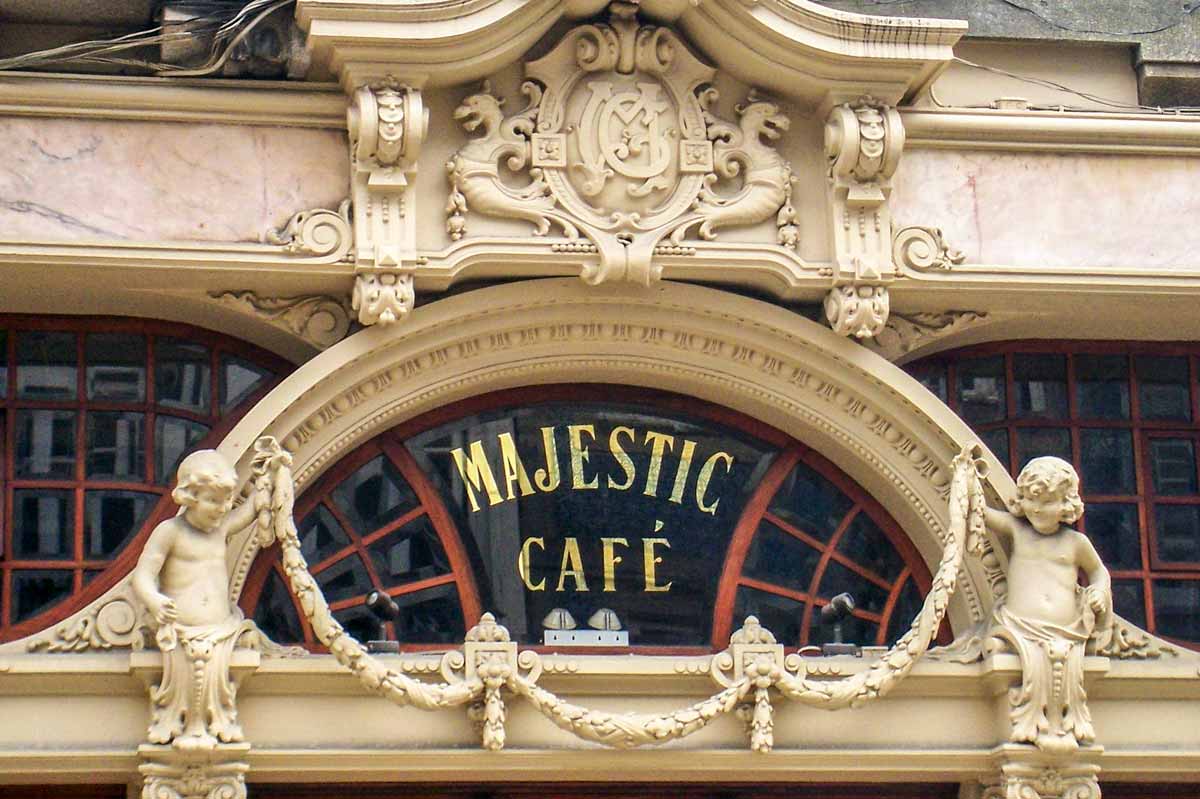 The last place for the day is a place you can also start your day. Founded a hundred years ago, the Majestic Cafe has been voted continuously among the most beautiful cafes in the world.
One of the top meeting points of the elite of the city after the first world war, the cafe lost its glamour during the second one. Bought and renovated in its original style in 1983 however, Cafe Majestic once again becomes one of the most famous attractions of Porto.
It is even rumored J.K. Rowling wrote the first chapters of Harry Potter on a napkin there.
Castaway Tip
If you are a budget traveler, this is not a place for you. Keep going on the Santa Catarina Street, and you'll find a ton of other wonderful little cafes with lower prices.

Two Days in Porto – Day 2 – Embracing the City Spirit
Our second day in the city will be centered less around Harry Potter and more around the local atmosphere. We would try to capture the soul of Porto.
A Ribeira walk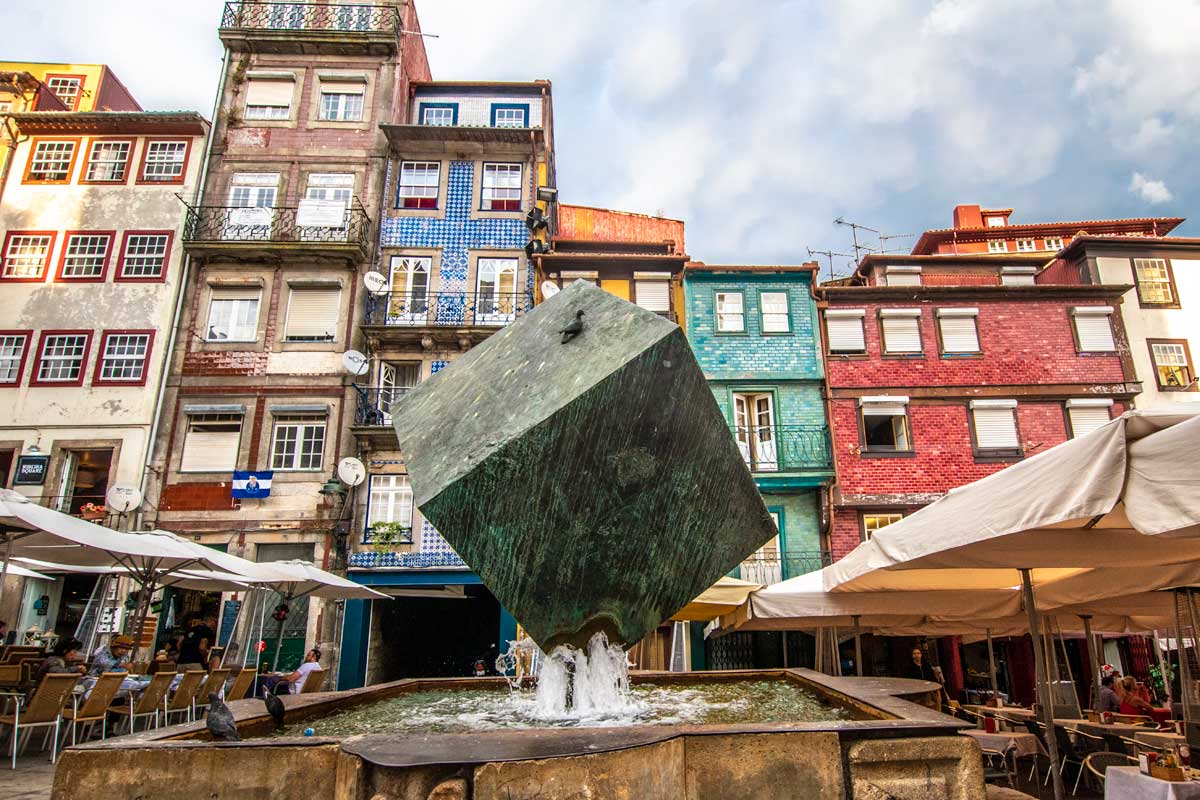 Let's start the day with a walk around one of the most beautiful districts in Portugal – Praça da Ribeira. Located alongside the Douro river, the area has been a UNESCO World Heritage Site since 1996.
The winding medieval streets and small cobblestone alleyways complemented by the sounds of various street performers and the smell of freshly baked pastel de natas are guaranteed to make this walk a memorable one. Have a seat in one of the riverside cafes and enjoy the Douro breeze while sipping a cup of strong Portuguese coffee.
The Porto Cathedral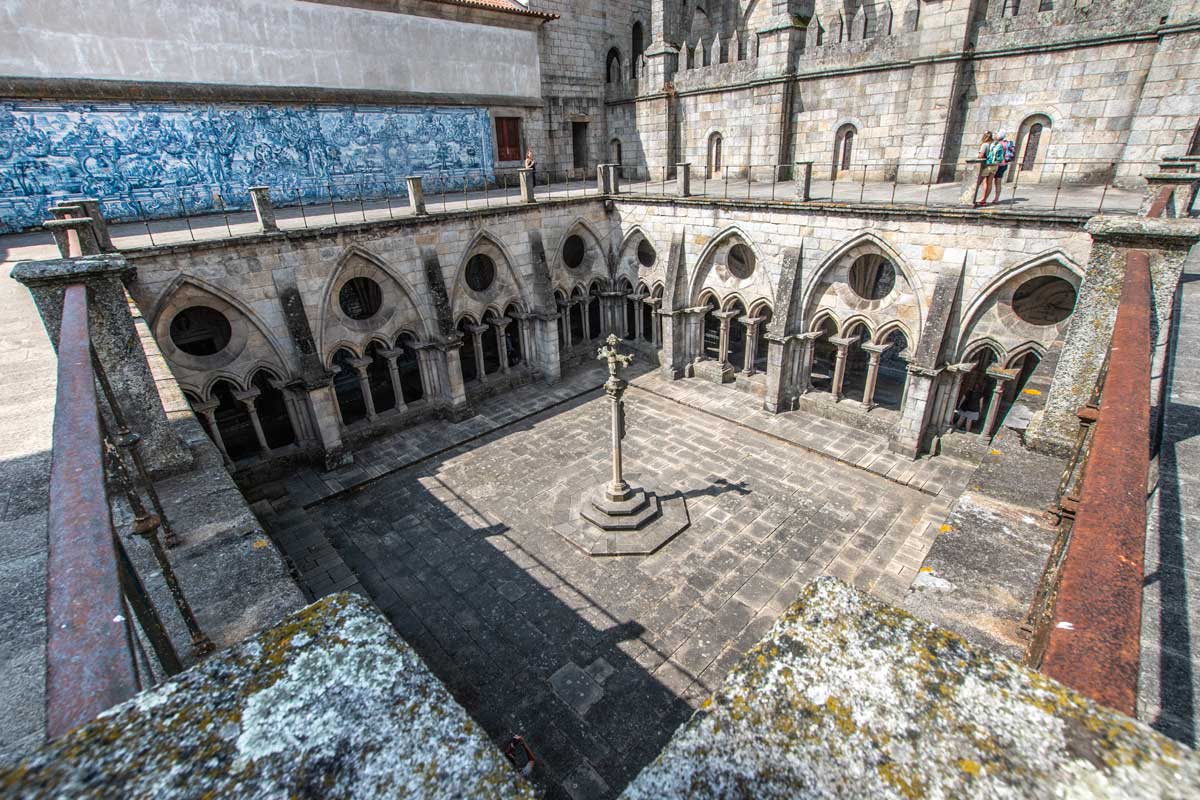 Next on our itinerary is one of the most significant buildings in Porto. Built between the 12th and the 13th century, the Porto Cathedral is one of the most symbolic tourist attractions of the city and is often used as the poster landmark of Porto.
The brilliant blend of Romanesque, Gothic, and Baroque is finished with large ceramic tile (azulejos) panels making the building a must-see for every architecture enthusiast. Make sure to check the cloister too. Right in front of the Porto Cathedral, you can find one of the best miradouro (viewpoint) of the city.
Don't miss it!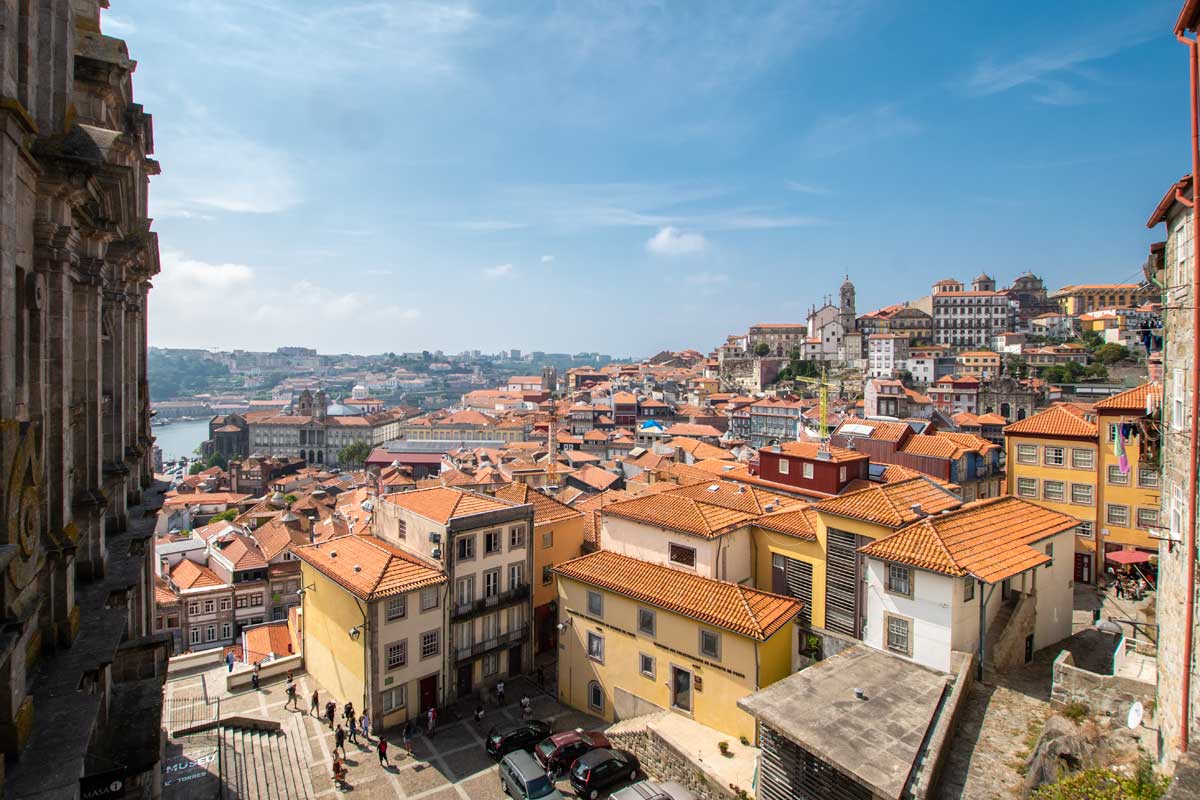 Price:
Cathedral – free; Cloister – 3 EUR
Working Hours:
April – October: 9 AM – 6:30 PM
November – March: 9 AM – 5:30 PM
Christmas and Easter: closed
Castaway Tip
The Cathedral is very quiet, cool, and has plenty of seats. If you get tired while walking around town, it's a great place to go and find refuge from the blazing Portuguese sun.

Igreja de São Francisco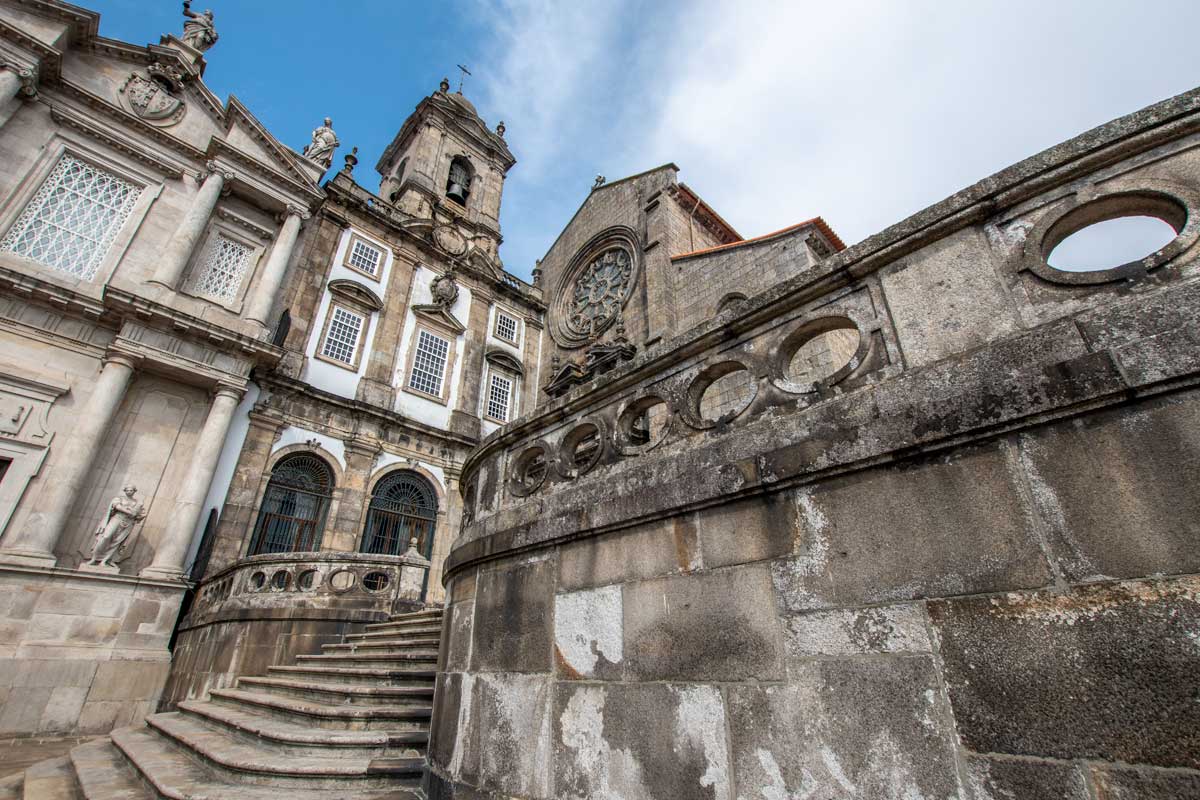 Our 2 days in Porto itinerary continues with yet another church. It's the last one, I promise! It's also the most beautiful of them all. Yep, I saved the best for last. Behold – the Igreja de São Francisco in Porto!
First things first, you need to get a ticket. Quite weird for a place of worship to have an entry fee but since the ticket covers the small museum and the catacombs next to the Igreja I guess it's a fair deal. Speaking of the museum and the catacombs, they are nothing awe-inspiring but since you've already paid for them, go spend 15 minutes and take a look.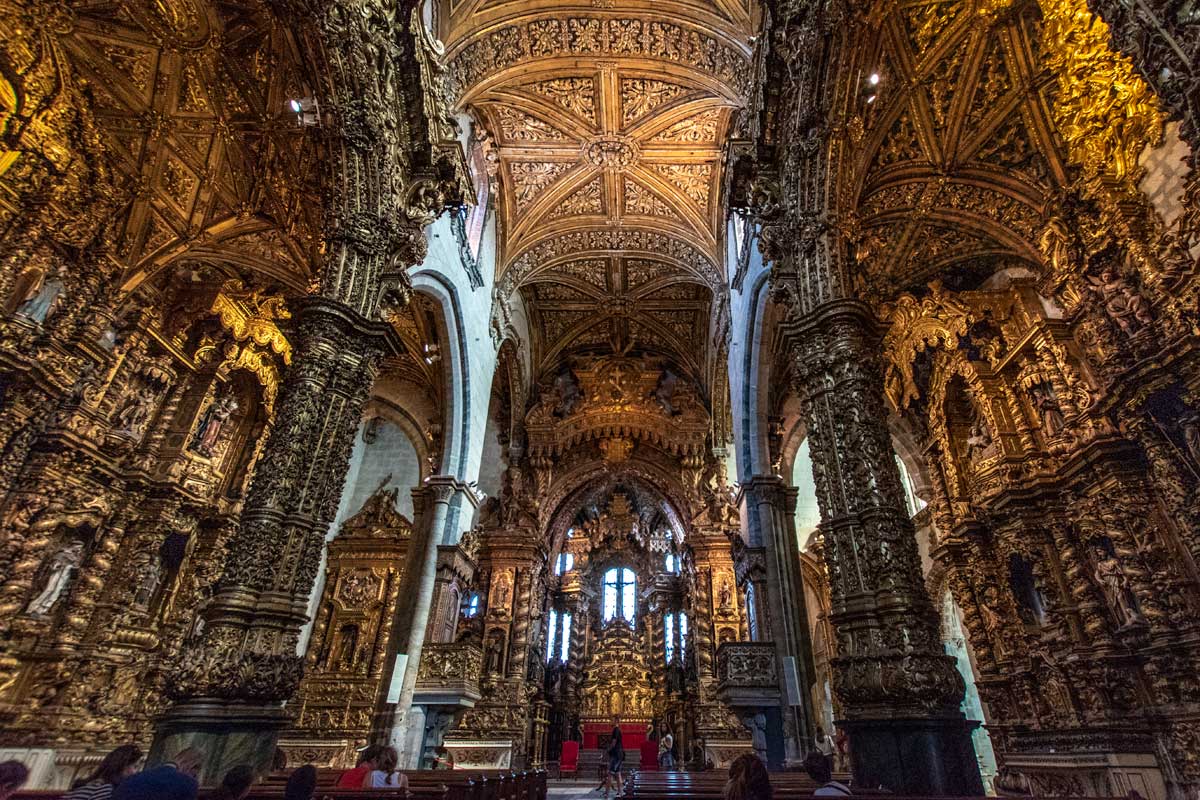 The church however is… just prepare to have your jaws dropped to the floor once you enter. Incredible attention to details, with three naves coated in (real) gold carvings and a huge wooden statue depicting the family tree of Jesus, at the altar. It is believed almost 300 kg of gold was used for the ornaments of São Francisco. It was even considered too extravagant for its time and closed for a while.
Price: 7.50 EUR
Working Hours:
November – February: 9:00 AM – 5:30 PM.
March – October: 9:00 AM – 7:00 PM.
July – September: 9:00 AM – 8:00 PM.
Castaway Tip
If the cashier offers you the info brochure, don't take it. It's not free and will set you back one euro.

See Also: What NOT to do in Lisbon
Wine Tour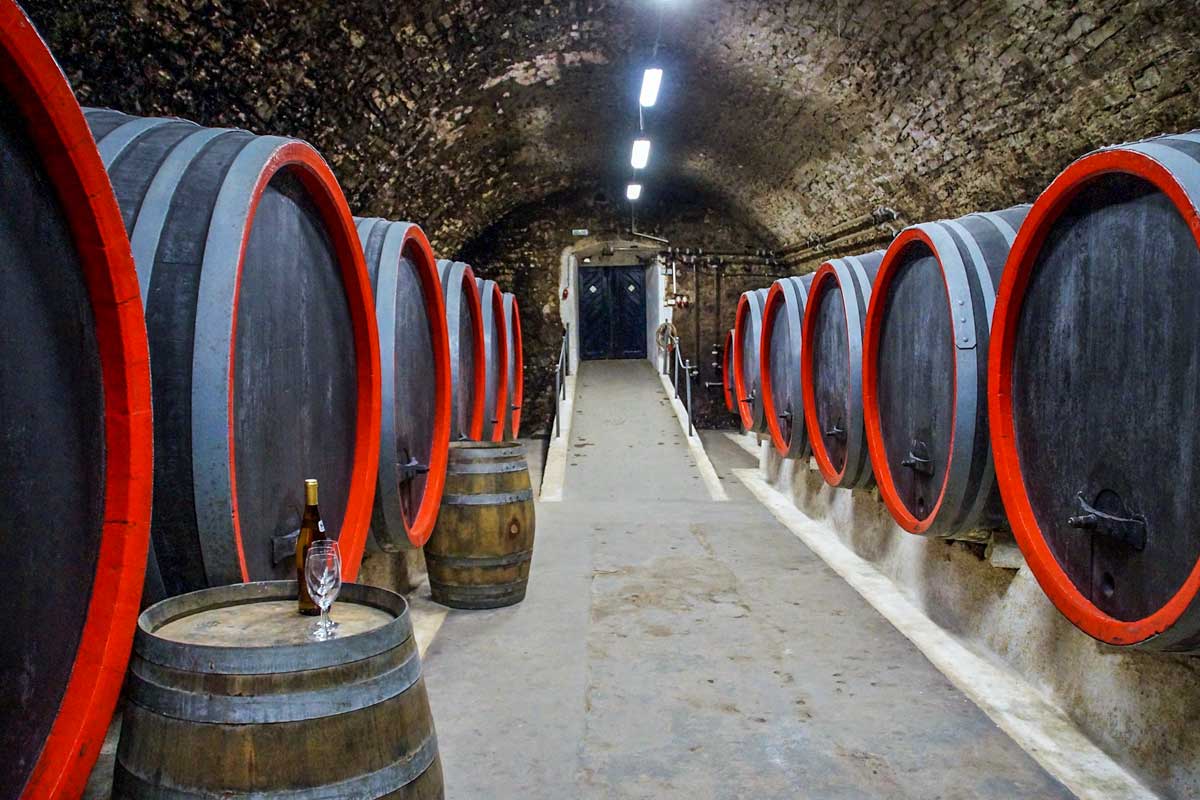 If there is one thing in Porto more famous than its churches and Harry Potter – it's the Port wine. I'm sure you've heard of it and most probably tried it. But enjoying the Port wine in Porto, right there in the cellars where it was invented…yeah…certainly one-of-a-kind experience for every wine lover.
There are numerous wine tours offered in the city, most of them start in the afternoon and tour the other side of the Douro River. One of the top tours will take you to the oldest cellar in town and will offer not only wine tastings but also a selection of cheeses and smoked meat.
Sunset at Gaia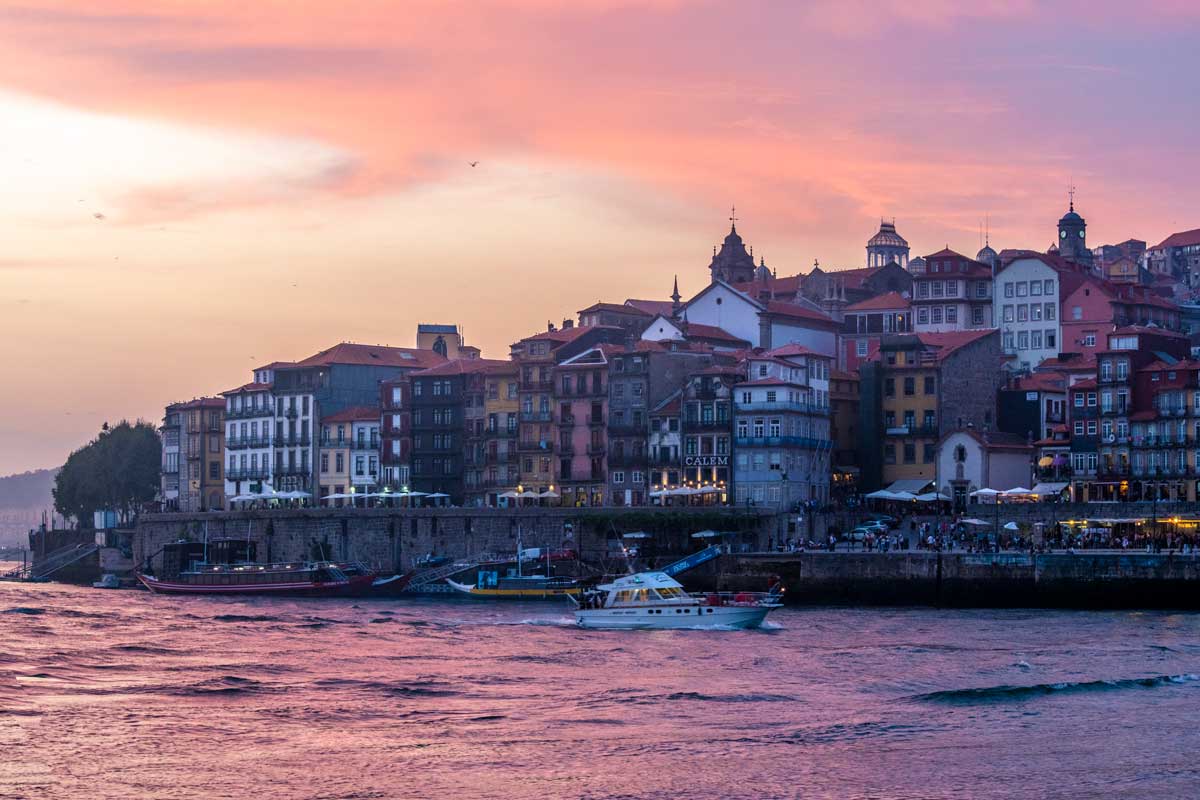 We started the day with a coffee at the of the Douro river's coast, and it's time to end it the same way – with a dinner at the riverside… but this time on the other bank. The last activity on our 2 days in Porto itinerary is merely a dinner at one of the restaurants of Gaia.
Vila Nova de Gaia, or simply Gaia is the area on the other side of the bridge, and it's the best way to try local cuisine while enjoying a panoramic view of the Ribeira district. Add a warm pink sunset to the equation and have one of the most magical evenings of your life.
Useful Information About Porto
Where to stay in Porto
Porto is a very walkable city, so a good location is the essential you're looking for.
Expensive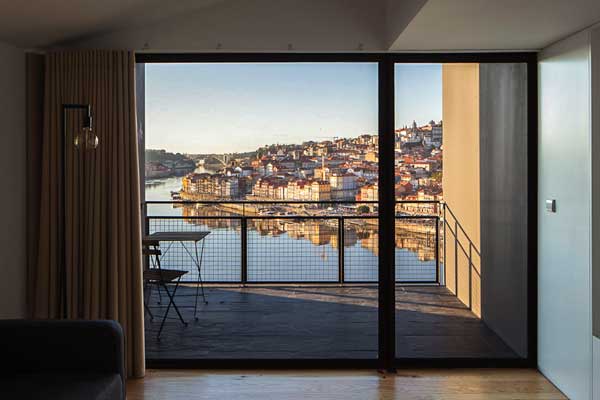 Oh! Porto Apartments
At the end of the Dom Luís I Bridge, the most significant trait of those minimalistic furnished apartments is the stunning panoramic view over the Ribeira district. Right next to most of the wine cellars of Porto and the Gaia cable car the only downside of those apartments is that you may not want to leave them and explore the other parts of the city.
See the latest prices
Mid-Range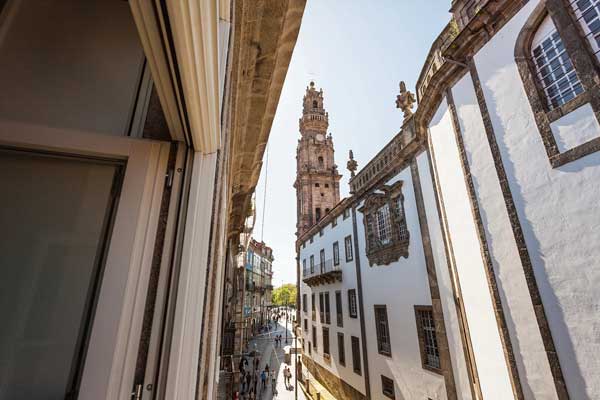 Oporto Invite Clerigos
Situated right next to the Clerigos church, there is a hardly more central place you can find. Spacious, bright, and offering a fantastic view, those apartments have everything you need to make your stay in Porto a memorable one.
See the latest prices
Budget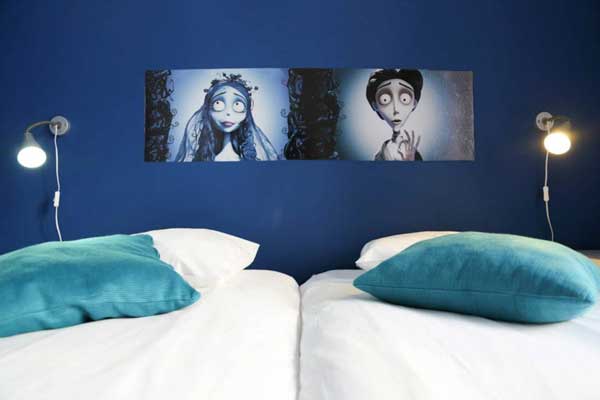 Rivoli Cinema Hostel
5 minutes away from Sao Bento train station, terrace with a pool and cute, movie-themed rooms. More than a perfect place for all of us who want to spend 2 days in Porto on a budget.
See the latest prices
When to go to Porto?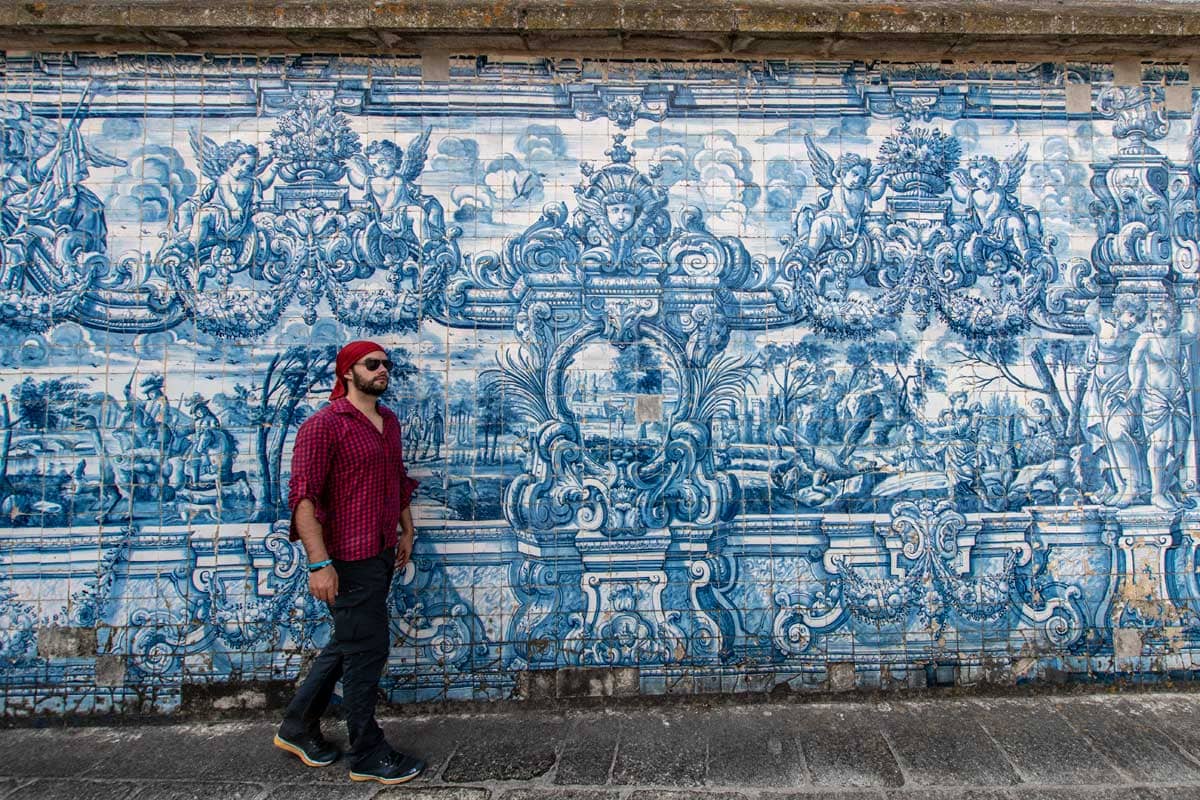 The best thing to do in Porto is to just walk around and enjoy the atmosphere. Summers in Portugal are very hot while winters are obviously not the best time for walks alongside the river, so spring (March-May) and autumn (September – November) are the best times for a visit.
How to get around Porto?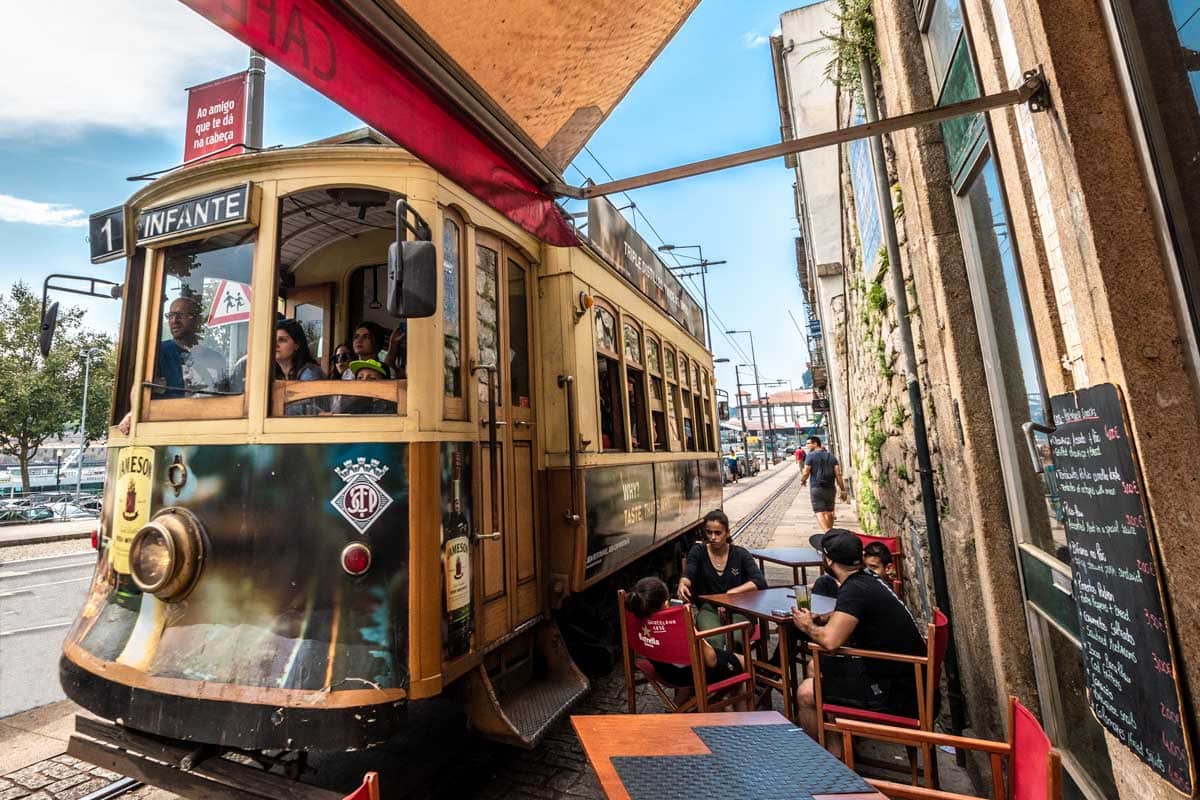 Walk, walk, walk! Don't be focused on your end destination, Porto is all about enjoying the journey to it. If you get too tired though, you can always use the highly developed metro system or a public bus/ tram. If you are a fan of those things, you can also get the Hop-on Hop-off bus.
Is Porto Safe?
As safe as a big city can get. Be aware of pickpockets when visiting crowded tourist attractions, and inside the trams. To save yourself some worries, do what I do – get travel insurance!
See how much your safe travel is worth
Porto tours & day-tours
Not into exploring the city on your own, or you just prefer a knowledgeable guide with you? Here are some of the best Proto tour options:
The Combo One – This is not really a tour but a 2-day combo ticket that will give you access to a sightseeing hop-on-hop-off bus, a Douro River Cruise, and of course a wine cellar. Quite useful if you don't want to spend too much time walking.
The Fado One – This is a ticket to a live Fado performance. It's hosted in a music auditorium overlooking the Douro River and (of course) includes some port wine.
The Eco-friendly One – Board an eco-friendloy boat and discover the stunning Scandola Nature Reserve. This tour is perfect for the animal lovers since the reserve is home to a wide variaty of wildlife and also includes a visit to the secluded coastal village of Girolata.
The Douro Day-Tour – This one offers a day trip to the famous UNESCO recognized Douro valley. Enjoy the stunning views and learn more about the long history of winemaking. It also includes lunch, a river cruise, and a guided tour of 2 vineyards!
The Historic Day-Tour – This one would take you to the nearby cities of Braga and Guimarães. Explore their historic centers, learn more about Portuguese culture, and have a traditional lunch at a local restaurant.

Useful words in Portuguese
Olá – Hello
Obrigado – Thank you
Quanto custa? – How much is this
Fala inglês? – Do you speak English?
Por favor – Please
Cerveja – Beer
Carne – Meat
Vinho – Wine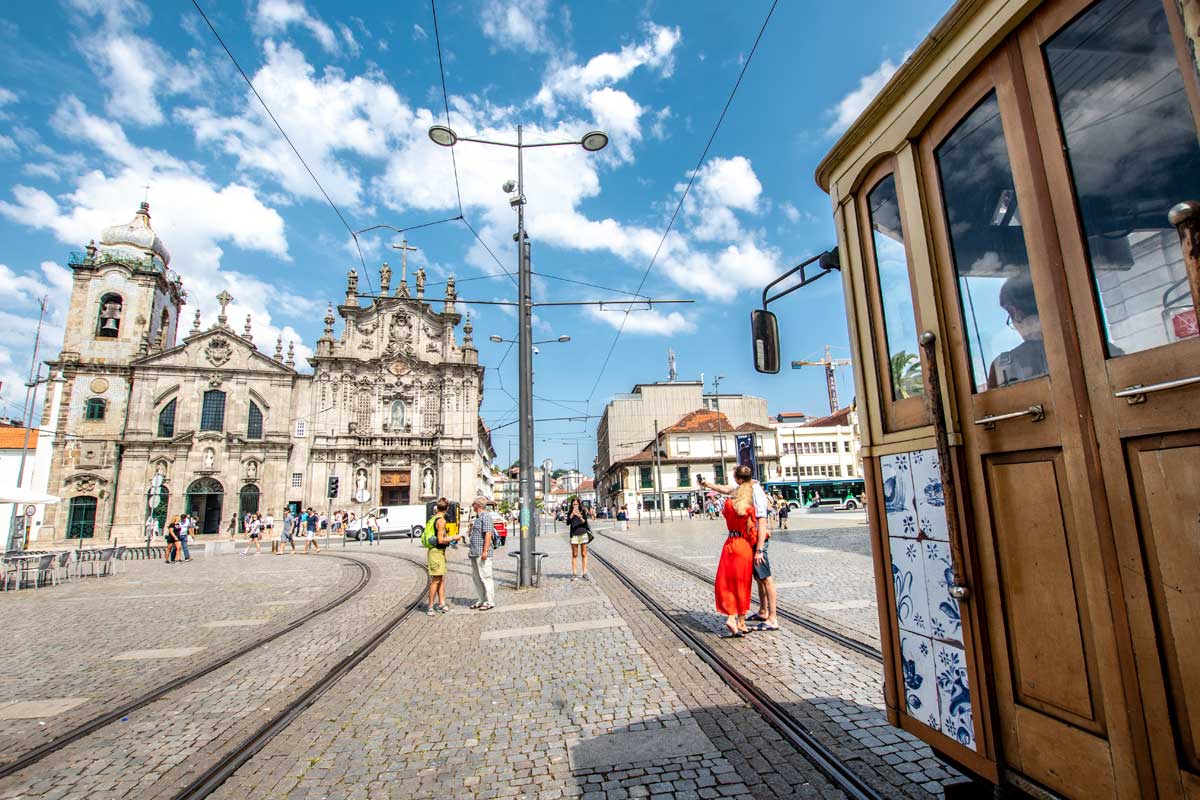 Where to store your luggage in Porto
The problem I often have on my travels is when my check-in is too late or when the checkout is too early. In cases like that, I want to explore the destination but I really don't want to do it with the bag on my back. The solution I found is called LuggageHero. They are something like Airbnb for luggage. Cheap, easy to use, and with plenty of locations, they definitely worth a try.
Check out all locations in Porto
Best way to get from the Porto airport to the city center
The metro ticket costs 2.60 EUR and can drop you almost anywhere in the city center.
Working times (airport line): 6:00 AM – 12:34 AM
Castaway Tip
Don't throw away the card. It's a rechargeable one and it costs 0.60 cents.

Itinerary Map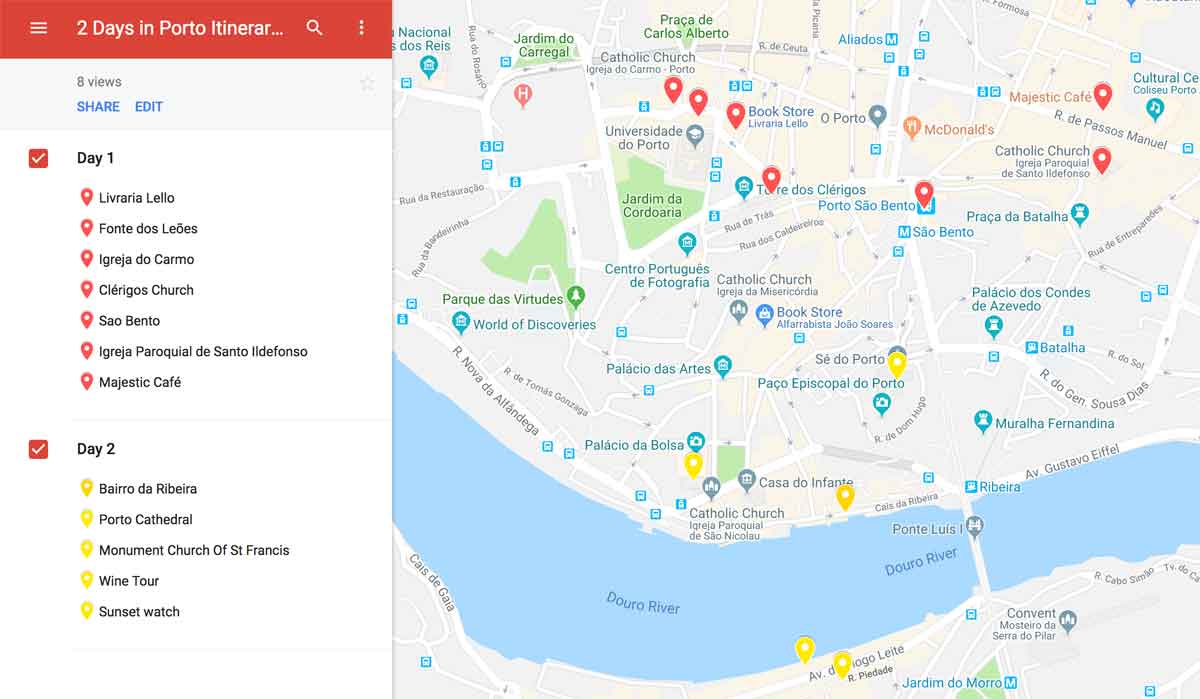 That's all from me, I hope you enjoy your 2 days in Porto!
————————————
If you haven't planned your trip there yet, find out how I plan my trips!
————————————
I have 17 bucket list ideas for Portugal. See my impossible bucket list of 1700+ adventures!
---
Have you been to Porto?
---

Some of the above are affiliate links and I will earn a percentage of the sale if you purchase through them at no extra cost to you. This helps keep my site running – so thanks in advance for your support!