Have you wondered what to see in Cairo?
If you are like me, you have this romantic version of the city in your head, with small sandy streets surrounded by white-stone buildings, the camels roaming around street stalls full of exotic spices, fruits, and scarabs, and flying carpets and genies floating just over your head.
You got me, I love Disney's Aladin, and while, I wasn't expecting to find a beautiful princess with a pet tiger in Cairo, I truly hoped the city's recent bad reputation was just an over-exaggeration by the media.
Most of the people I know visit Egypt via a tour company. Asking them what to see in Cairo was useless. Their trips consisted of staying in resorts by the Red Sea, having day-trips to the Luxor and the Pyramids, rushing from one attraction to another.
This is not the way I travel, so I spent three days in Cairo, trying to find the essence of the city, hoping to stumble upon a magic lamp or at least a flying carpet (even a small rug would've been good) and exploring as much as my feet allows me.
What to see in Cairo – the Good Stuff
The Pyramids and the Sphinx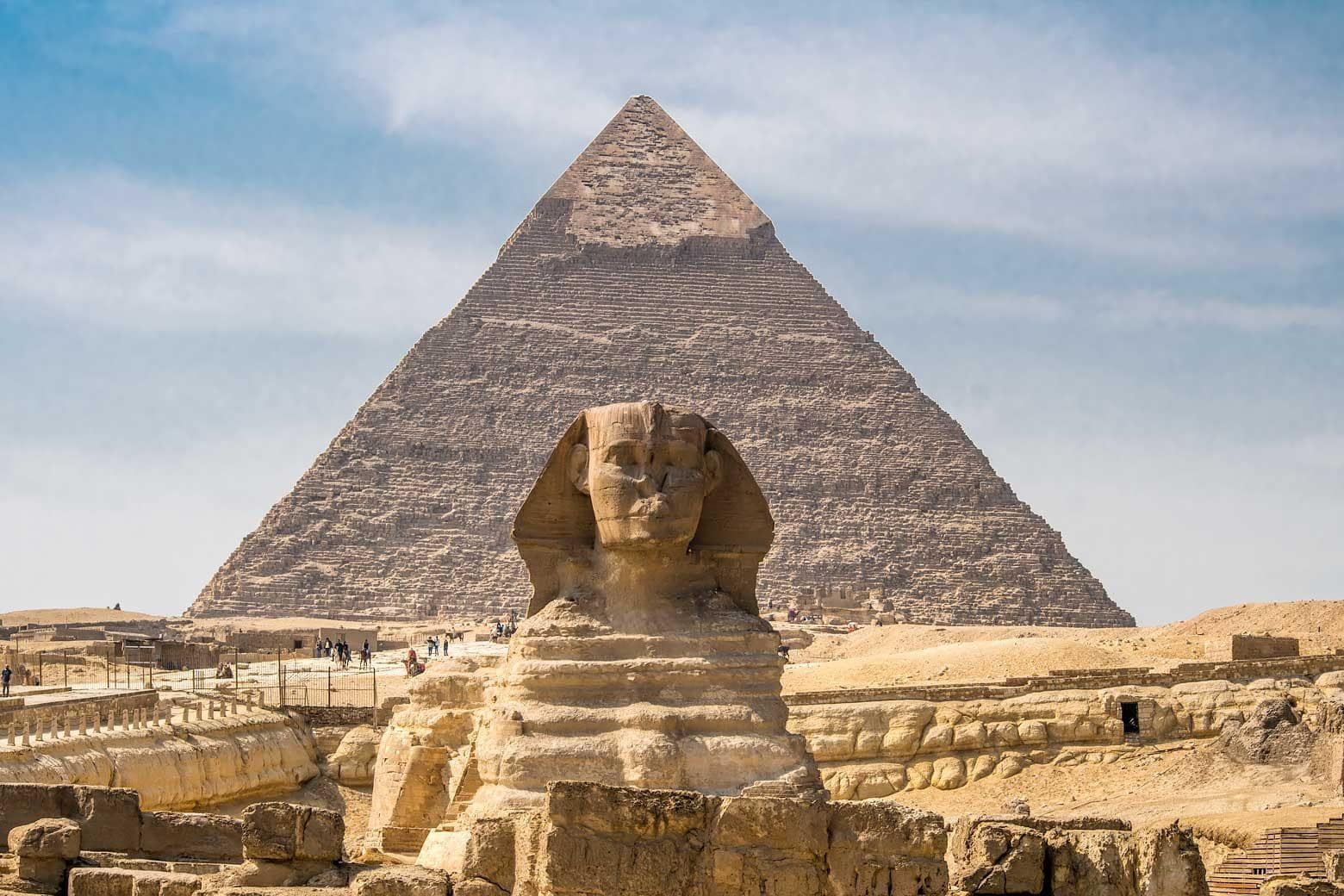 Well…yeah. You kind of expected it to be here, don't you? This is the logical answer to "What to see in Cairo". It's probably the sole reason you want to visit the city in the first place. Well, it's Egypt, and you can't travel to Egypt and miss the pyramids, right?
Built 4,500 thousand years ago, they are the only ancient wonder of the world that survived to this day. Both the pyramids and the Sphinx are located in the Giza necropolis, and if you have a regular fitness level, you can easily explore them on your own. Make sure you got there early though, the Egyptian sun is merciless and can reach 50'C at noon.
A good option is to book a hotel right next to the Necropolis. You would be among the first visitors of the day, and at night you can enjoy the pyramids' light and sound show from your balcony for free.
Prices:
General entrance 240 EGP/ 8 USD
Great Pyramid – 440 EGP/ 14 USD
Available smaller pyramid (one of the two open) – 100 EGP/ 3 USD
Castaway Tip
Once you enter the area – save your ticket. You'll have to show it again when you go to the Sphinx. If any of the locals around the pyramids asks for it, claiming to be an official guard or something, just show it to him but never give it away.

Don't listen to guards, vendors, or cameleers trying to give you a history lesson, don't take pictures of them when they strike a pose next to a camel, and don't take tips about good photo spots. If you do any of those things, they will expect you to pay them.
If you want a camel or a horse ride, please pick one of the cameleers that look after their animals. Avoid camels with recent wounds or fresh scars; you don't want to support animal cruelty.
How to get there?
If you use a tour, your guide will pick you up and drop you at your hotel. You can get a taxi but make sure you get the price before getting in. If you have an Egyptian sim card, you can also get an uber which I found to be the most cost-efficient way of transportation in Cairo.
Tours: Half-day tours include the pyramids and the Sphinx. Before you get one, clarify if the tour price includes entry fees, tips, and going inside pyramids.
Full-day tours will take you not only to the Giza complex but also to Sakkara and Memphis. If you decide on this one, make sure you book it online, prices you're going to get on the spot are often 3-times bigger.
The Saladin Citadel and Coptic Cairo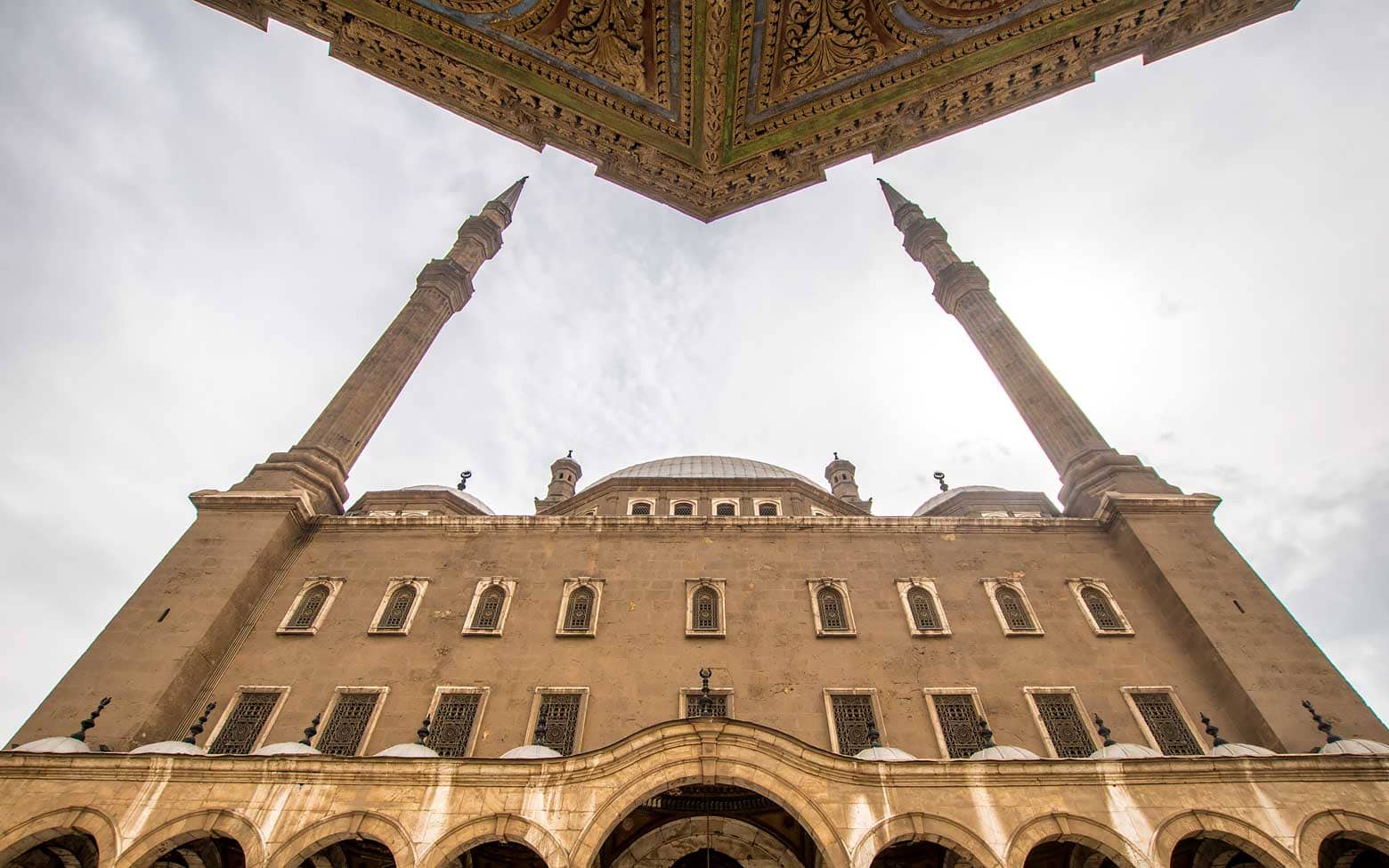 No matter what your religion is, everywhere you go, you should always check out the spiritual places. Churches, mosques, or Buddhist temples, those buildings often have the most impressive and preserved architecture of the region, giving you a glimpse into its glorious past.
The citadel of Saladin is a 1,000 years old fortified area built by the Ayyubid ruler Salah al-Din to protect the city from the crusaders. There are few museums inside, and a couple of mosques – the most impressive one being the mosque of Muhammad Ali. Also called The Alabaster Mosque, it's a mini version of the Blue Mosque in Istanbul, and it's definitely one of the things to see in Cairo.
Coptic Cairo is the old Christian part of the city. It's a peaceful area housing ancient churches like the Hanging Church or the Greek Church of St. George. In one of the churches, you can even see a spot, claiming Jesus Christ slept there when he was a baby!
And since you are already exploring the city, make a stop at the old bazaar. No need to buy anything, just roam the streets full of anything you can imagine (besides magic lamps) and experience the genuine atmosphere of a Muslim bazaar.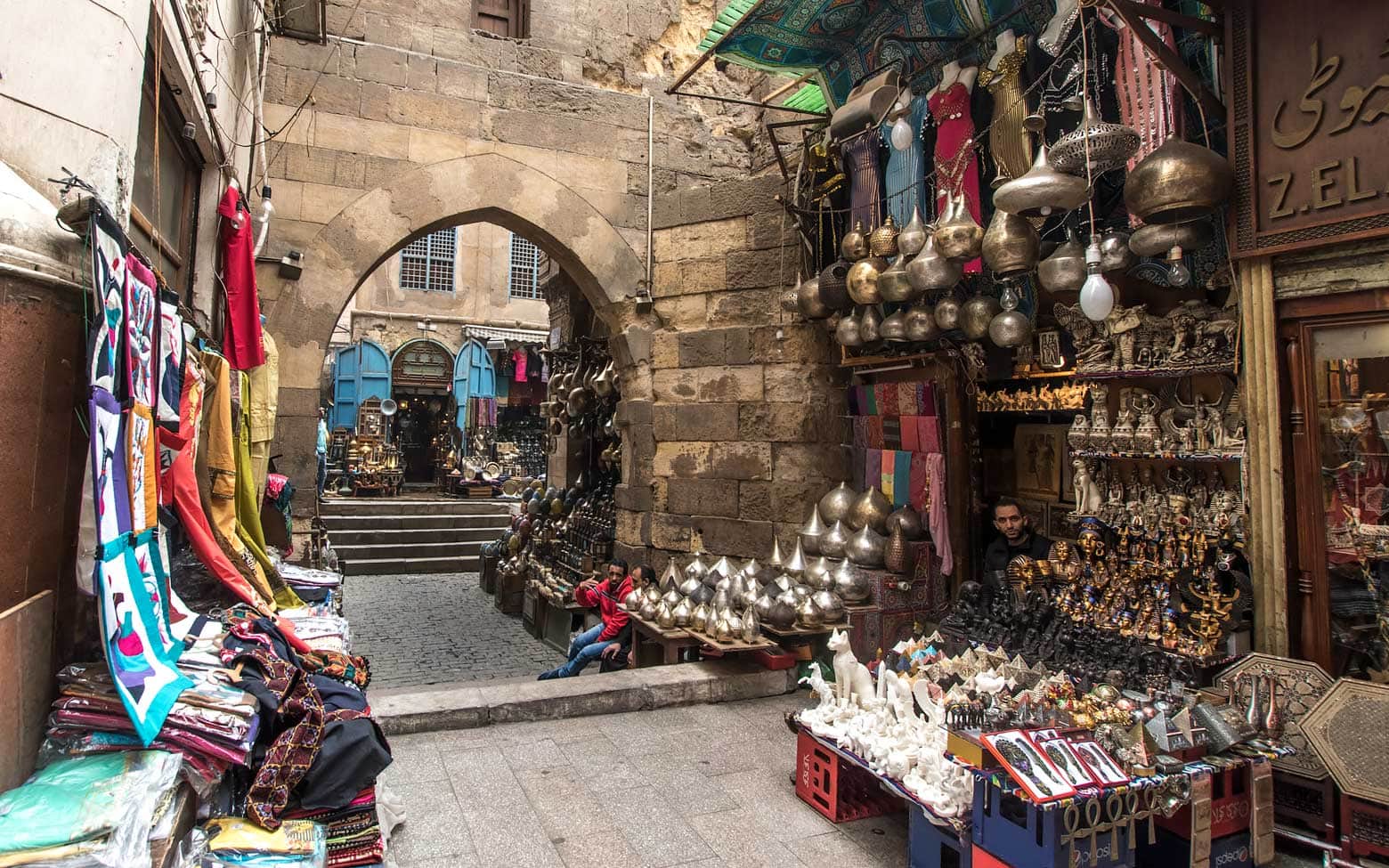 Castaway Tip
To see the best of Coptic Cairo and the Citadel, take a tour with a driver and a guide. Driving around the chaotic streets of Cairo is a nightmare, and there are many military checkpoints that won't be easy to pass if you don't have a licensed guide with you.

The Egyptian Museum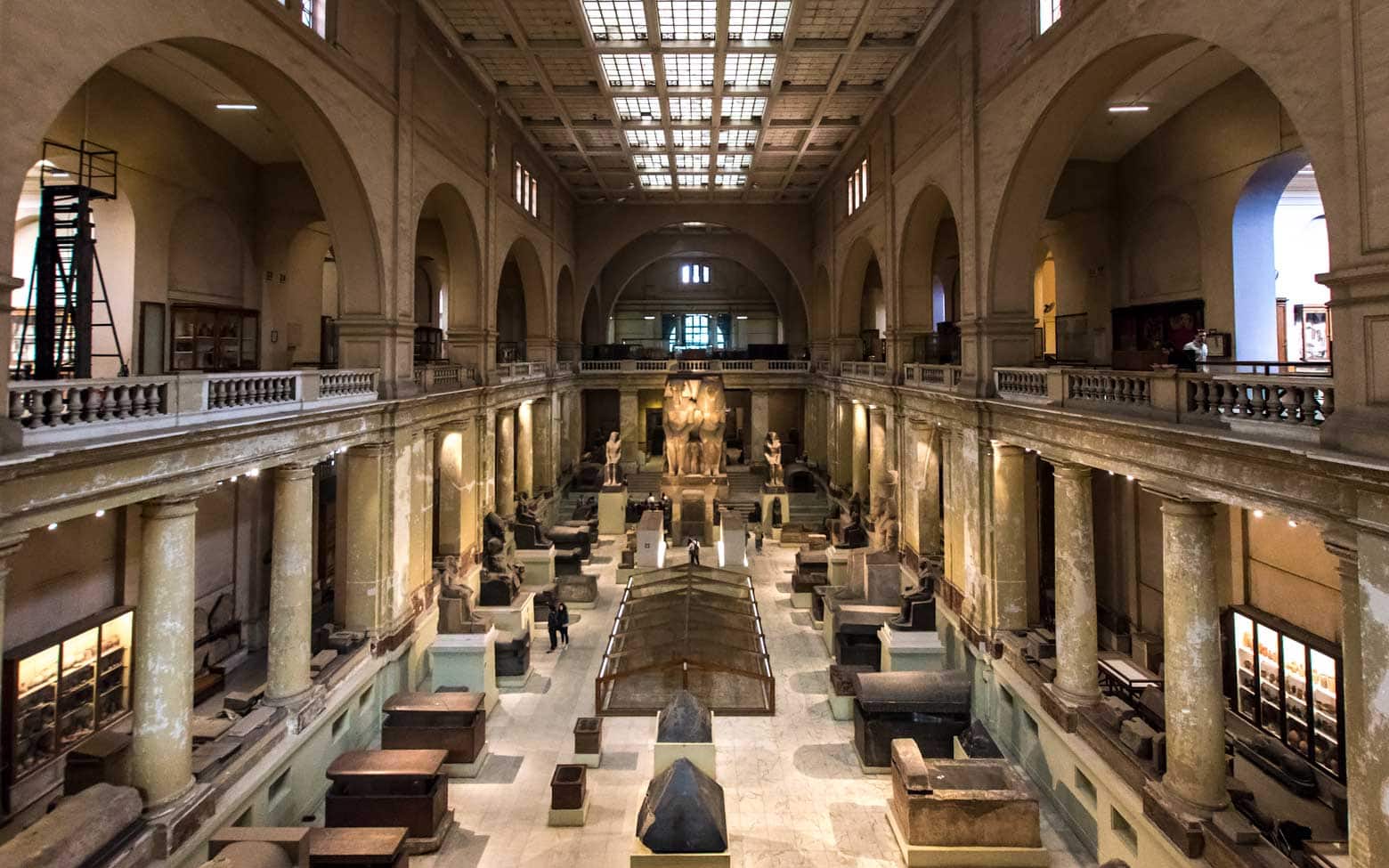 Even if Museums are not your thing, you can't skip this one. The Egyptian Museum of Cairo is home to more than 140,000 artifacts from various Egyptian dynasties. Even though it's quite disorganized, the amount of human history gathered inside is overwhelming.
The highlights of the museum are the most famous Egyptian treasure – the mask of Tutankhamon, and around 30 well-preserved mummies of Egyptian pharos (and some of their pets too!)
Prices:
Regular- 200 EGP/ 6 USD
New museum (NMED) – 200 EGP/ 6 USD
Castaway Tip
Make sure your stomach is full. Exploring the museum could take you hours, and there are no food courts inside.

How to get there: The museum is right next to Tahrir square – the central square of downtown Cairo. The easiest way to get there is to take the Metro to Sadat Station and follow the signs pointing to the museum.
While most of the info online was telling me Cairo is an antique city with a ton of things to see, assuring me I would fell in love with it, I have to admit – the capital of Egypt was disappointing. Nowadays Cairo has nothing to do with the vintage Arab city I had in my mind. Here is what lies behind the marvelous pictures of the pyramids.
What you will see in Cairo – the Bad Stuff
Aggressive street vendors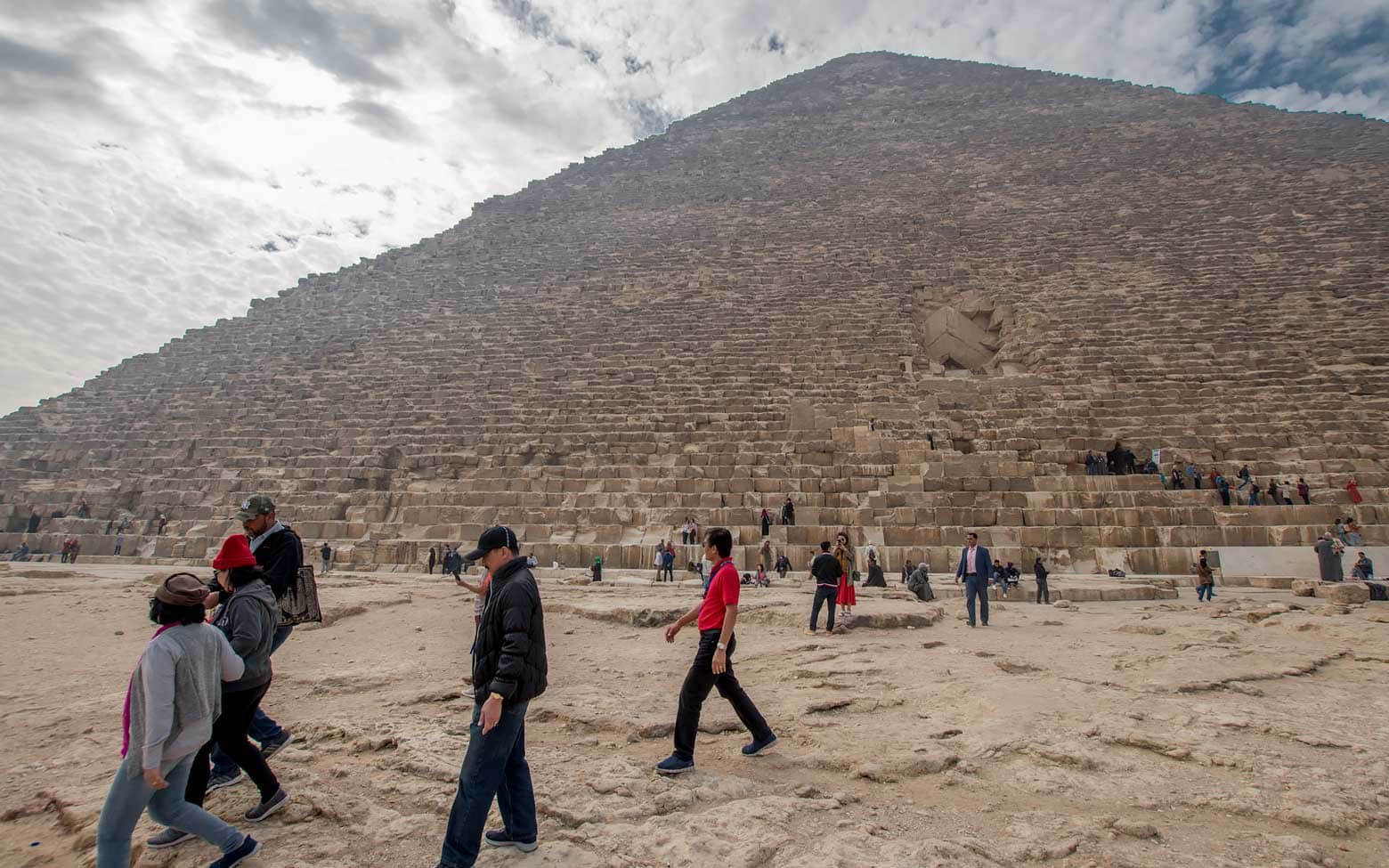 Now, I've been to a lot of tourist places and I know the street vendors and hawkers will do anything to make you buy their stuff. The situation in Cairo however, is out of control. Neither the night markets in Bangkok nor the bazaars in Istanbul can come even close to these guys.
They will follow you, shout at you, push their merchandise in your hands claiming it's a gift, only to ask for a gift from your currency in return, and if you make the mistake to show even a slight interest in their goods -you got yourself a companion for hours.
Oh, and here is the best part – they are everywhere. Stay on any street corner for 5 minutes, and you'll get a dozen offers for everything you can imagine, from souvenirs and perfumes to hashish and beautiful ladies.
I understand this is their way to make a living but their business model is fundamentally wrong. I've no problem to pay higher entry fees just to be left alone to marvel at the ancient beauties of Egypt. I'll buy souvenirs eventually, just let me look around and don't push it in my hands, forcing me to leave rather sooner than later!
No matter what you do, you will get scammed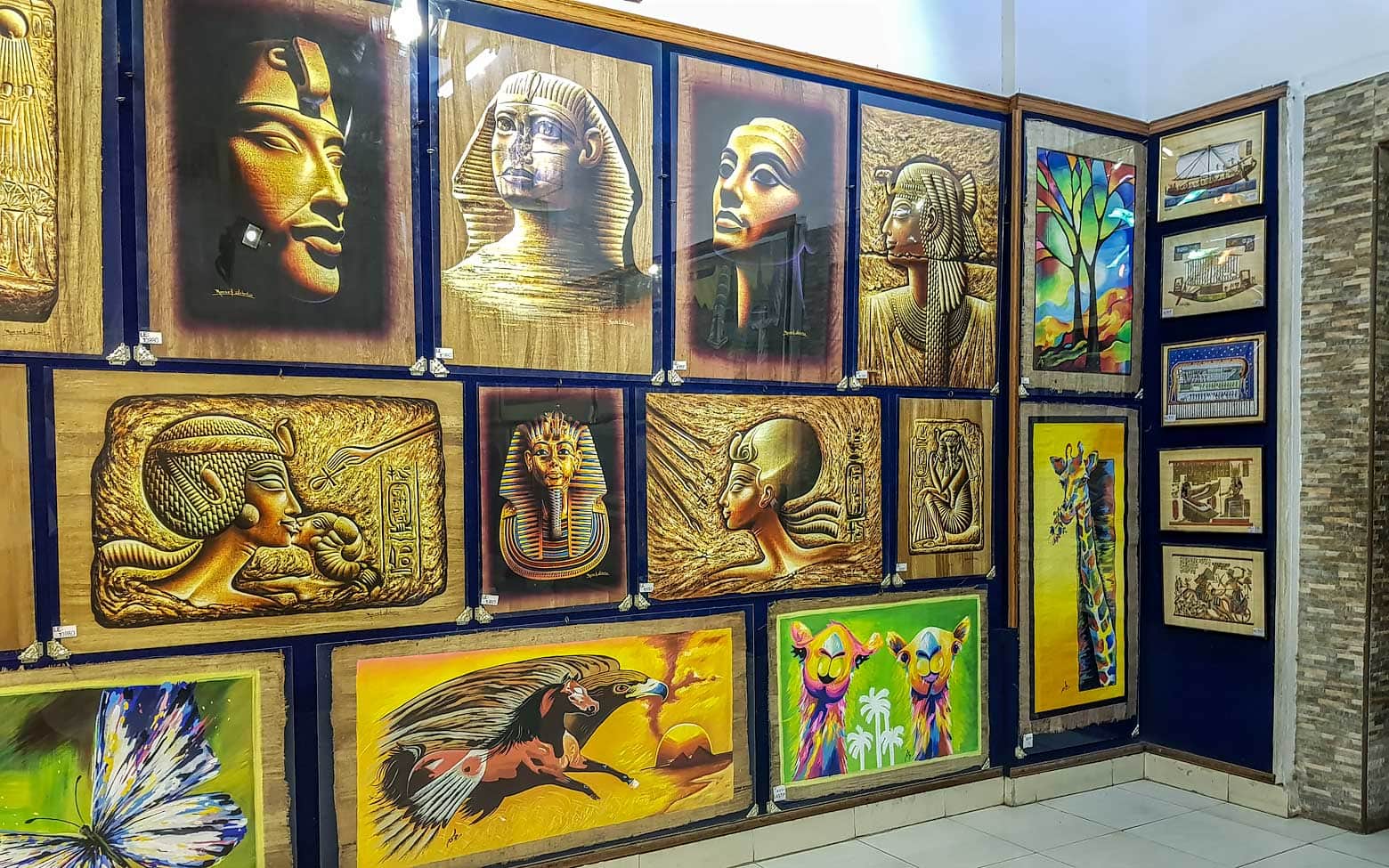 Once you set your foot in Cairo, you become a walking wallet. Since nothing has a price on it (or it's written in Arabic) you would pay whatever the seller wants you to pay. No matter how good you are at haggling, you will overpay for basic stuff like bottled water and fruit, you will overpay for tours and transport, you will overpay even for taking advice on which rock to stand to make that photo that looks like you're touching the top of the pyramid…
I bought kofta sandwiches three times from the same place and paid three different prices. Used the same bus three times but paid only once the "mandatory" tax to the guy who put my bag in the cargo, I had four guided tours, and on every tour, I was taken to a "vintage shop" at the end where I was pressured to buy something.
Sure, they aren't some grand scams for thousands of dollars, most of the time its just cents, but the feeling of being taken advantaged of is quite annoying.
Crossing the street is a challenge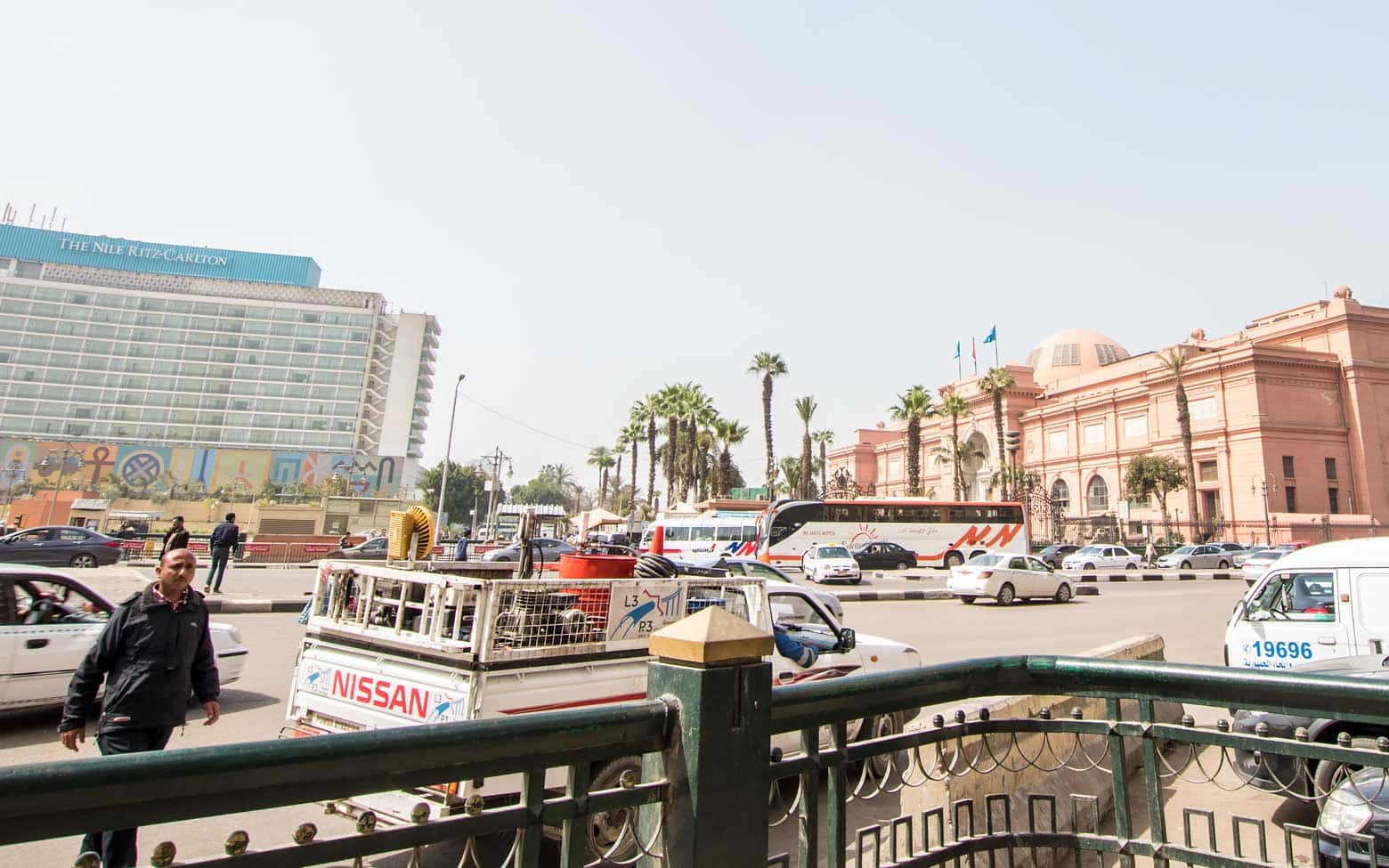 There's a lot of cities with bad traffic. Most of the time, bad traffic means millions of cars and hours and hours of traffic jams. That's not the case in Cairo. The millions of vehicles are still there, but the traffic jams are not so severe. How come?
There are hardly any traffic lights or rules. Everybody does whatever he wants on the road and, of course, they use their honks more than they use their breaks…a lot more. Crossing a street in Cairo can take you up to 15 minutes and leave you deaf for a while. Even if you find one of the rare streets that has a traffic light, be very cautious when crossing. Egyptian drivers don't tend to listen to some colorful lights telling them when to stop or go.
I would strongly advise against renting a car in Egypt unless you have experience driving in similar circumstances.
And the Ugly
It's dirty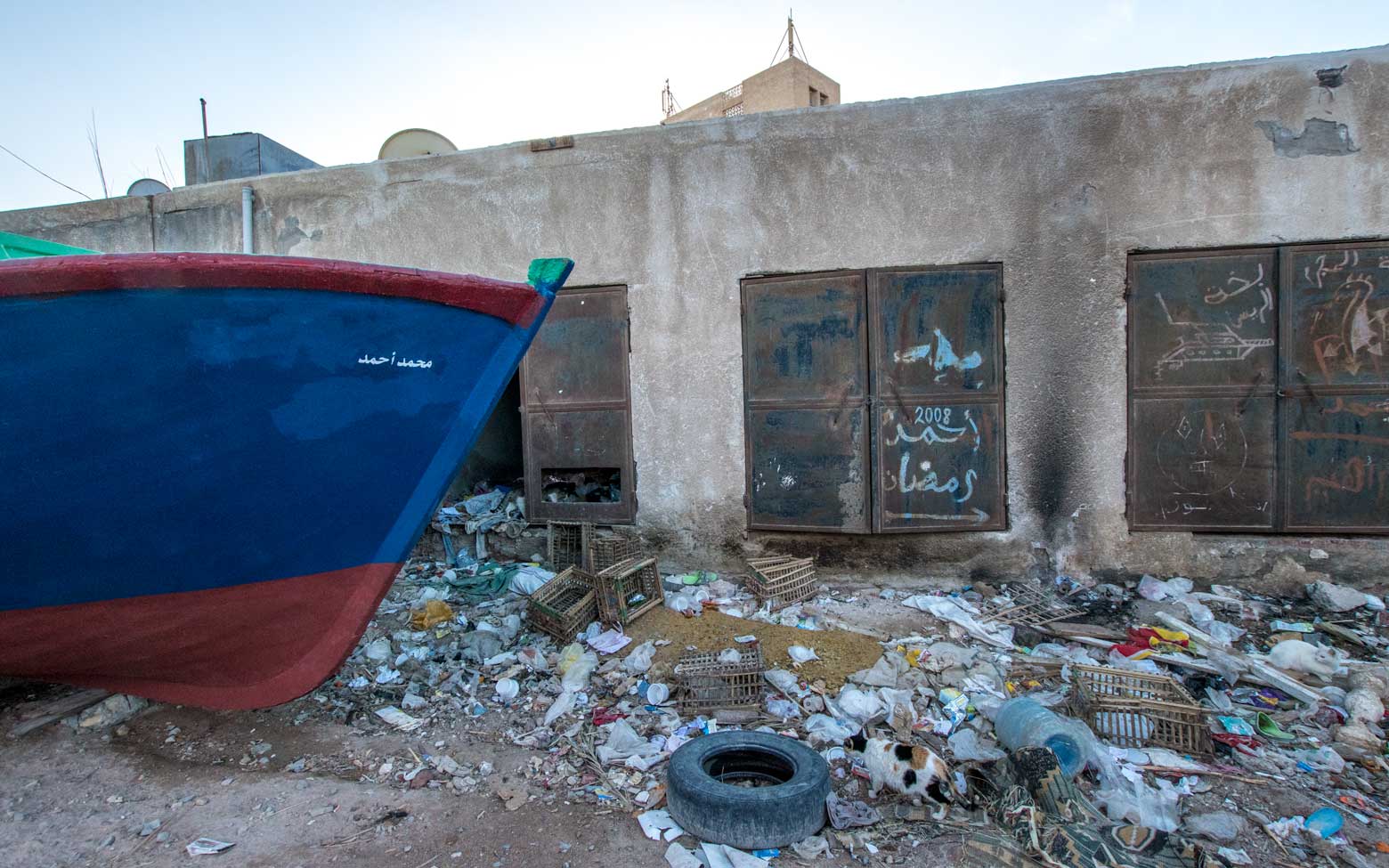 Cairo is dirty. And I don't mean the-casual-plastic-bags-and-burger-wraps-on-Saturday-morning dirty. Cairo is really, really dirty. Mountains of garbage are just piled up between the roads, hucksters are selling fruits and juices in front of oceans of trash with dead horses in the middle of the pile (ok, the horse wasn't dead – it was sleeping, but still!) and no one seems to even care.
And did I mentioned the desert dust? Every building, car, food stall, even souvenirs are covered with a thick layer of dust. Doesn't stop the street-food vendors to touch all your food without gloves of course.
Don't get me wrong; I'm not a germaphobe, obsessed with cleanliness, and this is not the first dirty place I visit. The situation in Cairo is just too much to bear.
It's Smoggy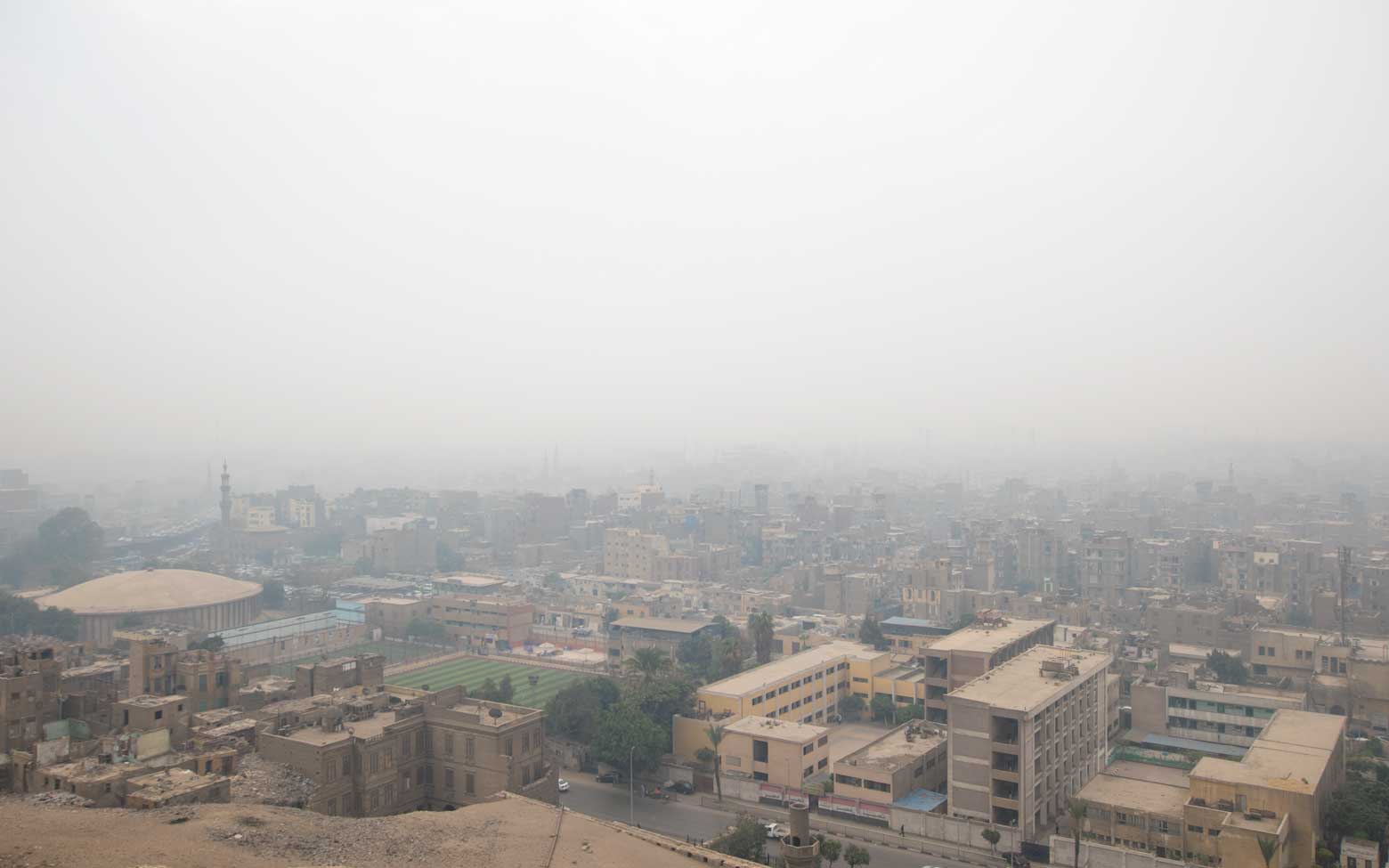 I've grown up in Sofia. An Eastern-European capital city, home of 2 million people and 22 million cars (don't quote me on that). I'm used to not seeing the stars at night, I'm used to the constant grey cloud around me, and still, I wasn't prepared for the Cairo smog.
My hotel was less than a kilometer away from the pyramids, and they were still hazy in the distance, I went to the Saladin Citadel to get some beautiful panorama shots of the city, and all I got was a beautiful panoramic shot of a cloud.
I'm sure the sandy winds have some part in it too, but the millions of old cars blasting gases into the air are the most prominent contributor for sure.
The architecture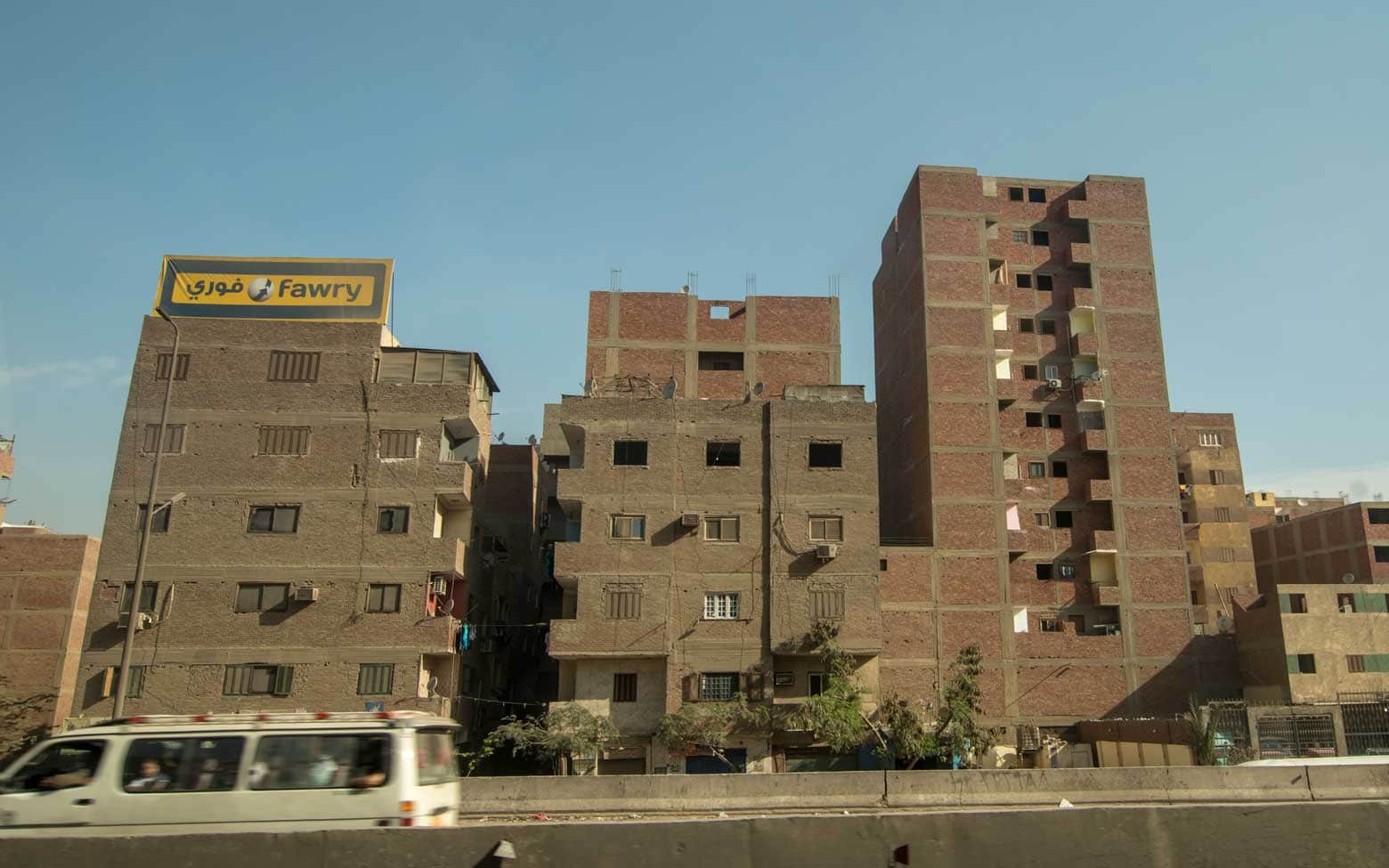 I admit I had my expectations too high here. I was hoping for small desert-stone houses with open roofs. And maybe, Cairo before the revolution would've been closer to my romanticized vision, but Cairo nowadays has nothing to do with it.
Most of the old buildings were destroyed or forgotten and full of garbage, while most of the modern buildings looked unfinished. One of my guides told me that this is intentional and they are left unfinished so the construction companies can avoid paying taxes.
Four out of five modern building complexes were left without facades due to that reason. It didn't stop the people to live there, but surely killed all the beauty the ancient desert city ever had.
See Also: Top 15 Historical Places in The World
This post came out a little bit more negative than I wanted. The sole reason for this is to prepare you for your own Egyptian adventure. I don't regret visiting Cairo, and I firmly believe every traveler should make a journey there.
Maybe not the most beautiful city today, only a few cities in the world can match its history and uniqueness. It's also worth saying that the Government of Egypt is building a big tourist complex around the pyramids, trying to make the whole ancient Cairo experience way more tourist-friendly. They are constructing a new building for the museum, right next to the necropolis of Giza, and it's expected to be ready sometime around 2021 (it's now complete!).
Who knows, maybe the next time I visit Cairo there won't be "bad" and "ugly" parts in the story. I love the Egyptian civilization, and I have my fingers crossed they will soon get back to their glory days!
That's all from me, I hope now you know what to see in Cairo and what to skip.
————————————
If you haven't planned your trip there yet, find out how I plan my trips!
————————————
I've got 9 bucket list ideas for Egypt. See my impossible bucket list of 1700+ adventures!
Have you been to Cairo?

Some of the above are affiliate links and I will earn a percentage of the sale if you purchase through them at no extra cost to you. This helps keep my site running – so thanks in advance for your support!