Wadi rum camping is one of the most surreal experiences you can have. No kidding. If you've ever wondered what would it be like to live on Mars, the Wadi Rum camping will show it to you. I can safely say that this quintessential desert is the most extraterrestrial place I've ever set my foot in.
I've always been a big fan of deserts. There's something almost romantic in exploring those remote places and having nothing but raw tranquil nature around you. No people, no hassle, just serenity.
Having seen western (awesome) and eastern Sahara (not so awesome), I was looking forward to my Wadi Rum camping experience. I'm happy to say that I wasn't let down!

What is Wadi Rum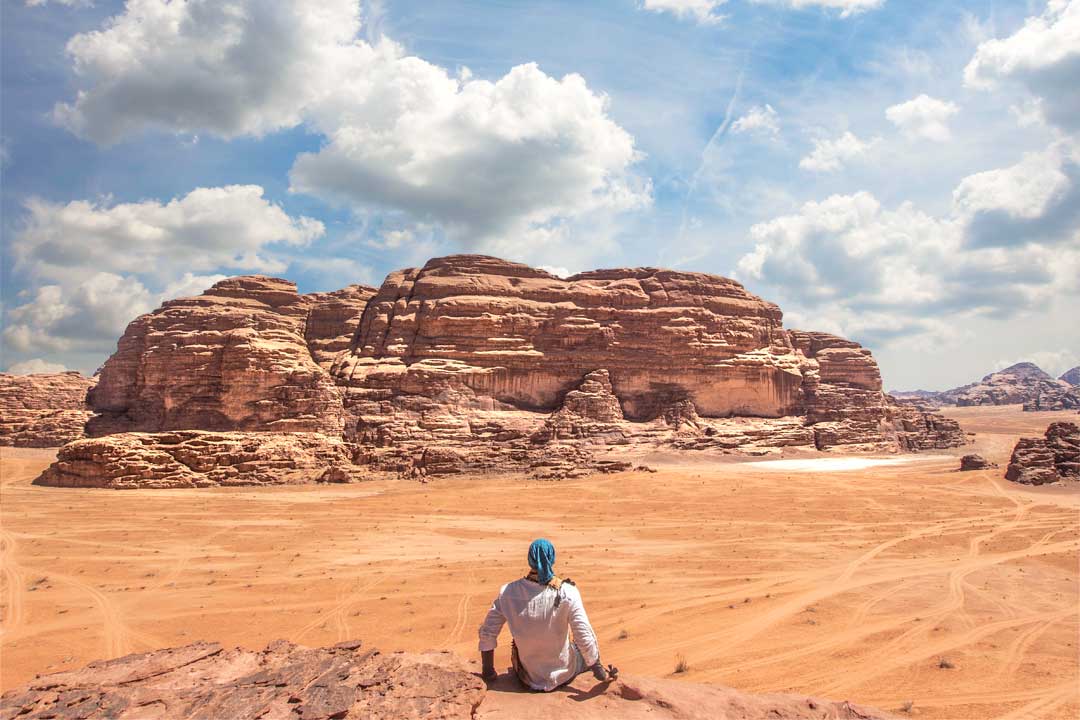 So, first things first – what is Wadi Rum? Wadi Rum is this fantastic desolate space in southern Jordan. It's one of the most picturesque and accessible desert areas in the world and a regular set for Holywood blockbusters. Many cultures have inhabited the Valley of the Moon (Wadi Rum's local nickname) through the years and left their mark on it.
It was made famous due to its connection with British officer T. E. Lawrence (aka Lawrence of Arabia), who was a frequent visitor during the Arab Revolt of 1917–18, and is one of the biggest tourist attractions in Jordan.
Where is Wadi Rum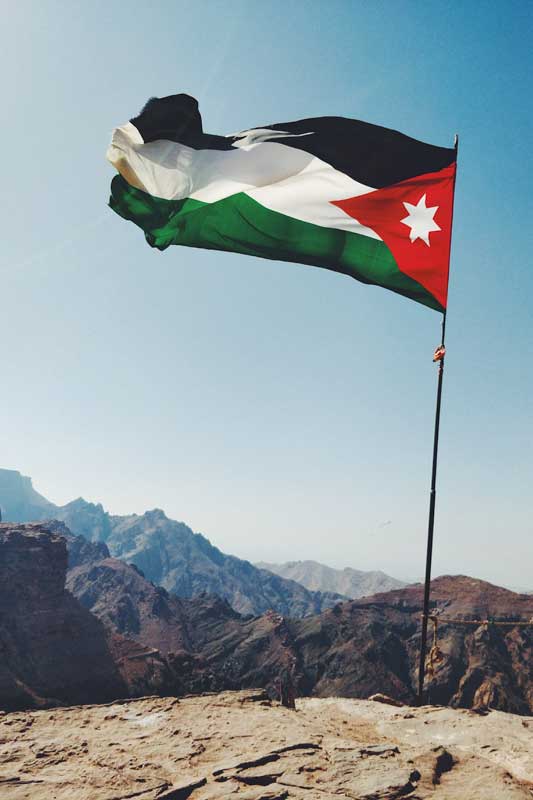 I've already spoiled that one, but anyways, Wadi Rum is located in southern Jordan – a small middle-eastern country, home to some of the most impressive landscapes on Earth.
Petra is the highlight of Jordan, while Wadi Rum comes right after. And while Petra is truly a fascinating thing to see, I'm not sure which is the better experience. In my book, they're equal.
Jordan Visa
Jordan offers a visa on arrival for plenty of countries. The price is 40 JOD / 56 USD.
If you have the Jordan Pass, however, your visa is free, Petra is free, Wadi Rum is free, and over 30 other touristic attractions are also free. The pass is an absolute must if you arrive anywhere else than Aqaba, and you fancy seeing Petra.
What's so different about Aqaba?
Aqaba is part of something called ASEZA (Aqaba Special Economic Zone) and has no visa fee, which devaluates the Jordan Pass quite a lot.
See more about ASEZA.
How to get to Wadi Rum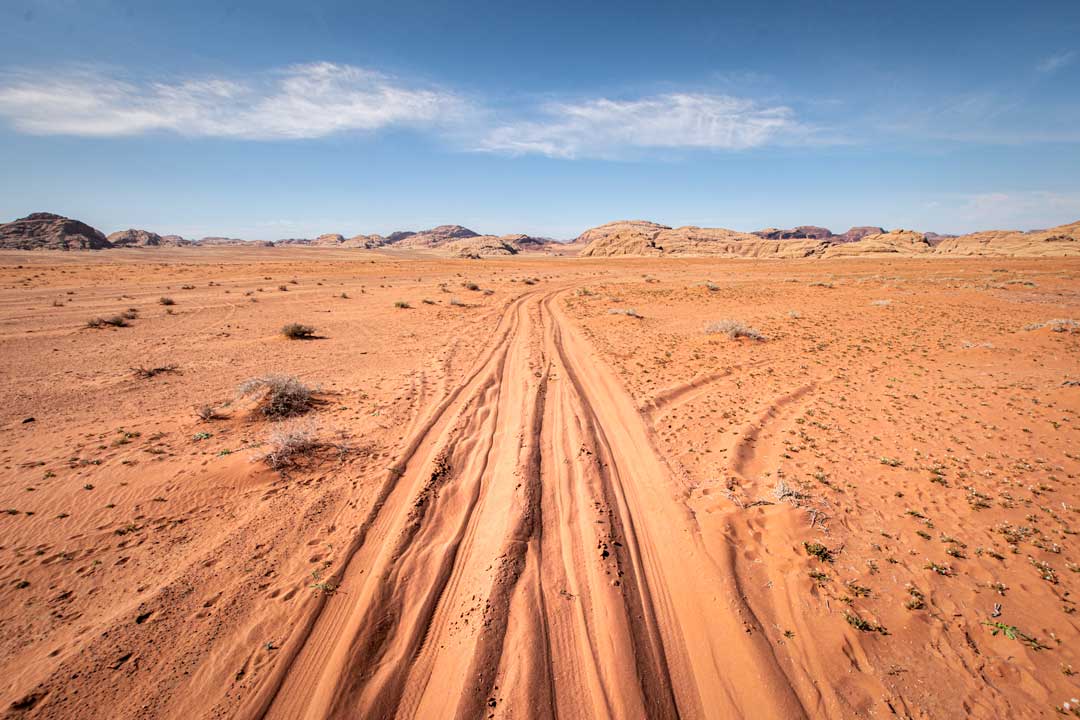 Jordan is a bit hard to travel around. Actually, scratch that. Jordan is very easy to move around, but researching your options beforehand, this is a bit hard. Once there, though, finding a way to go anywhere you want is incredibly easy.
The most convenient way (most people use) is to rent a car, of course. You can skip all the public transport research and enjoy the scenery alongside the road. To find the best offers in Jordan, check the Discover Cars tool, which will compare all the providers in the country.

For all of you who, just like me, want to have their itineraries planned out – here is how to reach your Wadi Rum camping site.
From Amman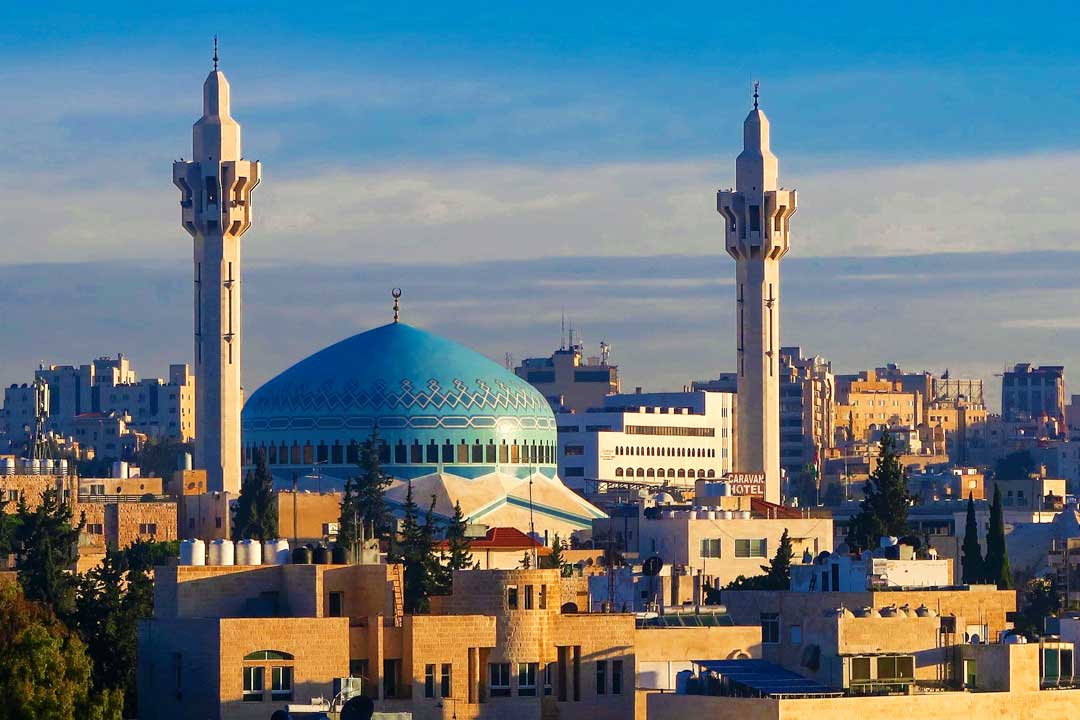 Wadi Rum is located 324 km (204 miles) south of Amman, and getting there is a bit tricky.

– Bus
There is no bus route from Amman to Wadi Rum. What you can do is get a bus to Aqaba first and go to Wadi Rum from there.
Another option is a bus to Wadi Musa (Petra). You can check Petra first and easily find transportation to Wadi Rum (booked by your Wadi Musa hotel, departs around 6:00 – 6:30 AM) after.
The tourist bus company in Jordan is Jett Bus.

– Car
You can rent a car from the airport or get a taxi. The taxi should cost around 110 JOD / 155 USD.
– Tour
Some day-tours cover Petra and Wadi Rumin a day. I don't recommend getting any of them. Both of those places deserve days of exploration, and you certainly can't enjoy them in just a few hours.
The tour I suggest is a 3-day one and includes a whole day in Petra, a full day in Wadi Rum + night in a Bedouin camp, and even a journey to the Dead Sea. I like to plan my itineraries by myself, but if I had to take a tour, this would be the one.
From Aqaba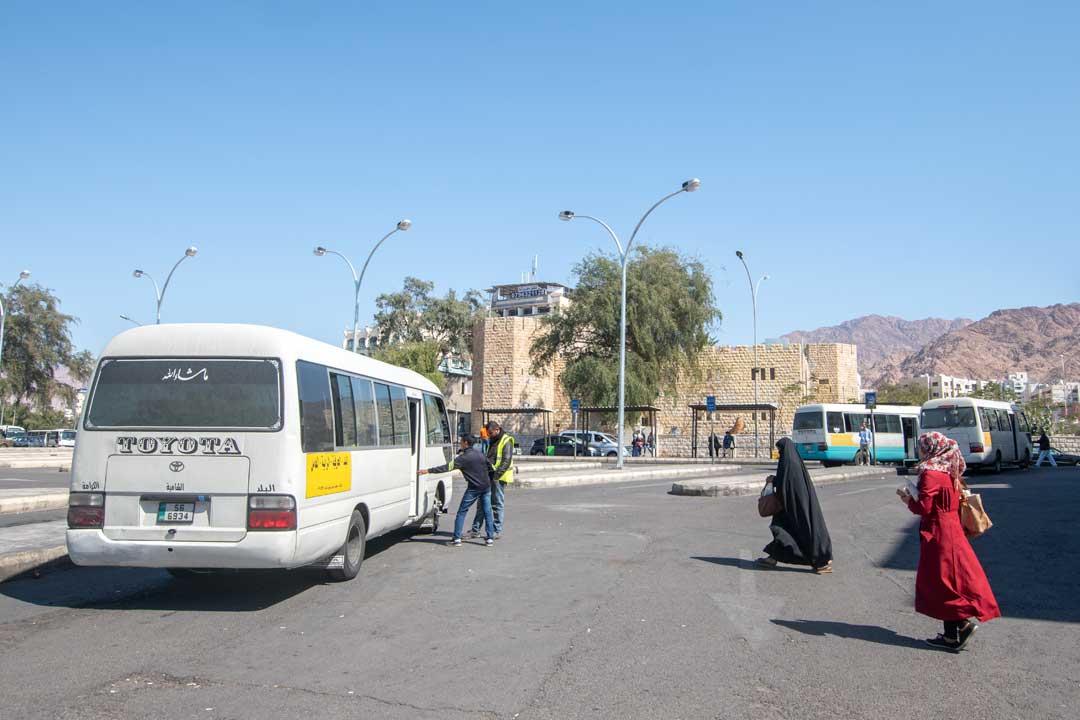 Aqaba is much closer to Wadi Rum, thus presenting way easier transportation options.
– Bus
Jett bus does not offer this as a regular route but does offer it as a program. I'm not sure what's the difference besides the fact that if you want to book a program online, you reserve the return journey too.
Now, if you're going for some Wadi Rum camping, you don't want to go back on the same day. What you can do is go to the Jett bus office in Aqaba and ask for a one-way ticket. I did the same for the Petra-program, and there was no problem.
Return ticket cost 18 JOD / 25 USD; a one-way ticket should be around 10 JOD / 14 USD.
– Car
You can rent a car from the airport (check here to see the cheapest offers) and drive yourself to Wadi Rum. It would take you around 1.5 hours.
The other option is a taxi. The price there should be about 25 – 30 JOD /35 – 42 USD.

– Public Transport
Several minibusses are going to Wadi Rum every day. They depart from the station that is right in front of Aqaba's police station and cost 3 JOD / 4 USD. There's no strict timetable; they leave when they're full. You can check with your accommodation about the best time to go and get one.

– Tour
Since Aqaba is closer to Wadi Rum, a day-tour is not to be ruled out. This one would take you from your Aqaba hotel, show you the most exciting stuff in the desert, and take you back. The bad thing is, you won't be able to enjoy the Wadi Rum camping.
To check out what it's like to live (and party) like a Bedouin, you better get a Wadi Rum tour. You can find a good one from Aqaba here.
From Petra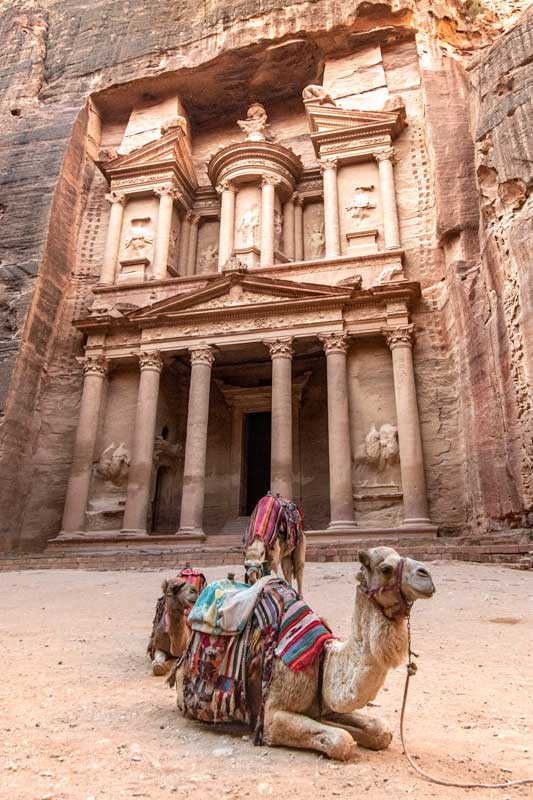 Petra to Wadi Rum is a very popular route. There is a bus departing daily at 6 – 6:30 AM. It cost 7-10 JOD / 10 – 14 USD.
To get on it, you must reserve a seat through your accommodation. Another option is to hire a taxi. Again, the easier way to do that through your accommodation. The price should be around 40 JOD / 56 USD.
See Also: Inside Petra – The Ultimate Travel Guide
From Israel
To visit Wadi Rum from Israel, you need to cross the border and use any of the Aqaba options. If you plan to go back to Israel, your best option is to use a tour. Tours would speed things up on every part of the journey.
If you're looking for an option from Eliat, this one includes Wadi Rum camping with Bedouins and will also take you to Petra.
If you're in Tel Aviv, my suggestion is to get one of the big Jordan highlight tours. This 3-day one includes the biggest highlights of the country + a night in a Bedouin tent.
What to see in Wadi Rum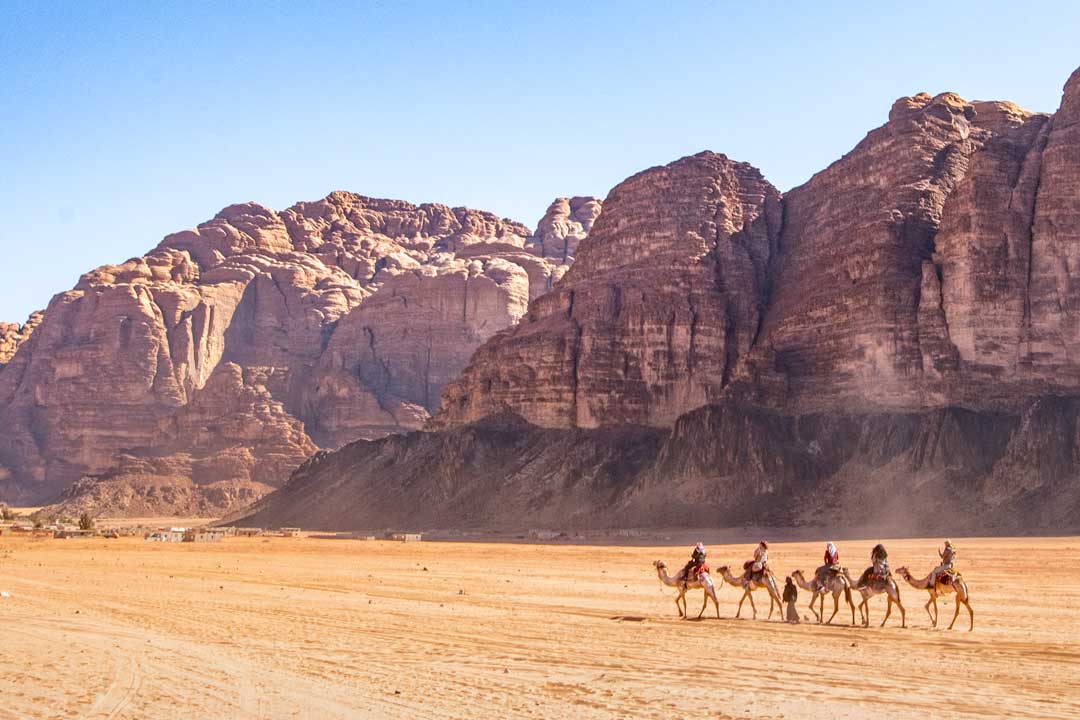 The first thing I do when I set my mind to a destination is to research its highlights. It's a must-do for almost any place in the world. It defines how many days you need and where should you look for accommodation. Well, Wadi Rum is not one of those places.
Don't get me wrong; there are highlights in the Jordanian desert, but researching them beforehand is not really a necessity.
How come?
Well, Wadi Rum's highlights are spread around a big wasteland are. You can't check them on your own unless you're a seriously experienced hiker. And even if you're, you can cover one, maybe two a day.
The most reasonable way to check them out is to get a 4×4 or a camel tour.
4×4 can show you everything in a day while the camel one would check only the closest highlights. It's cheaper and riding a camel is an experience on its own, so it's up to you.
If you decide you don't want to spend money on tours, you can wander around on your own. The Nabataean rock paintings and the rock bridges are cool, but exploring the desert by yourself is not far behind. I might say I even enjoyed it more.
Anyway, here are the highlights of Wadi Rum:
Lawrence's Spring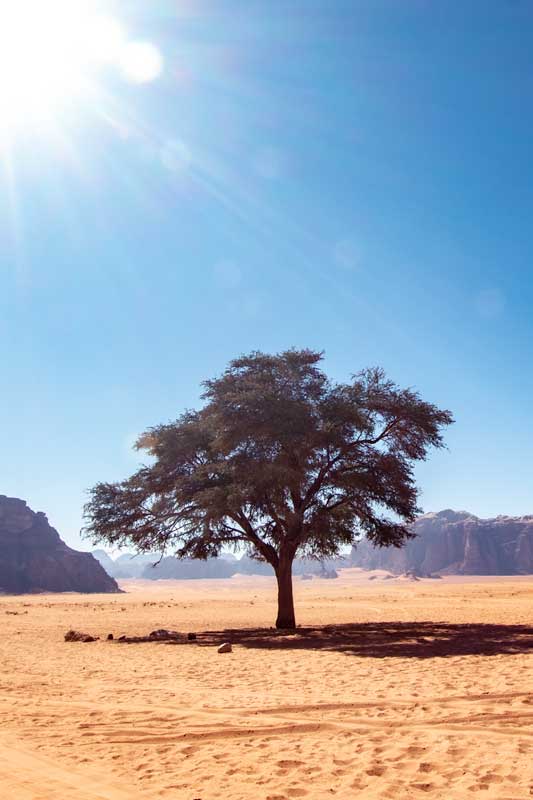 Let's start with Lawrance of Arabia's highlights, the Lawrance's Spring is a small puddle of natural water situated on a small canyon of broken boulders. Supposedly it's mentioned in T.E. Lawrence's book – Seven Pillars of Wisdom, and it's the reason for the nearby Nabatean Temple (water in the desert is a rare commodity).
Lawrence's House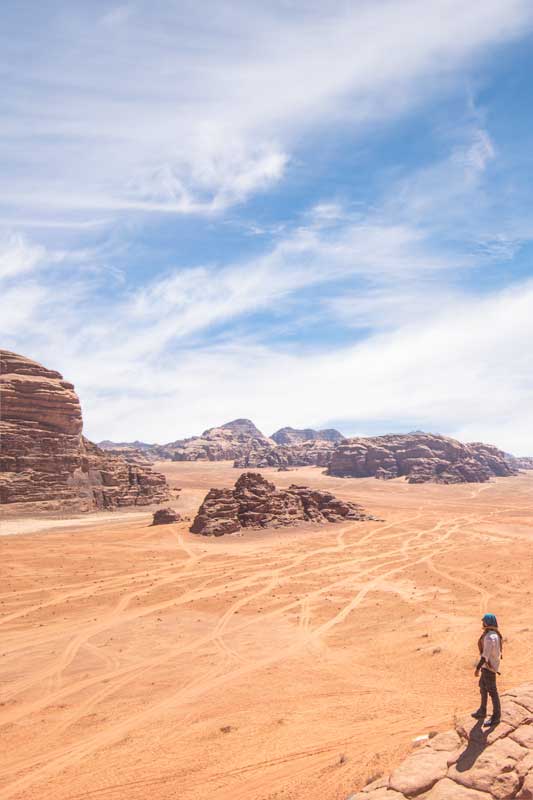 This one is a pile of bricks which may or may not have been T.E. Lawrence's house. The bricks are not that important, though. There's a substantial rock formation behind that is very easy to climb. Its top reveals some marvelous views of the area.
Seven Pillars of Wisdom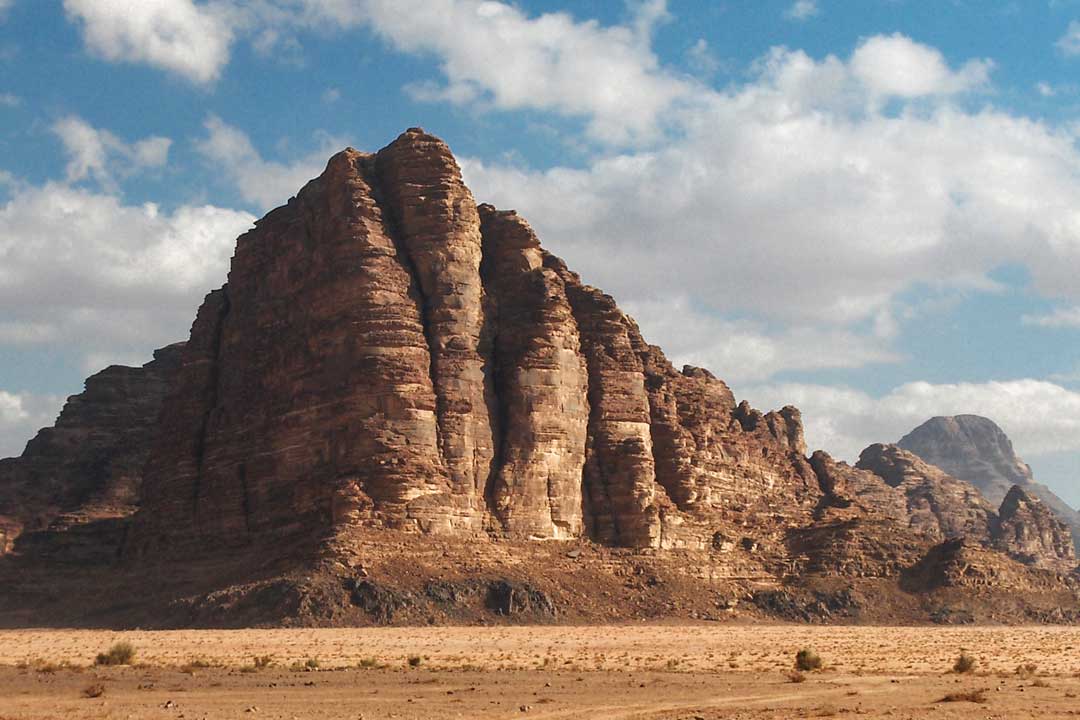 An impressive rock formation named after T.E. Lawrence's book (not the other way around). It's close to the Visitor's Center, and your 4×4 tour won't go there unless your camp is nearby.
The Pillars are quite massive, though, so you'll see them while exploring the other highlights.
The Nabataean Temple
This ancient temple is not an impressive landmark. There's nothing but a few foundation blocks left. It's right next to the Jabal Rum village, and your 4×4 would probably skip it (cause it's boring).
Khaz'ali Canyon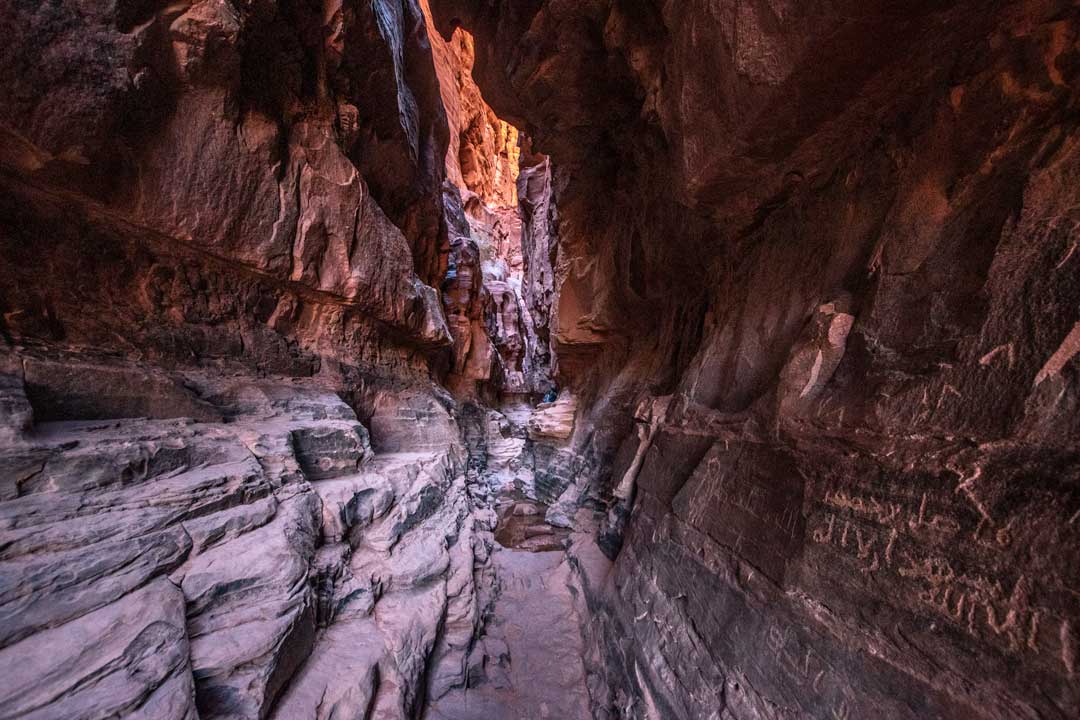 This 100-meter long canyon is one of the most famous places in Wadi Rum. The rock formation is not only incredibly colorful, but there're also plenty of rock-carved Nabataean and Thamudic inscription. People, animals, spirits, ancient texts, everything you can imagine. Pretty cool place.
Siq Umm Tawaqi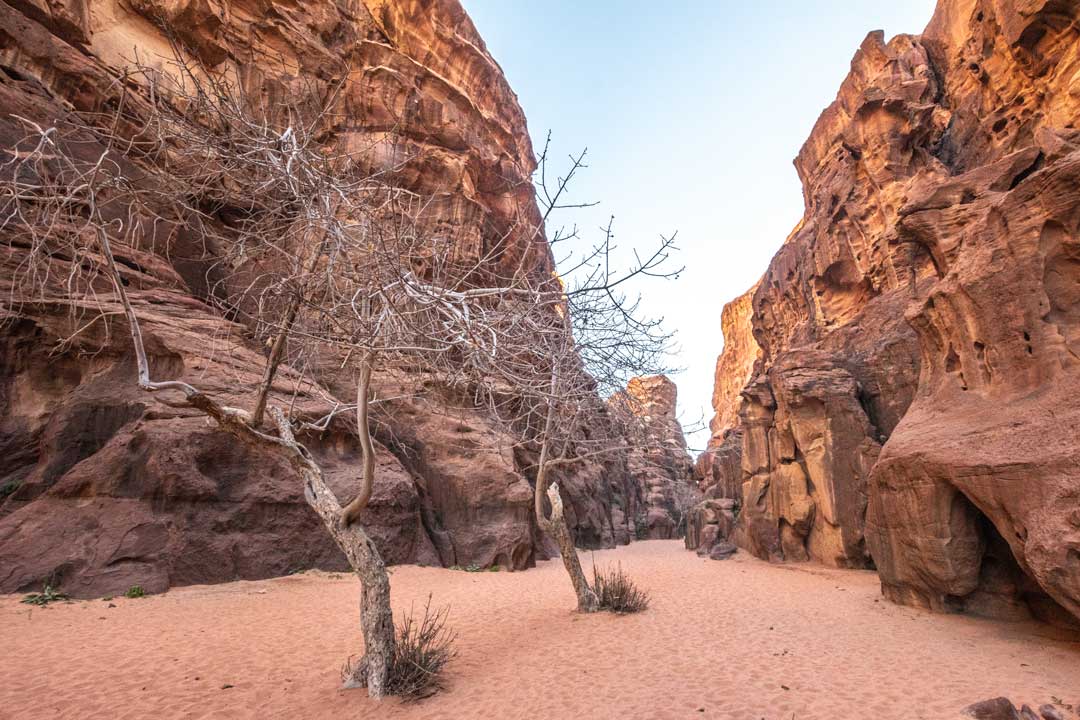 Another stunning canyon, but this time without inscriptions. The place is a few hundred meters long and incredibly picturesque. If you take a closer look at the sides of the Siq, you can notice miniature sea-shell fossils. Remains from hundreds of thousand years ago, when the canyon was at the bottom of the ocean.
The Anfashieh Inscriptions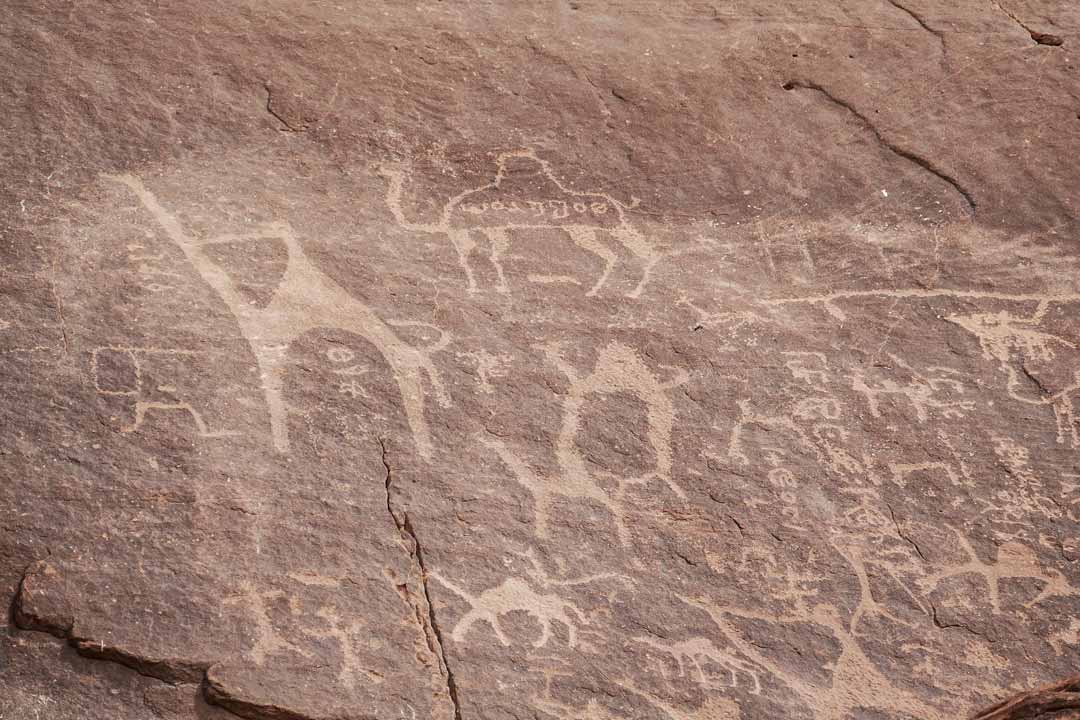 Mountain slope with more Thamudic and Nabataean engravings plus some ancient animal drawings.
Little Rock Bridge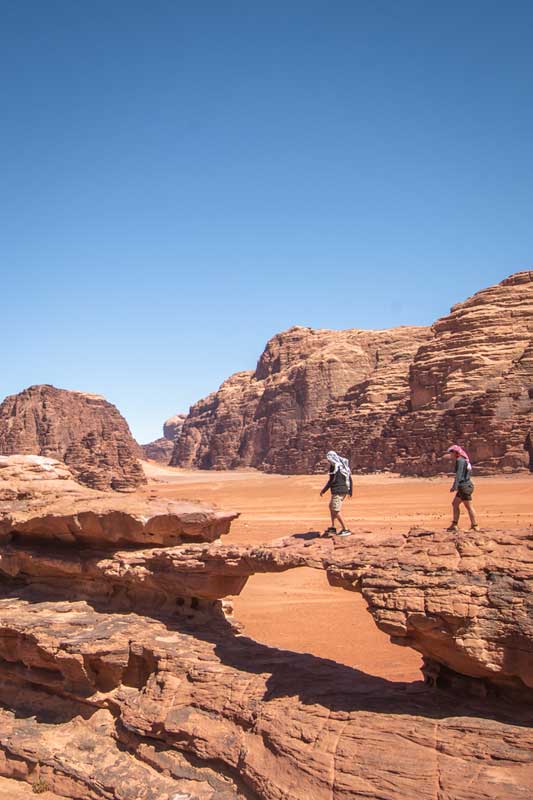 The Rock Bridges are top-rated attractions around Wadi Rum. They are part of all 4×4 tours, and you have to wait on a line if you want to take a picture on them. There are three popular ones ( although I did find some unpopular ones on my own), and this is the smallest and easiest to climb.
Jebel Umm Fruth Rock Bridge (The Medium Bridge)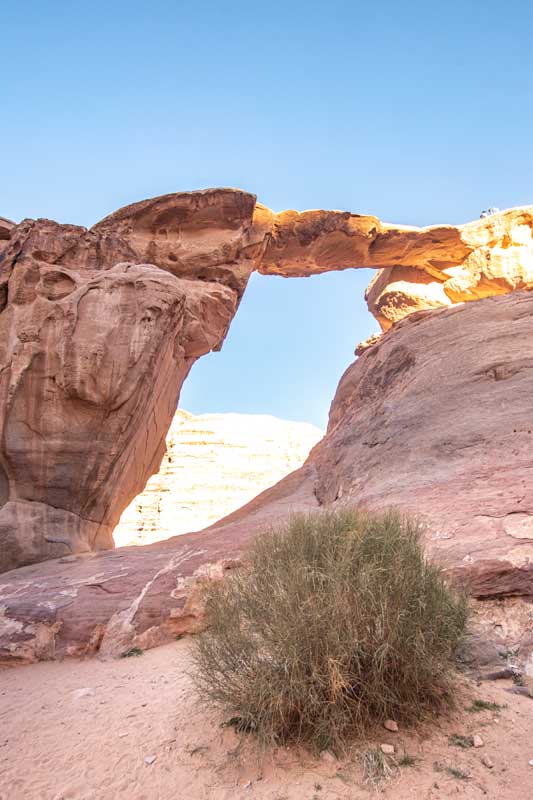 The second bridge is even more popular than the first one. It even has a real name – Jebel Umm Fruth. During the busy seasons, you can't catch it free of people.
Jebel Umm Fruth is not as easy to climb as the Little Bridge. You should scale on a steep, slippery 10-meter high slope. If you don't trust you can do it, better take your photos from the bottom.
Jebel Burdah Rock Bridge (The Big Bridge)
Jebel Burdah or the Big Rock Bridge is big indeed. It's around 300 meters high above the ground, and reaching it requires an hour-long, challenging hike (you can do it only with a guide). It's not part of the 4×4 tours, but if you inquire about it in your camp or at the Visitor's Center, they will quickly find you a guide.
I didn't do this one, but the views from the top are apparently incredible!
Red Sand Dunes (Umm Ishrin)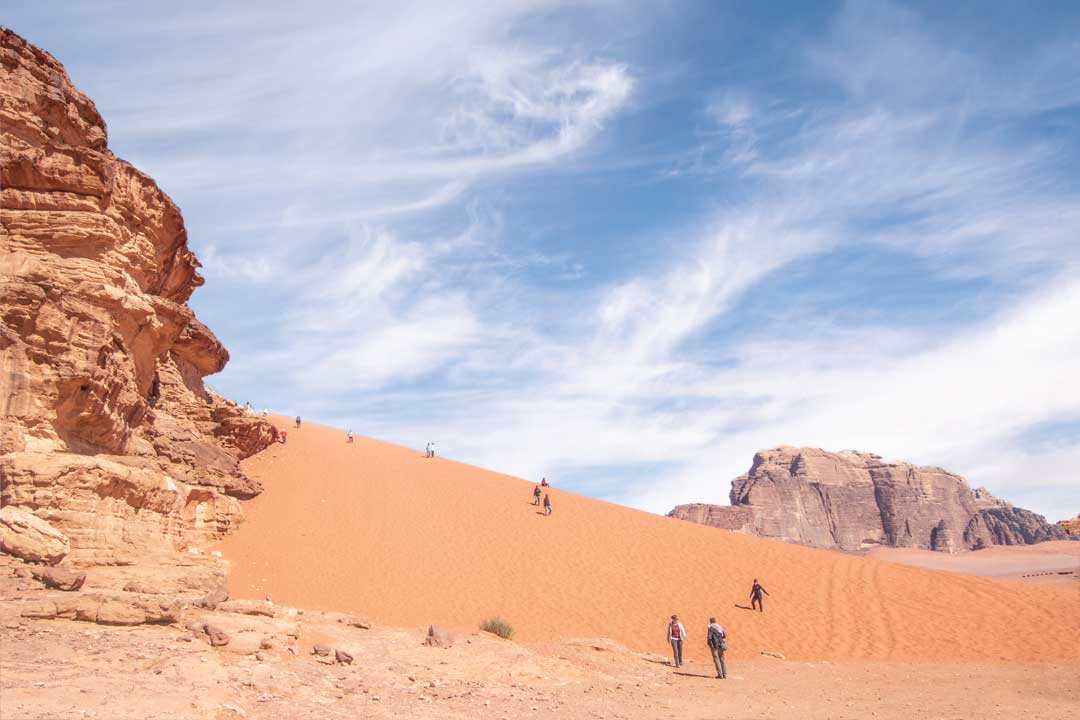 You can find all sorts of dunes in Wadi Rum. There are gold dunes, small white dunes, and massive red dunes. The latter ones are an attraction. Climbing a dune is not an easy task, but getting to the top often reveals a breath-taking view.
Going down is also quite fun.
Shifting Dunes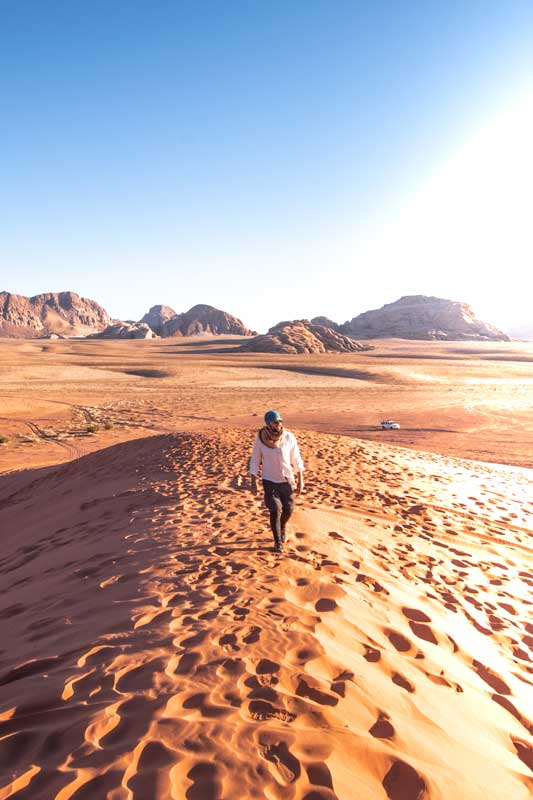 As per my Bedouin guide, these dunes move with the wind, changing their position every week or so. I didn't notice mine to be moving, but it was an excellent photo opp.
Wadi Rum Hikes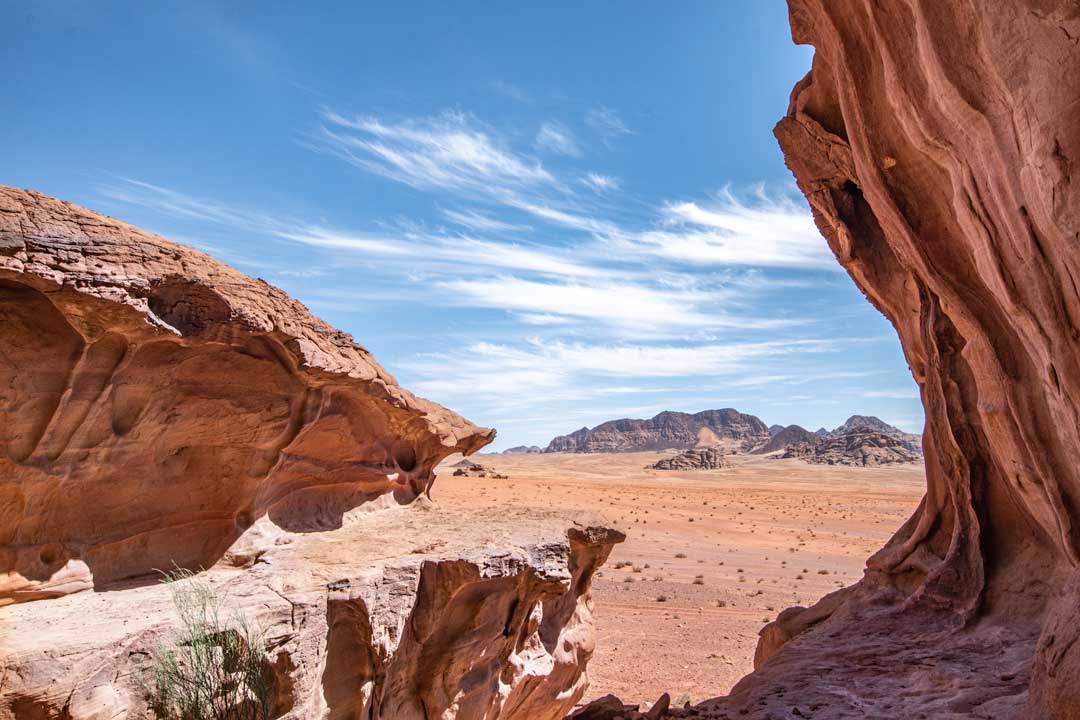 If hiking is your thing, inquire with your camp chief or at the Visitor's Center, and you'd have plenty of options, suited for all fitness levels.
Stargazing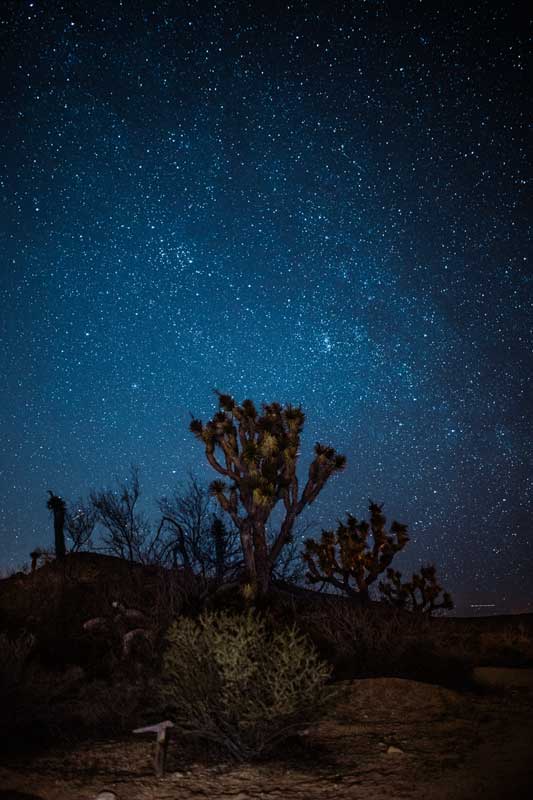 You can easily do this on your own by just going away from the camp lights (don't go too far away). If you're really into stargazing, you can check with these guys who would gladly point all the stars and galaxies far far away to you.
See Also: All the Best Photo Spots in Petra
My Wadi Rum Camping Experience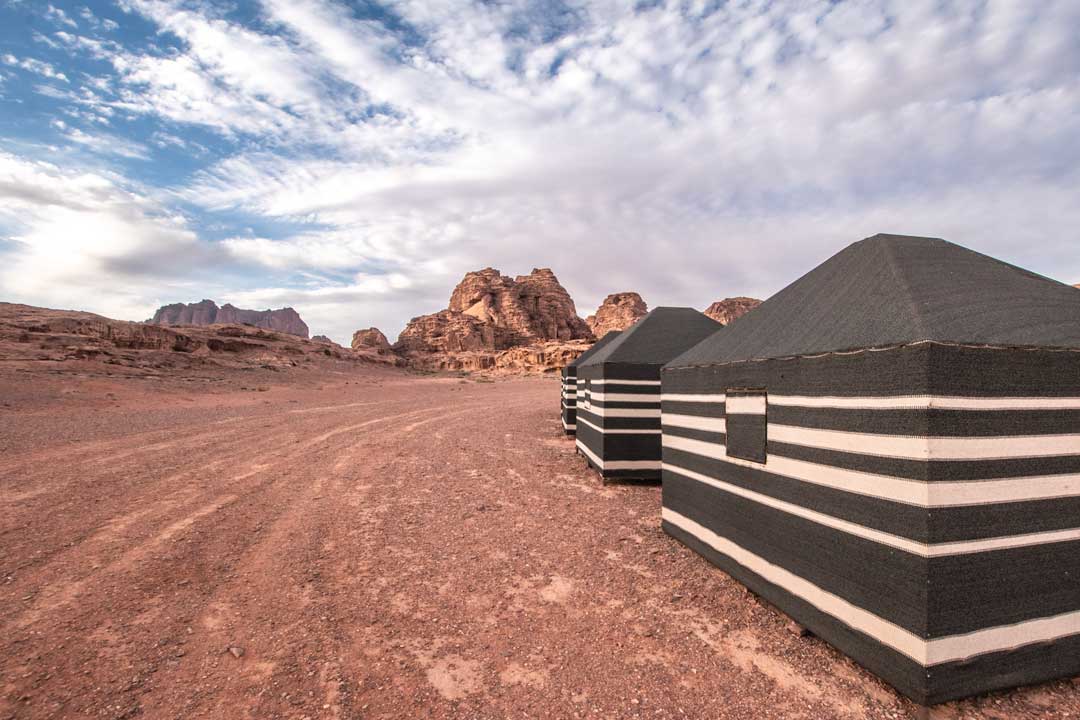 Day 1
Wadi Rum camping was something I was adamant to do, so after Petra, me and my buddy made our way south. We used a hotel-arranged taxi (for the same price as the bus). I've picked my camp through booking and communication with the camp chief was easy.
After a quick stop at the Visitor's Center (entrance to Wadi Rum is 5 JOD / 7 USD), we continued to the Jabal Rum village. The camp chief (who turned out to be something of an organizer for all Bedouin camps) was waiting for us there.
We had booked a 4×4 tour for our first day, so we had to wait around an hour till it comes to take us around.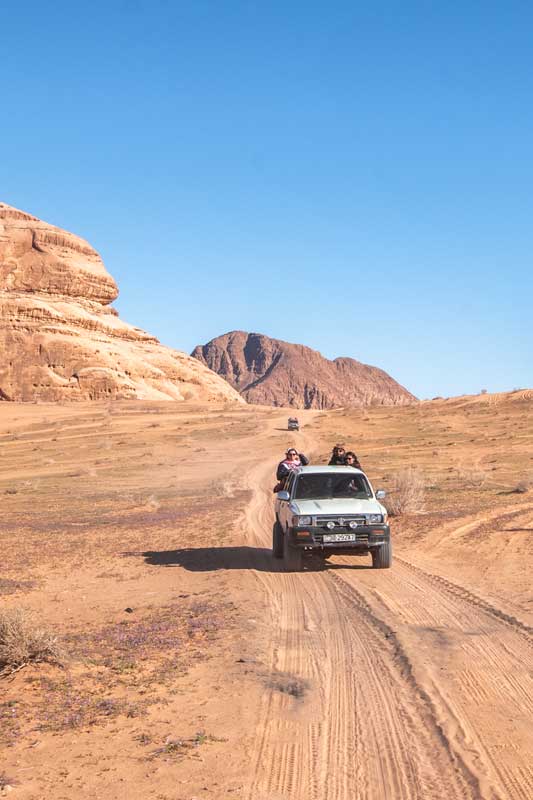 The first stop of the tour was Lawrance's Spring, which is pretty close to the village. Honestly, I was not impressed. It's tiny and not picturesque at all. The lonely tree in front of it was the best part of Lawrance's Spring.
Our second stop was a big red-sand dune around 5 minutes away. Now this one was fun. Climbing up was extreme pain in the a$$, but the view on the top was so worth it. Going down was fun as well.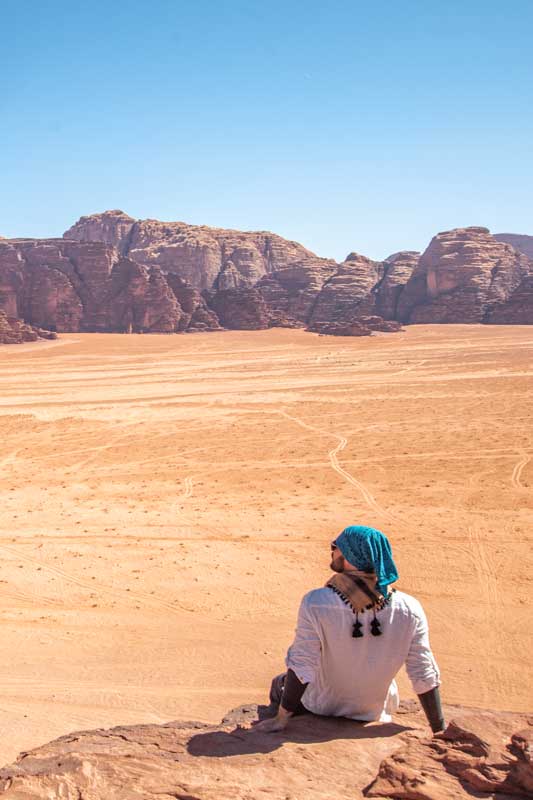 Stop number 3 was another close one – the stunning Khaz'ali Canyon. I fancy ancient civilizations a lot, so the rock carvings were an absolute joy. The canyon was not a big one and required, but I enjoyed it quite a lot.
The tour continued with the Small Rock Bridge. There were few other groups there who waited on line to take their photos on the bridge. The bridge is elevated a little bit so you can get some beautiful panoramic views. Other than that – nothing special.
Lawrance's House was our next stop. The house is…well terrible. There are some brick remains of a wall, and that's all. The rock behind it, though, is another story. It's a bit tricky climb, but the top view is nothing less than breath-taking. Being surrounded by this serene desert landscape with nothing but mountains, camels, and the occasional 4×4 in the distance – one of the most beautiful sceneries I've ever seen. The only downside was the other tourists, but they weren't a nuisance enough to ruin the view.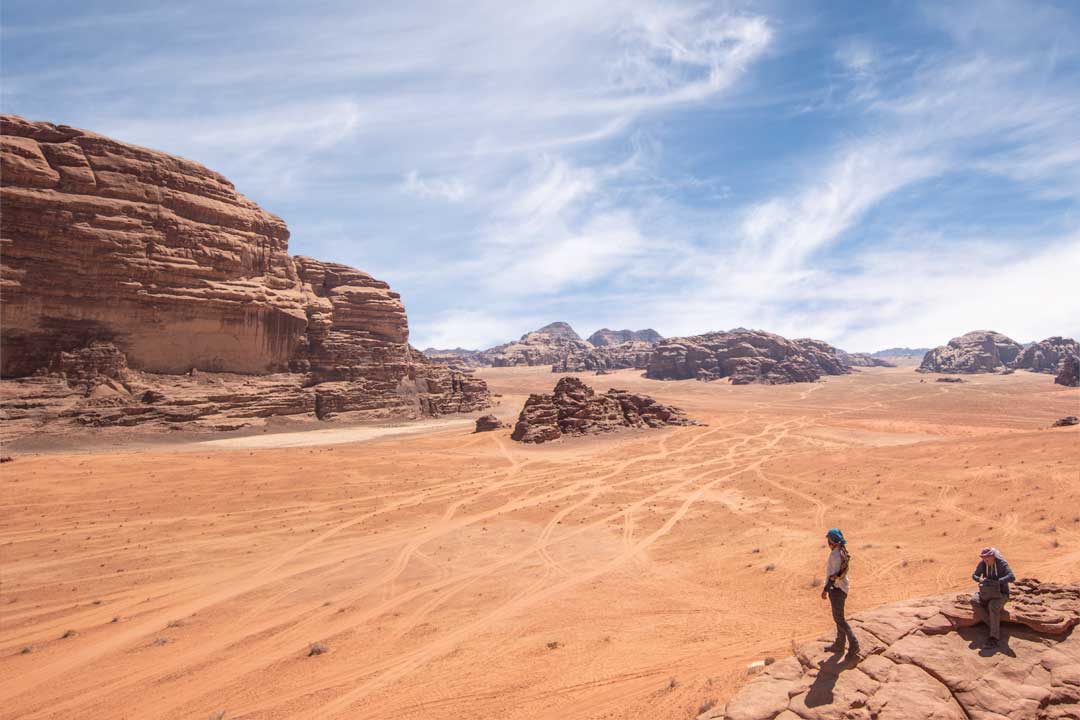 The sun was high in the sky already, and it was time for lunch.
Our driver-guide pulled out next to a strange-looking boulder and started preparing the fire. It was a vegetarian lunch consisting of bean soup, goat cheese, and some other Bedouin foods. It was delicious!
After lunch, our driver took us to…his home (Bedouins drink tea all the time). A genuine Bedouin tent in the middle of nowhere where we met his wife and his daughter. We had tea there and discussed the Bedouin culture. It was such a fun experience.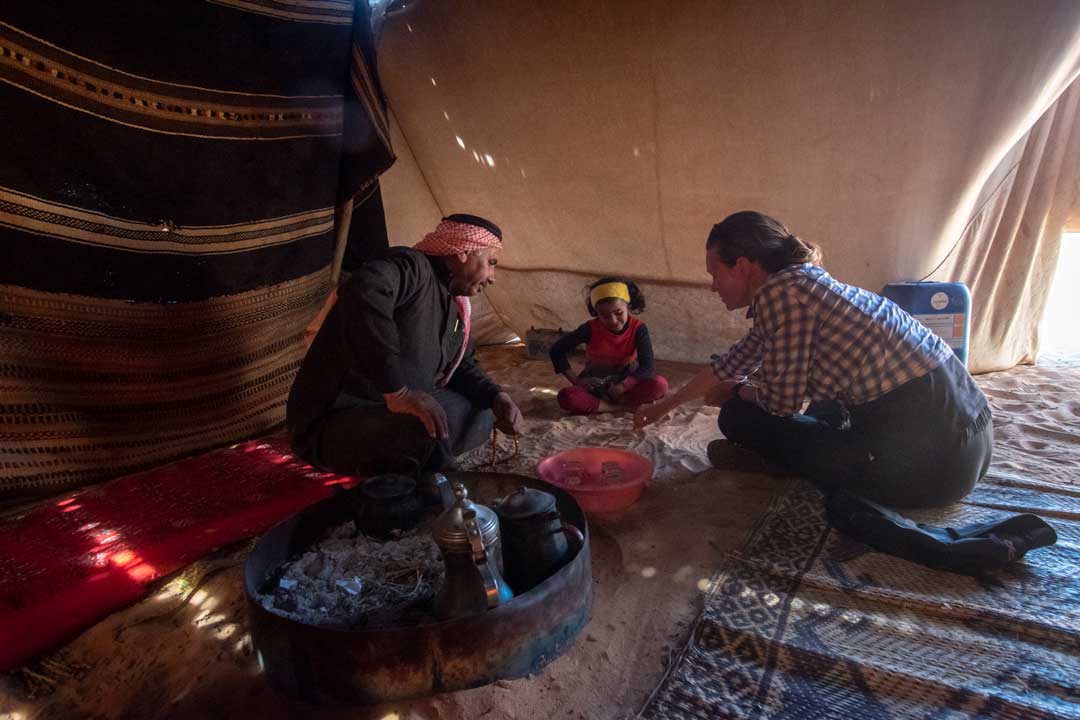 I bet you never fathomed that the Bedouins have Instagram problems. It turned out it's forbidden to take pictures of Bedouin women, but all the young girls were active Instagram users, driving the men crazy. There's really no place in the world safe from IG!
Our tour continued with some natural water reservoir (that was dry at the moment). I'm not sure it has a name, and if the other tours go there at all, but it was something I've never seen, so I was glad we made the stop.
Next, we were racing with some of the other 4×4 tours.
No kidding, the Bedouins decided to see who'd reach our next destination (which was the Umm Tawaqi canyon) first.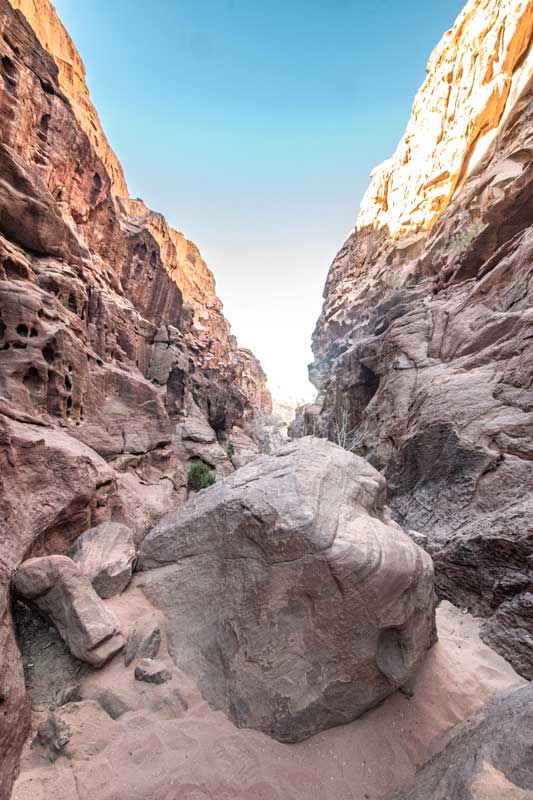 The canyon was a leisure few-hundred meters walk around incredibly detailed and colorful rocks and boulders. I was quite exhausted already, so the Umm Tawaqi Canyon was a welcomed break.
The last official stop of the tour was the Jebel Umm Fruth rock bridge, which was the most overcrowded place I saw in Wadi Rum. It looked cool, but there was a tricky climb to reach it and far too many people, so I decided to enjoy it from the ground. Somehow the rock bridges are the most popular attractions in Wadi Rum. I can't see why are they so special, but people love to take photos on them. Maybe the big one that requires a hefty hike to reach is cool, but the other two are nothing extraordinary.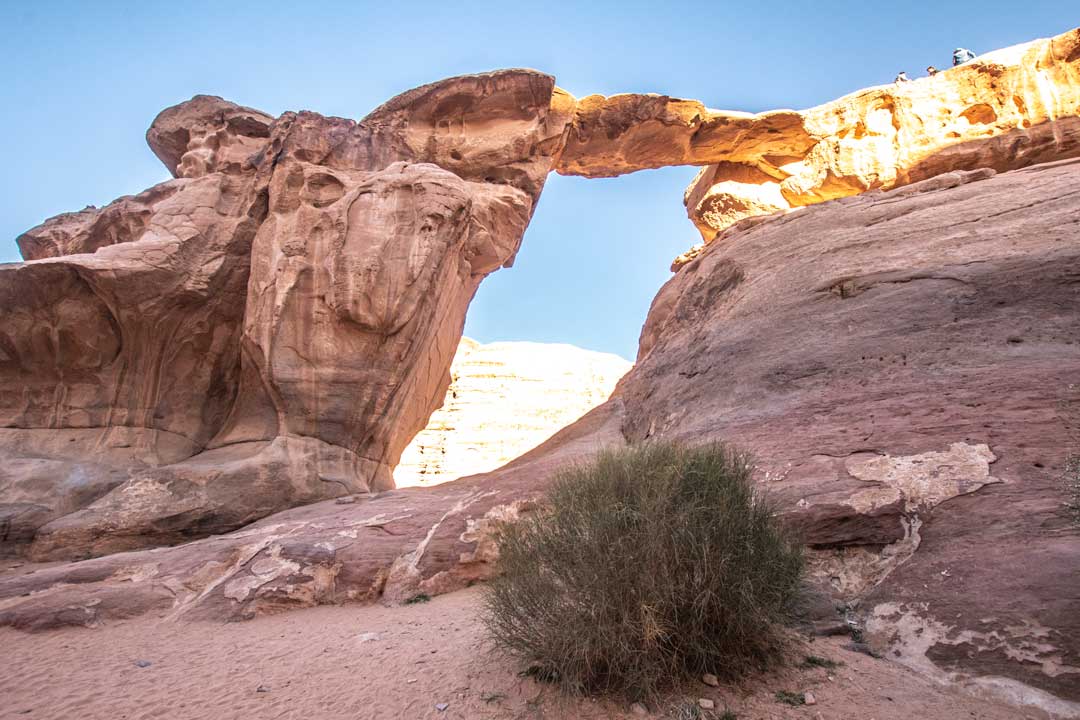 The tour was coming to an end, but there was enough time for one more stop – a shifting dune. Our Bedouin guide explained this dune would have moved a few meters by tomorrow. I can't verify that, but the dune itself was pretty cool. Easier to climb and very photogenic. I could've spent hours there, just taking photos, but the sunset was coming, and my camp had a special place to watch it from.
So we made our way to the camp and got assigned a tent. The tent was very basic – two beds, a window, and a carpet. It was good enough for me.
The best thing about the camp (and the main reason I picked it) was the rock formation right behind it. It was easy to ascend (wouldn't even call it a climb) and perfect to appreciate the sunset.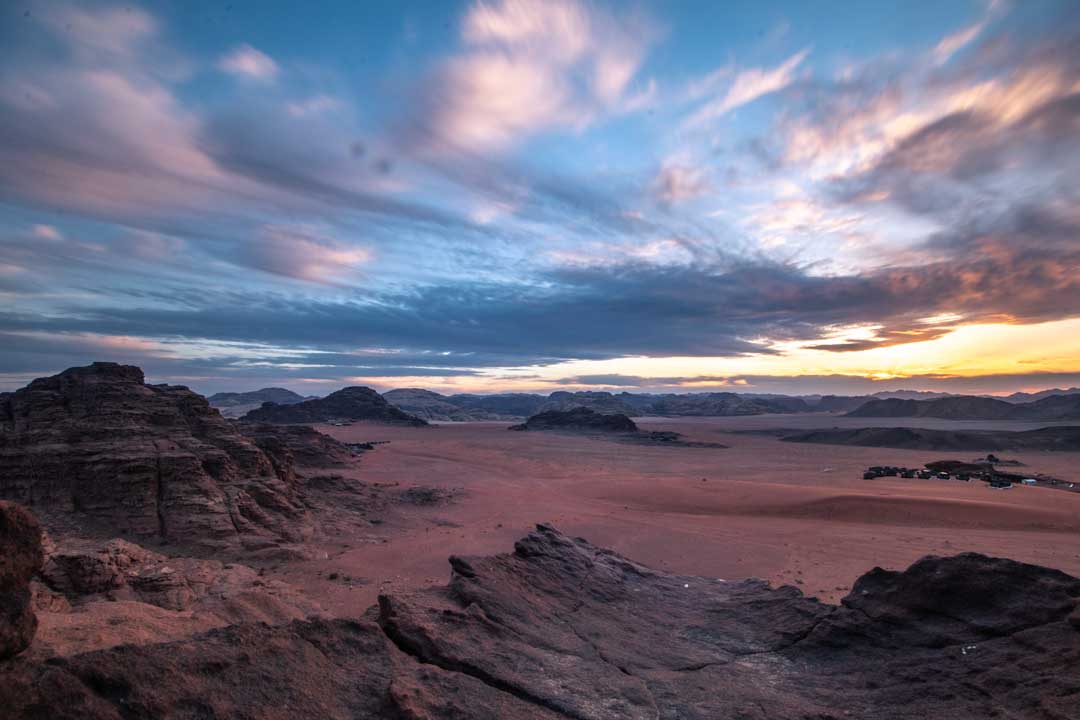 The last event of the long day was the gathering at the main tent. All the camp inhabitants, including our Bedouin hosts, enjoyed something like a little party. There was a lot of tea, shisha, and power sockets to charge the phones. At dinner time, we got a traditional Bedouin meal (cooked in the sand), alongside a buffet of various local dishes.
This is what you should expect of your average Wadi Rum day. A lot of breath-taking views and introduction to the colorful Bedouin culture. A very tranquil experience that most people underestimate but eventually remain in awe from.
See Also: The ultimate Dubai itinerary
Day 2
On our second day, we were offered a guided hike, but we preferred to check out the surrounding area by ourselves.
And it was a great decision. We had some natural rock terrace recommended to us by our tent neighbors, we set it on the map and head out for a picnic. The journey there and back was one of the best walks I've ever had. Not only in Wadi Rum but anywhere! There was not a living soul in sight, just me, my buddy, and the desert. It was surreal. The landscape kept changing from golden dunes, to canyons and red dunes. More than once, I felt like exploring another planet. Wadi Rum is just sooo extraterrestrial.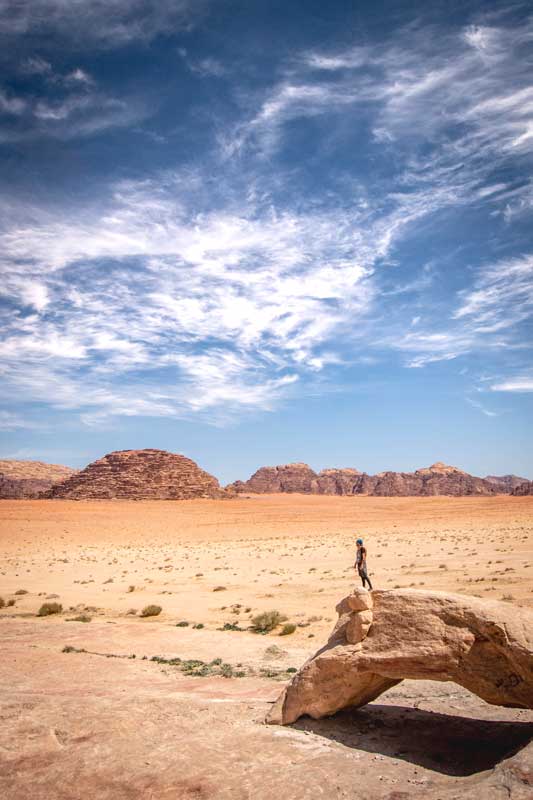 If you do decide to explore on your own, make sure you have Maps.me downloaded, and you've marked your camp on it. Also, take a power bank and lots of water with you. The desert area is incredibly easy to get lost in.
If you book the camp I stayed in, or anything close to it, here are the coordinates for the rock-terrace I had a picnic on: 29.4495, 35.375589.
You can also find a very cool white-sand dune nearby at 29.454128, 35.368648. Last but not least, here are the coordinates of a small rock arch I found – 29.472467, 35.374091. It was free of people and perfect for photos.
The Wadi Rum hosts
Wadi Rum may be in Jordan, but it's ruled by the Bedouins. They don't consider themselves Jordanians. They are just Bedouins – free people.
Bedouins are born in the desert and spend most of their life there. They have their own languages, laws, and traditions.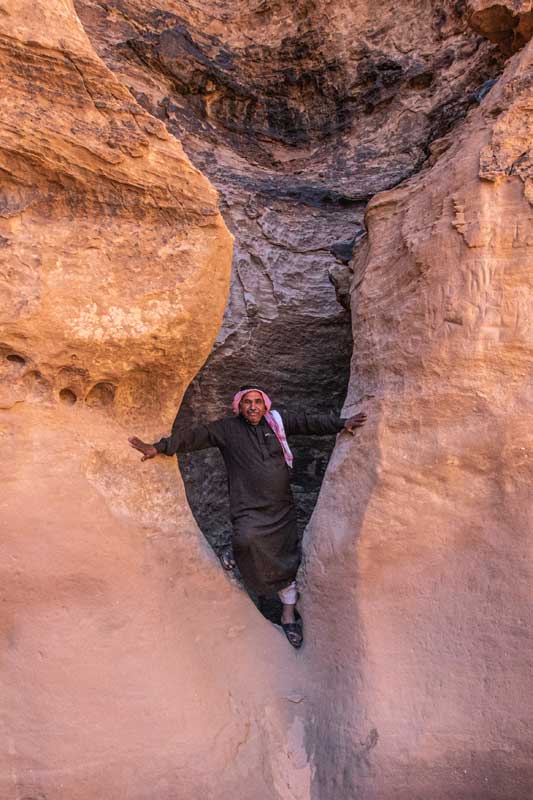 But don't think, even for a minute, that they are some remote tribe full of underdeveloped people.
The Bedouins are incredibly smart and witty. They're educated, they speak multiple languages, and they are damn good businessmen. I cherish a lot our conversations that helped me to learn more about the Bedouin way of life. I urge you not to be shy and do it too.
Best Wadi Rum Camps
Picking your camp in Wadi Rum is a confusing task. Most of the camps look the same, and their prices are similar. The truth is, they really are pretty much the same.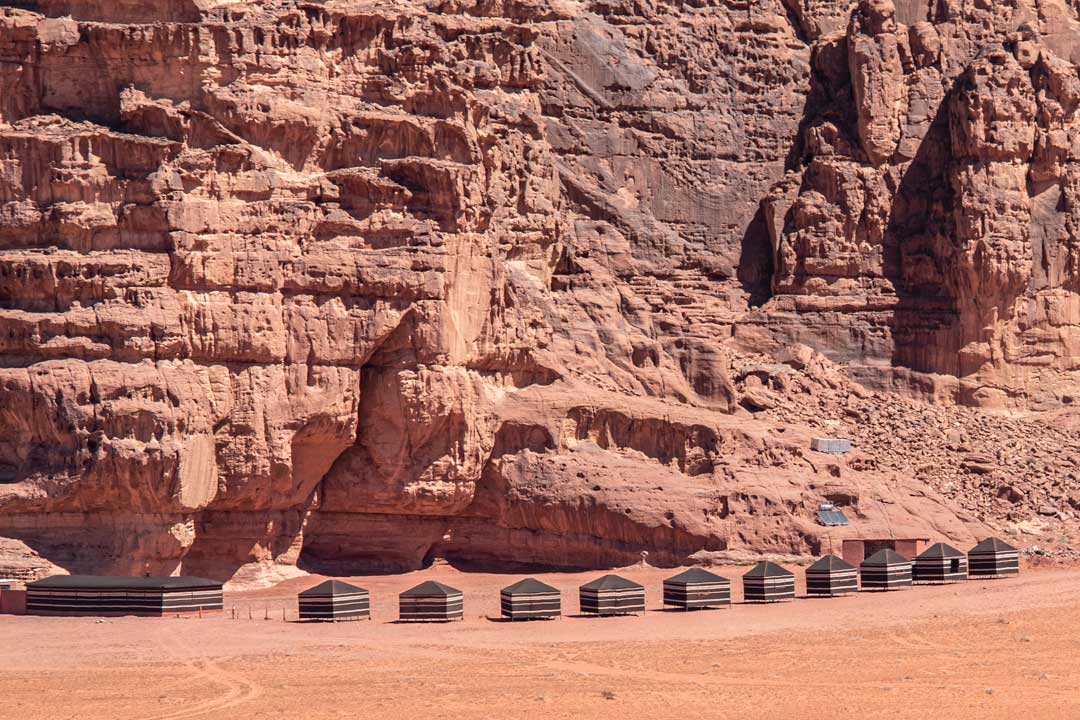 A different Bedouin family hosts every camp, and even though they are competitors, they are a very close community that respect and help each other all the time. They would all offer you 4×4 tours, camel tours, Bedouin dinner, transportation to and from Wadi Rum. The prices of all those activities would be similar if not the same (camel tours – around 15 JOD/ 21 USD; 4×4 tours – 25 to 60 JOD / 35 to 84 USD, depending on the length of the tour; dinner – 10 JOD / 14 USD).
You'd notice that the overnight prices vary a lot, though. The difference is mainly in the tent you're sleeping in, the electricity, the wi-fi, and the bathroom.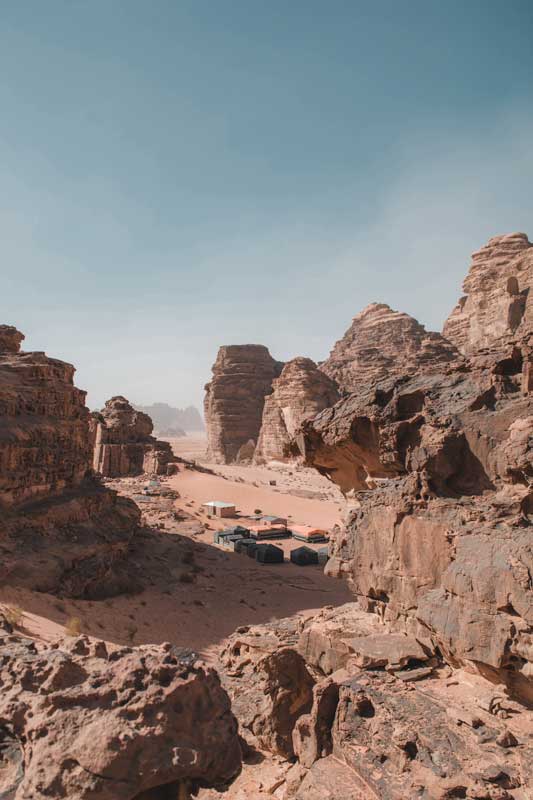 Cheaper camps have no wi-fi, electricity only in the main tent, and a shared bathroom. Beware of the cheapest ones. Some may ask you for extra payment to transfer you back to the village or to even use the showers. If you want a budget version (and you don't like the options below), check the reviews thoroughly to see if there are any hidden taxes.
Wadi Rum Bedouin Tour with a Camp (Where I stayed)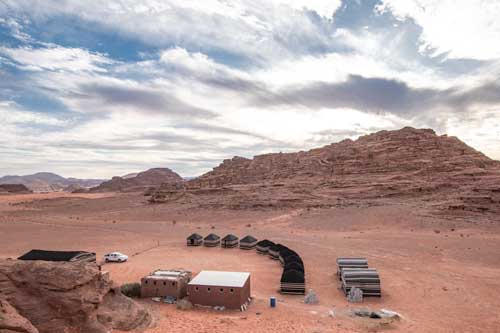 Basic tents, no wi-fi, and a shared (but very clean) bathroom. It may sound like a primitive accommodation, but really, there wasn't a single thing to complain about. The bed was comfortable, and I had plenty of blankets. The Bedouin hosts were ready to help with everything and throw a good party in the central hut in the evening. Their 4×4 tour was incredible, and there were no hidden taxes (except 10 JOD for dinner, which is common for all camps).
The biggest reason I picked that camp was their private sunset spot. A massive but easy to climb rock formation right behind the tents was the perfect place to enjoy the magical desert twilight.
See the latest price
Bedouin Tours Camp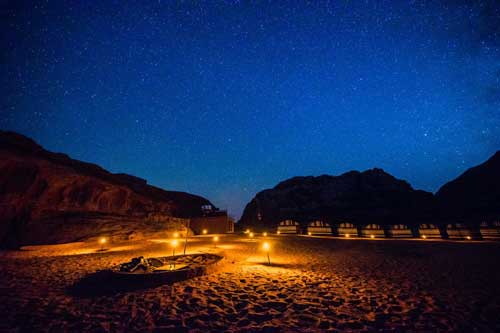 A little bit more expensive than the previous one, but definitely worth it. Located deep in the Wadi Rum protected area, this camp is among the highest-rated on booking.com. All reviews are raving about the above and beyond hospitality of the Bedouin family that host it, and the only complain is…that they stayed only one night.
Bedouin Tours Camp has a pretty cool bathroom embed in the rocks, and their shower does have hot water. Also, plenty of different tent sizes and no reports for hidden fees.
See the latest price
Wadi Rum Dream Camp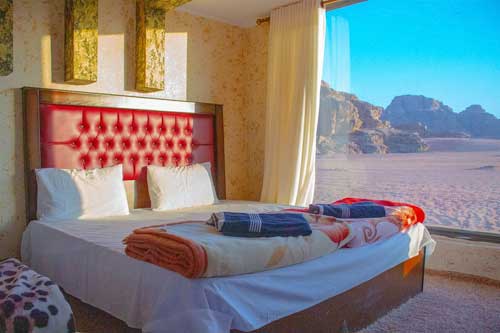 This Wadi Room camp is pricer than the other two, but it's still very affordable. And when you check it out, you'd find that the extra JOD you're gonna spend there are totally worth it.
The biggest highlight of the dream camp is the huge-window tents. This is something I've only seen in the most luxurious camps, and it's an amazing feature. Imagine lying on your comfy bed and spectating the camels walking around. No wait, imagine lying on your comfortable bed and watching the billion desert stars at night. Ahhh, I'm so going to try this it next time.
Last but not least, if you want to show off with your cool tent to your friends, there's a reasonably fast wi-fi.
P.S when booking, make sure to request one of the tents with a view since they have regular ones too.
See the latest price
If you don't like any of my recommendations, there're plenty of highly-rated options for Wadi Rum Camping. Check out the best here.
Wadi Room Glamping
I've never been a guy who goes to luxurious hotels. I barely spend any time inside and need just the basic stuff to be happy. Having said that, researching the luxurious Wadi Rum camps made me carving to go glamping so much that it hurts. Here're the ones I would really really love to spend the night in:
Wadi Rum Bubble Luxotel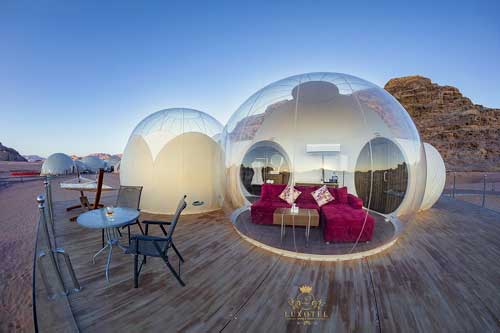 What? Seriously, what? This place looks so good I'm about to cry. Just look at it. You got your own fancy private bubble with a hammock and jacuzzi on the patio. And that's not even the best part. You got a transparent bubble to watch the sunset and also a transparent roof over your bubble-bedroom. If only I could afford it, I would love to get one of those and stay inside for days. It's just so damn perfect!
See the latest price
Memories Aicha Luxury Camp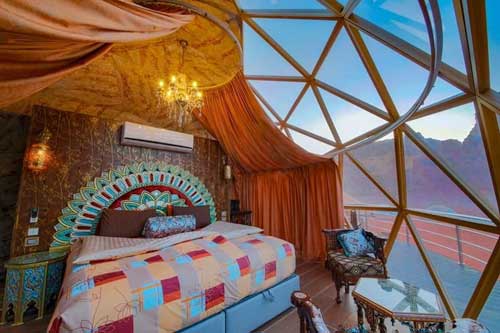 This Wadi Rum camp looks nothing like a camp. It's more like a 5-star luxurious hotel in the middle of the desert. The common area looks like some Arabian sheik's palace while the private panoramic suits are like…well…like some Arabian sheik's quarters. This place is ridiculous.
Oh yeah, the panoramic suits also give panoramic views to make it almost impossible for you to leave your camp.
See the latest price
Biuvac camping in Wadi Rum
The last type of Wadi Rum camping is the most basic one – just you and your tent under the stars. You can't do that anywhere and on your own, though (you probably can, but it's illegal, and the Bedouins might not like it).
If this is your type of camping, you can go to the visitor's center and inquire about it (they would find you a Bedouin guide) or organize it beforehand with these guys.
Wadi Rum camping FAQ
When deciding the best time to visit a particular destination, there are two factors we should have in mind. When is the destination best weatherwise and when the tourist crowds are at their low. Sadly, almost every time, the best weather means thickest crowds.
Wadi Rum is not an exception, but crowds are not that much of a problem as they are in Petra, for example. Yes, when you go on a 4×4 tour you'd meet small groups of tourists but…it's not really that busy.
I went to Wadi Rum in a popular shoulder season (spring), and on my second day, I barely saw another soul. So what we're gonna focus here is the weather.
Best time to visit – shoulder seasons (March-May and September – November). No surprise here, the desert is hot during summer and cold in winter. The best bets for top weather are Spring and Autumn.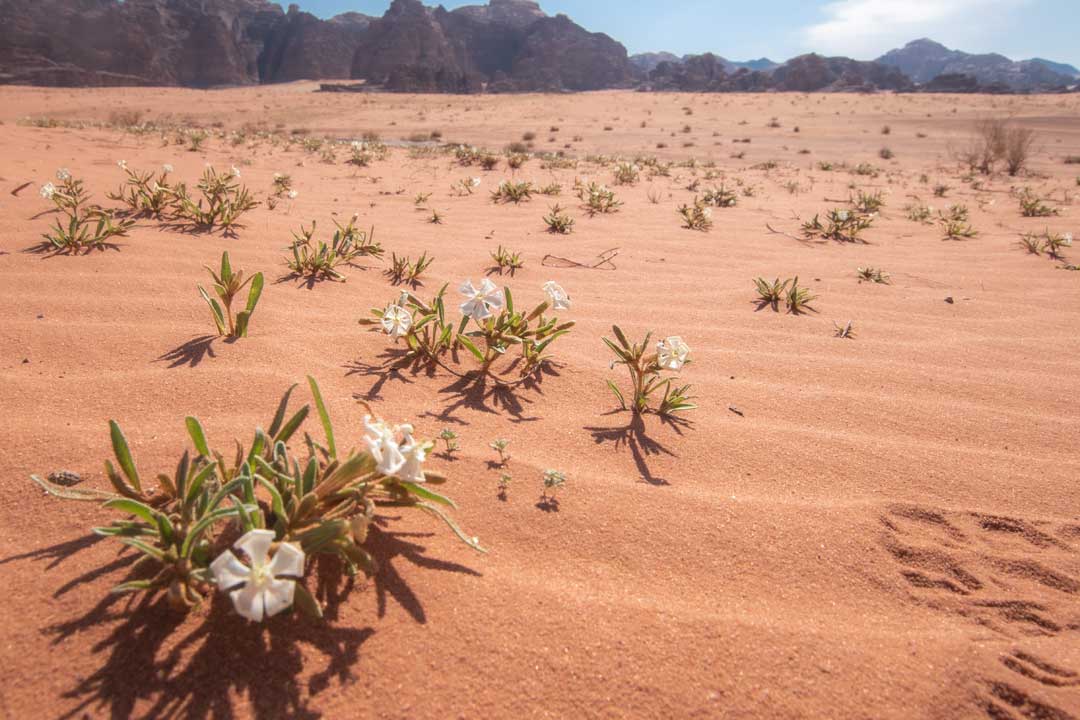 From March through May, the daytime temperatures rise gradually from 20°C /68°F to 30°C /86°F ( 6°C /43°F to 14°C /57°F nighttime).
From September to November, it's pretty much the same with temperatures going back down from 32°C /90°F to 21°C /70°F during the day (16°C /61°F to 8°C /46°F at night).
Summer (June – August) is extremely hot. You'd get the best camp/tour prices, and you won't see anyone on your trek, but…can you really enjoy a hike in the scorching heat of the desert?
Average temperatures: 34°C /93°F max ; 18°C /64°F min.
Winter (December – January) is (as you can imagine) chilly. It's not a real winter snow-freeze, but it's definitely cold. Sun is still shining bright so if you think you can endure average temperatures of 15°C /59°F max; 3°C /37°F min, you'd have a great time. Keep in mind that most of the camps don't have heating in the tents, so you better inquire about it before booking.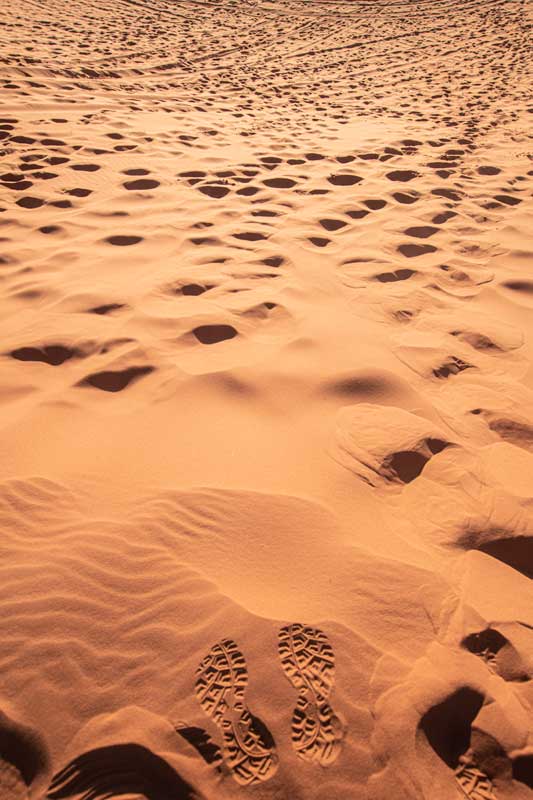 Wadi Rum is perfectly safe. The area is cared for by the Bedouins, and they are a very hospitable community that makes sure everything goes smoothly. I have never heard a tourist suffering any theft or crime there.
The desert area is pretty safe too. There are some venomous snakes and scorpions, but they are extremely rare to spot. If you happen to see one, don't mess with it.
If you plan to hike or climb any of the cool rocks around you, you must register at the Visitor's Center. Some of those are available only with guides.
While Wadi Rum is a relatively safe destination, you shouldn't risk skipping your travel insurance. Yes, you'd probably never need it (I sure hope so), but knowing you're prepared ease of your mind tremendously and let you enjoy your adventure to the max. I currently use HeyMondo for my travels because they have proven themselves to me more than once over the years. The link above will give you a 5% discount, but If you have another favorite provider, that's ok. Just make sure you have one because you never know what may happen.
If you've come with a rented car (check the best offers here), you just drive away from the desert.
If you're going to Petra, you can catch the bus that comes from Wadi Musa. The tricky thing is that the bus runs only if there are people coming from Petra to Wadi Rum. The route is extremely popular, so days without a bus are rare occasions. If you're going anywhere else, talk with your camp chief, and they will find a way.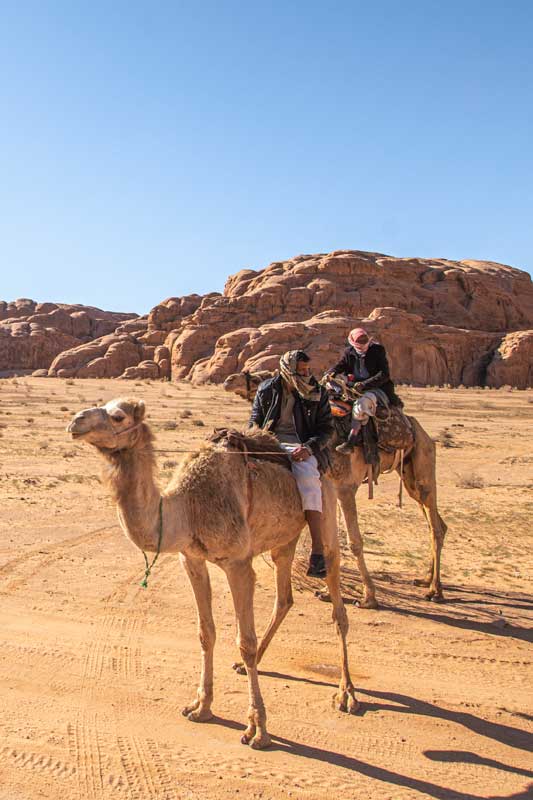 Is there Wi-Fi in Wadi Rum?
Not all camps offer Wi-Fi and the ones who do usually have it only at certain times in the main Tent. Booking.com shows if Wi-Fi is available, but you better double-check with your host since that info is often inaccurate.
Is there electricity in Wadi Rum?
The more luxurious camps offer electricity in private tents. Most of the camps, however, don't. Don't be afraid that you won't be able to charge your phone/camera, though. The main tent, where you'll spend the bigger part of the evening, always have electricity. Plenty of sockets too.
Can you do Wadi Rum camping on your own?
You can, but it's a hefty task. The first thing to do is go to the Visitor's Center, where they'll show you the allowed places you can set your tent. Wadi Rum is a protected area, so you can't just do it anywhere you want. If you're with a car (4×4 otherwise no point of even trying), you need to pay tax for it (should be around 35 JOD / 50 USD). And if you do all that, you still need to have a Bedouin guide with you.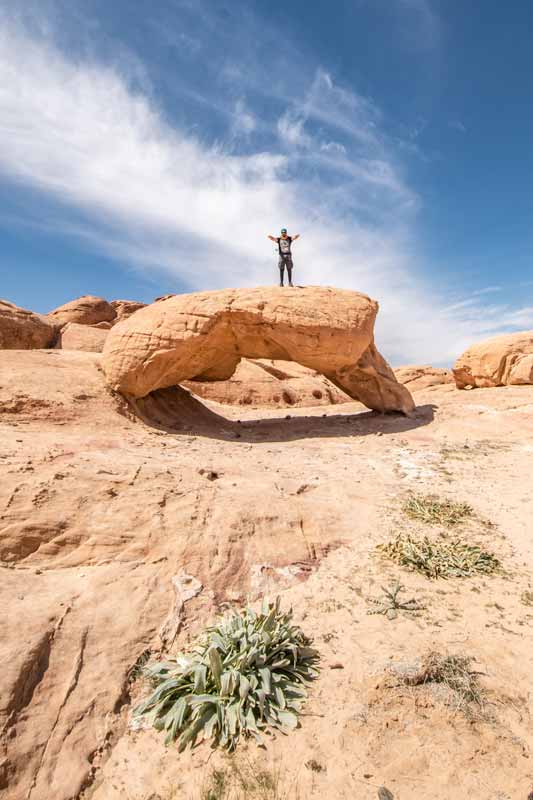 Most of the camps have breakfast included in the booking. Dinner, however, you need to pay extra (10 JOD / 14 USD most of the time). Unless you have packeted sandwiches or something, you kinda have no choice but to pay the extra 10 JOD. The dinner is pretty good and always includes Zarb (a traditional Bedouin meal cooked under the ground).
Tip: Don't use the Booking.com's option where dinner is included. I saw two incidents where the Bedouins didn't understand it's already paid. To avoid annoying arguments, just pay on the spot.
What movies were shot in Wadi Rum?
Some of the most notable movies shot in Wadi Rum are "Lawrance of Arabia", "The Martian", Disney's "Alladin", "Dune", "Transformers: Revenge of the Fallen", "Star Wars: Rogue One" and "Star Wars: The Rise of Skywalker". You can check a complete list on IMDB.
That's all from me, I hope you enjoy your Wadi Rum camping adventure.
————————————
If you haven't planned your trip there yet, find out how I plan my trips!
————————————
I have 8 bucket list ideas for Jordan. See my impossible bucket list of 1700+ adventures!

Is Wadi Rum on your bucket list?
---
Some of the above are affiliate links and I will earn a percentage of the sale if you purchase through them at no extra cost to you. This helps keep my site running – so thanks in advance for your support!