Wandering inside Petra is undoubtedly one of the most impressive notches on my travel belt. The raw beauty of the ancient wonder is hard to compare to anything else in the world.

I remember the first time I saw the "Rose City". I was around ten years old, and I was watching "Indiana Jones and the Last Crusade". In case you haven't watched it (you most definitely should), Indi and his father are searching for the Holy Grail, and they found it in this amazing rock-carved structure. Yes, they found the Grail inside Petra.
The building looked so outwardly I didn't even consider it to be a real thing. It was another Holywood magic.
A few years later, when the New Seven Wonders of the World were voted, I found this is not some Holywood set, but a real place in Jordan. And while there are no cup-guarding knights in it, it really is one of the most breath-taking places in the world, especially for adventurous travelers!
What is Petra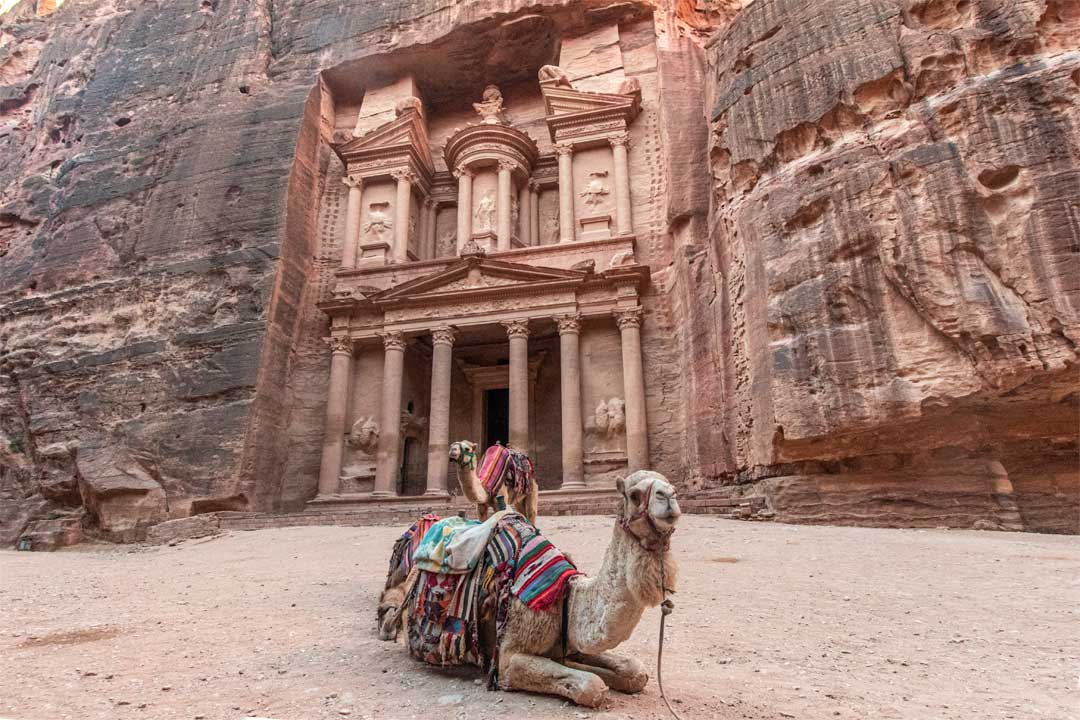 Duh, Petra is the gorgeous hand-hewn building from Indiana Jones. The one on the picture above. Right?

Well, not exactly. This is Al-Khazneh or "The Treasury". It is part of Rose City, but it's definitely not Petra.

Petra is an ancient city full of myths and wonders. A honeycomb labyrinth of archaic marvels covering the ground of over 260 sq km. Well-preserved tombs, temples, and Roman ruins blended with dazzling natural sites and colorful Bedouin culture to create this one-of-a-kind wonder that deserves a top place on your bucket list.
Who built Petra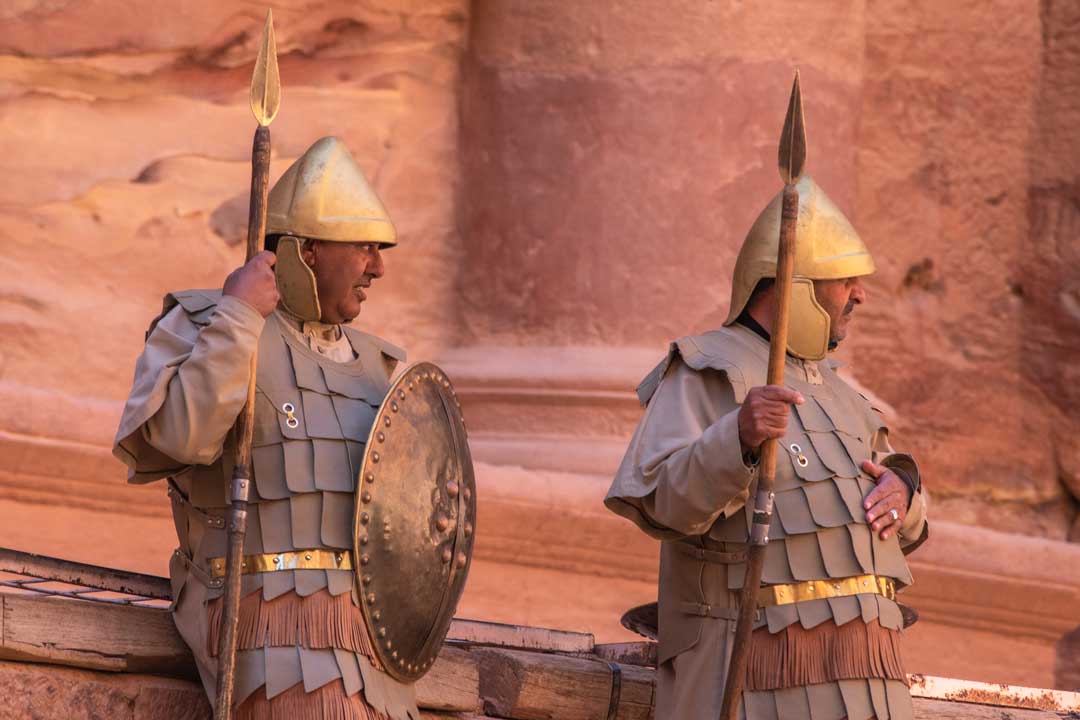 Petra was created by a western Arabian nomadic tribe called Nabataeans. The Nabataeans were prominent traders, and when they arrived in the area, they used their knowledge and skills to accumulate vast wealth.
Over the next 500 years, the former nomadic tribe built one of the most advanced cities on the planet.
It was located in the middle of the perfect trade route, connecting Asia with Greece, the Roman Empire, and Egypt, but the location was far away from perfect. The city occupied a natural canyon in the middle of the desert, hardly a pleasant environment to live in.
Since Nabataeans were not the average BC people, though, Petra was way ahead of its time. The ancient tribe invented their own cursive script (the forerunner of Arabic) and trained skillful engineers. They built dams, water channels, and a complete hydraulic system that was enough to supply 30,000 people in the middle of the desert. Absolutely incredible!
Where is Petra
Petra is located in Jordan. It's kinda in the middle of nowhere although there's a small touristy village right next to it – Wadi Musa.
To explore Petra the right way, you need a few days, so Wadi Musa would be the perfect place to stay in.
Jordan Visa
Jordan offers a visa on arrival for plenty of countries (check the list here). The cost of the visa is 40 JOD / 56 USD.
If you get the Jordan Pass, however, you won't have to pay anything. Your visa is free, Petra is free, Wadi Rum is free, and over 30 other touristic attractions are also free.
Castaway Tip
This one is very important.
The Jordan Pass gives you plenty of value, but if you arrive in Jordan through Aqaba, you don't need the pass. Aqaba is part of something called ASEZA (Aqaba Special Economic Zone), and you don't have to pay any visa fees.
See more about ASEZA.

How to get to Petra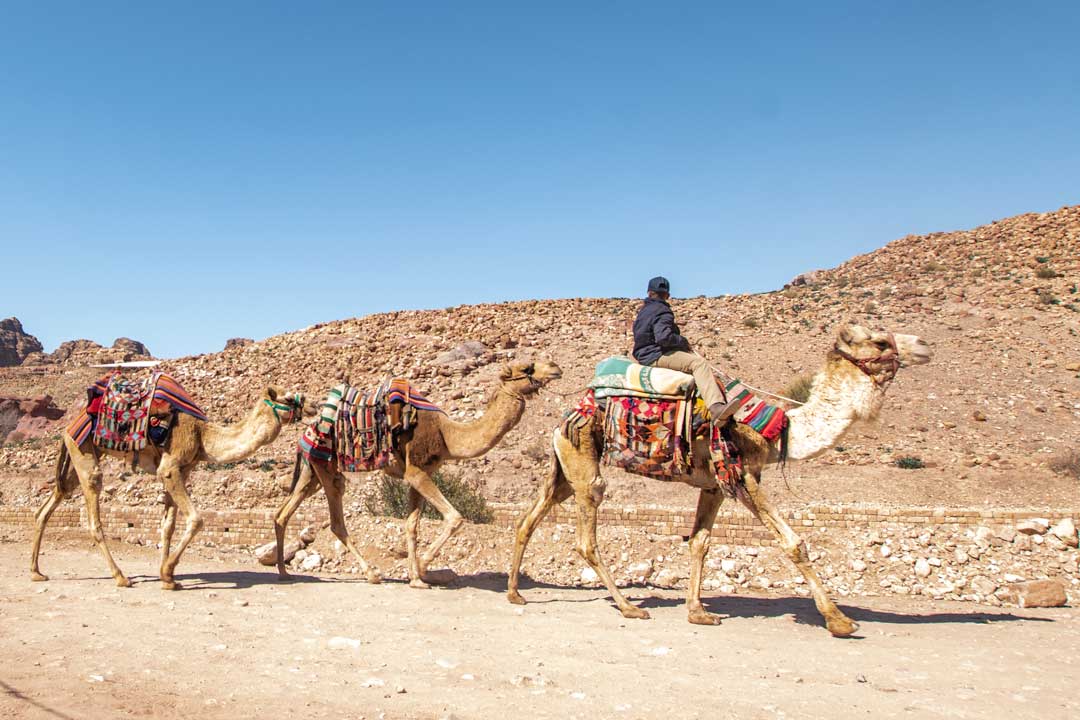 The Wadi Musa village obviously doesn't have an airport, so you have to make your way there somehow. I like to research (and prebook) all my transports before I arrive, but in Jordan, that turned out to be quite the challenge.

Once there, it turned out arranging transport was as easy as Sunday morning. You just ask in your hotel or check with your Bedouin host, and they will get you all the info you need.
For those of you who prepare everything beforehand (like me), here's how to get to Petra.

The most convenient way (most people use) is to rent a car, of course. You can skip all the public transport research and enjoy the scenery alongside the road. To find the best offers in Jordan, check the Discover Cars tool, which will compare all the providers in the country.
How to get from Amman to Petra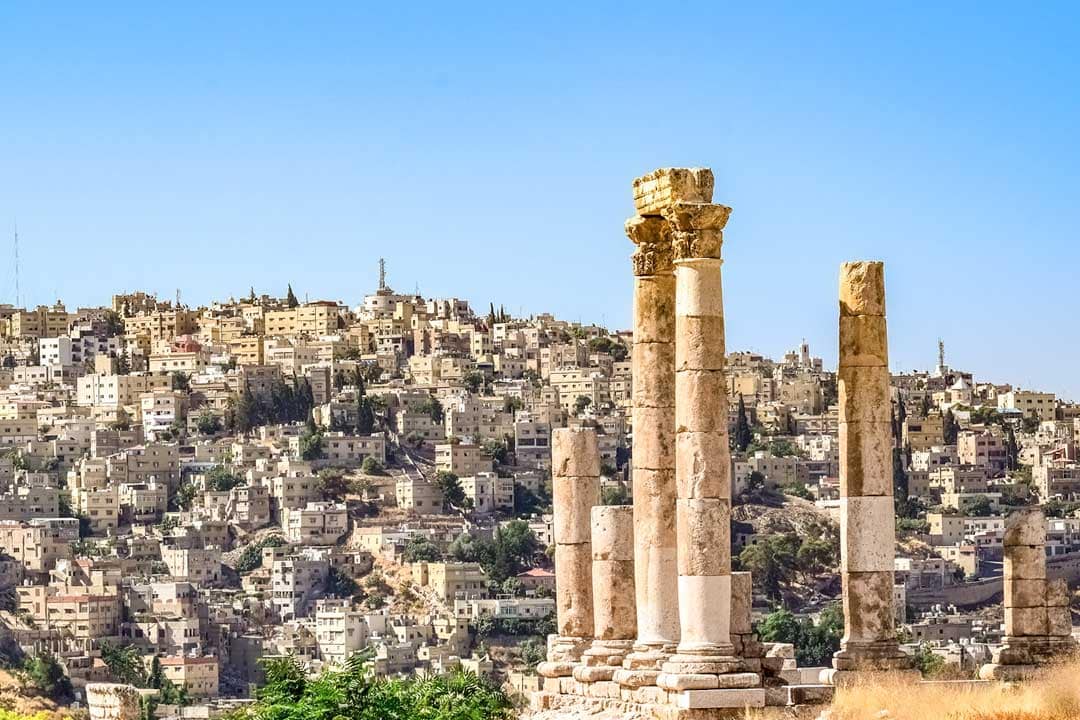 Chances are high that you'll start your journey from the capital of Jordan. Amman is located around 240 km ( 150 miles) from Petra, and your trip will be a little bit more expensive than the Aqaba one.
Your options are:
Bus
Jett Bus is the only bus company in the country (at least I didn't find any other). Their buses are comfortable, and the prices are reasonable. The only downside is that the Amman – Petra bus departs at 6:30 AM. If you have no problem with this, the fare is 11 JOD ( 15 USD), the journey takes about 4 hours, and stops at various places inside Wadi Musa. The last stop is the Visitor's Center's parking, just in front of Petra.
Car
You can rent a car at the airport and drive yourself to Petra. If you chose this option, I suggest taking the scenic Kings Highway route. You can also hire a taxi to get you there. I haven't tried this option, but you can book one here or check with your hotel to compare prices. All hotels in Jordan are ready to assist you with those inquiries
Public Minibus
This is the budget way to travel to Petra. The minibusses depart from the Mujamaaa Janobi station and cost around 5 JOD (7 USD). They make many stops along the way and are not as comfortable as the Jett buses but will get the job done. The earliest departs around 9:00 AM, but there's no fixed timetable. If you want to use the minibusses, double-check with your hotel about the departure station and prices.
Tour
By far, the most popular way to get to the Lost City. If all you want is to take a walk inside Petra, without any stressful preparations or transportation nuisances, this is for you. Every hotel would have a tour to recommend, but I suggest to book yours online. Getting a tour on the spot is always a gamble. Getting one online, that has dozens of positive reviews, is a guarantee you'll have a good time.
This is the best one I found from Amman. If you are enough people, you can even get the Ultimate Jordan Tour and save some money.
How to get from Aqaba to Petra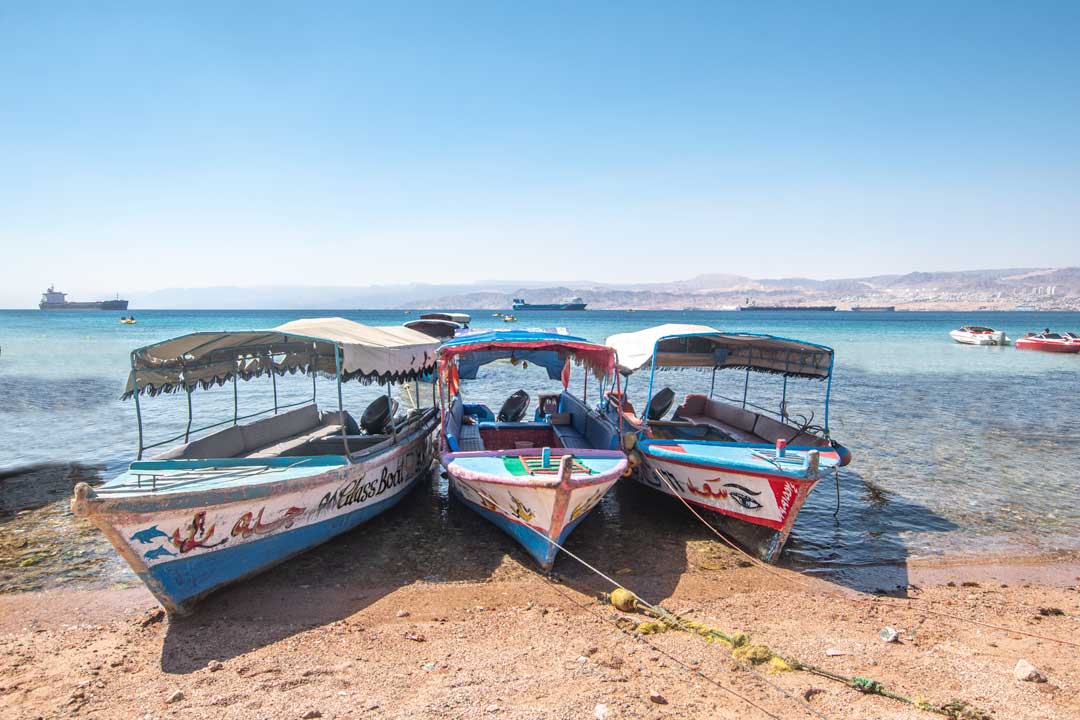 If you arrived via Ryanair or you crossed the border from Israel, you'll find yourself in the coastal city of Aqaba. It's located 125 km (78 miles) from Petra and has the same transportation options as Amman.
Bus
Jett bus operates in Aqaba too. The difference from Amman is they don't really have an Aqaba-Petra route listed, so you can't prebook it online. They do have a bus traveling on the route, though. All you have to do is go to the Jett Bus office and ask for it. Departure time was 8:30 AM when I used it, but timetables may change. Price is 12 JOD (17 USD)
Car
Just like in Amman, you can rent a car from the airport. Expect to pay around 20-30 JOD (35-40 USD) per day.
Taxi can be prebooked here or at your hotel.
Public Minibus
The local transport from Aqaba to Petra departs from a station located next to the Golden Rose hotel and the Police station.
There are no timetables here. When the driver decides there are enough people for the route, the minibus departs.
Fare is 5 JOD (7 USD).
Tour
And again, if you don't want to burden yourself with bus offices, taxi haggling, or public transports, the easiest way to take a walk inside Petra is via tour.
The disadvantage of the tour is that you have limited time to explore Rose City. On the plus side, though, you get picked from your hotel, you get a guide to show you the interesting stuff, and you have your lunch sorted out.
Here is one of the most valuable Aqaba to Petra tours you can get.
How to get from Wadi Rum to Petra
The desert of Wadi Rum is the other top highlight of Jordan. If you decide to start with some desert camping first, you have limited options to get to Petra.
Bus
You can use a bus to Petra for only 8-10 JOD ( 11-14 USD). It departs between 9:00 and 9:30 AM and takes about 2 hours. The catch is that there must be people coming from Petra to Wadi Rum. If there's no one on this specific day, there won't be any bus. This is a popular route, and I'm pretty sure there is a bus almost every day, but it's a good thing to have it in mind. If it turns out there's no bus, the Bedouins would let you know and arrange a taxi.
Car
As mentioned before, the Bedouins in Wadi Rum can arrange a taxi to take you to Petra (or anywhere else). The price should be around 40 JOD ( 56 USD).
See Also: Wadi Rum Camping – All You Need to Know
How to get from Israel to Petra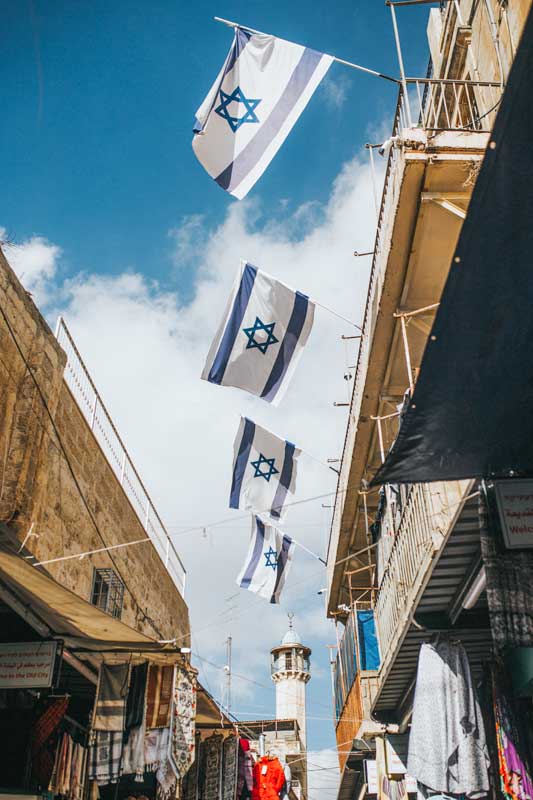 Eliat and Tel Aviv are another popular starting points for exploring Petra. Jordan may be a Muslim country, but their relationship with Israel is excellent. Having said that, crossing borders is always an annoyance. It requires time and money, so I tend to avoid it. The best way to see Petra from Israel is via tour. No doubt here. You'd be guided through the borders, and you'll save tons of time.
If you're in Eliat, I recommend this one. Those guys would help you cross the border as fast as possible and would provide an English speaking guide to show you around Petra. The tour also covers the Petra entrance fee (130 USD), so it's an enormous value.
If you find yourself in Jerusalem, I recommend this 3-day Jordan Highlights tour. Since you're gonna waste time (and money) on the border anyway, why not see everything Jordan has to offer?
You'll tour not just Petra, but also the ancient Roman city of Jerash. The icing on the cake is Spending the night in a bedouin camp at Wadi Rum and trying a typical Bedouin dinner (cooked in the desert sands).
Same tour is offered from Tel Aviv too. The price may look a little bit steep, but if you try to do all of the activities on your own, you'll find out you've spent a similar amount.
Advantages of doing things on your own – you have way more time to explore what you find interesting, disadvantages – a lot of hassle crossing the border, finding transportation, and accommodation.
It's up to you.
If you decide to cross the border on your own, here's a little bit of extra information.
Where to Stay in Petra
Now that you find how to reach Wadi Musa, it's time to see where to stay. Wadi Musa has only one income stream – Petra. Everything in the village is centered around tourists. The prices are no exception.

I didn't find a single place in town with reasonable food prices, so my conclusion is it's best to dine in your accommodation(most of them already include breakfast).

The most important thing to check, when booking a place to stay, is the distance to Petra. You want something as close as possible so you can get early and get ahead of the crowds. Nothing else in town is worth your time, so focus only on Petra.
Petra Guest House Hotel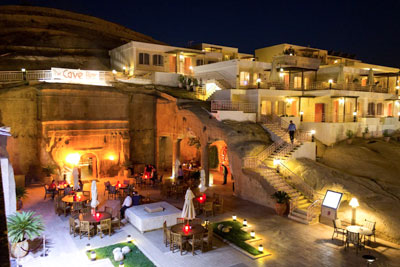 If you want to explore Petra in style, this high-end hotel is the best one for you. Located right at the entrance of the "Rose City", you can't get a better location. You're guaranteed to be the first visitor! The hotel also has a cave-bar, set in a 1st-century Nabataean house. How cool is that?
See the latest price
Esperanza Petra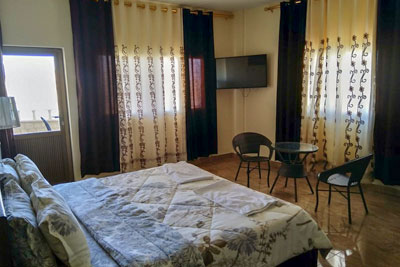 Esperanza may not be inside the Visitor's Center, but it's pretty close by. Less than 15 minutes of walking would get you there. They also have various room types and plenty of dinner options. A very accommodating host who is ready to help with everything you need is the icing on the cake.
See the latest price
See Also: The very best Dubai itinerary
What's inside Petra
The Treasury
The Treasury is also known as Al Khazneh and is the most prominent structure inside Petra. It's so famous that most people think the Treasury IS Petra, not just a part of it.
Actually, I'm pretty sure a large portion of you are reading this post because you were curious to see what's inside the Al Khazneh, not Petra.
That's ok. I used to make the same mistake too.
Since its appearance on Indiana Jones, the Treasury became the face of Petra and the main reason for millions of tourists to plan their journey to the Rose City.
That's completely understandable. Al Khazneh is such a beauty. The Hellenistic facade maybe 2,000 years old, but it's incredibly preserved. You can see plenty of fine details and appreciate the amazing craftsmanship it took to create this unique wonder.
It's believed that Al Khazneh is the necropolis of King Aretas IV, one of the most distinguished Nabataean kings.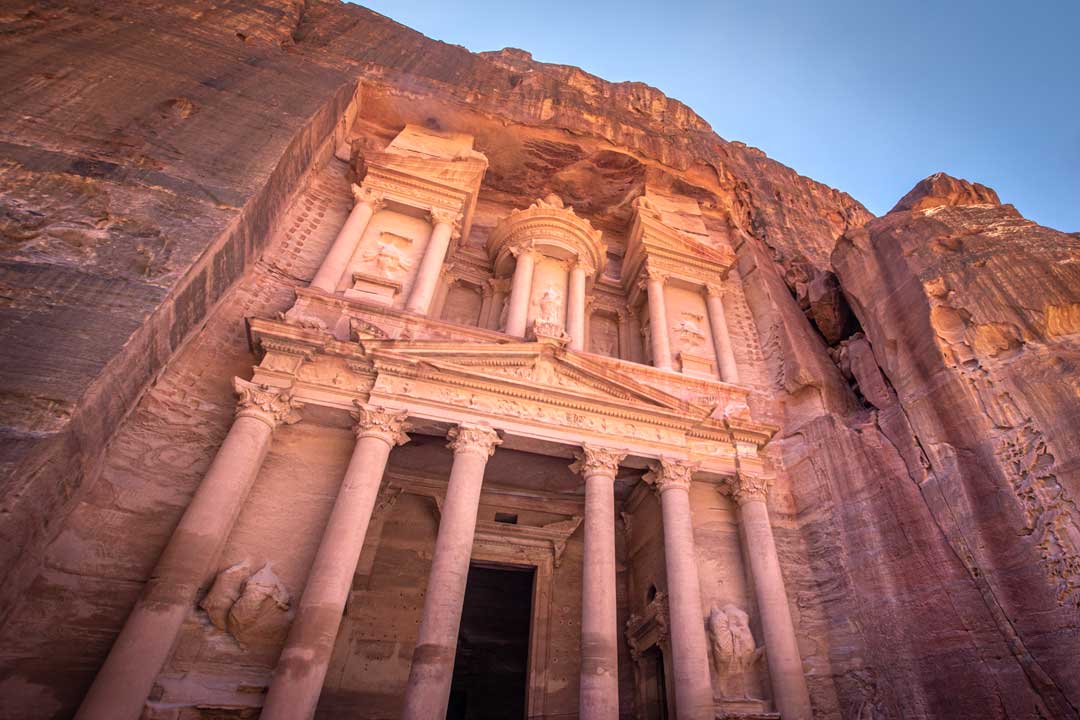 Wait a moment. What do you mean a necropolis? Isn't this the Treasury supposed to be a…treasury?
Nope. The name came from the Bedouins, who believed an Egyptian Pharoah had hidden his riches there. If you look at the urn at the very top of Al Khazneh, you can see bullet holes left from treasure-hunters who believed it was full of gold and gems.
So, can you go inside the Treasury of Petra?
Unfortunately, you can't. It was allowed until 1997, but because people used to shout inside, thus creating eco and damaging the ceiling, it's now forbidden.
It's not a big loss, though. There's nothing inside the Treasury. No ornaments, no reliefs. Nothing. Just plain rock. You can check it in this old youtube video.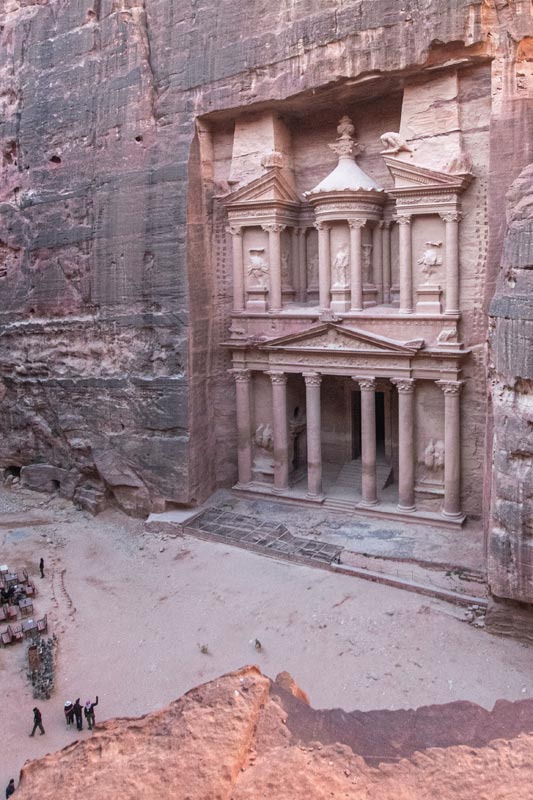 The Treasury, being the most famous structure inside Petra, is almost always swarming with people. If you go on a day-trip, there's nothing you can do, but if you are staying in Wadi Musa, get up early, and you might be up for a treat. To enjoy this awe-inspiring world-wonder free of people is truly a mesmerizing experience.
There are a few top-notch photo spots at Al Khazneh. You can find them in my detailed Petra photo guide.
The Siq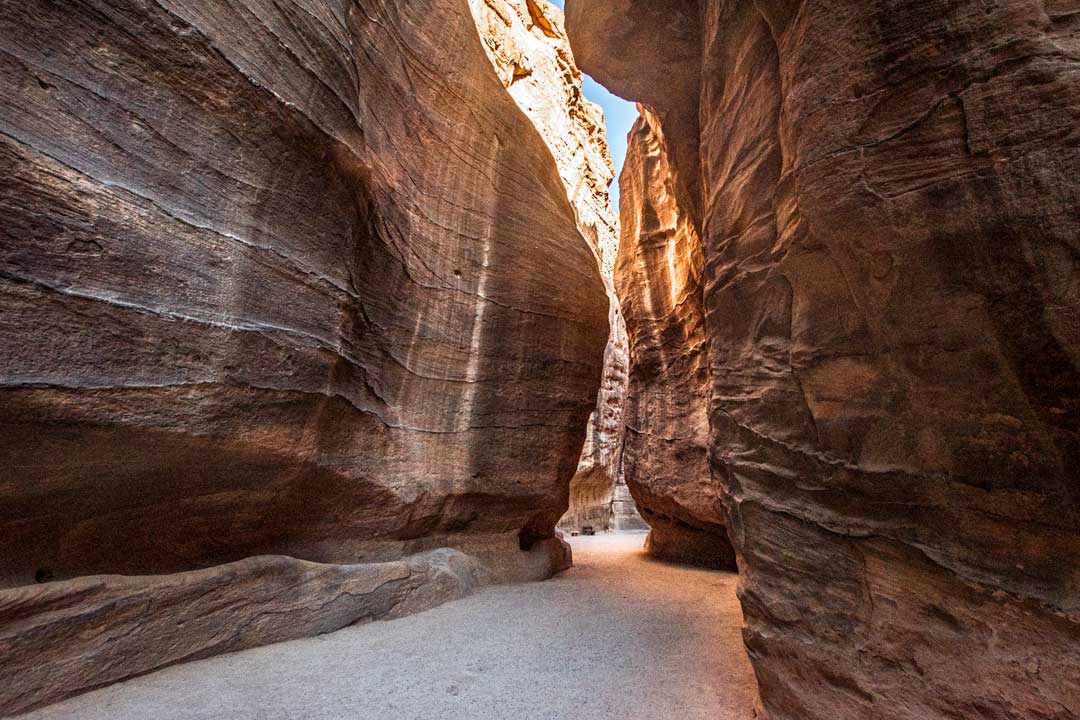 The Siq is the ancient entrance to Petra. It's a 1.2 km ( 0.75mi) canyon that starts with the remains of an ancient arc and snakes its way to the ancient city. The Siq is one of the biggest highlights in the area, and I suggest you take your time going through its rose-colored walls. I know you may be a bit impatient to see Petra, but the 1.2km hike is an absolute joy.
Make sure to notice the little archeological treasures left by the Nabataeans. If you are a history-lover, you'll love the water channels, the remains of the terracotta pipes, and the various small altars laying around.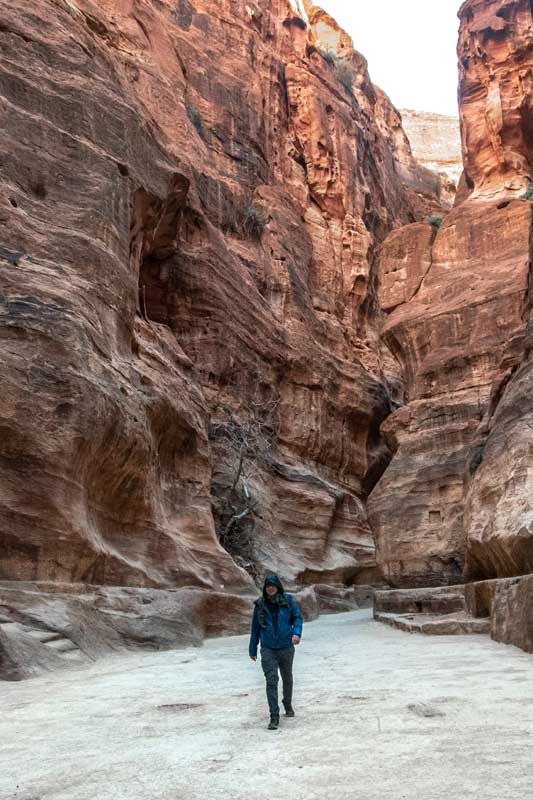 You can hire a carriage to take you through the Siq (20 JOD), but I strongly recommend not to do it. I didn't like how the poor horses were treated, and anyways, you want to savior this walk, not rush it.

The Monastery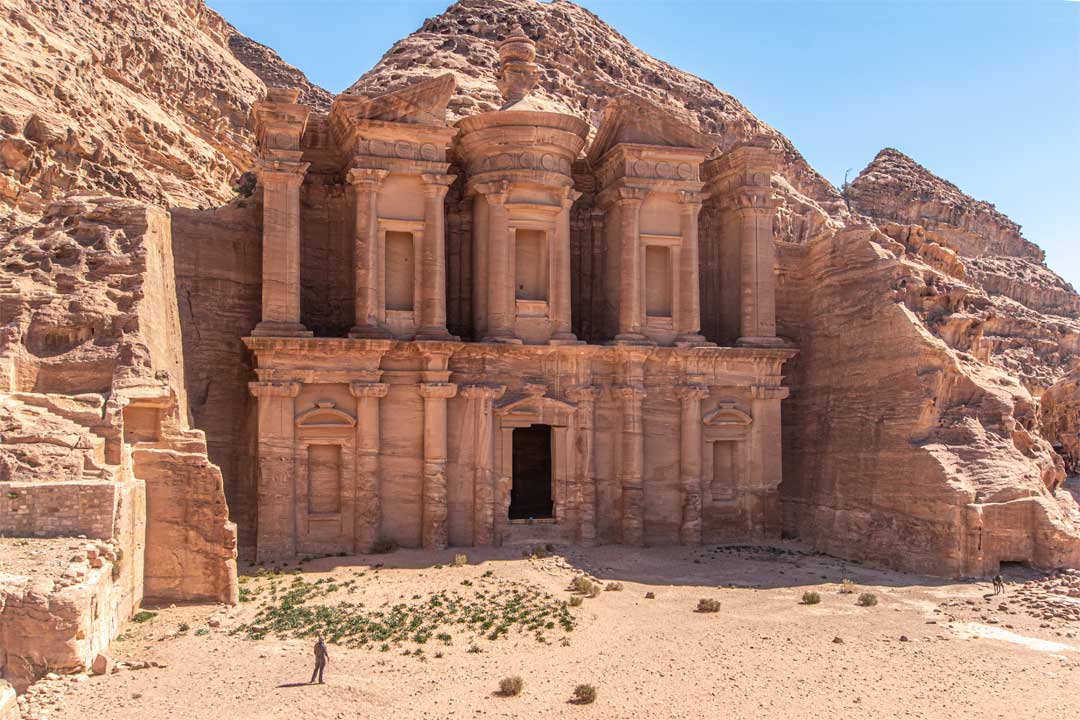 The Monastery, also known as Ad Deir, is the second most famous structure inside Petra. Its facade looks a lot like the Treasury. They share the same Hellenistic style facade, but the Monastery is a little bit bigger.
Ad Deir was built sometimes in the 3rd century BCE, and just like Al Khazneh, it's considered to be a monumental Nabataean tomb. It derives its name from the crosses carved inside. It's believed that Petra's Monastery was used as a church during Byzantine times.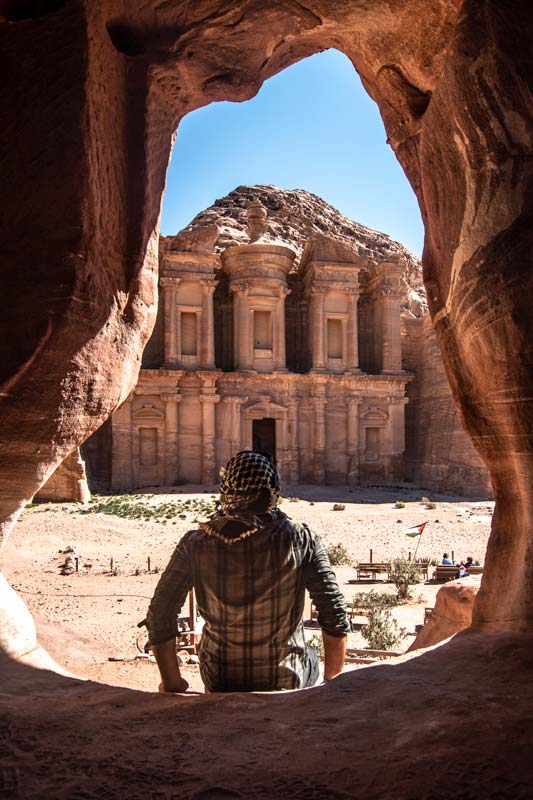 A lot of the Petra visitors never make it to the Monastery. It's located at the end of the city, and it's impossible to reach on a day tour. If you have more time, though, prepare for an 8 km (5mi) hike and more than 800 steps. There's an option to rent a donkey to carry you there, but I plead you not to do it. It felt so wrong watching the poor little things slipping on the rock stairs, carrying overweight tourists. The hike may not be the easiest one but better push yourself and do it than torturing the innocent animals.
Once you reach Ad Deir, you can sit for a drink at the Bedouin cafe right in front of it.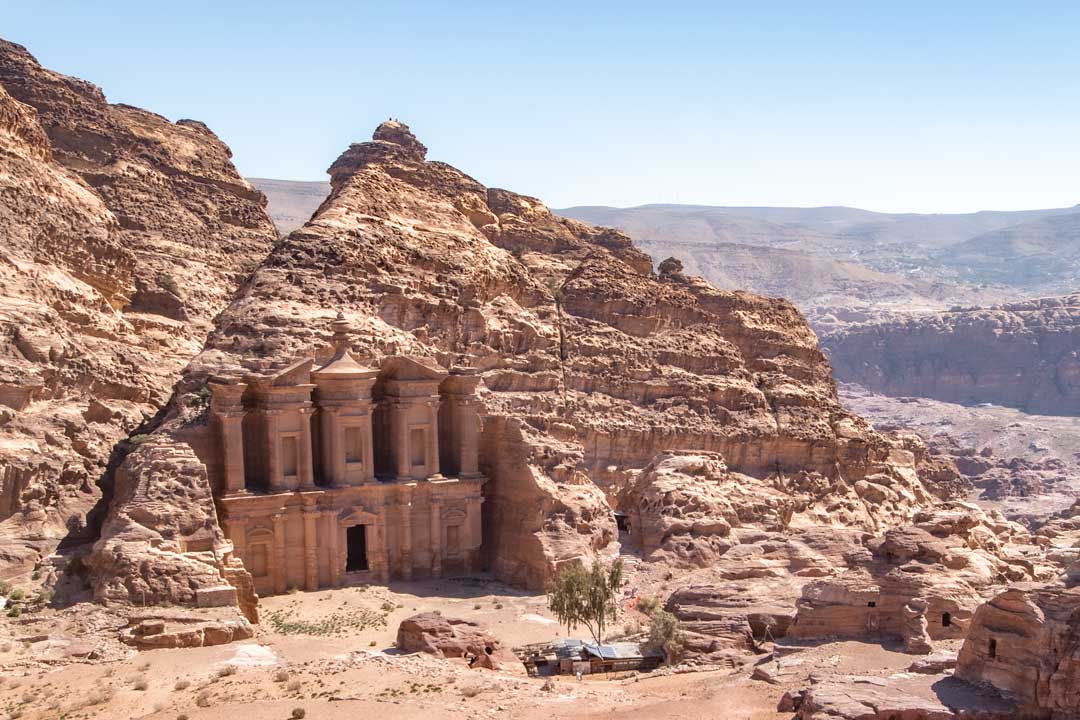 Don't miss the hill across marked with signs "the most beautiful view in the world". It's not a big one, and the view is truly remarkable.
See Also: 15 curious facts about Petra
Royal Tombs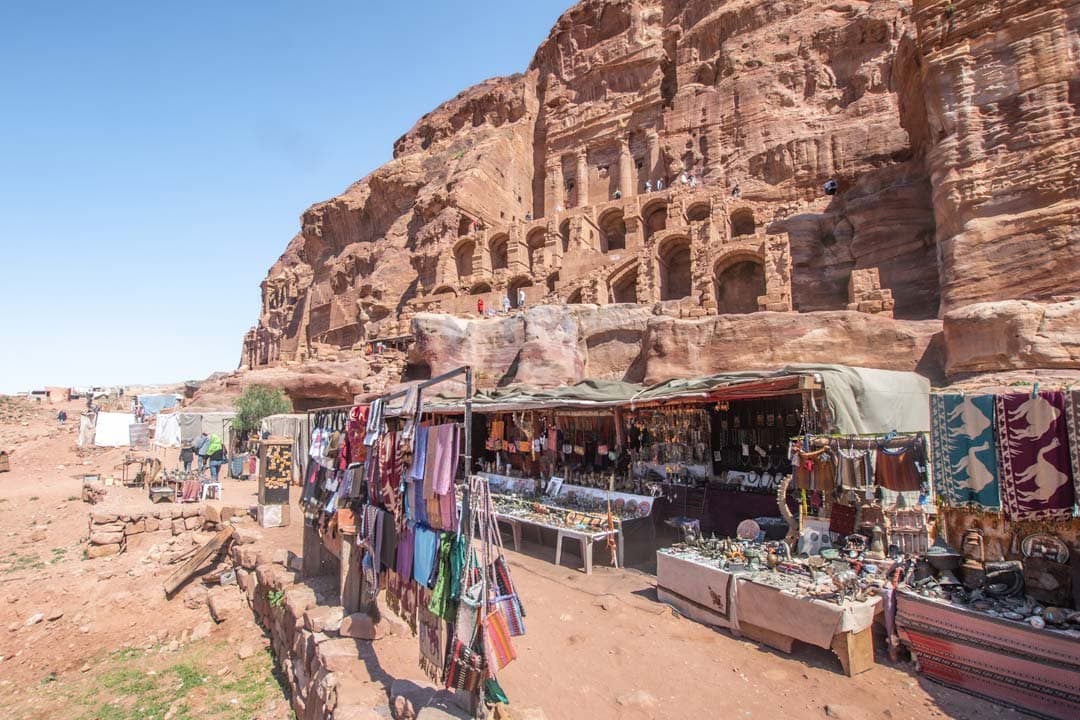 Wandering inside Petra, you'd see plenty of tombs (if you have a guide, he'll point all of them out). The ones you should care about are the four royal ones.
Easy to spot from afar, the Royal Tombs are a labyrinth of 1 century AD mausoleums.
Coming from the center of Petra, the first tomb is the Urn Tomb. It's the most picturesque one, and it's the second most tourist-swarmed place in the city. It's called like that due to the urn on its top (duh).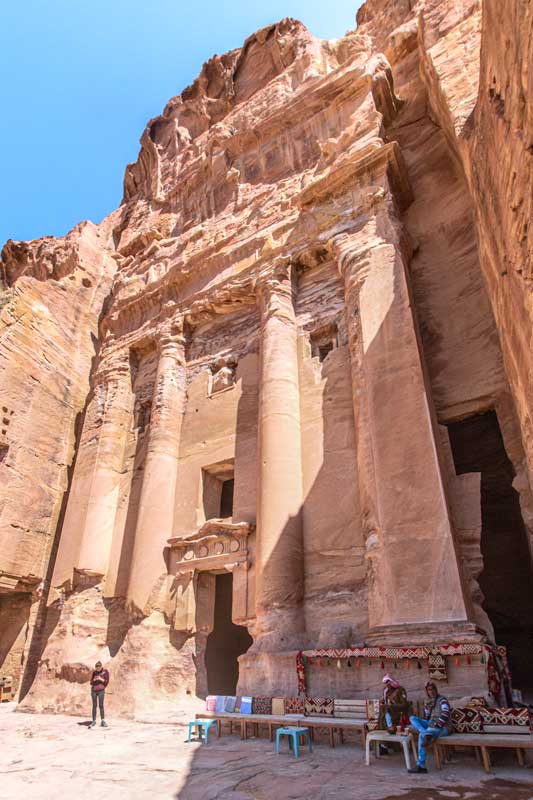 Beside the Urn Tomb is the Silk Tomb. The name derives from the beautiful colors of its sandstone, but it's nothing special, really.
Tomb number three is called the Corinthian Tomb. It's named like that because when it was first found, it was mistaken there are Corinthian motives on the facade ( there aren't).
It looks a lot like the Treasury, but sadly the elements of nature weren't as merciful here. The tomb may be very eroded, but it's still my favorite one. It's very photogenic, and a very friendly donkey lives right outside of it.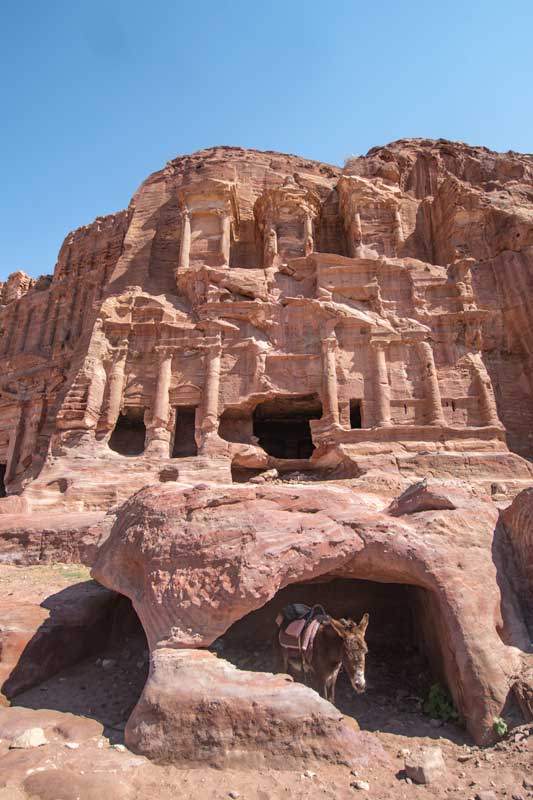 The last Royal Tomb is the Palace Tomb. It's quite wide and has a very Roman design, similar to the Golden House of Nero.
You can get inside all tombs, but don't expect anything breath-taking inside. Just some beautifully-colored rocks.
Roman Ruins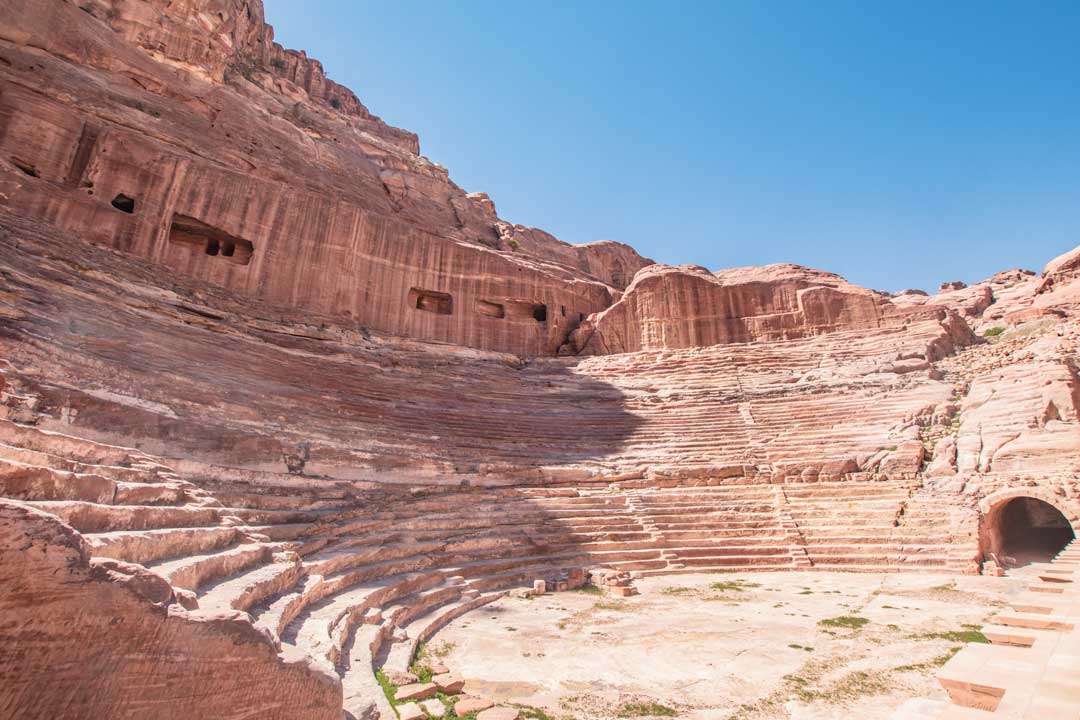 The roman ruins around Petra caught me by surprise. I love Rome and everything Roman, but I didn't think I would find them here.
It turned out, sometime around 1st century AD, the Romans came to the area. As surprising as it sounds, they didn't invade the Nabataeans (large amounts of gold probably helped) but coexisted with them.
Nowadays, the center of Petra is full of Roman ruins.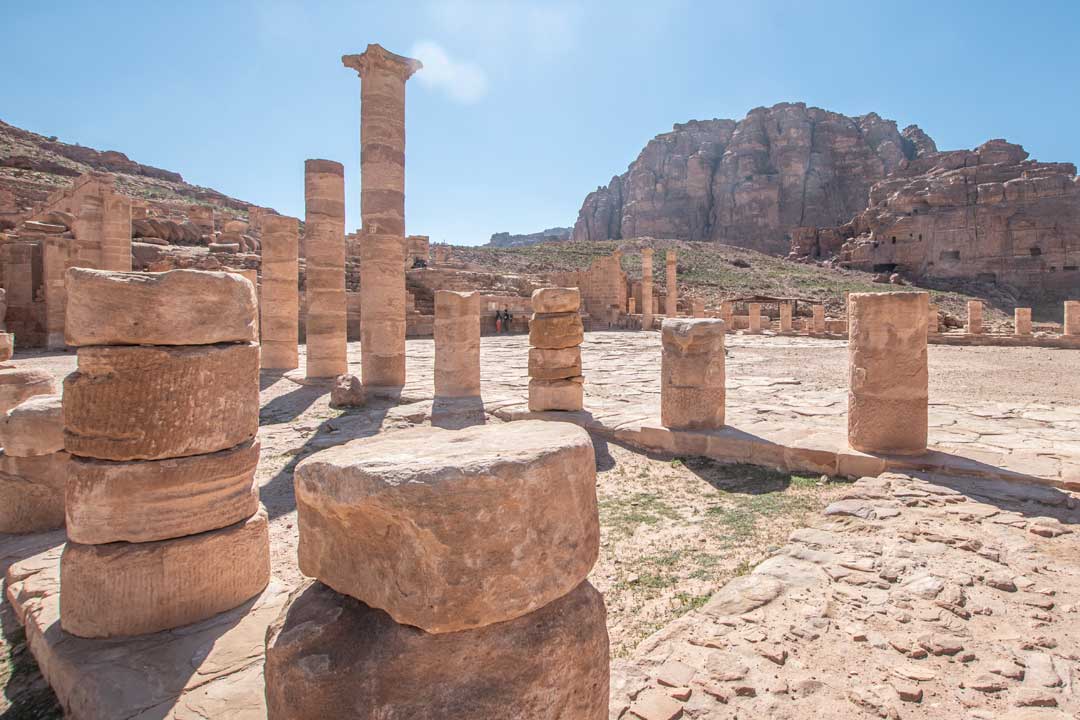 You start with a well-preserved amphitheater and continue through the Colonnaded Street. The main attraction of the street is the Roman columns (you didn't saw that coming, right :D), which may not be the most best-preserved or most spectacular in Jordan, but are worth checking out.
Qasr el-Bint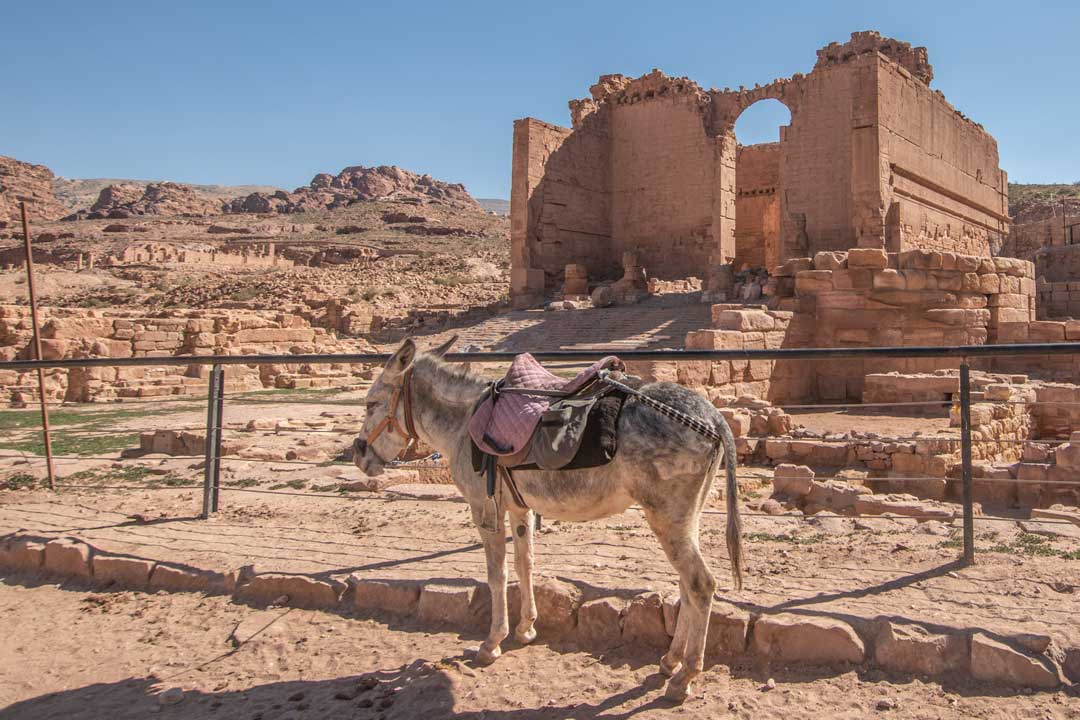 At the end of the Colonnaded Street is Qasr el-Bint, the main temple of the Nabataeans. Unlike their other buildings, the temple is not carved in rocks but built with golden sandstone blocks.
The deity to whom the Qasr al Bint was dedicated is a controversial topic. Some scholars believe it a temple of Dushares – the main Nabataean god. Others think the greek symbols inside show that the temple is dedicated to Zeus or even Aphrodite.

I had no idea who is right; honestly, it doesn't really matter. The temple is very cool, and you shouldn't skip it.
The Byzantine Church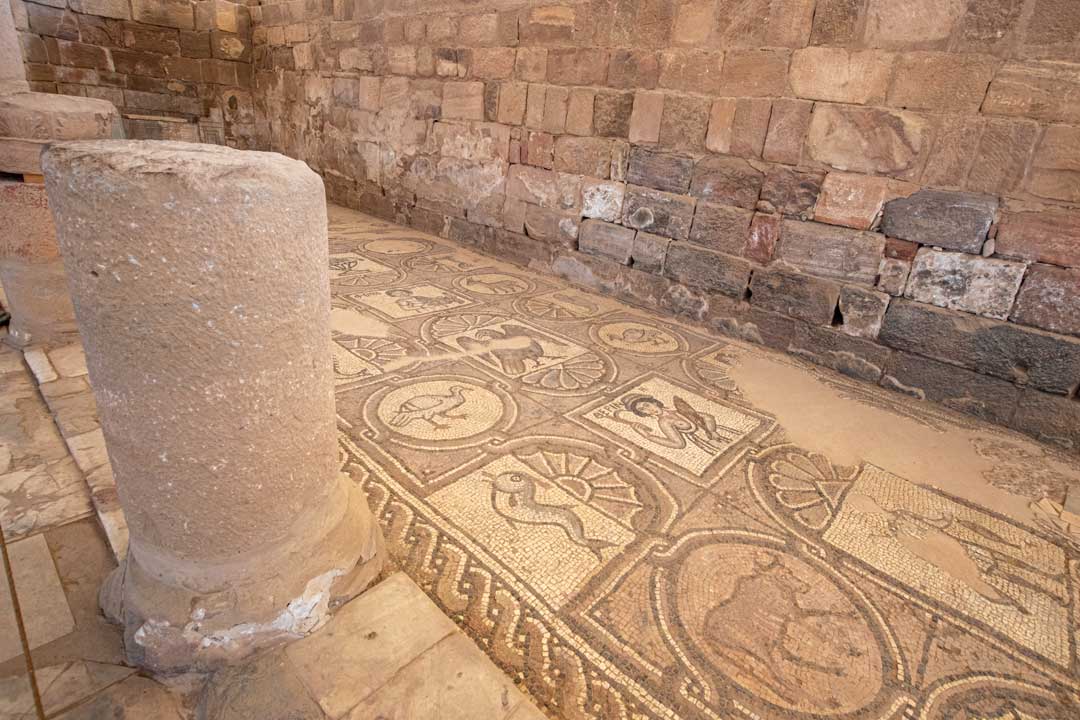 The church is not the most exciting structure of Petra, and if you're on a day-trip, you can safely skip it. If you have enough time to explore, the church is located on the right of Colonnaded Street. Its main attraction is the 1,500 years old mosaics.
Petra Hikes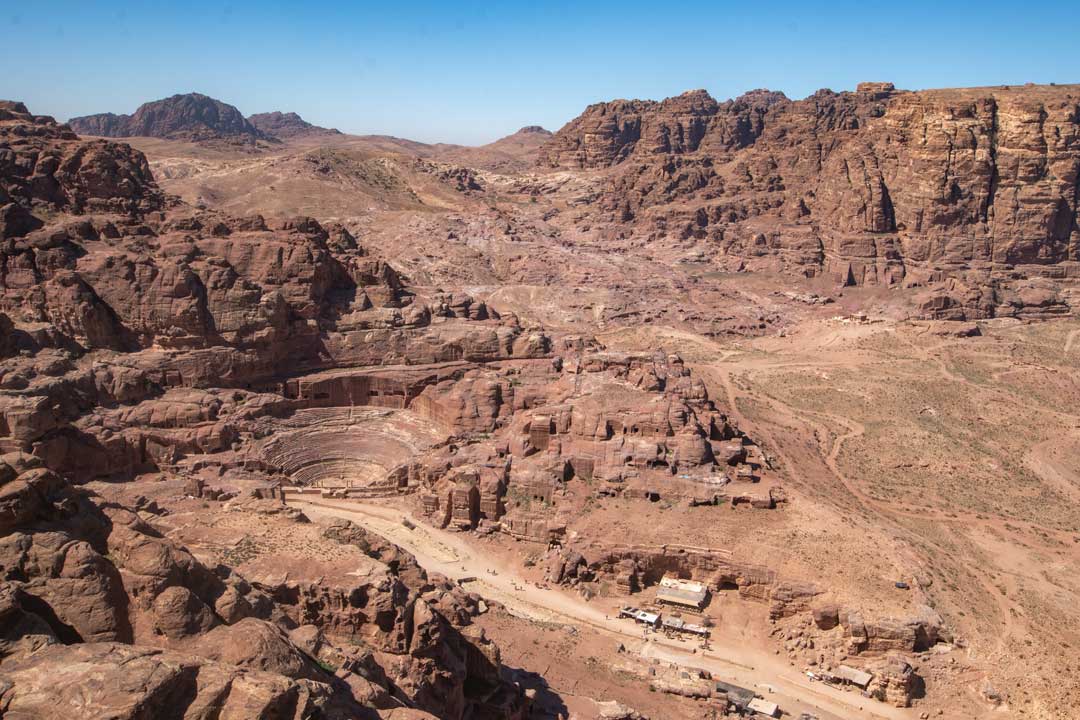 Besides the stunning ancient structures, the Rose City offers breath-taking nature and plenty of hiking trails. We already covered the top ones ( Main Trail and Monastery Trail), but if you decided to spend more time inside Petra, you could explore off-beaten ones too.
My favorite is the Al Kubtha Trail. It starts behind the Royal Tomb, climbs up the cliff, exposing panoramic views of the Roman Center in the process, and ends up above the Treasury.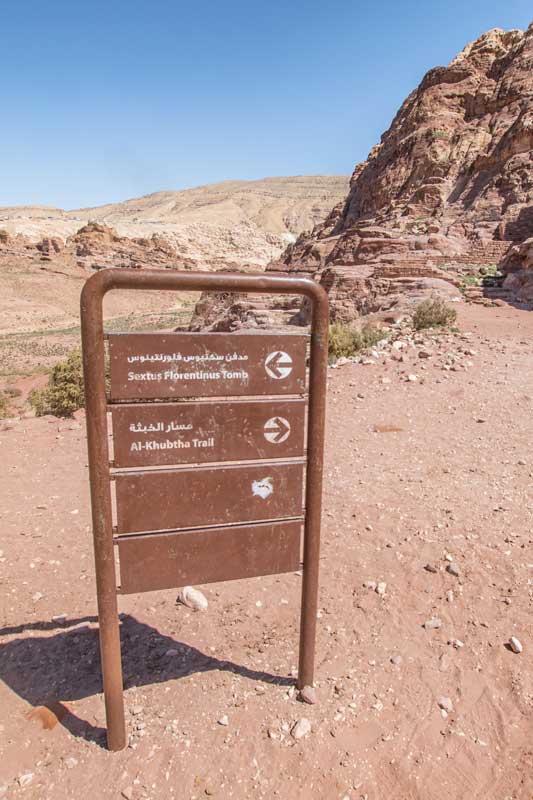 Another one you can try is The High Place Of Sacrifice Trail. It has a lot of climbing but offers a panoramic view of the Royal Tombs.
Officially you are not allowed to do any hike without guides, but no one would make a problem if you do. I didn't see even one person hiking with a guide.
All the trails are marked on the map you get at the Visitor's Center. You can also check them here.
Cave Homes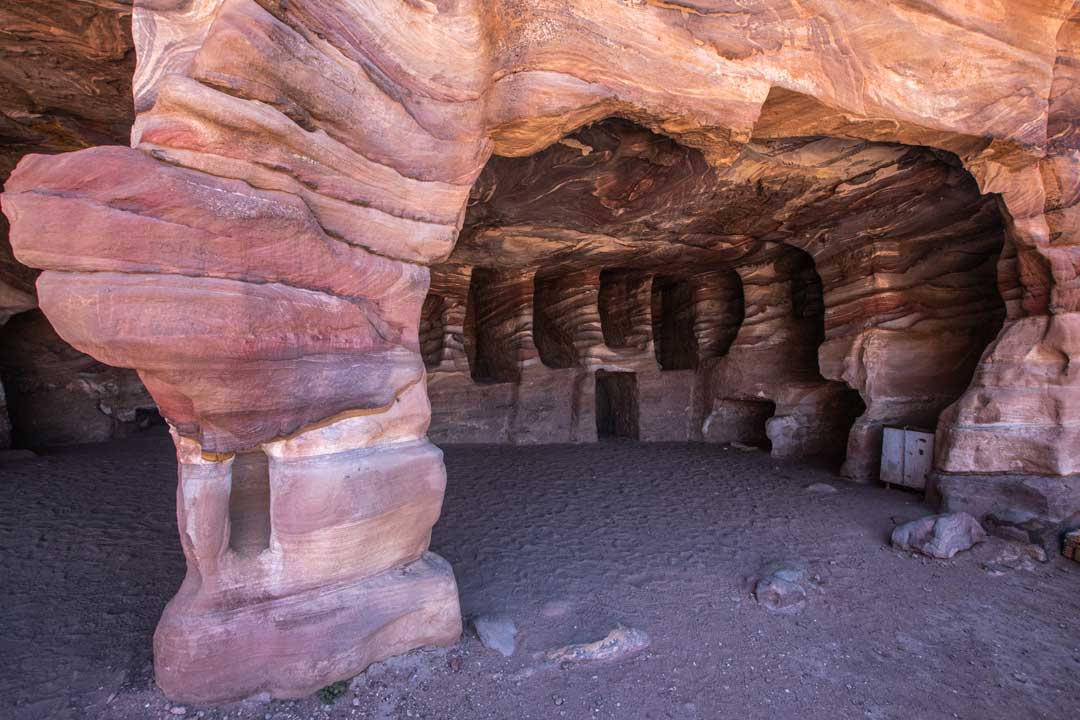 The little caves you see everywhere in Petra are actually former Bedouin houses. When Petra became a UNESCO World Heritage Site in 1985, the government started relocating the Bedouins, leaving their homes empty.
You can explore them all if you like. They're nothing special from the inside but create excellent photo opportunities.
Have in mind that not all Bedouins got relocated, though. Some of them decided to stay and still live in the caves today. Make sure the cave you're about to explore is not someone's home, or it may become awkward.
Petra by Night
Petra by Night is a unique show that let you enjoy the Rose City after dark. You follow a candle path through the Siq until you reach the Treasury (again lighten up by candles). Once there, you can sit on the mats and enjoy a music show.
Petra by night is a one-of-a-kind experience but requires a little planning. The show performs only on Monday, Wednesday, and Thursday.
You can get a ticket from most of the hotels or at the spot (have in mind you also need to have a daytime ticket).
You can't reserve your spot, but that's not really necessary since the tickets are unlimited. The Petra gates open at 8:30 PM. You should be back at the Visitor's Center around 10:30 PM.
The Bedouins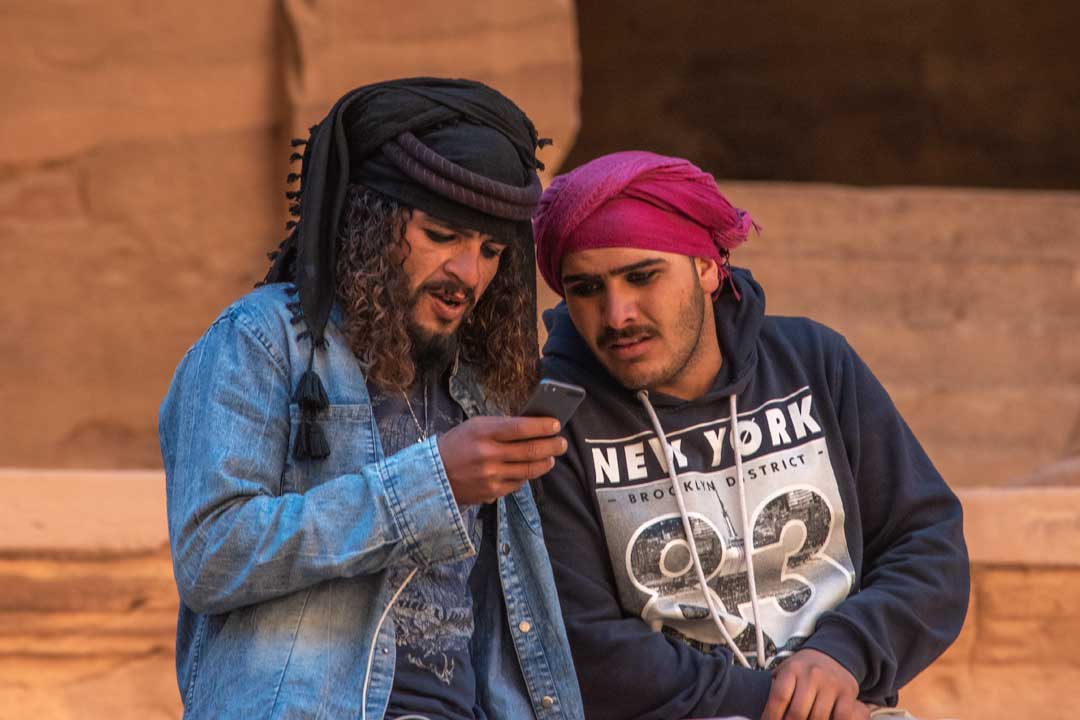 Petra is home to the Al B'doul Bedouin Tribe. They claim to be descendants of the Nabataeans and used to live in the caves around the ancient city. Today, they live in nearby villages but still work inside the world wonder.
They will offer their services as guides. They will sell you trinkets, magnets, scarves and all kinds of souvenirs. They will get you on their donkey or camel, and give you a tour around. Bedouins consider themselves the caretakers of Petra, and everything goes through them.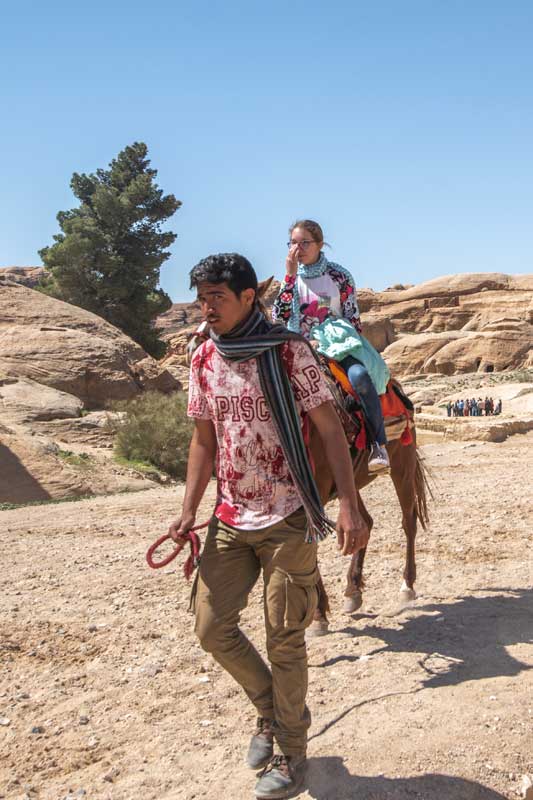 Something to know about the Bedouins. They are very proud and very smart people. To survive hundreds of years in the desert requires a lot of wits and trust me, they have it.
If you want to buy something, prepare for a hard haggle. Striking a good deal with a Bedouin is close to impossible, but you can at least try.
Castaway Tip
If you want to buy souvenirs, don't do it at the Treasury. The furthest down Petra you go, the lowest the prices are. If you are planning to go to the Monastery, save the shopping for the trek there.

See Also: All the Best Photo Spots in Petra
Petra FAQ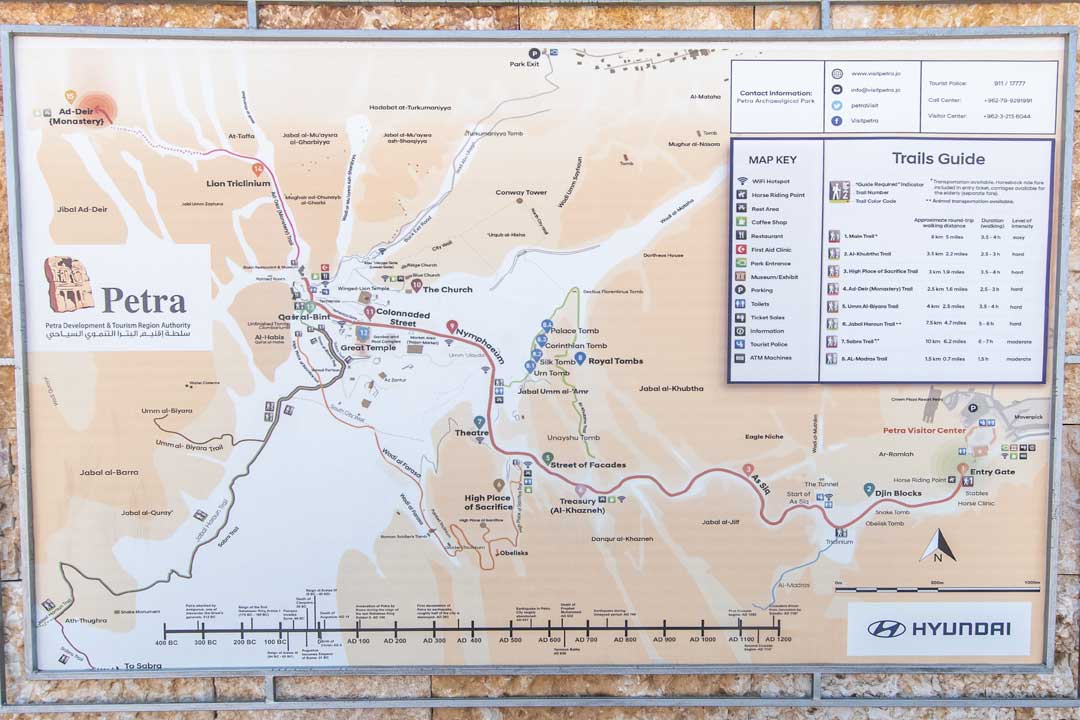 How much does it cost to get inside Petra?
There are a few types of tickets to go inside Petra. You can get them from the ticket counter in the visitor's center.
1-day ticket – 50 JOD / 70 USD
2-day ticket – 55 JOD / 77 USD
3-day ticket – 60 JOD / 84 USD
There is one more peculiar type of ticket. If you go to Petra on the same day you crossed the border, you have to pay 90 JOD / 126 USD. If you spend the night in Wadi Musa, you can come back the next day and get 40 JOD back. If you go back, though, you lose the whole 90 JOD.
This one is designed for the day-tours from Israel, but it could be a bad surprise if you try to do Petra on the same day you arrive in Jordan.
Another way to get inside Petra is to use the Jordan Pass. Depending on how many Petra days you want, the pass costs 70 JOD / 98 USD, 75 JOD / 105 USD, and 80 JOD / 112 USD (1, 2, and 3 days). If you arrive in Aqaba and you're planning to explore more of Jordan's highlights, the pass may come in handy.
If your point of entry is Amman, the pass is an absolute must, because it also waives the Jordan visa fee ( 40 JOD / 56 USD).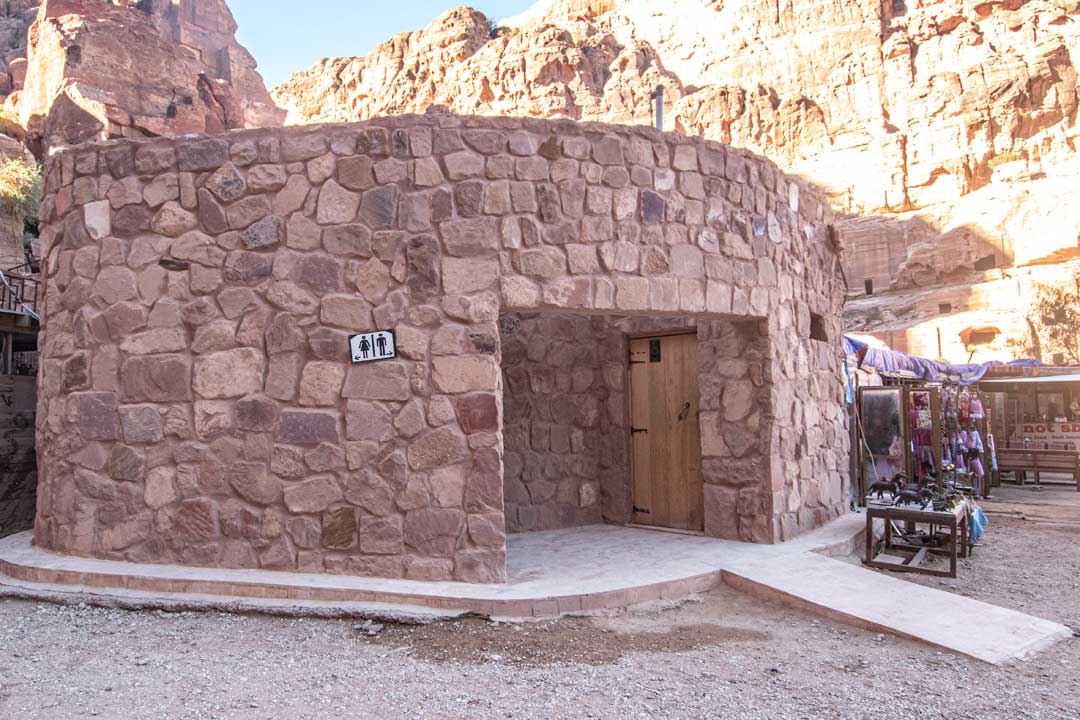 Is there a toilet in Petra?
This may sound like a funny question, but you're about to spend a lot of hours inside Petra, so the query is valid.
There are plenty of toilets in Petra, so there's nothing to worry about. On your way in, get a brochure-map, and all of them would be marked there.
Is Petra open every day?
Petra is open every day of the year (including Ramadan).
Summer: 6:00 AM – 6:00 PM
Winter: 6:00 AM – 4:00 PM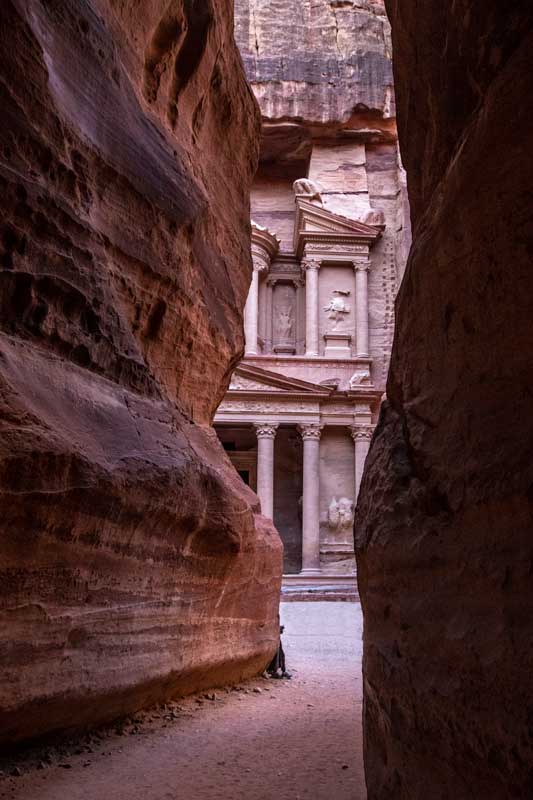 Is it safe to go to Petra?
Petra is a very safe place to visit. The Bedouins look after the Lost City and make sure everything there goes smoothly. I don't think there are even pickpockets in Petra (you should be alert though).
The most significant safety risk inside Petra is the sun. The Rose city is located in the desert, so, heatstrokes and dehydration should not be taken lightly.
There's also a particular Bedouin scam, girls should be aware of. Apparently, some young Bedouins like to seduce young tourist girls. Once the girls go back home, the Bedouins start asking for money because "their donkey died" or "their cave burned down" (how is that even a thing).
Now, Petra may be safe, but (like always) I suggest you get travel insurance. Having one is something that really ease-off your mind and lets you enjoy your adventure to the max. I currently use HeyMondo for my travels because they have proven themselves to me more than once over the years. The link above will give you a 5% discount, but If you have another favorite provider, that's ok. Just make sure you have one because you never know what may happen.
When to visit Petra?
You can visit Petra all year round, but you have to be ready for some harsh weather. No matter the month you choose, rain would hardly be a problem. A desert is always a desert. The daily temperatures, however, can vary a lot.
Spring (March-May)
One of the best seasons to visit. The average temperatures in March start from 6°C (49°F) / 18°C (64°F) and climb to 12°C (53°F) / 28°C (82°F) in May. If you start exploring from early morning, you'd need some layered clothing.
Summer (June – August)
Summer is not a good season to explore Petra. The average temperatures in the summer are 18°C (62°F)/33°C (91°F), often going above 40°C (100°F). If you find yourself in Jordan during summer, make sure you explore Petra in the early hours and have plenty of water with you.
Autumn (September – November)
The best season to visit Petra (weatherwise). Temperatures are still high in September (16°C / 60°F – 31°C / 87°F) but go down to much more tolerable numbers in November (8°C / 46°F – 20°C / 68°F).
Winter (December – February)
Winter may be a little cold for a visit, but you are certain to have the lowest prices and very thin tourist crowds. The average temperatures are between 3°C / 37°F and 15°C / 59°F. If you're not afraid of chilly weather, it is the best period for you.
Check out a detailed Petra weather info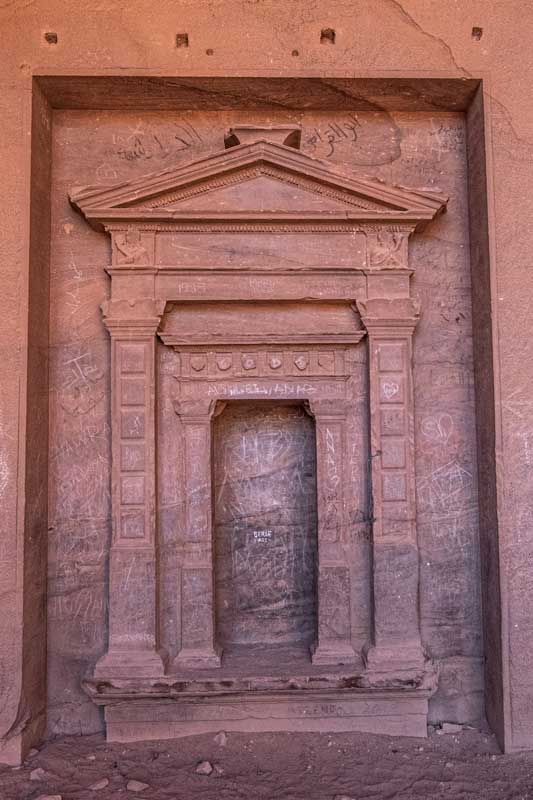 Can you do Petra in a day?
The answer to this question depends on the type of traveler you are. If you just want to take a look at the world wonder, but you're not that much into hiking, photography or history, one day may be just enough.
Visiting Petra on a day-tour would show you only the main spots close to the entrance – The Siq, The Treasury, The Royal Tombs, and part of the Roman Ruins.
If you're not on a day trip, you'd have enough time to add the Monastery too.
To have a really good time inside Petra, I suggest a three-day visit. On the first day – get familiar with the Rose City. On the second – get up early, take some quality photos, and go all the way to the Monastery. On the third one – make a hike or two inside Petra.
Trust me, this place is soo worth it three days of your time.
What currency do you need in Petra?
In Petra (and Jordan), you need Jordanian Dinars (JOD). The Dinars are one of the few currencies in the world that is stronger than the US dollar and the Euro. Have this in mind when you're buying something, it's easy to overspend without realizing.
That's all from me, I hope you enjoyed the marvels inside Petra.
————————————
If you haven't planned your trip there yet, find out how I plan my trips!
————————————
I have 8 bucket list ideas for Jordan. See my impossible bucket list of 1700+ adventures!

Is Petra on your bucket list?
---
Some of the above are affiliate links and I will earn a percentage of the sale if you purchase through them at no extra cost to you. This helps keep my site running – so thanks in advance for your support!