Are you ready to capture the perfect Crete photo?
The island of Crete is not only the largest island in Greece but is also one of the top photo places in the country. From azure waters and white beaches (even a pink one) to vast mountain ranges and ancient ruins, this lovely island has plentiful alluring spots hence making your photo hunt an easy one.
There are two major cities with airports on the island – Heraklion situated on the east side and the colorful town of Chania on the west side. While Heraklion is the Capital of Crete and there are some must-see places like the Palace of King Minos, I would suggest starting your journey from Chania.
Not only most of the best photo locations are situated around it but also getting to Chania is much cheaper than Heraklion.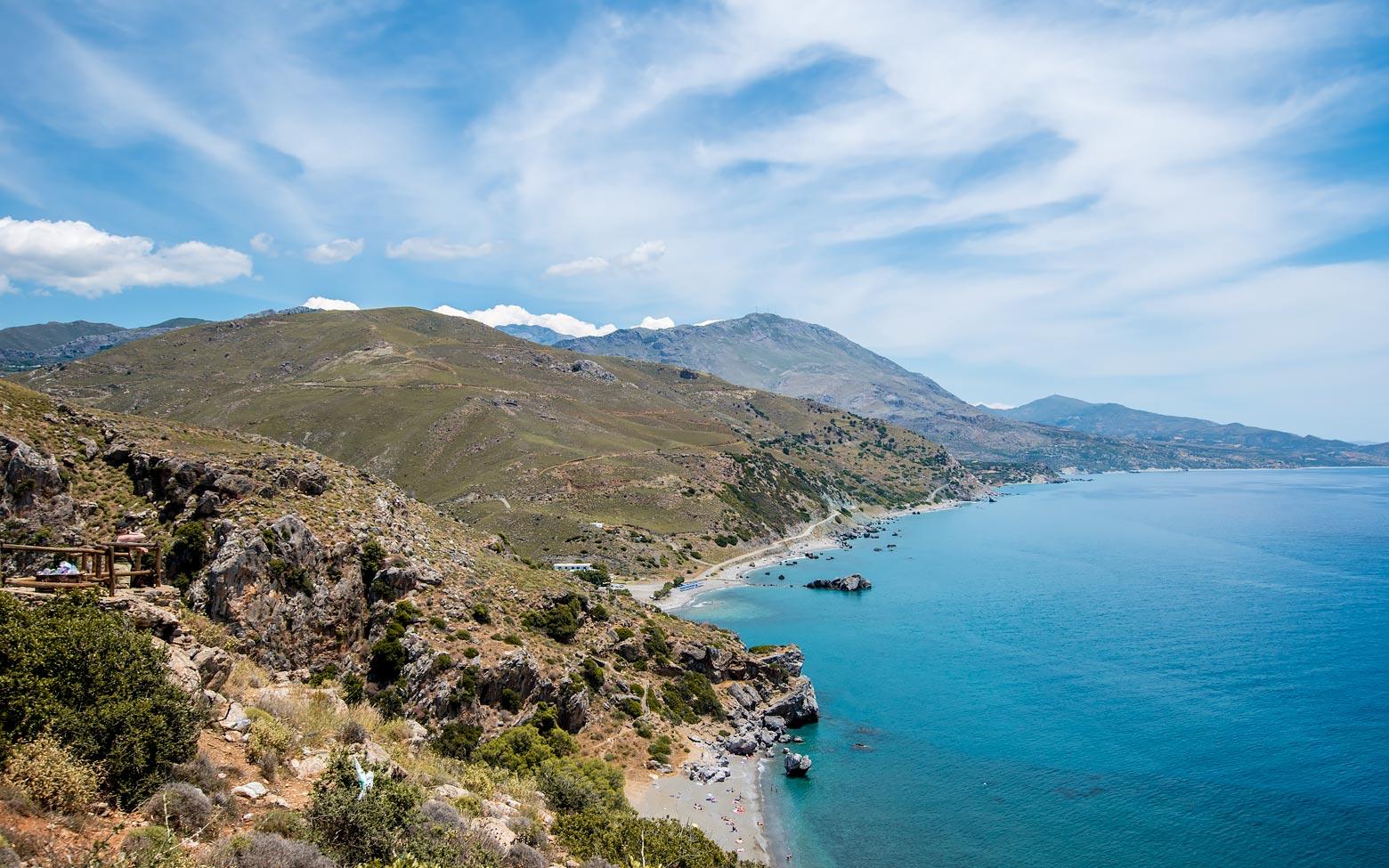 Getting there:
The cheapest way to get there is via the low-budget carrier RyanAir. If there are no direct flights from your home city to Chania, get one to Athens and get a second flight once there.
tip: If you have time, stay in Athens for a day or two and check the Acropolis
You can also travel by ferry from any port in Greece.
Transportation:
Even though buses are running between the main cities, there are way too many places you need a car to get to. To rent a car would not only be the most comfortable way to navigate the island, but also the most practical one.
Here's a complete guide on traveling around Greece with a car that will give you more details about what challenges are ahead of you and explain the best rent-a-car options.
It's time to get down to business. Clean your lenses, charge your batteries and explore the best Crete photo spots.
The Venetian Harbor in Chania.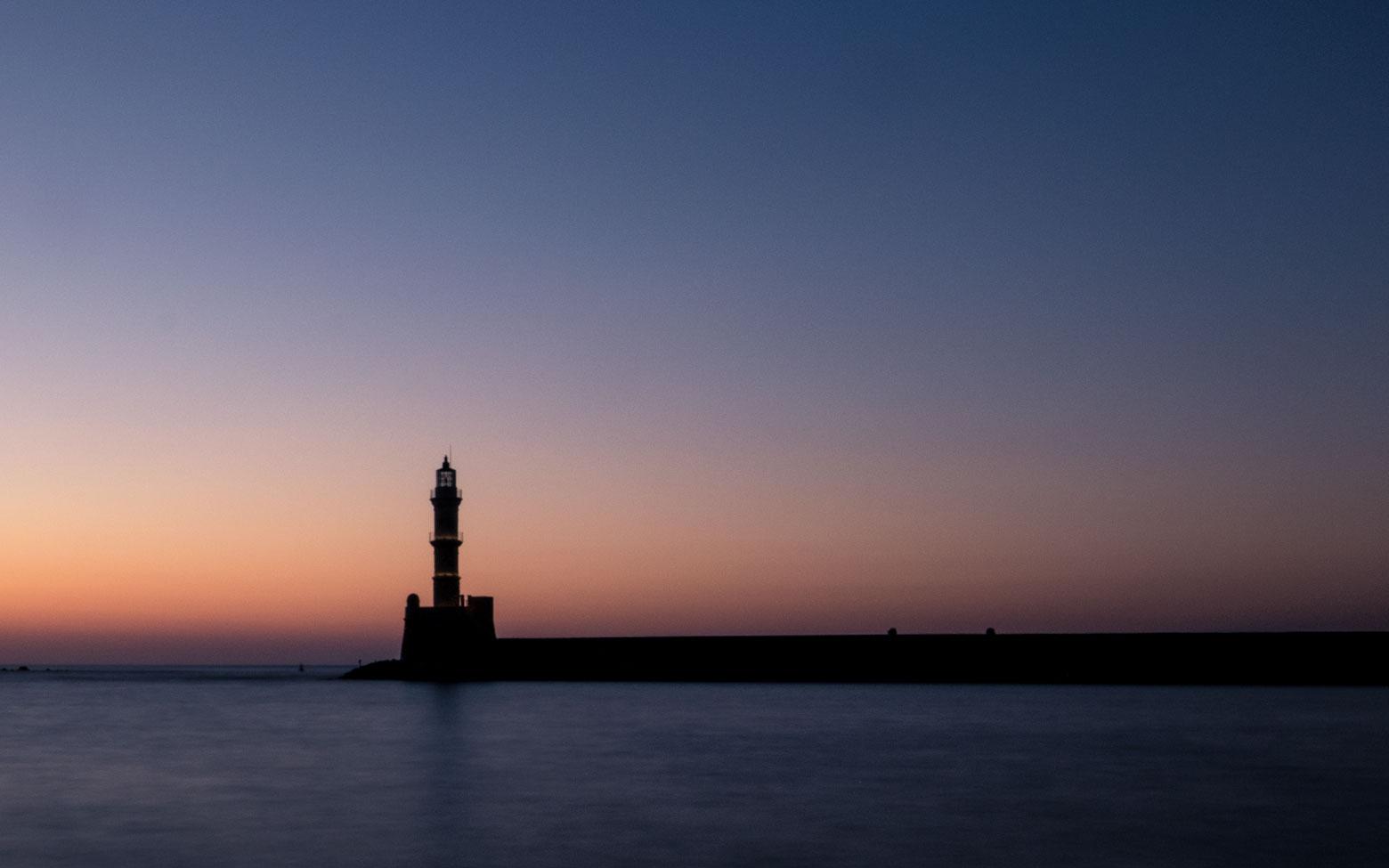 Crete has been occupated many times in its history, and all of the conquers have left their mark on it. This is best seen in the Venetian harbor of Chania. You have a great view of the Egyptian lighthouse while having this odd mini ottoman mosque to your right and pastel-colored Venetian buildings to your left.
The shape of the harbor is giving you a great view to the east, and the west thus making it suitable for sunrise and sunset photos. Book one of the nearby hotels. Most of them have large terraces on the roof so you can get a beautiful Crete photo from above.
Use the benches and the horse carriages as a frontline of the picture. Get there before sunrise and catch fishermen shots with the lighthouse as a background.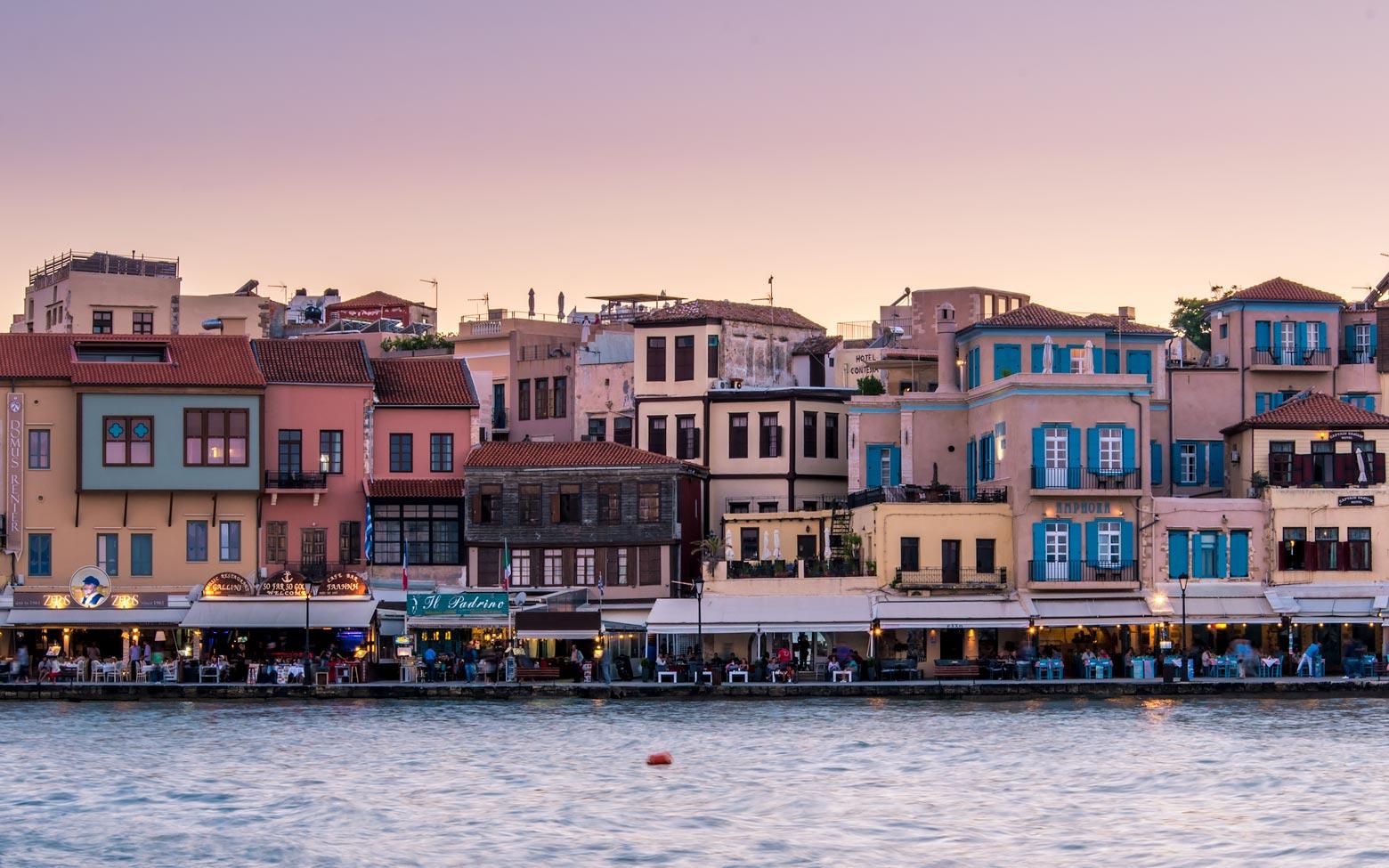 Prepare wide-angle lenses, but also a telephoto one so you can get a better shot of the lighthouse. A tripod and ND filter are required too for some impressive long exposure shots.
See Also: The Best Spots in Chefchaouen, Morocco
The Wall and Beyond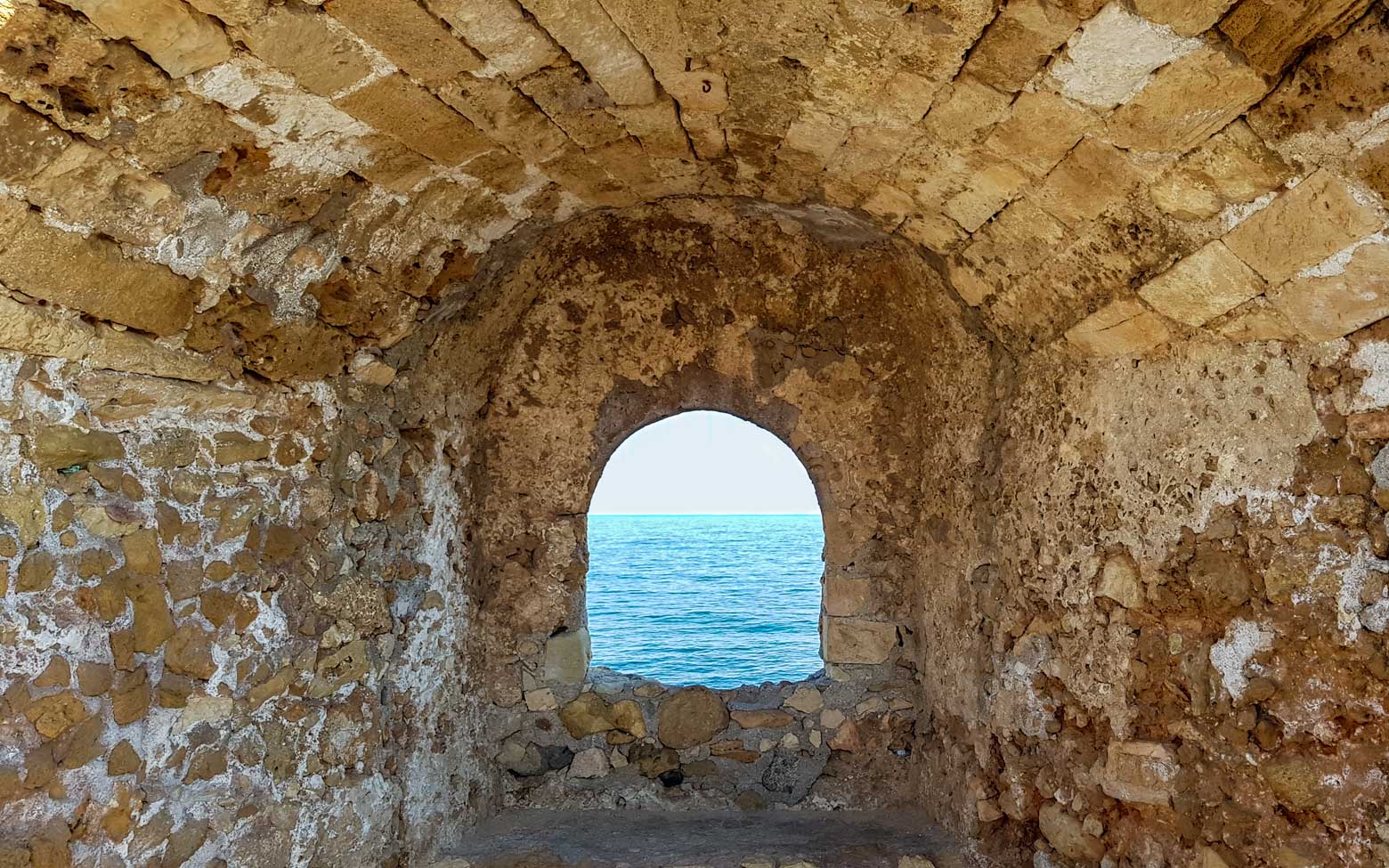 The walls of Chania were built by the Venetians, 600 years ago, to protect themselves from the Ottomans. It didn't help a lot back then, but today it makes a great Crete photo spot.
You can use some of the fortification windows to frame your ocean shots or use the wall as a line leading the eye to the lighthouse.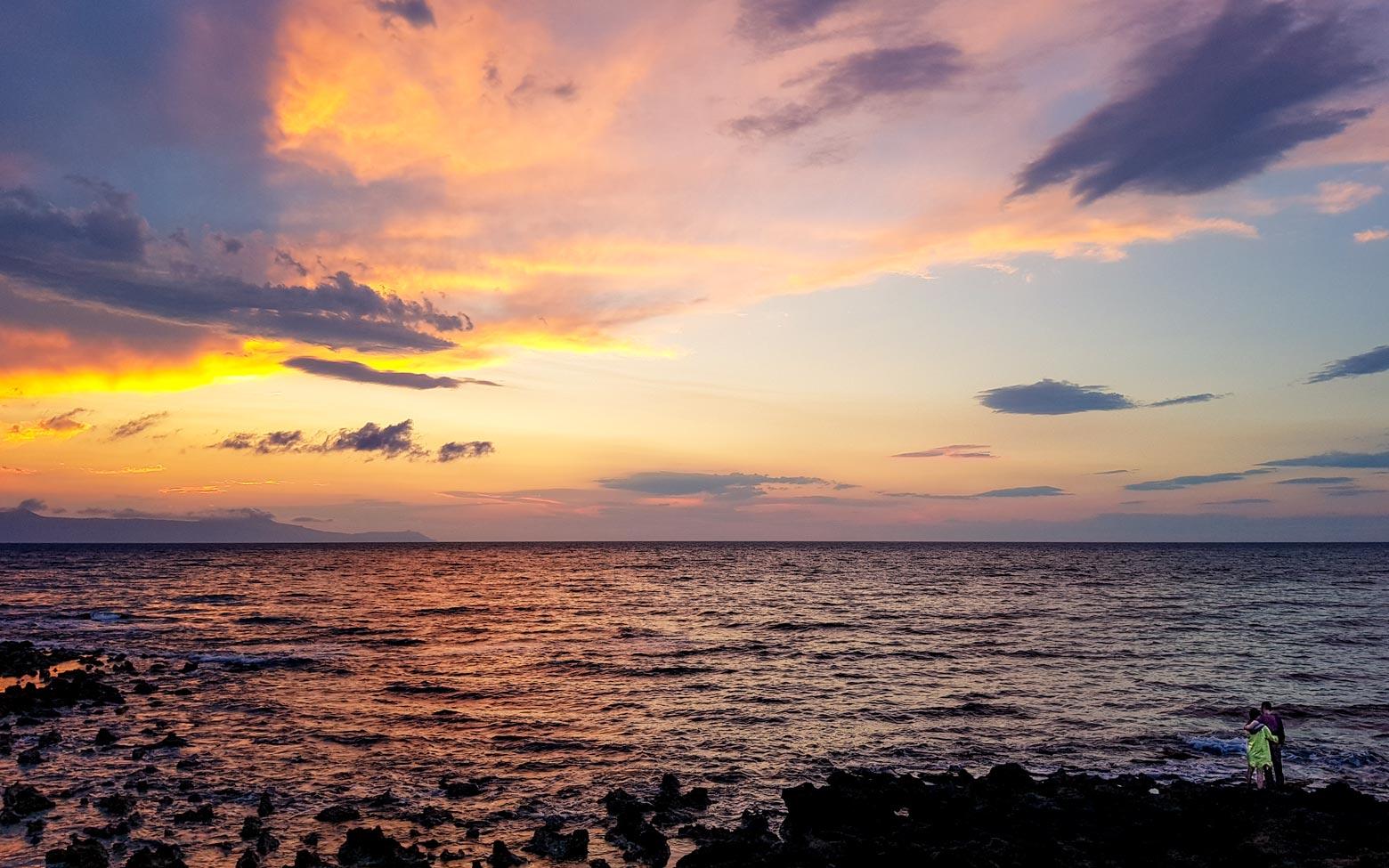 Go a step further and get beyond the wall (don't worry, no white-walkers there). The rock formations are perfect for the foreground of your sunset/sunrise Crete photo.
Take your time when the sun is about to go down and catch a romantic shot of couples enjoying the best light show nature has to offer.
See Also: The Ultimate Prague Photo Guide
The Old Town of Chania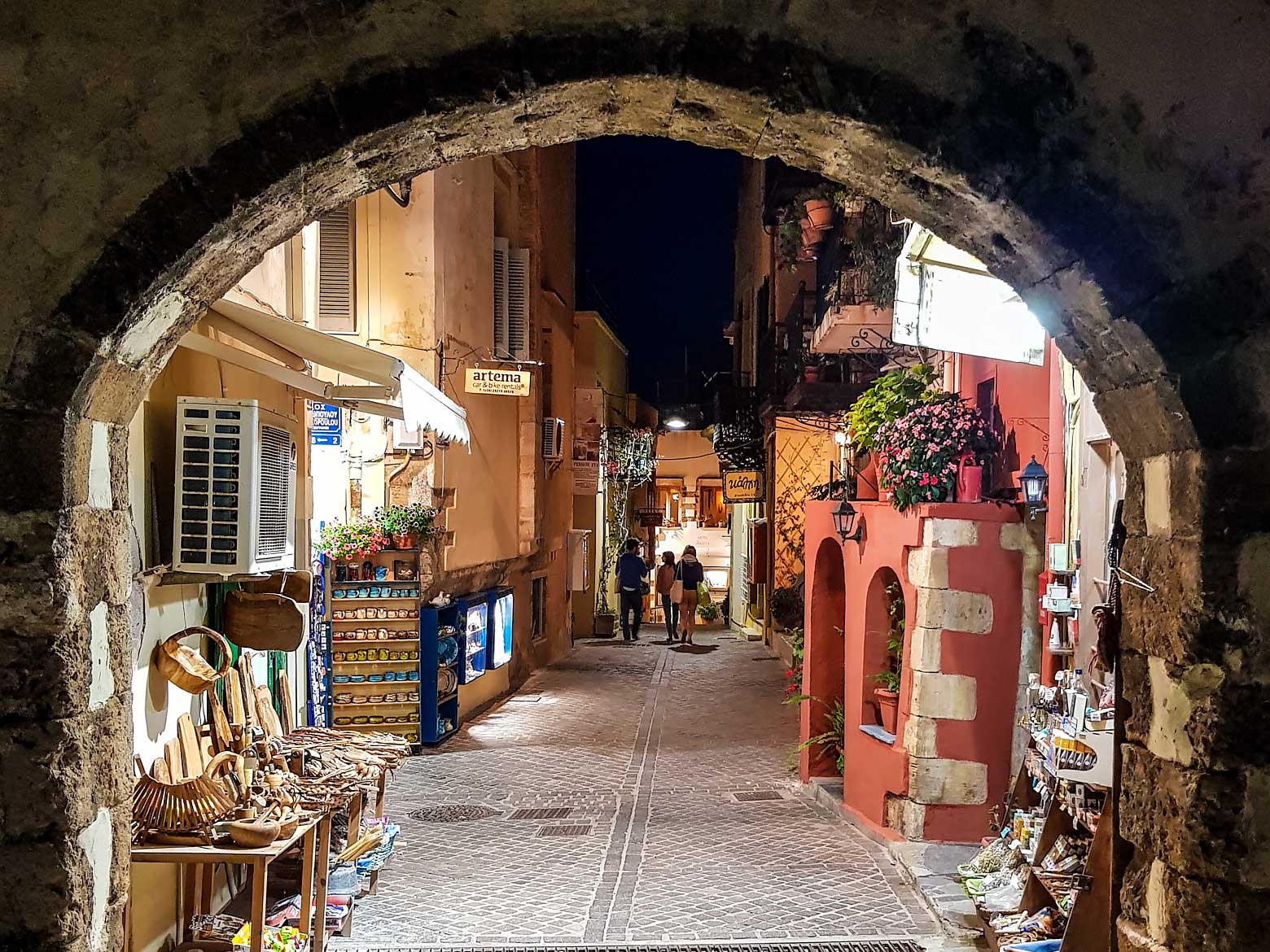 I love "the old town" part of the cities. It's always a pleasure to walk on ancient roads and enjoy old-school architecture. The settlement that today is Chania was established more than 2000 years ago, so this "old town" really is quite old.
Being remodeled by Venetians, Ottomans, Arabs, and Greeks, it's quite a colorful combination of time periods and cultures. Get your wide lenses for this one, if you have fast ones get them too and go for a walk in the evening.
The place is packed with tourists, but it's still quite joyful and offers vast amounts of opportunities to get your favorite photo of Crete.
Elafonissi Lagoon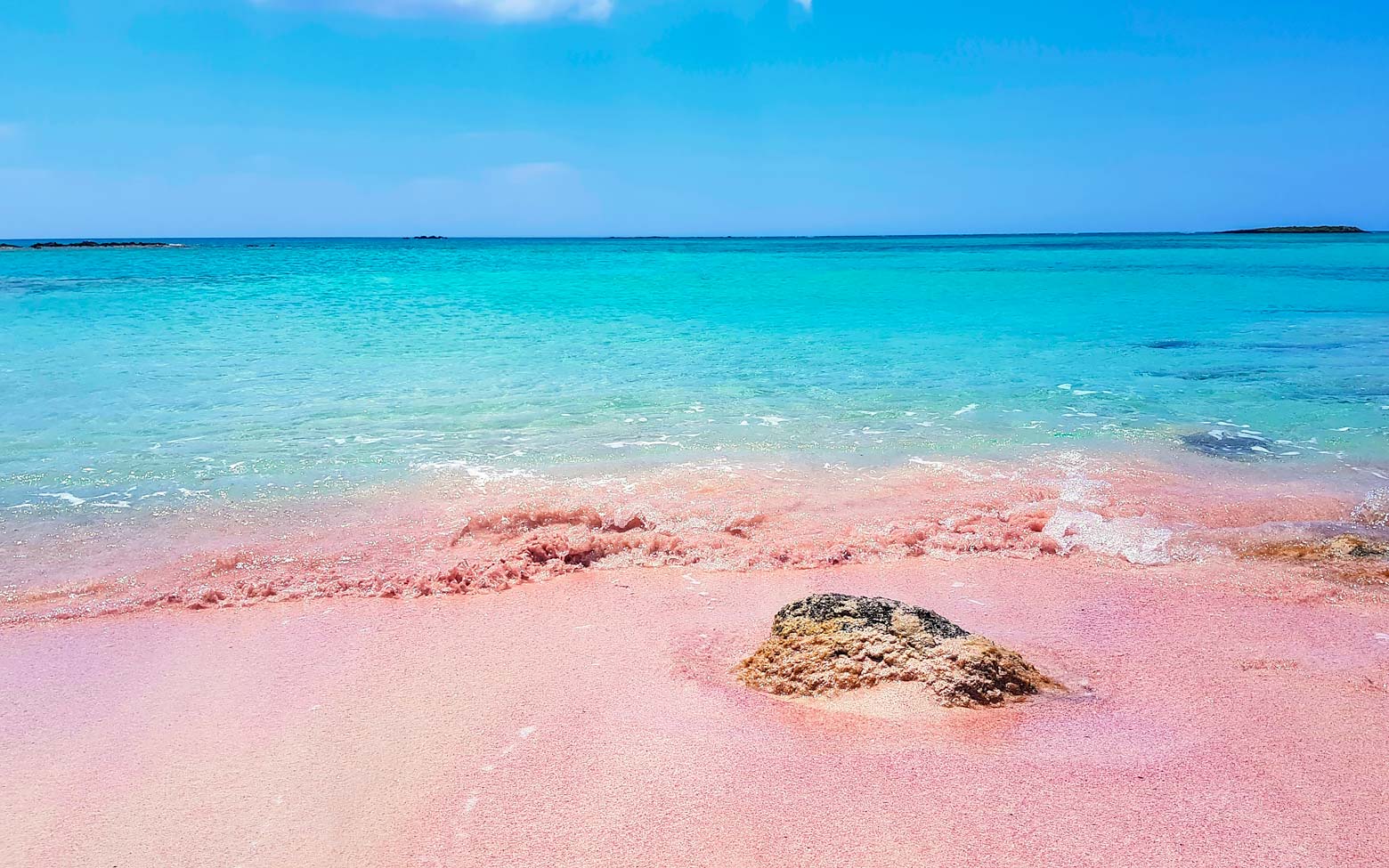 Less than 2 hours drive from Chania is the most famous beach of Crete and one of the most majestic ones in Greece itself – Elafonissi.
Why is it so popular? Because it's pink of course!
Yep, you read that right, the sands of the beach have a lovely pinky nuance making Elafonissi one of the few pink beaches in the world and a must-see place for tourists and photographers.
If you haven't rented a car, you can book a day trip from Chania or from Rethymno.
As per microbiologists, the pink sand is a result of :
"tiny red organisms that grow on the dead coral reefs and pieces of shells which fall to the ocean floor and are washed onto shore. It is also made of a natural formulation of calcium carbonate from tiny marine invertebrates that mixed to corals and shells and other marine things which have Foraminifera, a microscopic amoeba that has a red or bright pink body shell. All of these are what causes the sand to have a pink hue."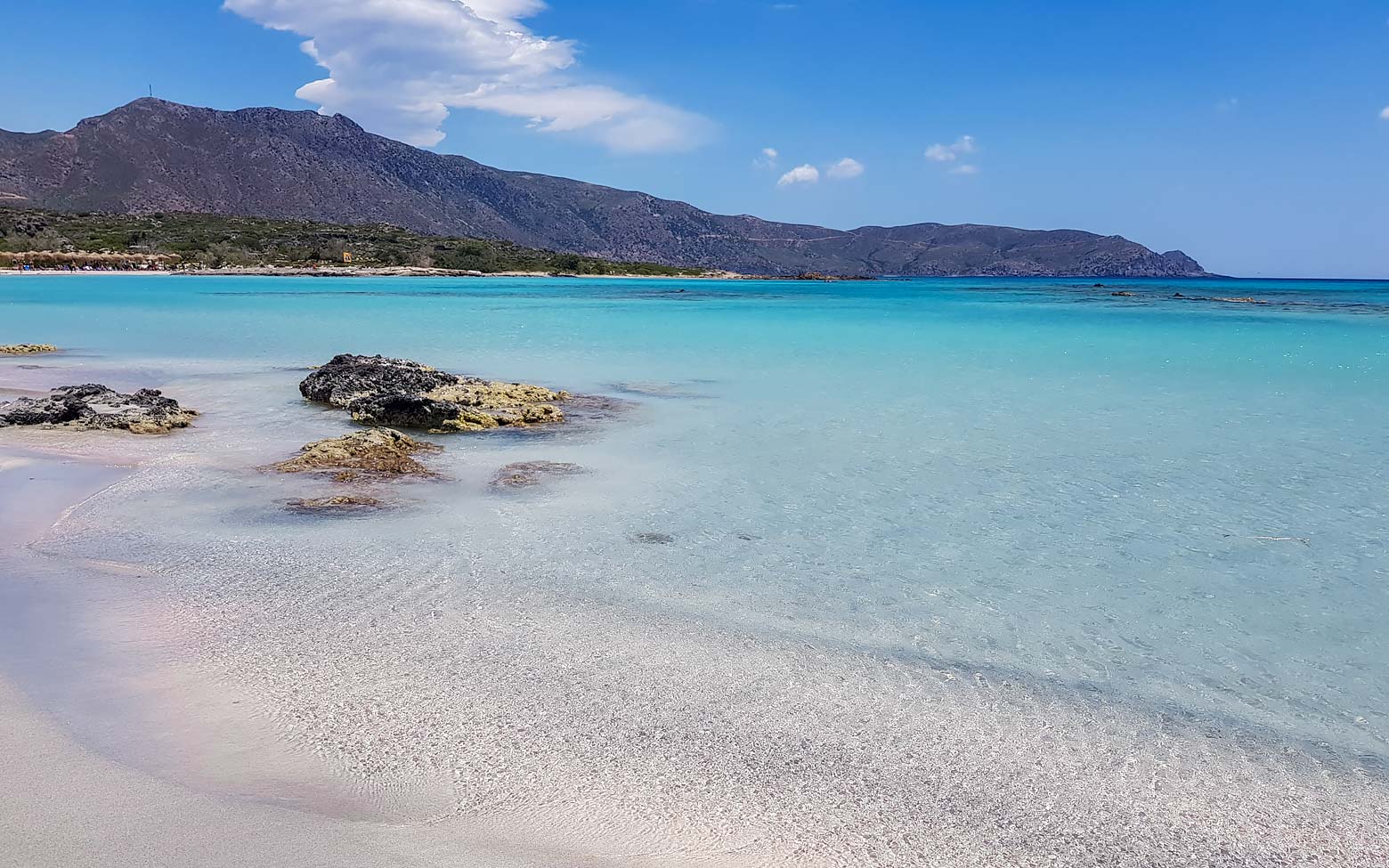 The pinky shores combined with azure blue water creates a beautiful color composition for your shot. Any type of lenses and cameras will do here.
The lagoon is often windy so have that in mind when setting up your camera. You don't want sand anywhere near your gear.
The water is crystal clear, and there is some wildlife so consider bringing a GoPro too.
psst: There are also red and black beaches in Greece. Find out where.
Balos Lagoon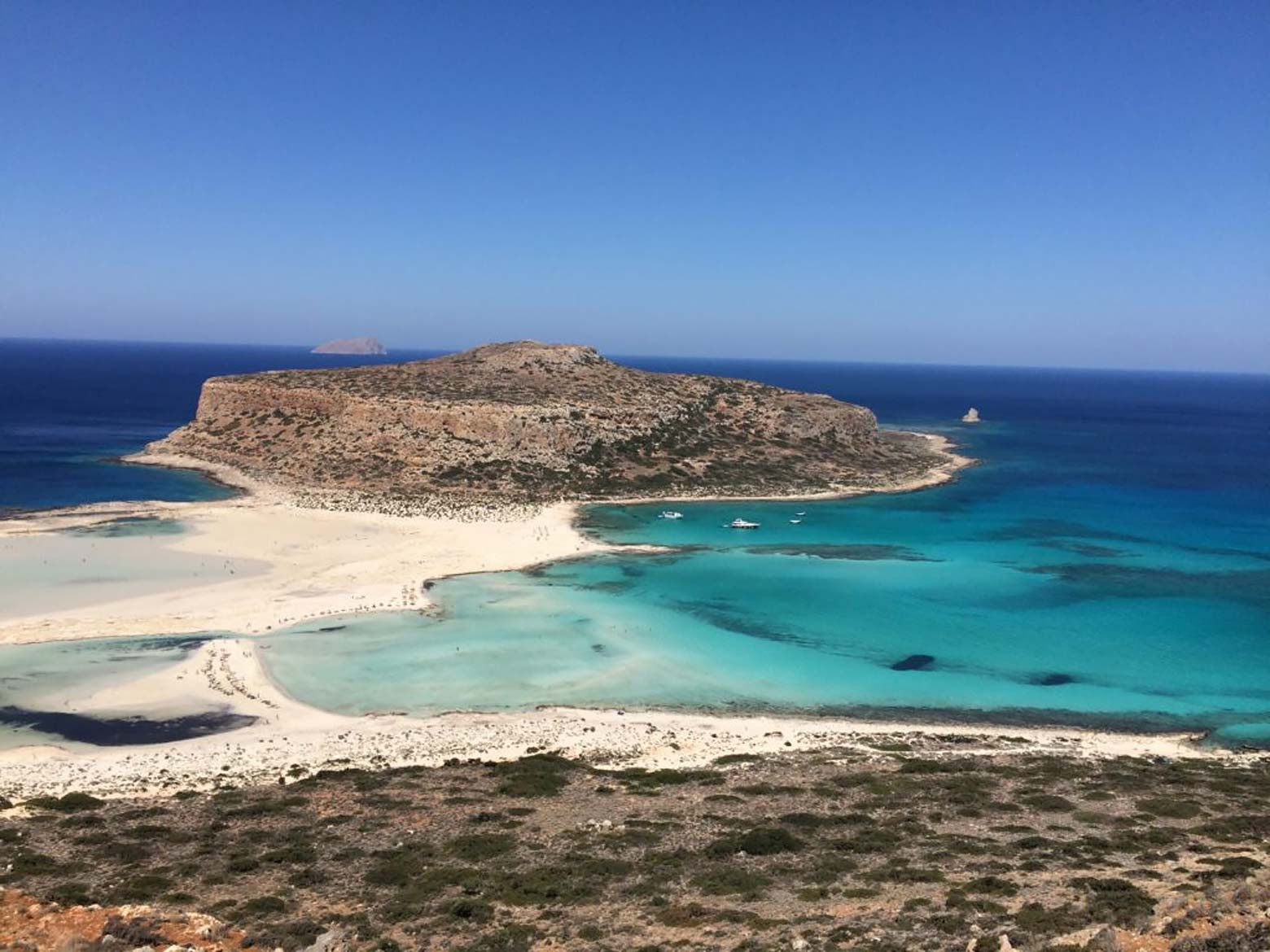 This Lagoon is another famous photo spot in Crete. It's an hour drive from Chania, but you can also arrange a boat tour to get there. Prepare your wide lenses to get the signature Balos post-card photo.
It's quite easy to reach even if you don't have a car. Here are awesome day-trip options from Kissamos, Chania, Rethymno and Heraklion.
The Roads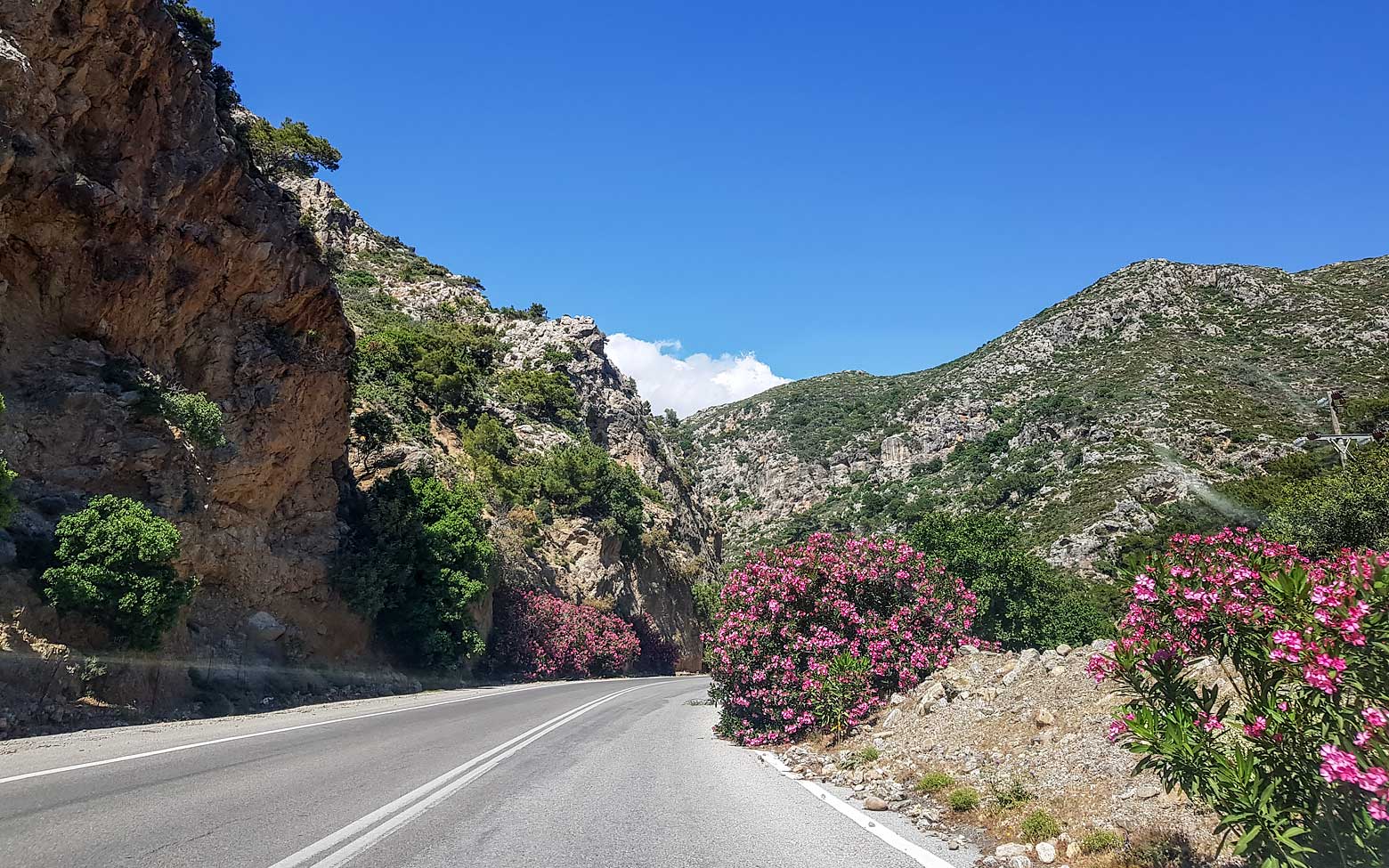 It may sound like a strange pick, but the roads on the island are an absolute joy. Surrounded by white mountain peaks (no snow, just white rocks) and pink flower bushes, you'll drive past numerous tiny villages and enjoy breath-taking views.
Rent a car to have the freedom to stop wherever you like and take a photo. Churches inside cliffs, mountain goats or remote white monasteries in the distance are not a rare view. Make sure your telephoto lenses are ready.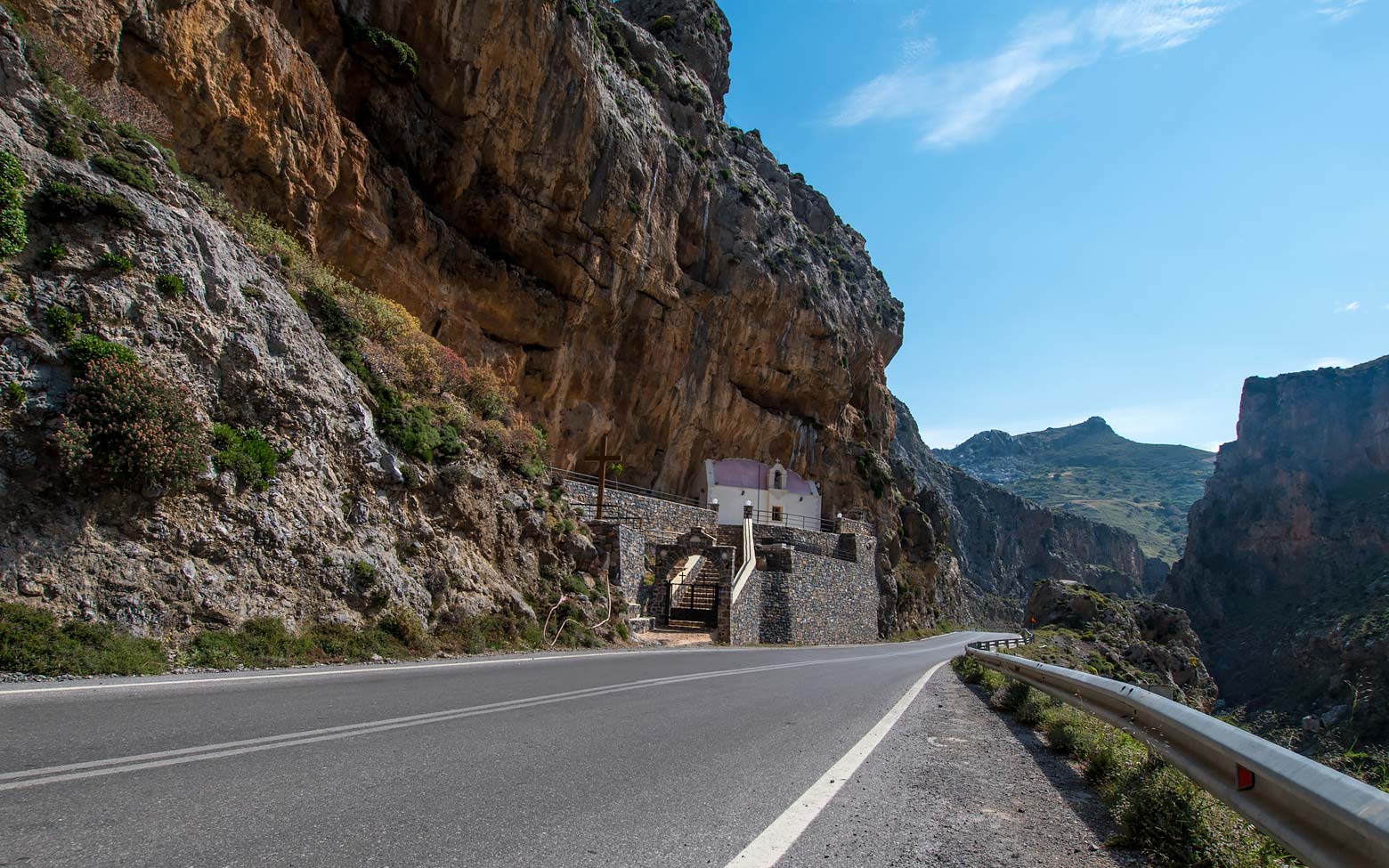 Plakias Village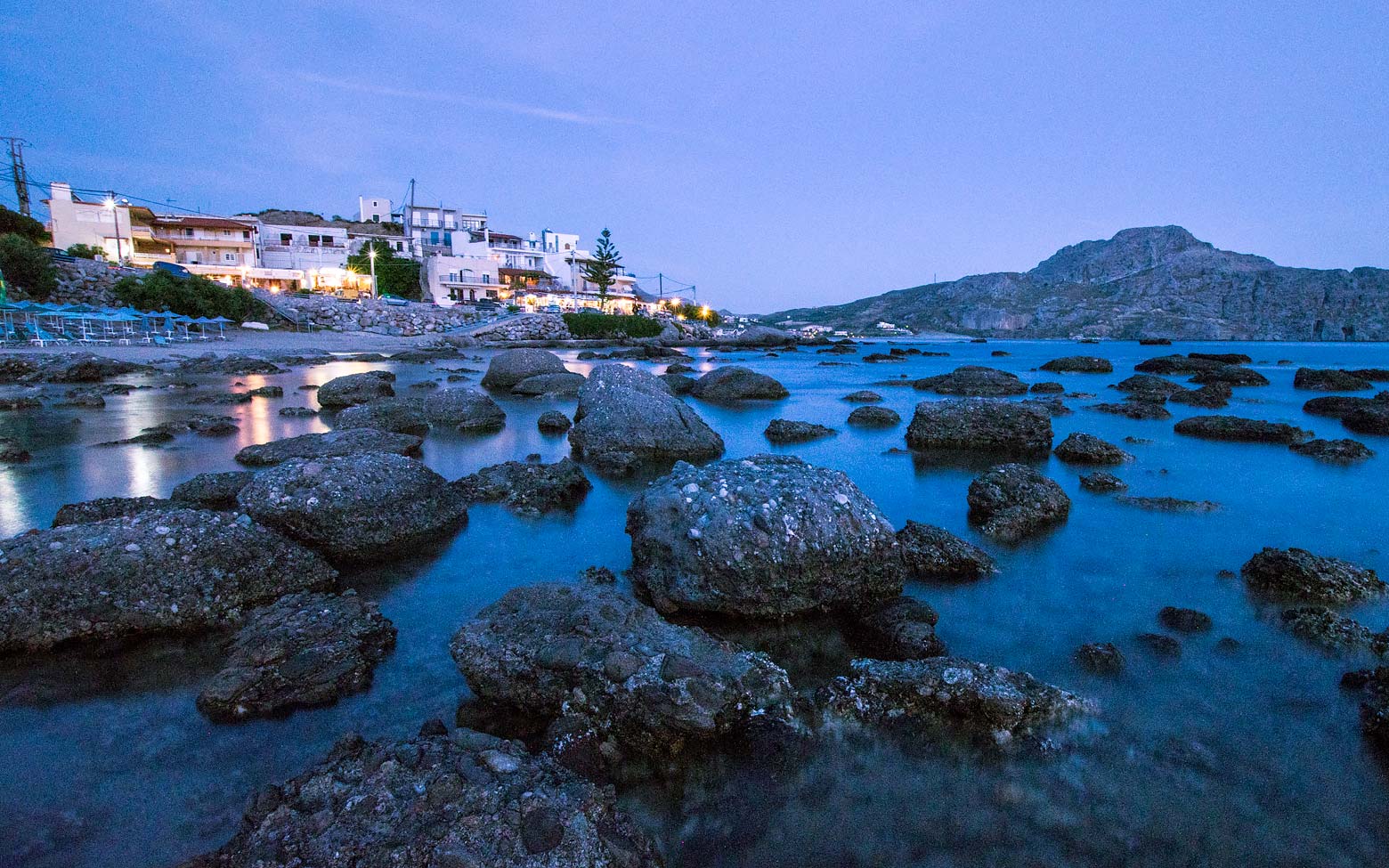 Well not the village itself but more like its beaches. They are situated right in front of the hotel area, have charming mountain ranges for background, perfect rock formations, colorful stones as a foreground and the best of all – they are not popular at all!
During the day you may encounter some people catching the sunlight, but around dusk, they are entirely free to your photographic needs. A tripod, wide-angle lenses, ND filter (6 stops) and a remote shutter are all you need to make a pretty neat desktop background like this one: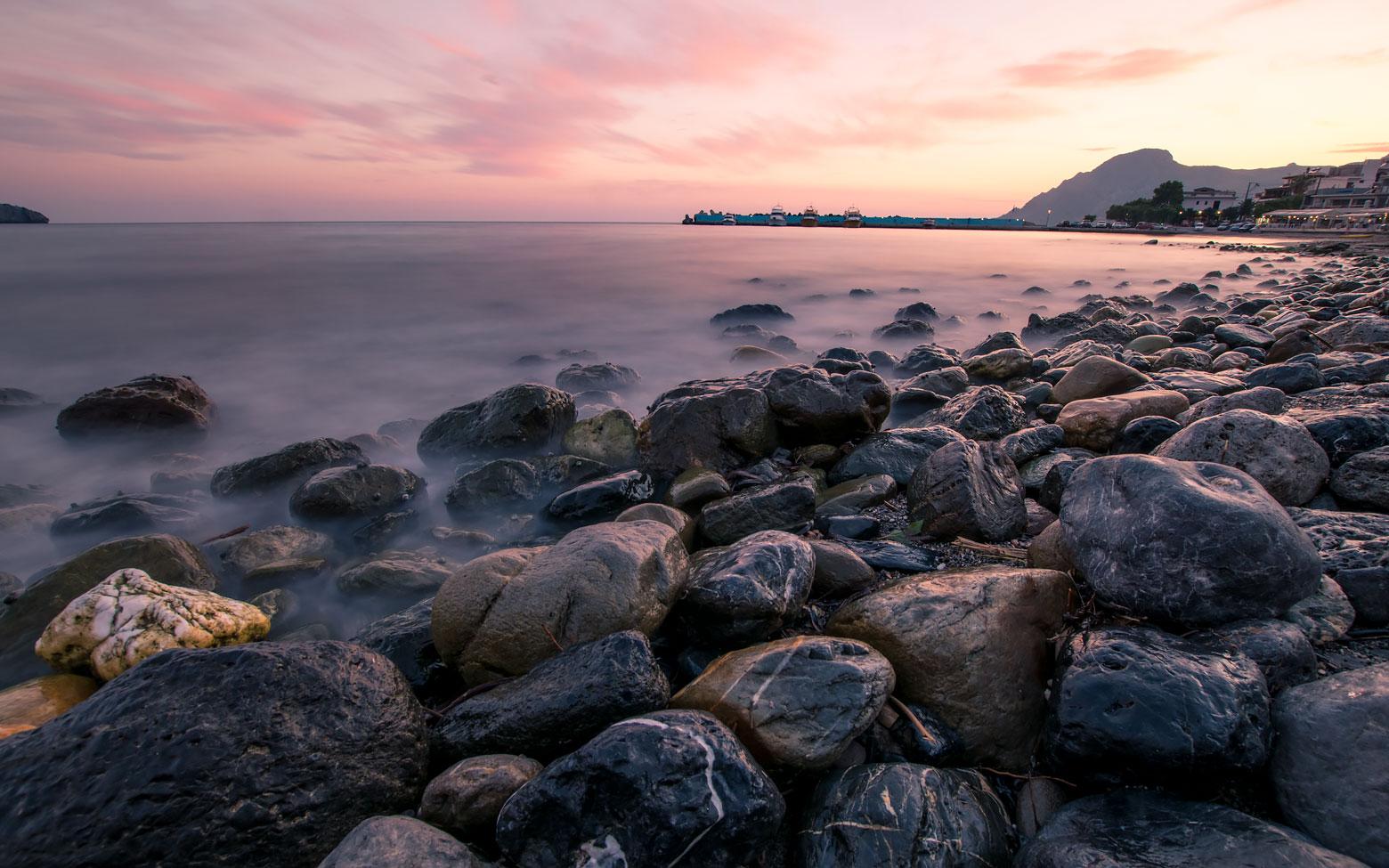 The west beach is a quite curious one. The rocks inside the water are formed like a maze, and the algae on the bottom are creating an optical illusion making the whole maze move around you. No minotaurs to be seen though.
Another great thing about Plakias is you can use it as a base point for exploring the nearby sites such as the next item on our list.
See Also: The Ultimate Petra Photo Guide
Skinaria Beach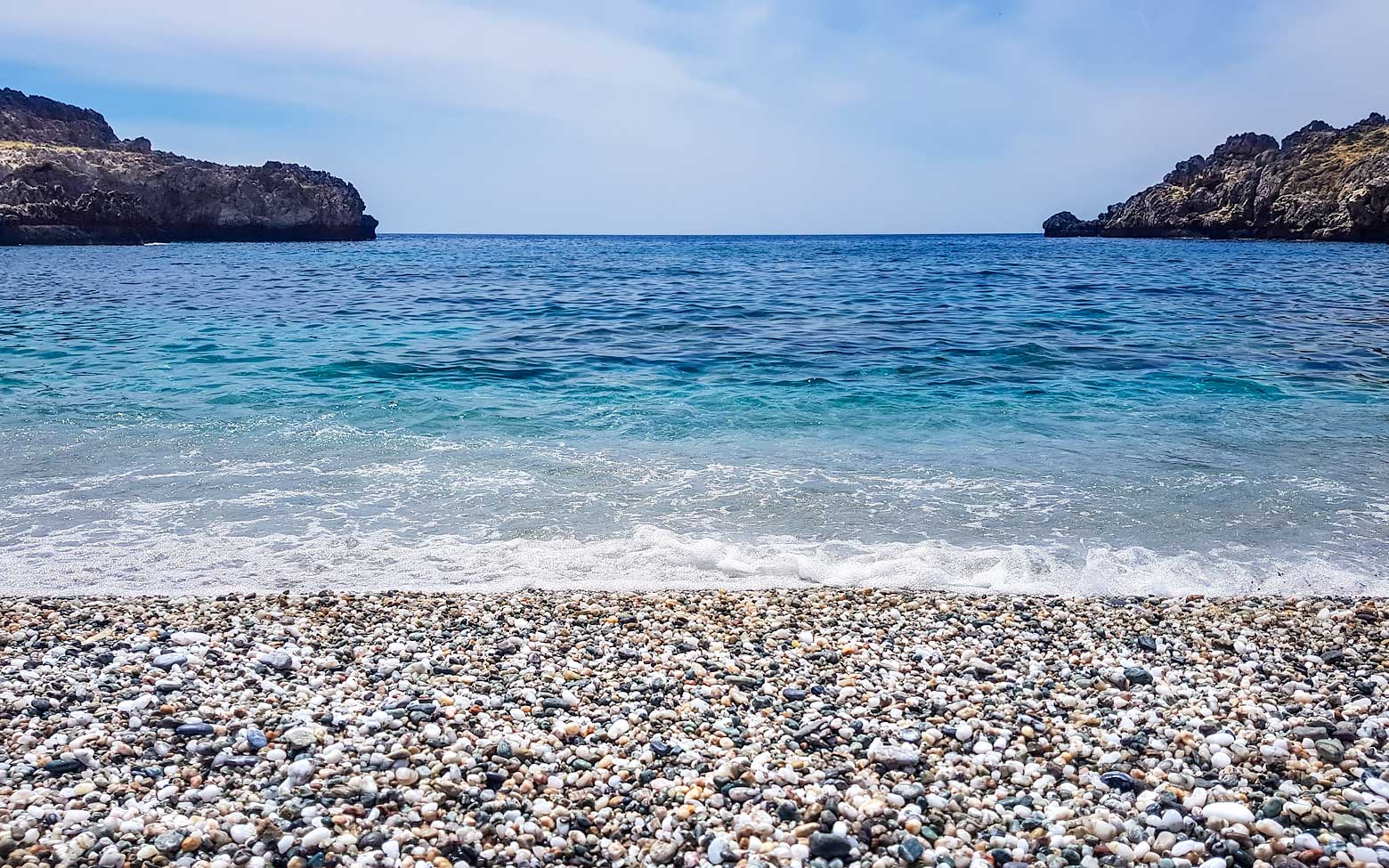 15 minutes drive from Plakias will take you to the perfect Greek beach. No, I'm not overreacting, Skinaria is the most perfect postcard beach you can find. Have you seen the Greek national flag? This beach feels like you walked right into it.
White stones and incredibly saturated blue waters, the beach, is surrounded by small hills (again white), and for some reason, it's not overcrowded. A dozen umbrellas (white and blue) grace the rocky beach making it the cutest little photo spot on Crete.
Preveli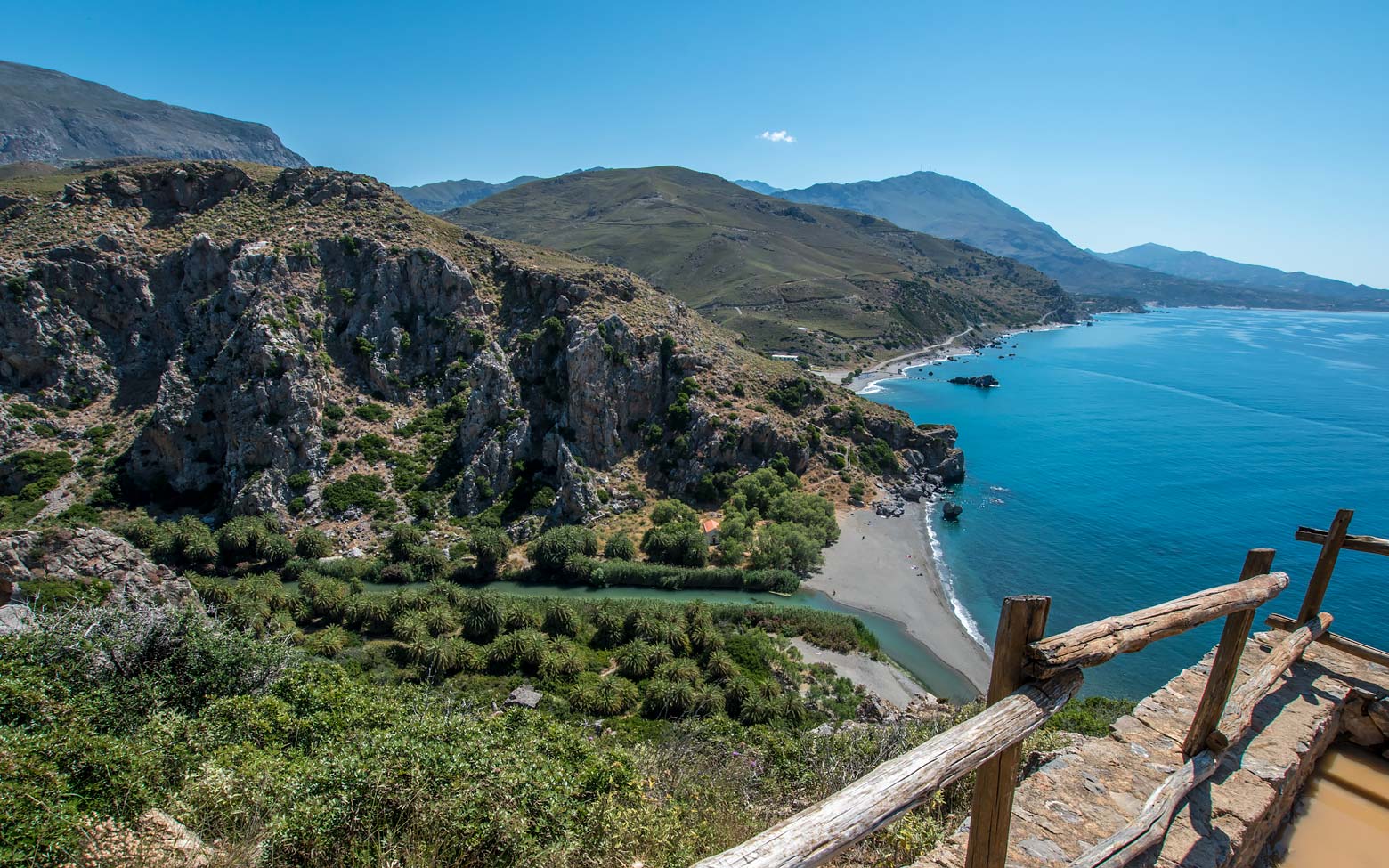 You will need a whole day for this one. Preveli beach and lagoon is located 20 minutes (by car) away from Plakias and is one of the most popular places in the south part of Crete. Park your car on the top of the cliff, and start making your way down to the beach using the rock-carved stairs.
The few viewpoints on the way down will show you the unique composition of the place.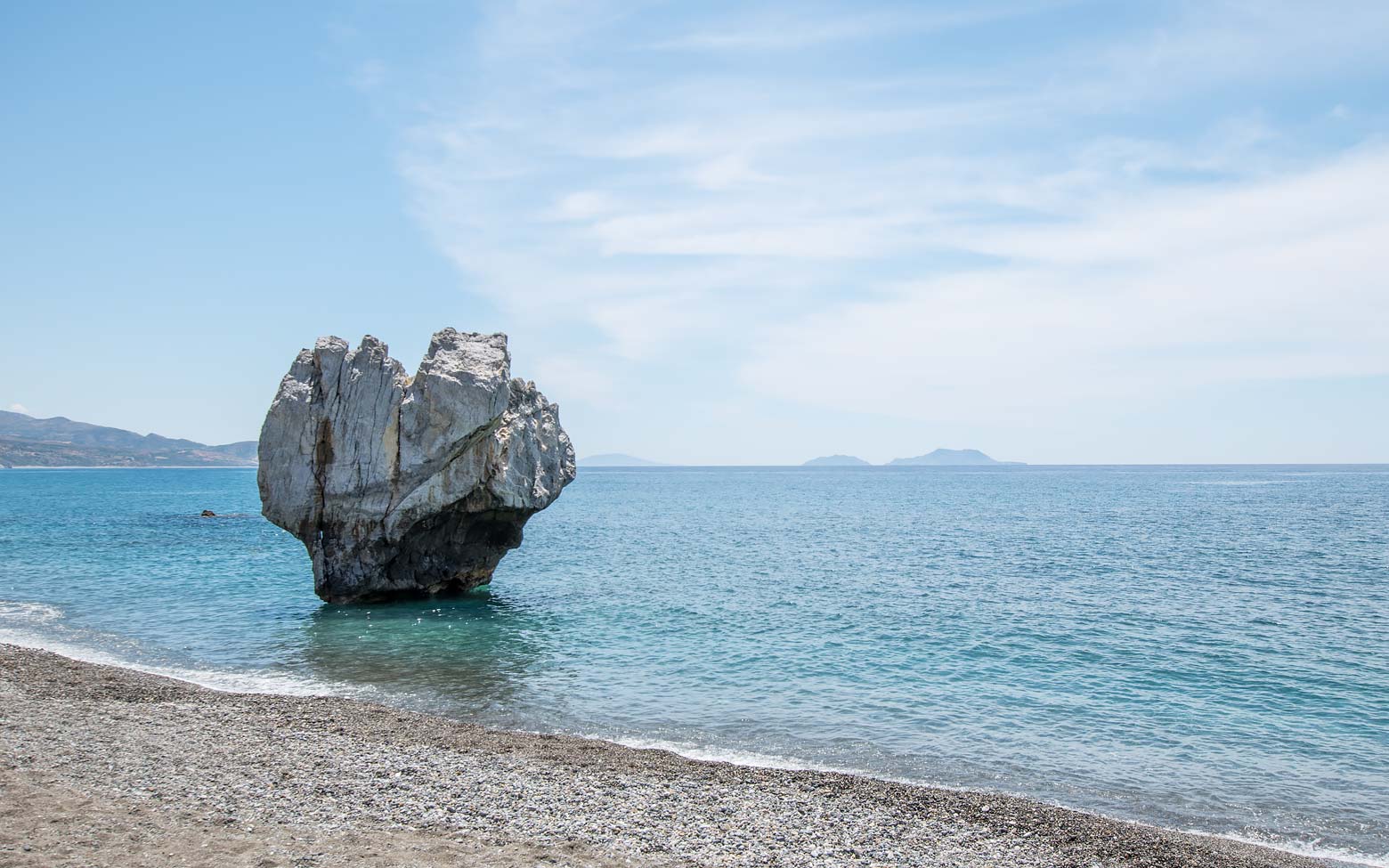 The beach itself is a rock one so no need to worry about sand getting inside your camera. A big boulder is sticking out in the shallow waters, giving you the opportunity to compose your shot around it.
Make sure to check the palm forest on the back of the beach too. It's a few kilometers long, going alongside a river and into a canyon, giving you plenty of photo opportunities.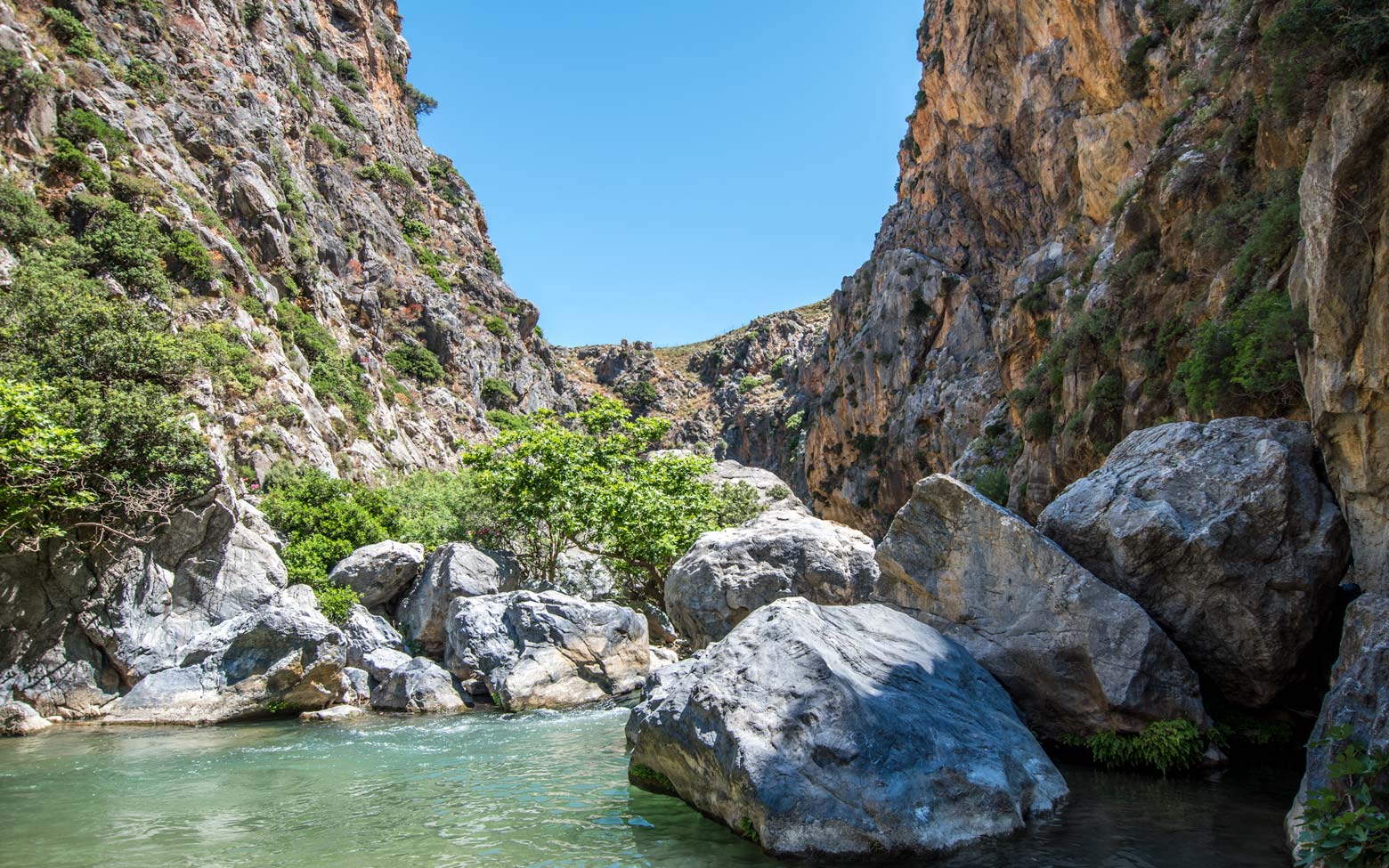 Knossos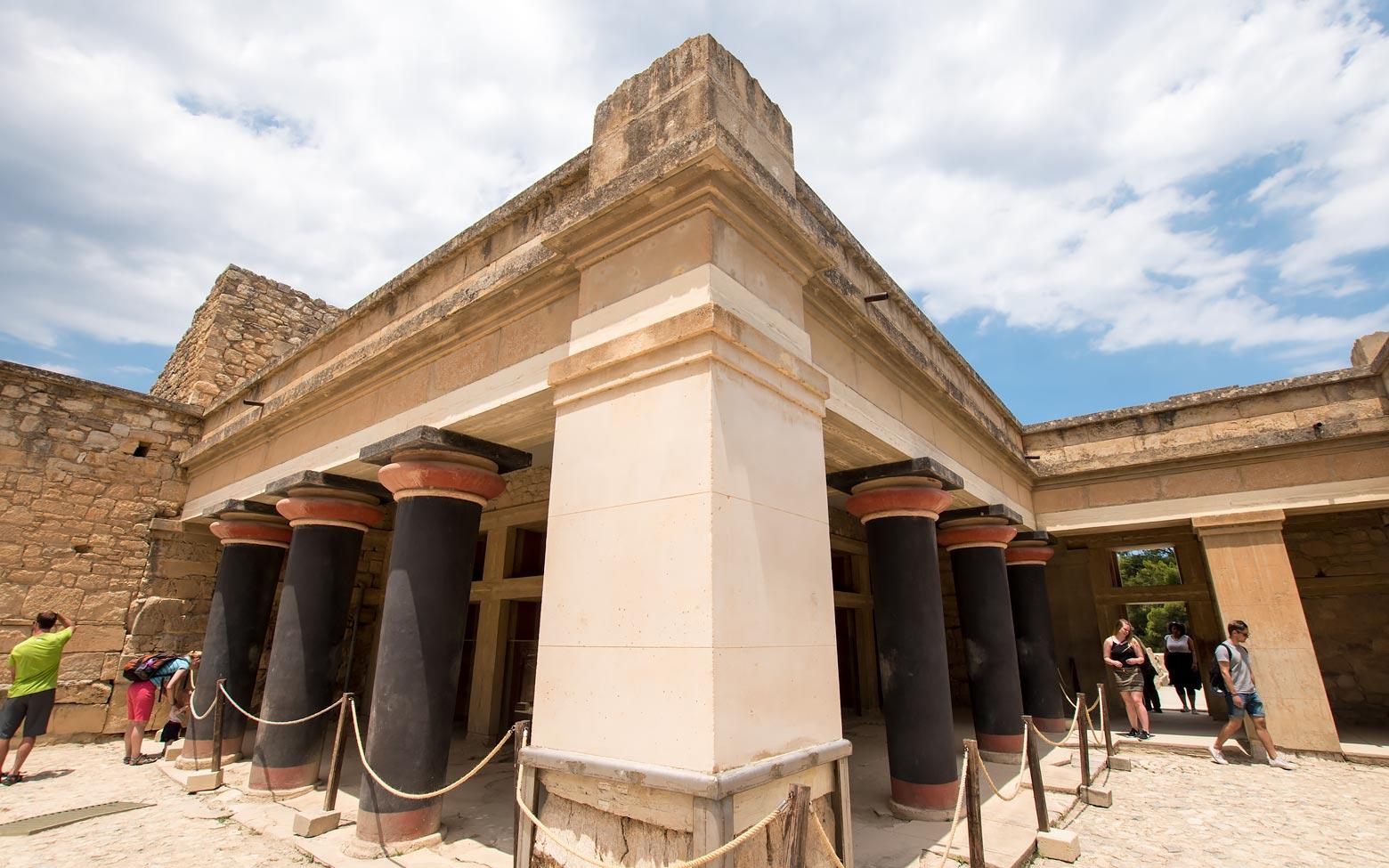 Knossos, also known as The Palace of King Minos, is an archeological site situated a few kilometers south of Heraklion and one of the top landmarks in Greece. It's dated almost 4000 (!) years old, and it was a ceremonial and political center of the Minoan civilization and culture.
It is also connected with thrilling legends, such as the myth of the Labyrinth, with the Minotaur, and the story of Daidalos and Ikaros.
The colors of the palace are bright red, black and yellow – making it perfect for an Instagram explorer type of composition.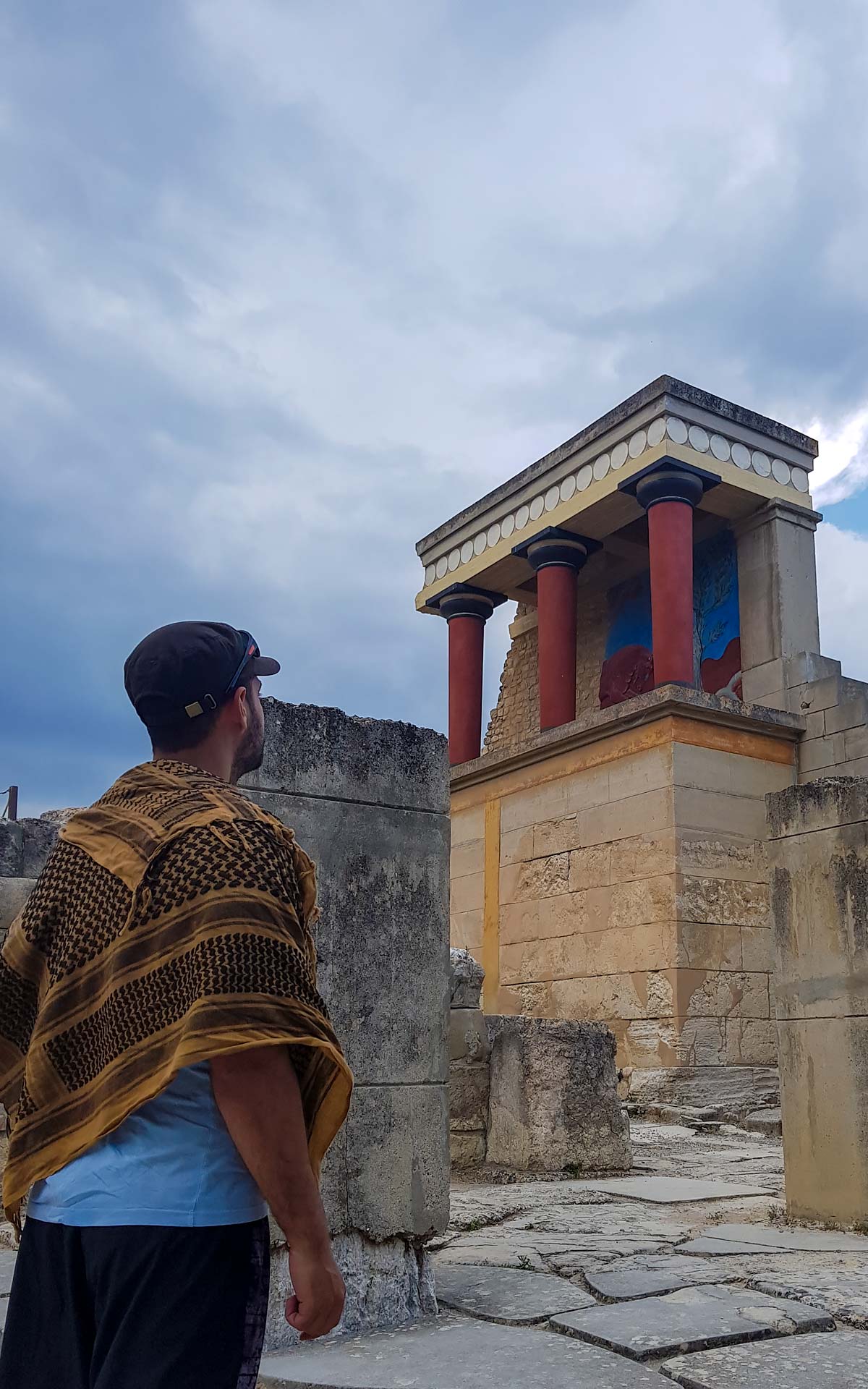 Make sure you get there early ( it usually opens at 8:00 AM but better check with your hotel) to catch good light and miss the hordes of tourist
You can also get a combined Knossos/Archeological museum ticket if you want to explore the Minoan Civilization more thorough.
Photo Spots in Crete Map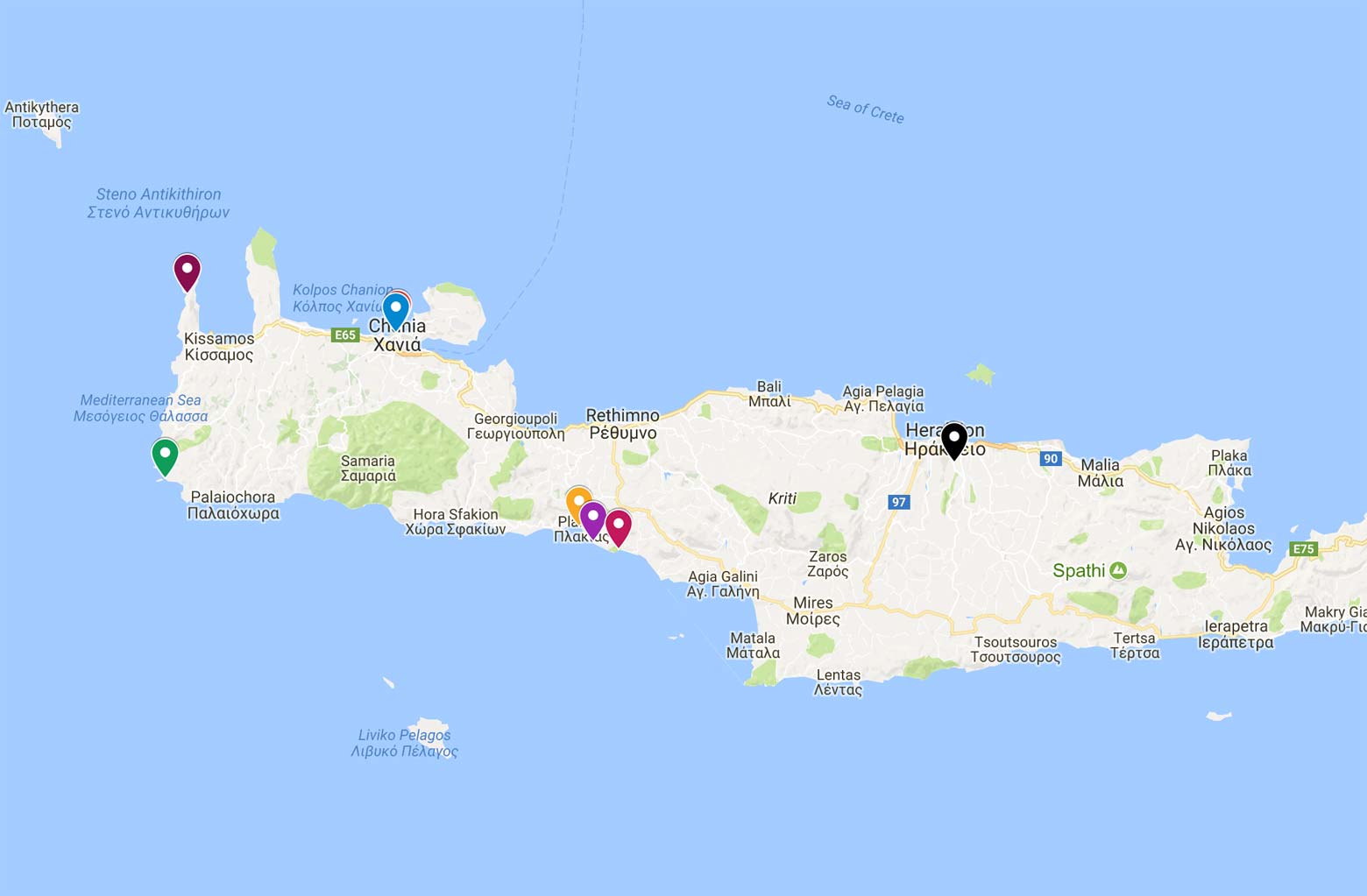 That's all from me, I hope you visit all these awesome Crete photo spots!
————————————
If you haven't planned your trip there yet, find out how I plan my trips!
————————————
I've got 18 bucket list ideas for Greece. See my impossible bucket list of 1700+ adventures!
---
Have you been to of the places listed above?
Let me know in the comments below
---

Some of the above are affiliate links and I will earn a percentage of the sale if you purchase through them at no extra cost to you. This helps keep my site running – so thanks in advance for your support!