Walking beside me, the Elephant Trails baby – Mina was eagerly trying to find out the source of her banana breakfast. I reached into my bag and treat her another one, earning a wet trunk kiss in the process. Bon Appetit, little one.
Mina is a lucky baby elephant. Being in the Elephant Trails, an Elephant Nature Park project, she may never have to suffer humans on her back. Sadly a lot of her kind don't share the same fate.
Wait, riding an elephant is no good? How come? They are huge, for sure they can carry few people.
Unfortunately, this is what most people think. Hell, this is even what I thought before getting deeper into the issue and realizing how wrong I was. People are so used to the mistreat of those animals they don't even recognize it anymore.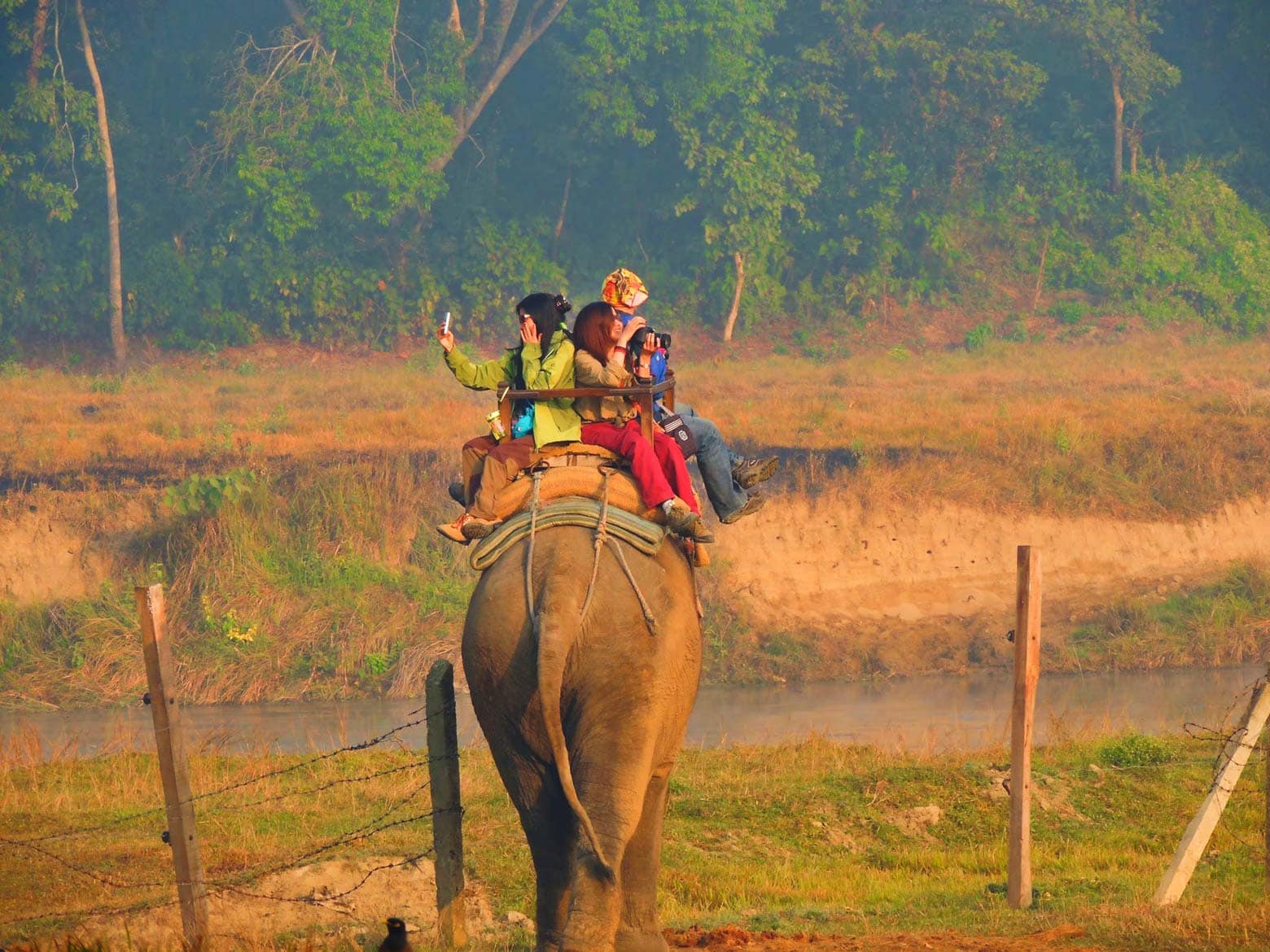 Our history of abusing these gentle giants is a long and sad one. Used as war machines in the ancient times, elephants were later employed (more like beslaved) in the logging industry until the government shut it down in 1989. Nowadays, the symbol of Thailand is used mainly as a tourist attraction.
Well, being in the tourism industry is not as bad as going to war, right?
But it is for them! Elephants are wild animals. They won't let humans on their backs unless they've been tamed. Do you know how you tame an elephant? You use the same ancient method that your great-great-great-great-grandpa used to make his elephant ready for war. You take the baby away from its mother and put it in a small cage or a hole. Deprive it of sleep and food while beating it into submission with clubs and hooks. The whole process is called Phajaan (meaning "the crush") and is still used in Thailand, India, Myanmar, etc. (Warning, this photo may bring tears to your eyes).
While the war may bring a fast end to its misery, the tourist industry doom the poor creature to a life of agony and discomfort.
Don't let its size confuse you. Elephants spines are unique. As per Carol Buckley, president of Elephant Aid International:
"Elephants are not anatomically designed to carry weight on their back. They have evolved to support a mass amount of weight suspended below their spine.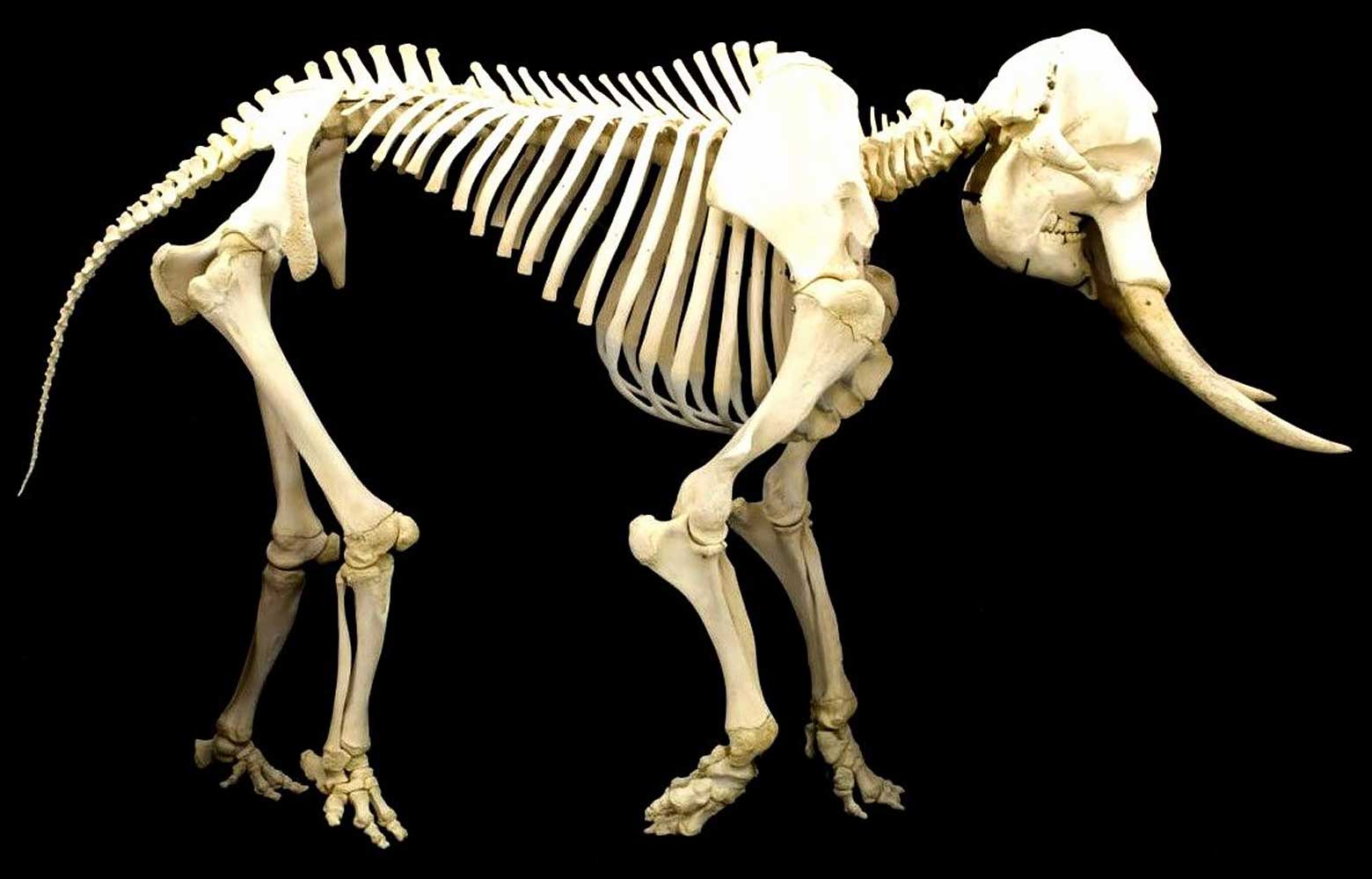 When you examine this skeleton, you clearly see the spine is not like many mammals. Instead of smooth, round spinal disks, elephants have sharp bony protrusions that extend upwards from their spine. These bony protrusions and the tissue protecting them are vulnerable to weight and pressure coming from above." ( source )
I'm happy to say that more and more people are getting familiar with the situation nowadays thus making another form of elephant tourism flourish. One that is good for the animal while also joyful for the tourist.
See Also: What NOT to do in Thailand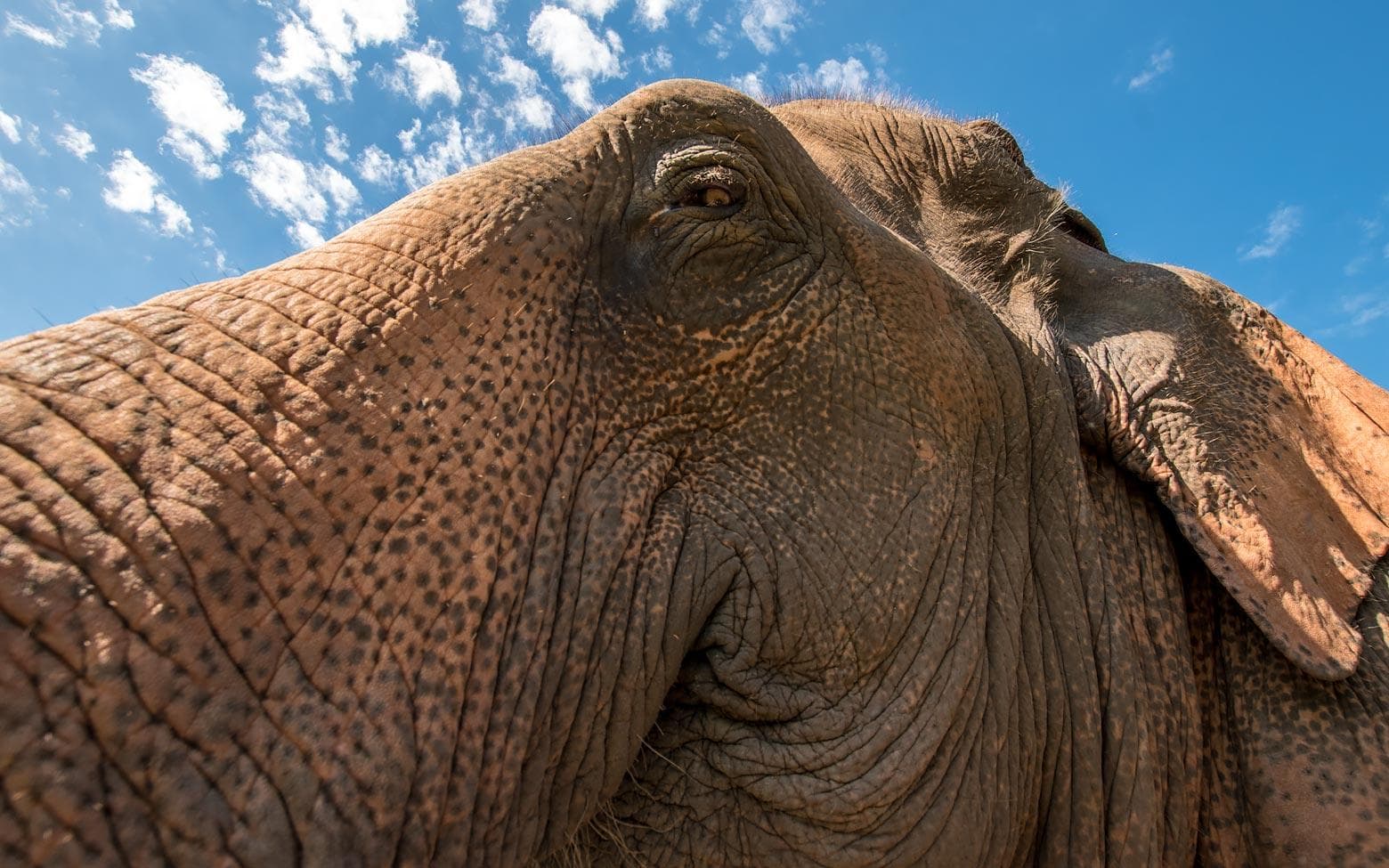 Elephant nature park
Elephant nature park (ENP) is an elephant rescue center and sanctuary situated in the jungles of northern Thailand. They invented a unique business model where tourists pay to visit and take care of the animals.
ENP has various projects ( Elephant trails is just one of them ) you can be part of, and believe me when I tell you, whichever one you pick, it will become one of the most fonded and cherished memories of your life.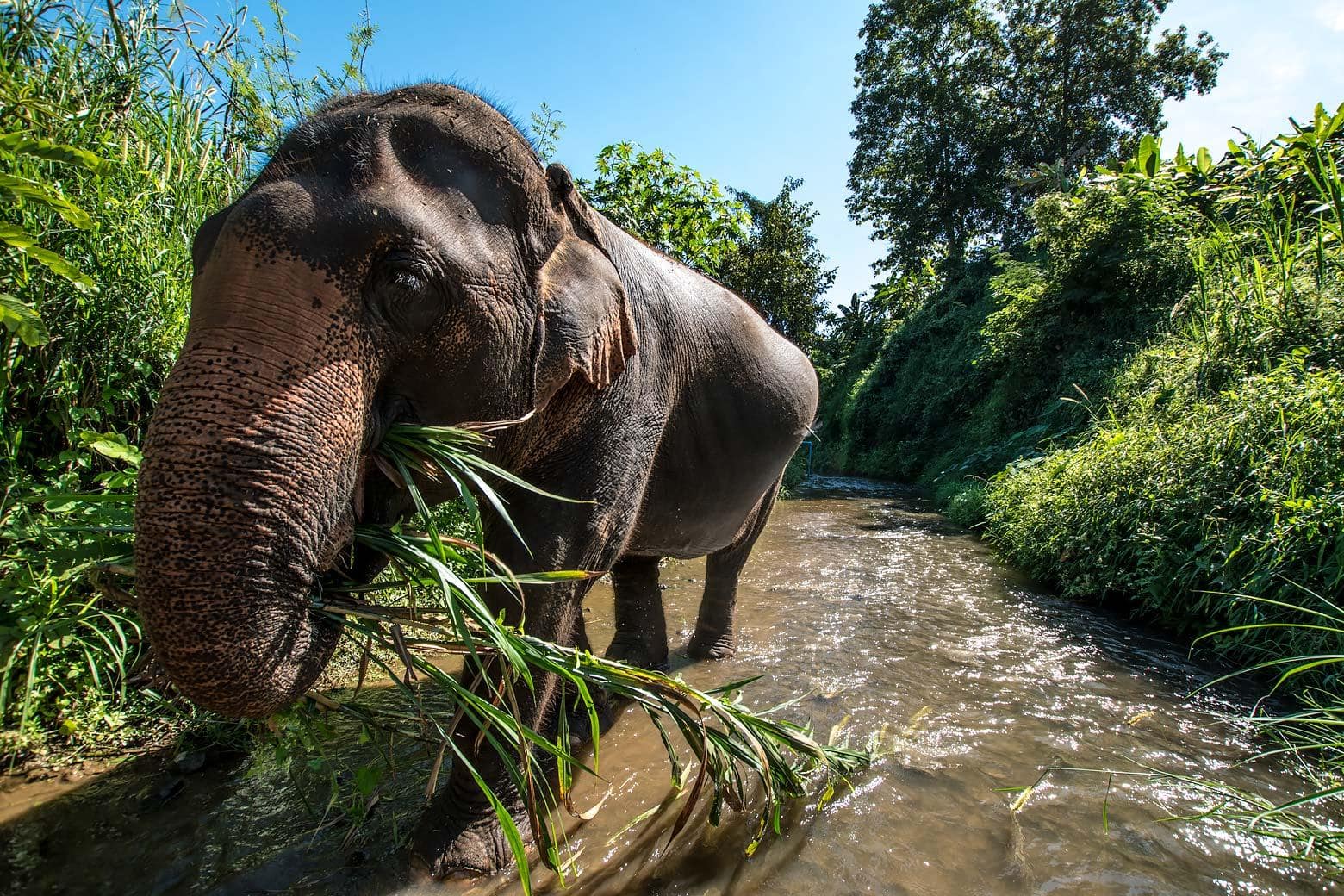 My first choice was visiting the park itself, but since it was booked for the next two months, I picked one of their new projects – The Elephant Trails. It's a part of ENP's "saddle off" program, meaning that the park sponsors the elephants' owner to have people take care and interact with the animals instead of riding them.
A win-win situation!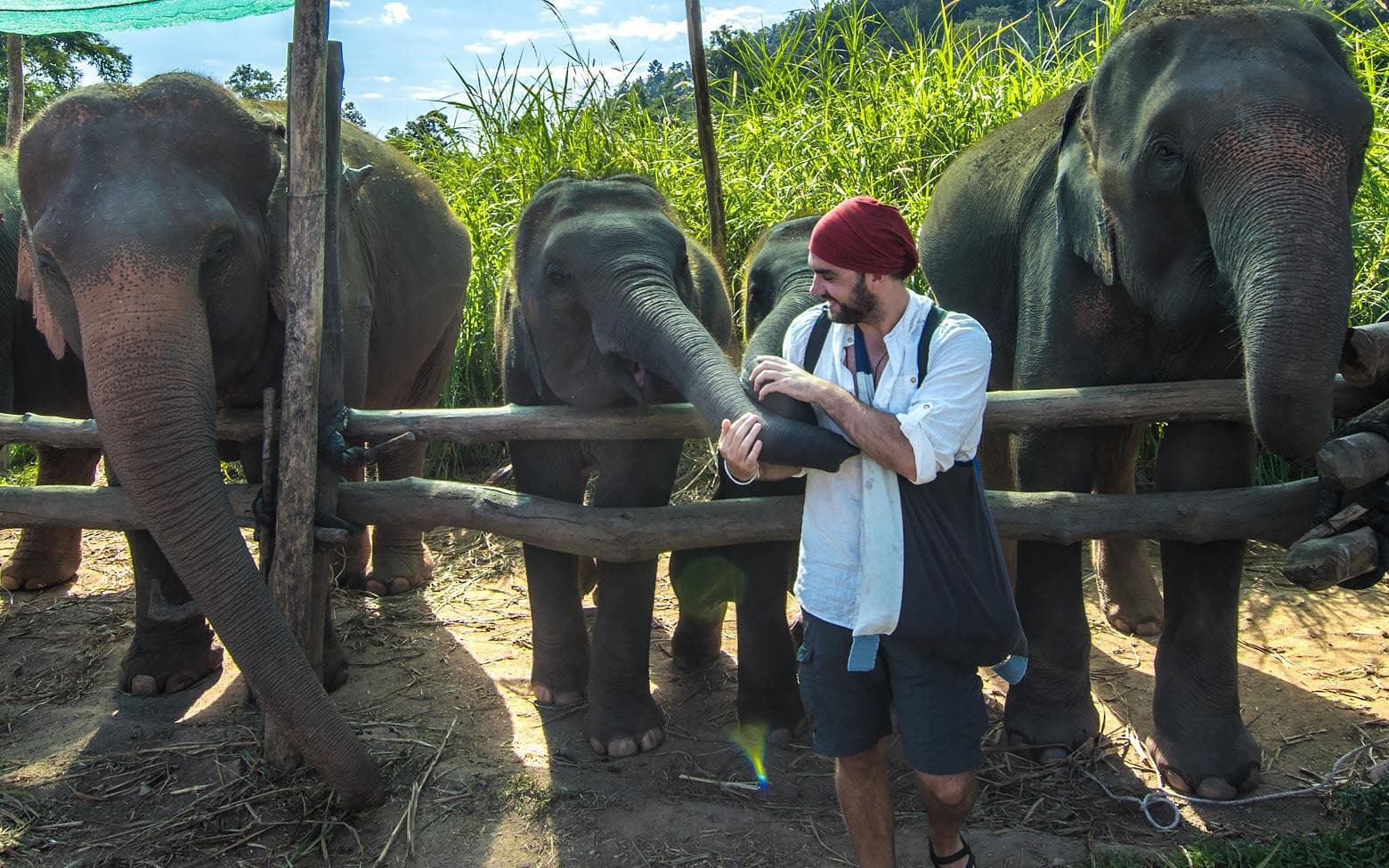 The Elephant Trails experience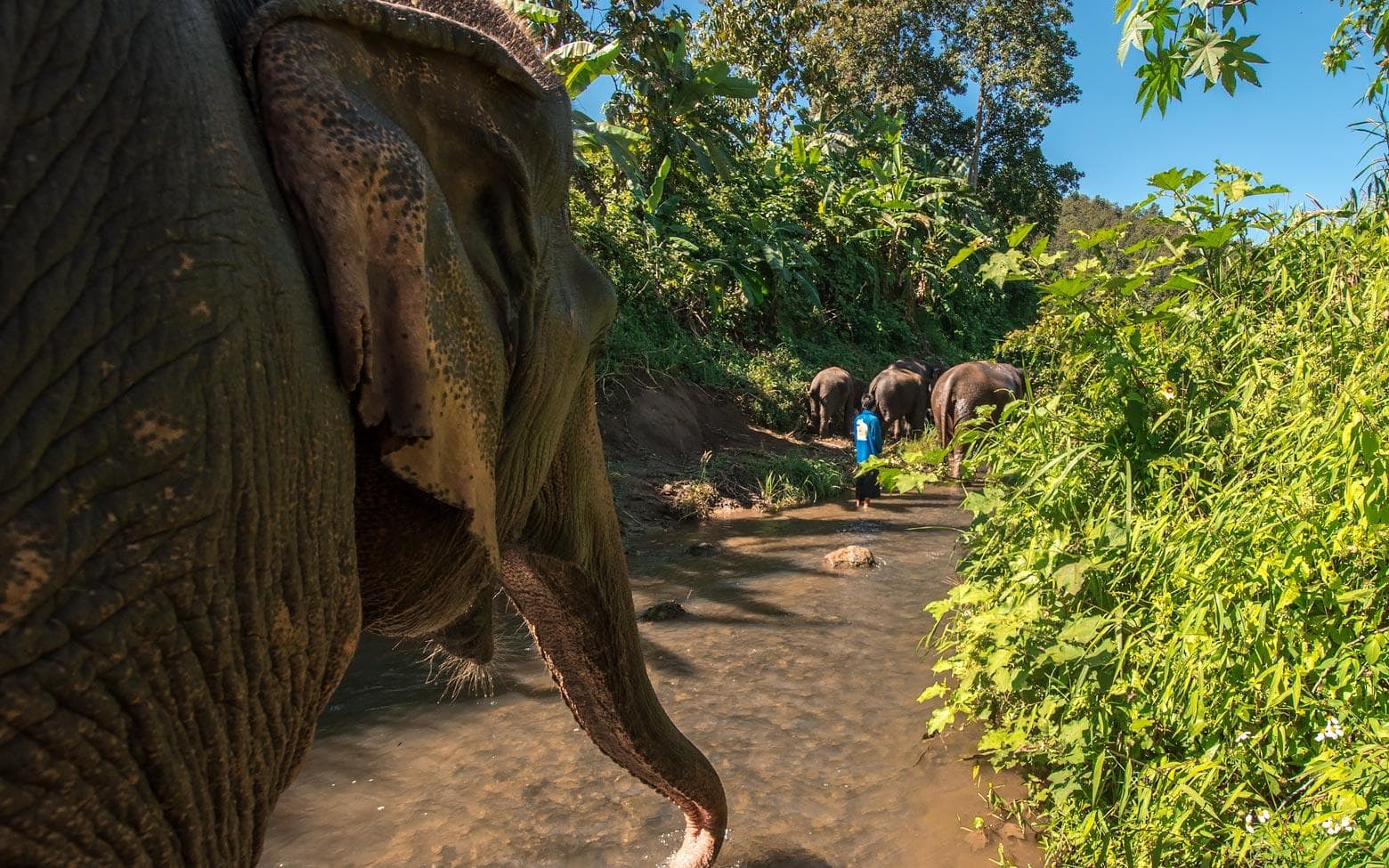 Your day starts at 8:00 – 8:30 AM when the minibus picks you up from your hotel. If you want to have the best seats, you can also go and take it from the office at 7:40. (this is what I did)
The ride lasted approximately an hour, and on the way there, we stopped to get some banana breakfast for the big guys.
Upon arriving, I immediately start scanning the vast green fields, but there were no elephants to be seen. Disappointing. After brief info about the elephants in Thailand and the plan for the day, we made our way to a small wooden stable, where each one of us got a bag full of bananas.
And the earth began to tremble.
See Also: The Ultimate 10-Day Thailand Itinerary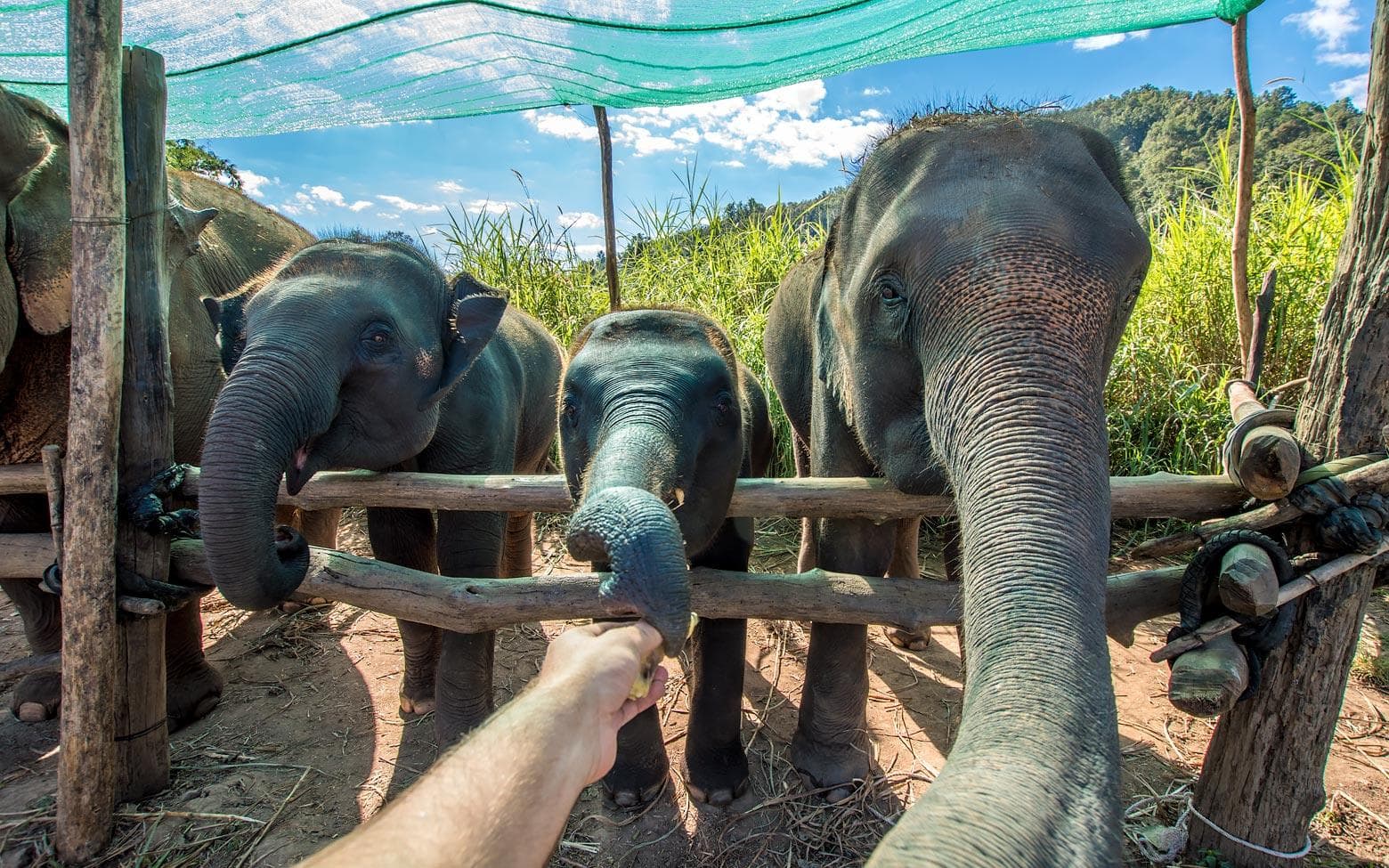 And here they were! Five elephants were running towards the stable, vigorously anticipating the content of our bags.
After doing our best to satisfy the reaching trunks, we went for a walk. Two people were assigned an elephant to walk next to and feed. I got the matriarch of the herd – 40 years old girl, with a name I couldn't pronounce.
She was the most majestic creature I've ever seen.
A few minutes of walking next to her were enough to show me she was a rescued elephant. Giving her a banana may earn you a touch, but try to pet her without one and she would gracefully avoid you. Seeing her scars, I was not surprised…elephants never forget.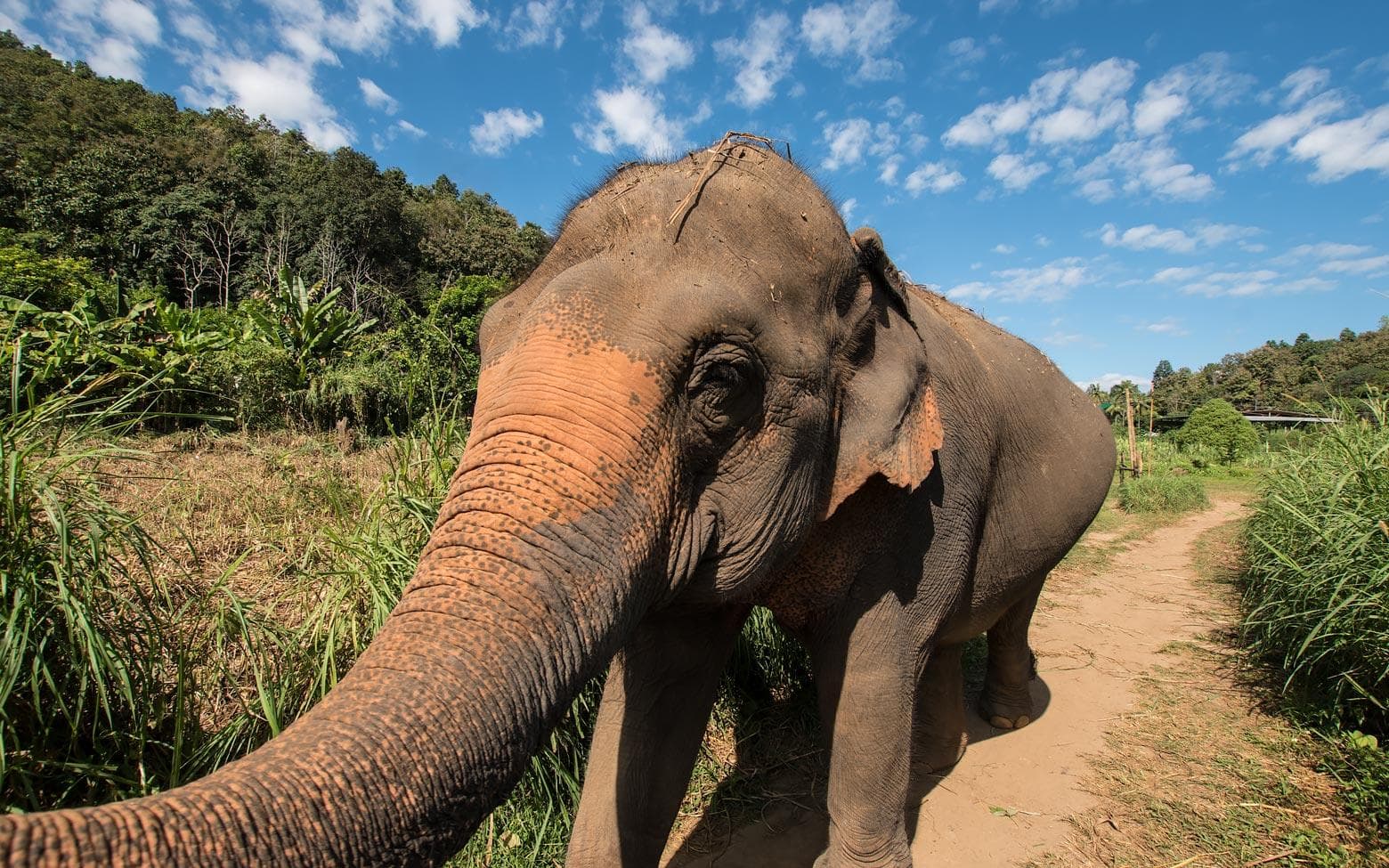 In about 15 minutes we switched places, and I got the baby of the herd – Mina. Mina had no harmful interactions with humans, so she enjoys being pet or hugged. Most of all she enjoys – yep that's right – bananas! Turned out elephants love bananas more than monkeys do.
She was so cute, continually trying to steal one from my bag, so I couldn't help myself and gave her all my stash, winning a kiss at the end.
I could swear she was smiling even more than me!
See Also: Chiang Mai Facts & Photos
After observing the herd eating some grass and sugar cane, and handling their natural needs, the walk reached in the river.
Mina was leading the pack, jumping up and down the stream, spraying people with her trunk, and getting all the attention around herself. I used the moment to stay back with the old cow (TIL female elephants are called cows).
Walking next to her, I look into her intelligent brown eyes covered by majestic eyelashes, and I apologized. I apologized for everything humans did to her and continue to do to her kind. And you know what? Call me crazy, but by the way, she was looking at me, I was sure she understands.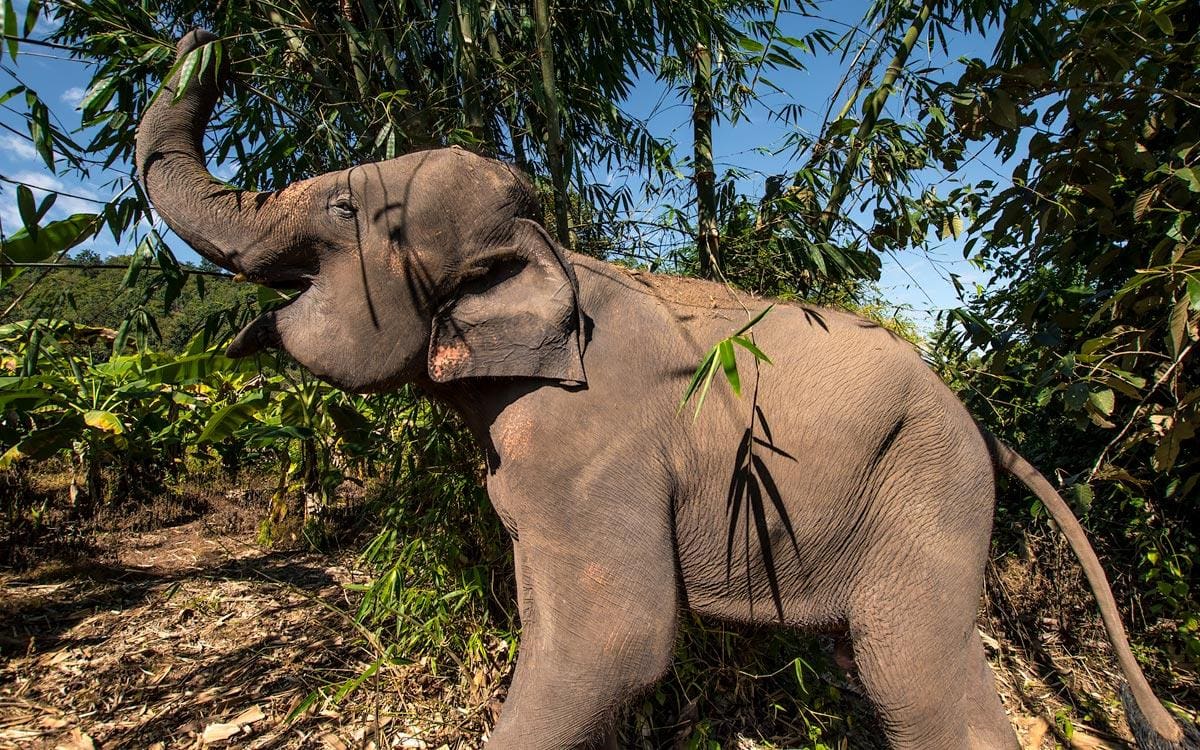 When we reached the end of the river, we left elephants to rest while we got back up to the house and got some vegetarian lunch. It was as tasty as expected.
Being in Thailand spoiled my travel food expectations so much, that I'm a little concerned about my next travel destination. No way any country in the world tops the average Thai dish.
One hour was more than enough break, and I was ready to go back there. We got some new outfits and we were all ready. What were the new outfits for?
Cause we were about to mud wrestle some elephants!
Nah, I'm joking… about the wrestle, not about the mud. We were taken to a dirt pit when the earth started trembling again. My new friends went running into the mud and began rolling around, pushing each other. Some of them began to drink water from the pipes, others were putting dirt on their backs – it was hilarious.
Once they calmed down, we went into the pit too and started giving them some clay massages. Mina was preoccupied with four people around her (she is such a diva), so I made my way to the old gal.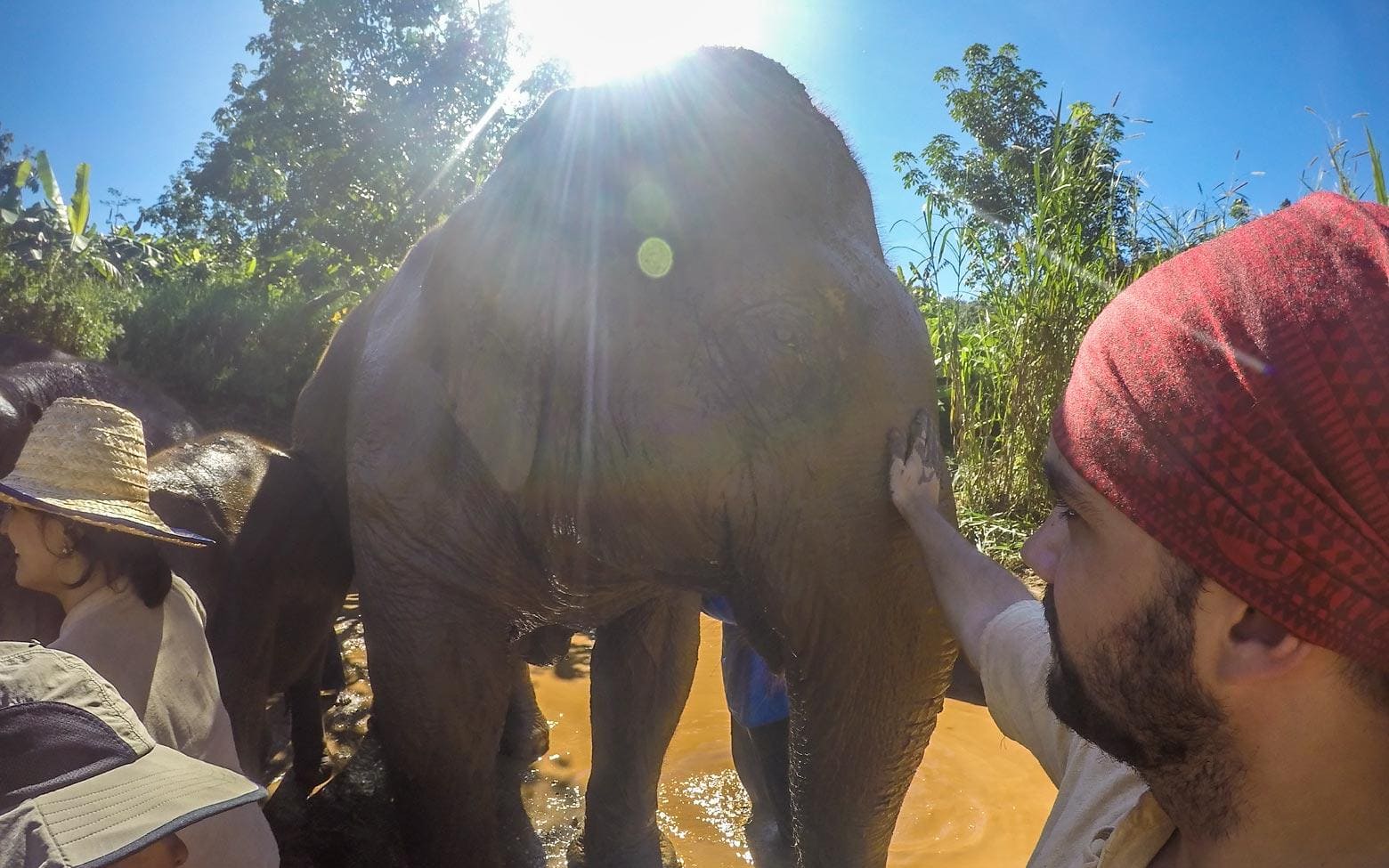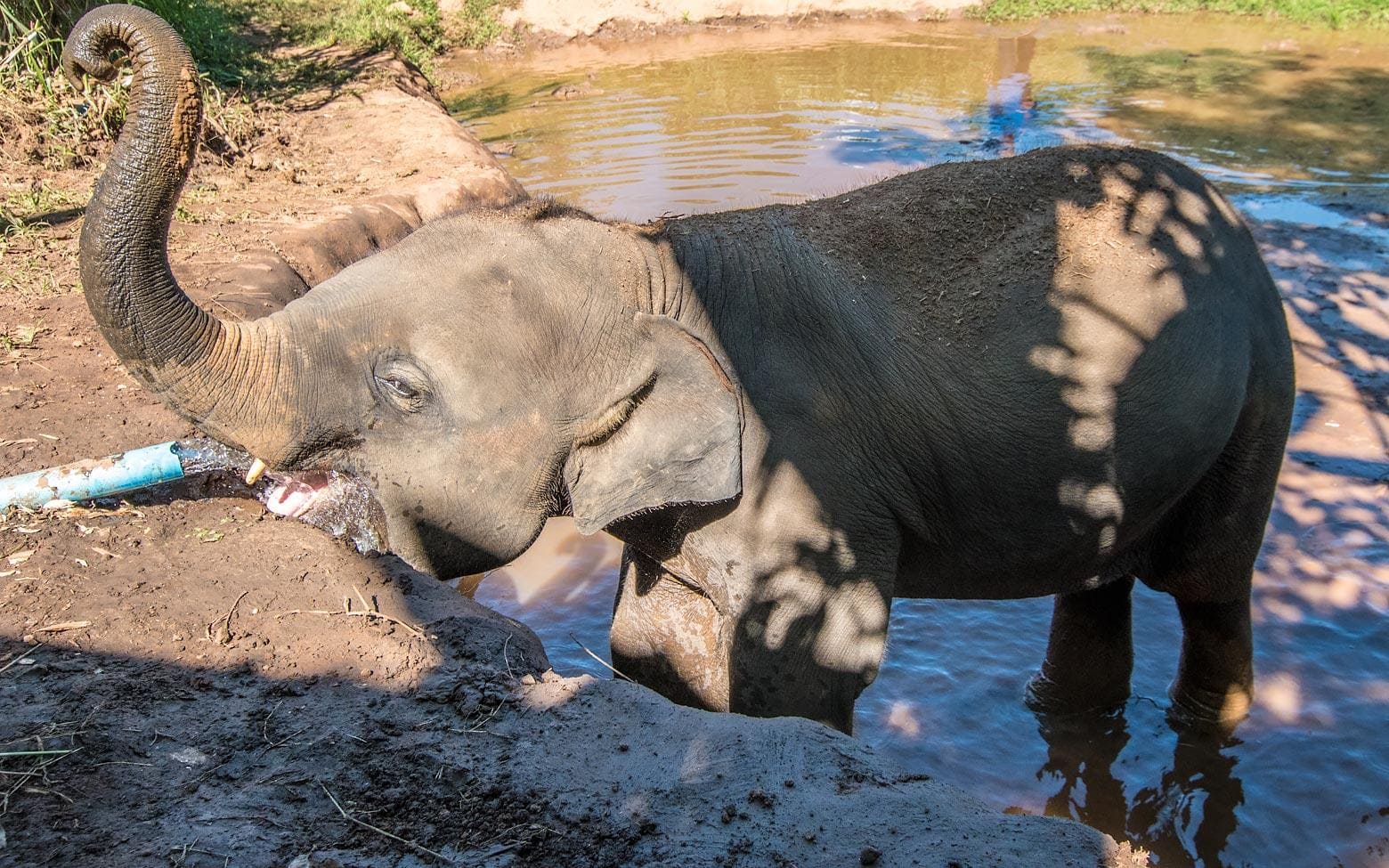 I started putting some mud behind her ears, and unlike before, she didn't seem to mind my touch. When someone else tried, she was still avoiding it but not with me. I knew she understood me before! Getting her all nice and muddy got me a second trunk kiss of the day. What a lucky boy I was.
Last but not least, we got the chance to bath the herd in the river. I swear the elephants love it even more than they love bananas. They were spinning and twirling in the water, showering us with their trunks, pretending to be submarines and doing all types of shenanigans to their caretakers. This was the cherry on the top of a day to be remembered!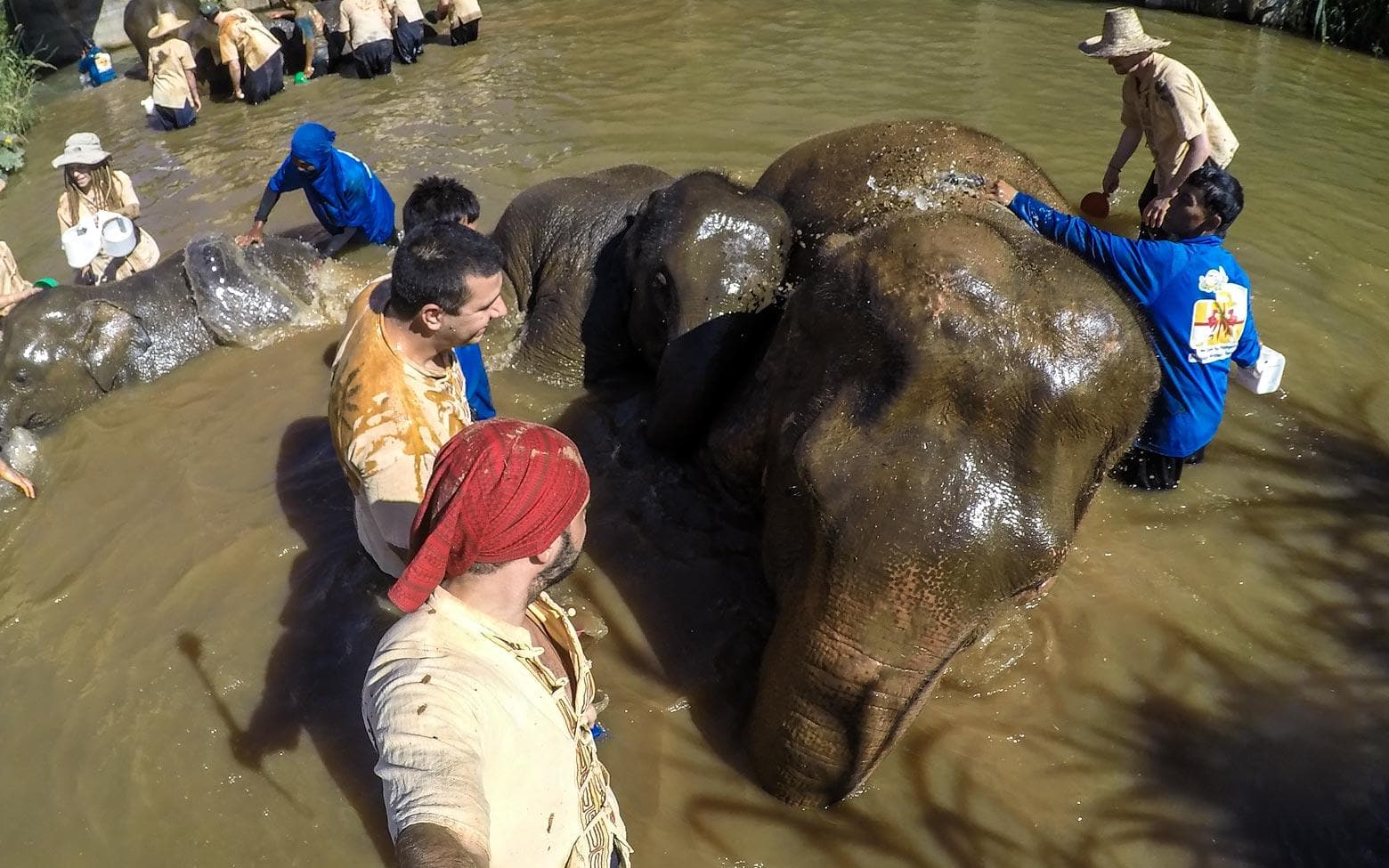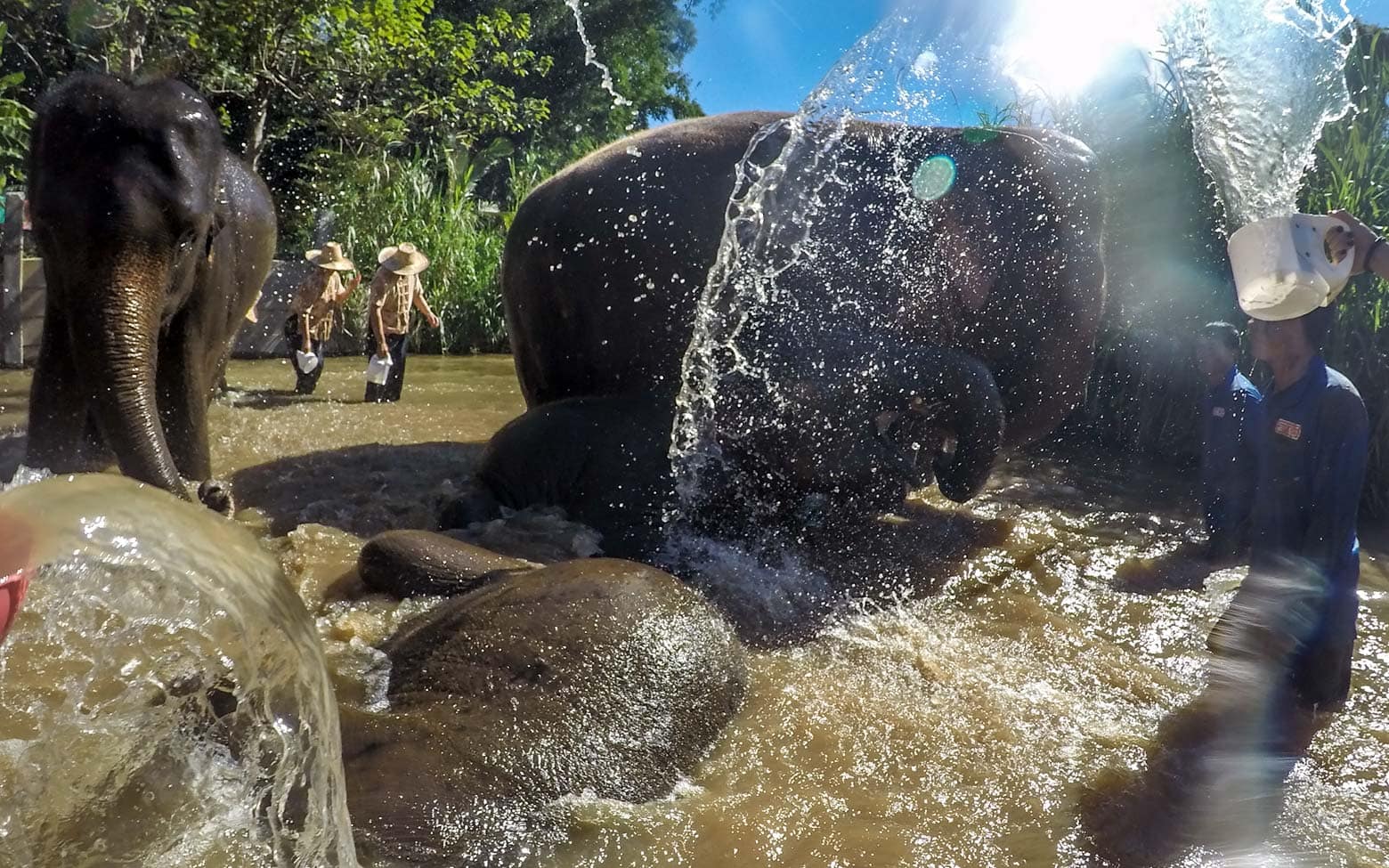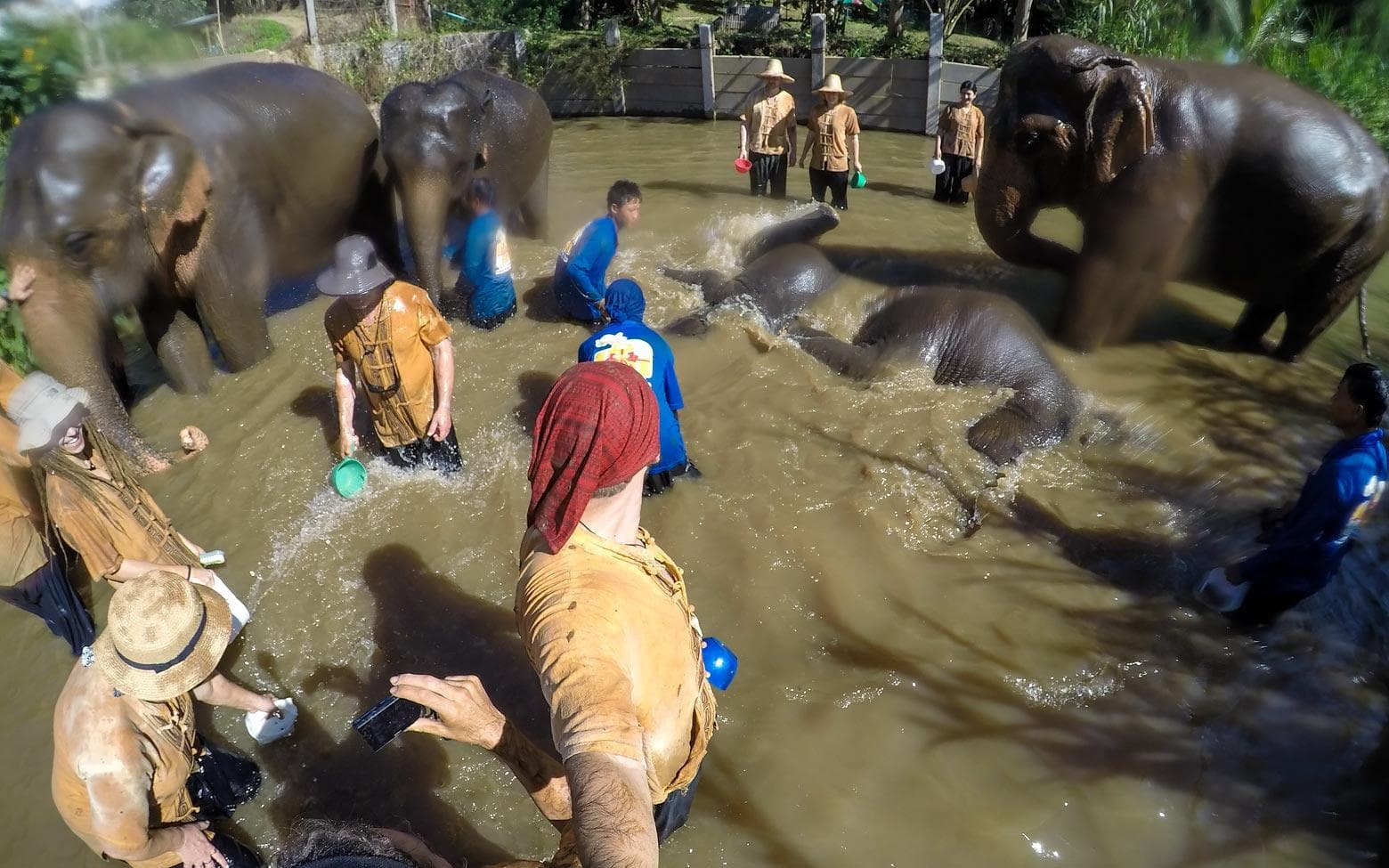 Sadly, it was the last activity of the day. We said our goodbyes, bought some homemade banana cake and were taken back to our hotels.
I had high expectations for this experience, and I knew it was going to be one of the highlights of my Thai trip. Elephant Nature Park not only didn't disappoint me, but they topped my expectations.
I know riding an elephant in Thailand is part of many bucket lists but I also believe this is due to those people being entirely oblivious of the way the animals are treated (just like I was).
Places like ENP are doing a great job of spreading awareness about the issue, but in the end, it's up to us to stop it for good. Do you have a friend going to Thailand soon? Let him know! Don't let babies, like Mina, getting tortured just so someone can get a "cool" selfie on top of them.
Be an elephant friend!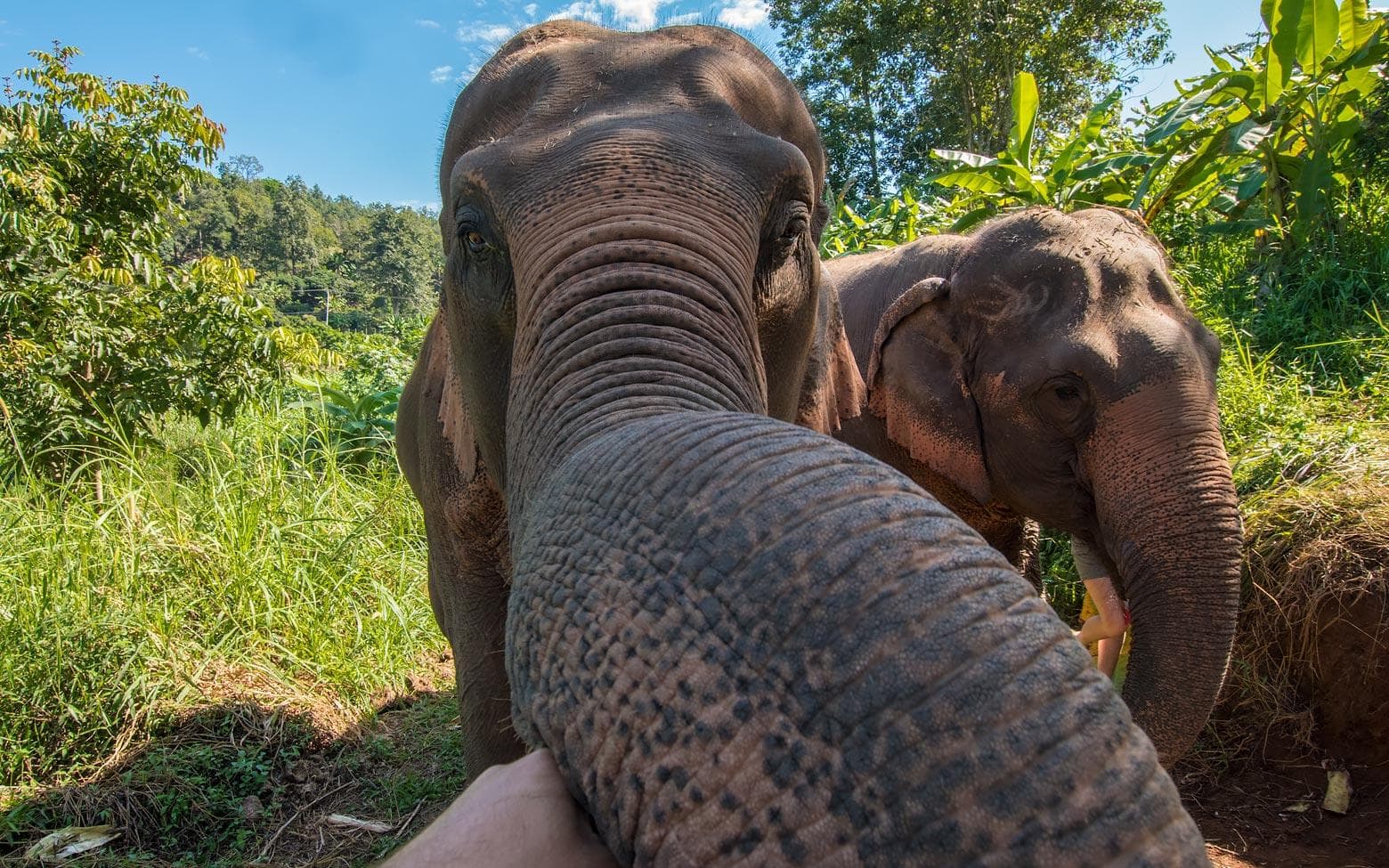 Since this type of tourism is getting popular, there are various elephant sanctuaries across Thailand. Do detailed research before picking one – a lot of them still abuse the elephants when there are no tourists around.
I can vow that Elephant Nature Park takes care of their elephants with kindness and respect and I highly recommend it.

Elephant Trails Extra Info:
Prices: Trekking with elephants is one of the cheapest activities costing 2500 THB. Prices for other projects vary. Check them all here.
Is booking required: ENP is quite famous nowadays so book it as soon as you have your dates in Chaing Mai set.
What to bring: Get sandals or flipflops (for the river), sunscreen, a towel and an extra set of clothes. If you bring some extra bananas, you may get a trunk kiss too!
Transportation: A minivan will pick you from your hotel and bring you back there.
Fitness level: Even though its described as a trek it's actually an easy walk. No fitness levels are required.
Photo Tip
Elephants are enormous so use wide-angle lenses. No need to take telephoto lenses, you are always close to them. Stay at the back of the line where it's free of people, and you can get shots only of the animals. Get a GoPro with a selfie stick for the mud and river shots

That's all from me, I hope you enjoy your Elephant Trails!
————————————
If you haven't planned your trip there yet, find out how I plan my trips!
————————————
I've got 29 bucket list ideas for Thailand. See my impossible bucket list of 1700+ adventures!
---
Do you plan a trip to Thailand ?