Munich to Neuschwanstein Castle is the day trip I consider mandatory if you find yourself in Bavaria's capital. Even if you have only one day in Munich – do it. Neuschwanstein Castle may not be in the center of the city (or near the city at all), but it's something like the Eiffel Tower of Germany – simply unmissable.
Seriously, this day trip has no weak spots. On the way from Munich to Neuschwanstein Castle, you enjoy the spectacular scenery of the Bavarian countryside. Once in the castle area, you have an awesome forest to explore while searching for the palace's best vantage points. The cherry on the top is the castle itself, which is as spectacular from the inside as it's from the out (ok, not as spectacular, but pretty spectacular indeed).

Are you ready to visit the most beautiful castle in the Europe?
Let's go!
About Neuschwanstein Castle
Schloss Neuschwanstein is a fabulous castle built atop a rock ledge in the Bavarian Alps. It was commissioned by King Ludwig II of Bavaria (aka the Mad King) in 1869 but was never fully completed.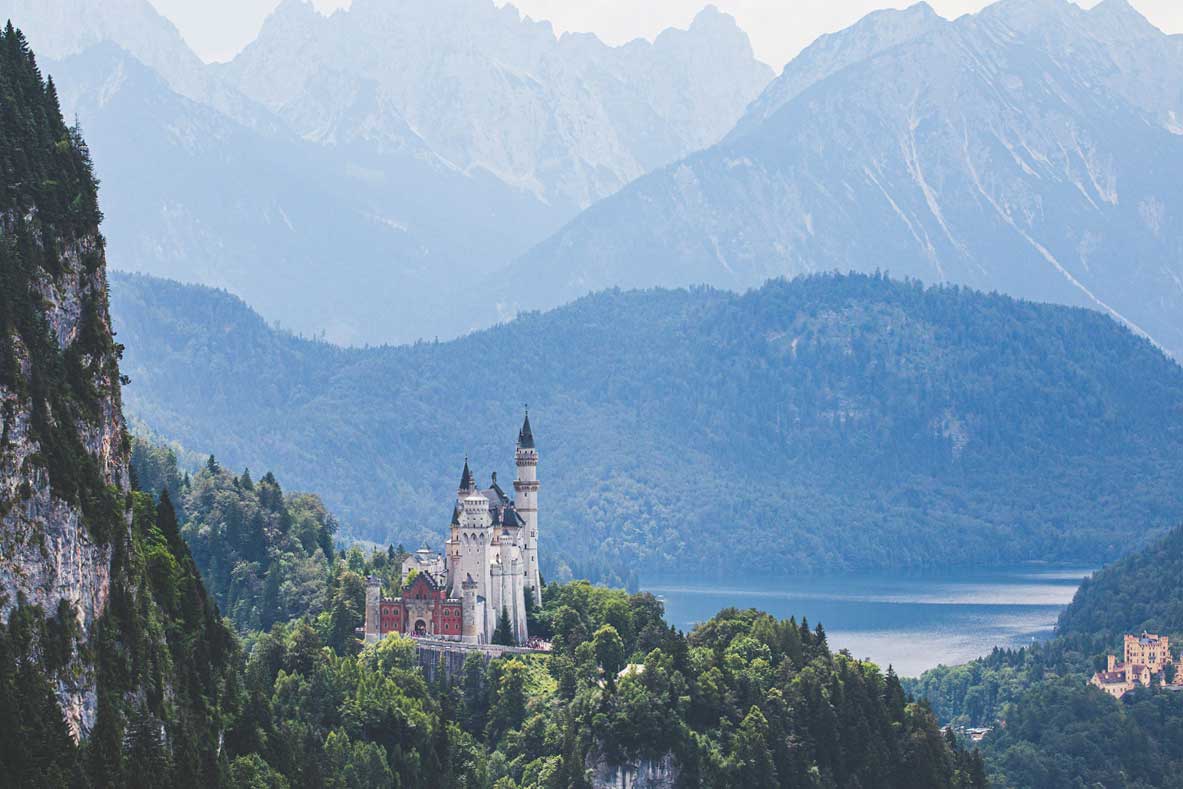 Build in Burgenromantik architectural style, the castle embodies the romantic interpretation of the Middle Ages found in Richard Wagner's operas. Sadly, the palace was far from ready at the time of Ludwig's death. Even though the King intended never to allow regular people inside his masterpiece castle, just six weeks after his death, Prince-Regent Luitpold ordered the palace to be opened to paying visitors.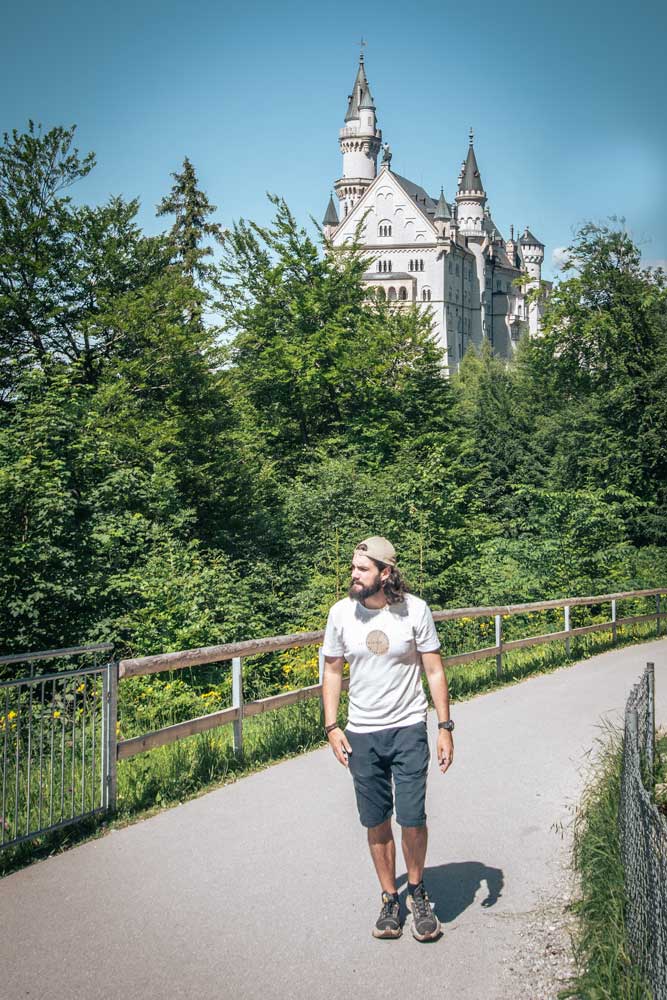 Due to its remote location, the castle remained untouched during the two world wars. It was even used by the Nazi's SS as a depot for stolen European Art.
Today the castle is one of the most recognizable German attractions (on par with Berlin's Brandenburg Gate). More than 1.3 million people visit the palace every year, making Munich to Neuschwanstein Castle the most popular day trip in the country
Castaway Fact
Neuschwanstein Castle was the inspiration behind Disney's Cinderella castle, which is also used as a Disney logo today. Since its name is unpronounceable to non-germans, tourists often refer to Neuschwanstein as the Disney Castle.

How to Get From Munich to Neuschwanstein Castle in detail
Ok, It's time to get to the point. I mean, you're here because you want to get from Munich to Neuschwanstein Castle, right?
Right.
Although the castle is 120km (75mi) away from the city, the journey is relatively easy. Let me show you the details:
Via car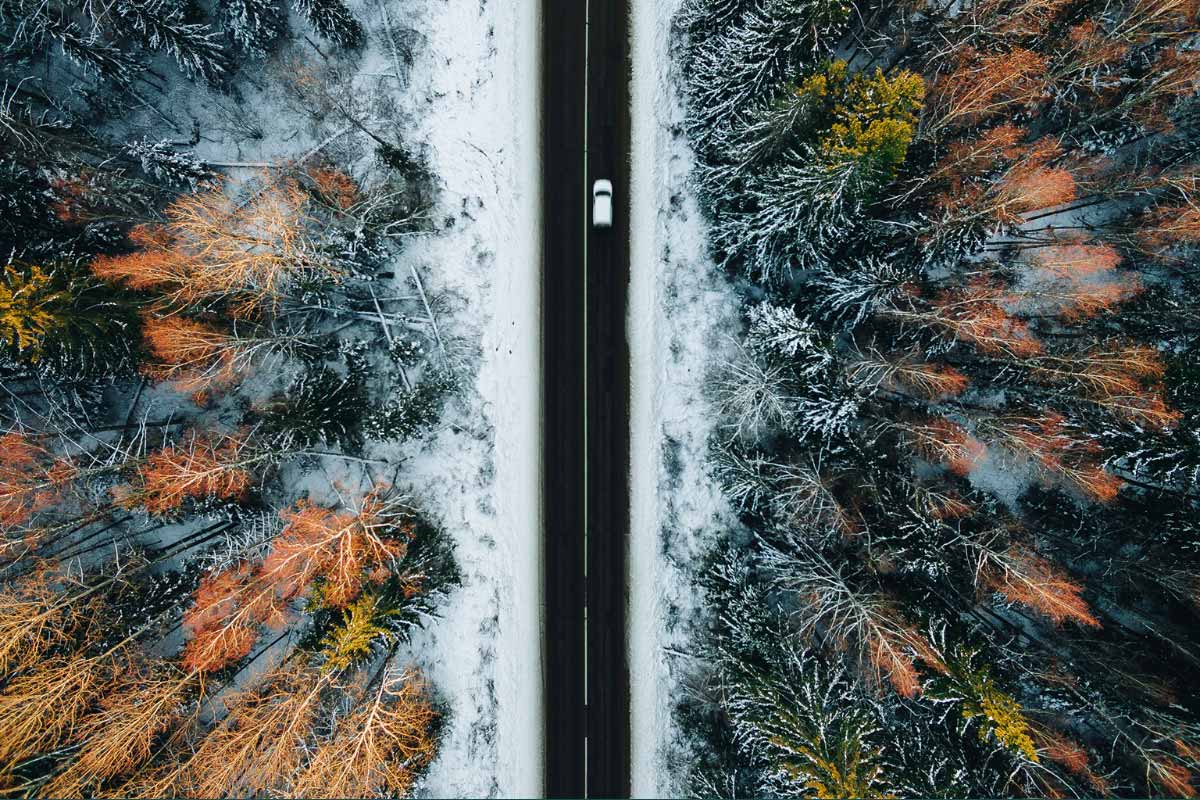 Reaching the castle via car is as easy as it gets. These are the directions on Neuschwanstein's official website: "Take the A7 motorway (direction Ulm-Kempten-Füssen) until the end. From Füssen, first follow the road B17 to Schwangau, then the signs to Hohenschwangau or take the A7 motorway until the exit Kempten and then the road B12 to Marktoberdorf. Follow the road B16 to Roßhaupten – OAL I to Buching – and then take the road B17 to Schwangau and Hohenschwangau".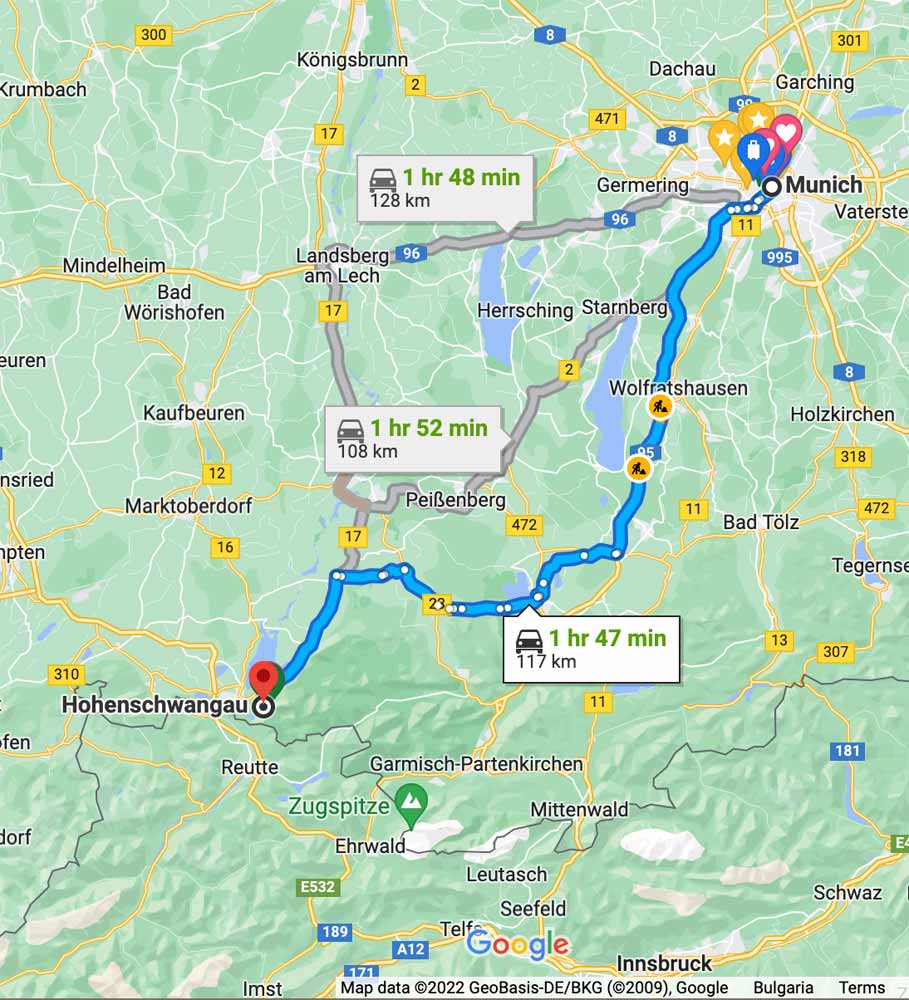 This would be helpful if we lived back in the 90s, but today, you can simply type Hohenschwangau in Google Maps and follow the directions. The drive is quite straightforward, and you should arrive in approximately 2 hours. Don't be anxious about driving on one of Germany's famous autobahns. Even though there's no speed limit, it's just like driving on a highway.
The most convenient tool for finding the finest rent-a-car in Germany is definitely Discover Cars. They compare all offers among 500 rent-a-car providers to help you find the best one. Get yourself a Mercedes (or a BMW) and submerge in the German road adventure.
Castaway Tip
Bavaria's Romantic Road (B17) is a famous german attraction. Unfortunately, Its main highlights are north of Munich, but you can still catch part of the road south (from A96) to Hohenschwangau. Now, if you decide to go this way, I suggest planning more than a day for the Munich to Neuschwanstein Castle trip. There's plenty to see.

What about parking?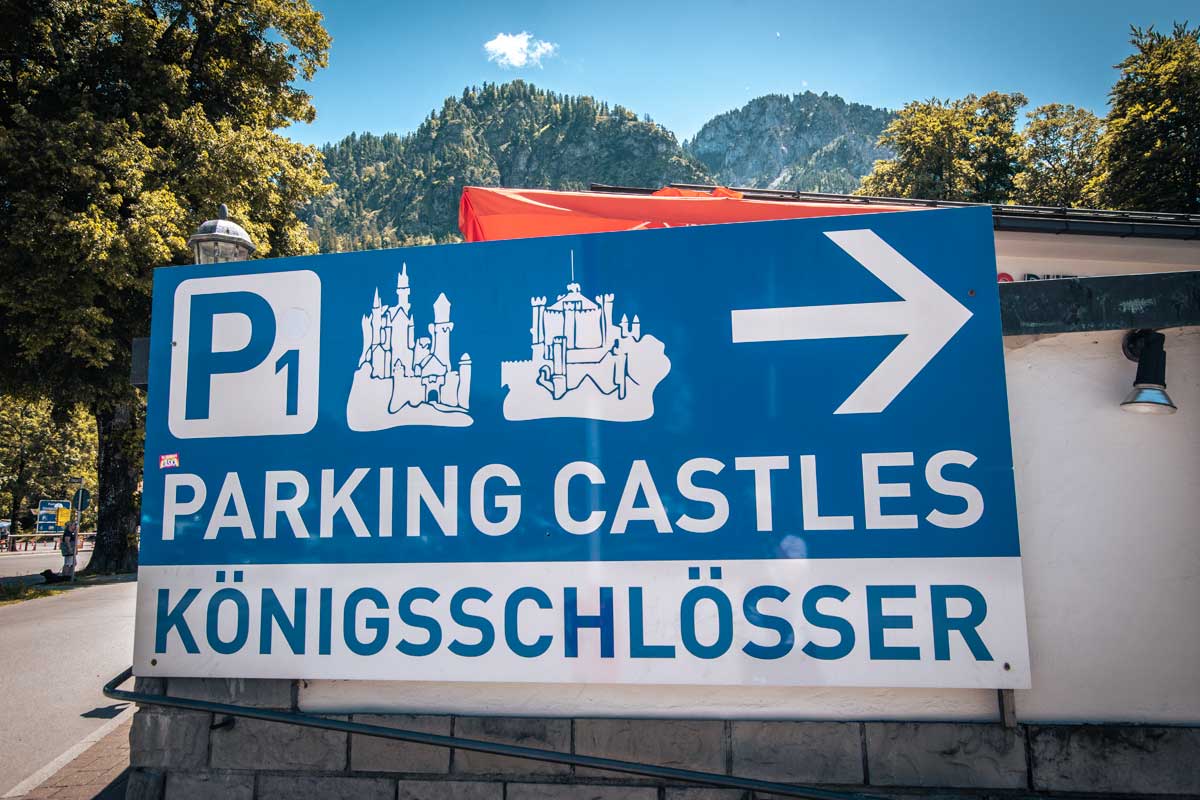 There are a few parking lots in the area. They're pretty much the same, costing 10 EUR per day. Behind P3 is the shortcut path to the castle, so I guess this is the best one.
Via train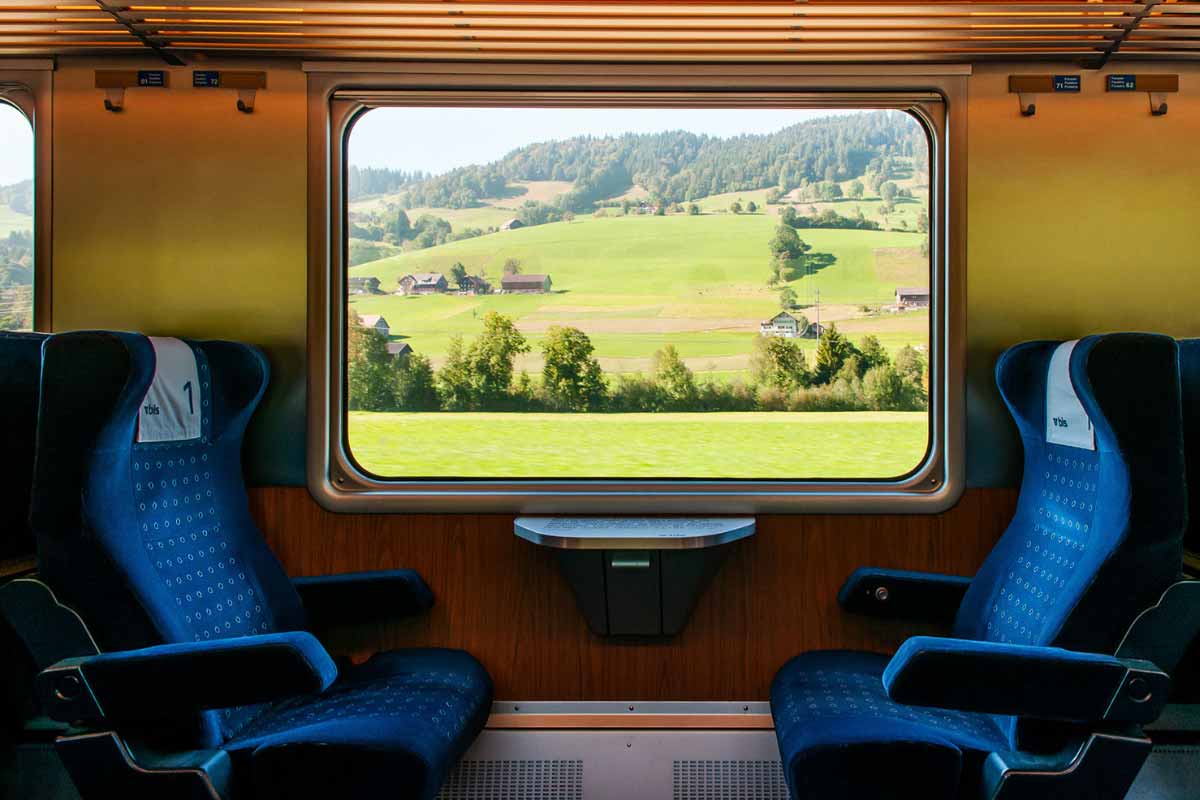 If you're like me and rarely rent a car when traveling, your only option is German public transportation. Although there's no direct line, being a top tourist attraction, Neuschwanstein Castle is not hard to reach via train. Let's simplify the whole journey:
First, go to München Hauptbahnhof (Munich Central Station) and board a train to Fussen. There's one every hour so you can go whenever you want, but I suggest doing it as early as possible since there's plenty to see today. You can also get an online ticket in advance.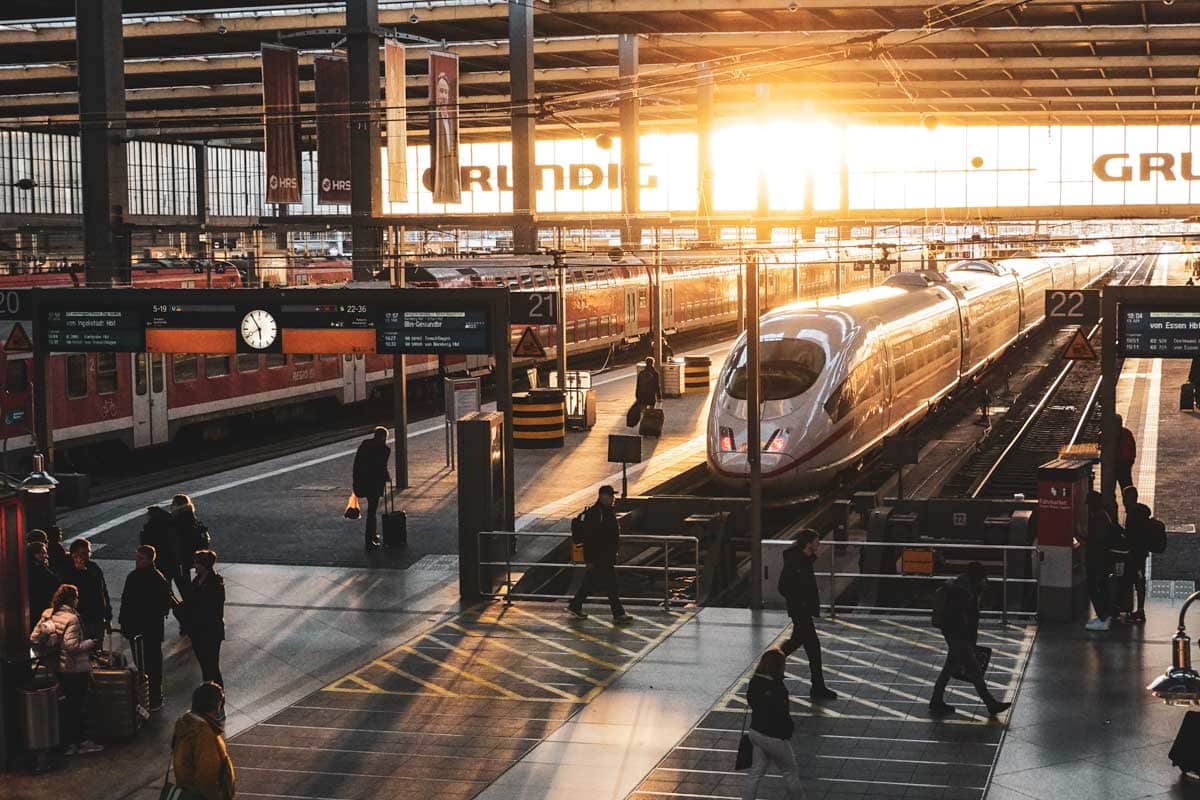 Speaking of tickets, if you're not a solo traveler, I strongly recommend getting the Bayern Ticket. It costs 26 euros + 8 euros per extra passenger (5 max) and allows unlimited daily travel with all public transport in the Bavaria area (minus the high-speed trains). You can get the ticket online or from one of the machines at the train station. Just make sure you have a pen with you because you need to write the names of the passengers on the Bayern ticket. If you're a solo traveler, regular tickets would be cheaper.
You are in Fussen now, and you need to get to Hohenschwangau (the village next to the castle). This happens via bus. You must catch either the 73 or the 78 bus (their stop is right next to Fussen's train station). The Bayern Ticket covers the bus fee too. If you don't have one, prepare 2.10 EUR (one way) to pay the driver. It's a short journey lasting about 10 minutes.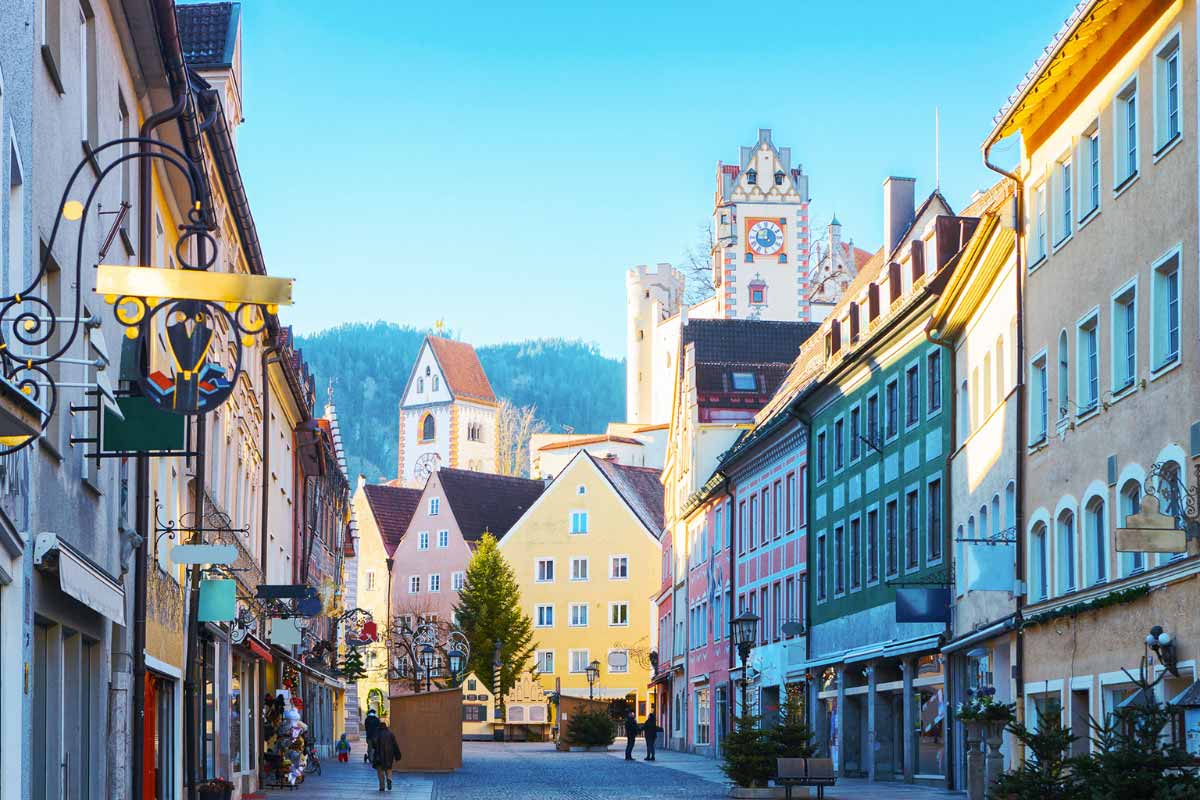 You're in Hohenschwangau now, and you can already see Neuschwanstein Castle in the distance! Yup, you're almost there, but now comes the hard part. Ok, it's not really that hard, but it's harder than just sitting on the train. Now you have to hike to Neuschwanstein Castle.
The palace is situated about 1.5 km (1mi) away from the village's ticket office, but that 1.5 kms are steep uphill road ones. If you consider yourself with at least average fitness levels, it should take you around 30 minutes. I suggest getting the slightly more uphill shortcut behind the parking next to the Imbiss Königshütte hotel (P3). On the first crossroad, go right and follow the path afterward.
If walking is not your thing, you can catch a shuttle from the P4 parking lot (below Hohenschwangau Palace). It costs 3 EUR to go up and 2.50 EUR to get down (3.50 EUR return trip) and will take you to the famous Marienbrücke, just 500 (downhill) meters from Neuschwanstein Castle.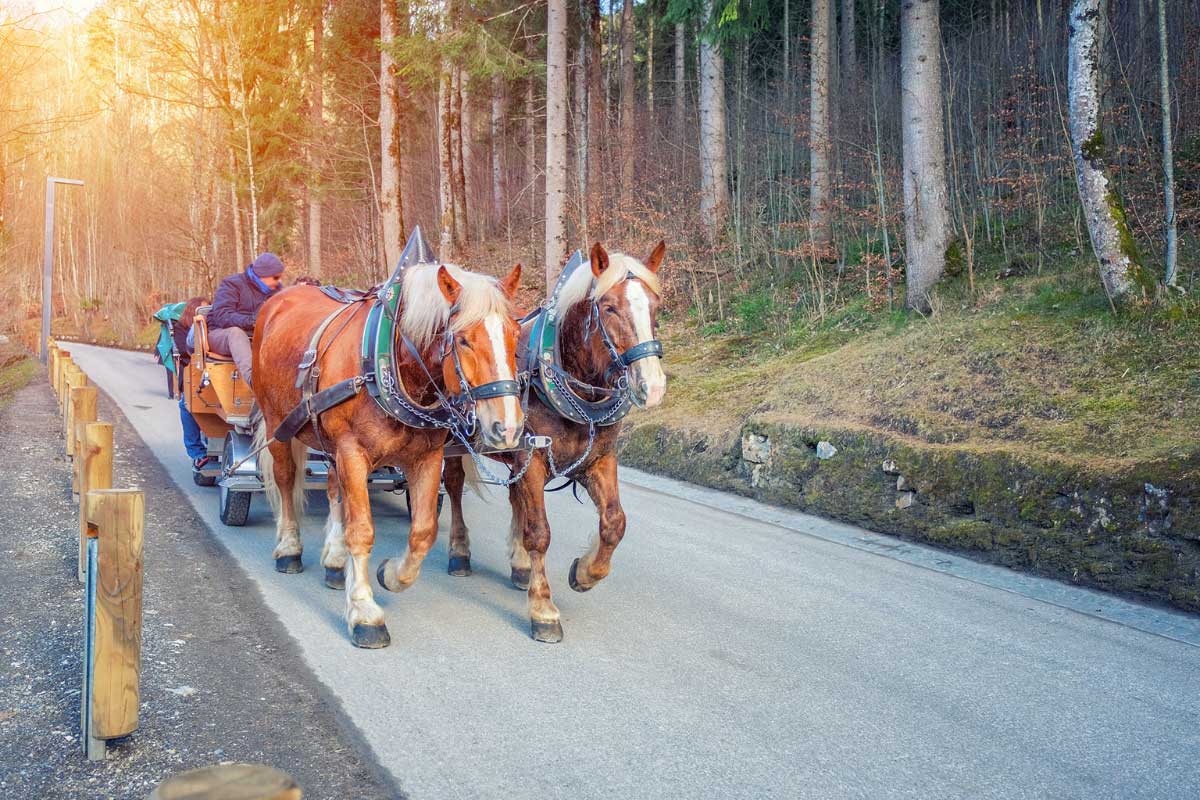 There's also a horse carriage (stop is across Hotel Müller) option for 7 EUR uphill / 3.50 EUR downhill that will take you about 500 (uphill) meters away from the castle. However, I don't suggest taking one. This type of animal exploitation is best left in the past.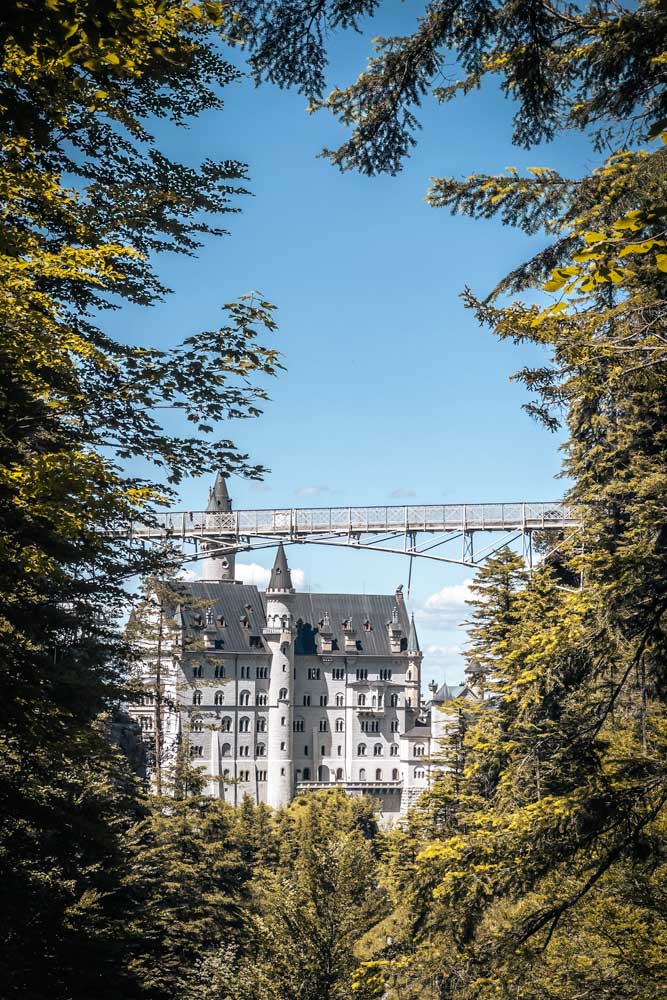 There's no step 4. You've reached Neuschwanstein Castle in just three simple steps! Now check how much time there is till your entry hour and start exploring the area. But, wait, you have no ticket? Let's talk about the Neuschwanstein Castle's tickets.
How to buy Neuschwanstein Castle tickets?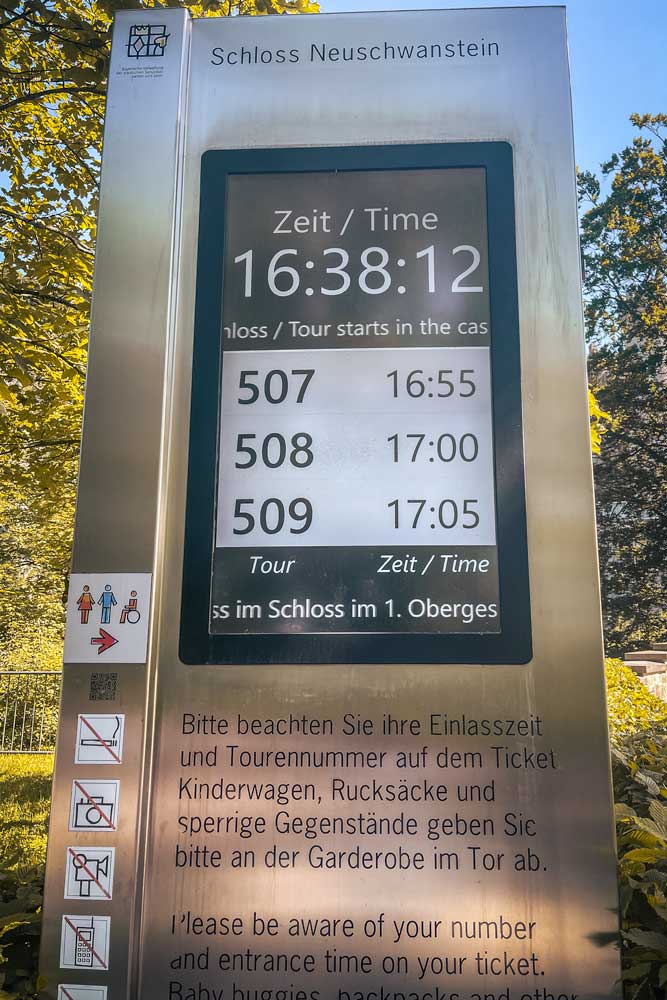 You don't want to travel from Munich to Neuschwanstein Castle, do the hefty hike uphill, and find out you can't get inside, right? Of course not. So how do you get tickets for the Disney Castle?
There are two options, one of them a risky one. So let's start with it.
The risky option is buying tickets from the ticket office in Hohenschwangau.
Huh? It sounds as straightforward as possible. How is that risky?
It's risky because the chance of tickets running out before you get one is almost 100%. Ok, if you visit during low season, you'll probably get tickets that way, but any other time of the year, you have to be exceptionally lucky to get one.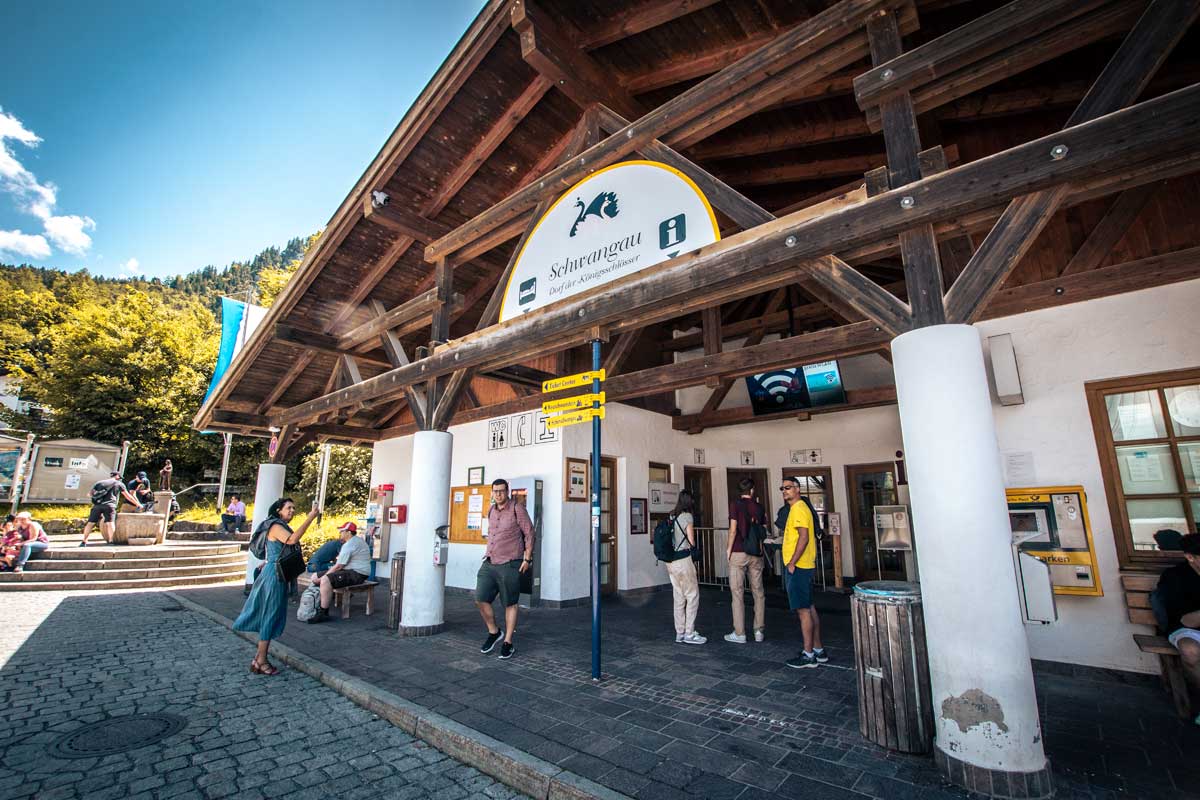 The second option is the sure one – online tickets. Available months ahead, this is something you should most definitely do. Don't argue with me. No matter how much you like to just wing it, you need an online ticket to get inside the Cinderella Castle. All tickets have timeslots, and you better not miss yours, or you won't be allowed to enter.
Get online tickets from the official site here.
Ticket Info
All tickets are tour tickets since you're not allowed to visit any other way. You'll either be led by a guide or be given an audioguide. The ticket price is 17.50 EUR. Get online tickets from the official site.
Munich to Neuschwanstein Castle with a tour
If you want to visit Disney Castle the easy way and maybe even combine it with another palace in the area, this is the option for you. No need to rent cars, look up train schedules, navigate ticket machines, or do hefty hikes, all you do is book a tour. Here are some options:
Neuschwanstein Castle + Church of Wieskirch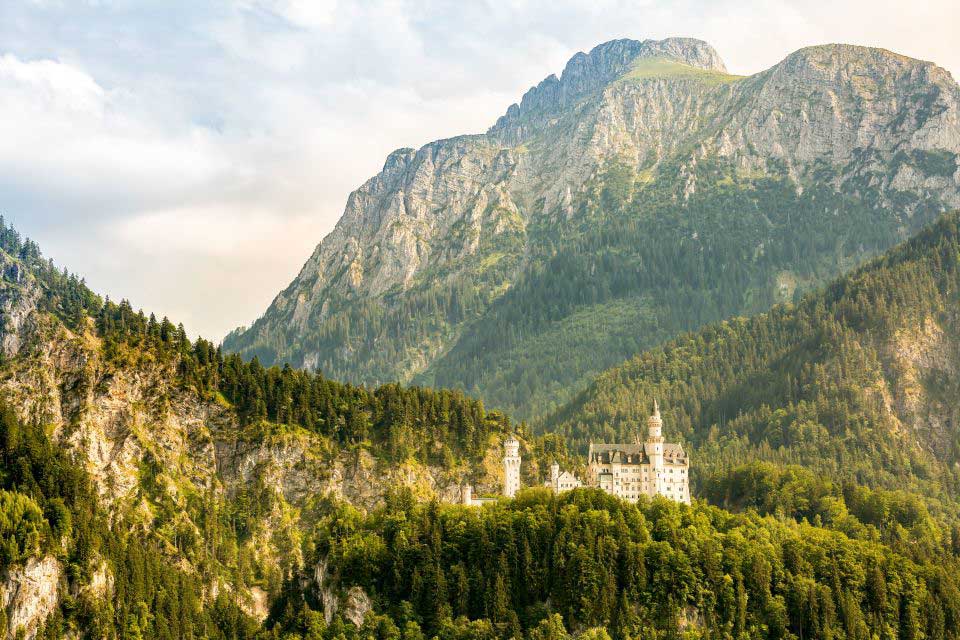 This tour will pick you up from your hotel to take you along Bavaria's famous Romantic Road, passing through old, quaint villages and scenic countryside. Once you are finished checking out Neuschwanstein, you'll be taken to the UNESCO-recognized Church of Wieskirch.

On the way back, you stop at a traditional Bavarian cheese farm where you can enjoy a cheese and sausage platter with freshly baked bread.
Important: This tour does not include tickets to Neuschwanstein Castle.

Check the latest price
Neuschwanstein Castle + Linderhof Castle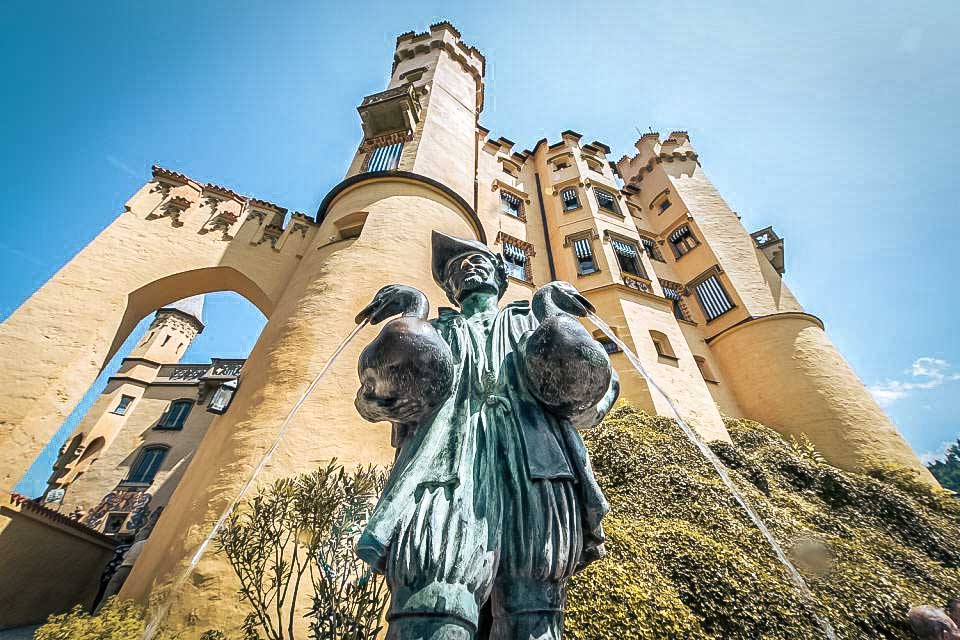 This tour will take you not only to the magical Disney Castle but also to the only castle Ludwig II, King of Bavaria, actually managed to complete – Linderhof. The tour also includes visits to Hohenschwangau Castle and the picturesque town of Oberammergau. This one basically covers everything of interest in the area.
Important: Castle tickets are not included in the tour's price.

Check the latest price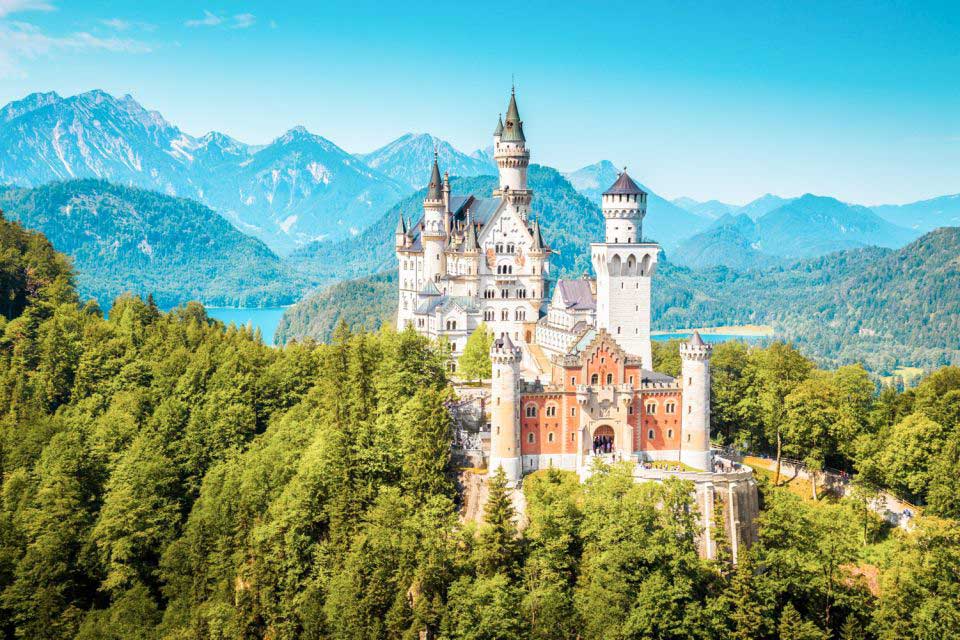 This tour also covers all the cool spots in Bavaria but ensures you don't have to do anything on your own, meaning your skip-the-line tickets are already bought for you.
You also get a better vehicle with snacks and drinks and have Wi-Fi that will make your journey along Romantische Straße as pleasurable as possible.

Check the latest price
Castaway Tip
If you're getting your tours elsewhere, look at the type of transportation offered. If it's a train tour, you can safely skip it. The most significant advantage of organized tours is the car's flexibility and speed. Doing it via train would be the same as doing it on your own.

Getting back from Neuschwanstein Castle to Munich
There's not much to say here. You just follow the way you get there but in reverse. The only thing you need to keep in mind is the train schedule. You don't wanna miss the last train to Munich (usually around 7:00 PM).
What to expect inside Neuschwanstein Castle
The Neuschwanstein Castle tour will take you around several rooms, including the unfinished throne room and the King's private bedroom. As expected from a mad King, most halls are pretty spectacular and have fascinating stories to tell. Even though the tour is not long, around 30 minutes, it's an enjoyable one. Unfortunately, taking pictures is not allowed.
Neuschwanstein Castle's secret photo spot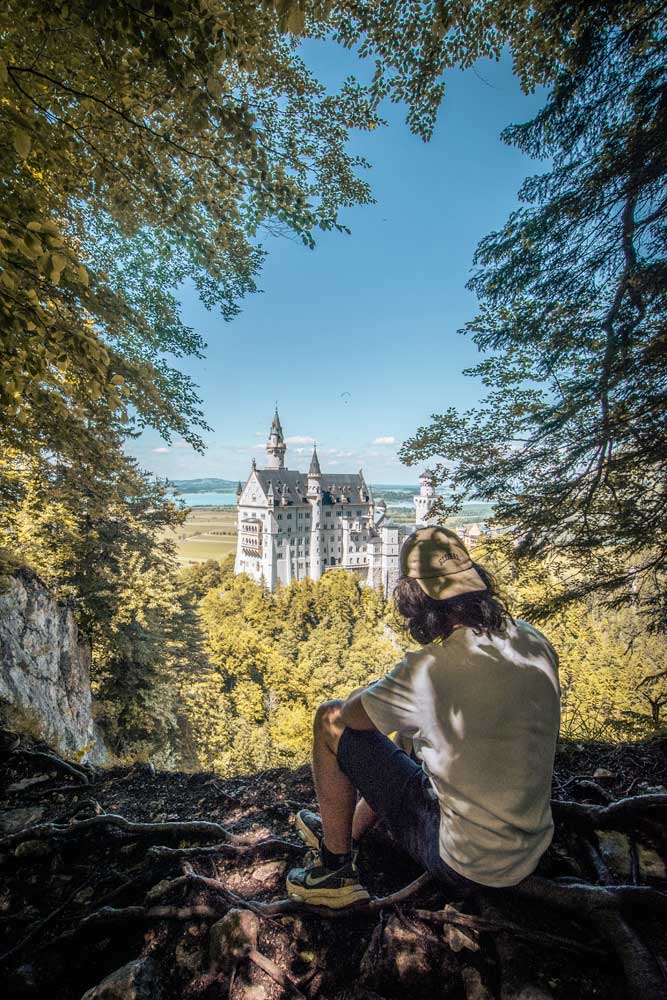 If one of the main reasons to embark on the journey from Munich to Neuschwanstein Castle is to get a great shot for your Instagram feed, you are lucky, I know the perfect place for that. There are plenty of photo spots around the castle, most of them marked on Google Maps (or maps.me). The best one, however, is not.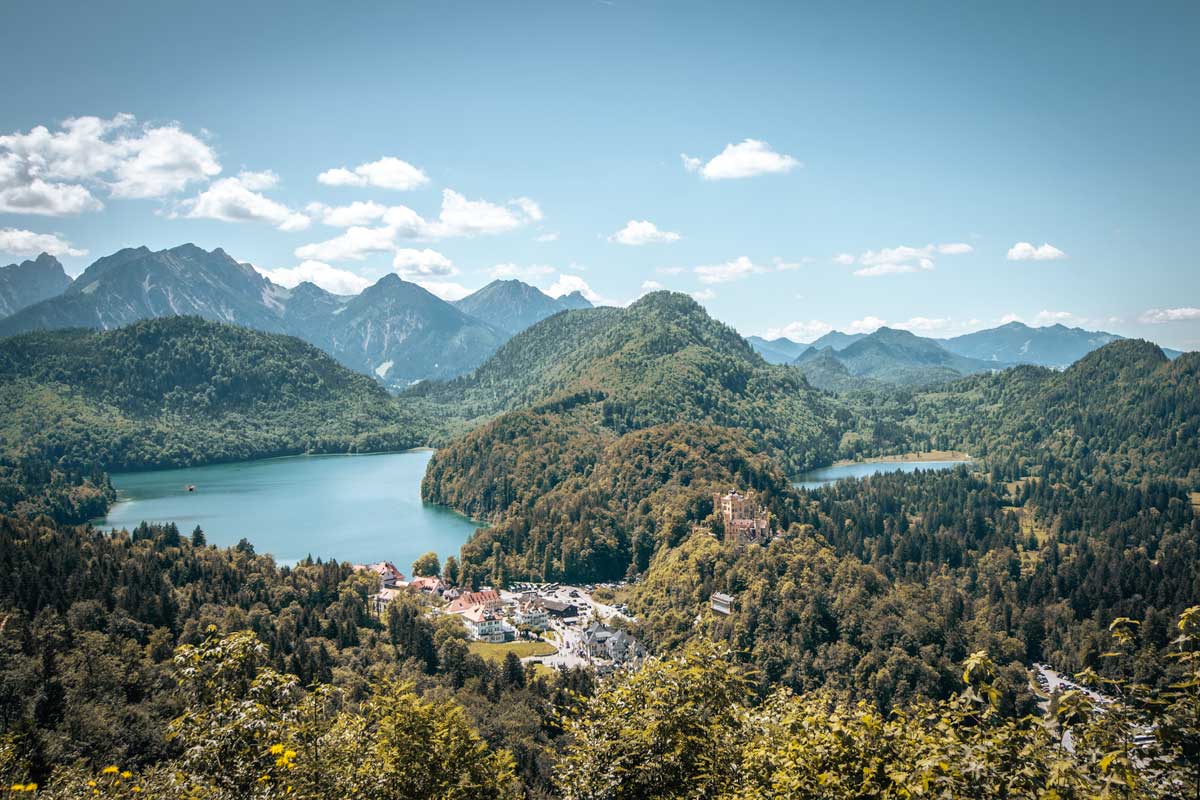 When you reach the castle, continue down the main road. In a few minutes, you'll reach a turn with a gorgeous panorama of Castle Hohenschwangau and the lakes around it (Panoramic view Schwangau in Google Maps). There's always a crowd there, so you can't miss it.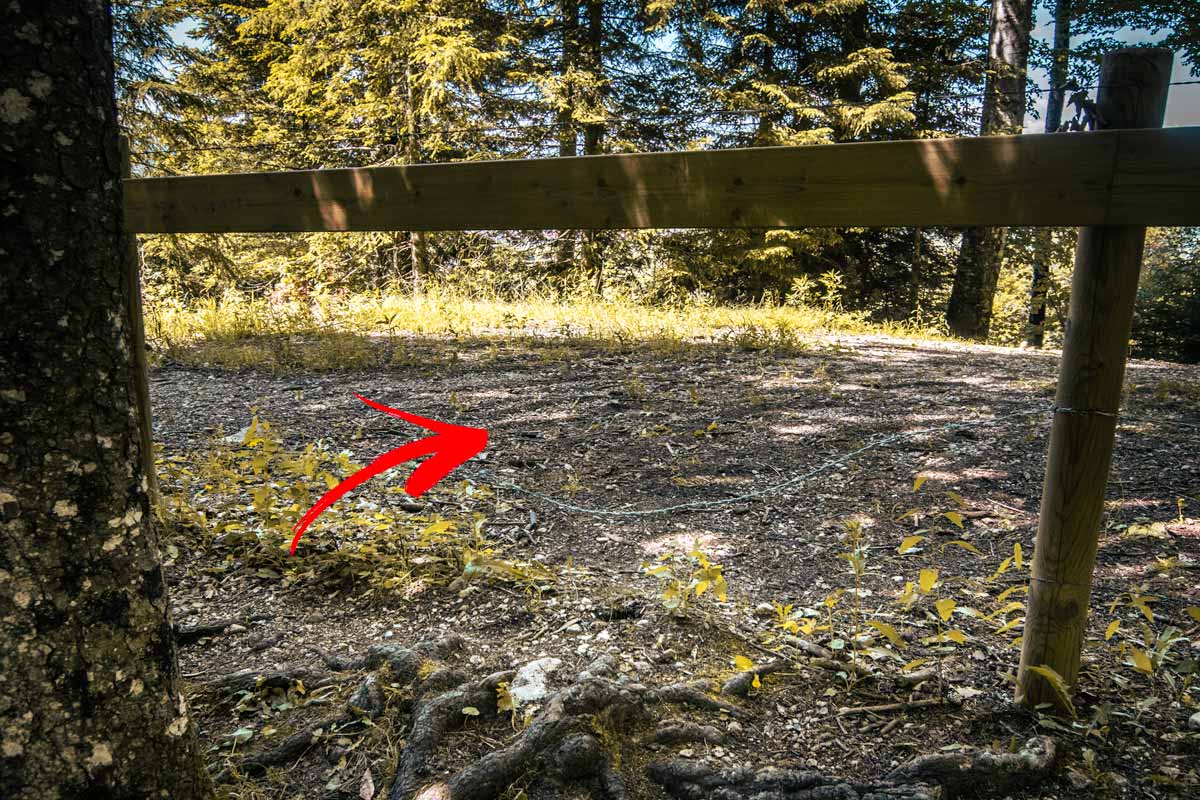 Around 50 meters down the road, keep your eyes to the left. You'll see a solar-generated lamp and, right next to it, a semi-path of tree roots going up in the forest. Climb it and go through the cut barbed wire. Once on the other side, follow the path up, and you'll find the most beautiful Neuschwanstein Castle photo spot.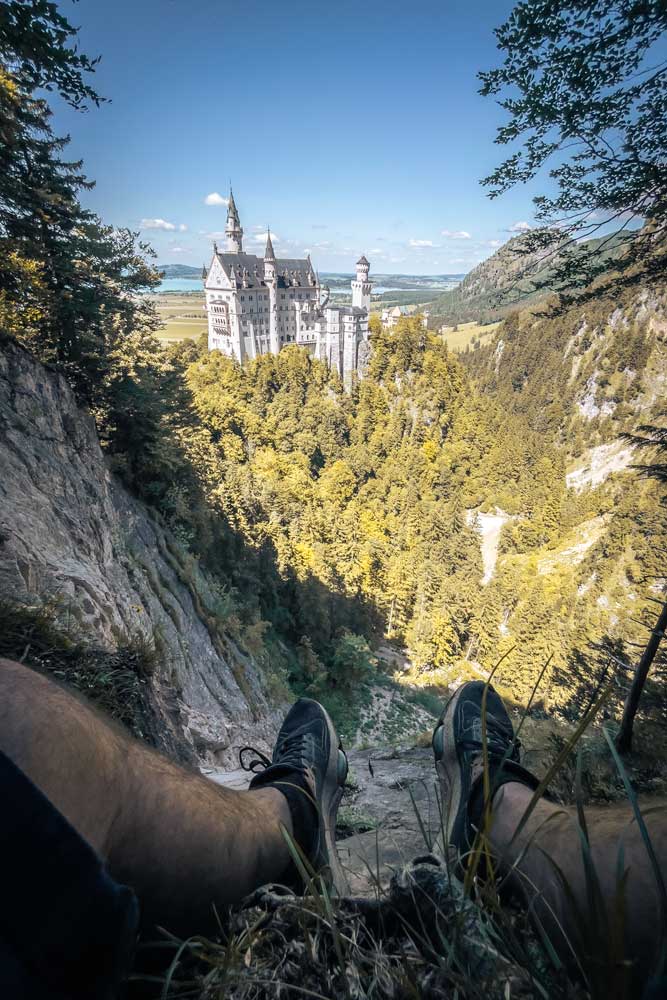 The site is next to a dangerous cliffside, so be careful when taking your shots. No photo is worth your life.
Photo Tip
Most of the day, the light sucks, so you'll have to fix it in post-process. If you're using a phone, make sure you focus on the castle (the light part). It's way easier to brighten the shadows than darken the lights.

The other Neuschwanstein Castle photo spots
Since the other photo spots are not secret, it's better to show them on the map than explain how to get there.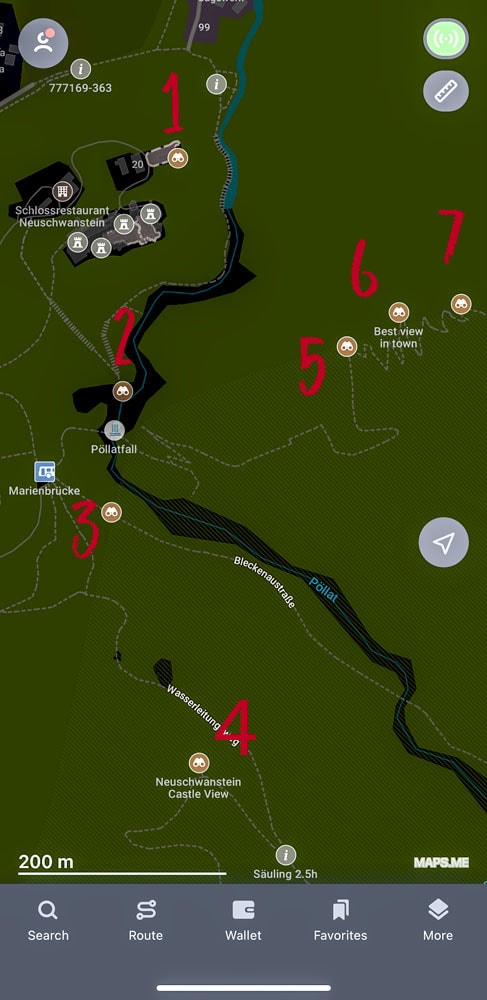 You can find them easily in maps.me.
What is Castle Hohenschwangau?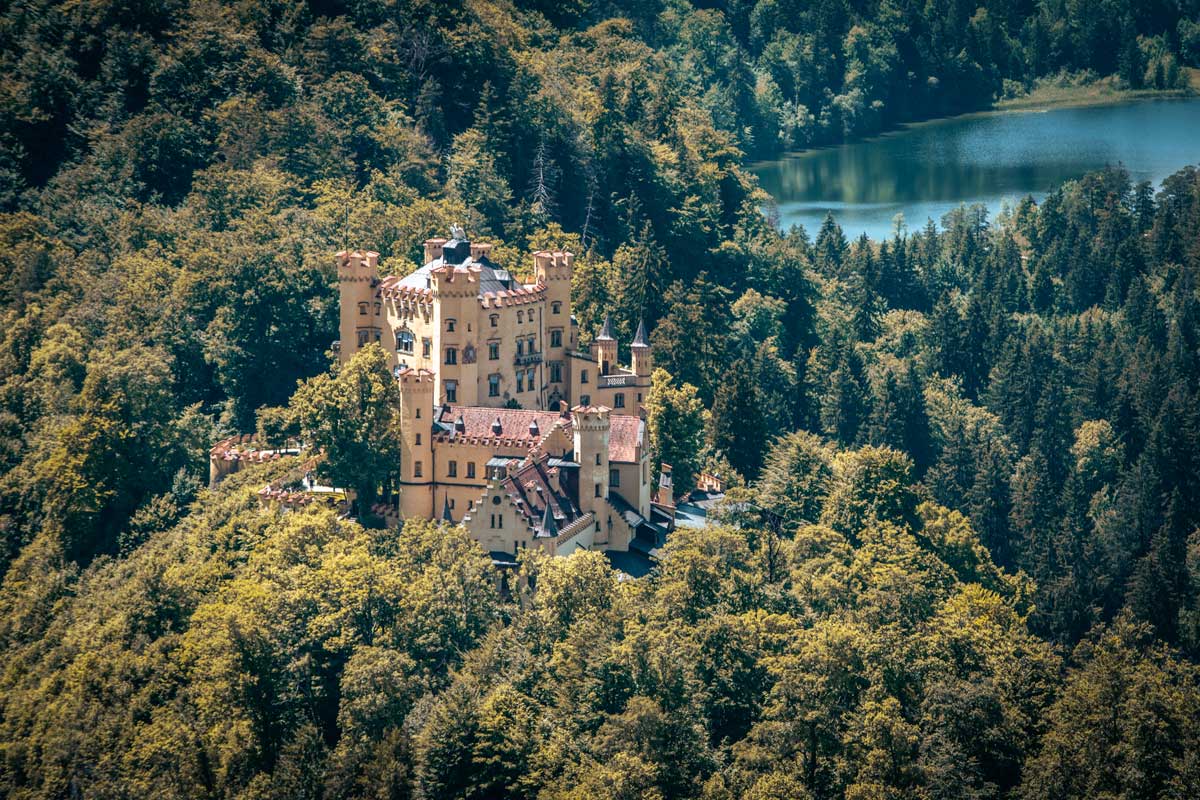 You've seen me mention Castle Hohenschwangau a few times already. This is the neighbor of Neuschwanstein Castle, located down in the Hohenschwangau village. It was the childhood residence of the Mad King Ludwig II of Bavaria.
Visiting this castle requires more time (the tour is around 45 minutes) and is more expensive (23.50 EUR) than Neuschwanstein Castle. Getting an online ticket is highly advisable.
If you think you'll have enough time, you may check it out, but for me, the forest around Disney Castle is much more fascinating.
Munich to Neuschwanstein Castle FAQ
When is the best time for the Munich to Neuschwanstein Castle day trip?
The best time to visit Neuschwanstein Castle is during the shoulder seasons: March to early June or September to early November. During those months you won't be surrounded by hordes of tourists, and you can enjoy the place properly.
What preparations do I need to make for the Munich to Neuschwanstein Castle day trip?
– Speaking of the weather, make sure to check the weather forecast before your trip. No, it's not the same as Munich.
– Unless it's summer, get yourself some layers. After all, you're in the mountain, mate.
– Make sure you have good shoes (no need to be hiking shoes but comfortable ones with a good non-slippery sole).
– Also, make sure you have cash with you. Some buses and shuttles do not accept card payments.
– Finally, keep in mind some attractions (or rooms) may be closed due to renovation works (in my case, it was Marienbrücke). Check the official site to be prepared.
How much time do I need to make the day trip?
Since it's a day trip, I would set aside a whole day for it.
However, if you want to do it as fast as possible, then it's 2 hours to get there (via car), 15 minutes to get to the castle (via shuttle), 30 minutes tour time, 10 minutes to get down, and 2 hours to get back to Munich.
I guess you can make the trip in 5 hours but do you really wanna do it that way? I wouldn't.
Can you go inside Neuschwanstein Castle?
Yes, you can go inside Neuschwanstein Castle. The 30 minutes-long guided tours allow you to enjoy the marvelous Disney Castle interior.
You most certainly have to buy an online ticket, though. I recommend getting one at least a month before your journey; otherwise, you risk the tickets running out.
Get online tickets here
Should I check Füssen too?
Füssen is quite a fantastic city that remains in the shadow of its much more famous neighbor. If you have enough time before your train back to Munich, take a walk around Füssen's old city. I guarantee you'll like it.
Should I book tickets for Neuschwanstein in advance?
I'll repeat myself here because this is important – you must get online tickets! Otherwise, you'll probably enjoy the castle only from the outside.
Where to eat in Neuschwanstein Castle?
You can't eat anywhere inside the castle, but there are plenty of restaurants down in the Hohenschwangau village. They are quite overpriced, though. My advice is to take some picnic supplies and enjoy a nice lunch at any of the viewpoints in the area.
Should I book a Neuschwanstein Castle tour from Füssen?
The most significant advantage of the tours is the transportation. Since Fussen is just 10 minutes away (via bus), booking a tour is useless. If you're already staying in the city and are curious about the area around Neuschwanstein, you may consider getting one, but otherwise, I wouldn't.
Is the Munich to Neuschwanstein Castle day trip worth it?
I answered this question with my first sentence. This is one of my favorite day trips in Europe, and it's absolutely worth it.
That's all from me, I hope you have a magical Munich to Neuschwanstein Castle trip.
————————————
If you haven't planned your trip there yet, find out how I plan my trips!
————————————
I have 24 bucket list ideas for Germany. See my impossible bucket list of 1700+ adventures!

Is Neuschwanstein Castle on your bucket list?
---
Some of the above are affiliate links and I will earn a percentage of the sale if you purchase through them at no extra cost to you. This helps keep my site running – so thanks in advance for your support!