How to find the best Halong bay cruise? What is the difference between the overnight Halong bay cruise, the day-trip, and the 3 and 4-night options? How much should I spend on a Halong Bay cruise? Where can I find the best Halong Bay cruise deal? And most of all – is the Halong Bay cruise worth it?

There are so many questions in the air for anyone who decided to visit one of the most famous UNESCO World Heritage sites in Asia. Hell, I've been to plenty of countries and on numerous tours and still had troubles to find the best Halong Bay cruise.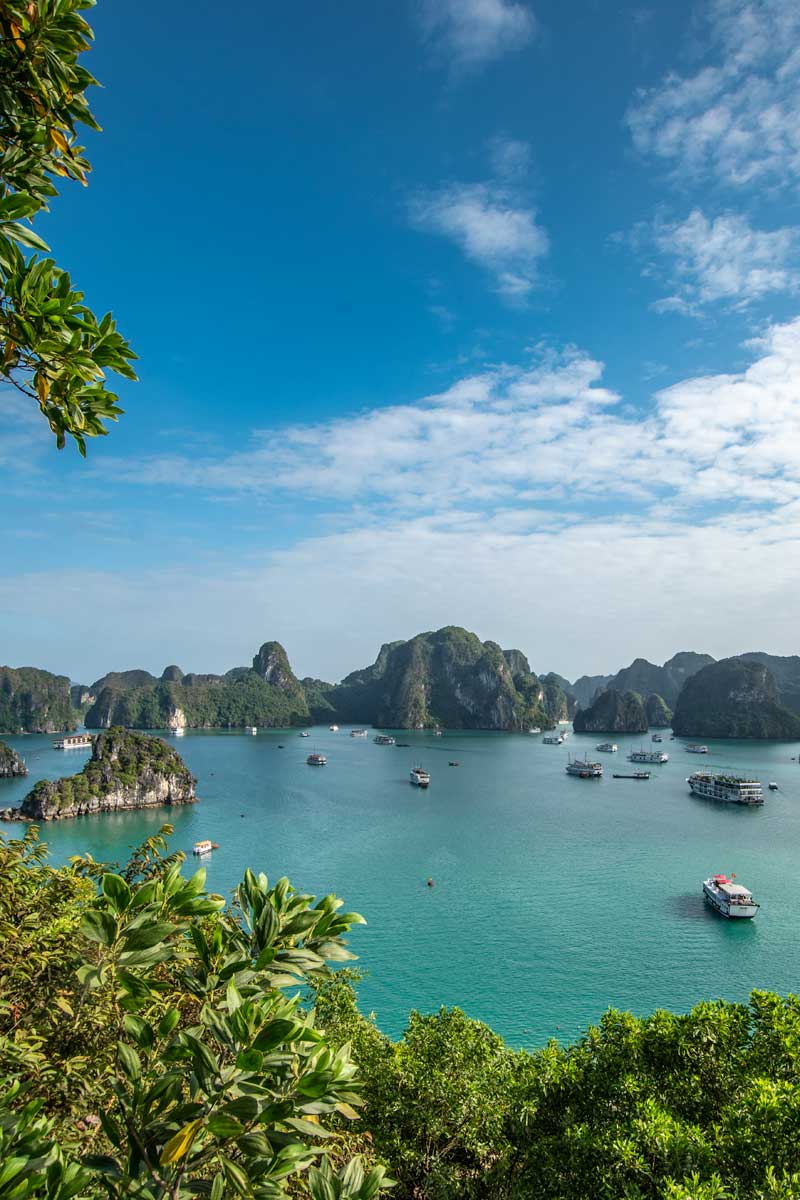 In this guide, I won't give you a hundred different cruise links to chose from, neither would I encourage you to get the most luxurious boat out there. No, this Halong Bay cruise guide will explain the details behind the cruises and help you make a decision that will best fits your expectations and budget.
So let's start with the most important question:
Is The Halong Bay Cruise Really Worth it?
Short and clear – absolutely yes!

Halong Bay is by far the most popular place in Vietnam and welcomes more than 6 million tourists per year! The bay is a cluster of around 1600 mostly uninhabited limestone islands and islets, so the best way to enjoy it is to sail lazily around them.
The biggest islands in the area the Cat Ba and Tuan Chau. Some of the longer cruises offer overnight stays on Cat Ba Island and cycling tours around it.
The beauty of the place is hard to describe in words, so I'll let my photos speak instead.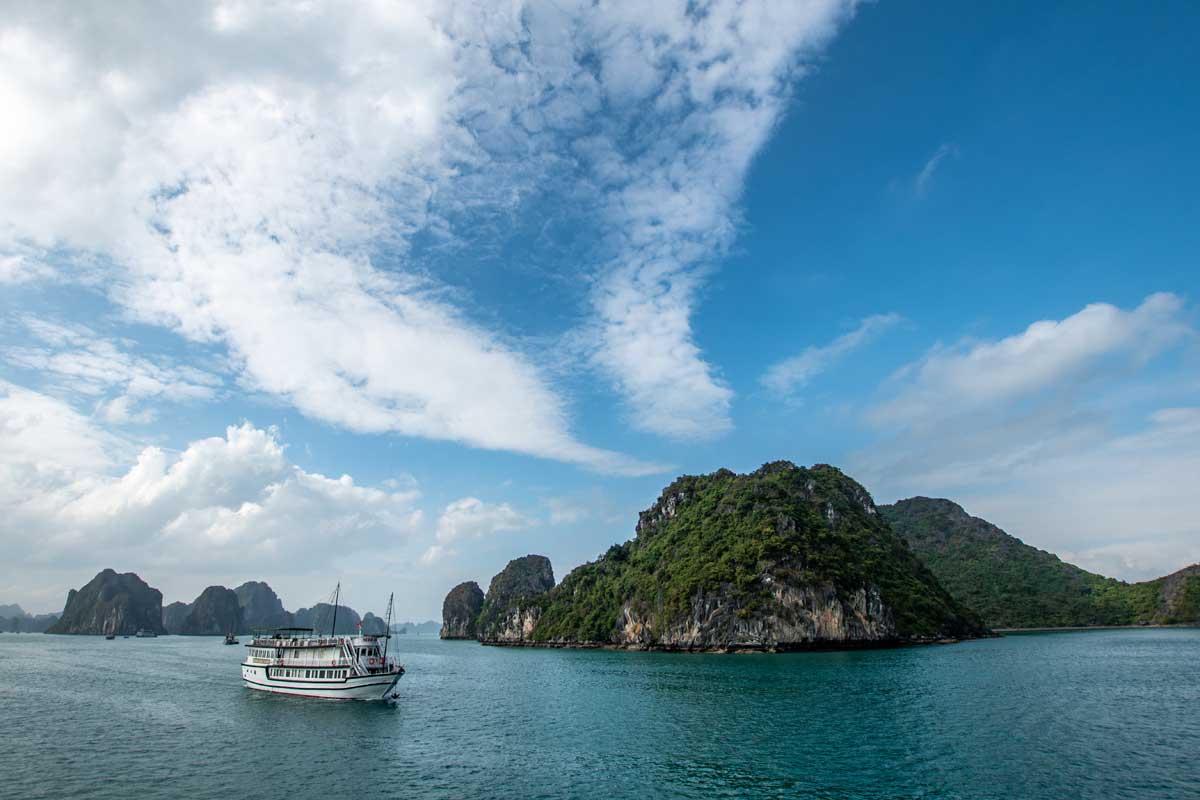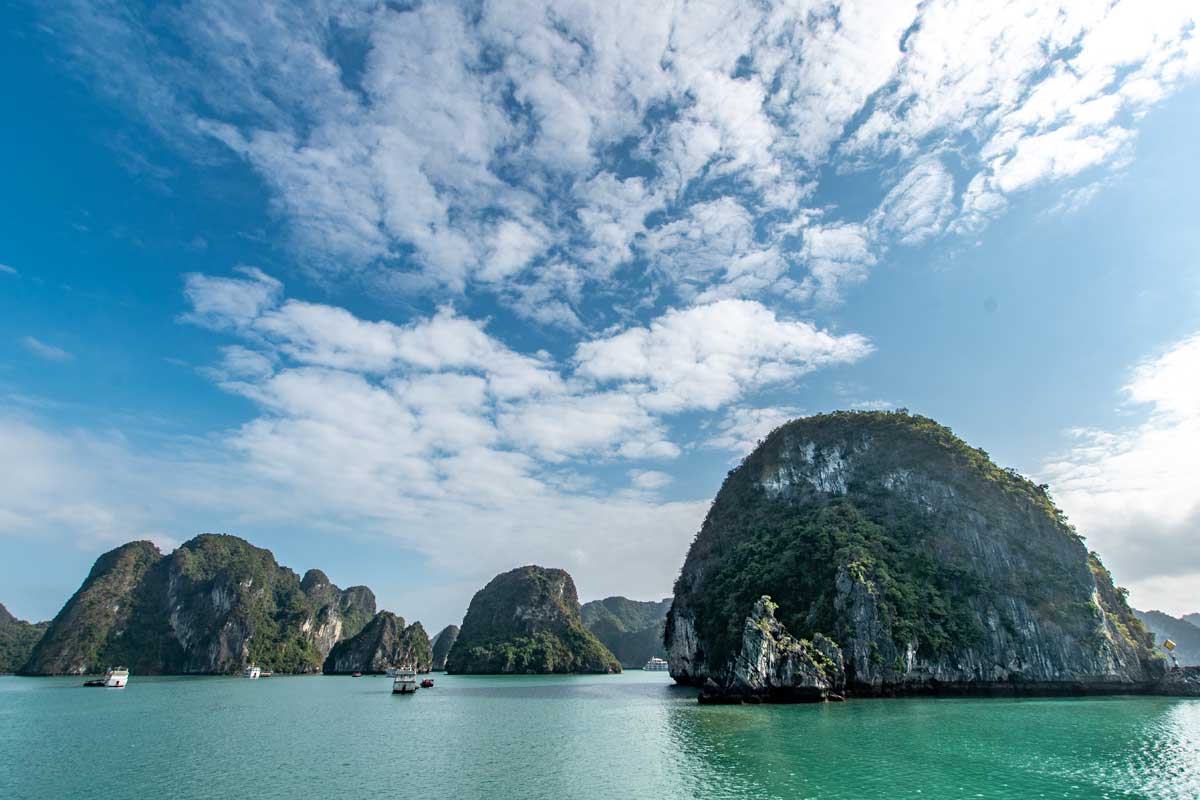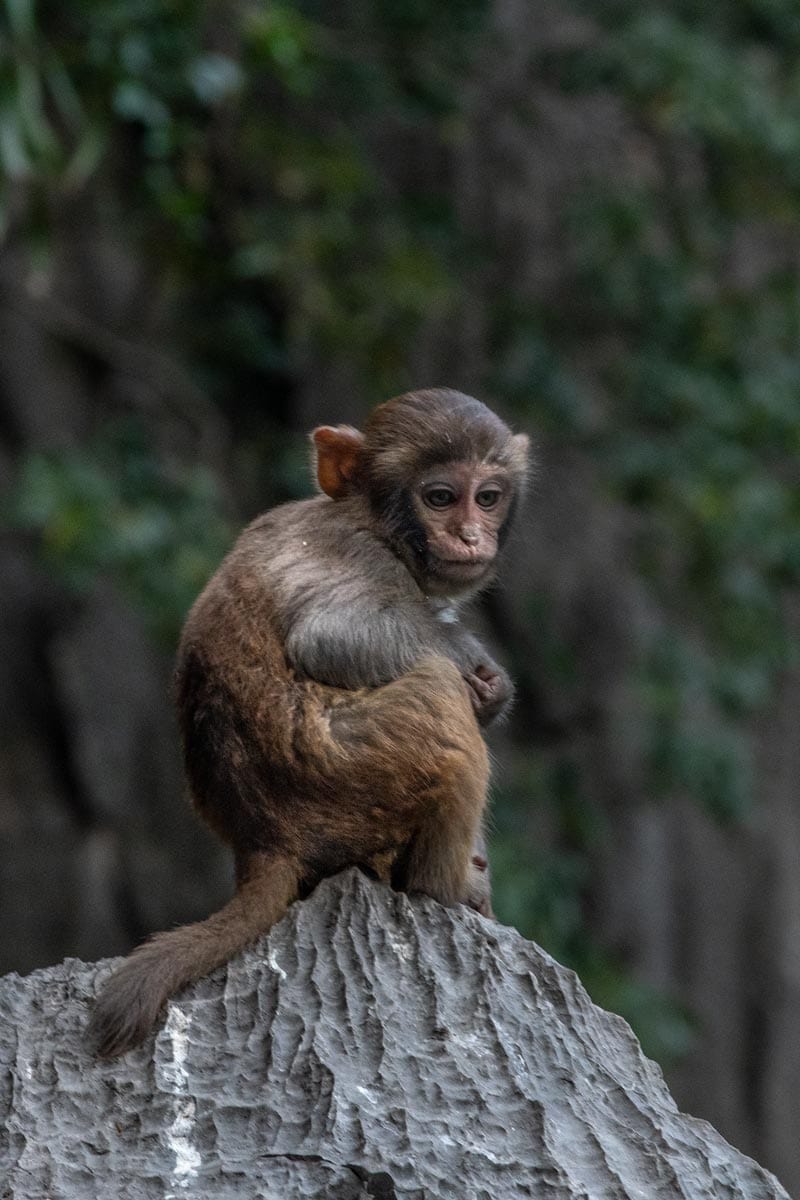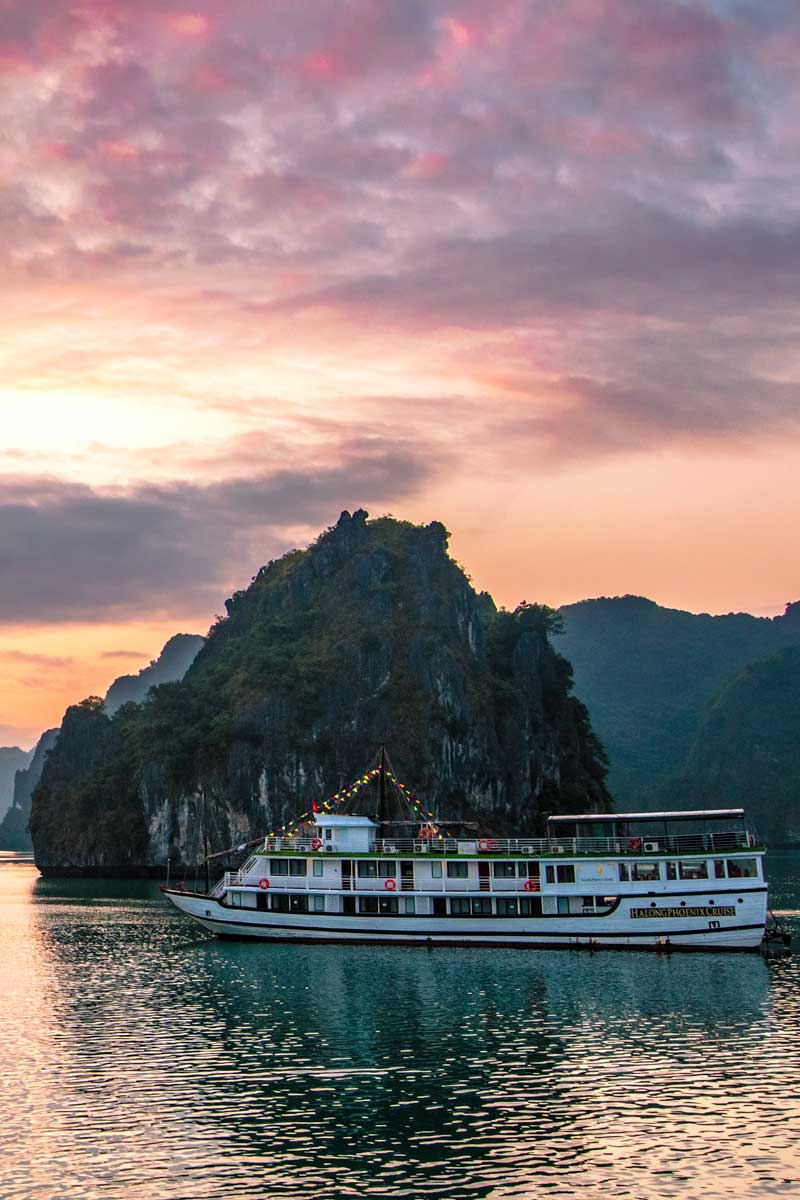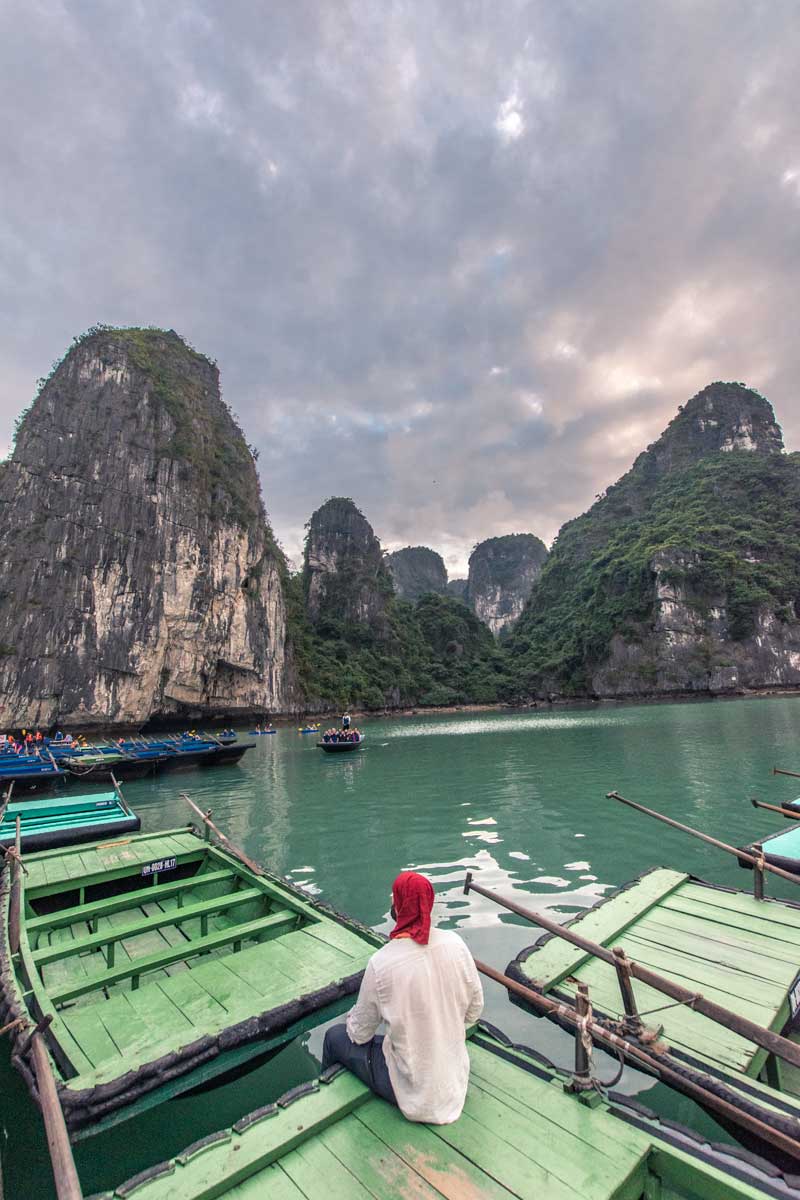 There is a curious story about Halong bay's origin. The legend says that when Vietnam started to develop into a country, invaders from the North came to enslave the Vietnamese people. The Jade Emperor saw that and felt sorry for the Vietnamese, so he sent the Mother Dragon and her children to protect the country.
The dragons incinerated the enemies with their divine fire then spilled out jade and emerald boulders into the sea to create an impenetrable protective barrier. To honor the dragons, the locals renamed the bay to Ha Long meaning – Descending Dragon.
How to Find The Best Halong Bay Cruise?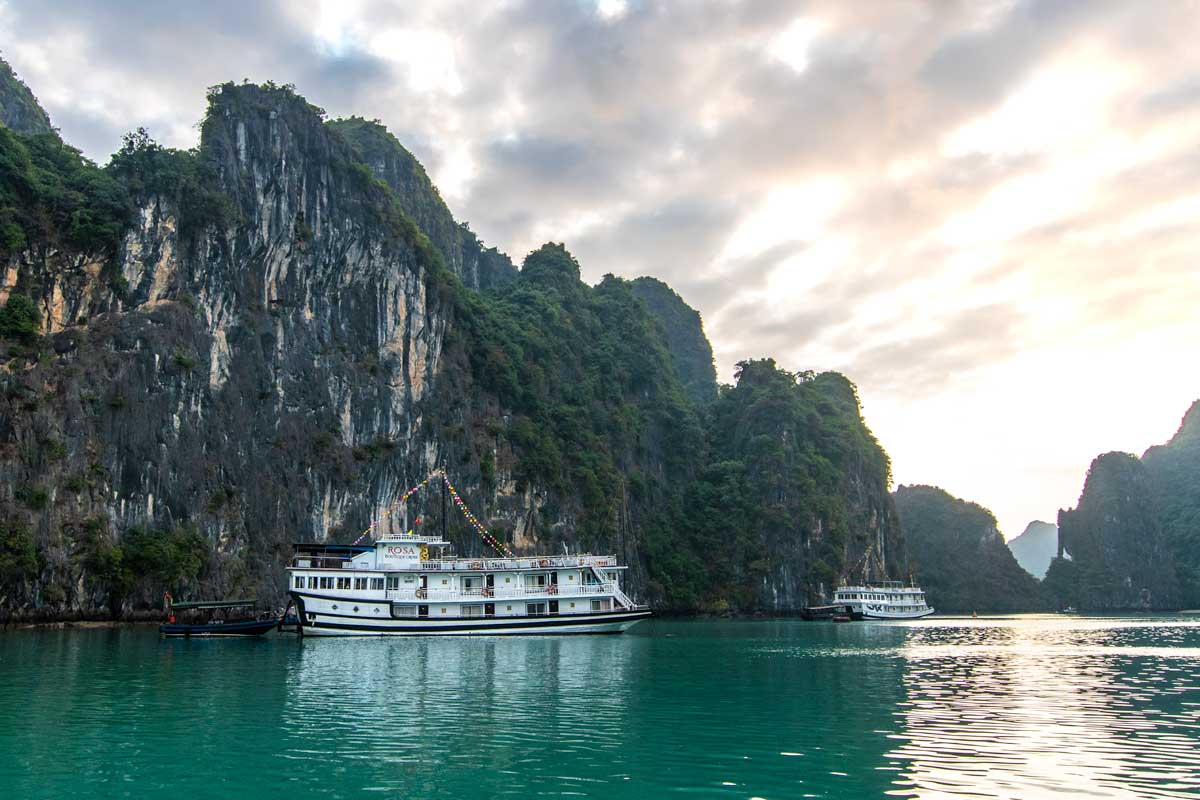 Choosing the right cruise is a bit overwhelming. To satisfy the need of the 6 million yearly visitors, there are more than 200 cruise options to choose from.
Yes, 200 different cruise options which, at first glance, have their own route and schedule. Well, that's only at first glance. After experiencing the cruise myself, doing detailed research about it and consulting with fellow travelers, I concluded that most of the Halong Bay cruises offer the same stuff.
The few differences that make or break your experience are the price, the state of the boat and the competence of the crew.
The price
Halong Bay cruise prices can be categorized into two brackets – regular and luxury. The regular boat prices are roughly between 100 and 200 USD (per person, per night), while the luxury ones start from 200 and may reach even 1000 USD.
I would suggest GetYourGuide for the regular cruises and Booking.com for the luxury ones.
The state of the boat
There are two types of boats to chose for your Halong Bay cruise. The old-school wooden junk boat and a new modern ship. Naturally, the old boats are cheaper than the new ones, but surprisingly, the difference in quality is not that big.
If you pick a good, well-maintained junk boat cruise, you won't only have a more authentic experience, but you may even find yourself on a better boat than some of the luxury travelers around you.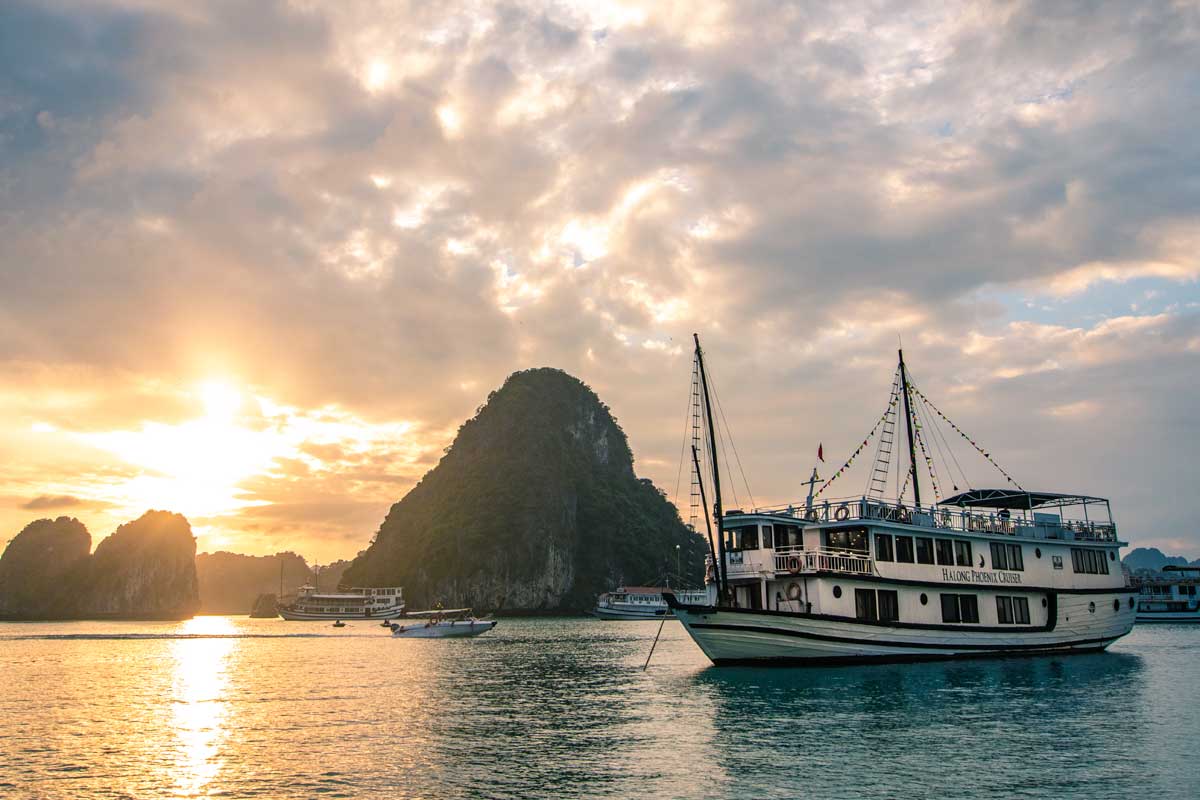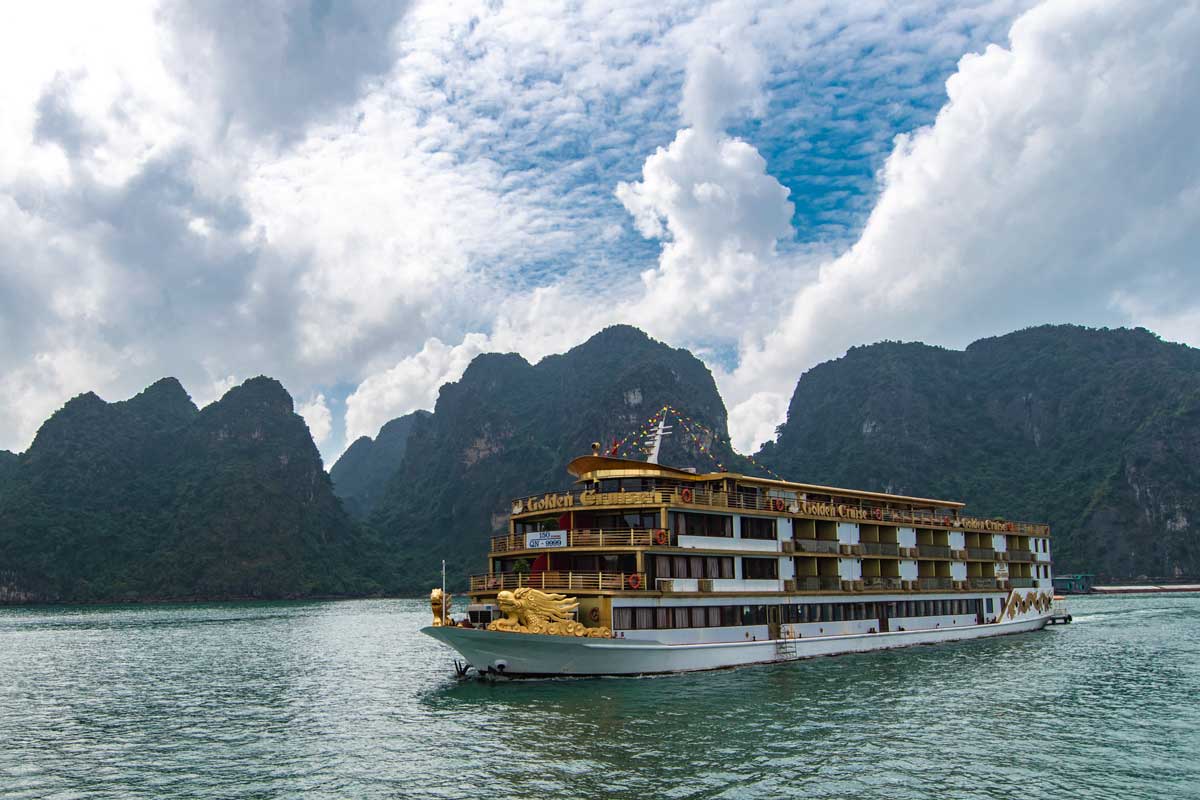 The competence of the crew
This one is crucial. You need a guide who speaks good (or at least understandable) English, a guide who would schedule your route so you can avoid the crowds and give you enough time at the highlights without rushing you to go back.
The good cook, waiters, driver (from Hanoi) and a captain that won't crash your boat into the rocks (this one should be easy to find) are also an essential ingredient for your perfect Halong Bay cruise experience.
So how to find a cruise that tick all the boxes?
It's quite simple actually – read some comments! Since you found this blog post, you're already on the right course!
First, pick up a few cruises that fit your intended budget from either GetYourGuide or Booking. Then start reading some comments. Ideally, you need a cruise with more than 50 guest reviews.
Since nowadays, it's a common thing to buy fake reviews, don't put too much weight on the positive ones and focus on the negatives. You'd be surprised how bad of choices there are. From crews losing people on kayaks to rat-infested cabins! Those are extreme cases though, and they are pretty easy to avoid.
Castaway Tip
Some cruises try to hide the lousy guest experiences by offering refunds in exchange for deleting negative comments. This is why the overall scores on Booking and TripAdvisor are a bit inflated.

If you are not that into online booking, you may book something on the spot in Hanoi. There are thousands of hole-in-the-wall tour operators in the Vietnamese capital, and if you have good haggling skills, you may score a very sweet deal with them. Before you book something, always ask for the boat's name and do your own research so there won't be any (rats) surprises.
Halong Bay Overnight Cruise or a Day-Trip?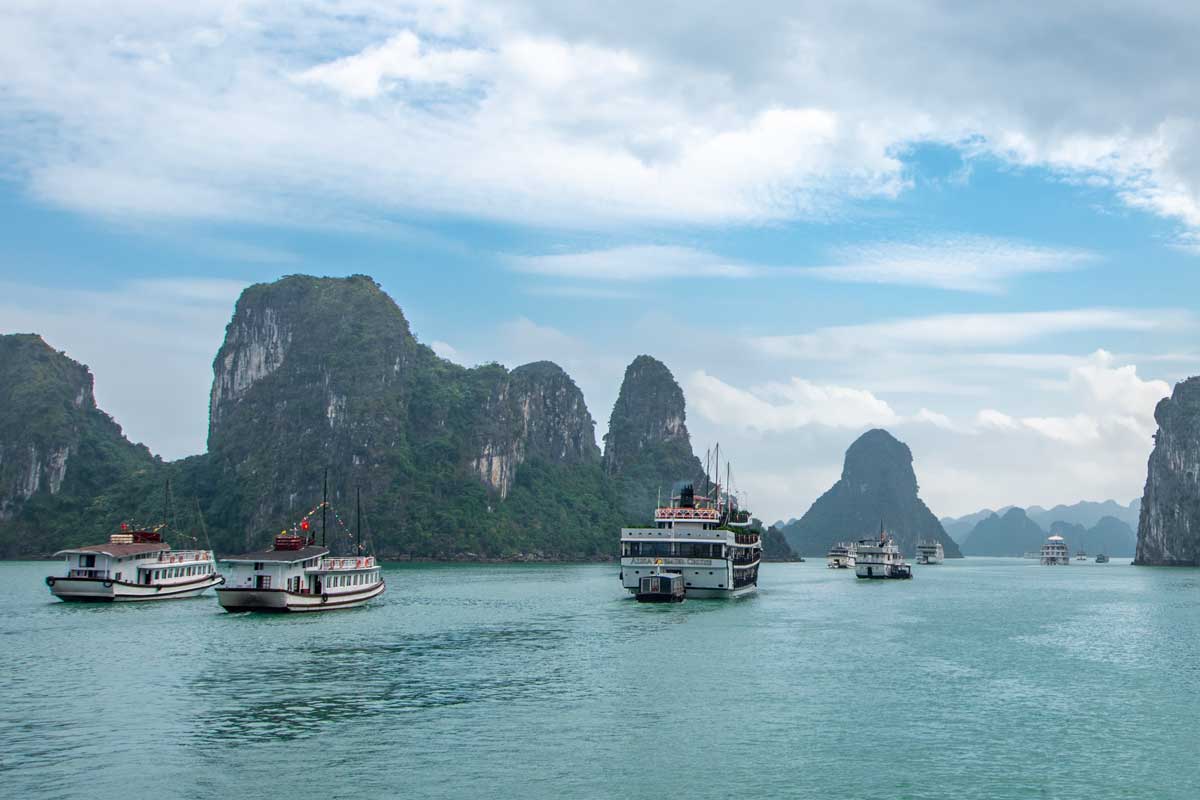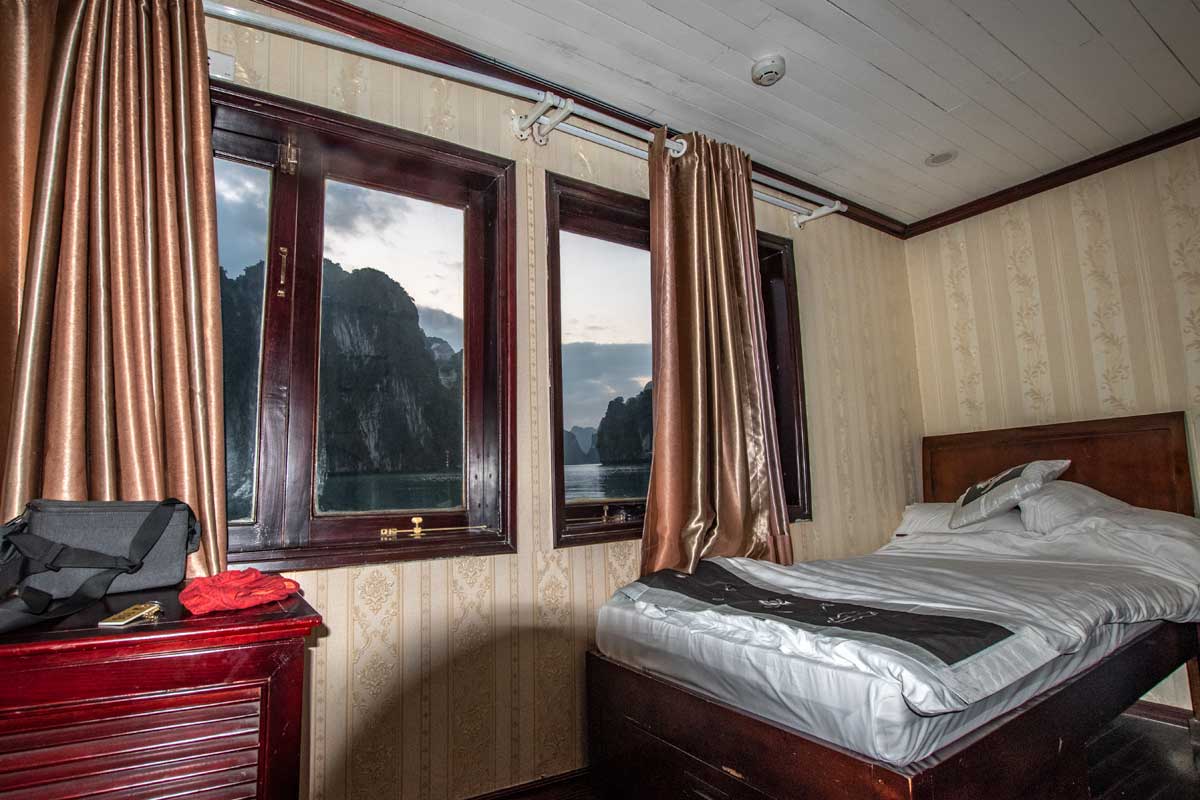 The Halong Bay cruises all cover the same highlights (with slight variations), so the only choice you have to make is how long you want to spend in Halong Bay. The most popular options are the day trip from Hanoi and the overnight stay.
Halong bay day-trip cruise
The day trip departs from Hanoi around 8:00 AM and arrives at Halong Bay around noon. The typical itinerary would show you some of the curiously named rock formations near the harbor (The Fighting Cock, Incense Burner and the Stone Dog), would let you go out kayaking and will visit the Thien Cung cave (Heavenly Palace Grotto).
Lunch and transfer back to Hanoi are also included in the price.
I'm not a big fan of this option. You'd spend most of the day in the car and have just a few hours to scratch the surface of the beautiful Halong Bay. I can also imagine that all of the activities would be very rushed in order to fit the schedule.
See Also: The Awesome Hanoi Facts and Photos
Halong bay overnight Cruise
The overnight Halong Bay cruise, in my opinion, is the best combination of budget and adventure. Since you don't need to go back the same day, your boat would go further down the bay giving you a few hours of scenic sail around the islands.
The itinerary includes the Ti Top island, the Sung Sot (Surprise) cave, kayaking or bamboo boat around the monkey-infested Secret Lagoon, late-night squid fishing, Thai-Chi lessons in the morning and a Vietnamese cooking class. Not to mention the beautiful sunset or the stargazing you can enjoy from the upper deck.
You got all three meals included in the price. Some cruises also offer fruit snacks.
Castaway Tip
All drinks (besides tea and coffee) need to be bought on board for quite inflated prices. Make sure you have a bottle (or two) of water with you for the overnight stay.

Halong bay multiple nights cruise
The 2 and 3 night stays include everything the overnight stay has with some extra activities like a pearl farm and floating village visits, cycling around the Cat Ba island, and even small onboard parties.
Bai Tu Long Bay
Bai Tu Long Bay is situated behind Halong Bay and offers similar types of limestone island views. It's not as famous as Halong thus having way fewer boats and much clearer waters. It's located quite a far though so cruises to it would generally be more expensive. If budget is not your concern, the Bai Tu Long Bay is definitely worth a visit, maybe even more beautiful than Halong Bay!
My Halong Bay cruise experience
Halong Bay was the biggest highlight of my Vietnam bucket list ideas, so I wanted to enjoy it for more than a few hours. I didn't want to spend a fortune though so the overnight cruise was my best option.
My boat requirements were simple – a junk boat(to have more authentic experience) and clean cabins.
As for the crew, I had no expectations whatsoever, but I hoped to find a non-pushy staff that won't ask for tips every 15 mins.

My research led to Dragonfly Cruise which seemed to tick all the boxes. Since my additional google research on them found nothing fishy, the Halong Bay cruise was booked!
Halong Bay Overnight Cruise – Day 1
The first day started with a pick up from my Hanoi hotel at 8 AM. The van was comfortable enough, and my guide had understandable English (something quite rare in Vietnam).
At noon we arrived at the Halong Bay harbor and boarded the Dragonfly ship. We were previously consulted what type of cabin we want – 2 single beds, a double bed or a single cabin (yes, Dragonfly cruise offer solo cabins too!).
In about an hour, we were invited to lunch. Our group was of 12 people divided into two tables. Each table got more than five dishes fitting all dietary requirements. There was chicken, pork, seafood and tofu dishes, alongside Vietnamese salads and traditional North-Vietnamese sauces.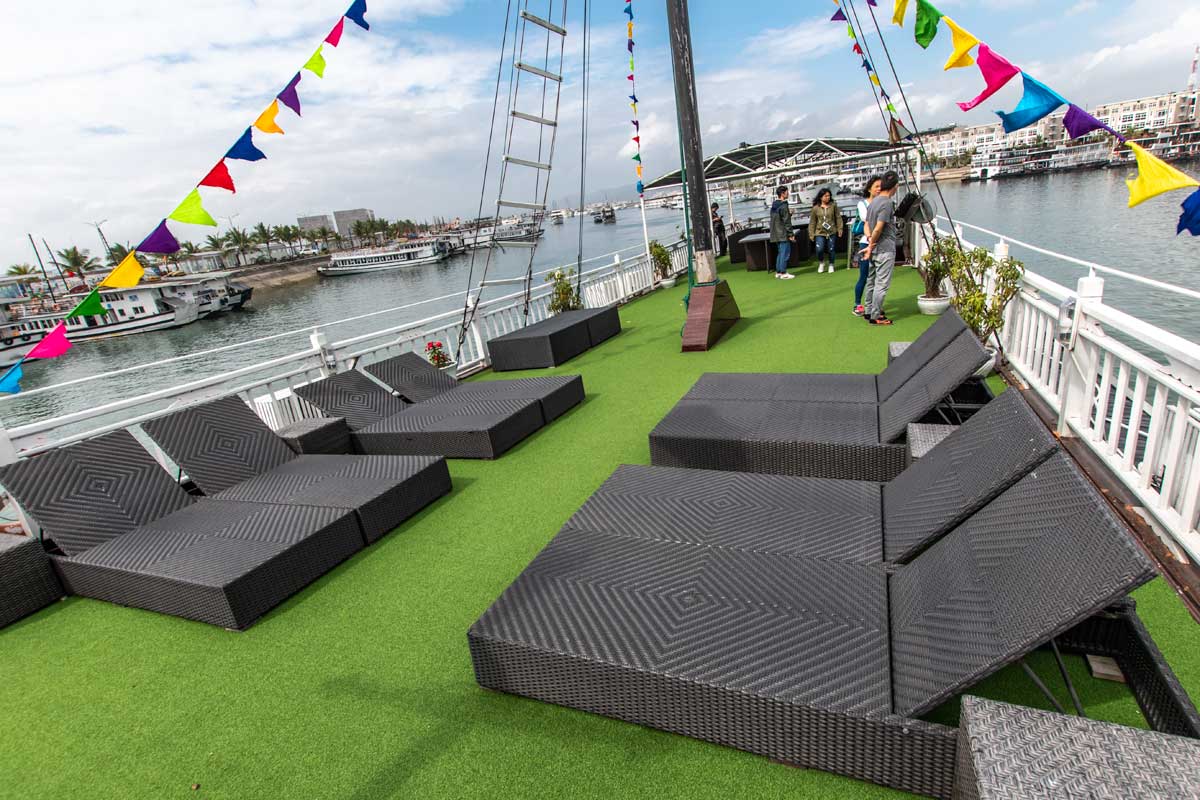 In the early afternoon, we reached the Ti Top Island – a popular stop for all overnight cruises. It's a small island with two highlights – a beach and a viewpoint. We got an hour to spend so naturally I decided to climb to the viewpoint and get the iconic Halong bay panoramic photo.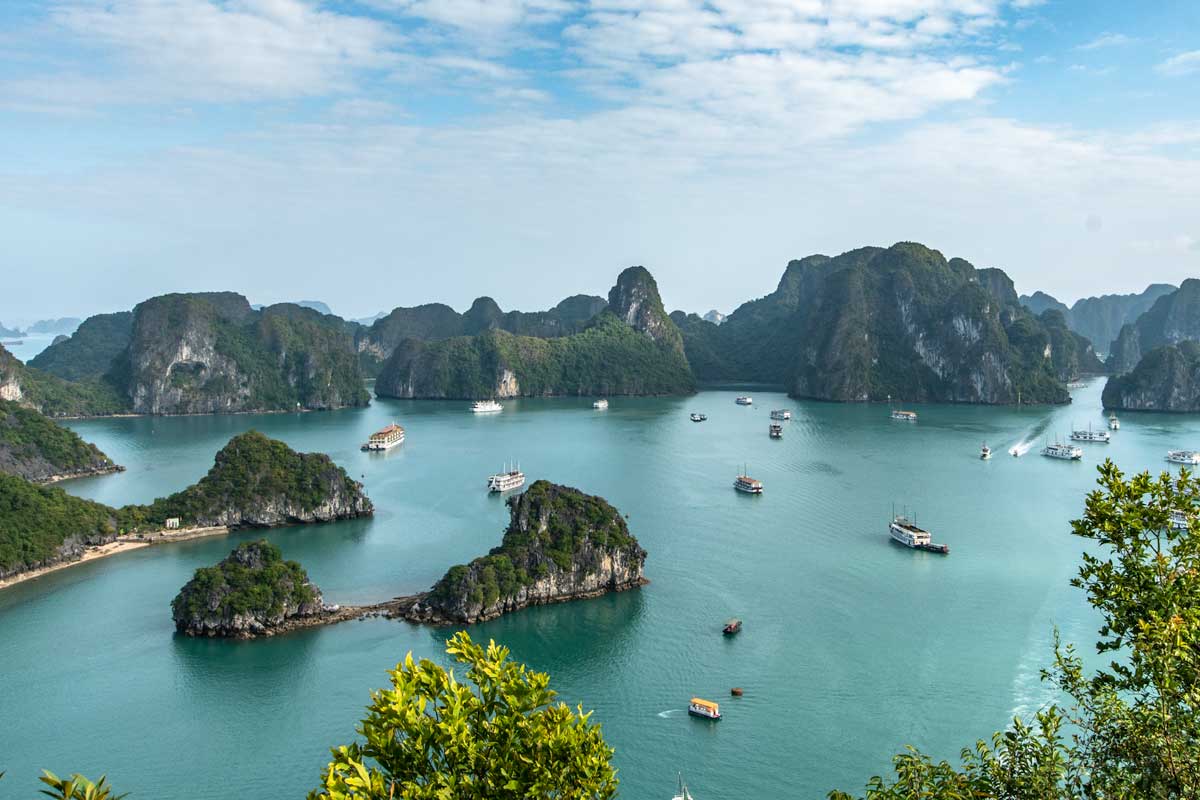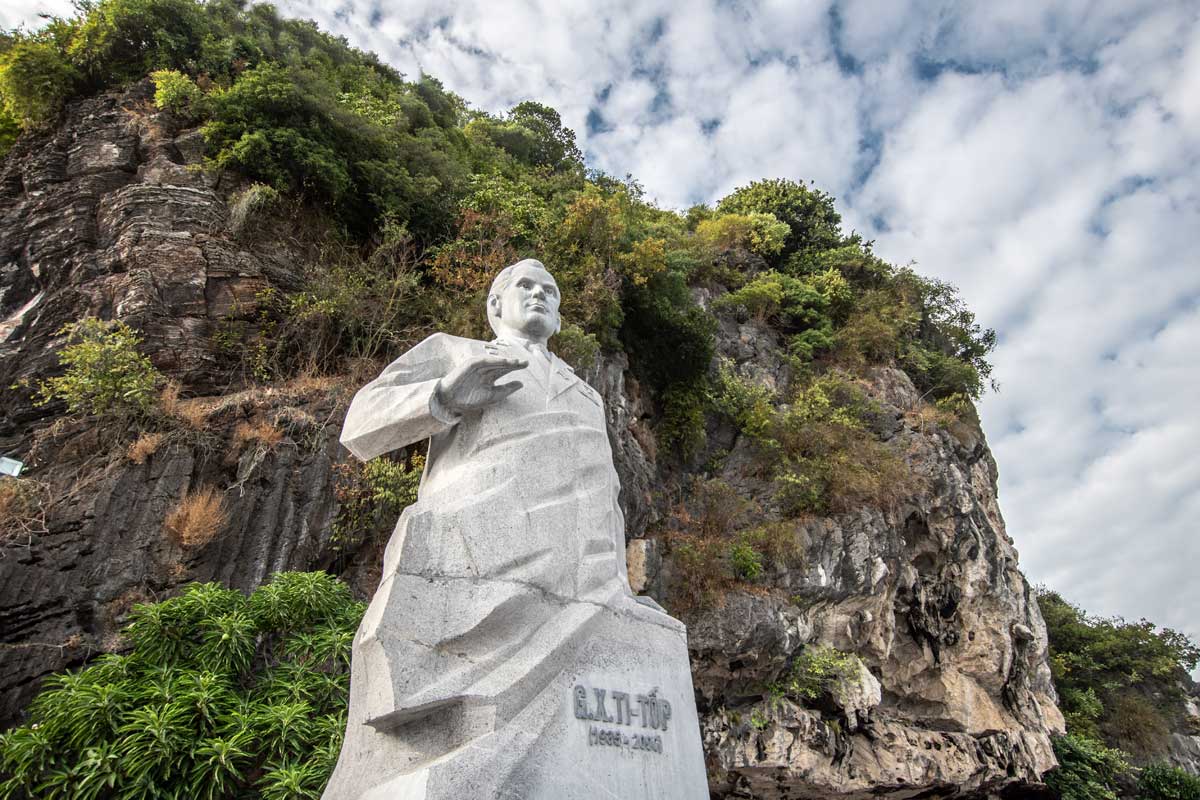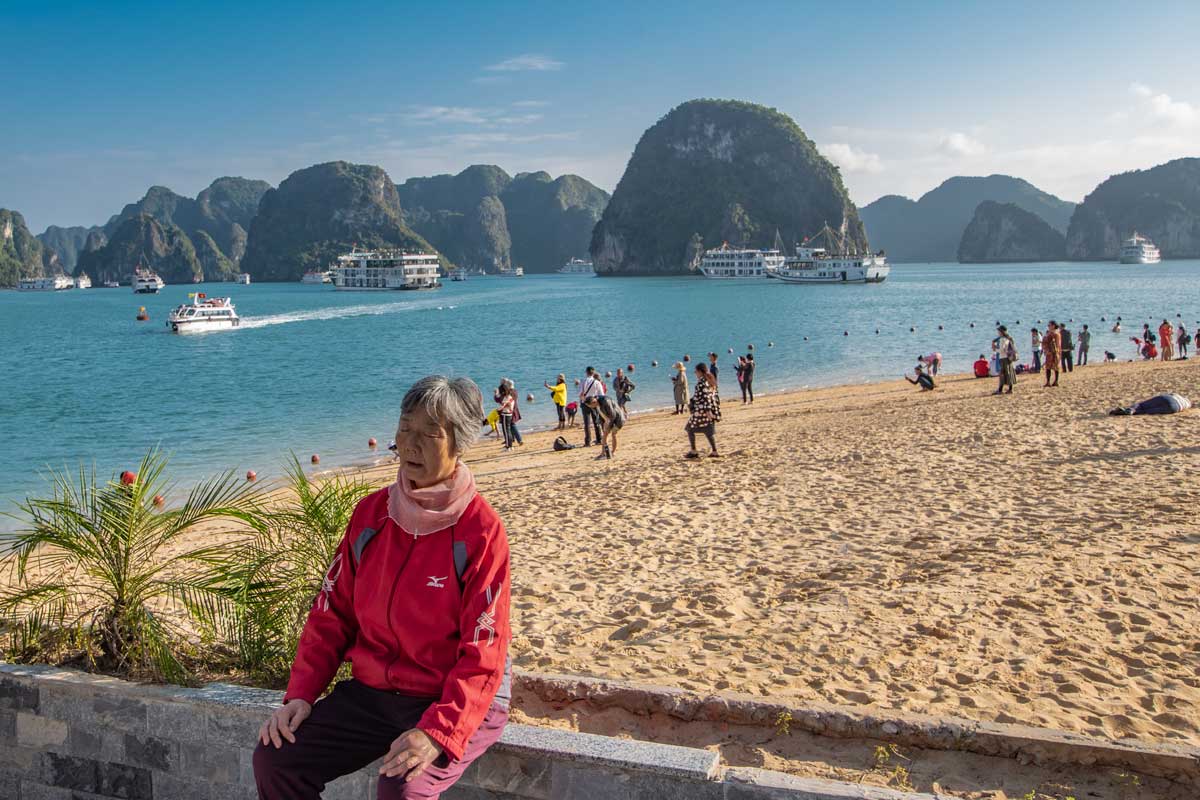 Beside the viewpoint, I wouldn't say there was anything interesting on the Ti Top Island, but if you're looking for the best photo spots around the bay, Ti Top is a must-visit.
Castaway Fact
The Vietnamese named the Ti Top Island after the second Soviet man in space (the American astronauts are not very popular there ) – Gherman Titov. Ti Top is the Vietnamese way to pronounce Titov.

The second stop was the Hidden Lagoon which is a perfect place to enjoy some kayaking. For those who don't fancy kayaks (like me), there was a bamboo-boat option with a driver (captain?).
The biggest highlight of the Hidden Lagoon for me was the monkey families living around it. If you want to get a better view of them, I suggest getting the bamboo boat option and instruct your driver (captain?) to go near the furry scoundrels.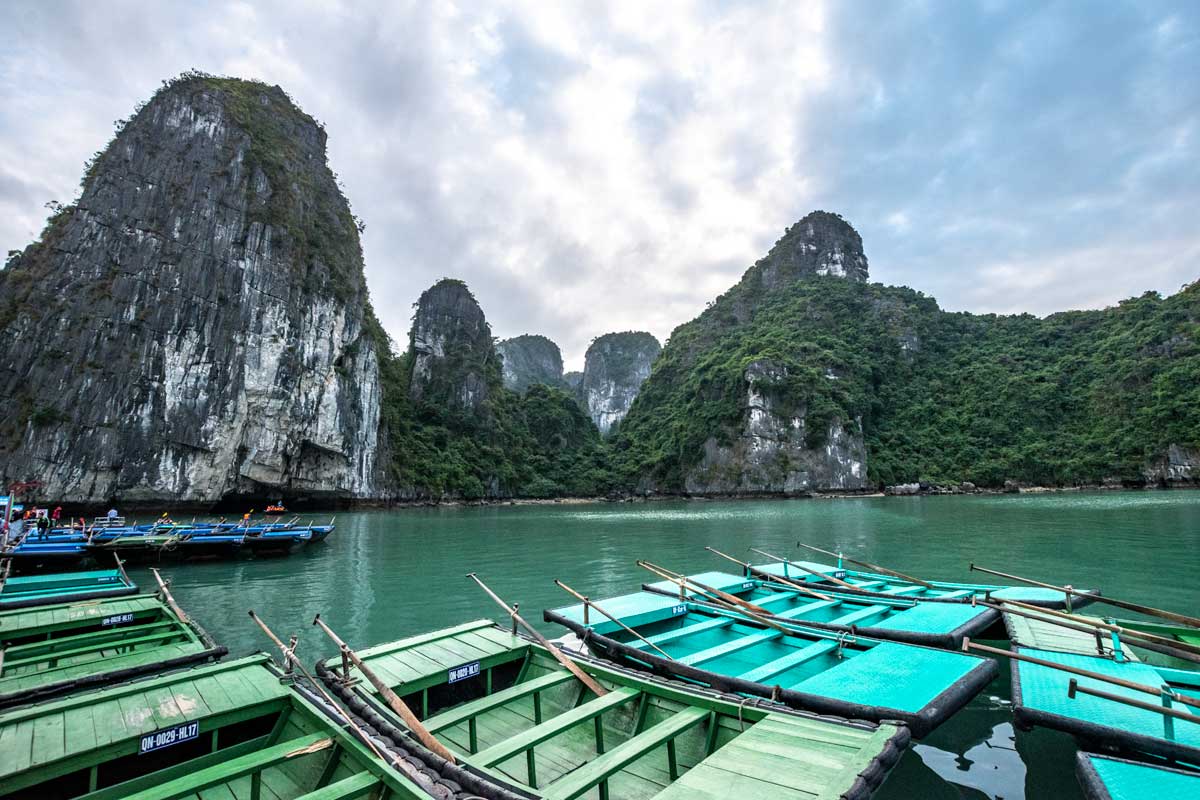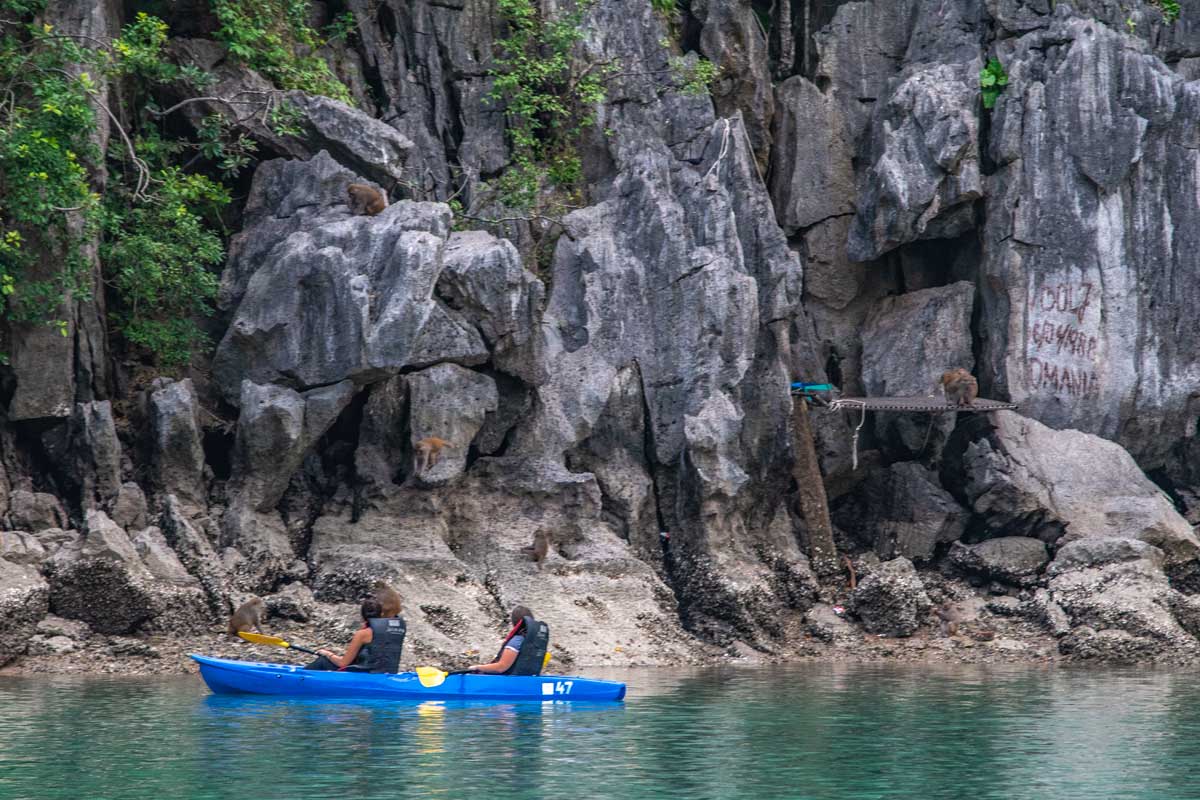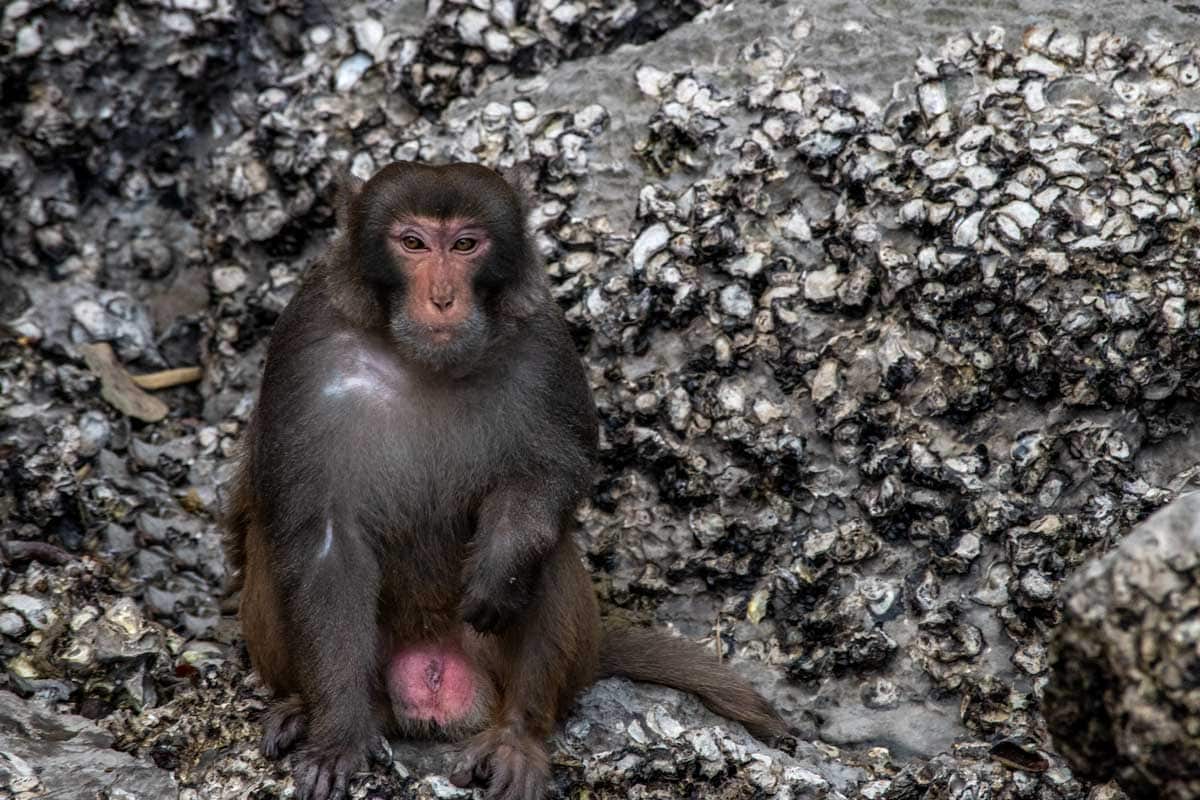 Back on the boat, We got to enjoy a beautiful sunset, before going down for dinner (same style as the lunch). After dinner, the group went for some squid fishing. Since I'm not a fan of any animal-harming activities, I decided to skip this one and go stargazing on the deck instead.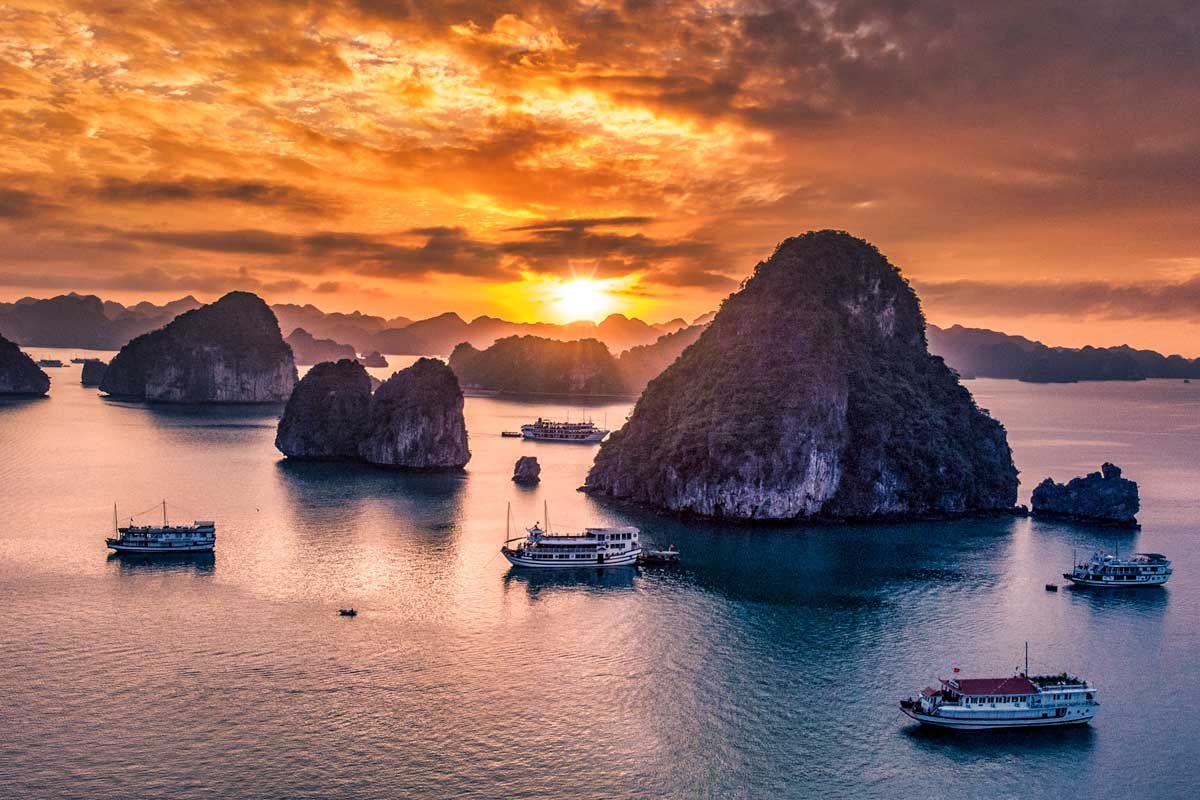 Halong Bay Overnight Cruise – Day 2
The second day, due to the recommendation of our guide, started with a 6 AM breakfast. The idea was to go to the Surprise Cave earlier and avoid the crowds. Sacrificing some sleep for a better experience is a trade I'm always happy to make, so that plan was ideal for me.
The legend behind Surprise Cave's name is not nearly as cool as the Halong Bay dragon story. Some years ago, when the French found the cave they were amazed by its beauty, and someone exclaimed: "Grotto des Surprises" which translates to Cave of the Surprising Things, later shortened to just Surprise Cave.
Honestly, I don't fancy caves that much. While most of them are beautiful at first, they look pretty much the same to me and are almost impossible to get a good picture.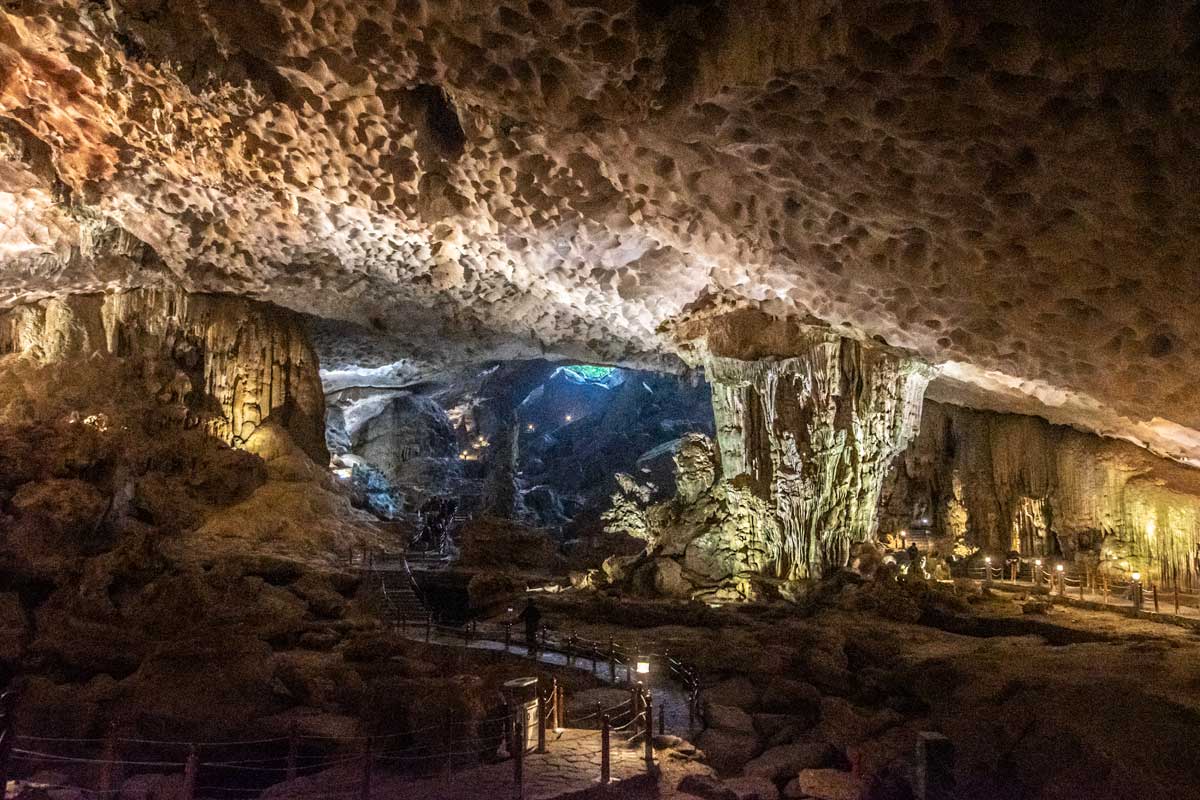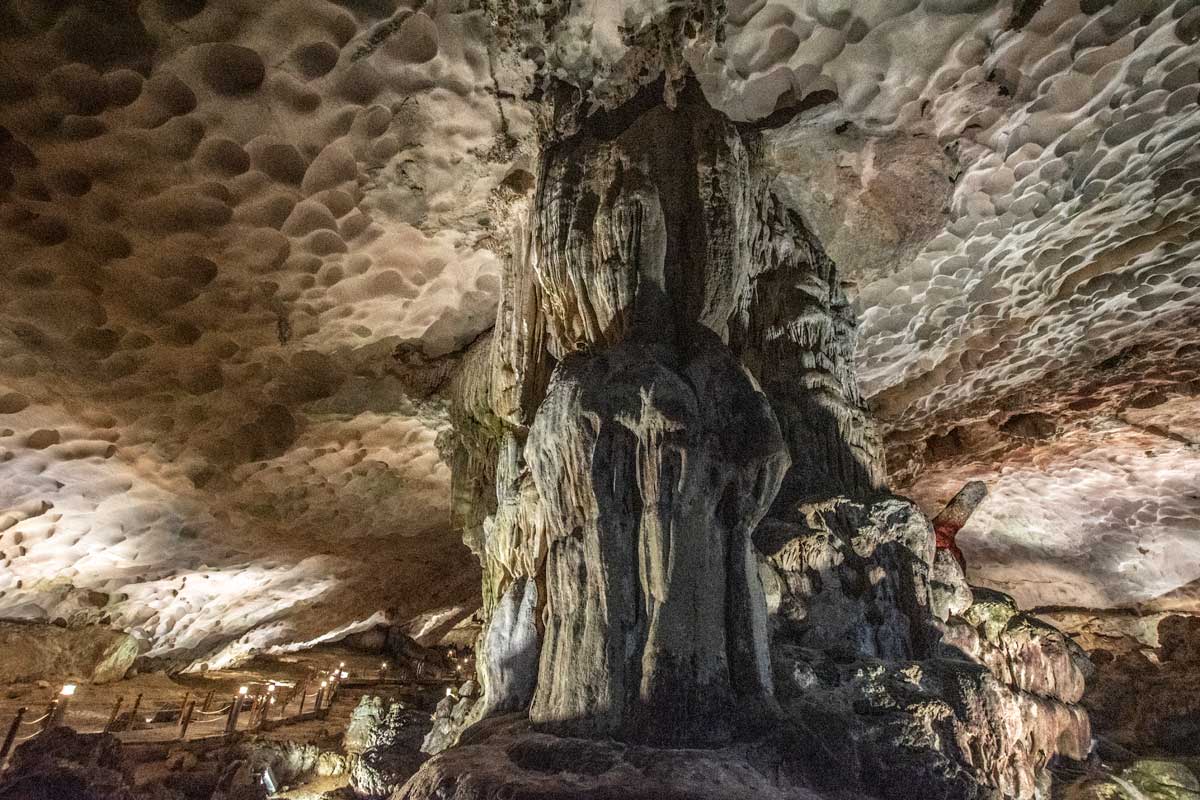 The Surprise Cave, however, managed to surprise me! There are plenty of natural sculptures inside that, with some help of your guide, would turn your walk into a theatre. There are dragons, a King Kong, a lucky turtle and even a map of Vietnam.
The cave is a fun place to spend an hour or so, and it also comes with a pretty scenic viewpoint at the end.
Oh, I forgot to mention, the early wake-up plan did work well, and we had the cave to ourselves. Thank you, Dragonfly cruise!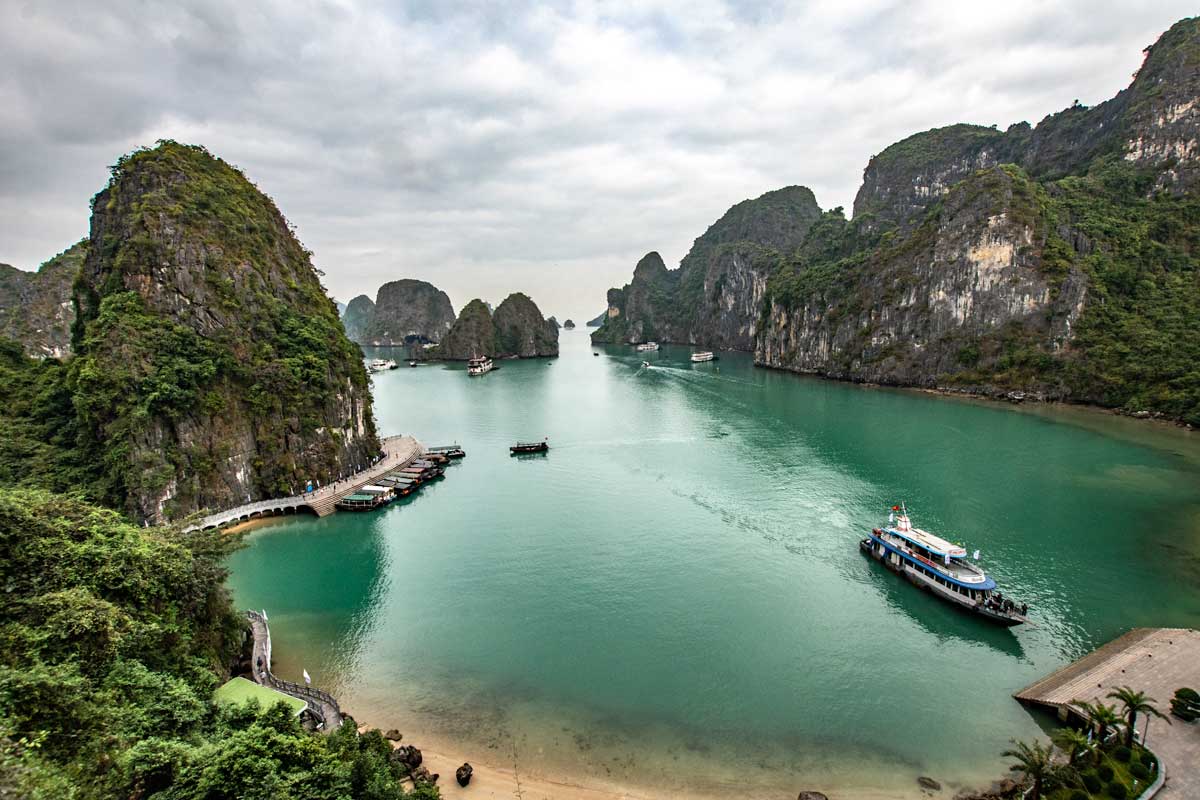 Once back on board, our boat started the journey back to the harbor while we began preparing for our last activity – the cooking class. Well, it wasn't really a class, but more of a quick lesson on how to make North-Vietnam spring rolls (which are very different than the South-Vietnam ones).
Each person made three rolls, which were later fried and served as a brunch.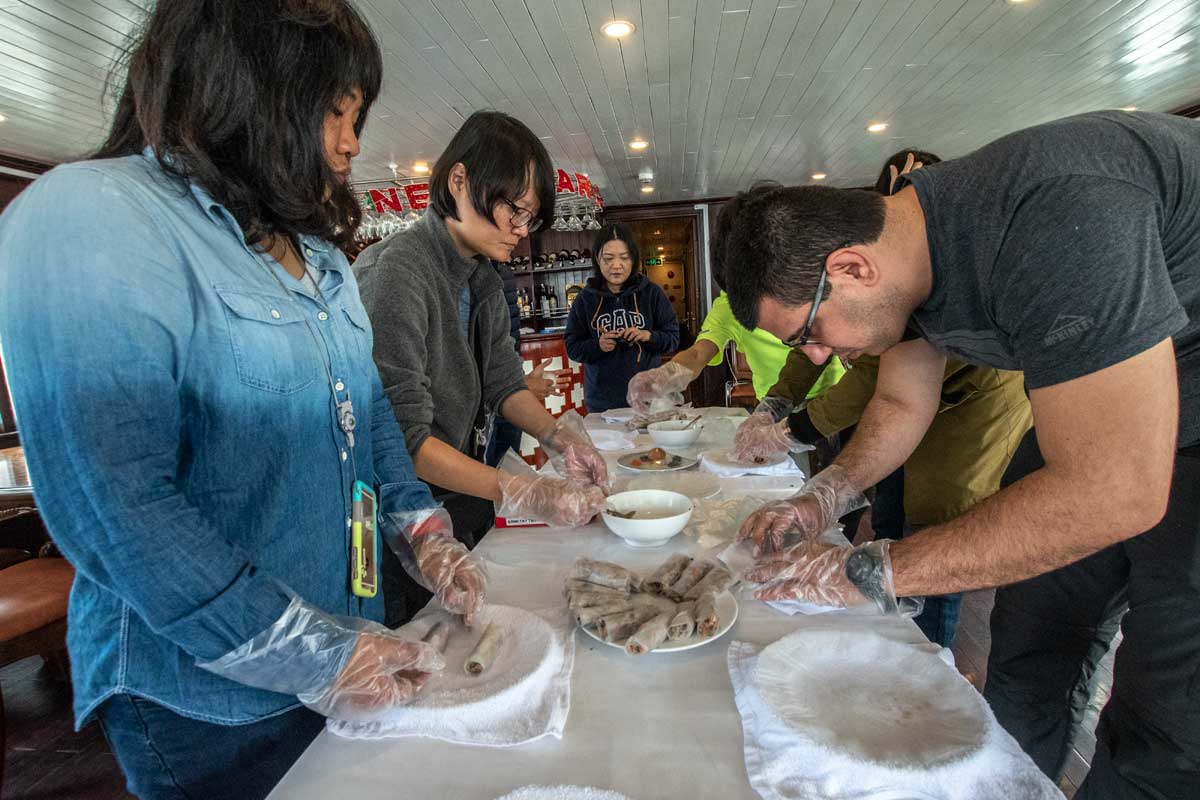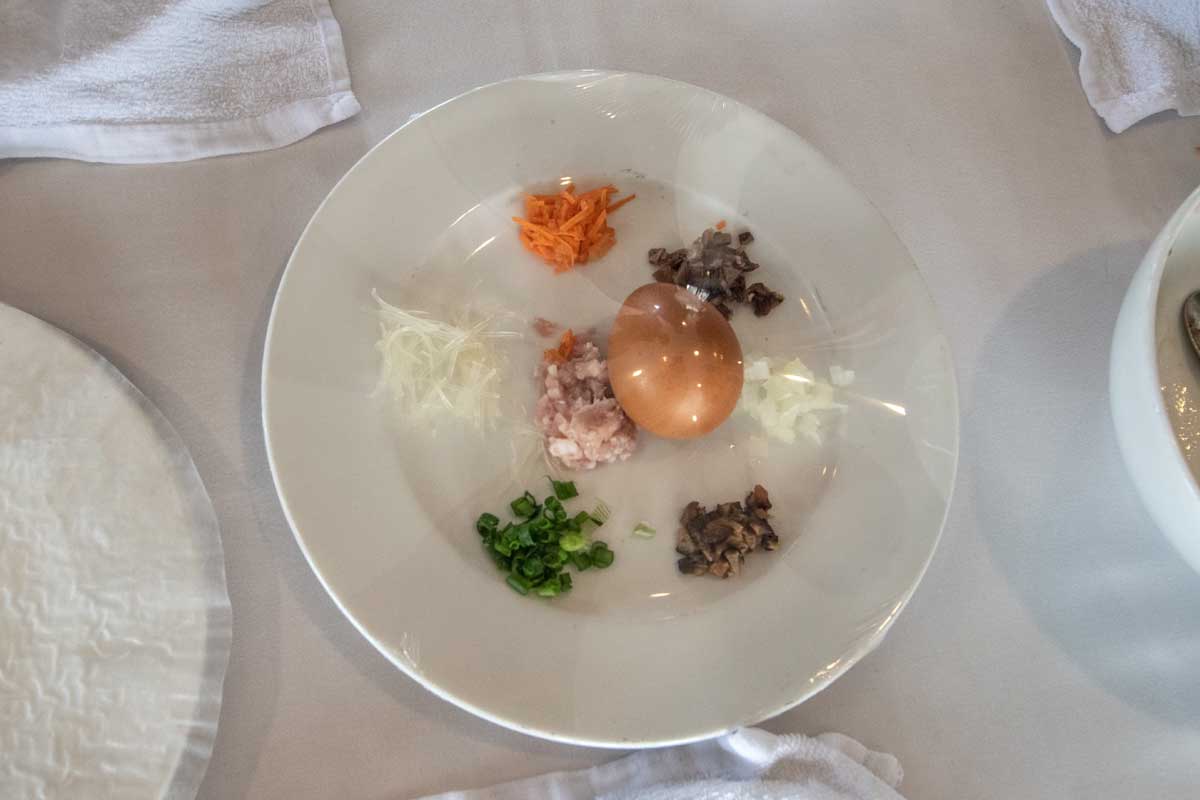 Going back was, again, an hour or two of lazy sailing around the stunning limestone islands until we reached land around noon.
The transfer van came shortly after we disembarked and we were on our way back to Hanoi.
The Best Halong Bay Cruises
Best Halong Bay overnight cruise
The Dragonfly Cruise I used is a fantastic value for its price. The junk boat is well maintained, the cabins are clean, the crew is top-notch and even go the extra mile by mixing up the route to avoid the crowds. I can't think of a single thing they could've done better.
Best Halong Bay day-trip cruise
The Hong Hai day trip cruise has has plenty of amazing review which makes it a scam-proof option. The transportation van is comfortable, the boat crew is polite and understanding, and the price is excellent. Everything you need for the perfect Halong Bay day-trip.
Best Halong Bay Luxury Cruise
Orchid Ha Long Cruise is my pick for the best luxury Halong Bay cruise. The high-end boat offers free Wi-Fi, massage center, spa and even a gym (although I'm not sure anyone uses it). The best of all are the cabins. Pure luxury with huge panoramic windows that let you enjoy the scenery even while taking a bath!
During my cruise, I didn't spend a lot of time inside, but I suspect that if I had taken the Orchid Ha Long Cruise, I would've hardly spent any time outside my cabin!
See Also: The Ultimate Thailand Itinerary
Halong Bay FAQ
How to get to Halong Bay?
Halong Bay is situated approximately 165 kilometers east of Hanoi. Almost every cruise will include a pick up from your hotel and transportation to the bay. If you want to do it by yourself though, you can take a bus or book separate transfer service.
When is the best time to visit Halong Bay?
The dry season in Northern Vietnam is between October and May. The bad thing is, the Vietnamese winter is also in these months (December, January, February). To make sure you get warm weather and skip the rainy days, try to plan your visit during October – November or March – April.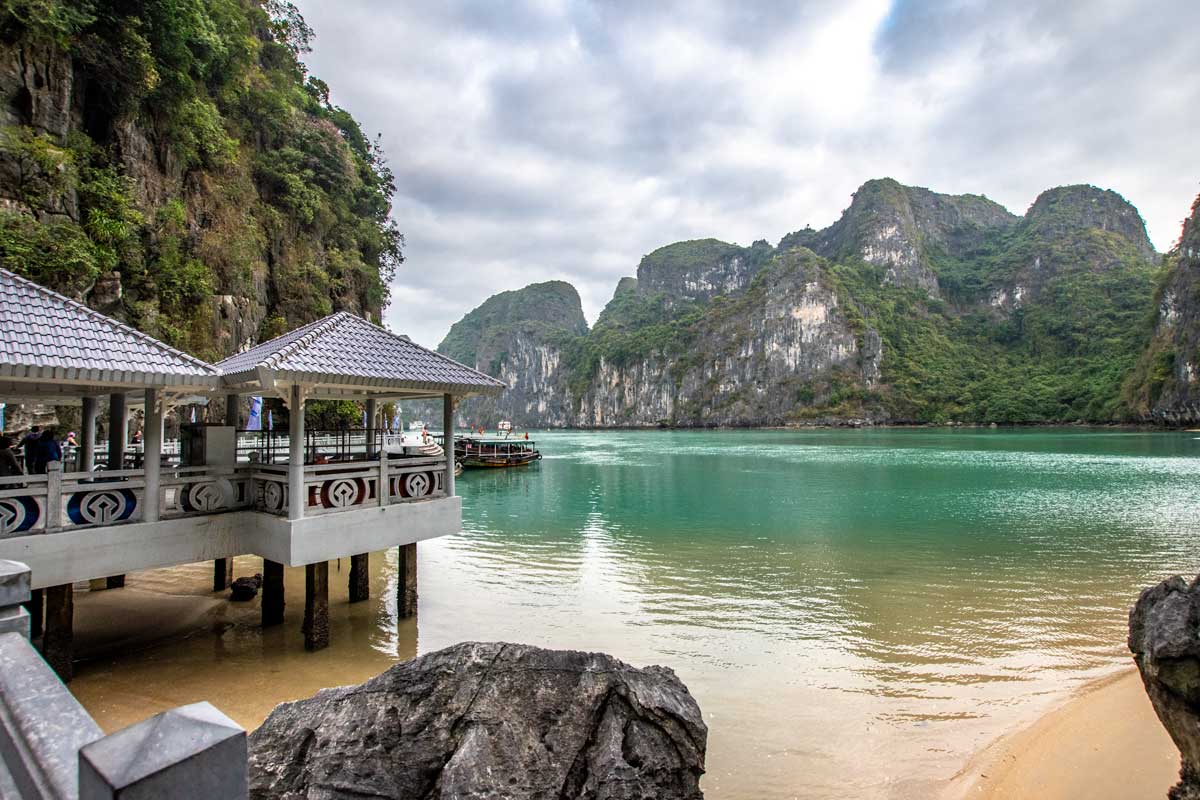 Is there Internet in Halong Bay?
There's hardly any connection around the Bay and as I understand most of the boats don't offer Wi-Fi. The popular overnight spot, however, is open enough to provide some connection so if you have a Vietnamese SIM card you're good to go.
Halong Bay Cruise Tips & Scams
Check the weather cancellation policy
Before committing to any cruise, make sure you check the weather cancellation policy. Especially if you travel during the wet season.
Haggle
If you book through a Vietnamese tour company, never accept the price they give you and haggle your way to a better offer. Don't be afraid to leave and check with other company. There are thousands of them all around Hanoi.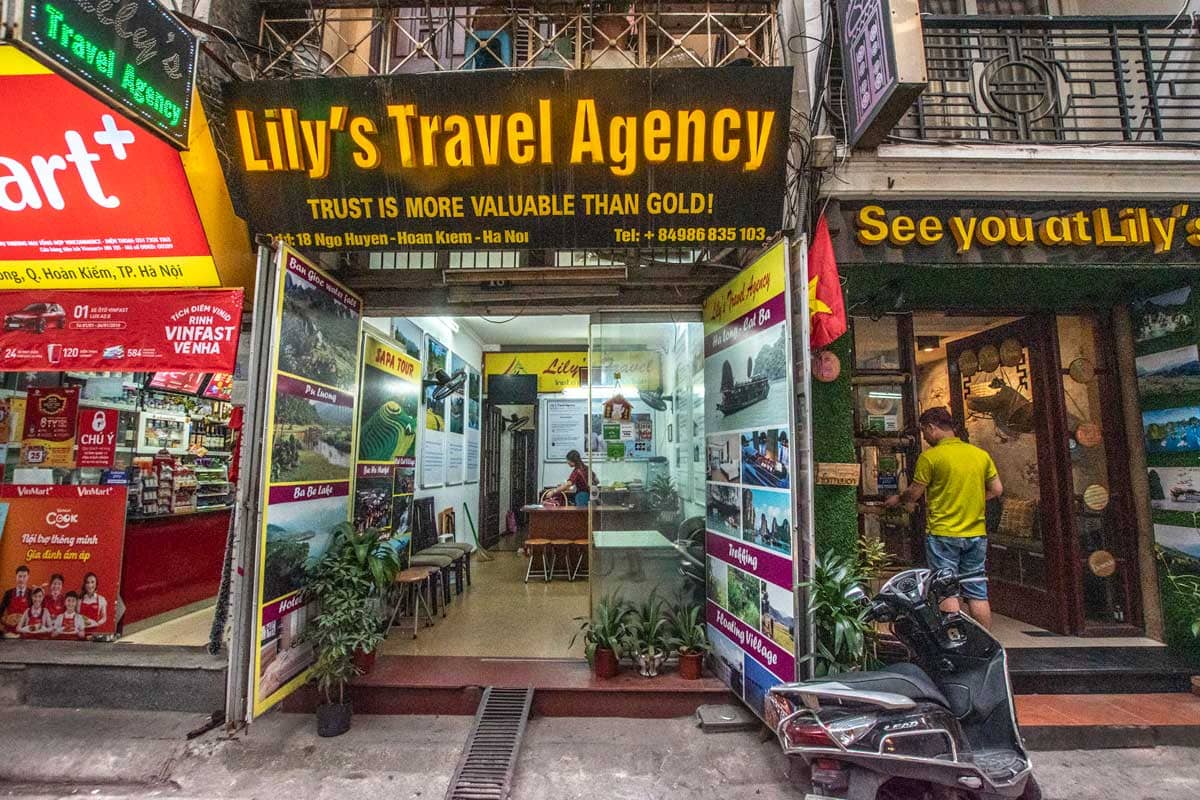 The Transfer Scam
Always make sure the cruise you pick offers a transport back to Hanoi.
The cases of this transfer-back-not-included scam are rare, but it's always better to double-check.
The Drink Scam
Drinks are never included in the price (at least I didn't find a cruise where they are). If you get a drink with your meals, always check with the crew if you need to pay for it later.
That's all from me, I hope you find the best Halong Bay cruise.
————————————
If you haven't planned your trip there yet, find out how I plan my trips!
————————————
I have 12 bucket list ideas for Vietnam. See my impossible bucket list of 1700+ adventures!

Is Halong Bay on your bucket list?
---
Some of the above are affiliate links and I will earn a percentage of the sale if you purchase through them at no extra cost to you. This helps keep my site running – so thanks in advance for your support!