Bali is the most famous tourist destination in Southeast Asia, but even so, there are plenty of facts about Bali that most people are not aware of. Made famous by Julia Roberts, who used to eat, pray and love there, nowadays, the Indonesian island is a synonym for a tropical paradise.
But to reach the soul of the magical island and really fall in love with it, you need to look beyond the white beaches and pristine waters. And there are so many fascinating things to discover. From the confusing naming traditions to the peculiar temple rules, here are the 15 most interesting Bali facts.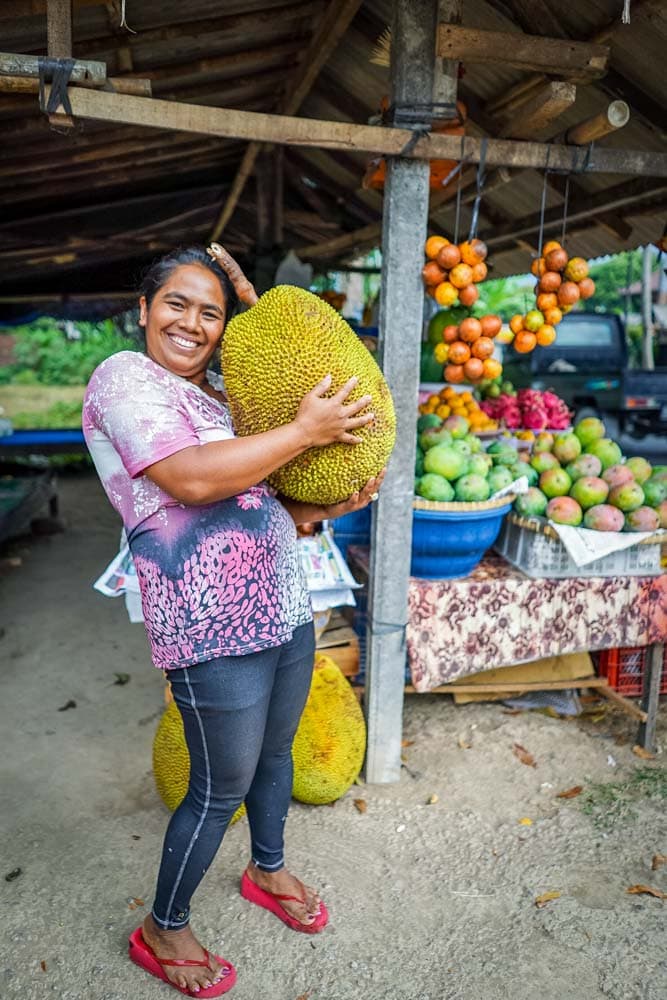 We start our fun facts about Bali with the weirdest one. Your country has a few very popular names, right? But Michael, Jose, or Ivan, are nowhere near as popular as the Balinese names.
How come?
Well, in Bali, parents don't pick the name of their baby. There is a strict order on how to name your kids – the firstborn is named Wayan, Putu or Gede, secondborn – Made or Kadek, thirdborn – Nyoman or Komang, and fourth-born – Ketut (which translates to little banana). It doesn't even matter if the child is a boy or a girl!
If there are more than four children, the cycle repeats itself, with Balik added to the name. Balik means another, so a fifth Balinese child may be called Balik Putu, meaning another Patu.
To make things extra confusing, the regular Balinese person doesn't have a family name. Some may have names that denote their caste or clan or names that show they married into a particular caste or clan, but they are only a handful.
Balinese also have Hindu names with a positive meaning like Suardika (guiding light) or Dewi (goddess). For some reason, though, they barely use those names. Instead, some may shorten their Hindu names and use them as a nickname (Suardika – Suri).
Talking about the nicknames, they are the most reliable way to identify someone in Bali. With a population of 4.2 million, you can imagine how many Gede's and Wayan's there are. Balinese nicknames are often based on physical appearance or character traits and, based on the people I met there; everyone seems to have one.
As far as the Bali facts go, there's hardly anything as odd or confusing as the names. I'm not sure I managed to explain it well, but quite frankly, I'm not even sure I understand it.
Be quiet! It's New Year's Eve!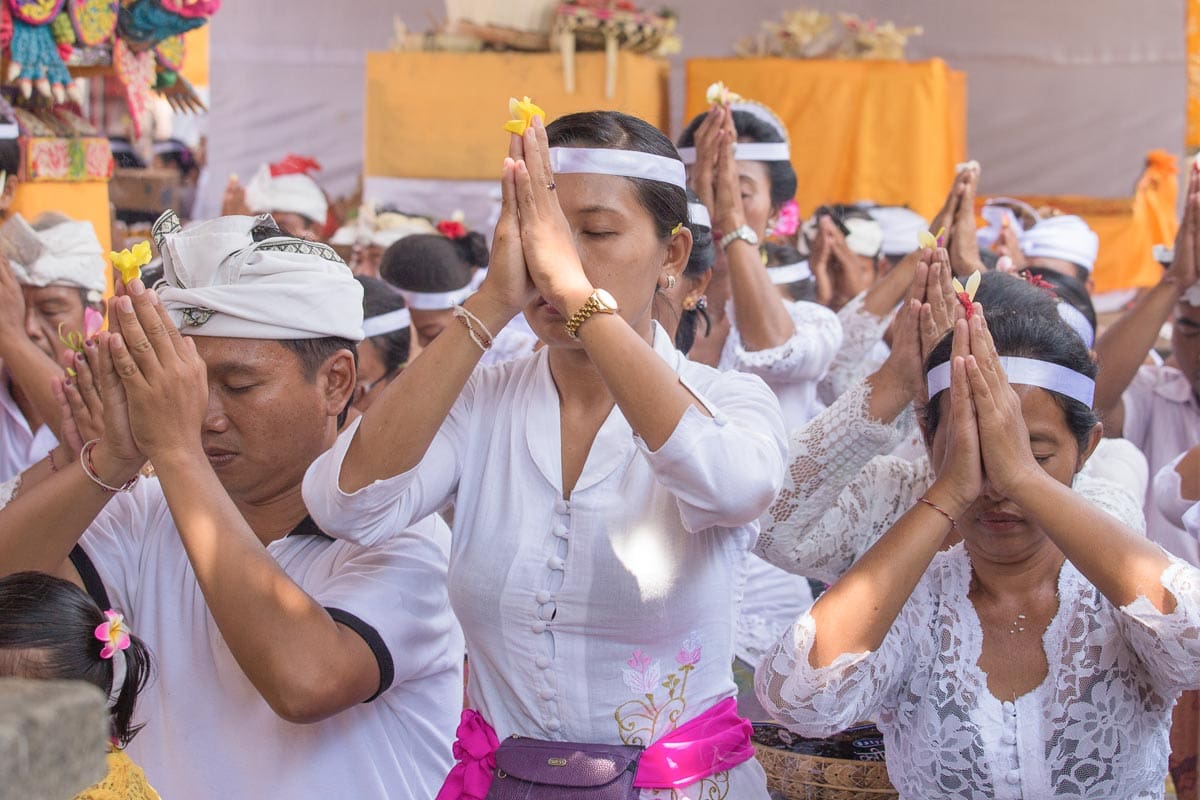 Unlike everywhere else in the world, in Bali, there are no big parties on New Year's Eve. The day is called Nyepi, and it's a day of silence and meditation. On Nyepi, no one works, no one travels, and everybody stays at their homes. The empty island strikes quite the contrast from the usually buzzing streets of Bali.
The only people you can meet outside on Nyepi are the Pecalang – traditional security men who patrol the streets to ensure the prohibitions are followed.
If you plan to spend New Years' Eve in Bali, though, don't be discouraged. Nyepi is not celebrated on December 31st but sometimes in March (check for the current year here).
There is a kissing ritual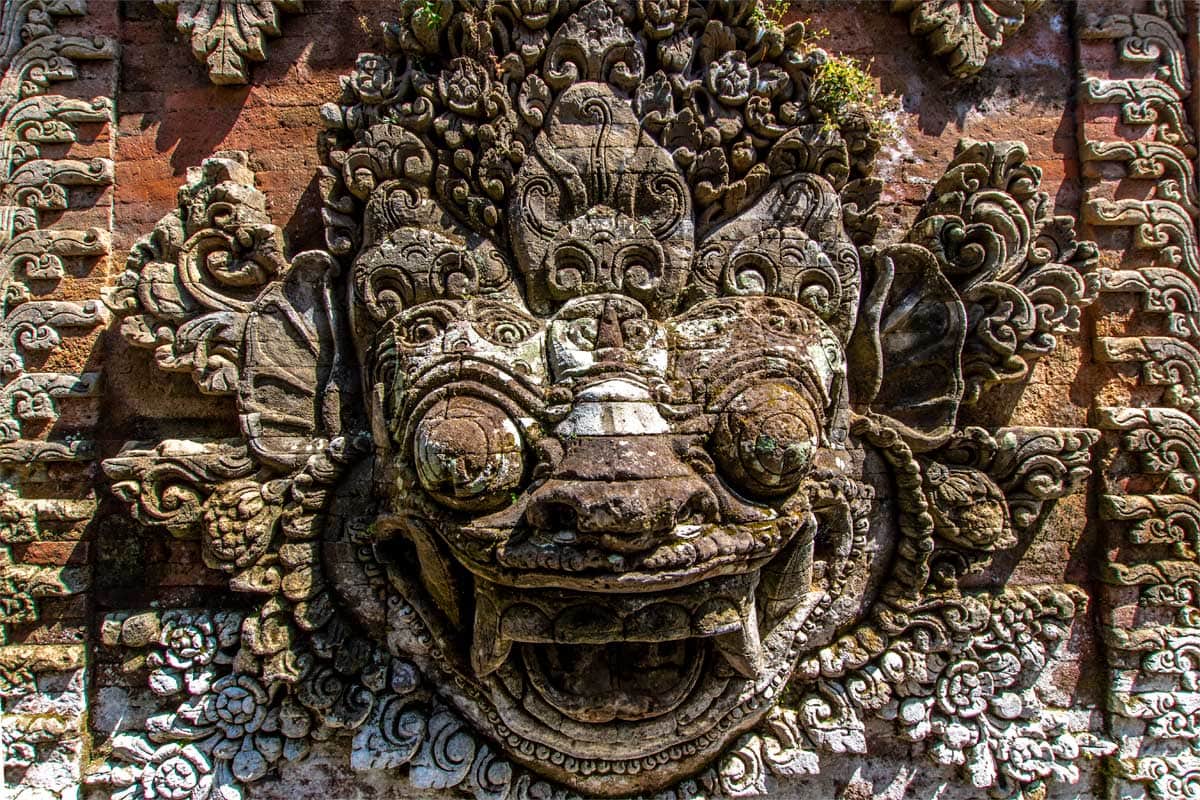 It's called Omed-omedan and celebrated on the day after Nyepi. All single youths with ages ranging from 17 to 30 years old are gathered on the street and made to kiss each other while the non-single villages pour buckets of water over them.
Apparently, many couples have met through this tradition.
The Bamboo Chocolate Factory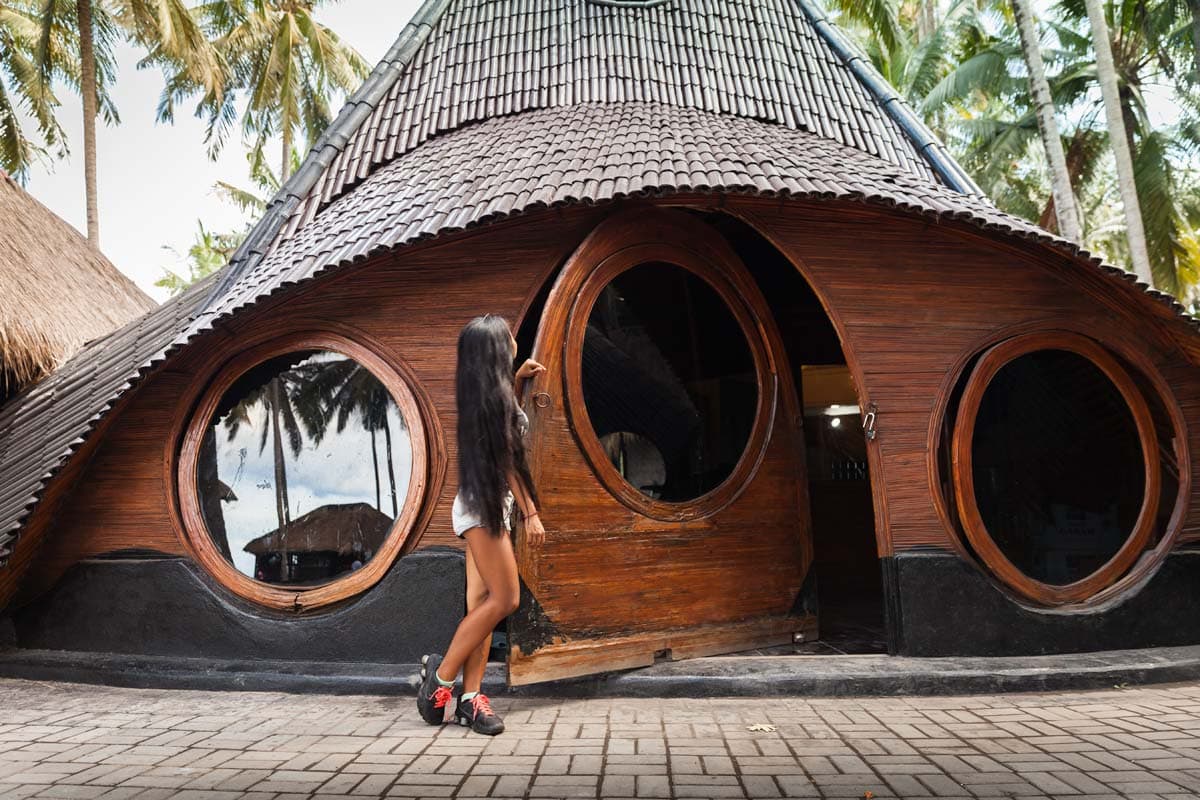 Yes, there is a chocolate factory in Bali open for tourists. And since it's a tropical island chocolate factory, it's made out of bamboo! You probably won't find Willy Wonka or Oompa-Loompas there, but you'll have a great time for sure!
See Also: The Ultimate Indonesia Itinerary Guide
Most expensive coffee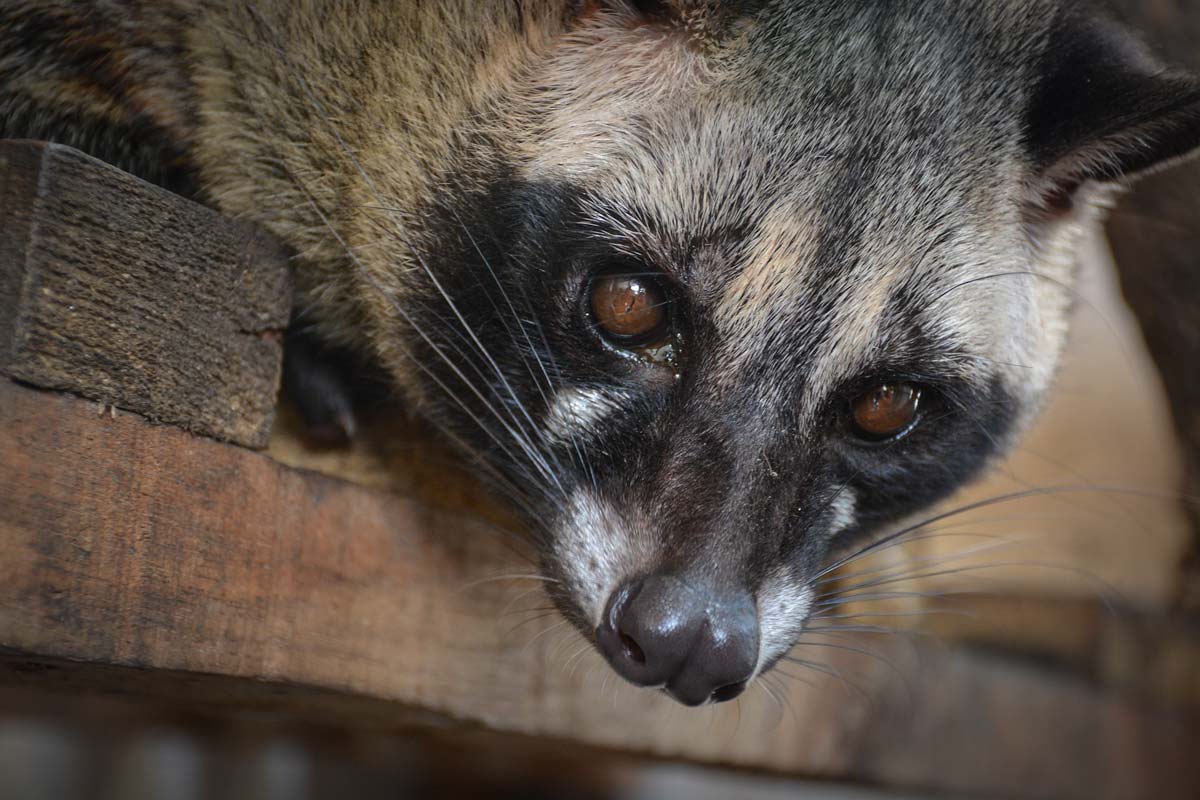 One of the most popular facts about Bali is a coffee one. Yes, the world's most expensive coffee, Kopi Luwak, is made in Bali, and yes, Kopi Luwak are not your typical coffee beans; they are civet droppings.
Yup, you've read this right. The civet cats eat the ripest and finest coffee cherries but can't digest the bean properly, so the crazy Balinese people decided to make a coffee out of the fermented – product – and somehow it worked!
If you are in Bali and want to try the coffee, make sure you do your research and pick an ethical coffee place/factory. A lot of times, the animals are abused and heavily mistreated in order to produce the coffee. Be an animal friend; don't support abuse. ?
Balinese babies are considered little angles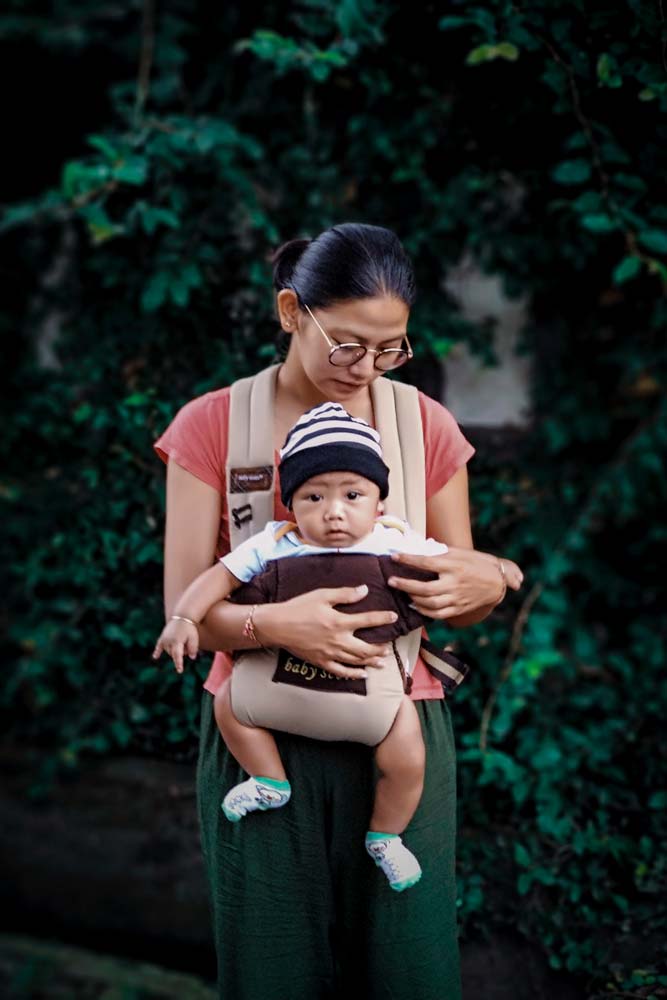 Wait, how is this one of the fun Bali facts? Aren't all babies considered angles?
The difference is, in Bali, they are literally considered angels! In their first few months, Balinese babies are thought to be connected to the spirits, and to stay connected; they should not touch the ground.
In about three months, when the infant finally touches the ground, its family holds a big celebration to mark the occasion. I wonder if Balinese celebrate this every year. It would be neat to have not only a birthday but also a groundday.
Tropical paradise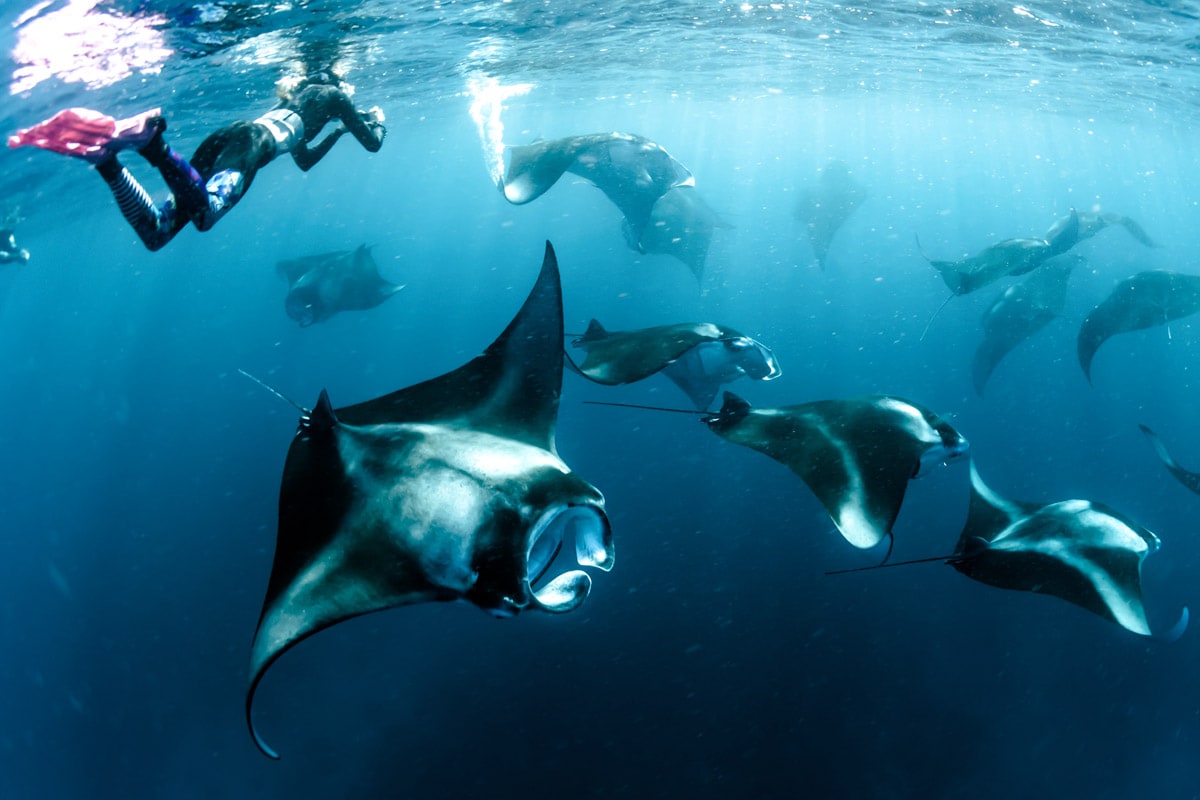 We continue our facts about Bali with an obvious one – Bali is a tropical paradise. Yes, I know you already know that, but I'm pretty sure you don't know the details. Situated in the richly biodiverse area called the Coral Triangle, Bali's glittering coast is a gateway to one-of-a-kind marine life and underwater adventures. It's home to approximately 76% of all known coral species, 2000 fish species, all sorts of rays, dolphins, turtles, eels, seahorses, and starfish.
Known also as the Amazon of the Seas, exploring the Coral Triangle is genuinely a Bali bucket list adventure.
Black beaches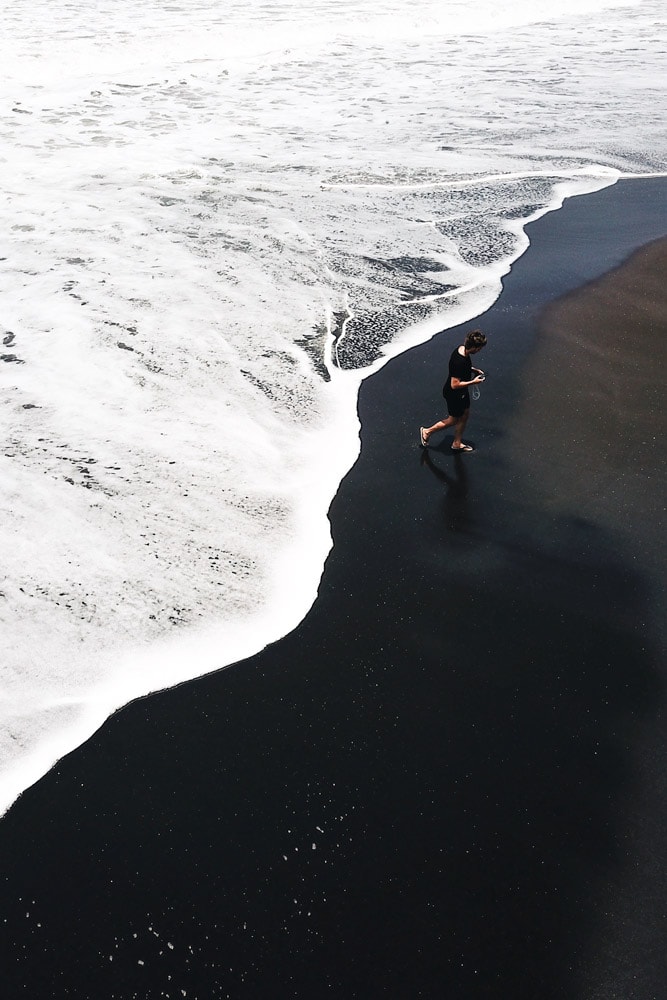 Now that we know how much of a tropical paradise, Bali's white-sand beaches are, it's time to explore the other beaches.
Other beaches? What other beaches?
The cool ones, of course!
While the white beaches are incredibly alluring, the unique black sand beaches are the real deal. Imagine swimming in tropical waters under an active volcano, surrounded by a black sand shore that comes from cooled down lava. I dare you to find a cooler swim than that!
Ice mocha, please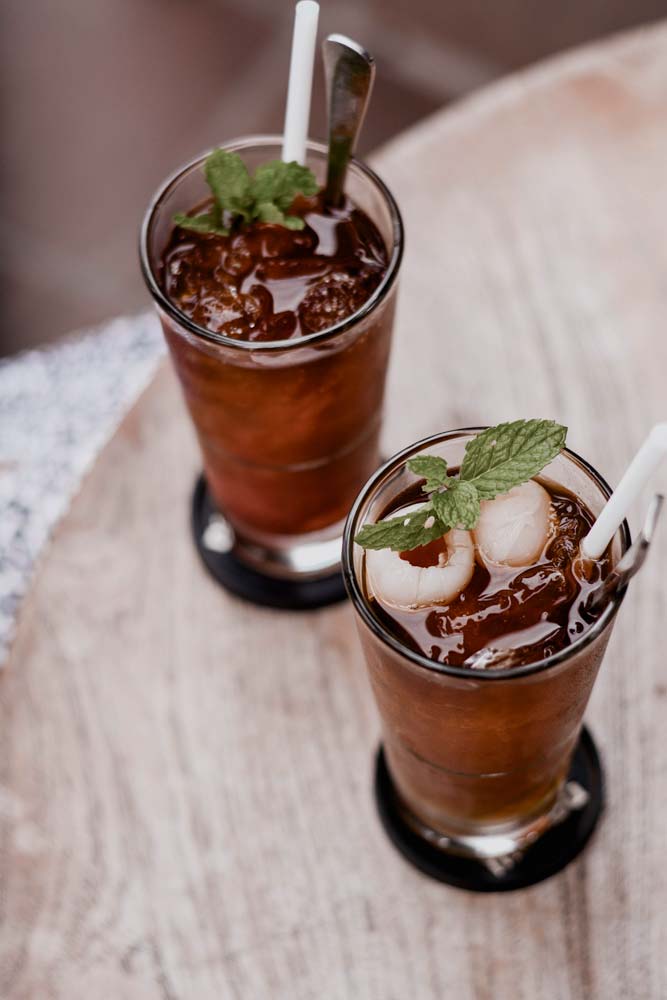 There's a common problem in almost all Southeast Asia tropical destinations – the water. Most of them, Bali included, have bad or no drainage at all, so the tap water is unfit for drinking, even for the locals. Bali, in particular, has the infamous Bali belly that plagues all who dare to try the tap water.
I'm sure you see the potential problem here. The average temperatures in Bali are around 26°C (79°F) so consuming ice drinks is vital. But ice is water, and water gives you the Bali belly, right?
Thankfully the local government saw the same problem, so all ice on the island is now regulated. Since the fines are quite harsh, no one dares to make a tap-water-ice, making drinking your favorite ice coffee as safe as it is at home.
Spa island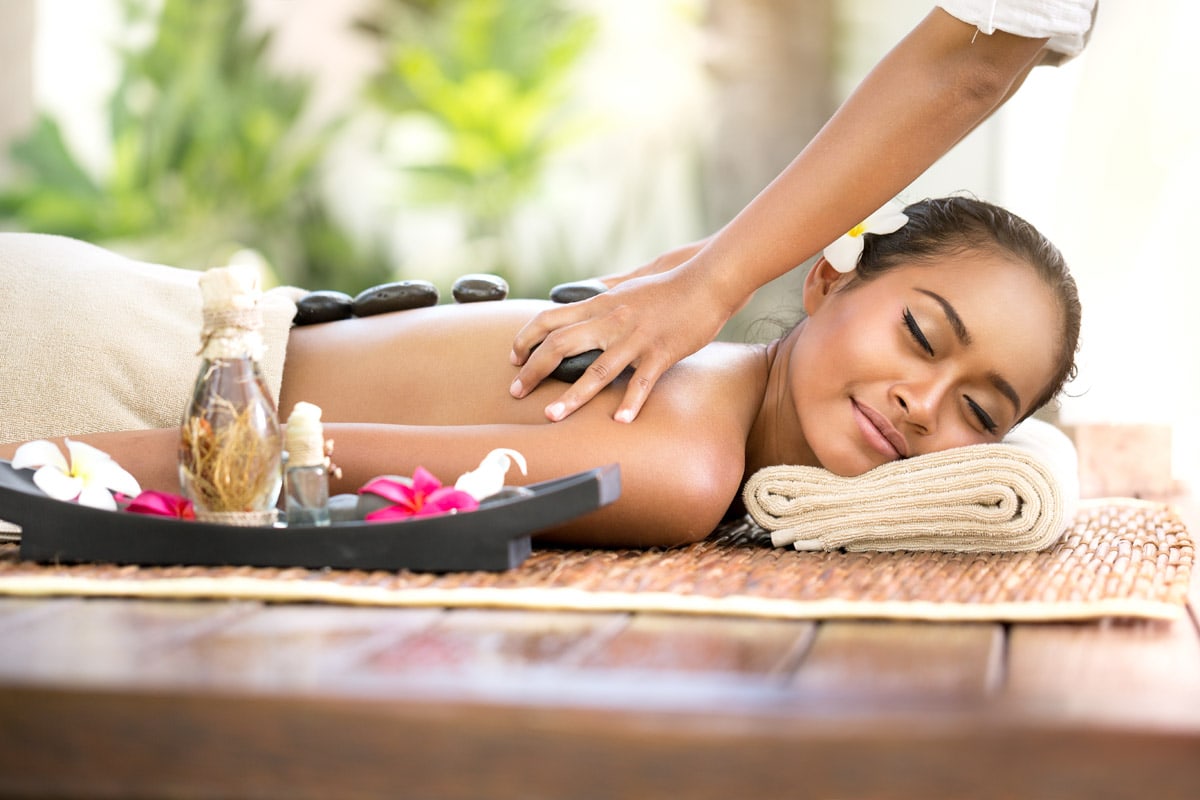 Having a Balinese massage is probably already on your Southeast Asia bucket list (if not, you should definitely put it on), so you'll be glad to know that it's the easiest thing to do in Bali.
That's because the Island of the Gods is full of spas. With over 1,200 scattered around Bali, you're almost guaranteed to have a great one right next to you. If your time is limited, you may consider combining the spa experience with another activity. For example, this 5-star massage, combined with a visit to the Uluwatu temple, is a great way to save time and money. Keep in mind that Bali traffic is horrendous while the landmarks are plenty, so if you want to see everything, you have to budget your time wisely.
Balinese temples have plenty of rules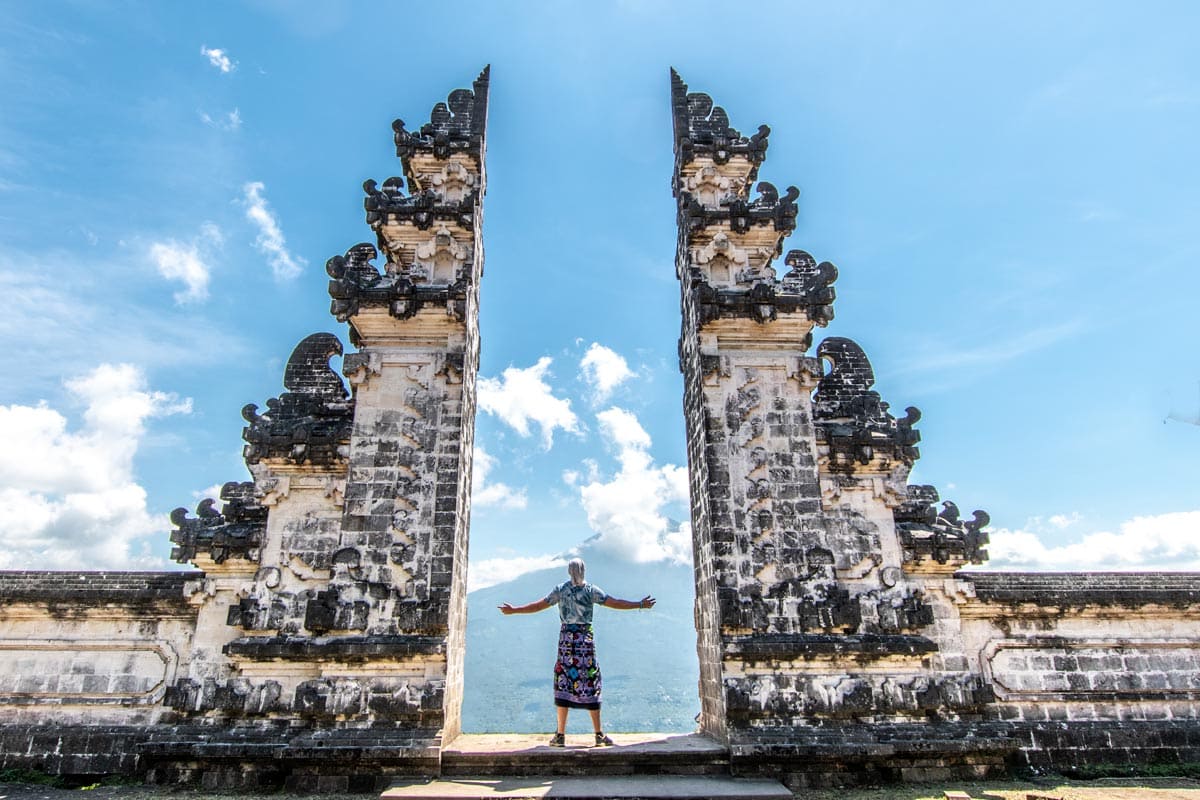 Bali's culture is one of the island's main attractions, but it can also lead to many headaches. While most tourists won't visit any local families, so the risk of offense there is minimal; almost everyone wants to check out a Bali temple.
Visiting a temple, however, is not that simple. Besides the usual requirement of modest attire, Balinese Hindu temples (quite different from the ones in India) have a few extra rules. For example, no matter how well you're dress, you have to cover your legs with a sarong. Man or women, it doesn't matter, the sarong is a must. The good thing is almost all of the famous temples include a rented sarong in their ticket.
Another thing you should keep in mind is never to let your feet point the altar. Feet are considered unclean in the Balinese culture, so all men should sit with crossed legs while women are usually kneeling.
And speaking of women, there are plenty of additional rules for them. They are not welcome if they are pregnant or if they are in their time of the month. Although it sounds a bit sexist, it's an ancient island custom, so don't feel offended if a local guide asks if you're menstruating.
You can always lie, of course; I'm pretty sure no one will check.
Exchanging money is tricky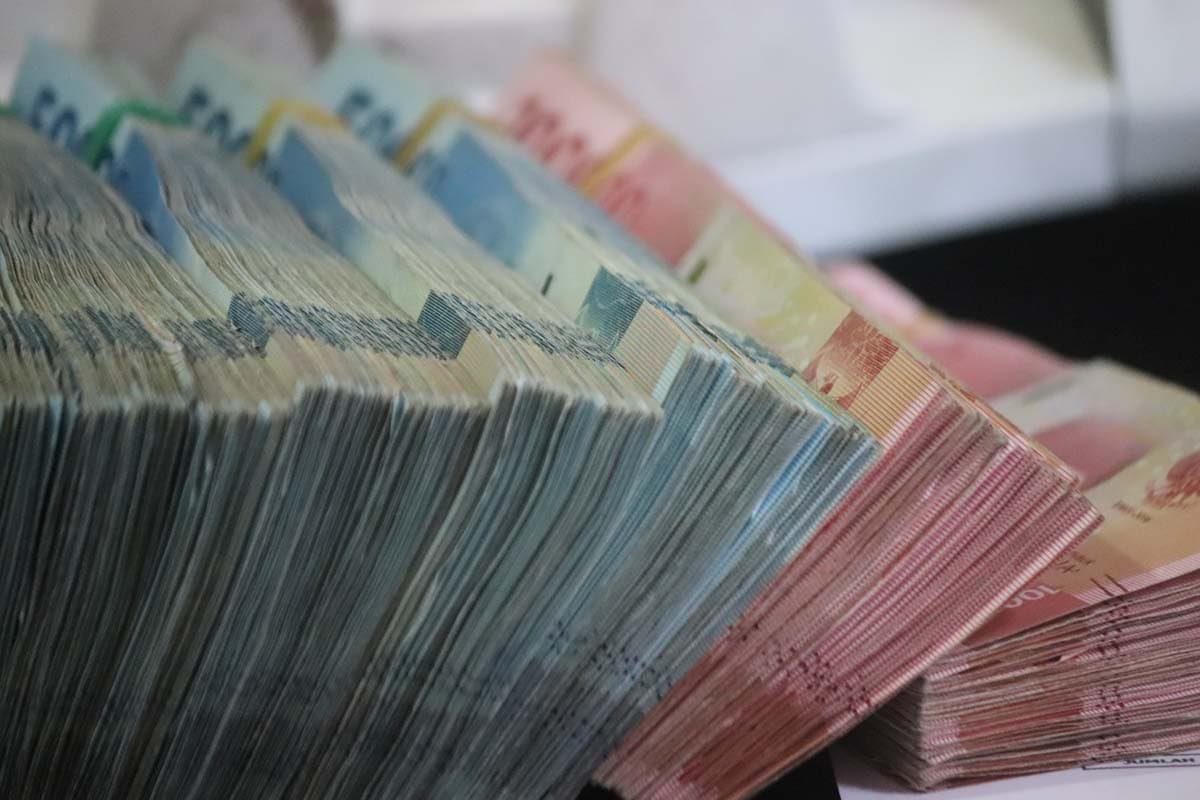 One of the most curious facts about Bali is that the Island of Gods will make you a millionaire.
Wait, what?
Since one US dollar equals around 14,000 rupees, every tourist becomes a millionaire as soon as they exchange their money. There's a tricky part, though. Be careful how much money you exchange because the biggest note is 100,000 rupees (around 7 US dollars).
I've seen people leaving the currency exchange office with plastic bags full of money. It's a common mistake for tourists who haven't done their research and an excellent opportunity for the local thieves.
North is not always north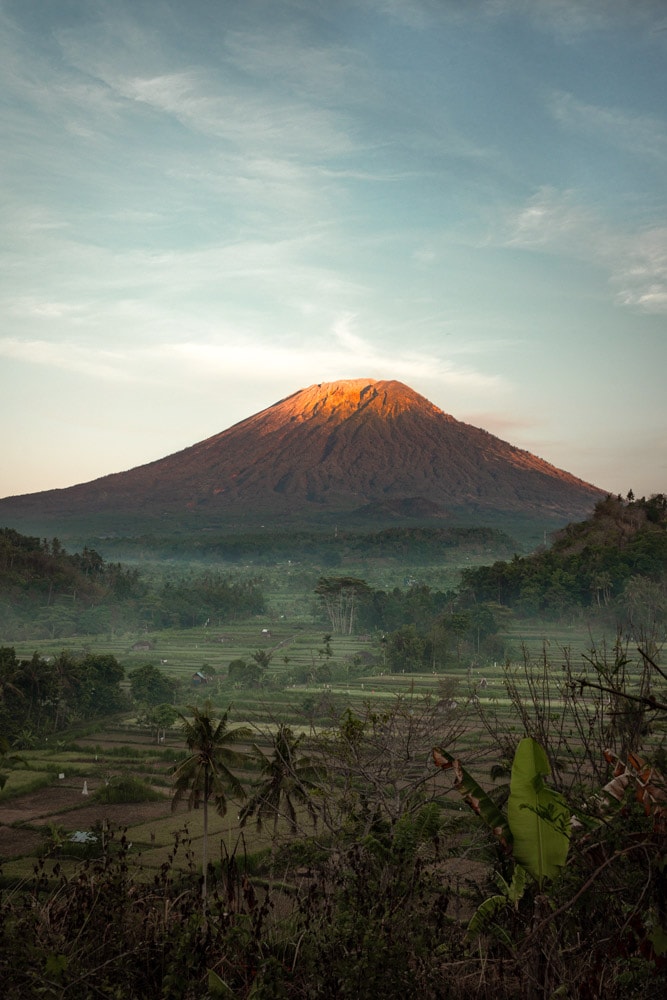 Directions in Bali are almost as confusing as the names. The regular north, south, east, and west do not apply there. Everything on the island is centered around the volcano Gunung Agung which is considered the 'home' of Hindu gods.
Everything towards the holy mountain is kaja (north) while everything opposite of that and towards the sea is kelod (south).
Most Balinese shrines and dwellings face Mount Agung alongside all bedrooms (people must always sleep on the side of the Gods) while the kitchen and toilet are always in the opposite direction.
An Extra Castaway Fact
A Balinese kitchen is more than a place where you prepare your food. Locals believe that when you come home, you should always visit the kitchen first. That way, any bad energy and evil spirits you bring from outside will stay in the kitchen and won't contaminate the other rooms.

Island of the Gods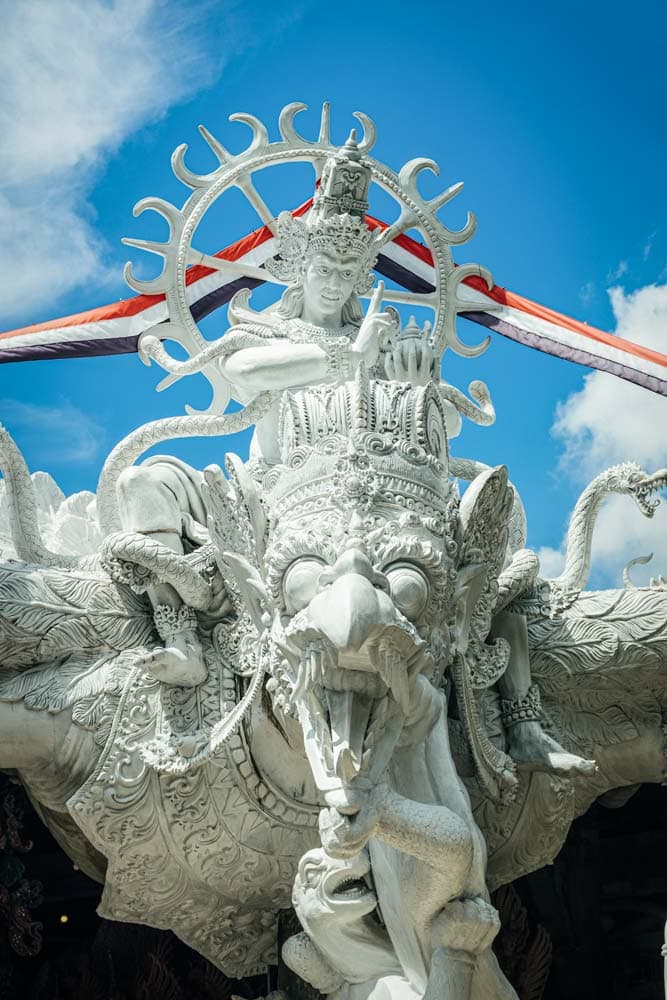 You've probably heard that Bali is referenced as the Island of the Gods. So, where's that nickname coming from?
It is derived from the local complex belief system that combines Hinduism with animism, Buddhism, black magic, and ingenious deities to create the incredibly colorful Balinese Hinduism. Incorporating so many beliefs results in hundred of Gods (who all live on Mount Agung) and over 20,000 puras (Hindu temples/shrines) turning Bali into the Island of the Gods.
Baligram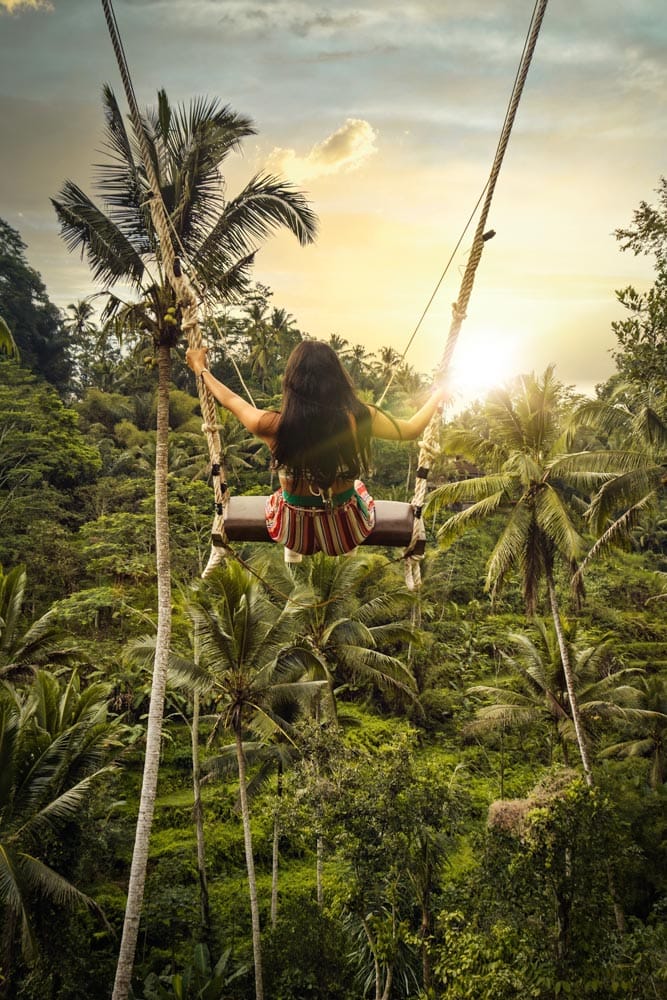 The last of our fun facts about Bali is an Instagram one. Yes, Bali is the Instagram capital of the world. Home to a vast amount of content creators, influencers, and YouTubers, the island has so many picturesque spots that the crafty locals have turned it into a profitable business.
Visit any of the popular tourist attractions such as the Tegallalang Rice Terraces in Ubud, and you'll be immediately overrun by Balinese showing the good photo spots and offering to take your picture.
There're also parks made with the sole reason to get you the best Instagram photo. With swings flying over the infinite jungle, wooden thrones, nests, and all the props you can imagine, don't be surprised if you have to wait in a line to get any of the iconic island photos.
That's all from me, I hope you enjoy the most interesting facts about Bali!
————————————
If you haven't planned your trip there yet, find out how I plan my trips!
————————————
I've got 22 bucket list ideas for Indonesia. See my impossible bucket list of 1700+ adventures!
Which one is your favorite?

Some of the above are affiliate links and I will earn a percentage of the sale if you purchase through them at no extra cost to you. This helps keep my site running – so thanks in advance for your support!