Creating a 10 day Thailand itinerary is not an easy task. Not an easy task at all!

Why is that?
Well, you know how most countries excel in only one specific tourist area. For example – you go to the Maldives to get a nice island vacation, you explore Rome to taste (literally) the unique culture and history (and pizza), you journey through South Africa to marvel at the stunning nature and wildlife.
Well unlike most countries in the world, Thailand excels in plenty of traveling niches thus creating an ultimate 10 day Thailand itinerary that covers all of them is impossible.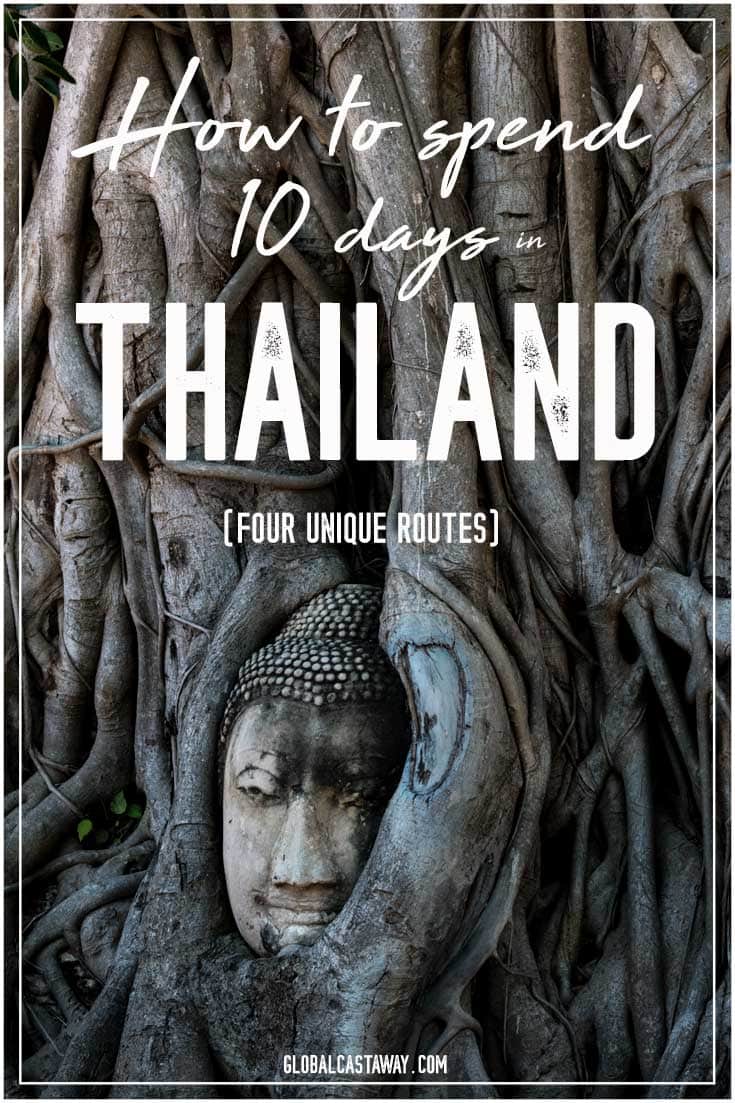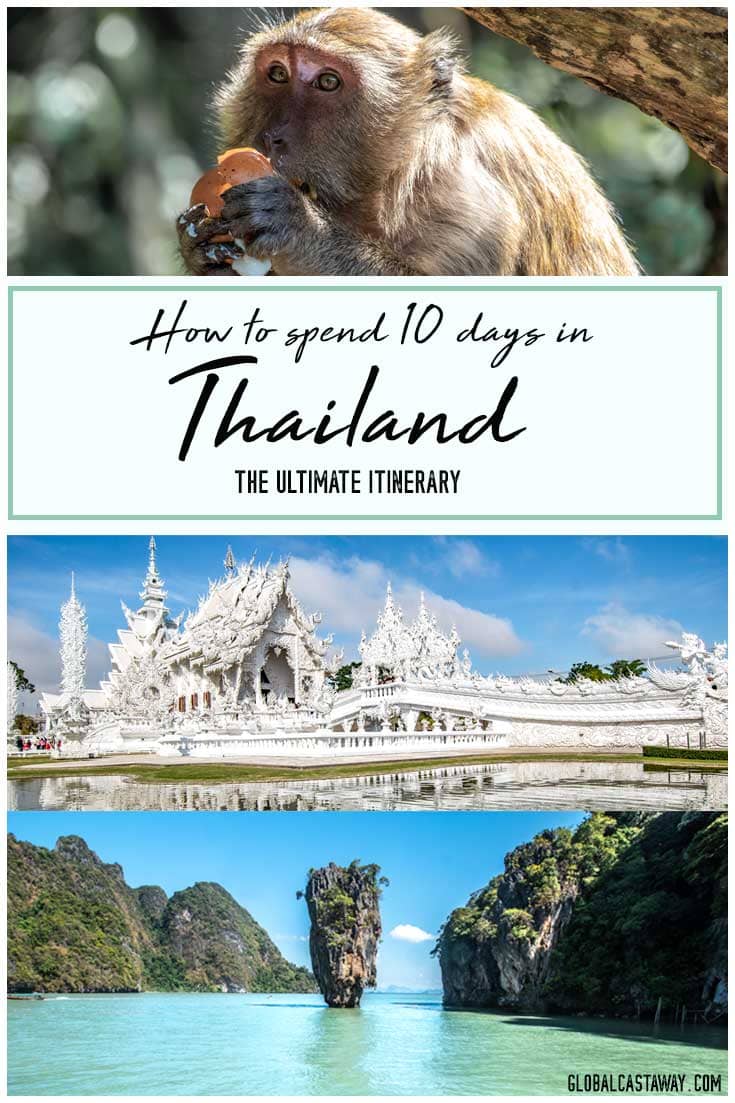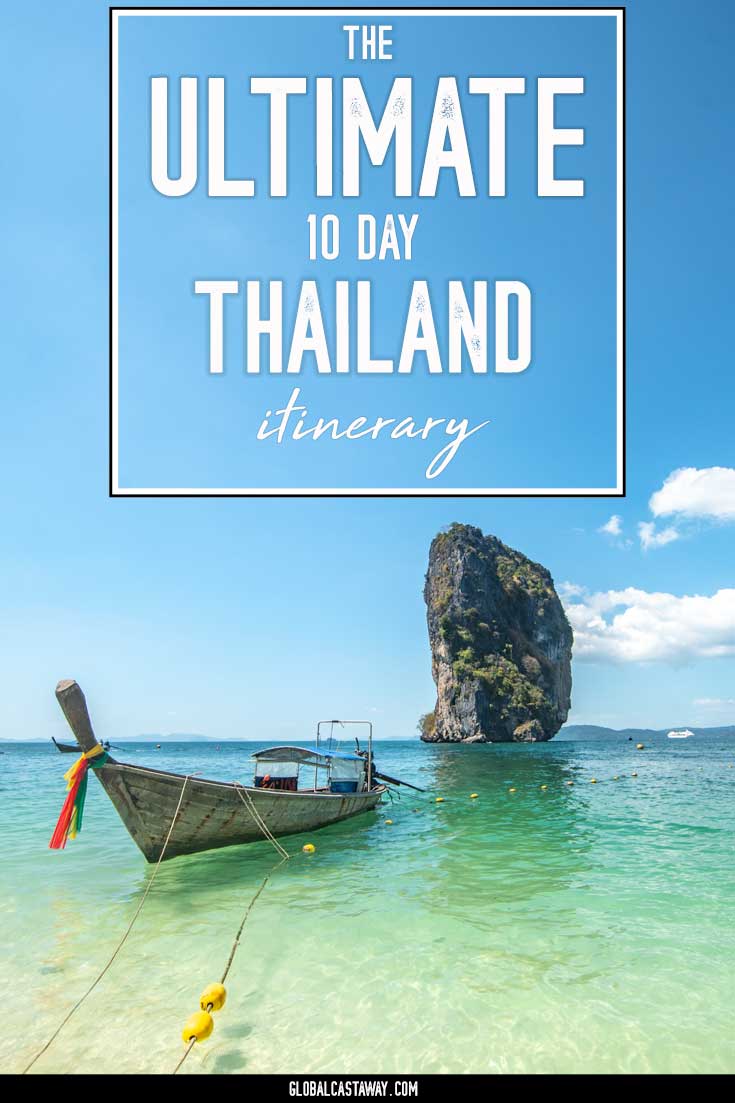 The good news is, since you're already set on for adventure in the land of smiles, you probably have an idea what you want to do there.
That's why I tailor-made a few entirely different 10 day Thailand itineraries that won't only cover different travel styles and needs, but are also guaranteed to make you want to come back and experience more of this South-East Asian jewel of a country.
Enjoy!
10 Day Thailand Itinerary – Destinations
Before we get into the detailed itinerary, we'll get to know to most popular places in the country. And boy oh boy, aren't they all spectacular!
Just a little preview – the most visited city in the world, not one but two ancient capitals, the best diving island in the world, one of the top foodie cities in Asia, some of the very best nightlife hubs and of course the iconic white-sand movie beaches.
Yeah, all of that is in Thailand! No more teasing. Here are the places covered in the 10 day Thailand itinerary:
Bangkok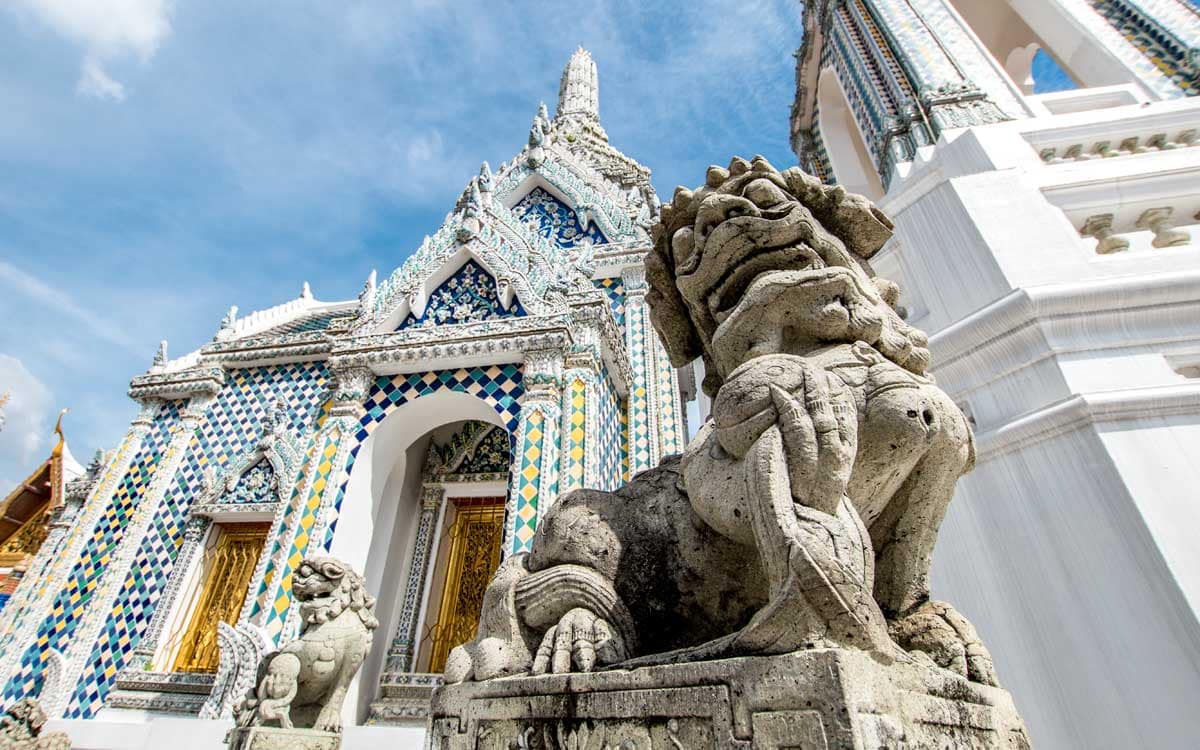 The capital of Thailand, the most visited city in the world, The City of Angels or Krung Thep Mahanakhon Amon Rattanakosin Mahinthara Ayuthaya Mahadilok Phop Noppharat Ratchathani Burirom Udomratchaniwet Mahasathan Amon Piman Awatan Sathit Sakkathattiya Witsanukam Prasit (that is it's real name!).
No matter how you call it, Bangkok is one of those places you simply must see to comprehend. Extremely colorful, buzzing nightlife and distinctive culture, with it's two international airports, the chances are high the capital of Thailand will be the first city on your 10 day Thailand itinerary.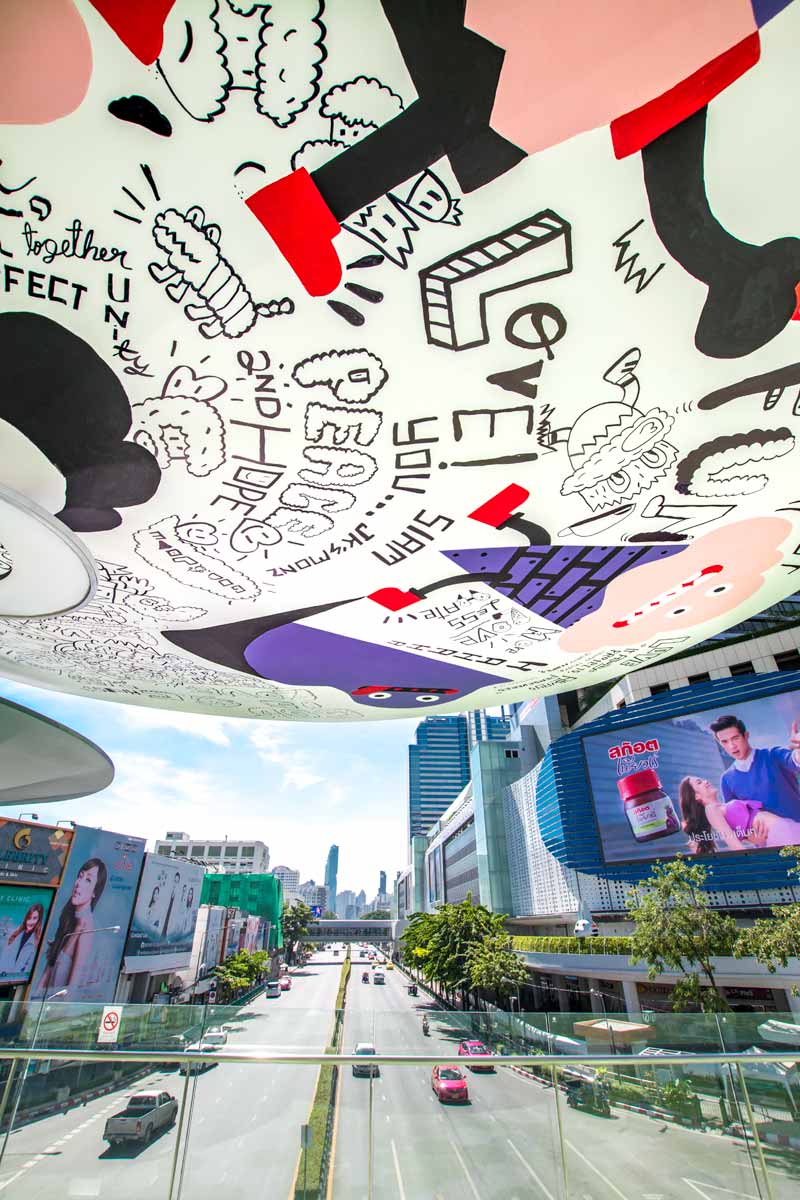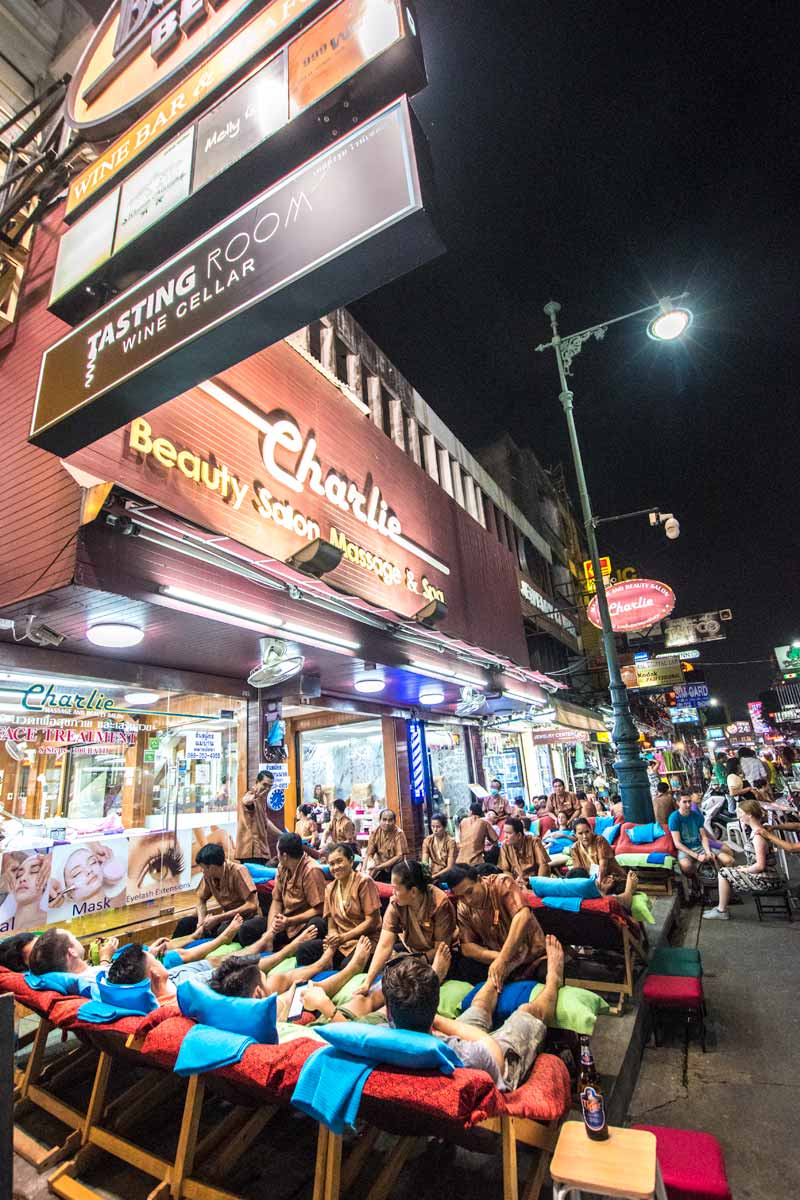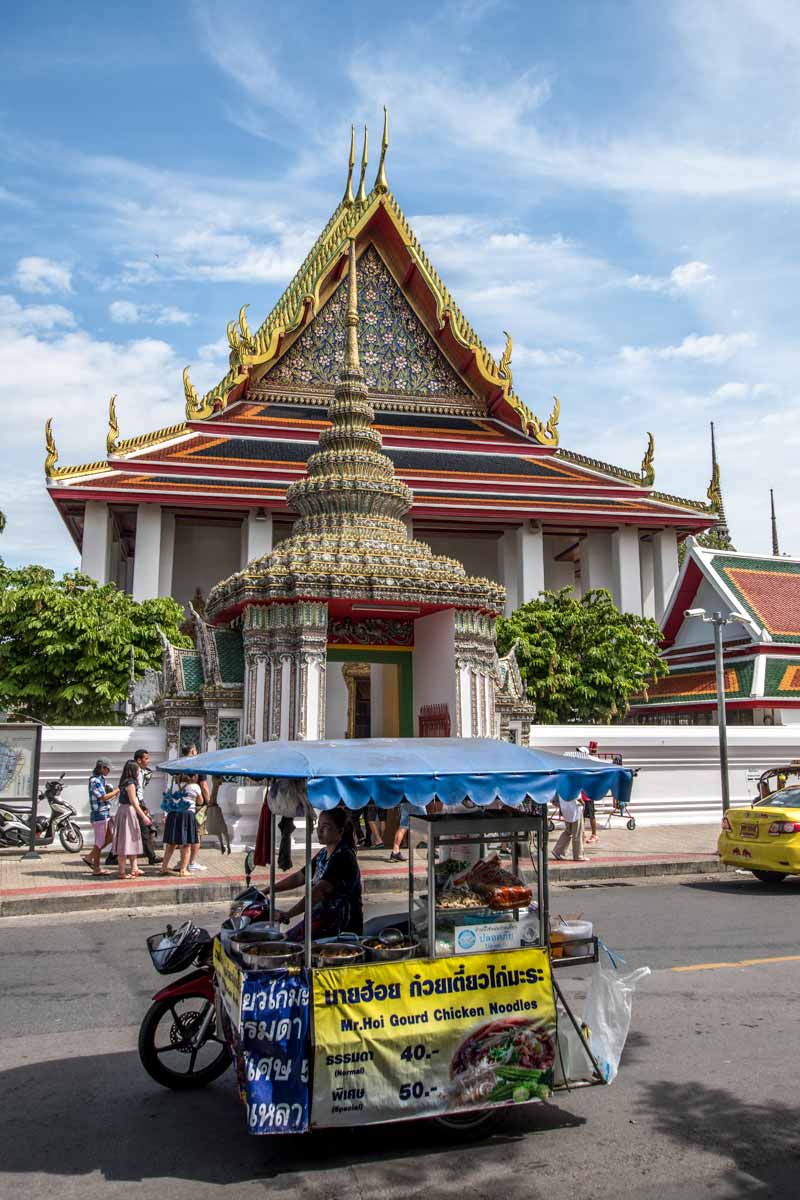 What to do in Bangkok?
The Grand Palace and the Temple of the Emerald Buddha (Wat Phra Kaew)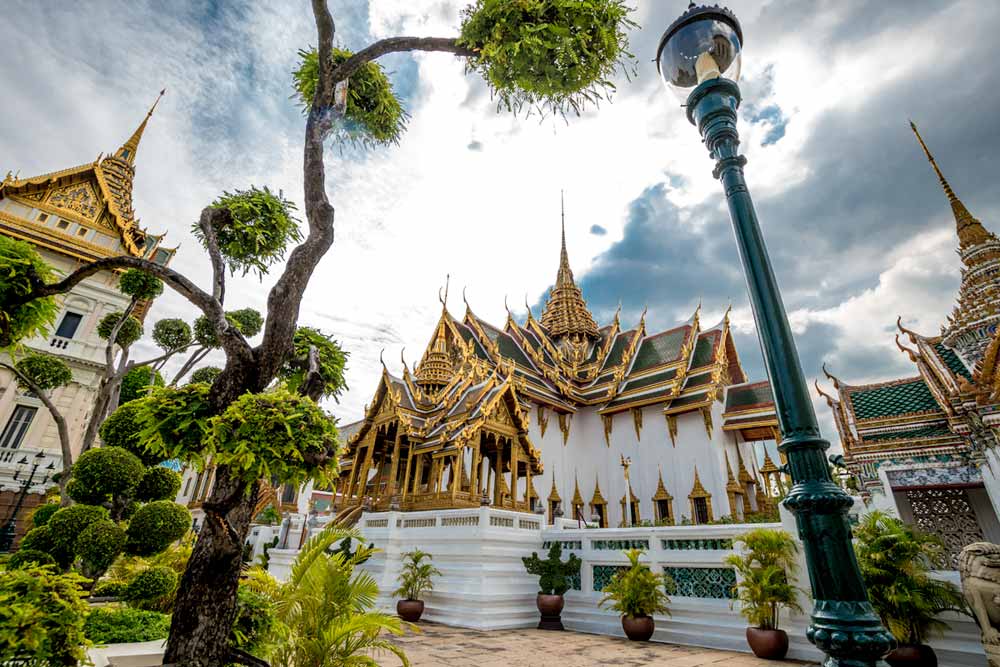 The Grand Palace is the biggest highlight of the Thai capital and one of the most prominent landmarks in the country. Skipping it is simply inexcusable.
The palace area is a complex of 30-ish colorful and exotic buildings, most famous of which is Wat Phra Kaew – the Temple of the Emerald Buddha.
One of the most important temples in the country, Wat Phra Kaew houses the statue of The Emerald Buddha that only the king is allowed to touch. The legend has it that the image was carved in India and it was prophesied it would bring "prosperity and pre-eminence to each country in which it resides".
There are plenty of other cool temples around the Grand Palace. To see more pictures and info about them, you can check out my Bangkok Temples Guide.
Castaway Tip
Mind your clothing when you visit the Grand Palace. Men must wear long pants and shirts with sleeves. As for the women – no skirts, no shorts, no see-through clothes, bare shoulders, etc. If you show up at the front gate improperly dressed, there is a booth near the entrance that can provide clothes and cover you up properly (not for free though).

Temple of The Reclining Buddha (Wat Pho)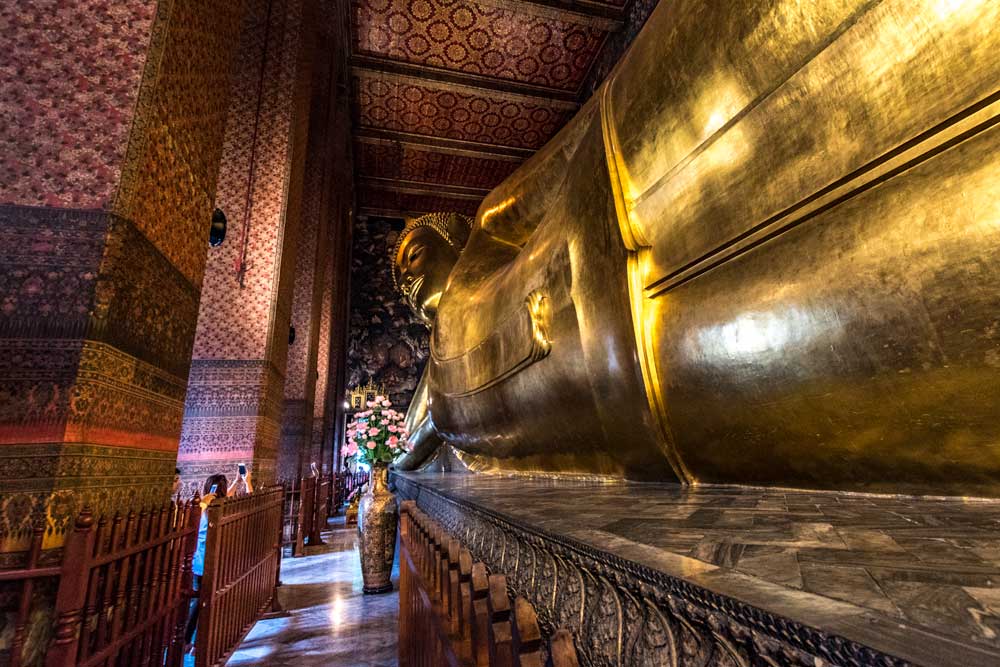 Wat Pho or The Temple of the Reclining Buddha is another popular attraction that should be an integral part of your Bangkok itinerary. With 394 Buddha images, this temple is one of the most picturesque ones I've ever set my foot into.
The cherry on the top is the giant 15 meters tall, 46 meters long reclining Buddha and the 108 wish-granting bronze bowls.
Castaway Tip
Wat Pho is well-known as a center for traditional massage and medicine and one of the best places in town to get a Thai massage.

Khao San Road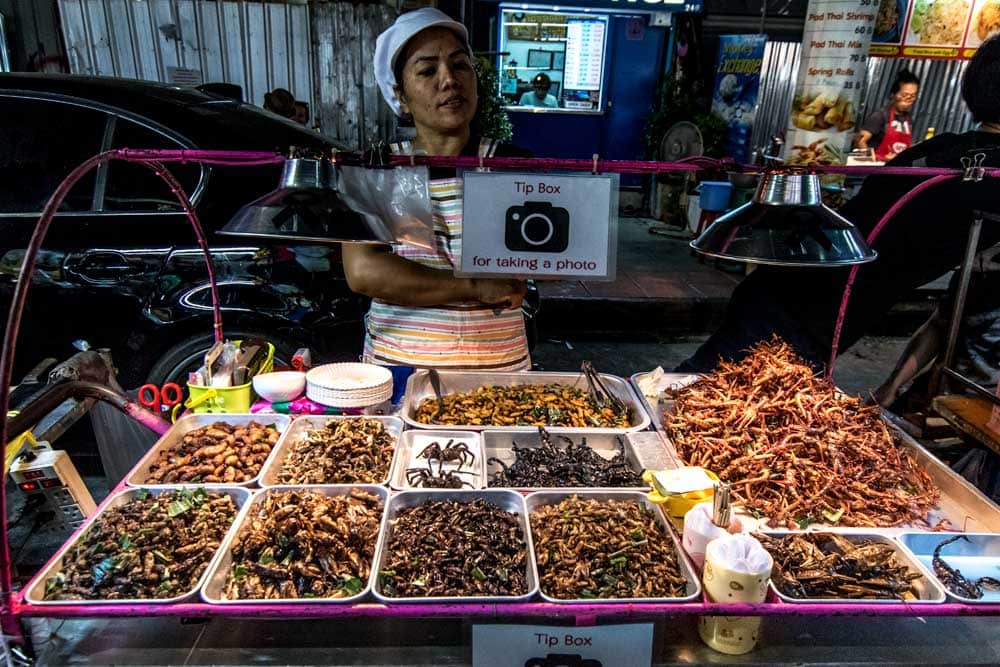 And before you start thinking Bangkok is just temples, here is one of the most legendary party streets in the world – Khao San Road.
A perfect place to get a delicious Pad Thai (from a stall), get a foot massage (on the street), eat a scorpion on a stick( or look how other crazy people eat a scorpion on a stick) and get wasted with (literally) a bucket of (questionable) alcohol.
Khao San has earned its reputation a long time ago, and it still is one of the top spots in Bangkok.
Castaway Tip
If you want to take a photo of the stalls that sell scorpions, spiders, and bugs, prepare to pay a small tip.

See Also: Bangkok off the beaten track
Chiang Mai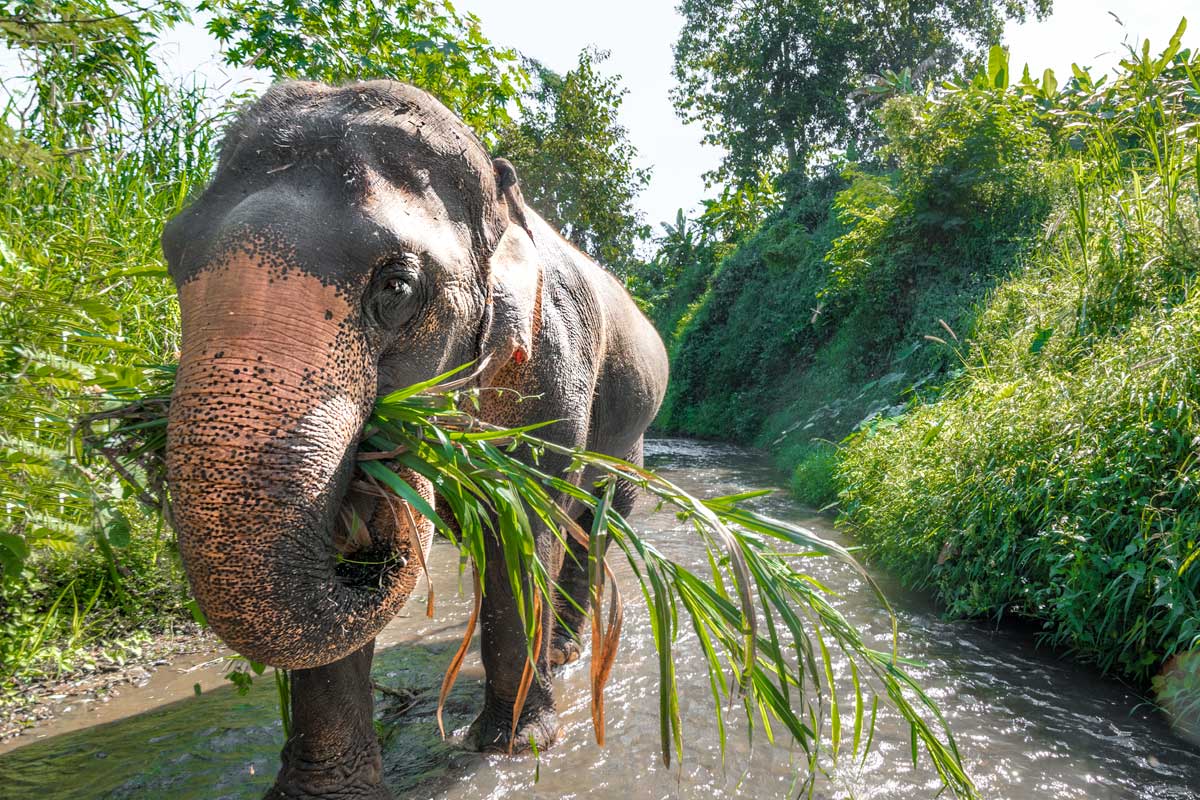 Chiang Mai is my favorite town in Asia, and there is no way I'm leaving it out of this10 day Thailand itinerary.
A long time ago Chiang Mai was the capital of the Lan Na Kingdom for more than 500 years before becoming part of the Siam empire. Today it's the most culturally significant city in the northern part of the country, a famous foodie destination and a favorite digital nomad base.
Chiang Mai is located in the mountains, and it's surrounded by dense jungle thus being the prime place for wildlife and adventure activities.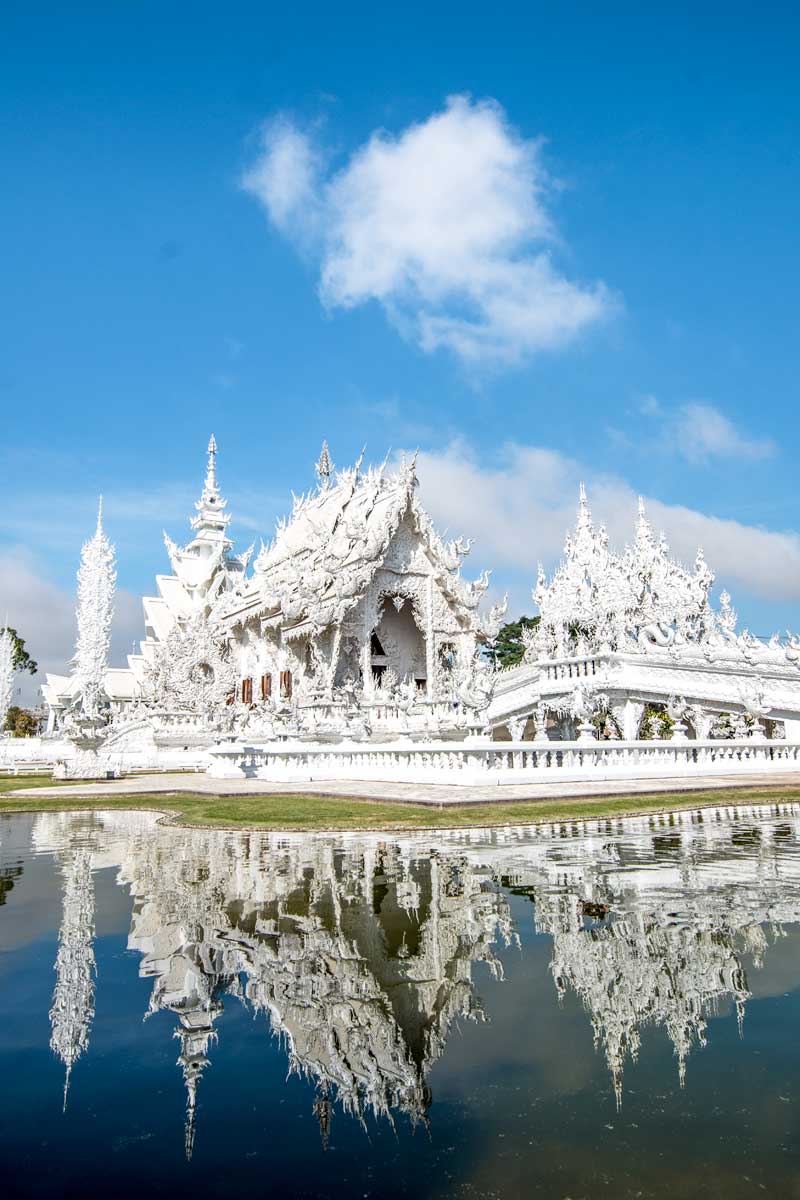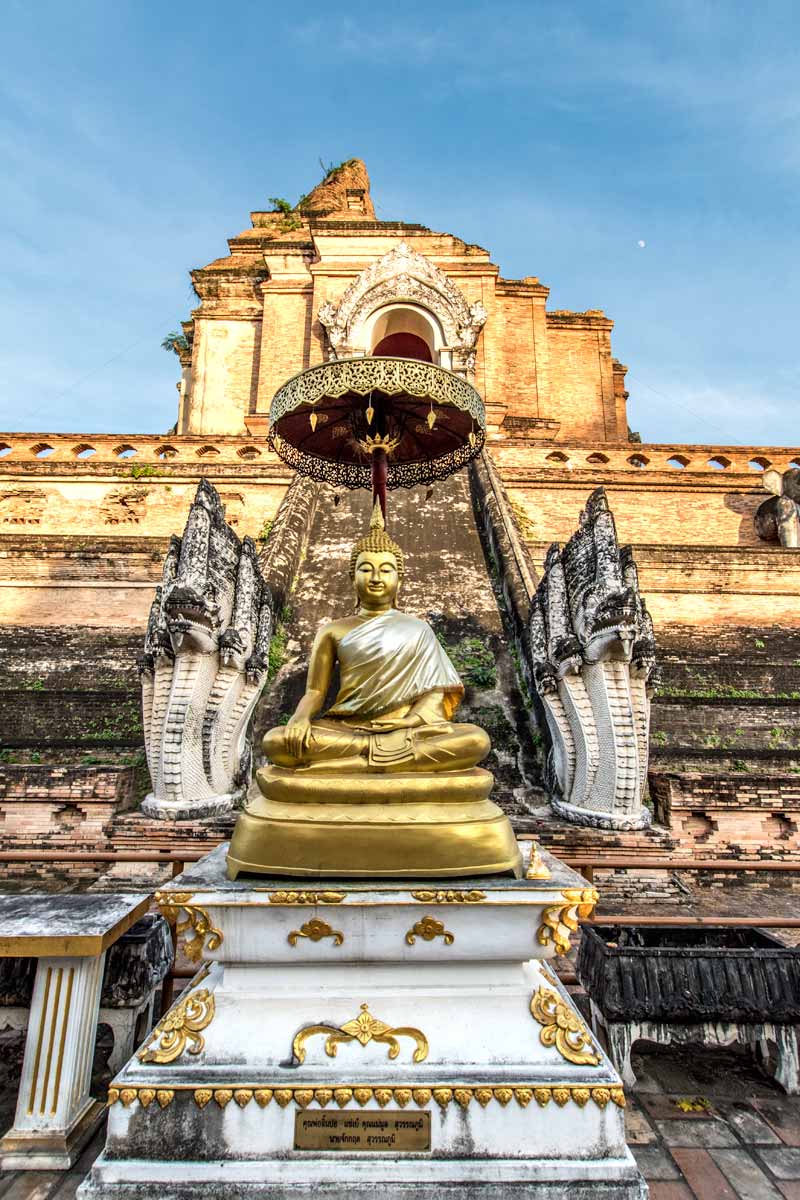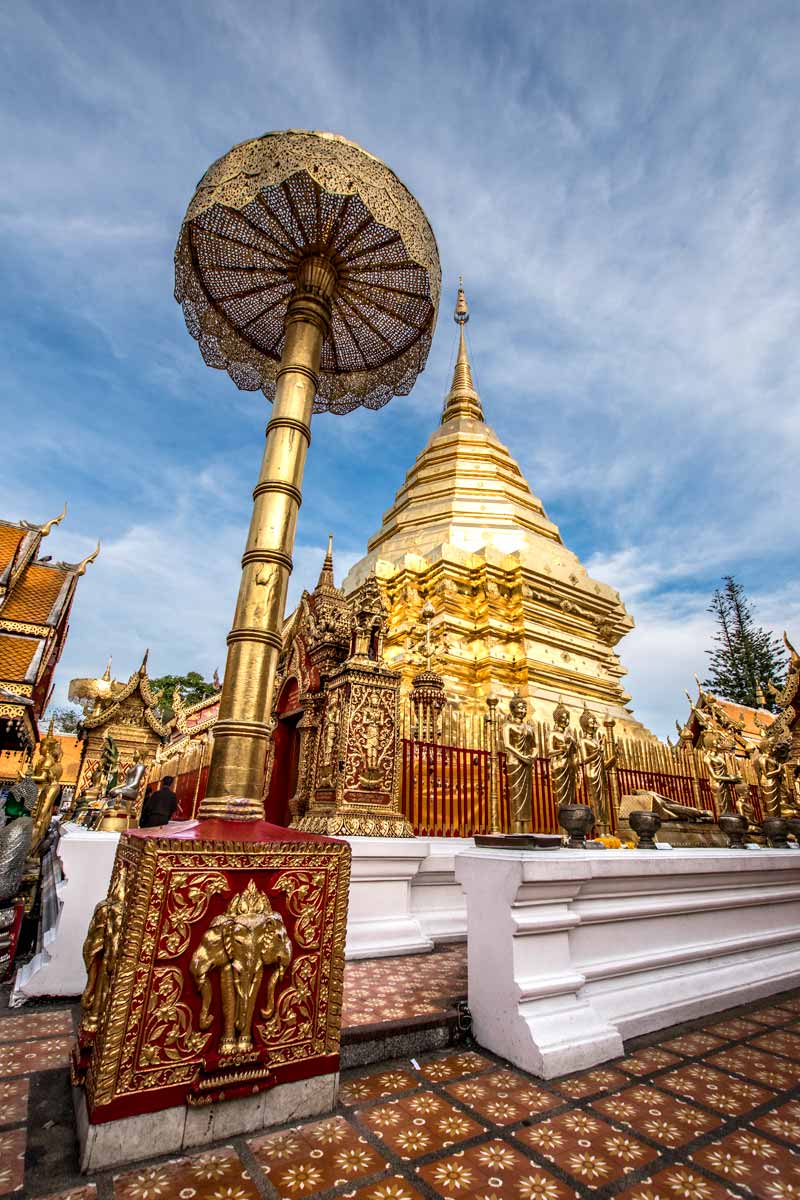 What to do in Chiang Mai?
Have fun with elephants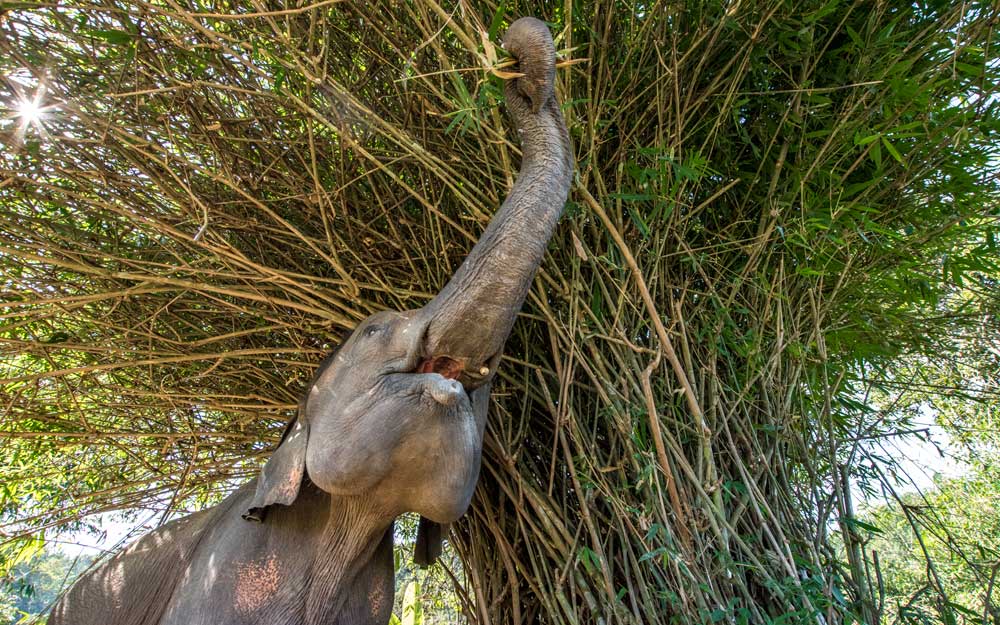 Having fun with elephants doesn't mean riding them or watching them do some circus shows. Not sure if you know it, but those activities are incredibly unethical and cruel to one of the most intelligent animal species in the world.
The best way to interact with the gentle giants is through one of the programs in Elephant Retirement Park – a park that rescues abused elephants and takes care of them. Trust me, the mud bath you take with those guys would become one of your most cherished memories!
See Also: Why You Should Never Ride an Elephant
Castaway Tip
There are plenty of options for ethical elephant experience in Chiang Mai, but not all of them are as ethical as they claim. Do proper research before you pick a program and avoid supporting animal mistreat.

Doi Suthep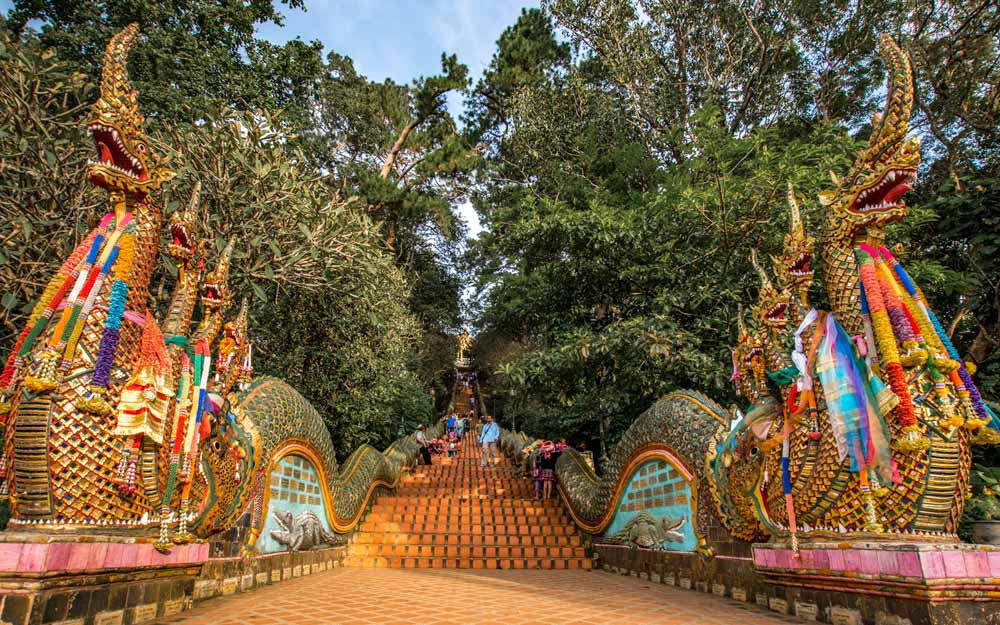 Wat Phra That Doi Suthep or simply Doi Suthep is the local must-see temple.
Built in 1386, the legend says the temple was assembled to hold a piece of bone from the Buddha's shoulder.
Sadly, today there aren't any divine bones inside. Instead, the temple can offer you a colorful dragon staircase, plenty of eye-watering photo ops and excellent panoramic view of the area.
Castaway Tip
Doi Suthep is too far away to go on foot. Instead of taking a taxi though, get one of the songthaew (red trucks for share ride) from Huay Kaew Road near the Zoo. It should cost you only 40 Bahts.

Yi Peng (Loy Krathong) festival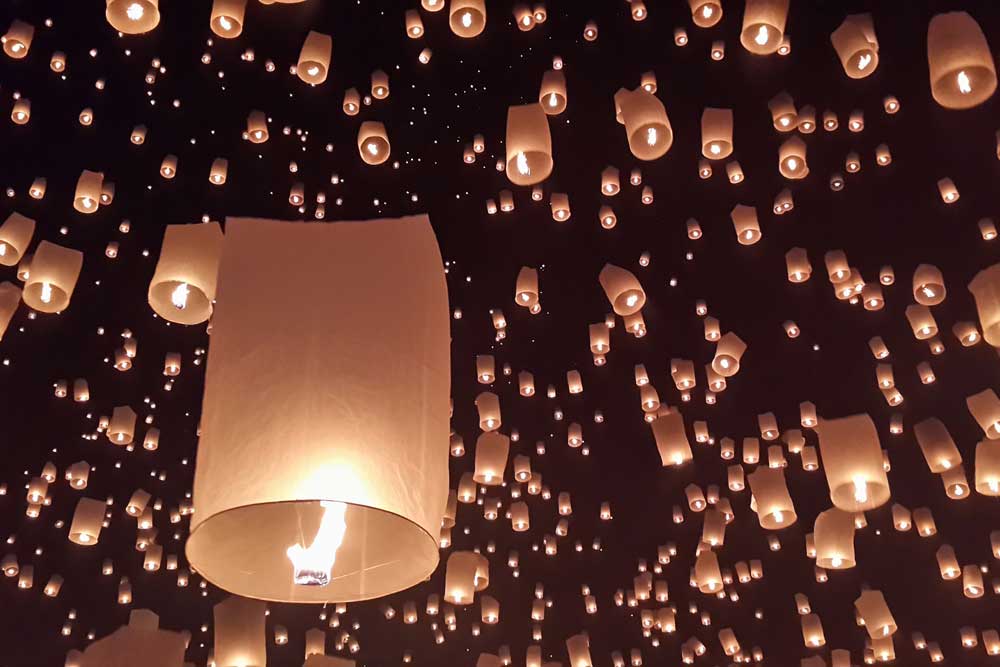 If you're lucky enough this 10 day Thailand itinerary would lead you to Chiang Mai in November. What so special about November?
One of the most spectacular festivals in the world is celebrated then and believe me when I tell you, this is one top-notch bucket list adventure! Yi Peng or the Lantern Festival is an event more magical than anything you've ever seen and once in a lifetime experience.
See Also: The Ultimate 5-Day Singapore Itinerary
See Also: What NOT to do in Thailand
Krabi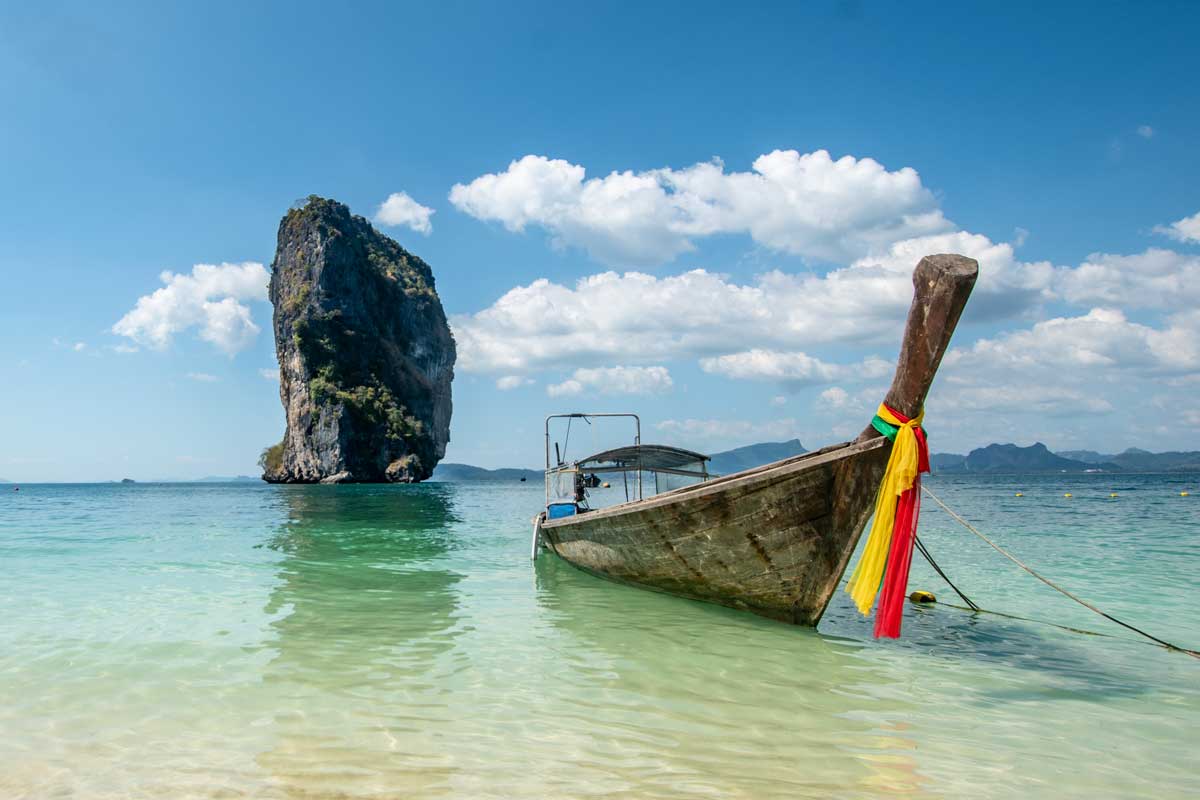 When people think of Thailand, the first picture that comes to their mind is a longtail boat floating over crystal clear waters with limestone rock in the background (just like the one above).
If you want to see this picture in real life, you need to go to the Krabi province in South-West Thailand. An area blessed with numerous picturesque islands and white-sand beaches, Krabi is also a favorite movie set for plenty of Holywood blockbusters.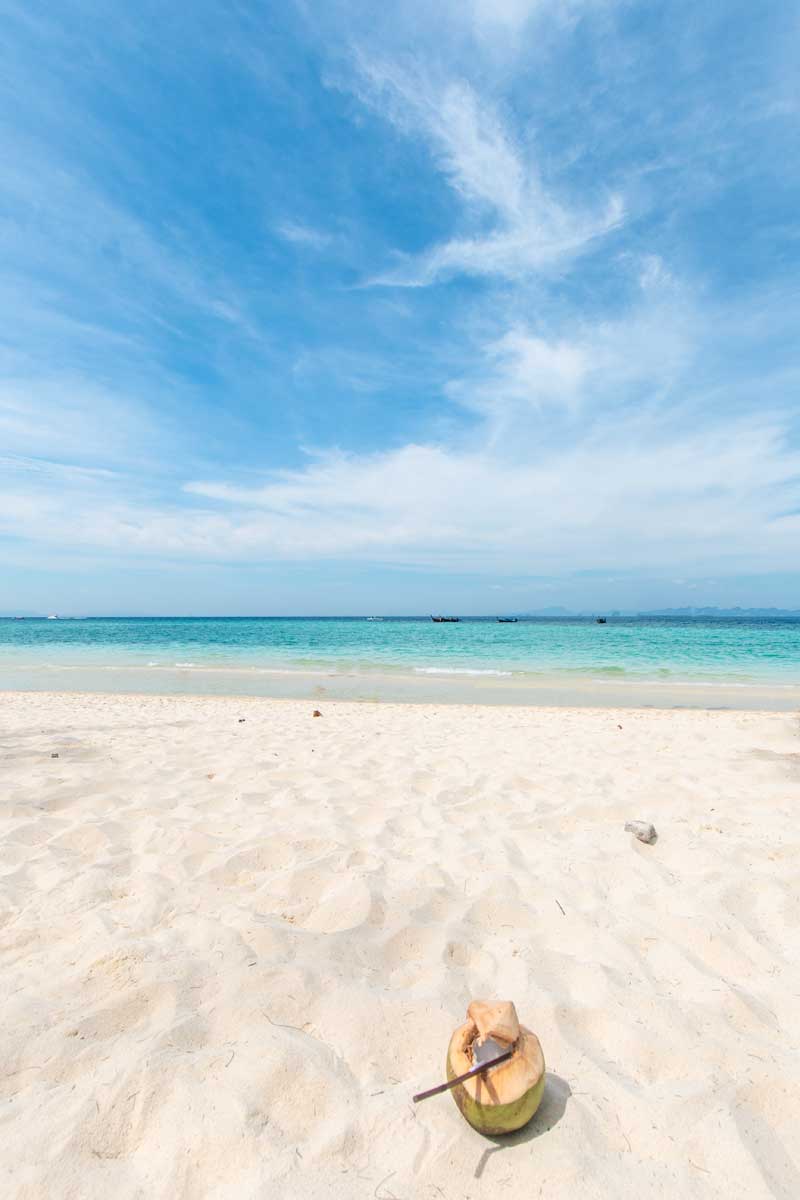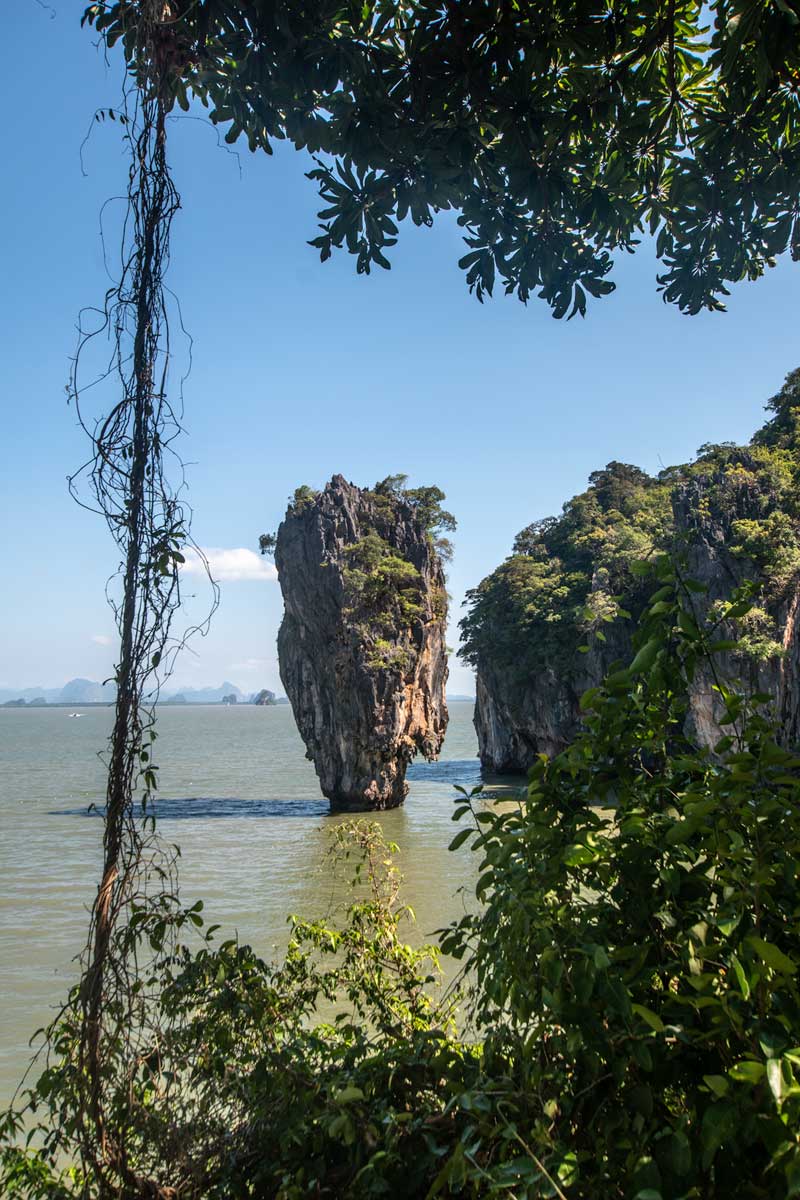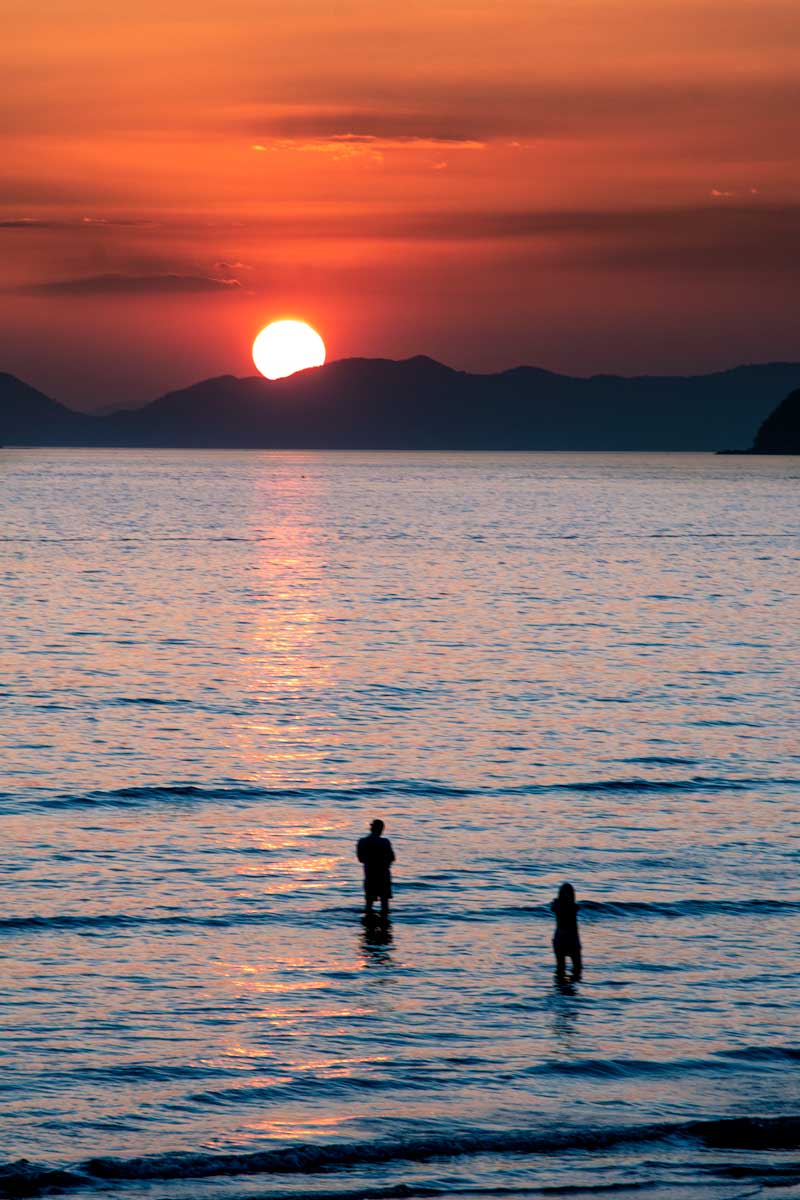 What to do in Krabi?
The Phi Phi islands and Maya Bay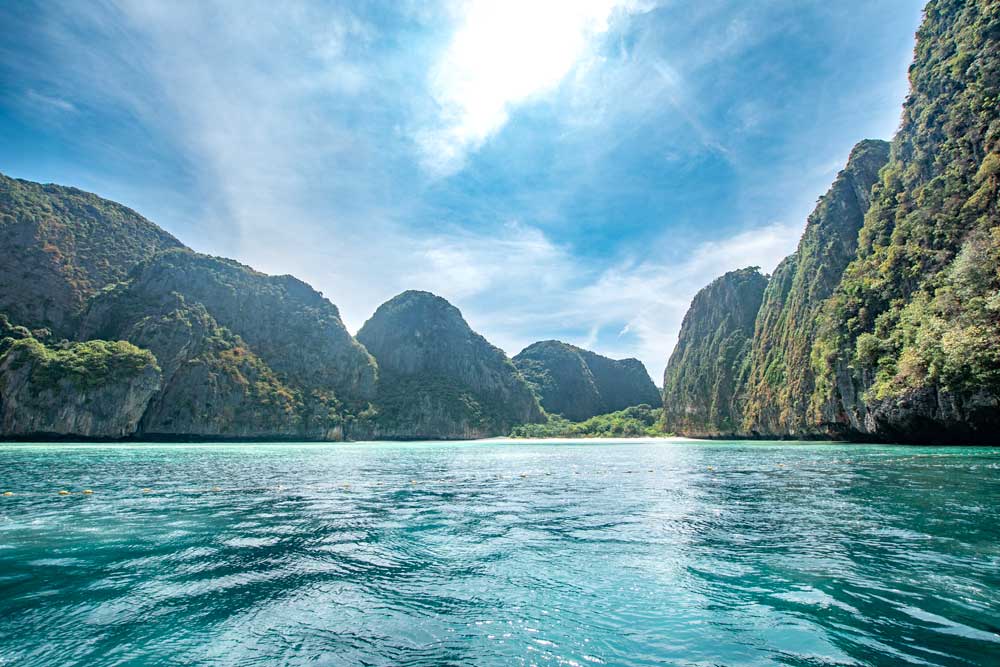 Devastated by the infamous Boxing Day Tsunami in 2004, everything on the Phi Phi was rebuilt to become one of the most popular island vacation hubs in the world.
The highlight place on the island is the legendary Maya Bay, made famous by the Leonardo DiCaprio movie – The Beach.
Castaway Tip
Maya Bay was closed due to tourist overpopulation, but it's now reopen. You can't go swimming but you can enjoy the most beautiful beach in the world.

James Bond Island and Phang Nga Bay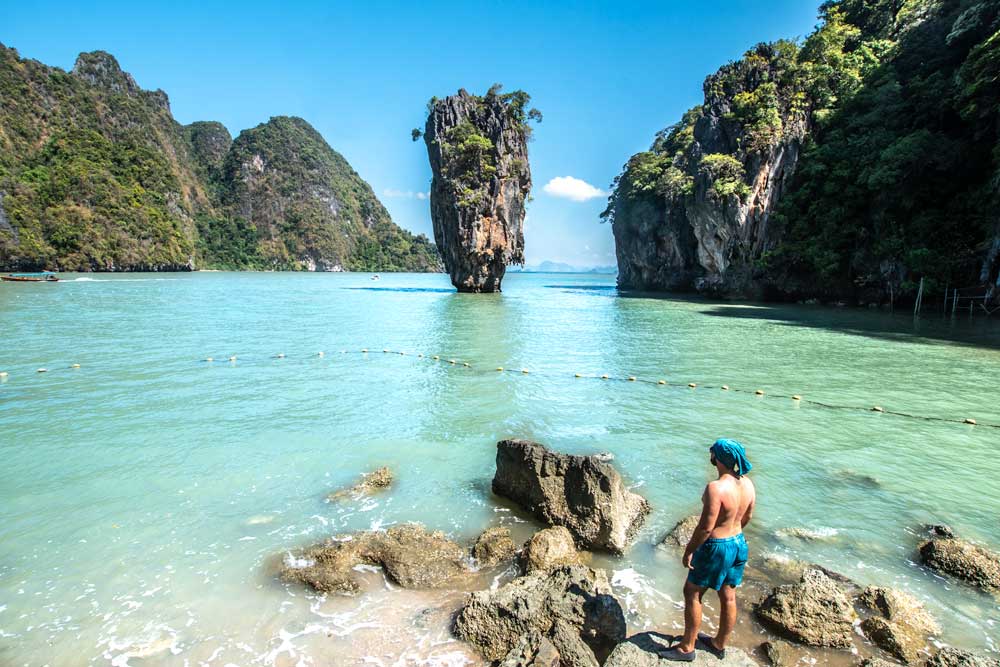 Another bay and another Hollywood island. This time Roger Moore's James Bond made the island world famous and forever changed its destiny.
The Blue Lagoon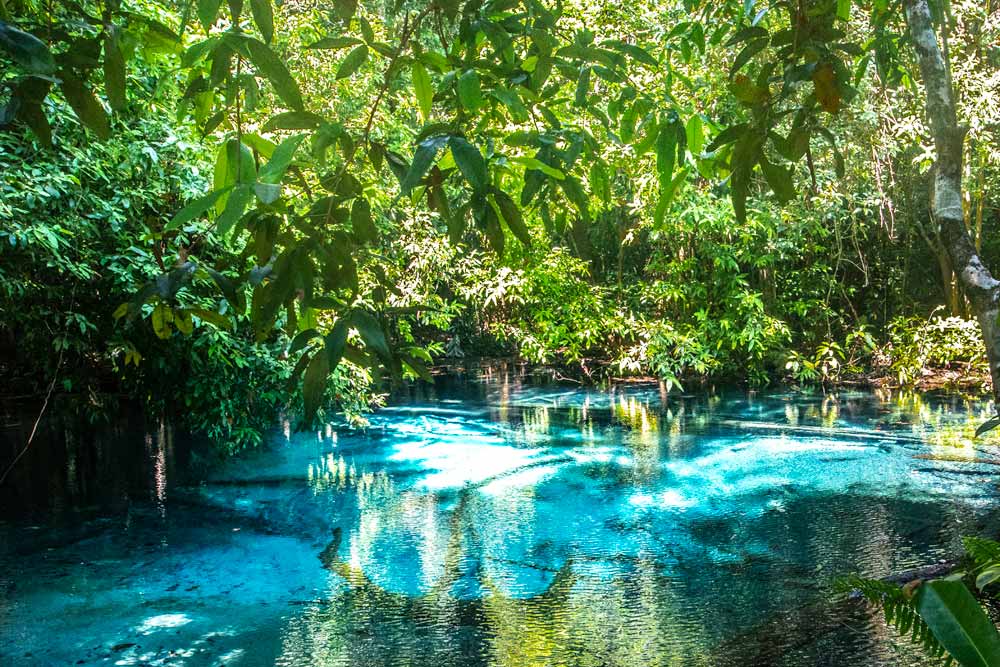 If you get sick of tropical islands (like this is a thing), Krabi has more natural wonders to offer. The Blue Lagoon is not really a lagoon but a jungle pond with unimaginable azure waters.
Seriously, the color of the lake makes it look like a drawing. It's something I haven't seen anywhere else in the world, and it's totally worth a visit.
See Also: Thailand in December
Koh Samui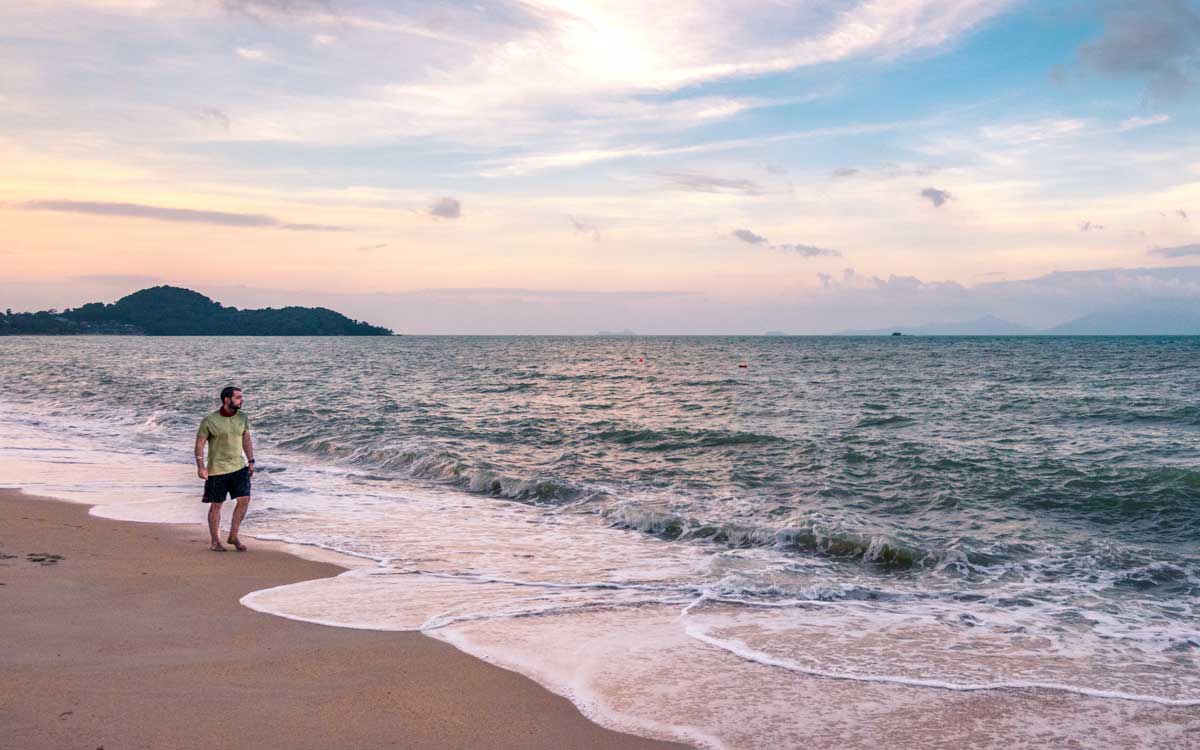 Situated in the Gulf of Thailand, Samui is the most significant island in the Chumphon Archipelago.
Measuring some 25 km at its widest point the island offers attractive budget travel options as well as high-end luxury resorts. It's also one of the best places in Thailand to merely go on a beach vacation and forget about anything else.
What to do in Koh Samui?
Angthong Marine Park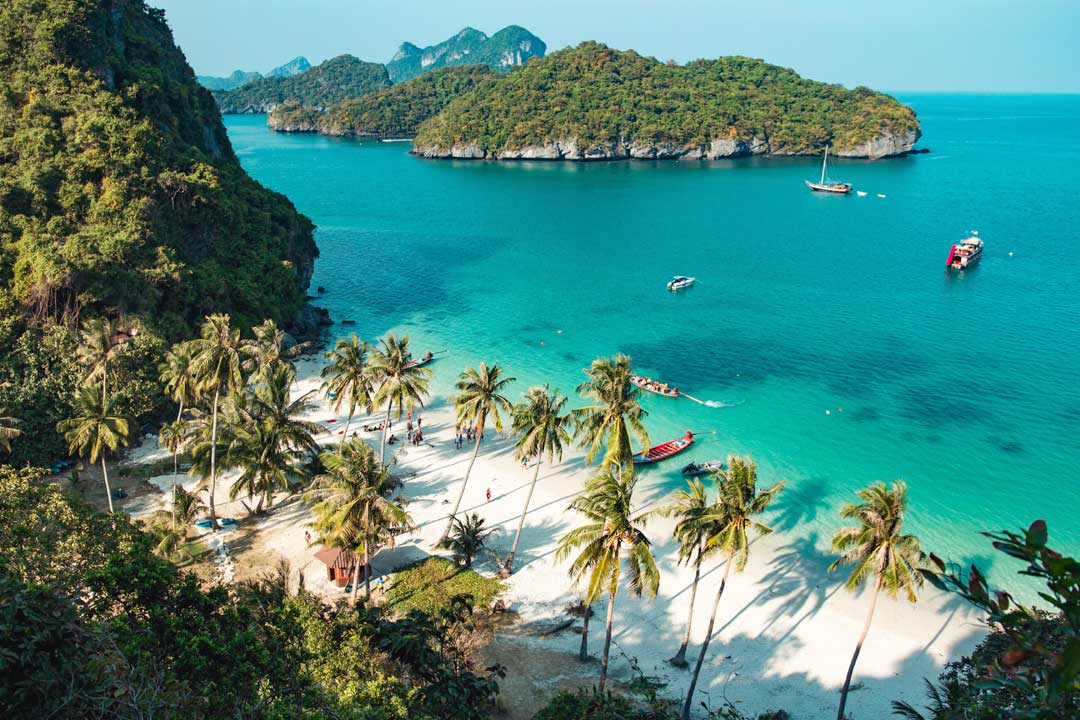 Popular day trip from the island, the Angthong Marine Park is a pristine archipelago of 42 limestone islands perfect for hiking and snorkeling.
Castaway Tip
Sometimes the park gets closed during the low season (November-December) so make sure you research it promptly before booking any tours.

Wat Phra Yai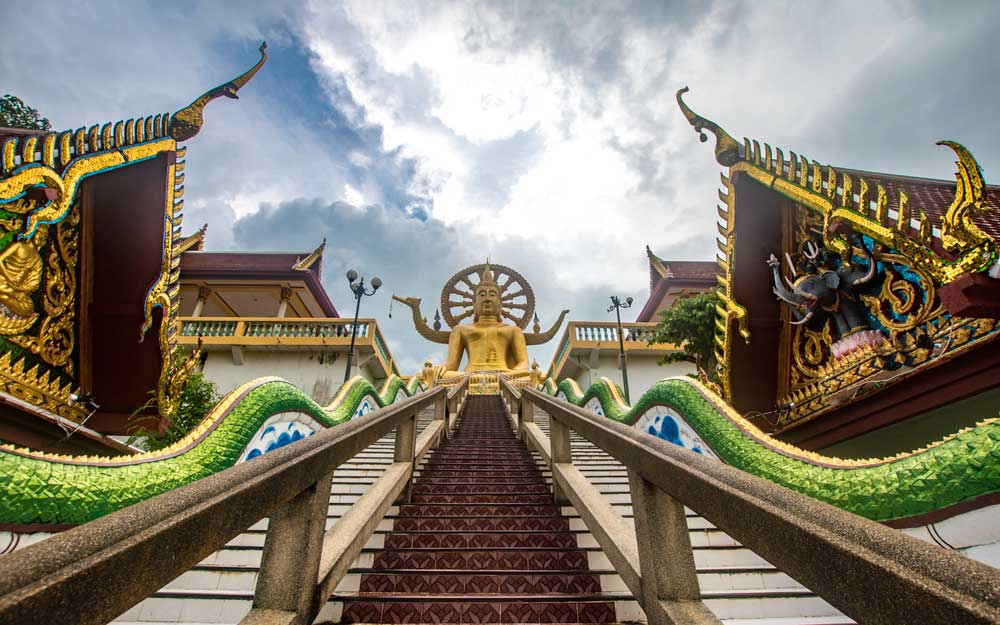 It won't be in Thailand if there isn't at least one impressive temple. Wat Phra Yai is famous for it's giant gilded Buddha and it's a pretty cool place to visit if you got tired of the beaches (I've never seen anyone tired of tropical beaches but still).
Koh Pha Ngan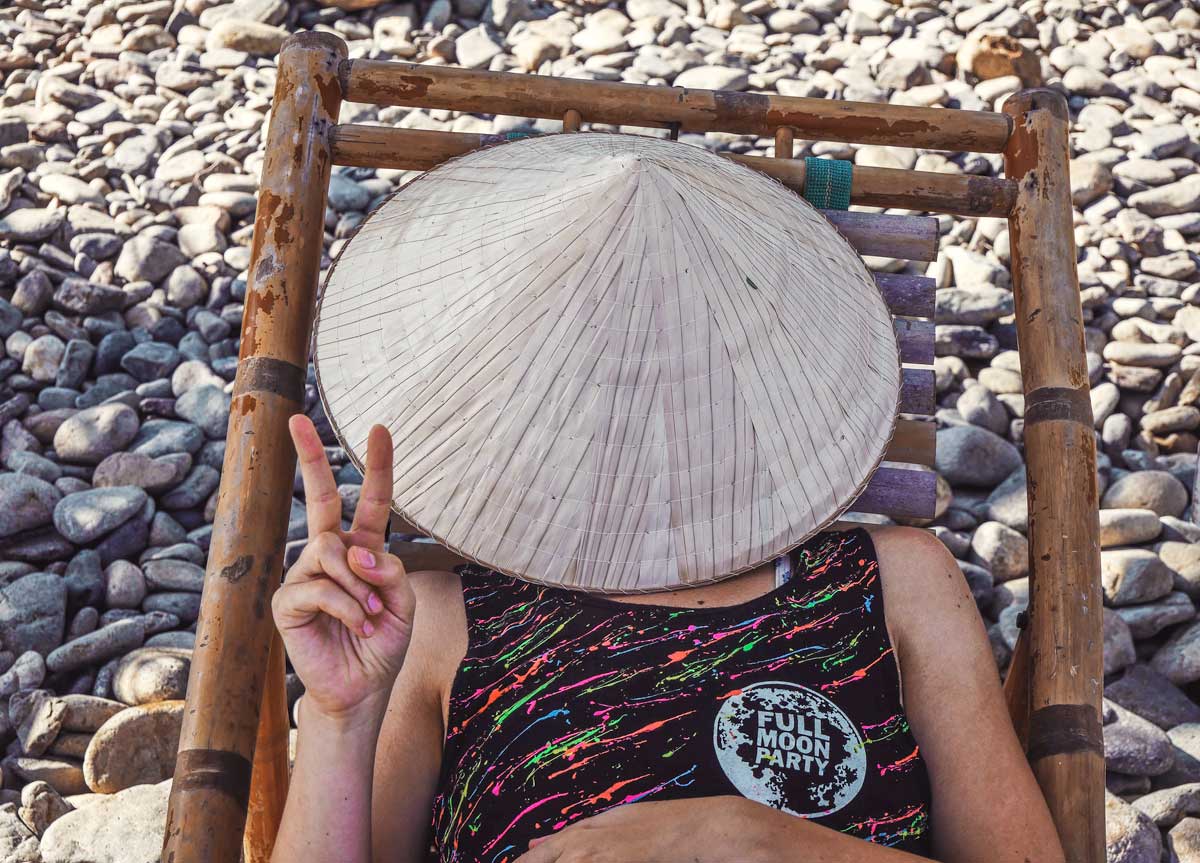 There is one thing Koh Pha Ngan is famous for, and that is PARTY. Back in 1983, the first full moon party was created as a thanks to about 20–30 travelers. Nowadays, up to 30 000 people gather to the island every month to celebrate one of the most iconic parties in the world.
Castaway Tip
The night before the Full Moon Party is also a party night. The Jungle Party some say is even better than the Full Moon.

Koh Tao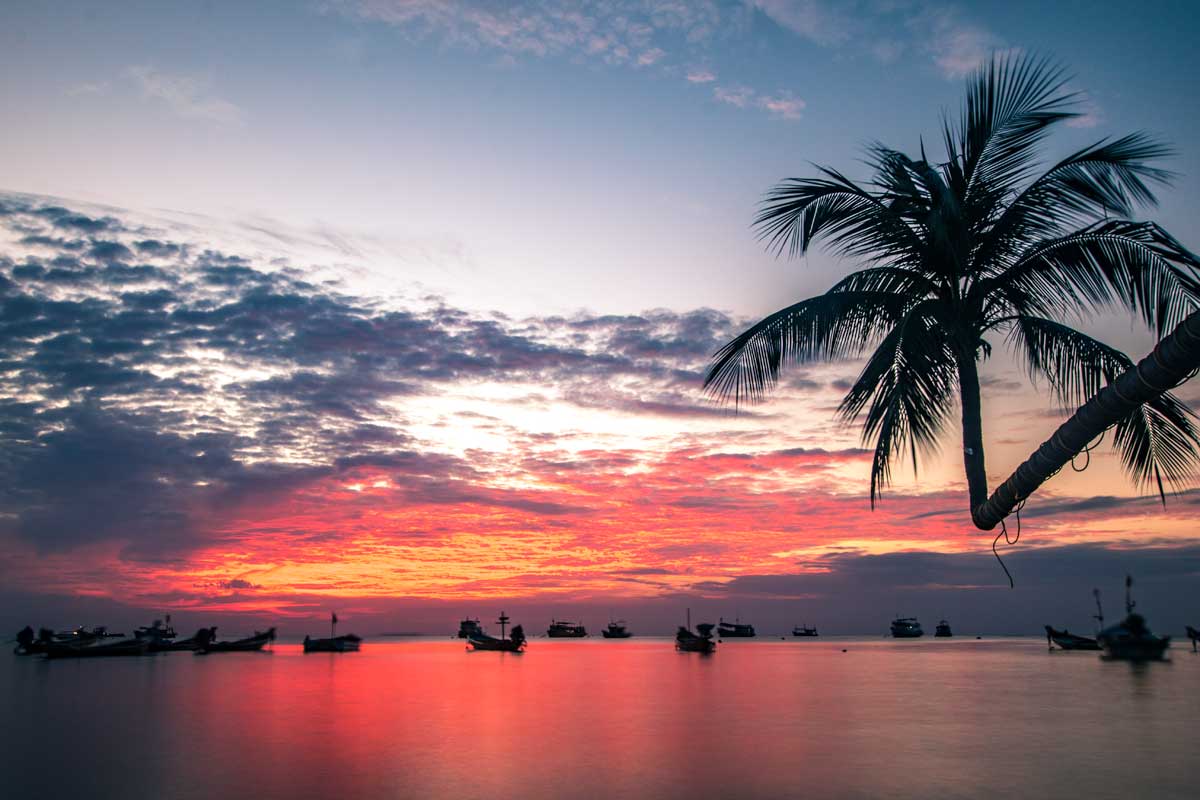 Koh Tao (meaning the Turtle Island) is a small island in the Gulf of Thailand known for one thing only – diving!
The second cheapest place in the world to get your diving certificate (the first one is Honduras, but somehow I doubt you're going to Honduras is on your travel plans) Koh Tao houses over 70 different diving shops.
And since there is barely anything other than divers and bars on the island, there is this laidback subculture atmosphere in the air you'd simply fall in love too!
Castaway Tip
I got my certificate from Roctopus Dive, and I can't recommend them enough. You won't only get top professionals to teach you, but also very cool guys to hang around with!

Ayutthaya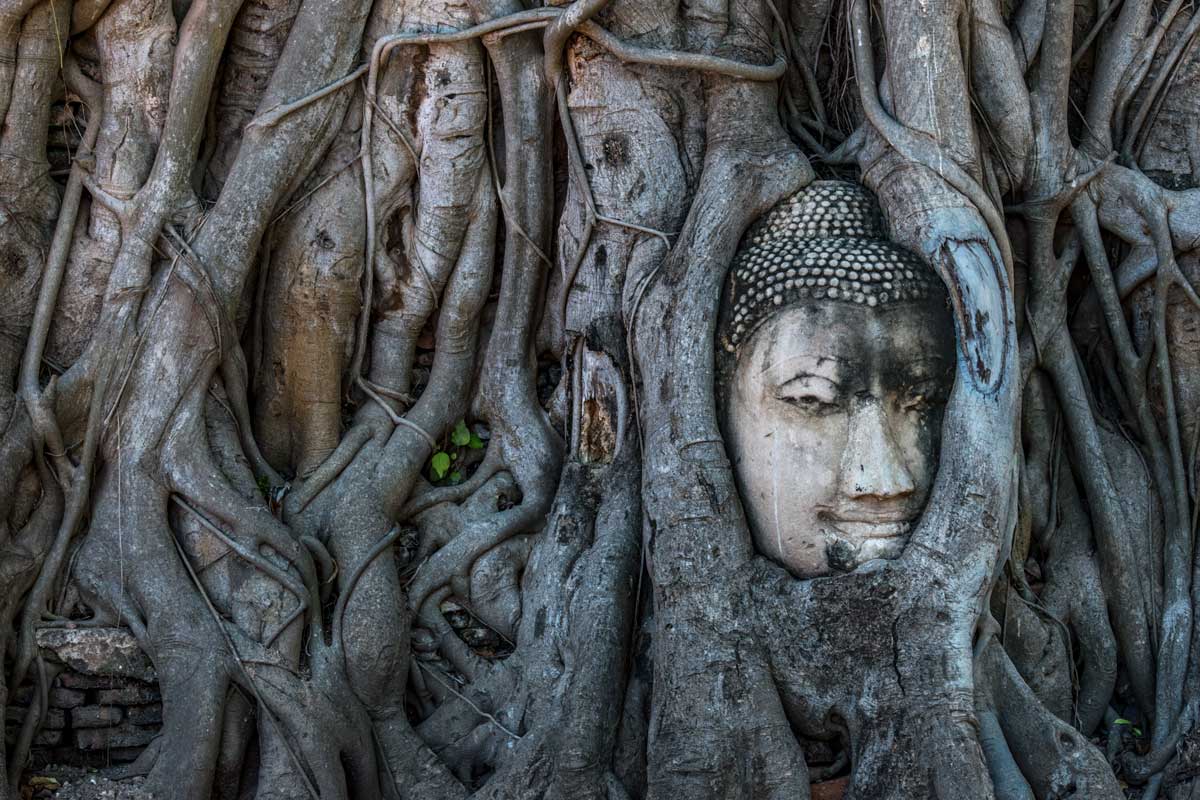 Founded in 1350 Ayutthaya was the second capital of the Siam Kingdom till the Burmese destroyed it in 1767. The ruins are now a national park and one of the most famous archeological spots in Thailand. Due to it's proximity to Bangkok, it's a popular day trip option.
Sukhothai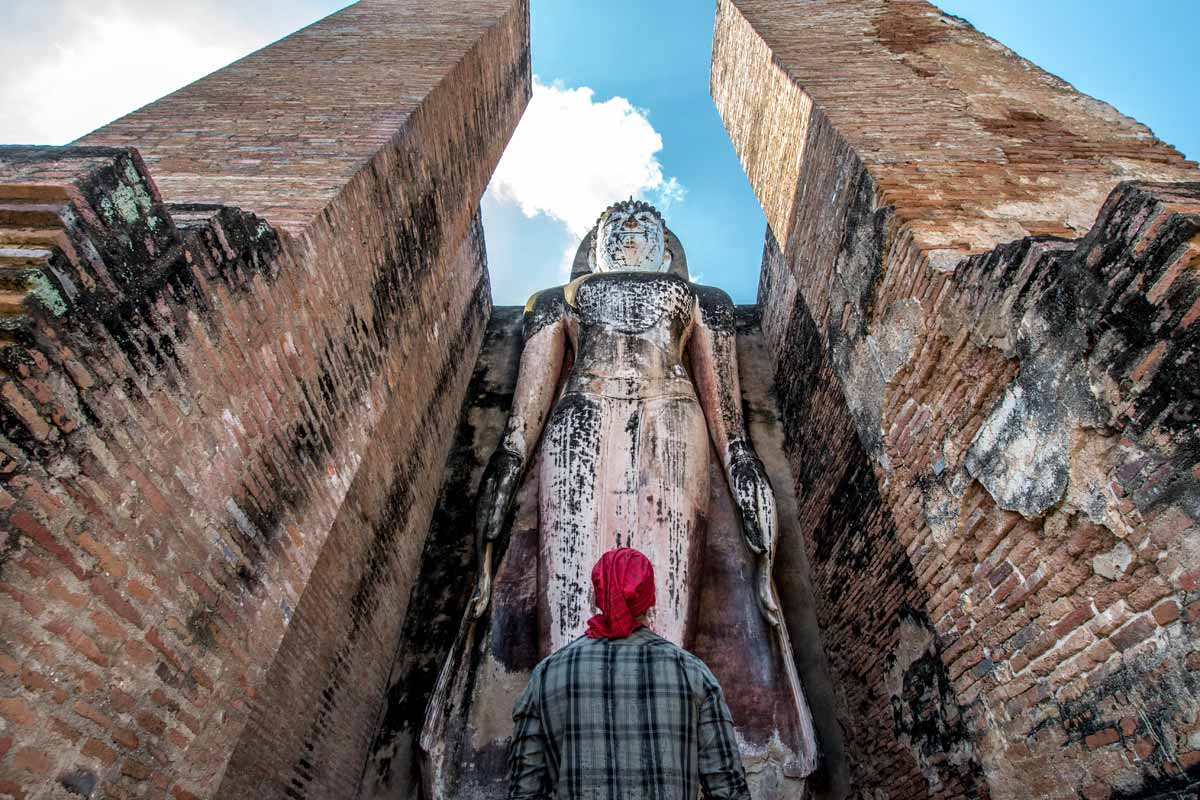 The first capital of the Siam Kingdom is located between Bangkok and Chiang may, and it's criminally underrated. While people flocks to Ayutthaya, there is barely anyone in Sukhothai which of course is perfect for you.
Now that we have all the places sorted out, it's time to get to the 10 day Thailand itinerary itself.
Wait, did I say itinerary? I meant itineraries!
To fit all the different travel needs, I'll give you four (and a half) options, all you have to do is find the one that suits your style and expectations. If you have more than 10 days in Thailand, it's pretty easy to combine two or more of the itineraries into one.
The Ultimate 10 Day Thailand Itinerary – The Culture Route
Been a successor of the Siam Kingdom, Thailand has a vastly rich history and unique, distinctive culture that makes it pop out in front of the other South-East Asian countries. In the cultural itinerary, we'll focus on the places that compose Thailand's identity today.
Start: Bangkok
Your flight most likely will be to Bangkok, and since there is plenty to see there, the cosmopolitan Thai capital would be the first place on your itinerary.
Days 1-3: Bangkok
In three days you should be able to visit the top temples – Wat Pho (has a 15 meters tall, 46 meters long reclining Buddha in it ), Wat Phra Kaew (the most important temple located inside the Grand Palace complex ), Wat Arun (Temple of the Dawn – Instagram perfection ), Wat Traimit (Has a 5.5 tonnes Buddha statue made out of pure gold ) and Wat Saket (aka the Golden Mount, has lovely panoramic view ).
Museums are not Bangkok's strong side, but you may consider visiting Bangkok's National Museum or the Jim Thompson House. It's a good idea to explore the nearby floating and train markets (first one is in the water, and instead of stalls there are boats, the other is in the middle of a railway, so it has to be moved every time a train comes ), but have in mind those would require a full day.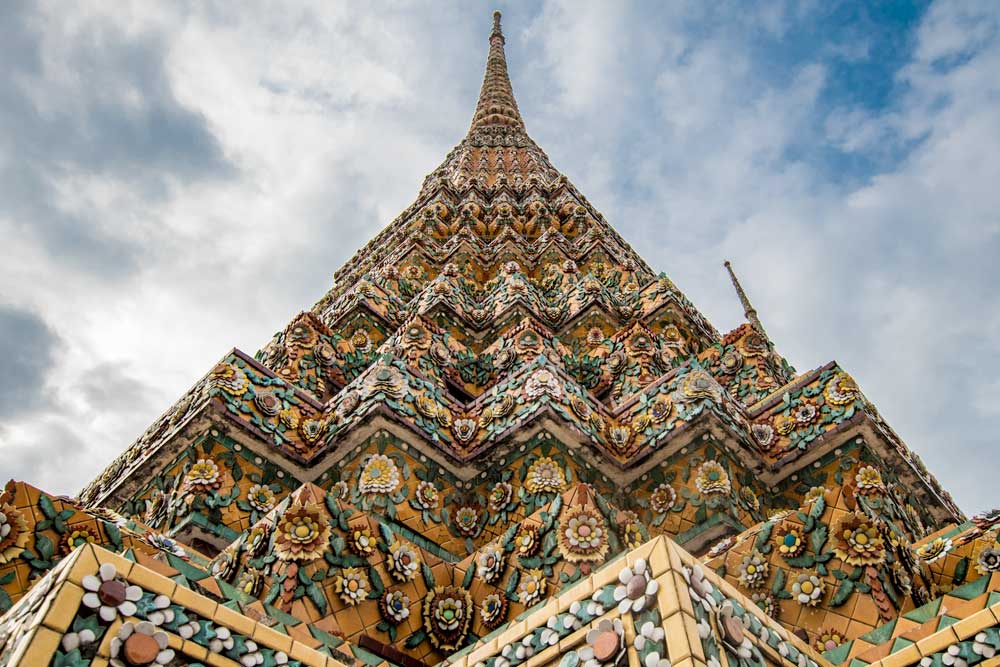 Day 4: Ayutthaya day trip
The ancient capital of Siam needs more than a few hours to be explored in detail, but since you have only 10 days in Thailand, you need to do it with a day trip. The good thing is, the place is pretty close to Bangkok, and you'd still be able to see a ton of ancient wonders.
See Ayutthaya Day Trip latest prices
Day 5: Sukhothai
The first capital of Siam and the best ancient site in the country. Unlike Ayutthaya though, this UNESCO World Heritage Site is not that close to Bangkok.
It's, however, in the middle between Bangkok and Chiang Mai, so its location won't throw you completely out of the way. To save some time, I recommend taking one of the night buses from Bangkok and arrive at Sukhothai early in the morning.
Explore the glorious ancient site for a day and catch the bus to Chiang Mai the next morning.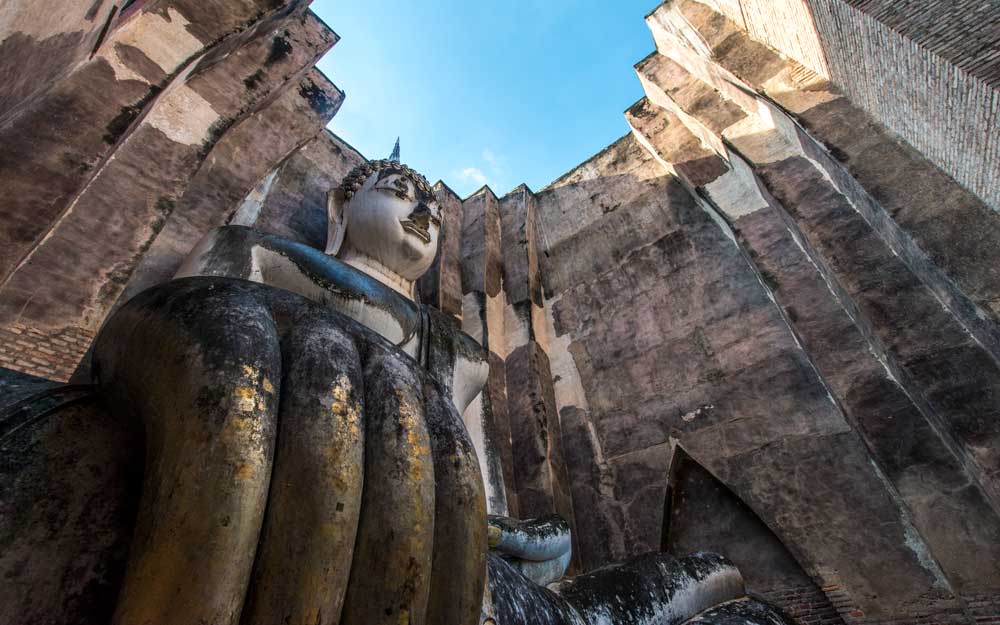 Days 6-9: Chiang Mai + Chiang Rai
You should arrive in Chiang Mai around noon, so there is plenty of time to check out the old town area. For the next three days, I suggest meeting some elephants (book this one early cause it's extremely popular ), visiting the most famous temple in the area – Doi Suthep, exploring the night markets (they are everywhere on the weekend ), taking a Thai cooking class and a must-have day trip to Chiang Rai.
If you have more time in Thailand, Chiang Rai deserves a few days on its own but in this 10 day Thailand itinerary we only have time for a day trip. The most famous attraction of Chiang Rai is the White Temple – Wat Rong Khun, and every tour is centered around it.
The other noticeable places in the area are the Mae Khachan Hot Spring ( well…it's a hot spring ), the Black House Museum (a bit creepy but beautiful ), the Blue Temple (they like to name their places with colors over here ), Karen Longneck village (if you want to do that, do your research and find a responsible tour company that will promote a socially responsible visit ), and the Golden Triangle (where the borders of Thailand, Laos, and Myanmar meet ).
See Also: One for your Bucket List – The Sanctuary of Truth, Pattaya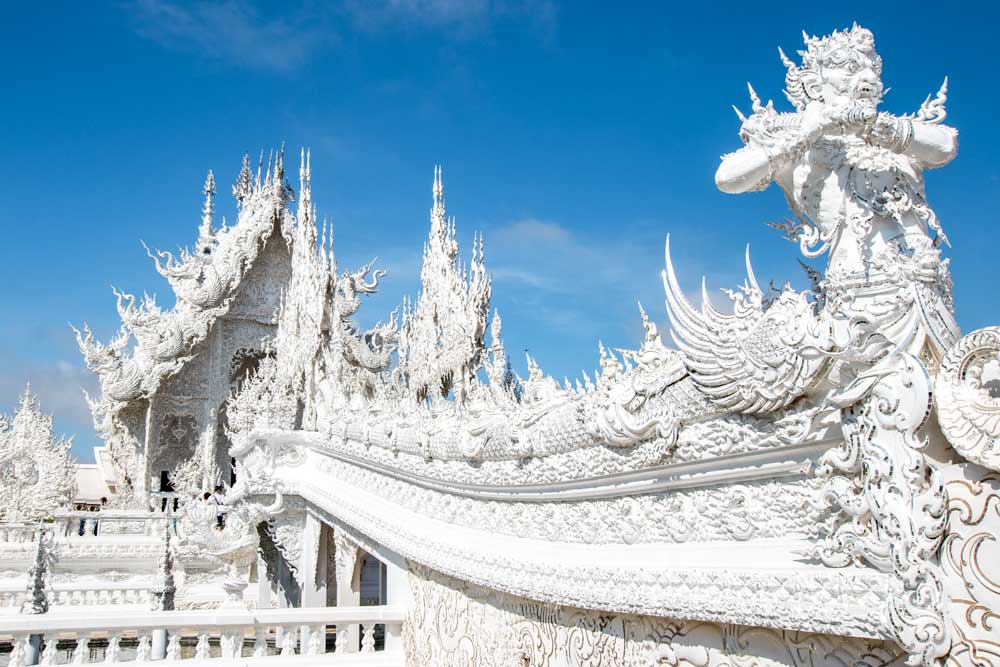 Day 10: Go home
It's best to take your flight back home from Chiang Mai otherwise you'd lose a whole day to go back to Bangkok.
The Ultimate 10 Day Thailand Itinerary – The Adventure Route
If going to temples and museums bore you to death, and all you need for your perfect vacation is a little bit of adrenaline pumping in your veins, the next 10 day Thailand itinerary is the one for you.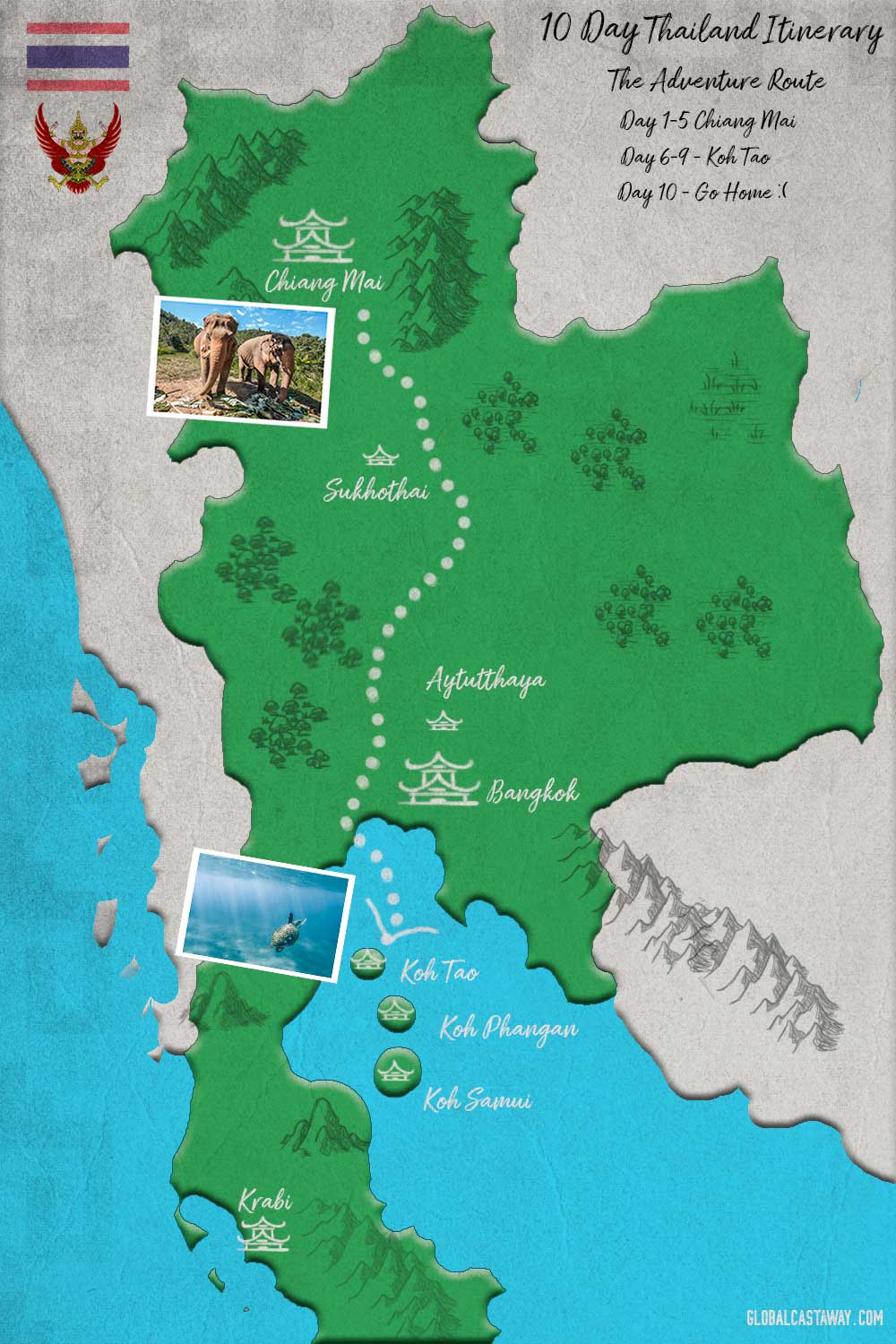 Start: Chiang Mai
Bangkok is a fantastic city, but there aren't many adventures waiting for you there so you either book a flight directly to Chiang Mai or get an internal flight without wasting any time. You have only ten days, so your time is your most valuable resource.
Day 1-5: Chiang Mai
You probably won't have time for anything significant on your first day so take the time to relax and enjoy the famous Chiang Mai cuisine ( Khao Soi is a must).
The next four days you have plenty of options. I suggest going for an ethical elephant experience (won't pump your adrenaline but still one of the coolest things you can do in Chiang Mai), go to the longest zip line in Asia – Flight of the Gibbon ( if you're lucky you may get some real gibbons in the trees around you), climbing up the Sticky Waterfall, do some 20 meters high cliff jumping into the Chiang Mai's old quarry (also known as the Chiang Mai Grand Canyon) or go white-water rafting in the Maetaeng river.
There are also numerous options for Biking tours, ATV exploring and even bamboo river rafting.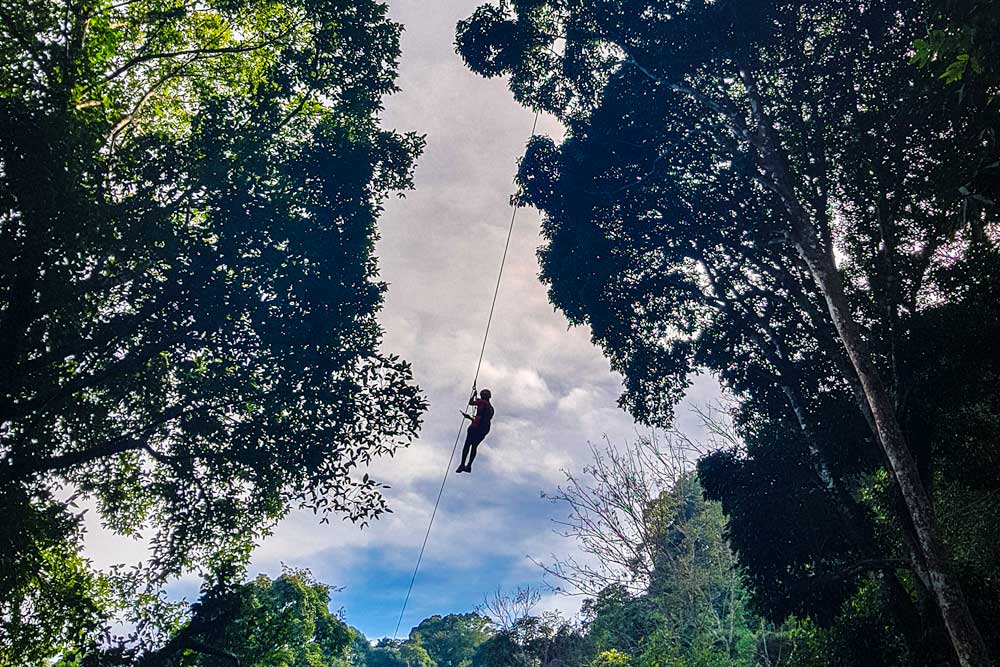 Day 6-9: Koh Tao
There is one main reason to visit Koh Tao, and that is to get your diving license! Don't be afraid, learning to dive is not hard and it's one of the most fulfilling and rewarding experiences out there.
Just make sure you reserve three full days in your itinerary for Koh Tao. If you already got your license or don't feel like getting one, you can do for fun dives (little depth, just to get the feeling ), snorkeling, mountain biking and rock climbing around the island.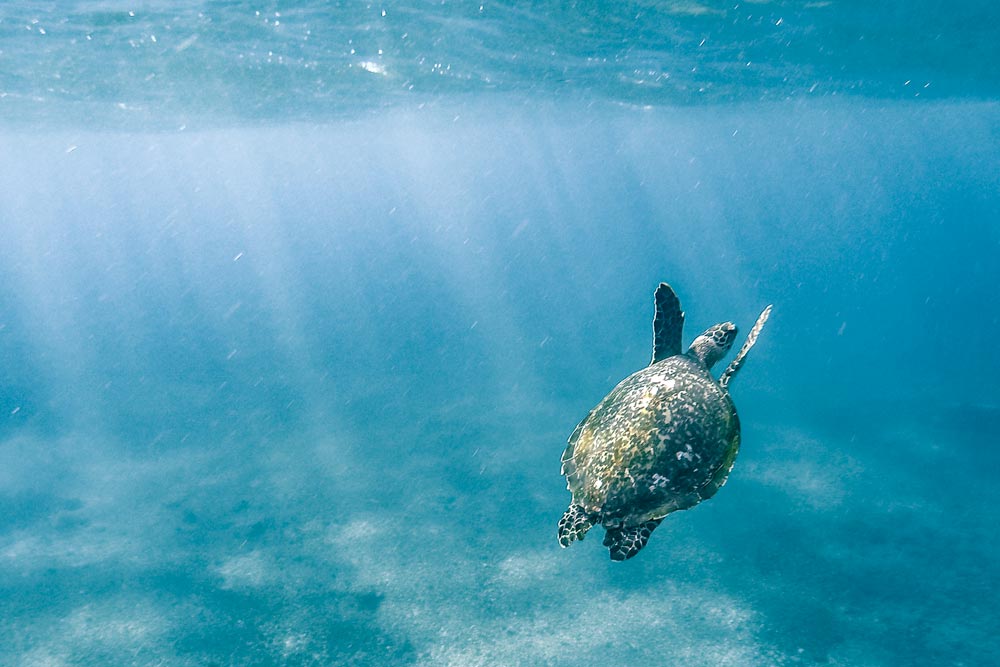 Day 10: Go Home
It's best to get a late flight as possible otherwise you'd have to spend the previous day to travel from Koh Tao to Bangkok / Chiang Mai
The Ultimate 10 Day Thailand Itinerary – The Party Route
If you travel to Thailand with only one goal on your mind – to party, you picked the right destination. There are no temple visits or adventure activities on this itinerary, just tips about some of the most iconic nightlife places in the world.
For this 10 day Thailand itinerary, timing is crucial. You need to check when the full moon is and center your trip around it. Remember, you need the full moon on the 8th day of your journey!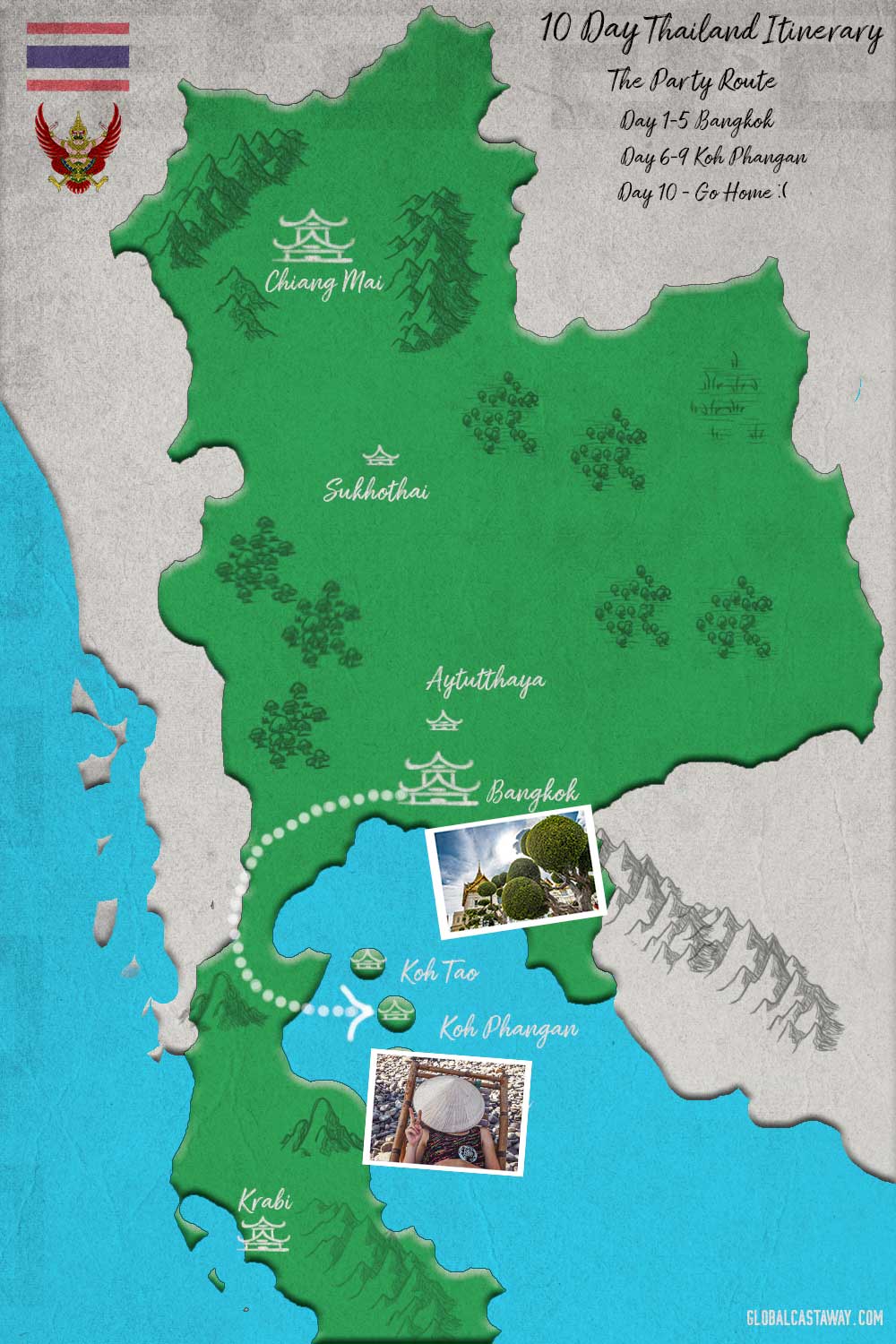 Start: Bangkok
Once upon a time, Bangkok was famous only for its red-light districts. Been the most visited city in the world changed that, and the nightlife area evolved massively during the years. Today the Thai capital literally offers thousands of funky rooftop bars, frisky clubs, and upbeat cocktail bars.
Days 1-5: Bangkok
Khao San road is a must-see place for every self-respected party animal, and so is the iconic Route 66 bar. Some of the best rooftop bars in town are Vertigo, Octave Rooftop Bar and Above Eleven. As far as regular bars go, Maggie Choo's ( trendy designers bar), The Iron Fairies ( Iron themed pub with awesome cheap beer) and Havana Social ( very cool Cuban theme ) won't disappoint. Even if you're not into that stuff, I suggest to check out the Red Light Districts – Soi Cowboy, Nana Plaza, and Patpong. Even without "consummation", those places are a ton of fun and totally worth a visit.
If you like to move around, you may decide to leave Bangkok and spend a day or two in the nearby Pattaya. Worldwide famous nightlife awaits for you in the relatively small coastline city (if adult entertainment is your prime reason to visit Thailand, Pattaya should definitely be on your list ).
See Also: The Ultimate Bangkok Shopping Guide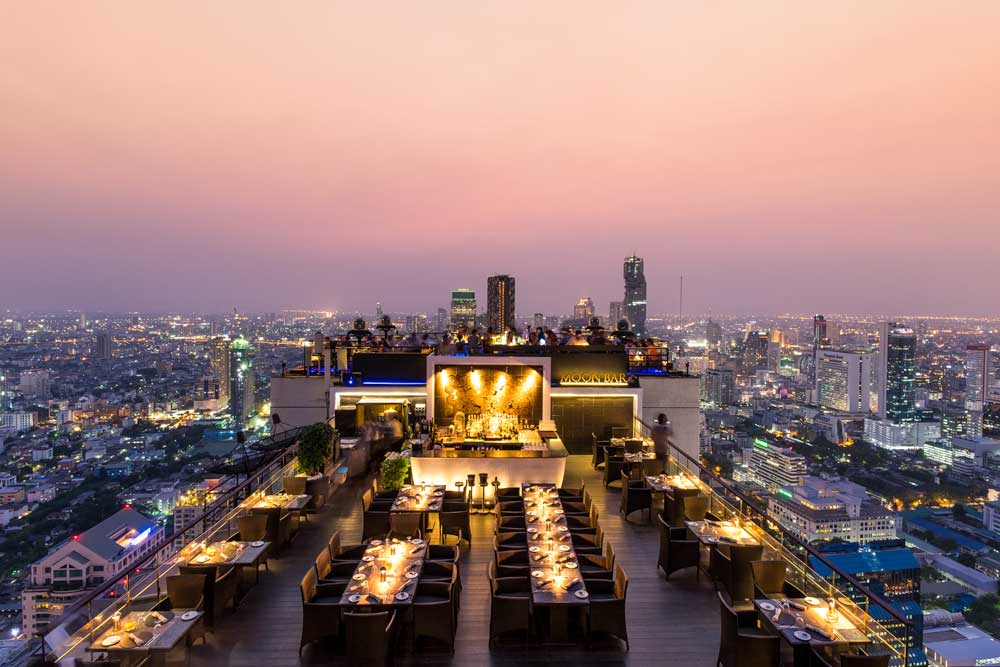 Days 6-9: Koh Phangan
On the 6th day of your 10 days Thailand itinerary, make your way to the island of Koh Phangan. The next day is your first party day. No, not the full moon one. The day before the Full Moon Party, there is the so-called Jungle Party. Once an underground feast, today the Jungle Experience is almost as famous as the Full Moon Party.
On your 8th day, join thousands of others to celebrate the biggest beach party in the world – the Full Moon Party of Koh Phangan.
Day number 9 could be used for recovery or travel back to Bangkok (depending on your flight back home )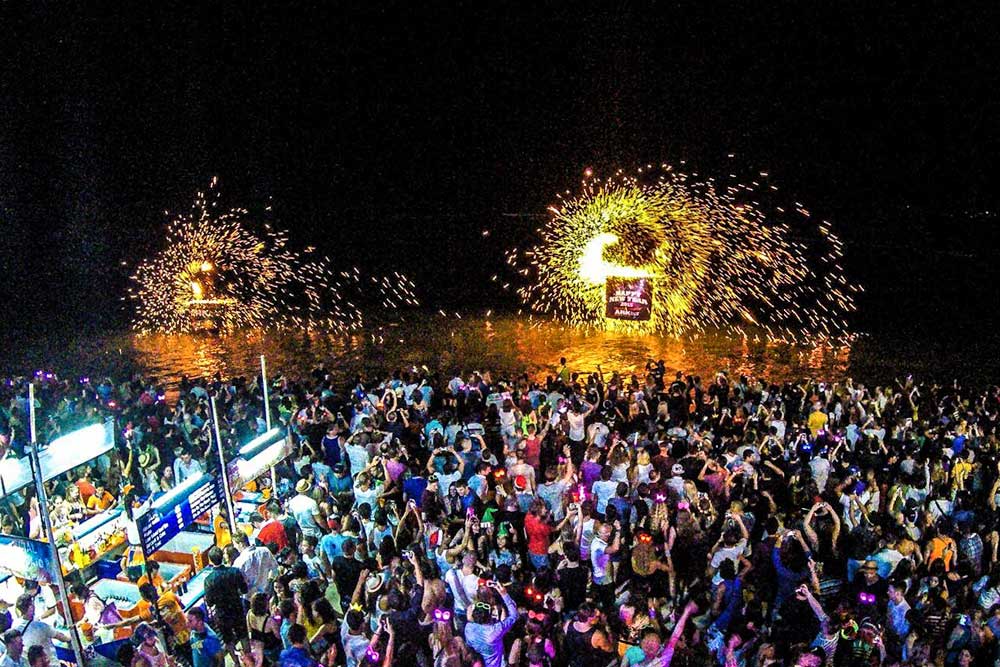 Day 10: Go home
The Ultimate 10 Day Thailand Itinerary – Beach Vacation
Your idea of perfect Thailand vacation is laying on a white-sand beach and swimming among colorful fishes in crystal clear tropical waters.
This 10 days Thailand itinerary is the one for you then. There are two distinctive beach vacation areas in the country – The Gulf of Thailand on the east side and the Andaman Sea on the west side. Here is how to get the best out of them.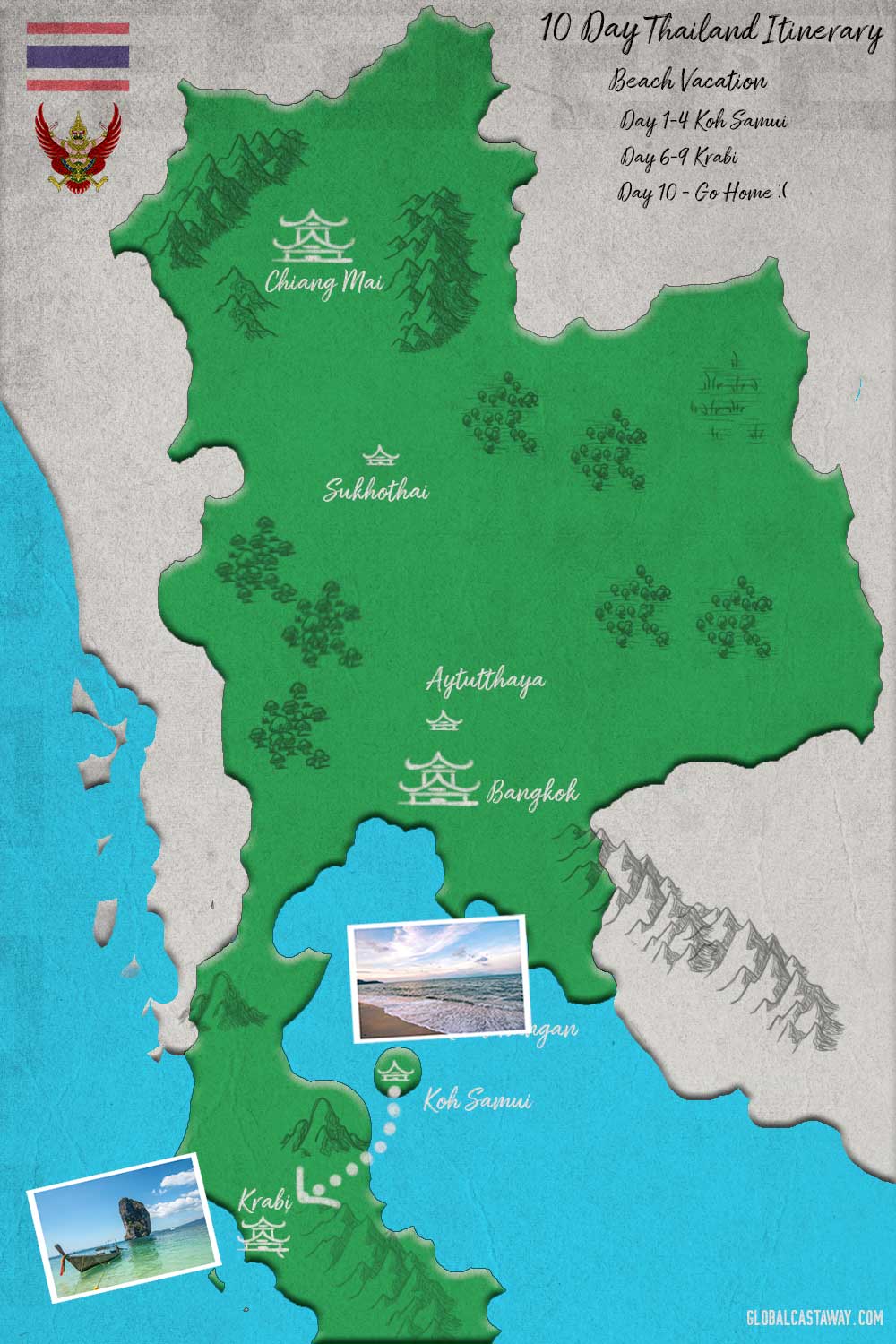 Start: Koh Samui
Samui is the largest island in the Gulf of Thailand. It's big enough to even have its own airport! Make the best you can to arrive on the island on your first day in Thailand.
Days 1-4: Koh Samui
I won't suggest many activities here, just book a kick-ass beachside resort and enjoy the tropical Thai sun. If you get bored, you may go and explore the nearby Ang Thong National Park.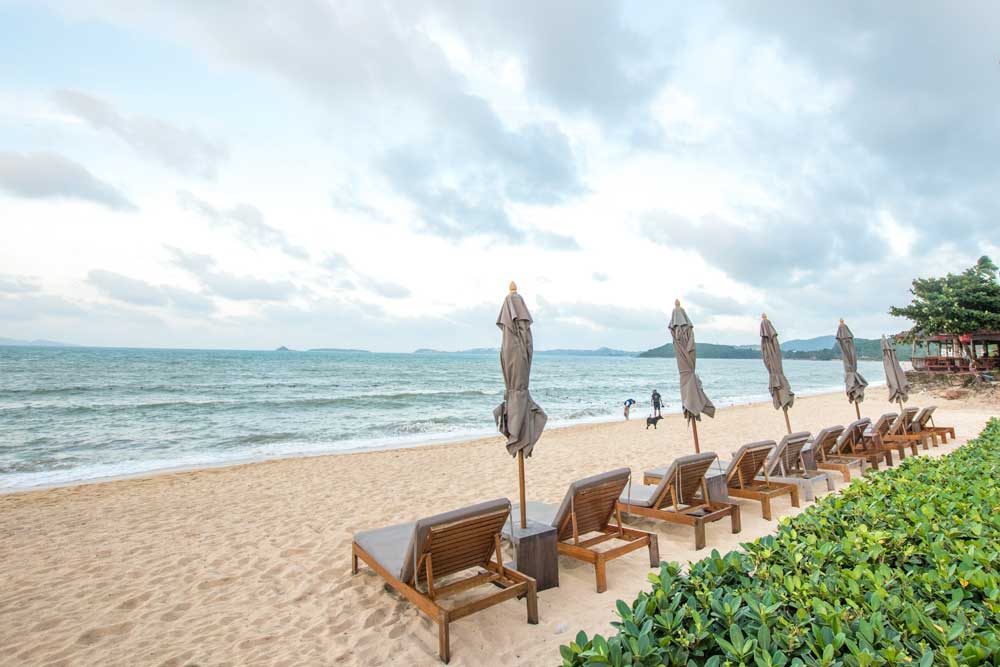 Days 5-9: Krabi
On your 5th day, make your way to the Krabi area. One of the best places to stay there is Ao Nang. Not only you'd have two beaches right in front of your door, but also numerous restaurant option and easy transportation to the nearby islands. If you prefer a premium beach vacation, book your stay on the Phi Phi islands.
With four full days in Krabi, you can check out the most popular islands in the Andaman Sea. Must-Sees are the Phi Phi islands, James Bond Island, Hong Island, and Chicken Island. If you want a bit of change of scenery, you can go and check Krabi's favorite temple – the Tiger Cave (have in mind there is 1260 steps climb to the top though ) or the incredible Blue Lagoon jungle pond.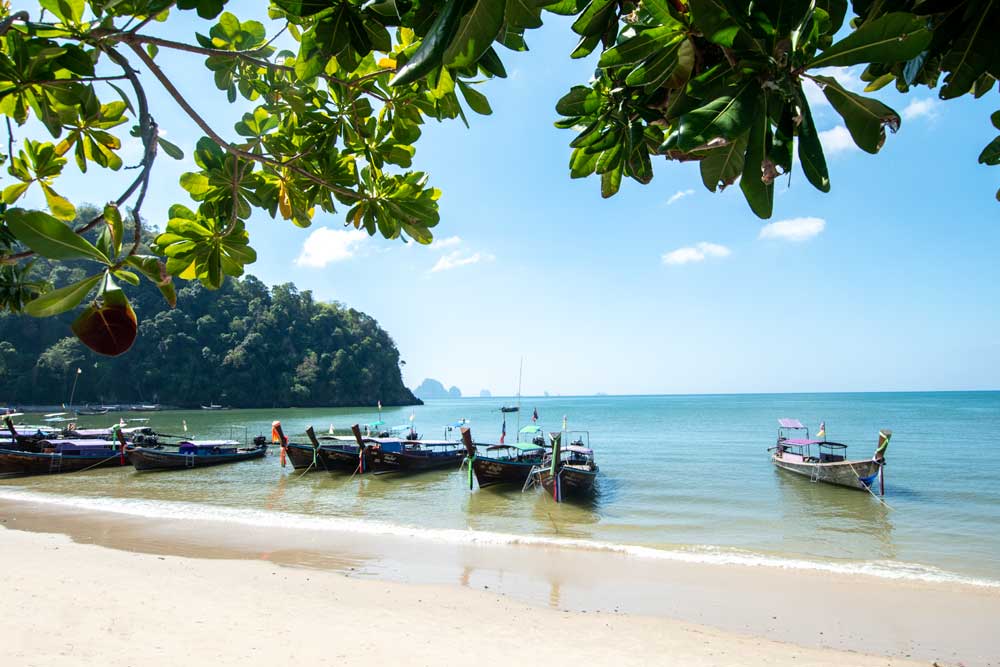 Day 10: Go home
Krabi has an international airport so try to catch your flight back home from there.
The Ultimate 10 Day Thailand itinerary – The Lazy One
If you really hate the idea of moving around but you still want a taste of Thailand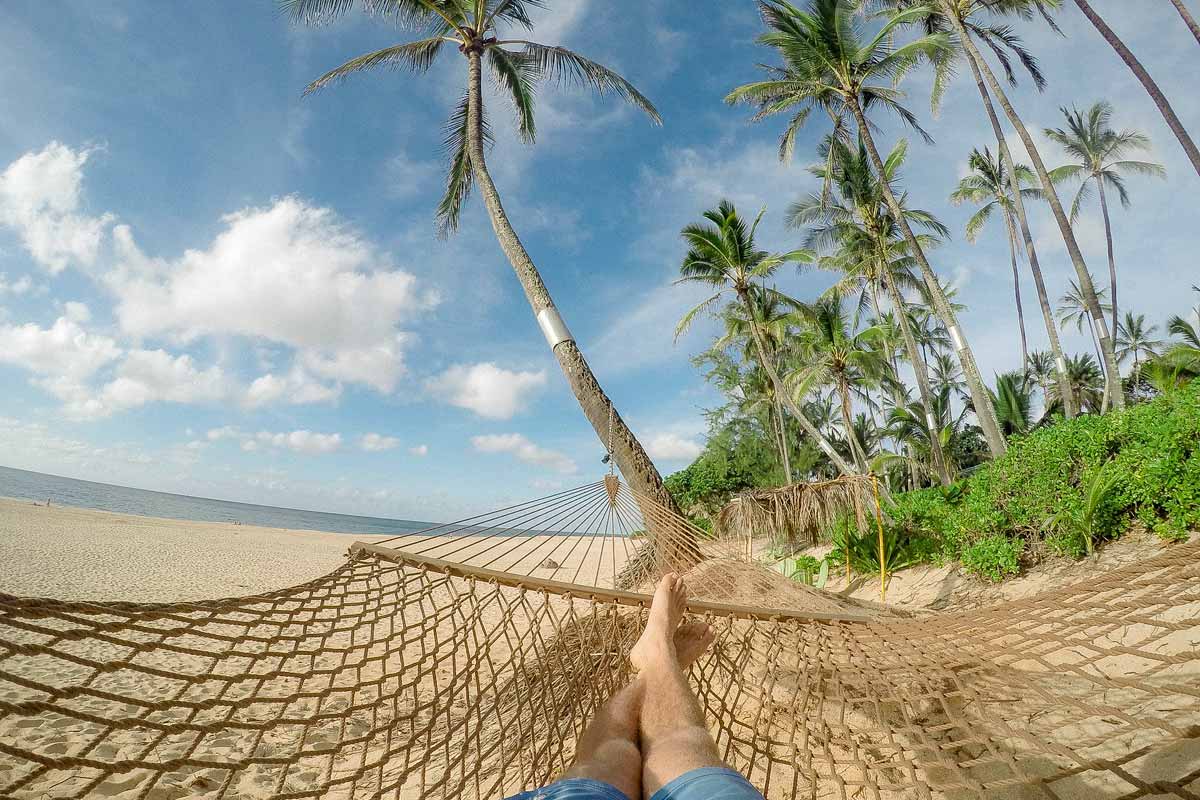 Days 1-10 Phuket
If you read everything till now (you're amazing! ) you probably wonder why I never mentioned Phuket. Up there in popularity with Bangkok and Chiang Mai, for many people Phuket is the go-to vacation spot in Asia. The reason I didn't include it in any of my itineraries though is that I think Phuket has little bit of everything but not as good as the other places on the itinerary.
What do I mean?
Bear with me.

There are some temples in Phuket, but none of them are as spectacular as the ones in Bangkok/Chiang Mai. There is a buzzing nightlife there, but it's not on the Bangkok, Pattaya or even close to Koh Phangan's level. You can go on a beach vacation in Phuket, but you're gonna visit the same islands near Krabi, you'd to spend more time on the boat (since Phuket is farther away than Krabi ) and you'll pay a higher price.
Having said that, Phuket is not a bad place, and indeed there are some advantages of choosing the lazy itinerary. You won't have to change hotels and waste time on the road, and you'll be able to see all sides of Thailand.
Notable places of interest in Phuket are Phuket Town night market, the big Buddha on the top of the Nakkerd Hills, Bangla Road (Phuket's equivalent of Khao San Road ) and all of the Krabi islands.
Useful Information About Thailand
When is the best time to travel to Thailand?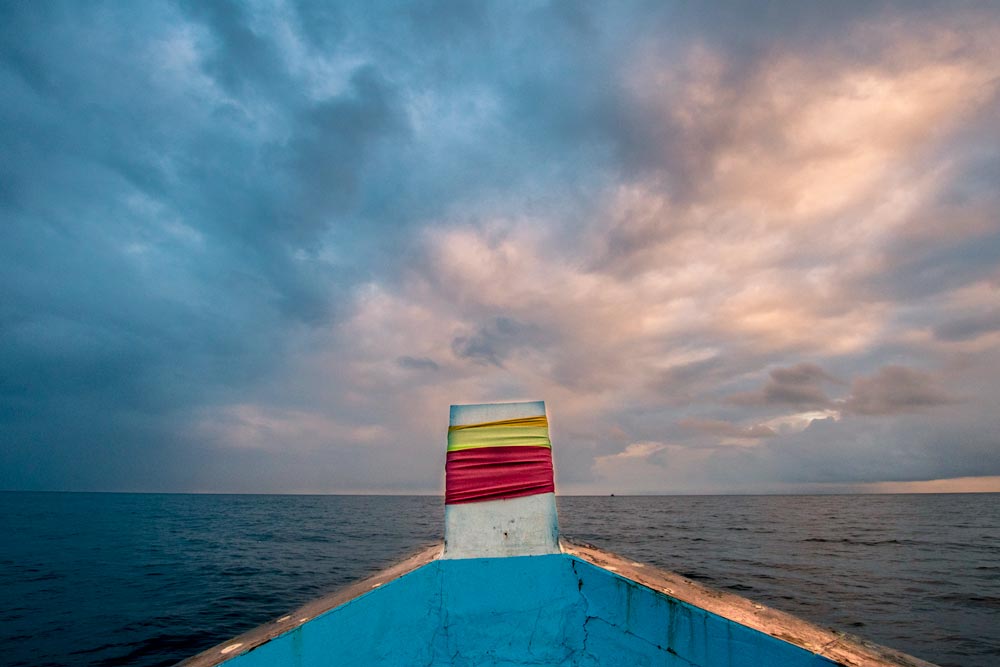 The climate in Thailand is defined as tropical and humid. Best time is a tricky conception since there are a few different weather areas in the country. The area north of Bangkok has three seasons while the one South of it has only two.
In the North, the weather is dry between November and May. This is, however, broken into two periods – November to February when it's considered winter with temperature in the low 20C, and March-May, when it's the dry summer with average temperature reaching nearly 30C. From May to October is the rainy season.
South Thailand has only two seasons – wet and dry. Unfortunately, those seasons don't run spontaneously on both costs of the peninsula thus making your beach vacation tricky to navigate. The west coast (Krabi, Phuket ) is rainy from April through to October, while on the east coast the storms are gathering between September and December.
Bangkok has three main seasons: hot from March to June, rainy from July to October and cool between November and February. Have in mind that Bangkok's cool still average temperatures of more than 20C.
What to bring with you in Thailand?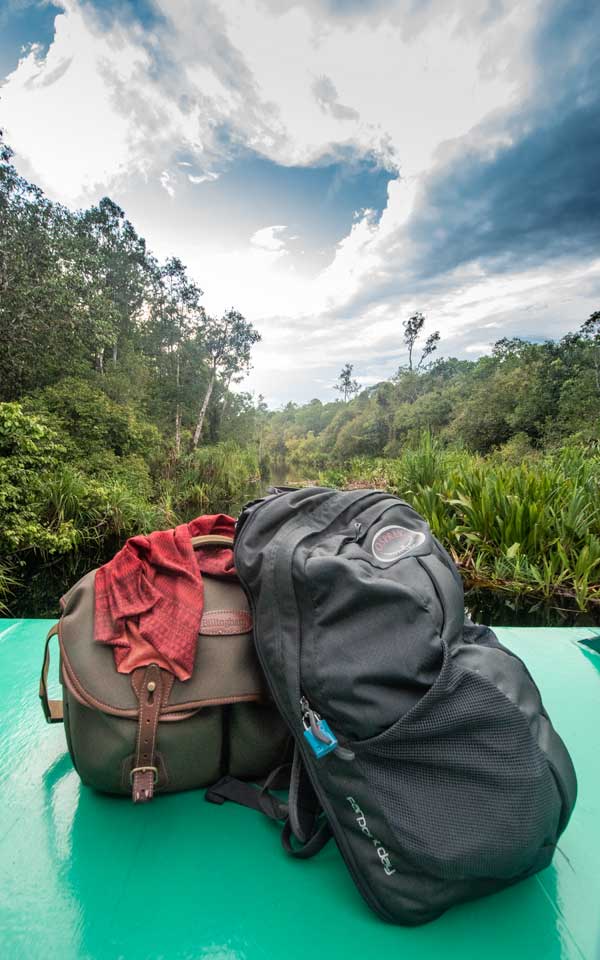 I won't annoy you with a long list of Amazon listings here. I mean, if you're going for the island vacation you know you need to bring bathing suits, right? If you like to read you probably already have Kindle and if you're a photo enthusiast you have your camera ready.
The products I recommend are specific items you never even know you should have in Thailand.
Detachable pants – Thailand is full of beautiful temples to explore, but a lot of them have a strict dress code that won't let you enter with shorts. Combine that with the hot weather and suddenly figuring out what to wear becomes a significant headache. What I do is using a pair of pants like these. Put the sleeves in your bag, and you got comfy shorts to survive the relentless Thai heat that turns into proper long pants when needed to enter a temple.
Coral-friendly sunscreen – This is something that probably hasn't even occurred to you, but yes, sunscreens do harm the corals. In order to avoid situations like the one in Maya Bay, we all need to give a second thought about how much our actions reflect on the places we visit. Otherwise, we won't be able to enjoy them for long.
Water Bottle – if you travel often, you know this is a must-have. Water bottle saves you a fortune on the airports, and it decreases the use of plastic! You can even go a step further and get a bottle that purifies water so you may never have to buy a bottled one again.
How To get around in Thailand?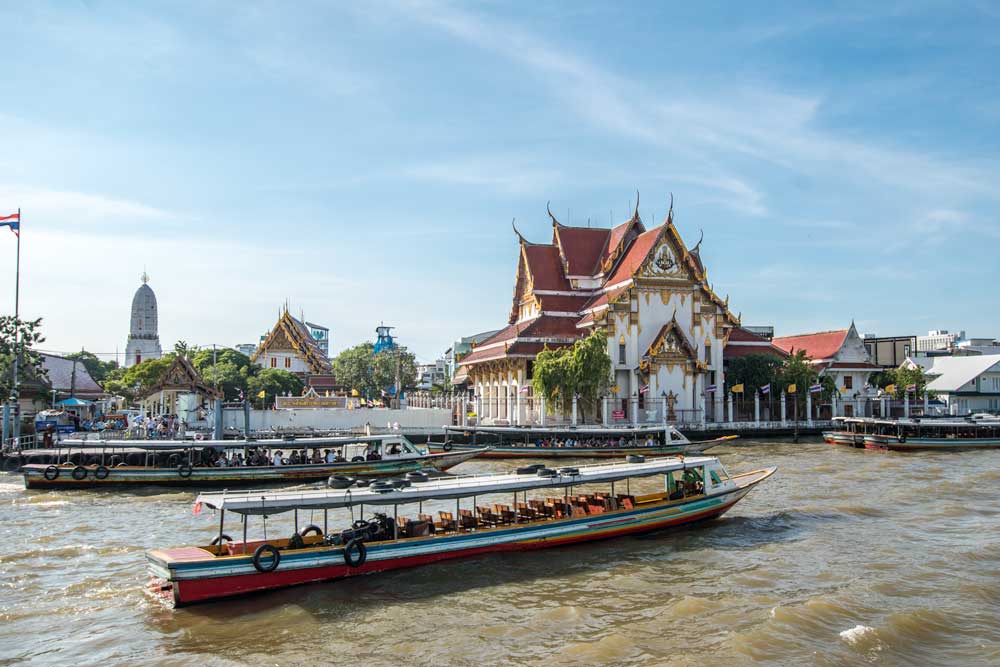 Thailand has an excellent transportation network, so it's pretty easy to get from one place to another. Whether it's a bus, a train, a ferry or an internal flight, there will be plenty of options and the price will be reasonable (yes, flights are cheap too).
The best place to find the transportation you need, not only for Thailand but for entire Asia, is 12GO.asia. I use them every time and never had a single problem.
If you area car person and you want to drive everywhere yourself, you need to rent a car. I recommend checking out Discover Cars and their tool that will compare all the best rent-a-car providers in the area. The prices they manage to find are sometimes ridiculously low.
On the islands, the easiest way to travel is via motorbike (you can rent one from pretty musch everyhwere).
Is Thailand safe?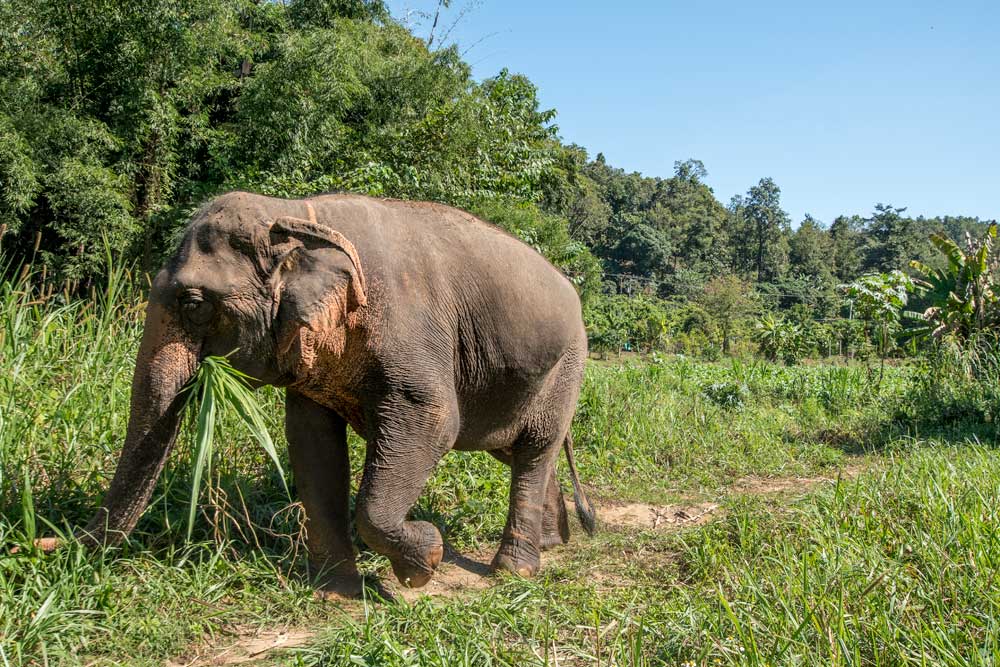 Thailand is one of the safest destinations in South-East Asia. Been visited by hundreds of millions of tourist in recent years, the country has put a lot of focus into tourists and their safety.
This doesn't mean you should forget your travel smarts or skip your travel insurance (especially if you go for the adventure itinerary ). Don't go alone in the dark, don't flash expensive jewelry or electronics, never give your passport to anybody and always keep your cash in 3 different places.
If you're approached by a stranger who speaks English very well and wants to help you, don't go for it. This type of scam is not a dangerous one but will eventually take you to a specific shop that will try very hard to sell you something and could waste a ton of time.
Currency in Thailand
The only accepted curreny in Thailand is the Thai Baht (check the latest rates).
Do I need a visa for Thailand?
Most of the Western countries' passport holders can enter Thailand visaless (for up to 30 days), even more, countries are eligible for Visa on arrival.
Check out the requirements for your nationality here.
What about the Internet in Thailand?
There is wi-fi in almost every hotel or restaurant. It's not the fastest one in the world though. Get yourself a prepaid travel SIM from the airport or any 7-11 and forget all Internet troubles.
You can also order a SIM card online and have it delivered at the airport. Definitely the most convenient way.
Useful Words in Thai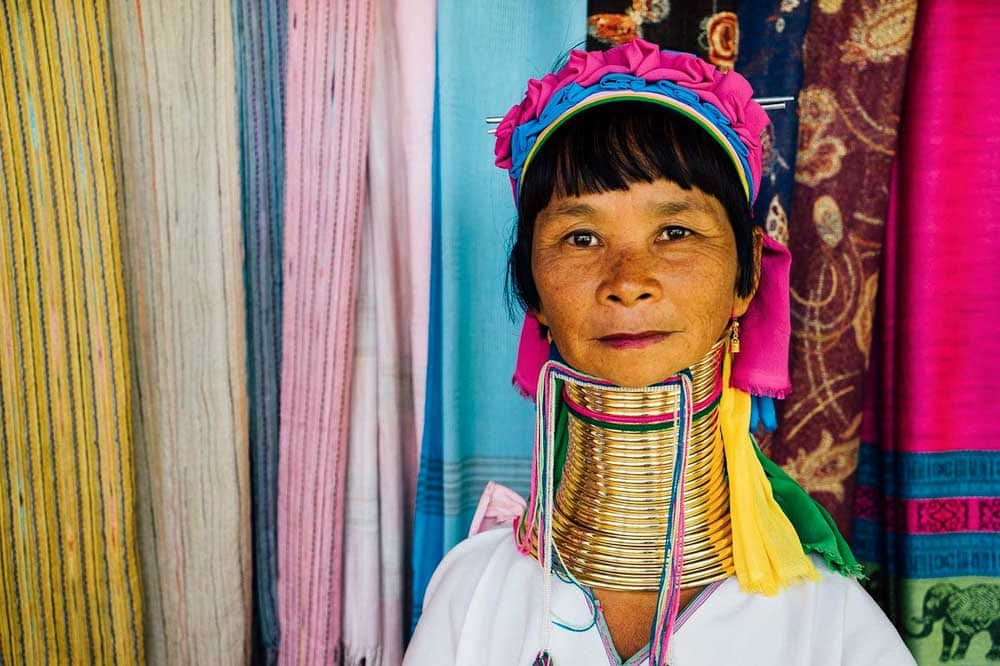 Thai people love when you try to use their language. Don't worry if you misspoken something, they will still enjoy it, and you may get VIP treatment.
Thank you – if you are a Female – kob-khun ka; If you are a Male – kob-khun krab
Hello – Sa-wat dee
How much – Gee baht?
I don't want – Mai ow
Sorry – Khor tort
Delicious – A-roi
Wow, this one came out pretty big! If you managed to read it all (you're a legend! ) you know so much about Thailand so you'd be able to plan your trip without any hassle.
That's all from me, I hope you enjoy your 10 days in Thailand!
————————————
If you haven't planned your trip there yet, find out how I plan my trips!
————————————
I have 32 bucket list ideas for Thailand. See my impossible bucket list of 1700+ adventures!

Which Thailand ititerary is the best for you?
---
Some of the above are affiliate links and I will earn a percentage of the sale if you purchase through them at no extra cost to you. This helps keep my site running – so thanks in advance for your support!